our go-to weeknight dinners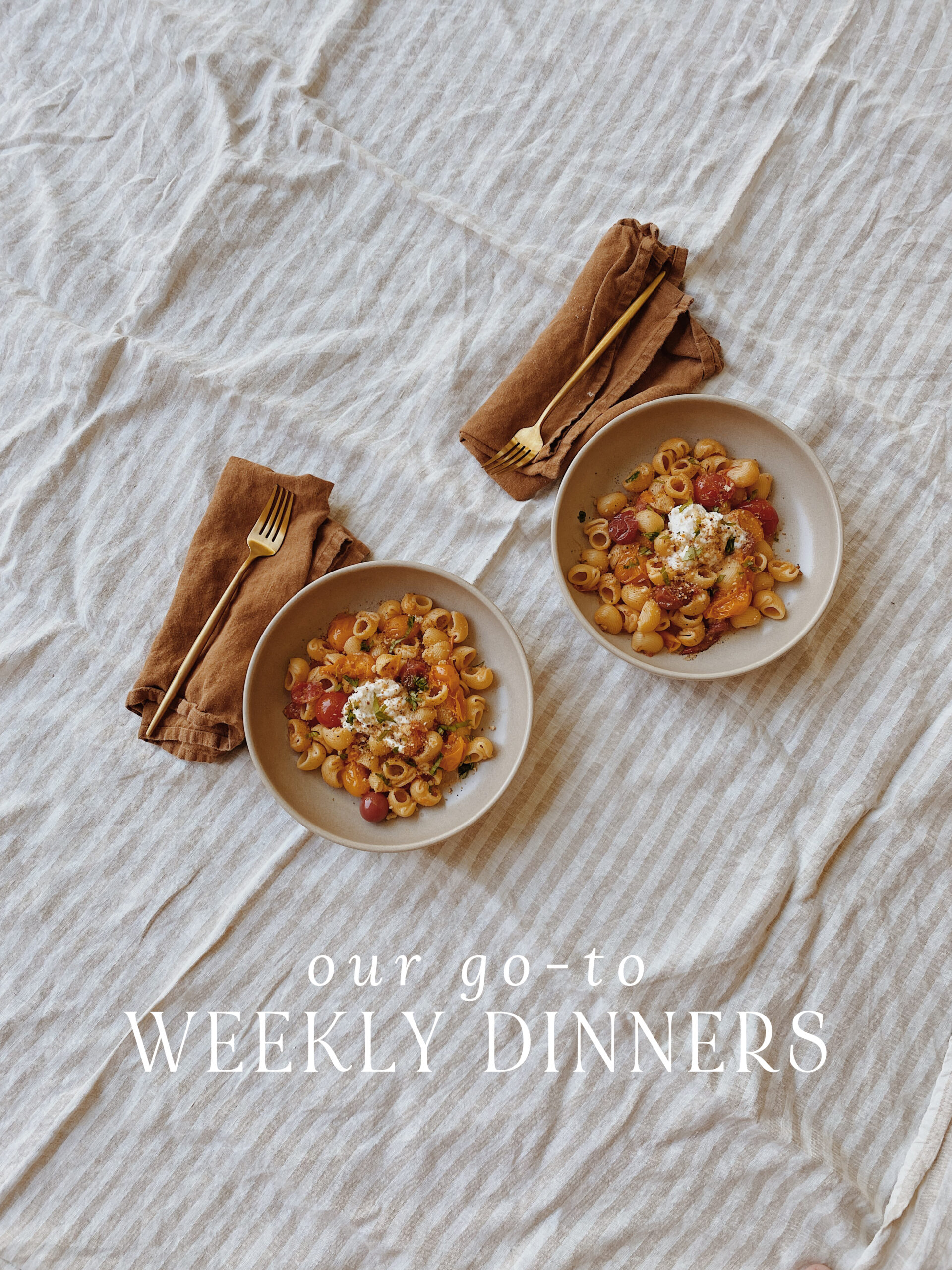 i've been wanting to do this post forever! now i realize, some of these meals might be super ambitious if you work a 9-5 or you aren't super into cooking– i don't make dinner from scratch every night, but i do like to a few times a week.
i really enjoy the routine of cooking dinner because it gives me some alone time where i'm doing something besides mindlessly scrolling. but i also really love to make things i know how to make, because when i follow recipes i usually have to read them 1700 times, so i can really only handle one brand new recipe a week max. so most of these i know how to do without a recipe now!
i'm gonna try to keep adding to this post! i'd love to incorporate more of those cliche mom dinners into my repertoire like lasagna and meatloaf.
also i'm going to do a separate post of all my favorite things to grill too, at some point!!
entrees

citrus salmon
i've made this alison roman recipe 8000 times but altered it a bit from the original. i love salmon with skin so i up the cooking time to attempt to slightly crisp it and even though the method in the original recipe is low and slow, i found that doing it a little faster came out just as good and was much easier for weeknights.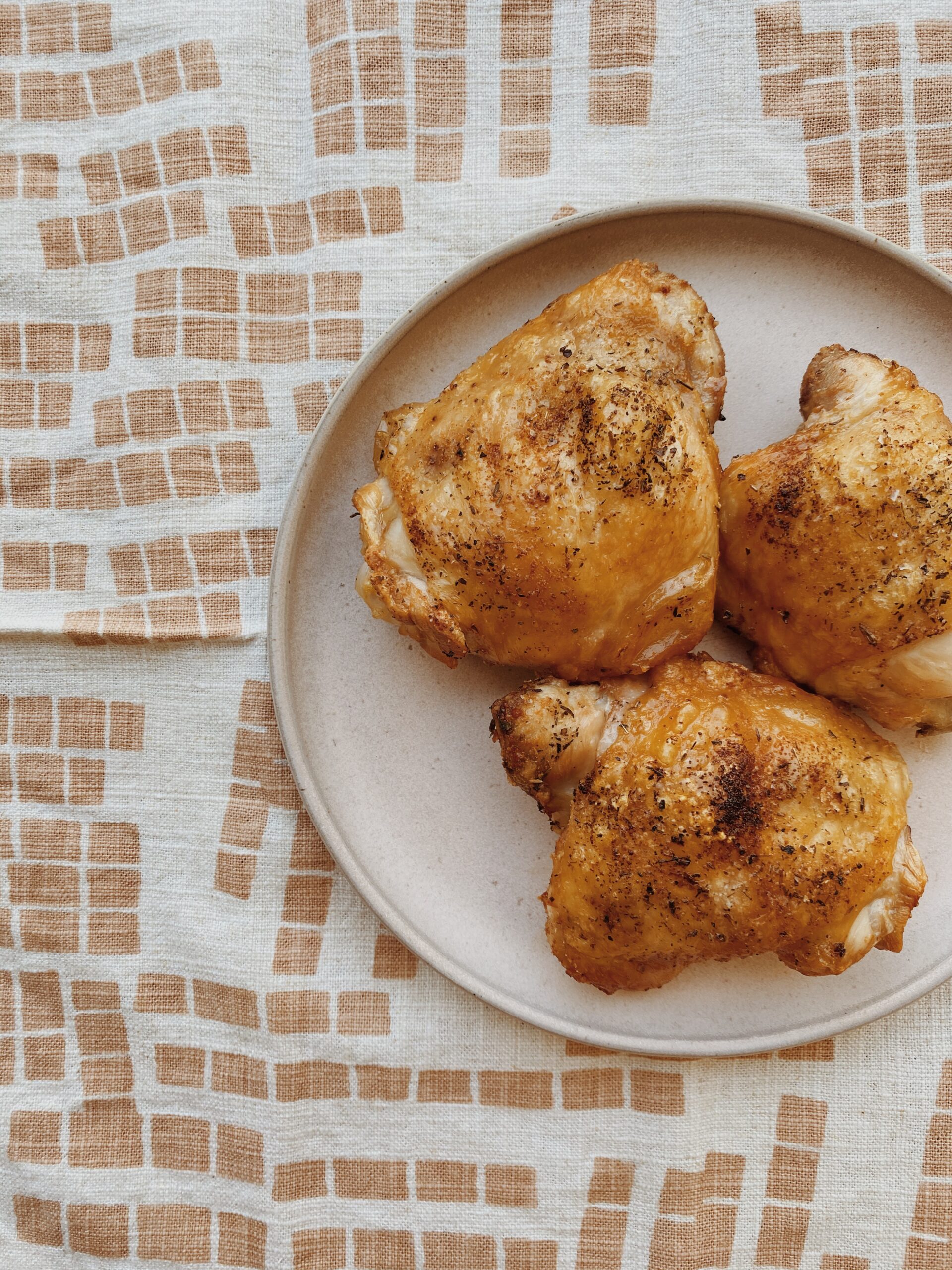 air fryer chicken thighs
we live for chicken thighs. some friends of mine think they're gross and that is absolutely incorrect because to me they're even better than a whole roasted chicken. JUST THE BEST PART! i have lots of chicken thigh recipes (in fact i could (should?) do a whole post of my fave chicken thigh recipes) but one of my go-tos is doing it in the air fryer where the skin gets SO incredibly crispy and perfect!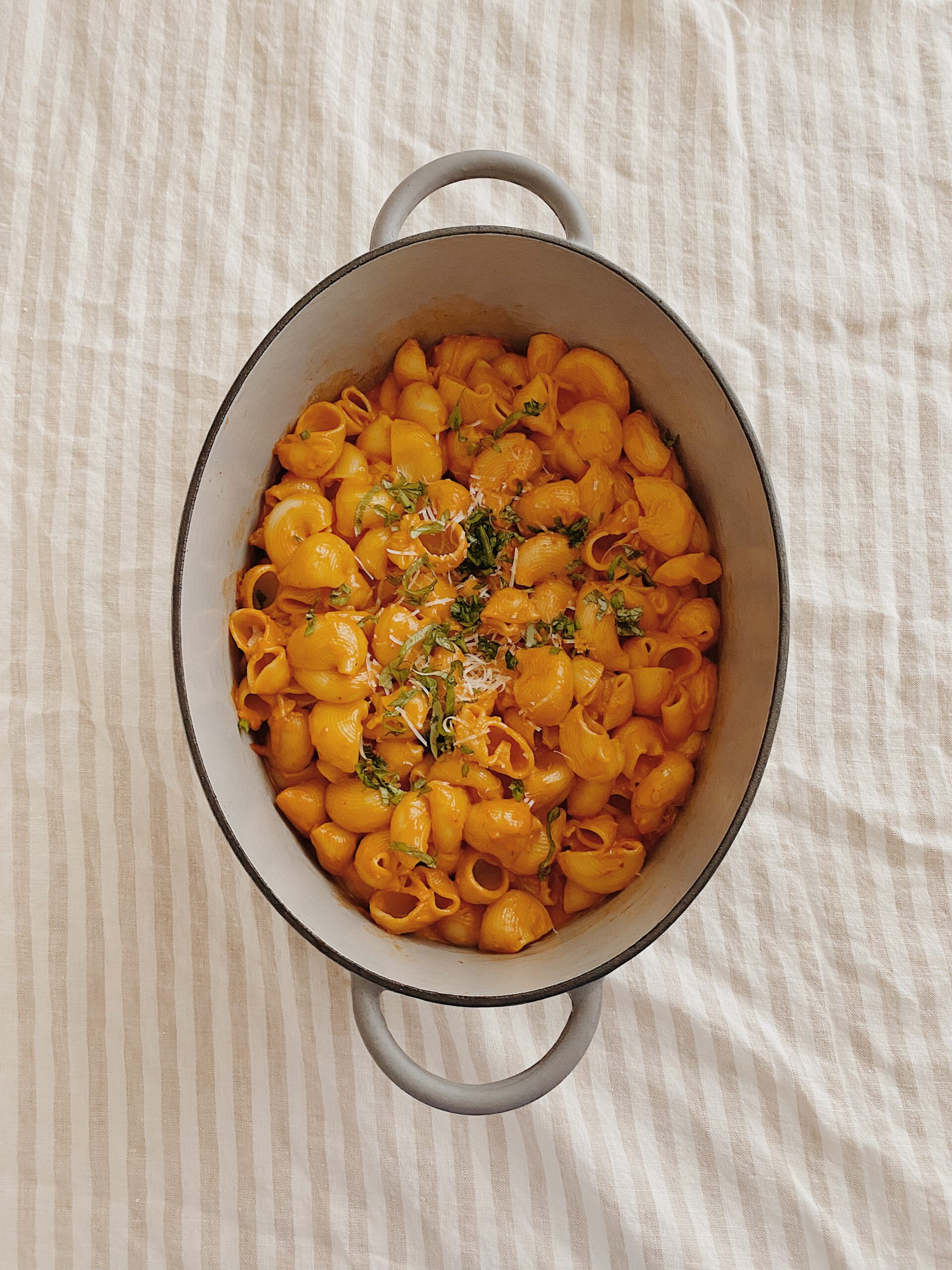 vodka pasta
if you follow me on IG you know i've made this basically weekly for a couple years now, it's arlos #1 favorite!! i skip the chili flakes because my house can't handle spicy, i also like to add frozen peas and chicken to add something good for him.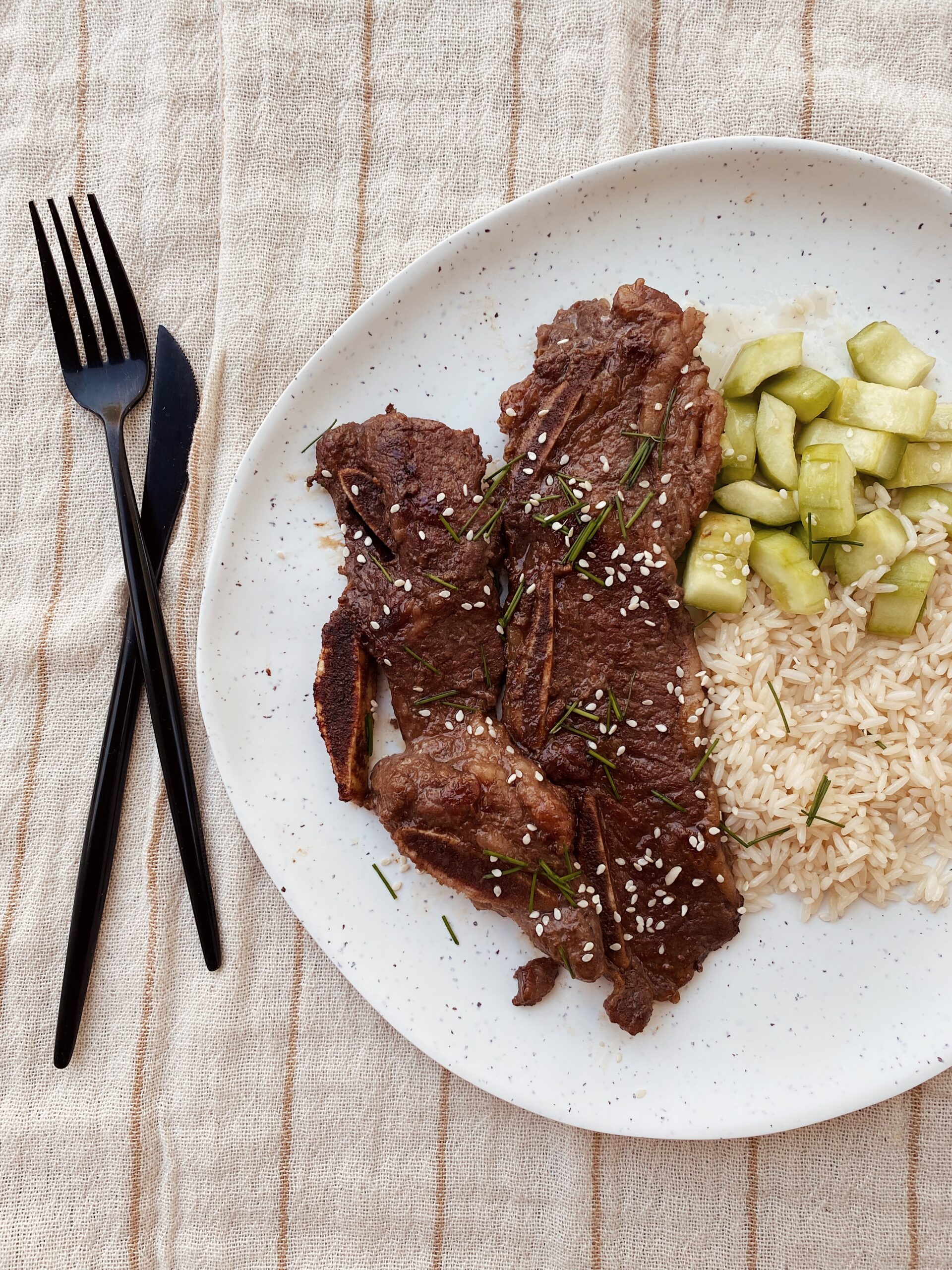 trader joes korean ribs
this is one my fave dinners to make, its so easy and i can thaw it right before dinner for nights i forgot about dinner. i serve it with microwave rice and cucumber salad (recipe for that is below!)

air fryer salmon bowls
i use microwave rice, microwave edamame, and then just chop the rest of the ingredients. the only thing that takes a little extra energy is remembering to marinate the salmon a few hours before cooking it, but it's worth it! you can also make it healthier with cauliflower rice– it's good both ways!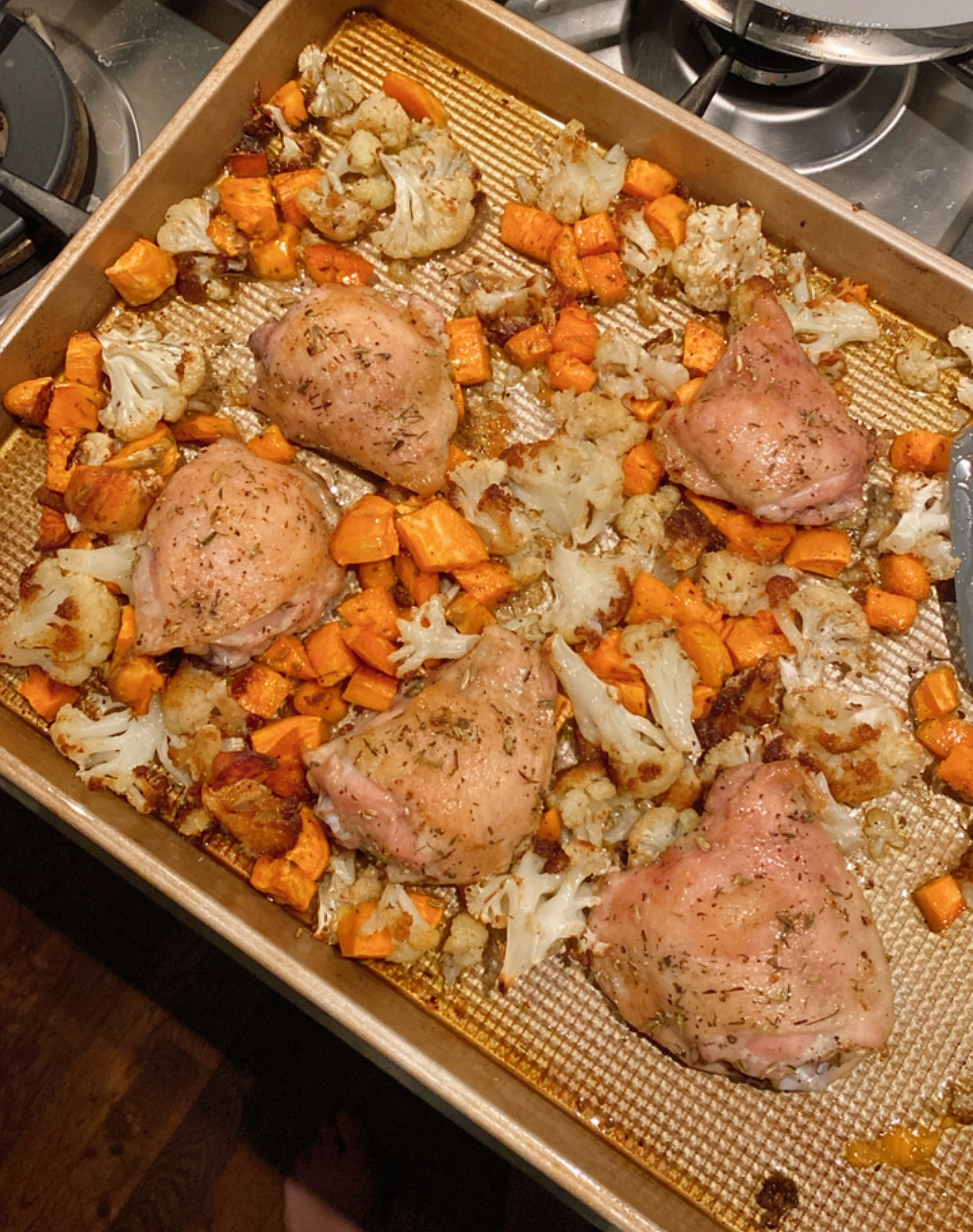 sheet pan chicken thighs
another chicken thigh method i made weekly for years, i really wish i had a better photo but for some reason i don't!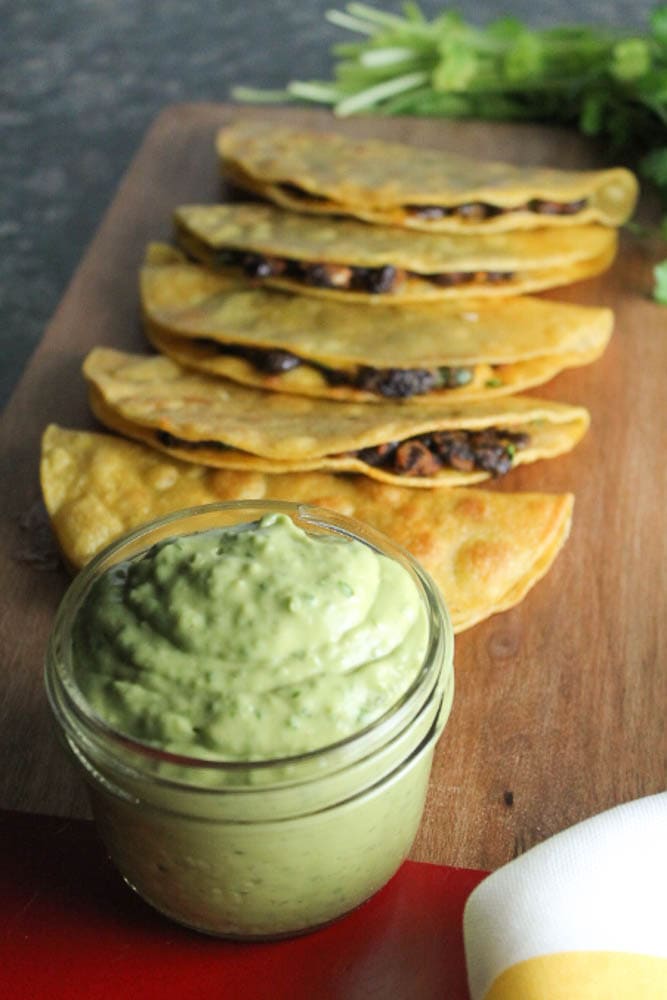 crunchy black bean tacos
this isn't my quickest dinner to make, but i love that i almost always have black beans in the pantry so it's easy to whip up when i don't have groceries. and they are bomb!! i love added a ton of chopped iceberg to them (and all tacos) and i'll usually just serve them with frozen corn or a little salad, or nothing at all if i'm not feeling up to it.

pork meatballs in fish sauce
i haven't made this for a while, but i was making it super regularly so i had to include it. this dish is so good! i think i just burned out a bit haha.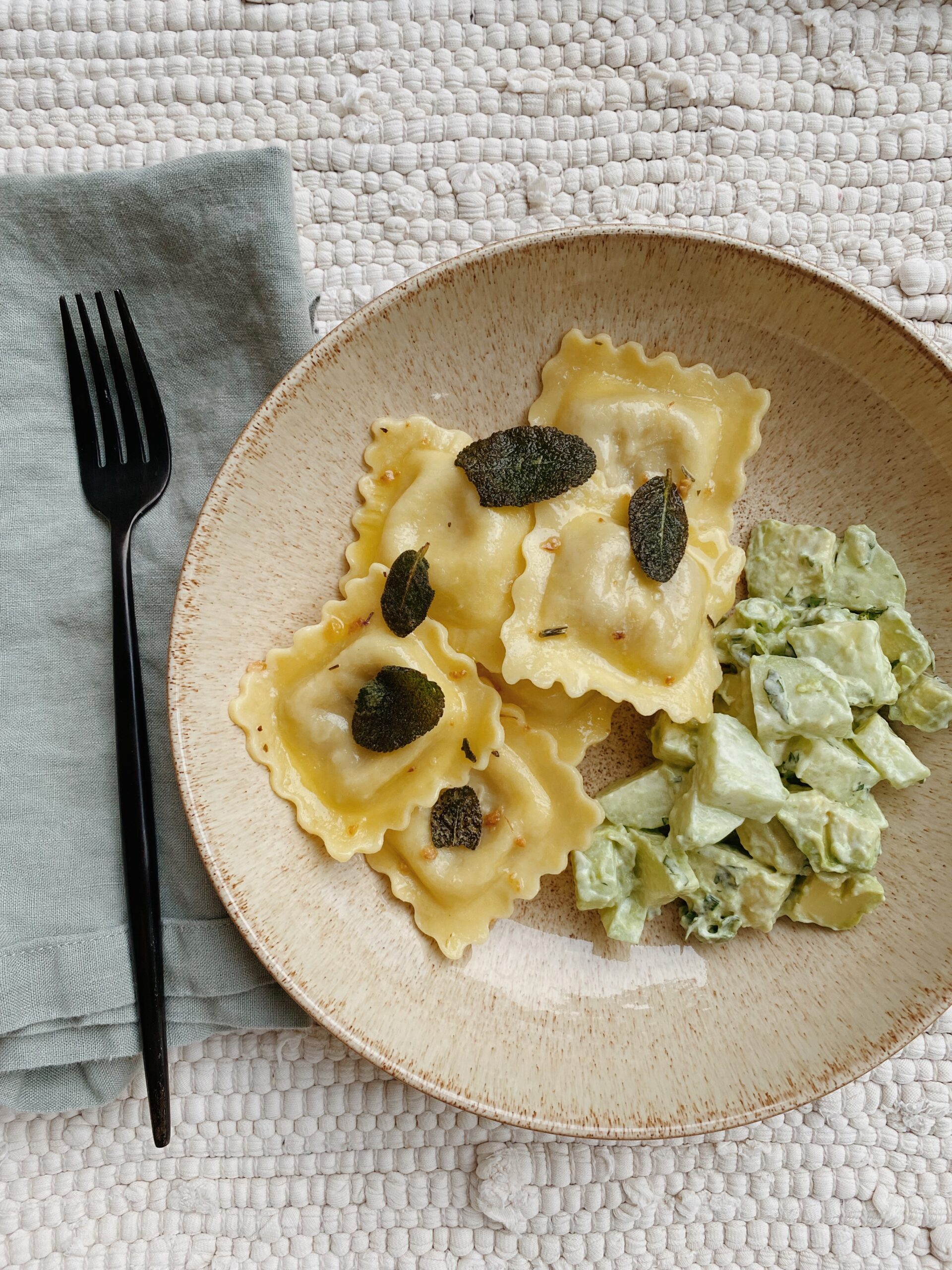 ravioli with a veggie side dish
this is one of my faves because it's SO good and quick. sadly our favorite artichoke ravioli is barely stocked anywhere now, but i buy other kinds instead now as long as it's rana brand! (my new kind is the ricotta spinach)
i keep bags in the freezer, so this is my go-to for nights i don't have a plan and it takes 5 mins to boil. i make a sauce for it with butter, oil, minced garlic, lemon juice and a little tiny bit of flour to thicken the sauce. then i put a fresh herb on top like basil or fried sage leaves and it's a nice dinner! now that arlo is getting bigger– we need two bags or family sized bags. i usually serve with a side of arugula or crispy air fryer broccoli or above — this avocado cucumber salad.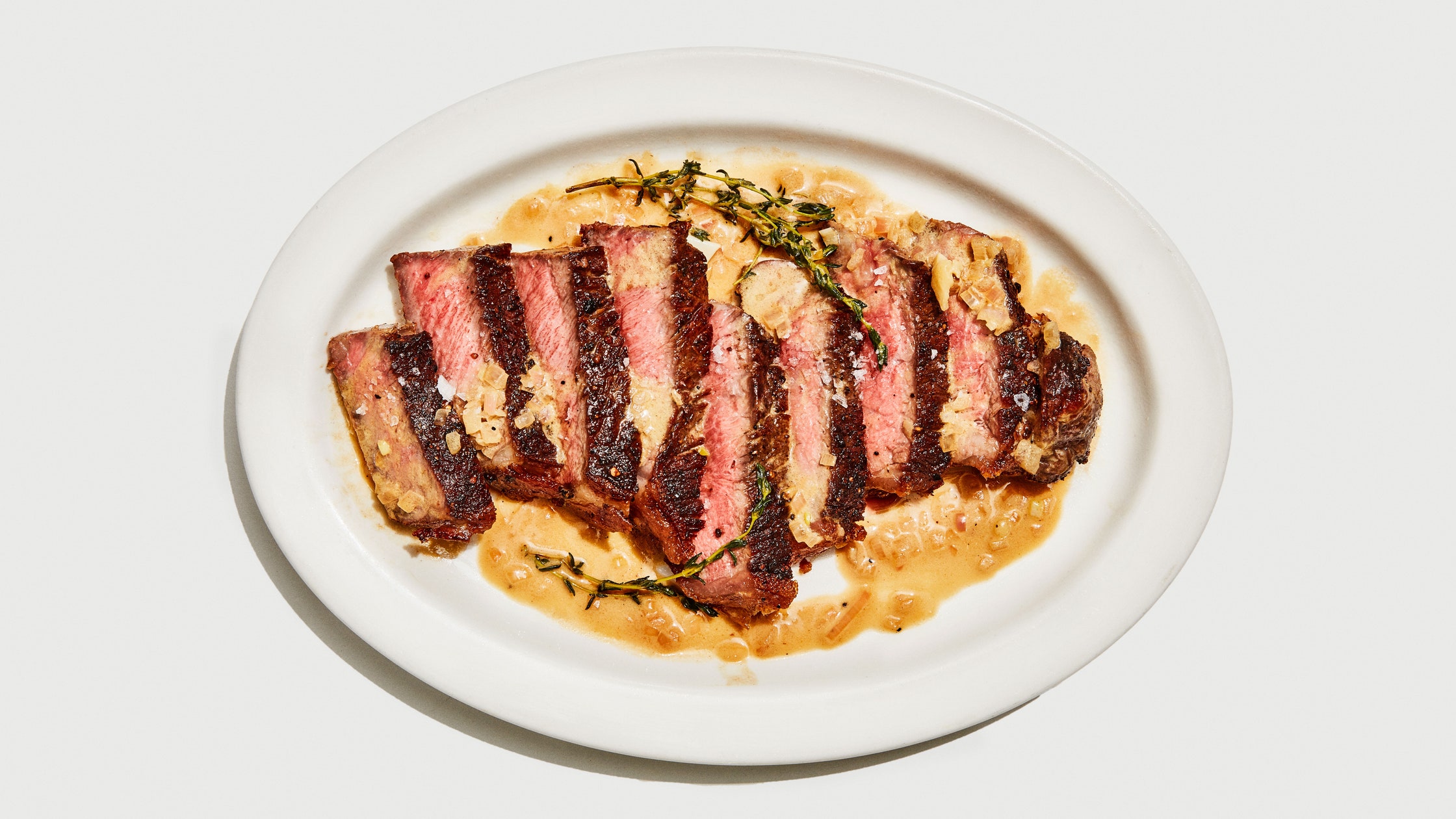 steak with pan sauce
this is our favorite steak– the sauce is so delish, so basically whenever i have steak on hand i'll usually do this recipe. for sides, i'll usually do pearled couscous and a veggie. sometimes i'll do a mashed potato but arlo is super against them so i usually don't!

slow cooker white chicken chili
this chili is so good! i don't do many slow cooker meals but whenever i make this, we're all very happy and it has lots of leftovers for the rest of the week.

burst cherry tomato pasta
during the summer, i love to make this pasta. it's sooo good and looks much fancier than it is.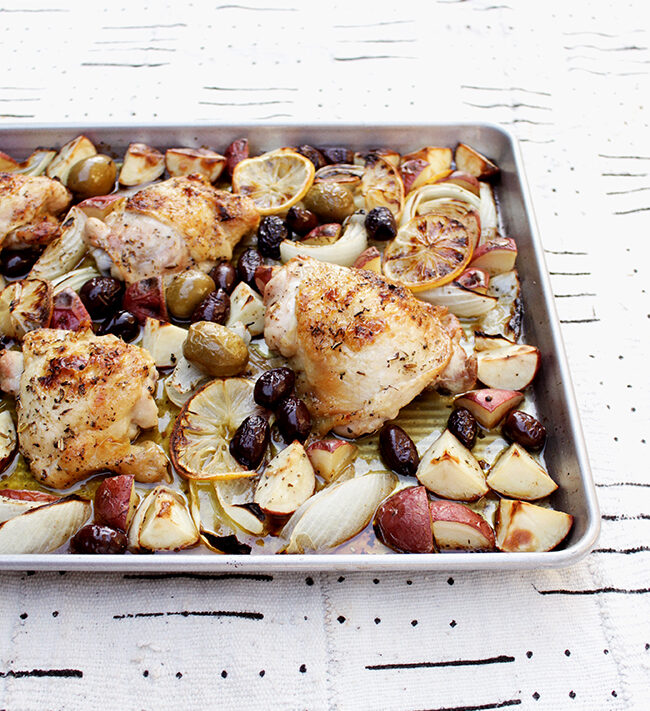 sheet pan greek chicken
i used to make this all the time but haven't for years, so i technically shouldn't include it but it's such a good easy dinner and one of gids favorites!! so i had to include! tbh i got sick of the potatoes because i'm huge on roasted potatoes but i wonder if i tried this with cauliflower instead it might be my fave again.

simple crunchy tacos
very cliche weeknight staple for a reason! so easy and the fam loves. i use crunchy taco shells, ground beef and taco seasoning and then for the side dishes i love corn, beans, cauliflower.
i share a very amazing way to spice up frozen corn below but i also discovered recently that you can microwave corn on the cob which is amazing for us because only arlo and i like it!!
---
side dishes

sweet potato + cauliflower
my favorite ever! i could just eat pounds of this tbh.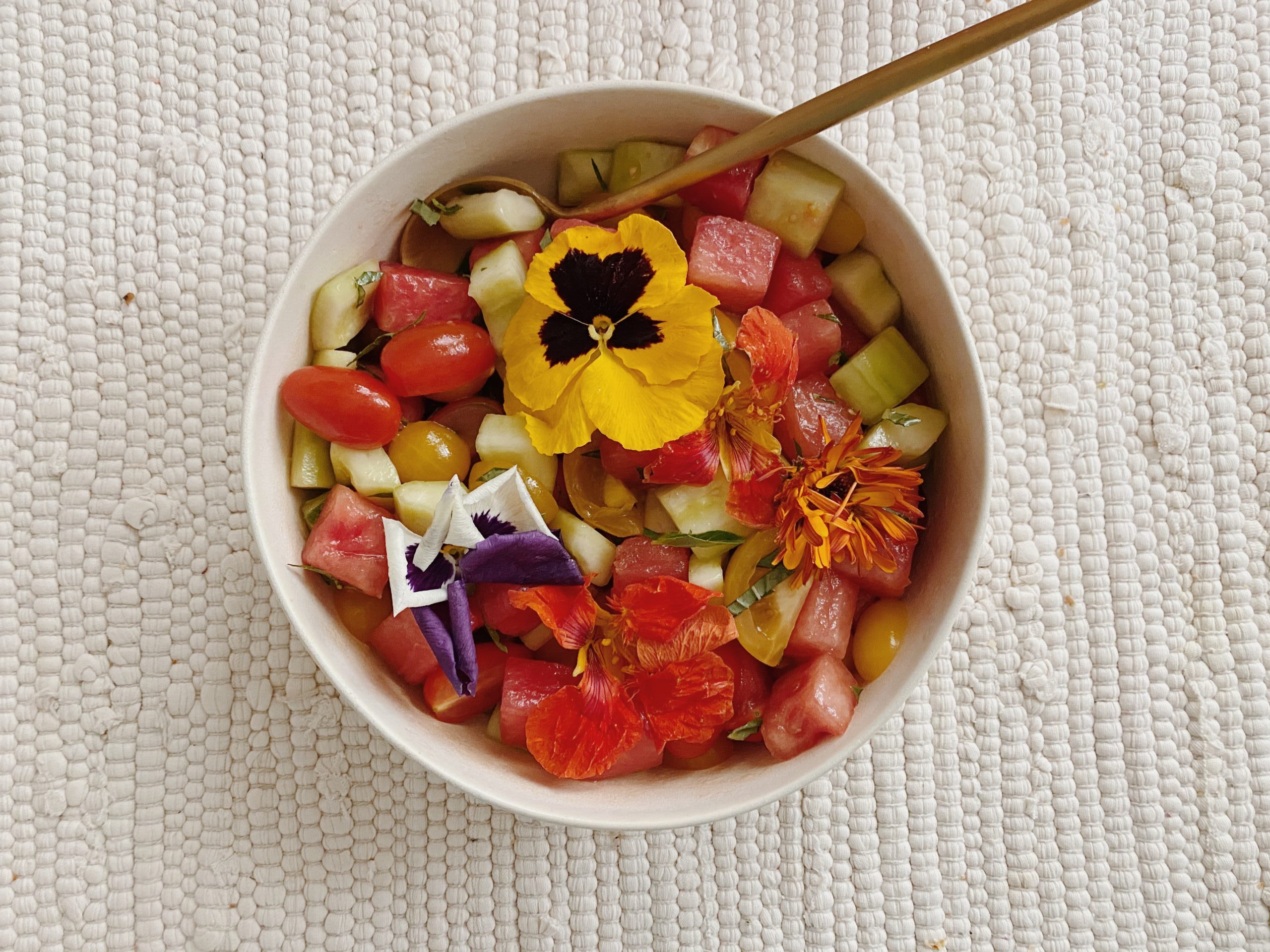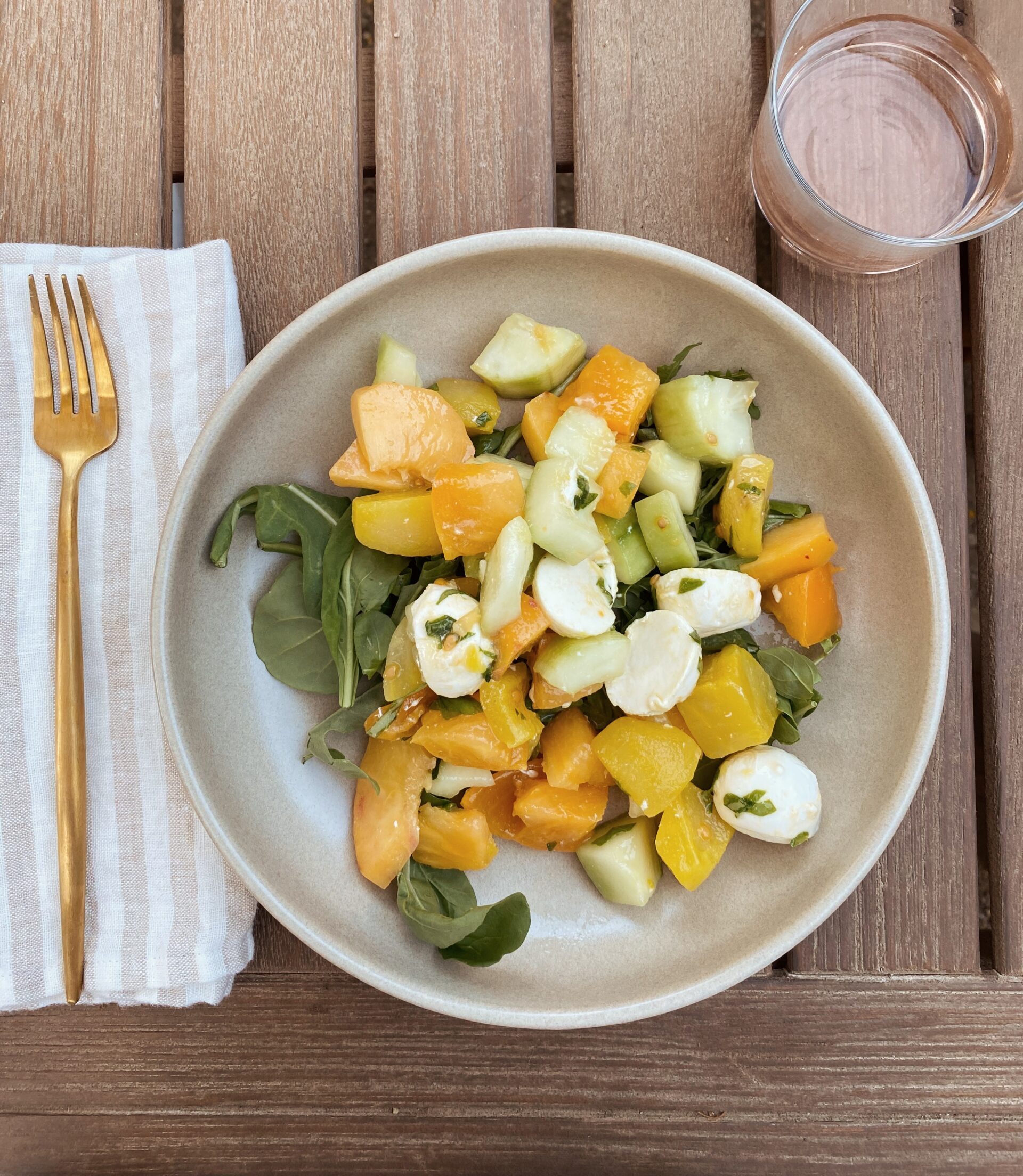 cucumber avocado tomato etc salad
i love any variation of this kind of light summery salad! i make this all the time, depending on what we have in the fridge.
so sometimes it'll just be cucumber, cherry tomatoes and avocado with fresh basil leaves, but when i have more ingredients i'll add stuff like beets, mozzarella, watermelon, arugula etc.
for the dressing, i'll usually just do lemon juice, olive oil, salt and a little vinegar. always a hit!

roasted asparagus
one of my faves, i like to roast it till it's nice and browned with olive oil, salt, pepper, herbs de provence, lemon juice and a bunch of lemon zest on top! i turn them over once while cooking so they get nice and crunchy on both sides.
(also– i need to make that chicken again and do the recipe for the blog!! soon!)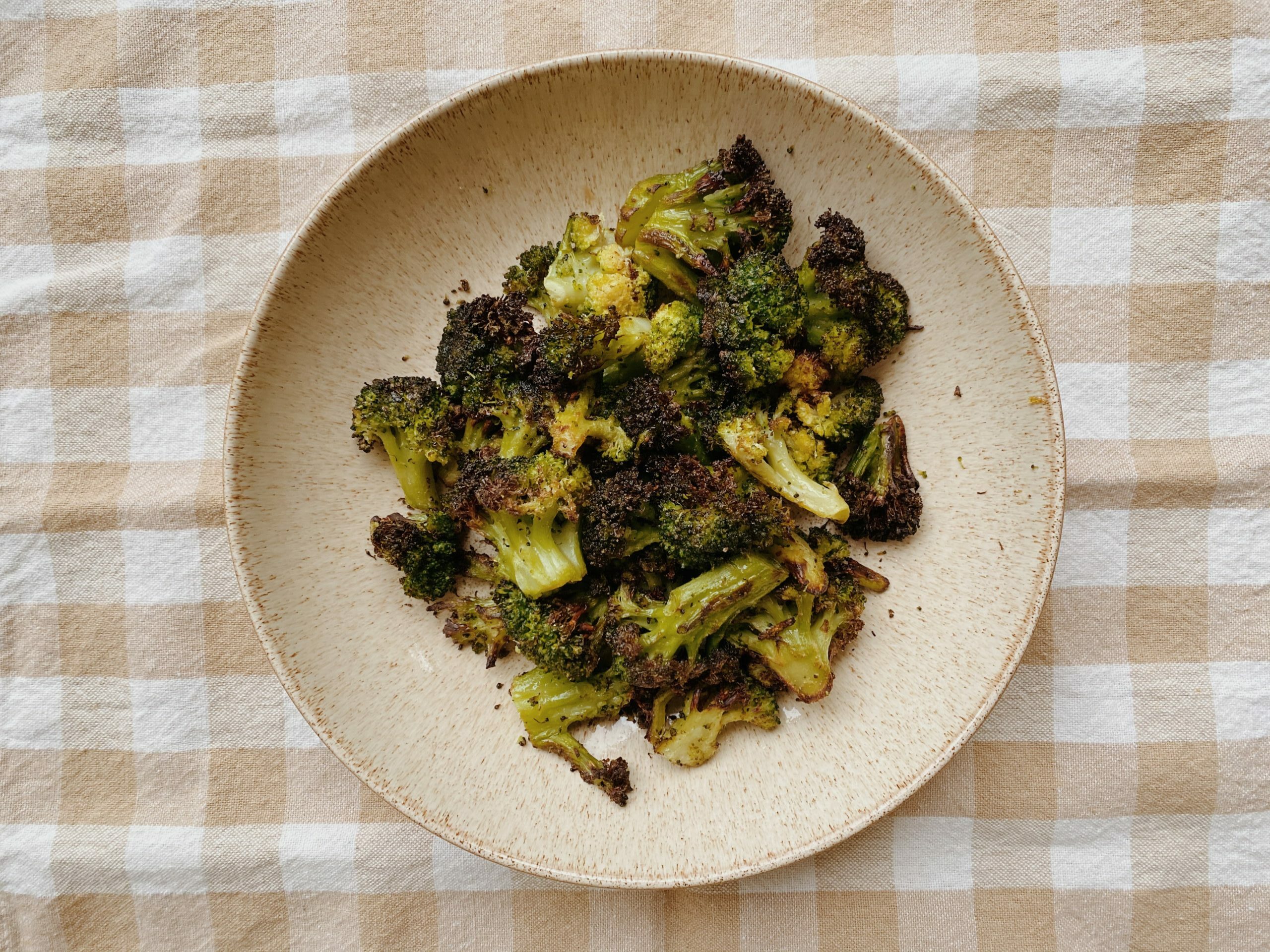 air fryer broccoli
i mix in a bowl with oil, salt, pepper and garlic powder. my air fryer has a broccoli button but i don't use it because i like it more charred, so i do 400 for like 12 minutes and then check it. definitely stir it to make sure all the pieces get even cooking! and don't overfill your basket! it'll cook most evenly spread out.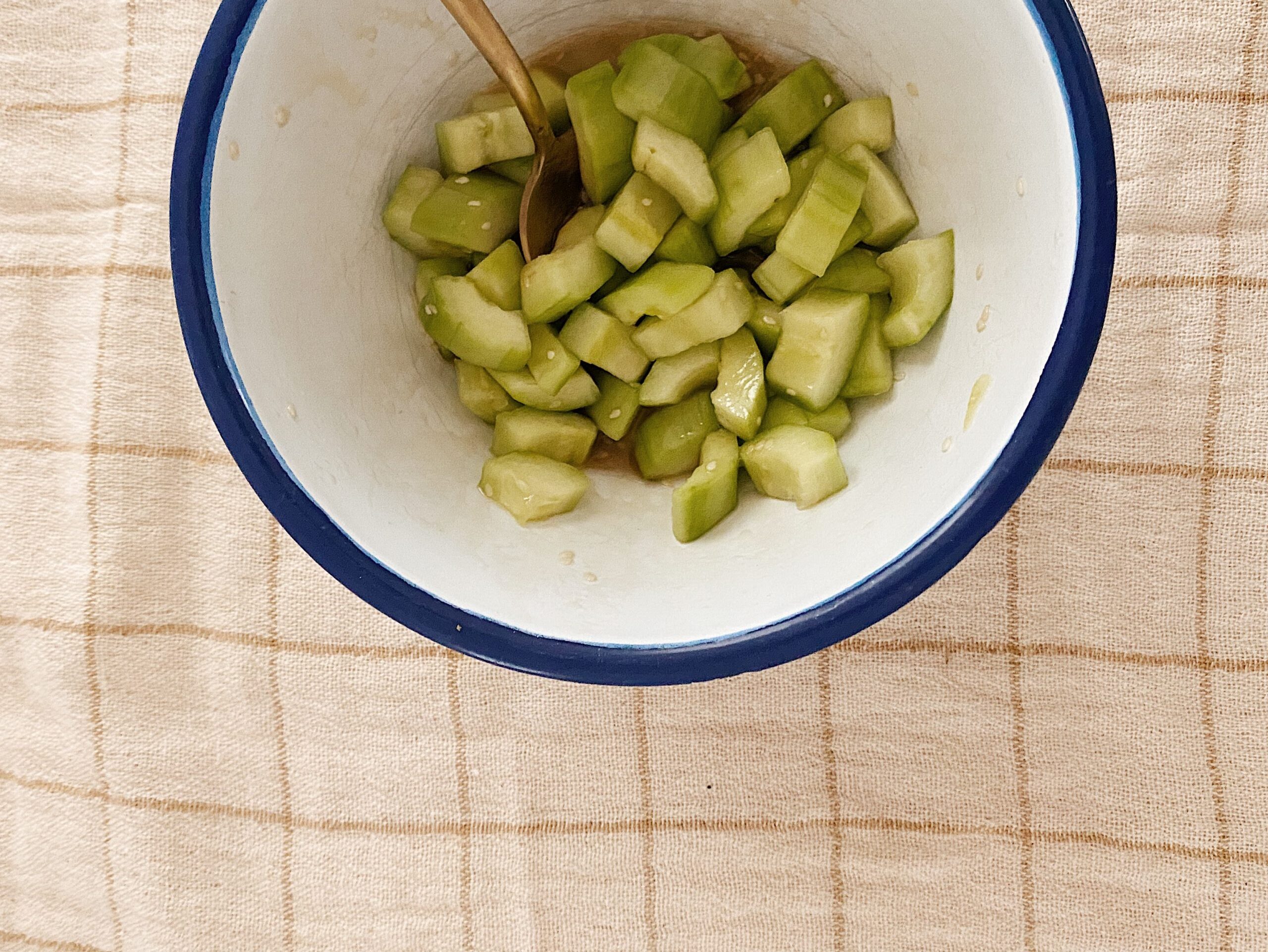 sesame cucumber salad
i make this easy side all the time — it takes a couple of minutes and arlo loves it.
chop up a cucumber or two, spoon out the inside (that keeps the cucs crunchy in the juice), then mix with 5 tsp rice vinegar, 1 tb sesame oil, 1 tb sugar and salt and pepper. add sesame seeds if you want! you can make right before you serve but sometimes i'll make an hour or so ahead to let it marinate more and skip a step when i'm actually cooking.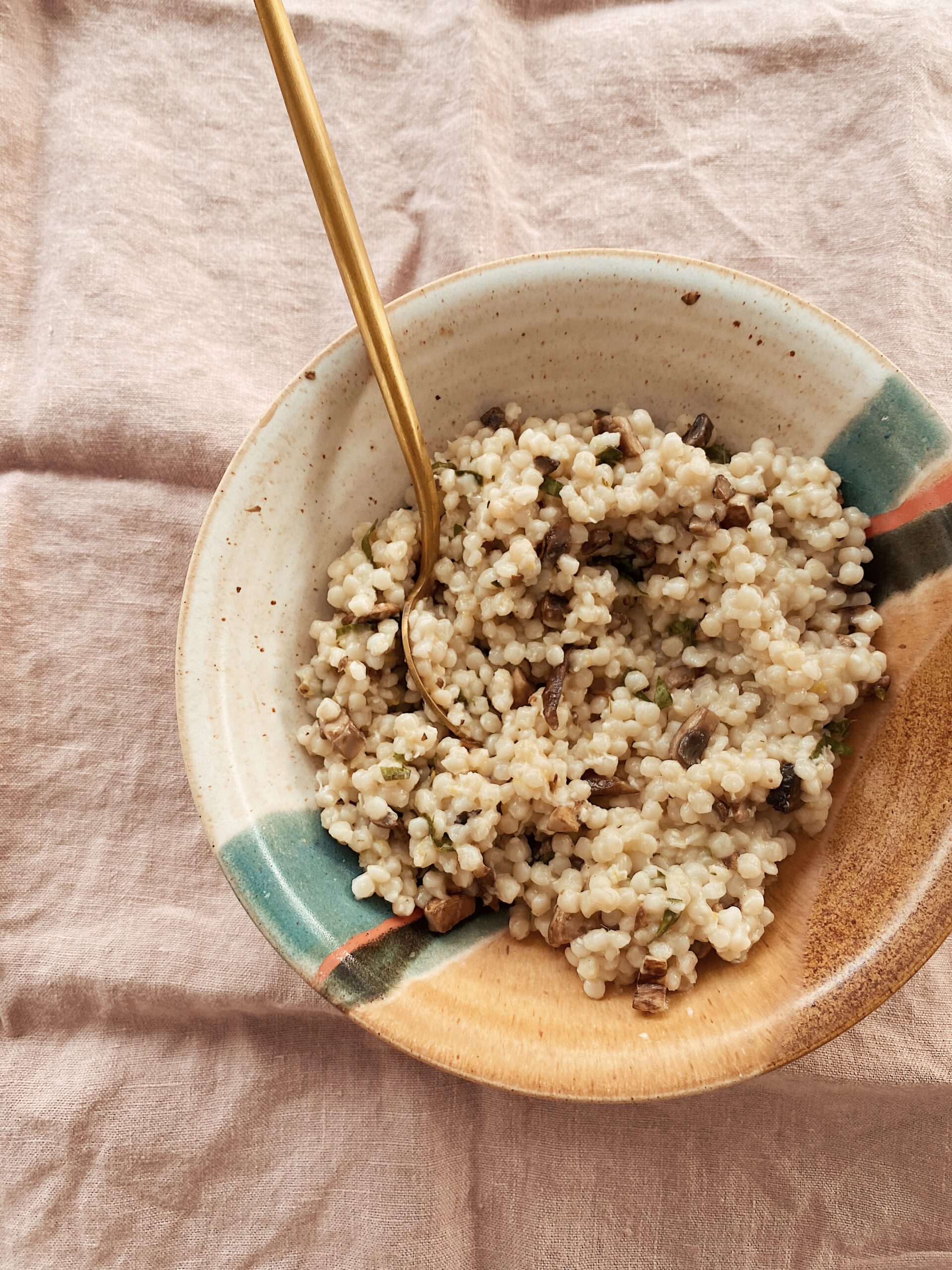 basmati rice or pearled couscous with mushrooms
i love a mushroomy starchy side — i'll usually add basil or parsley or rosemary to it too. this recipe is pretty perfect and arlo loves it too.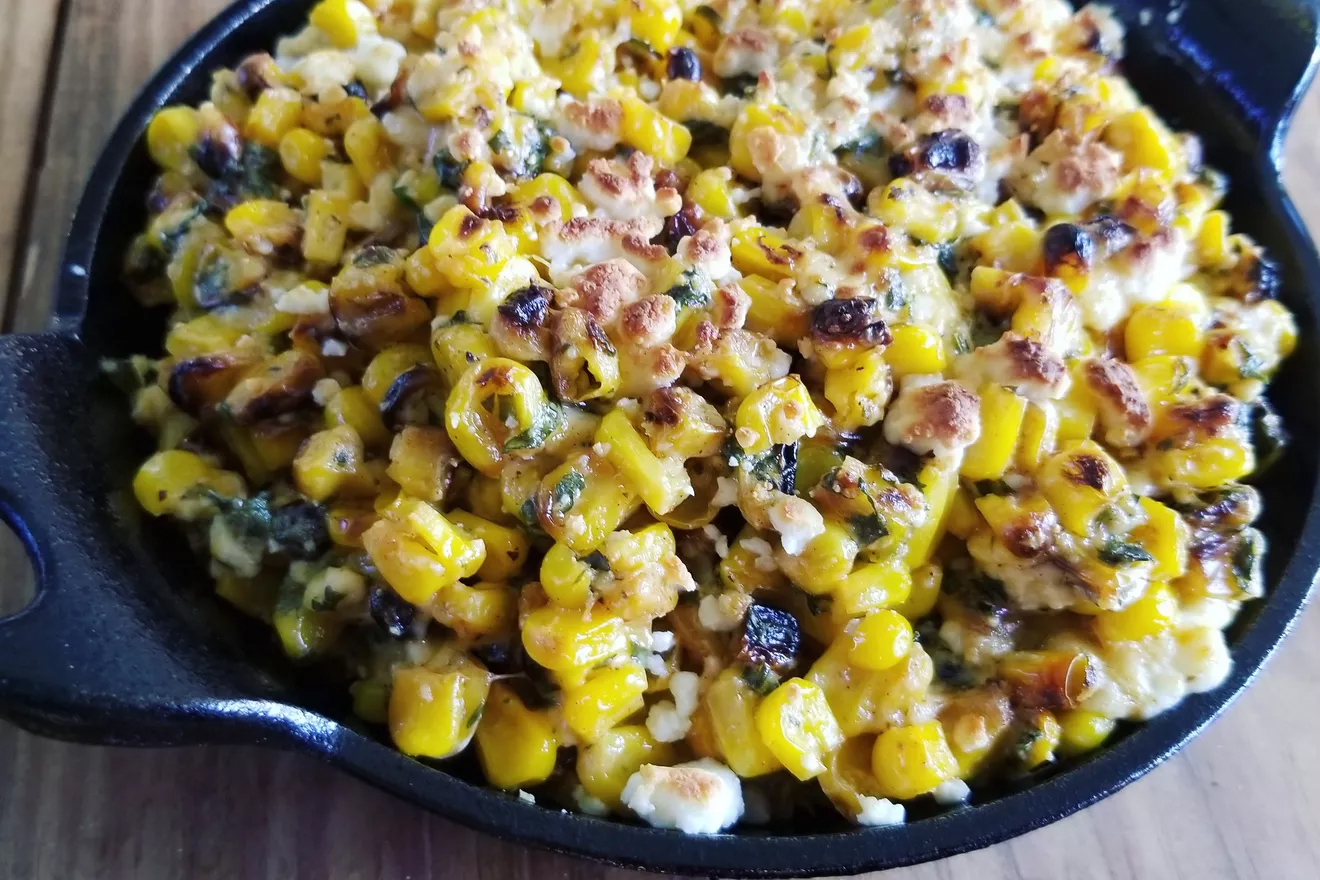 mexican street corn
this is SUCH an easy way to spruce up freezer corn to serve along with our taco dinners. i skip the cotija cheese because i don't stock it and we're not very into cheese anyway in our house — it's still super good without! (i also skip the ancho and use cumin instead!)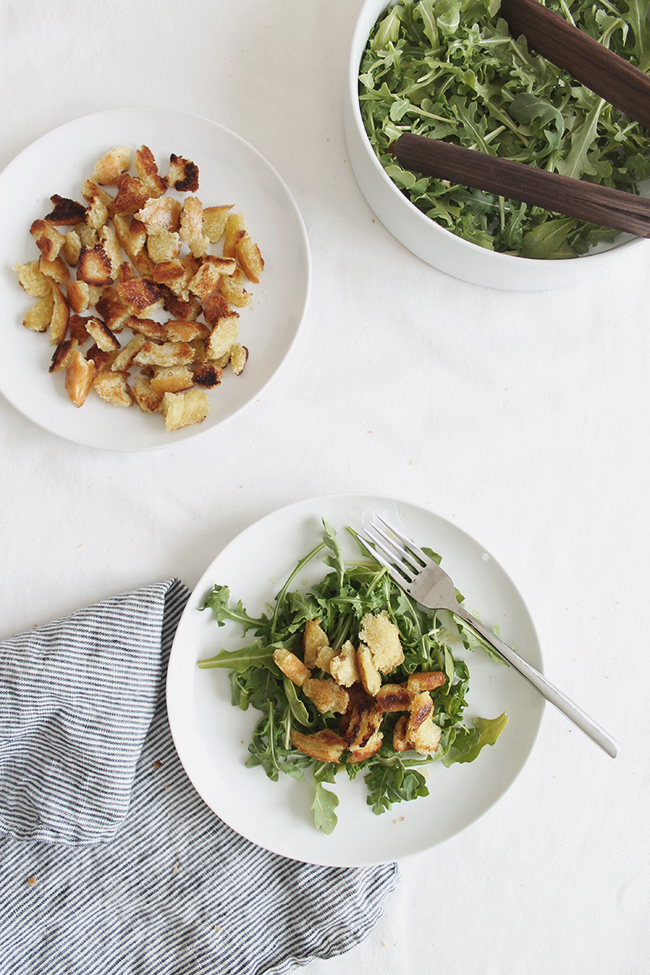 simple arugula salad
whenever i have 5 minutes to come up with a side green, i'll usually always just make a quick arugula salad. for the dressing, in a small bowl i add some minced ginger, salt and olive oil — whisk together to emulsify and then add some lemon juice and a tiny bit of dijon.
if our dinner isn't carb heavy, sometimes i'll make hand torn croutons as well– just tear up a piece of bread (the end pieces are perfect for this) and pan fry in olive oil (OR AIR FRY DUH.)
ALSO, i got this yuzu vinegar recently that i've been using as an alternative salad dressing. i just whisk it with olive oil and it's sooo good if you love yuzu.
things i always keep stocked for weeknight dinners:
(this part might feel redundant but i thought it was worth mentioning!)
frozen broccoli
frozen broccoli is my favorite of the frozen veggies because imo it tastes just as good as fresh! especially with the air fryer, i guess i can't speak for you NAFO (non-air-fryer-owners)
pearled couscous
we love couscous more than any other starch!! plus it comes in a big tub so i always have it in the pantry.
arugula
i love arugula more than any lettuce so i like to always have it around when i need a quick green.
cherry tomatoes
super versatile to use in salads or just on their own as a side dish. also love to make tomato confit for lunches or bruschetta for dinner.
fresh herbs
i use fresh herbs on everything i make– we grow most of the ones i love to use, but my faves are cilantro, flat leaf italian parsley, basil, tarragon, rosemary, dill and chives.
frozen ravioli
as i said above, we love to have ravioli on hand for when i have no dinner plan– i don't even thaw so it's super quick! (although the rana bag says you only need to cook for one extra minute if it's from frozen, and i disagree! i usually add at least 2 mins!)