my fave things this month | april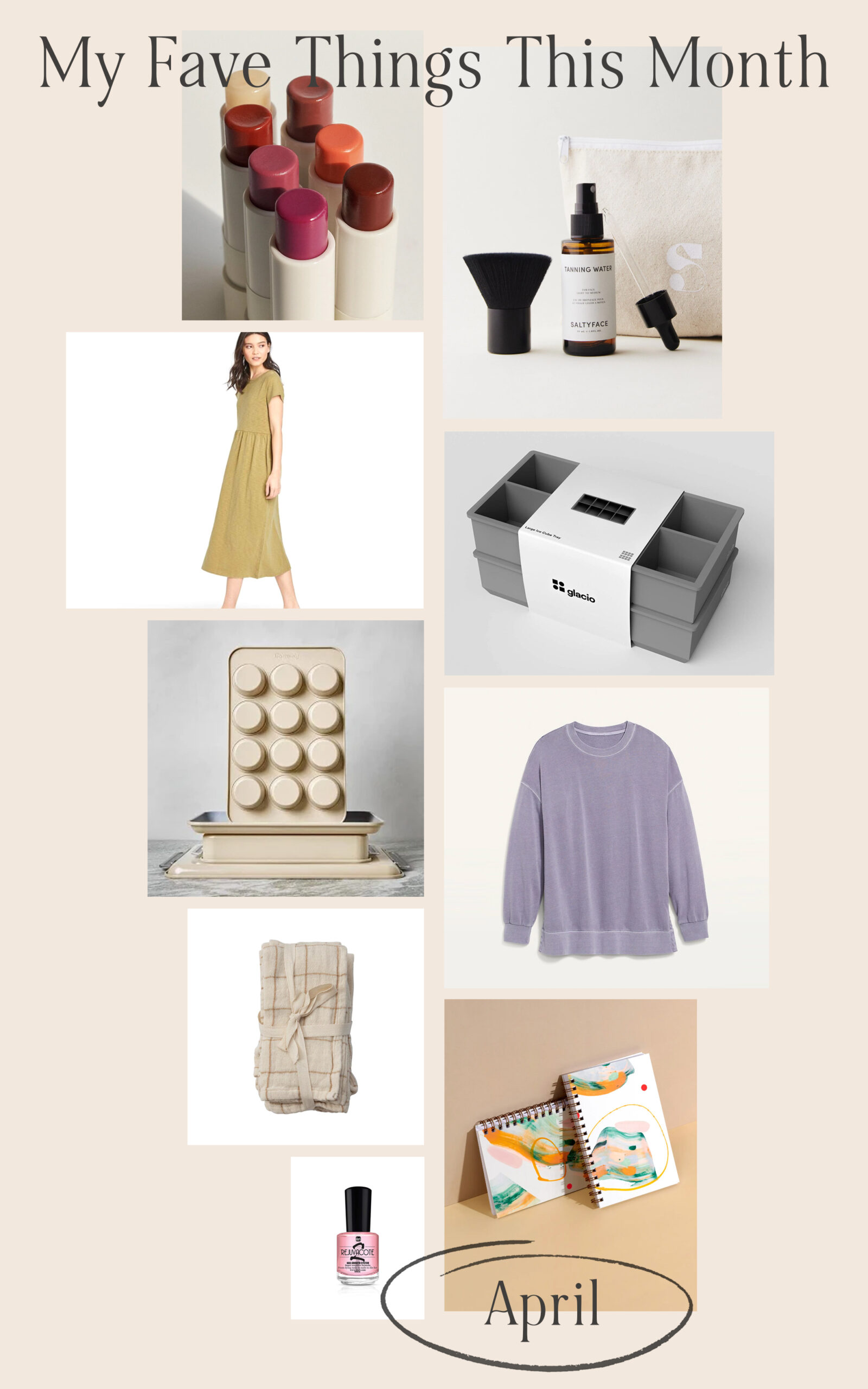 a few days late– but here are some of the things i purchased or loved the most this past month!
i am loving this tinted chapstick, i have it in nude and always keep it in my purse. the color is so pretty and it keeps my lips very hydrated!!
i've always loved looking tan but i've always been AWFUL at applying tanner. UNTIL saltyface came out with this brush. i spray 5-6 times onto the brush and rub all over my face and it looks perfect every time!! no streaks, all even, and i don't get it on my hands at all during application so i'm just so happy with this set!!
** use code MOLLYMADFIS for 10% off **
i've been wearing this non stop since my bump started growing a little, so comfy and cheap and cute and easy to throw on for the summer– i ended up getting three of them haha. and lots more neutral colors here.
i feel like the secret to really enjoying your life is the little things like fancy ice in your coffee drinks or cocktails. this ice cube mold makes big giant squares and i love them.
i've loved my caraway cookware but now i am loving the bakeware too– i got the baking sheet, muffin tin and some loaf and cake pans. they're beautiful, ceramic non coated and functions so well.
i am obsessed with this sweatshirt. the colors, and the thickness is perfect for cool mornings with leggings. also they don't have as many petite colors, but i love the petite sizing of them because the arms are the perfect length on me (most sleeves are like 6″ too long on me)
i got these napkins in ojai and they're so beautiful and thick. they feel very fancy and i love them!!
i also got one of these notebooks when we were in ojai (i did a lot of shopping) and i just love it so much. moglea makes the prettiest things!!
i destroyed my nails the last few months after doing dip and gels repeatedly and i'm never doing it again. my nails were once so healthy and thick and now they're so brittle and damaged 🙁 so i got this nail system and it's been helping a lot. i apply it everyday and i've felt a real difference in just a couple of weeks. highly recommend if you're also recovering from gels– it's a pyramid scheme!!!!! lol.