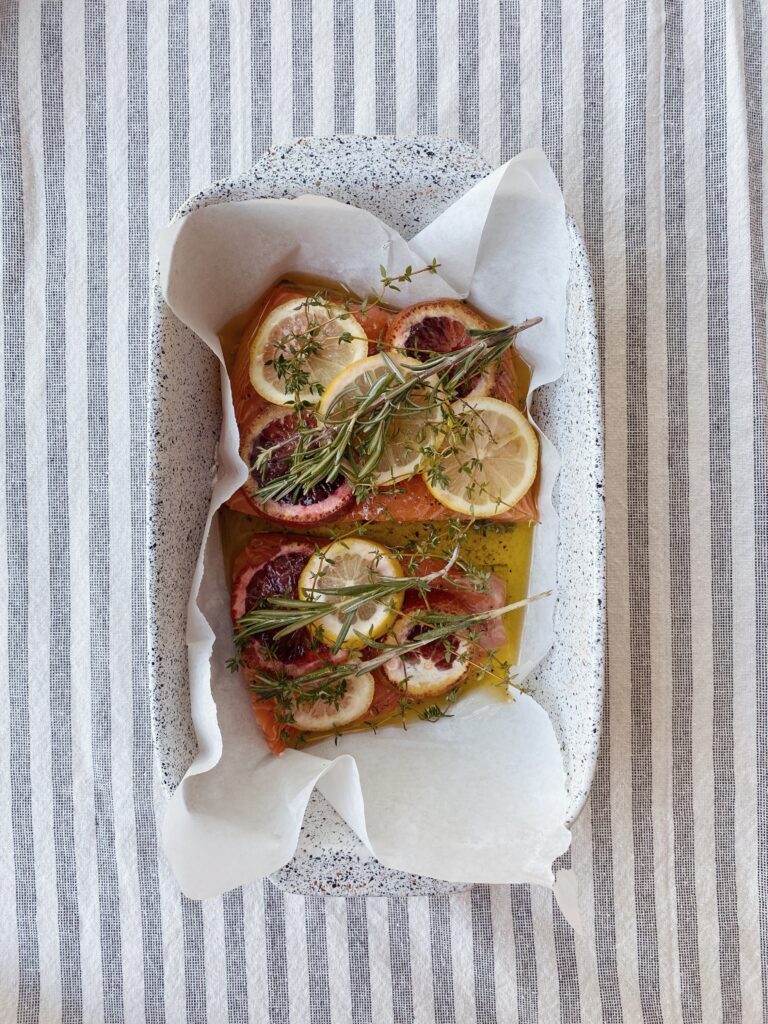 wow i have been making this simple "salmy" for YEARS, and never put on the blog. that's because it didn't start as my own recipe, but it has slowly evolved over the years into my own version of alison romans original recipe. hers is a slow roasted salmon that is delicious, but i never end up starting dinner in time to doing anything slowly, so i started doing at a higher temperature which works fine for us!
i've tried lots of other recipes and variations, but this has been my go-to because it is insanely effortless and quick for weeknight dinners, and it's always good!
personally, i don't like the taste of wild salmon whatsoever, so i always use atlantic.
citrus salmon
Ingredients
1 – 2 lb salmon (you can do skinless, but i like the skin!)
1 lemon
1 blood orange (or any orange will do)
fresh rosemary sprigs
fresh thyme sprigs
fresh cilantro
salt, pepper
herbs de provence
olive oil

Directions
preheat oven to 400°. in a baking pan, lay down a piece of parchment paper if you're using salmon with the skin. this way it won't stick!
wash off your salmon and pat it dry with paper towels. i personally like to really rinse the crap out of it and find it tastes a lot less fishy that way. lay in baking dish.
season liberally with salt, pepper, and herbs de provence.
slice lemon and orange slices about 1/4″-1/8″ and lay on top of the salmon, spreading and alternating around so you get a little of both all over.
cover with the rosemary and thyme and stick in oven. bathe in olive oil, like i pour a lot all over so that it's swimming in the oil.
cook for about 15-20 minutes depending on the thickness of your filet.
i check it around the 15 minute mark, and then usually kinda push some of the lemon slices in the center off to the sides so the center (thickest part) can cook.
once it all looks nicely cooked, pull out of the oven. squeeze lemon juice all over and top with roughly chopped cilantro.



if you only like crispy skin, maybe use skinless salmon. i don't mind it not getting super crispy, but i have experimented with turning up the temperature really high at the end or pan frying at the end etc. sometimes the oil at 400 gets hot enough that the skin does get a bit crispy, but if i'm looking for a crispy skin salmon i'll usually make a different recipe!

i typically don't do the smaller pieces of salmon like in the picture because i always order my groceries and it's always one big piece. once cooled after cooking, i just use a spatula to cut into individual servings. but i love to do it with individual portioned pieces because i find the skin crisps up a little more!

i almost always serve it with microwave jasmine rice and roasted asparagus. the asparagus is so easy to do with the salmon because i cook it at the same temp/time right below the salmon. i'll finally share that easy recipe asap too!