arlos oscar the grouch themed 4th birthday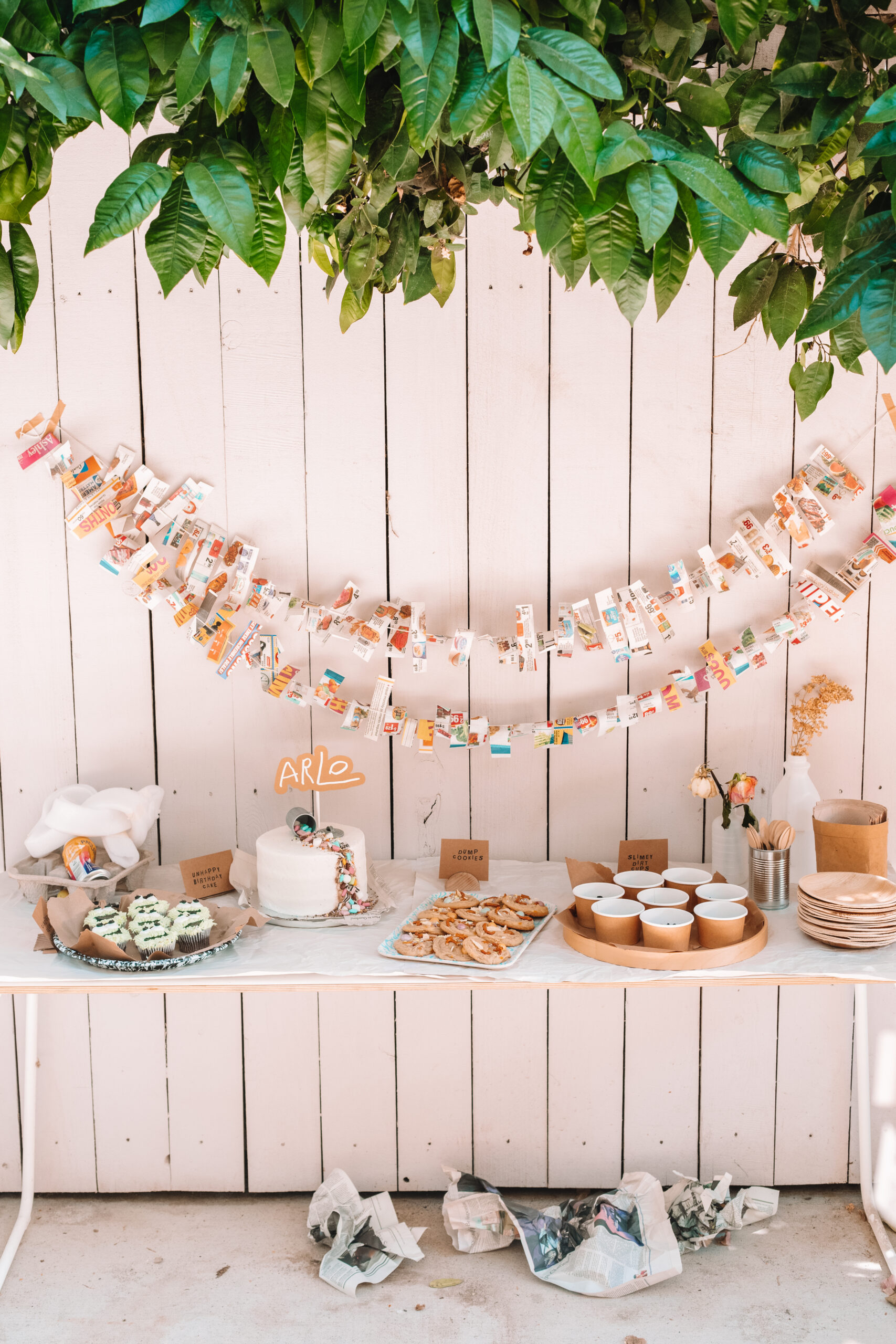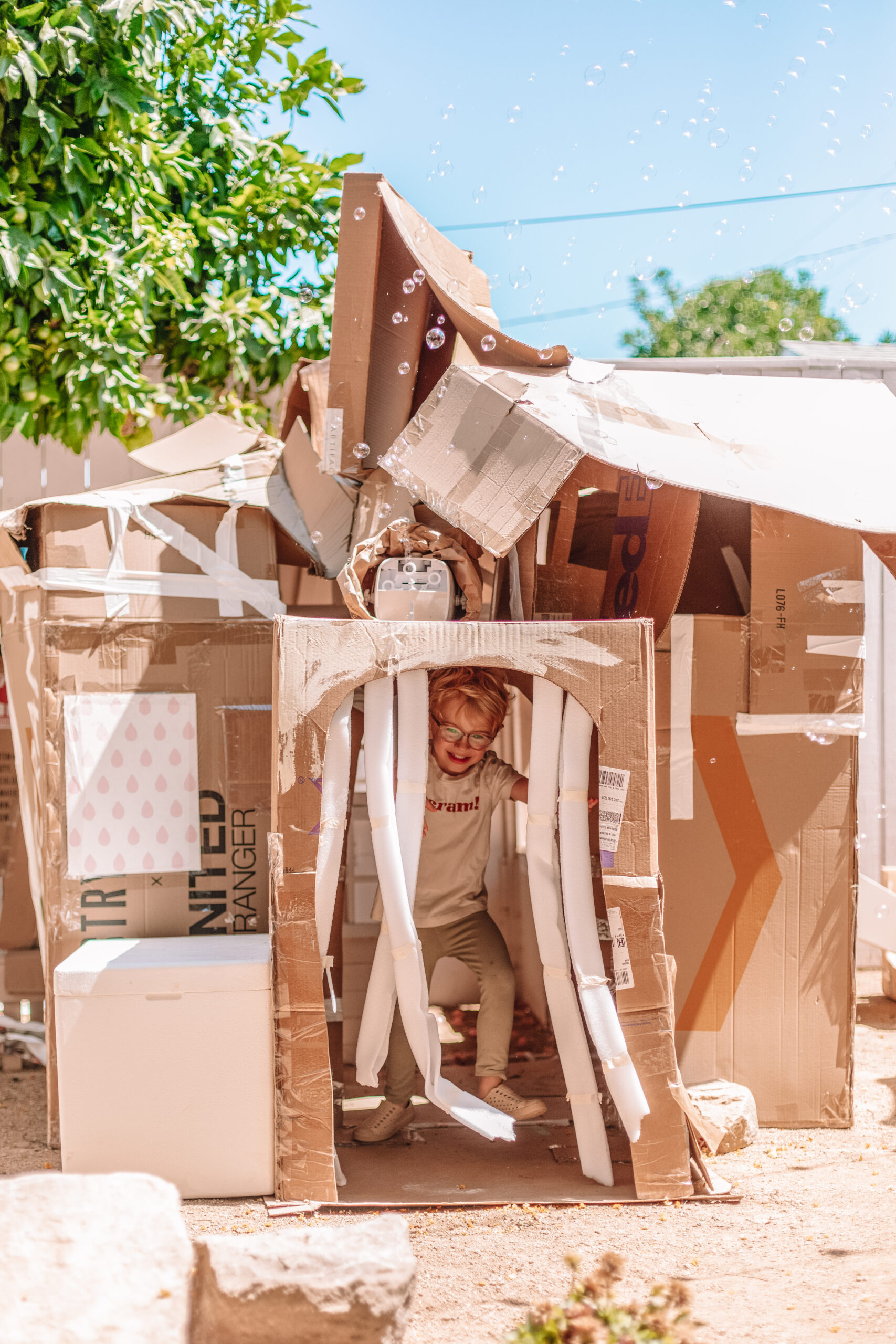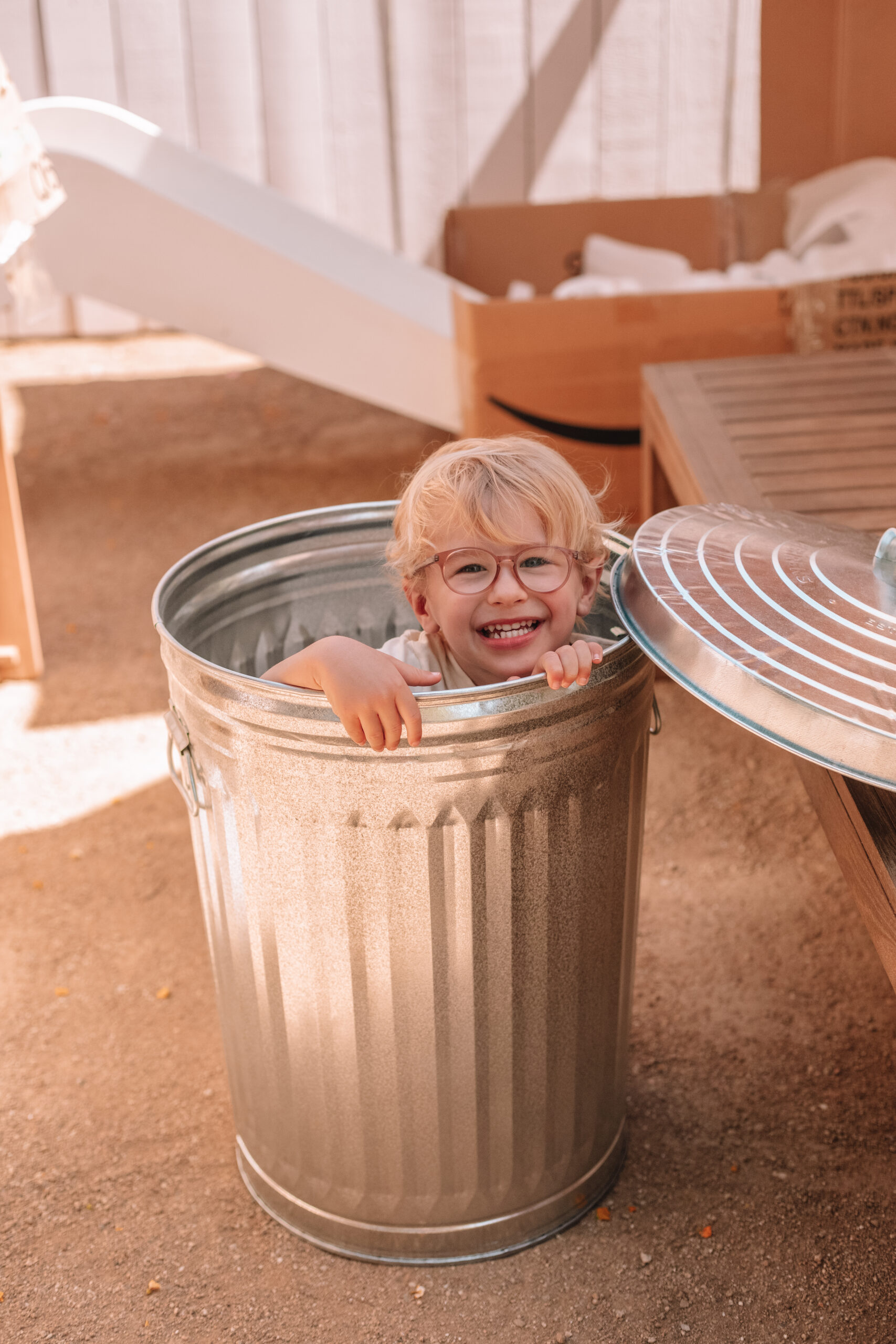 arlo is 4! i overdo it with every party theme, but this one was especially addictive. he decided he wanted to have an oscar the grouch themed party this year, but rather than just cover everything in oscar, i wanted it to feel more like a dream party for a grouch haha.
so this ended up being the easiest, least expensive and most sustainable party theme because i literally used cardboard and newspaper to decorate with. and it was such a fun creative challenge to really think outside the box and try to make trash aesthetic. so happy with how it all turned out!
i asked arlo incessantly if he wanted a party or to go to disneyland and he chose a party so all his friends and family could be there. he's so cute!
but it was VERY overstimulating for him and the first two hours involved a lot of time outs inside. after throwing a "party" just for us last year, this was a lot more intense all of us– but it was great in the end. and arlo said he wants a grouch party every year lol.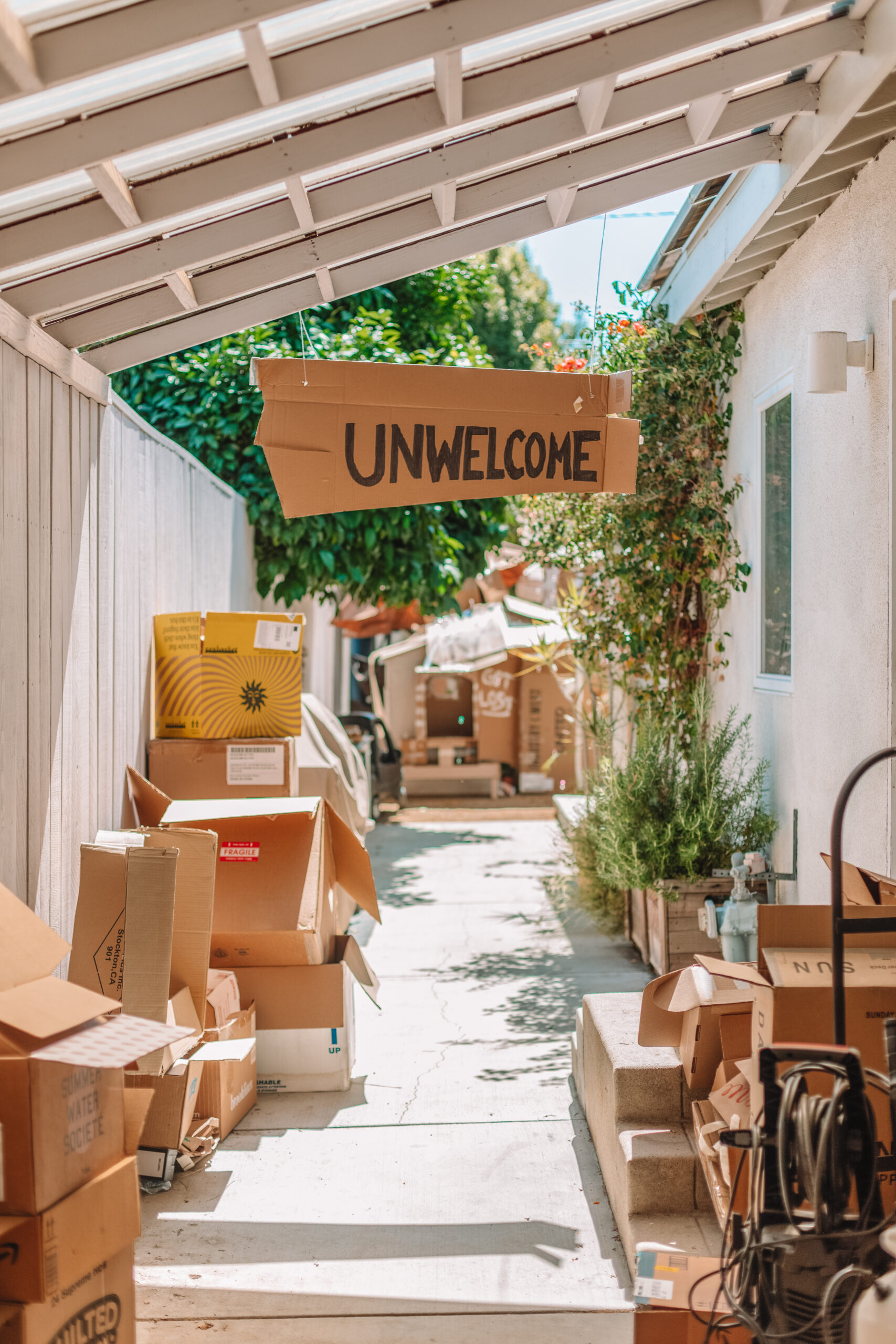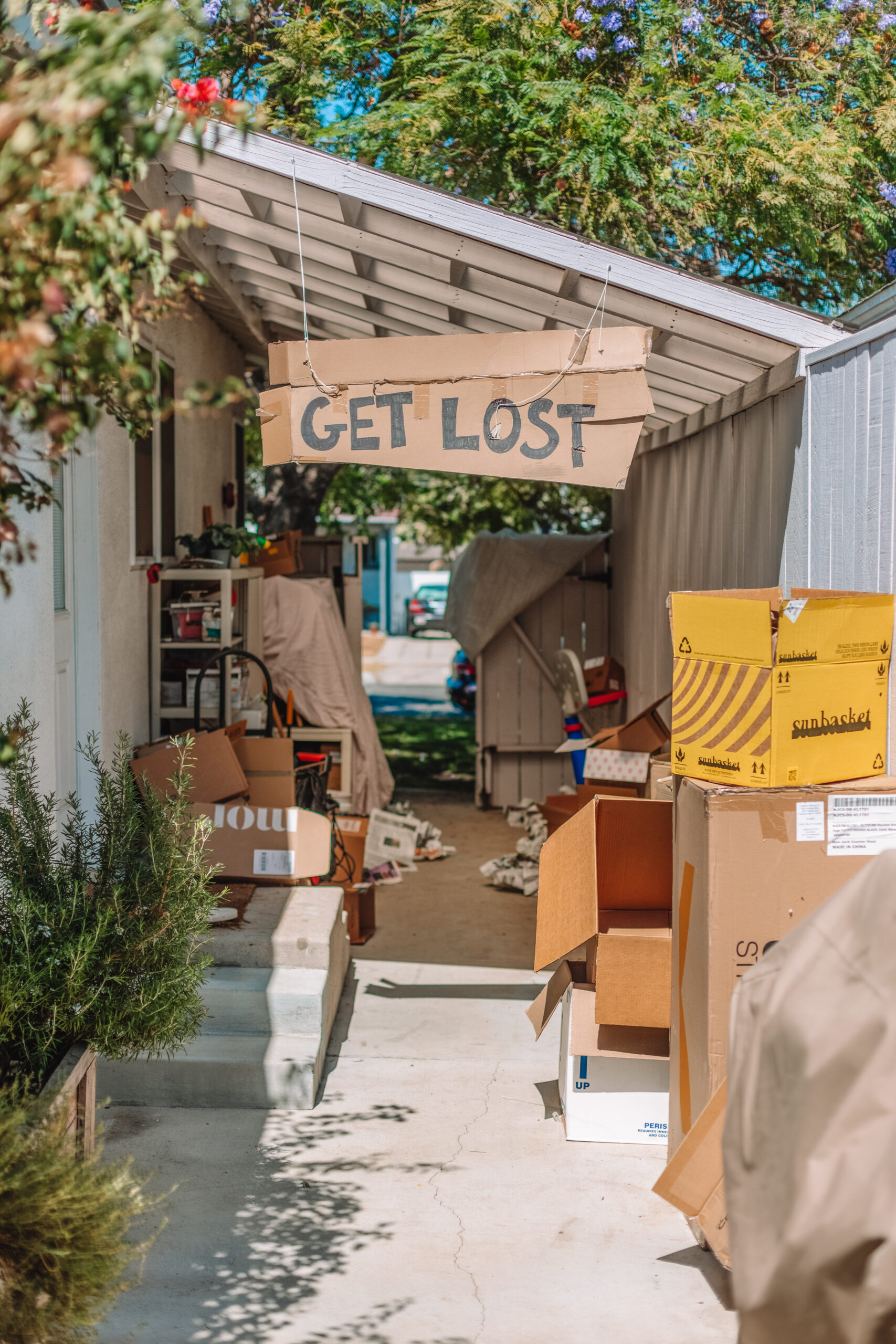 for the entrance, we let our cardboard stash accumulate for quite a while and just let it all hang out. we crumpled newspaper and threw empty cans on the ground so you'd have to walk into it haha– then we hung this big double sided sign that really set the mood as you walked in lol.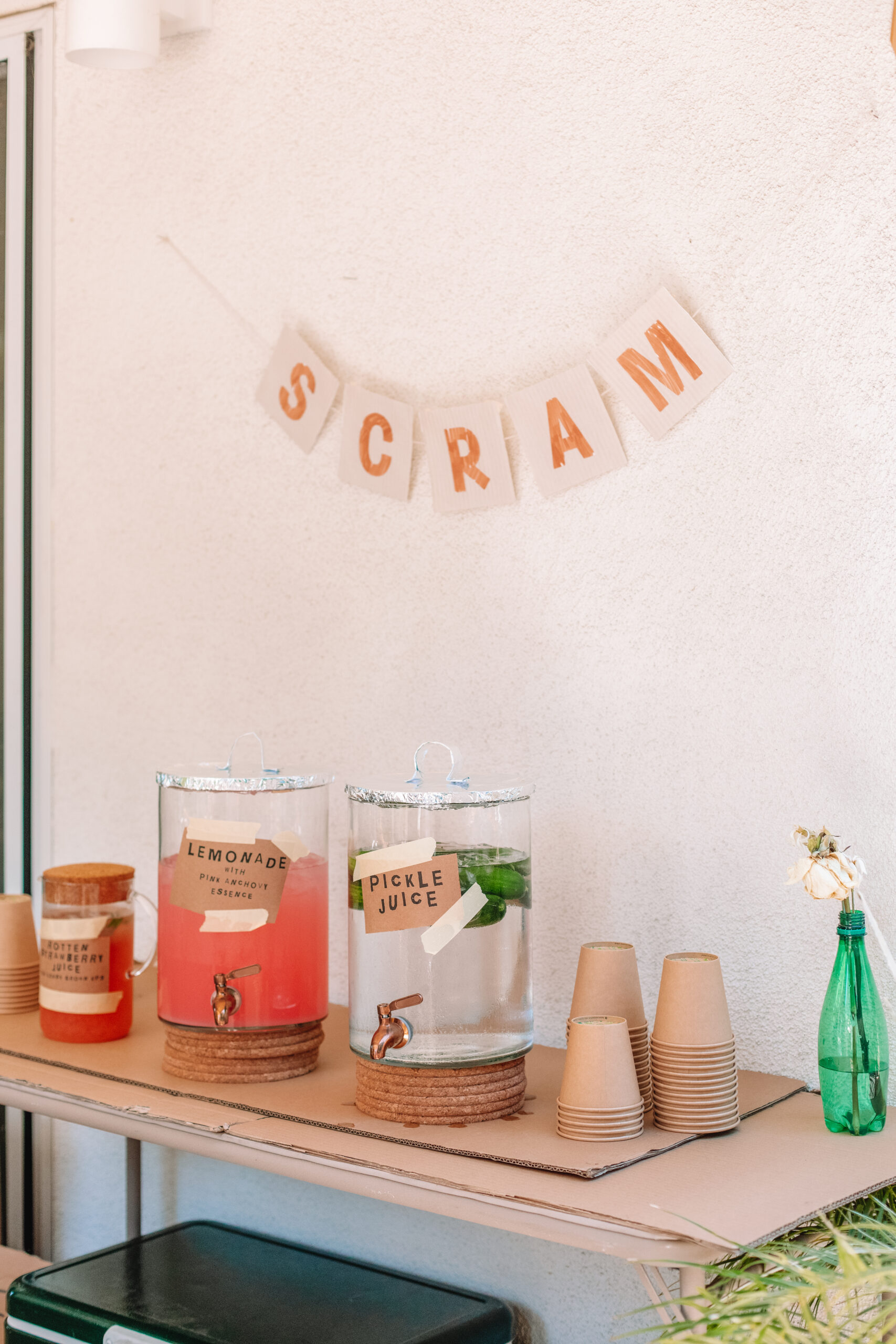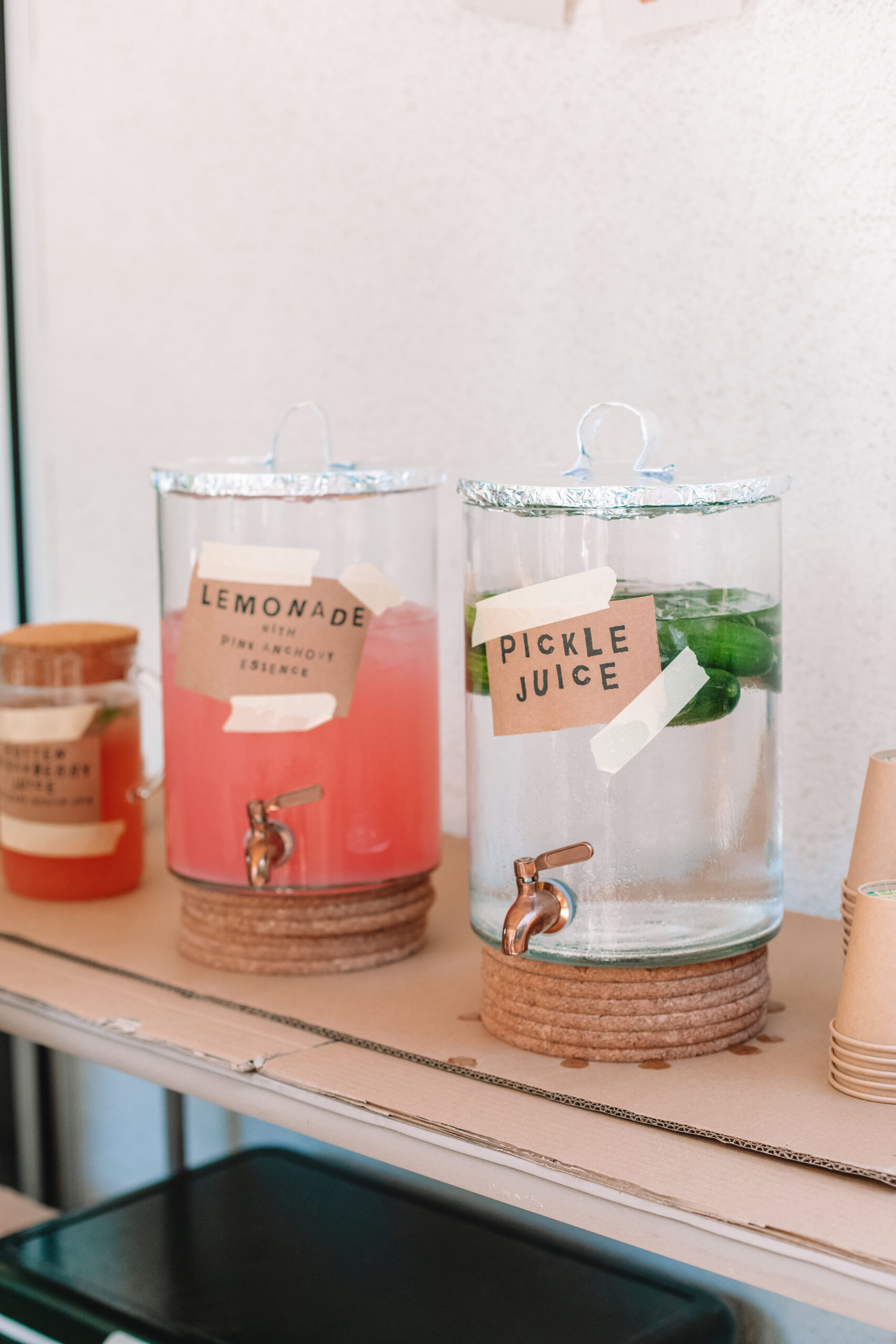 the drinks
for the drinks, i "transformed" our beverage dispensers into trash cans with tin foil. i just wrapped the wood tops with tin foil and created lids and it made such a big difference visually. i printed all of the food signs onto kraft paper with a stamp font i found, and taped with masking tape.
for the punny names, i labeled the water "pickle juice" and filled with mini cucumbers, "lemonade with pink anchovy essence" and we had strawberry margaritas i named "rotten strawberry juice for lousy grownups". i used a small metal trash can as a cooler for the wine, beer and seltzer — but it didn't make it in a pic!
then i just covered this drink table with cardboard, so easy haha.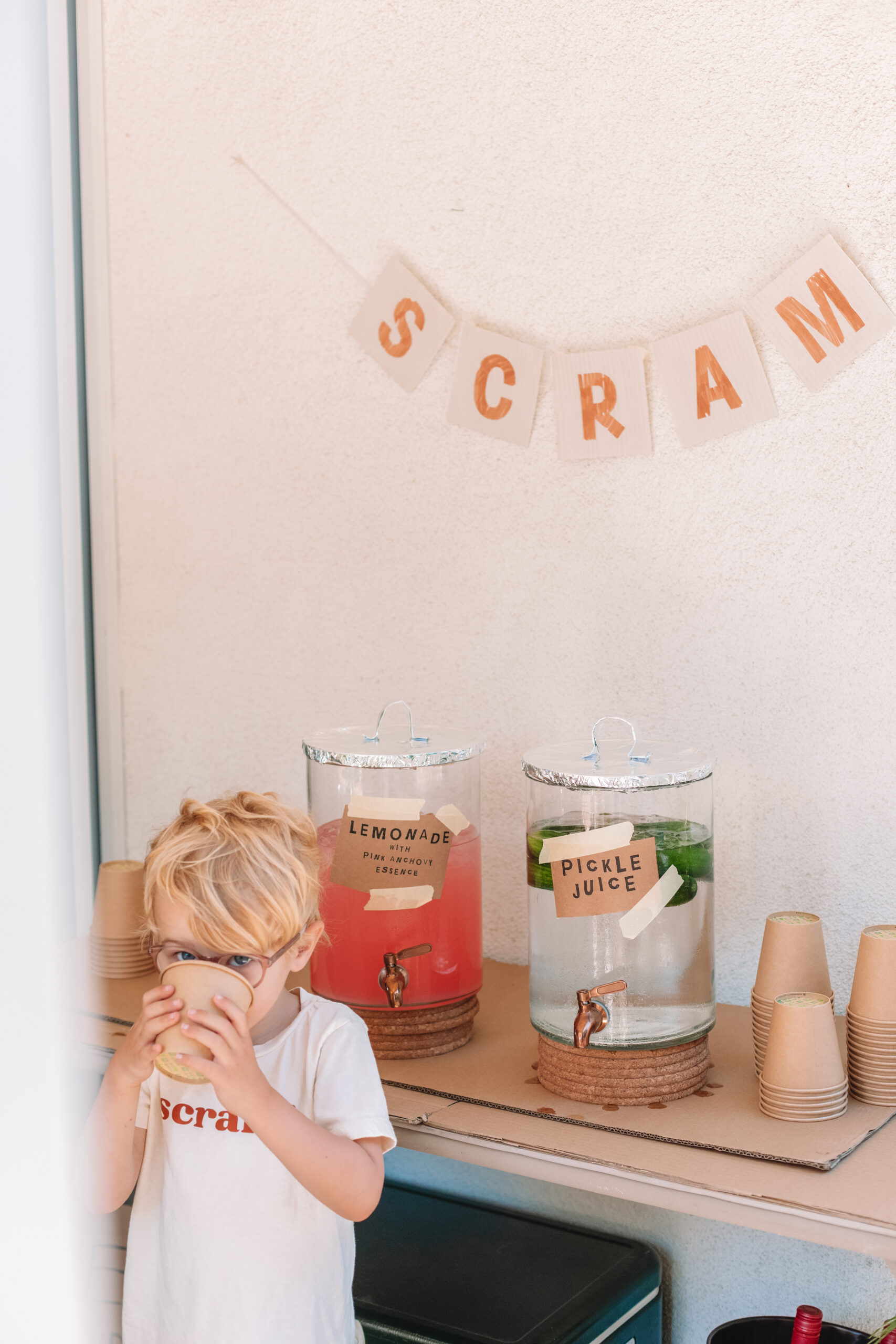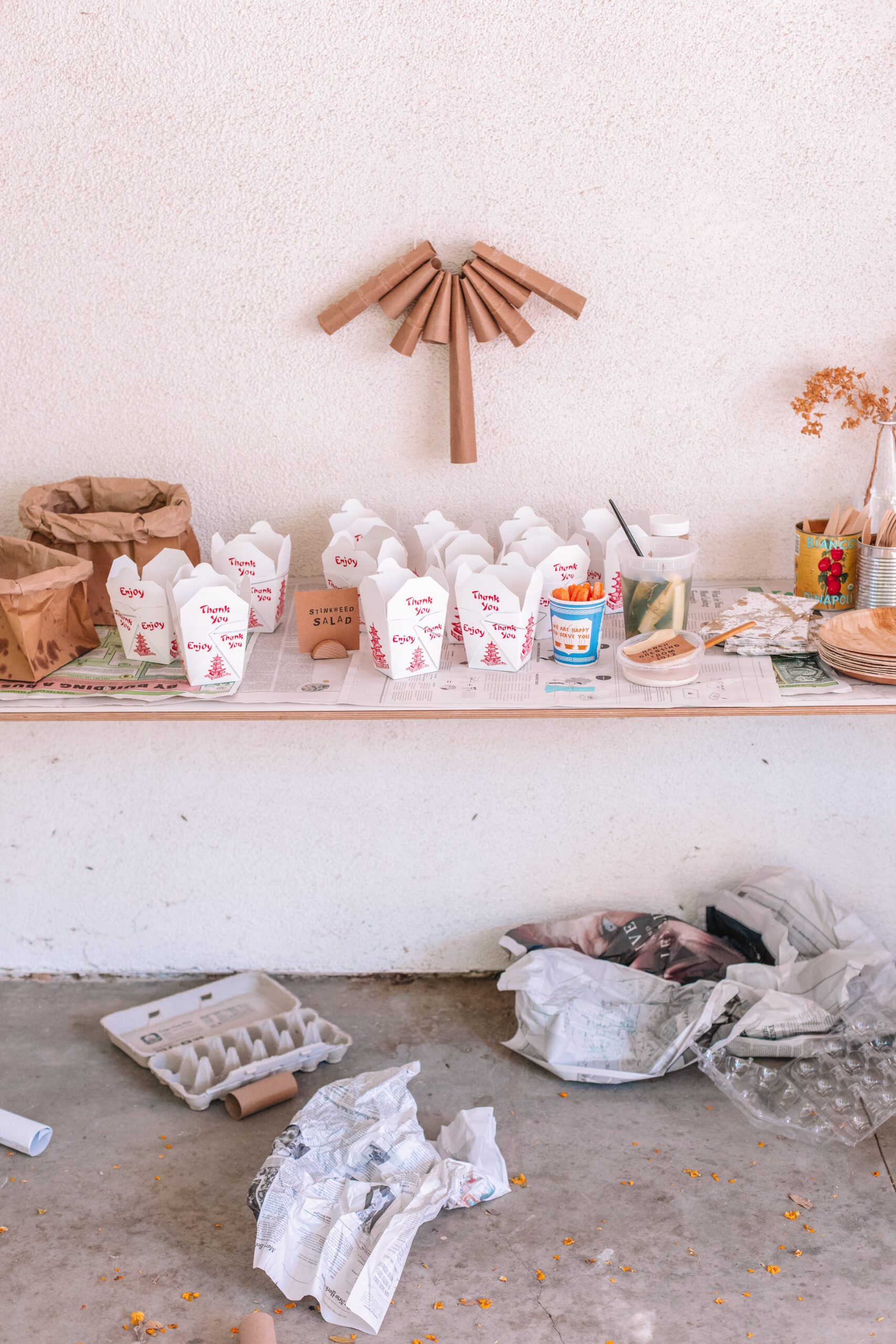 the food
i kept the food low key this year and just ordered pizza and salad. but to keep it trashy (and less icky in a pandemic), i thought it would be cute to do individual portions in chinese takeout containers. the sign for the salad said "stinkweed salad" and the sign for the pizzas said "pizza we found in the trash with marshmallow sauce" (ranch). i also had some pickles, carrots and another ranch labeled "ranch dressing from 1972" hahah man i had fun.
arlo LOVES chips, so we let him pick out like 9 different kinds, and then i used paper bags to serve them all. of course that included pickle chips.
i covered the tables in newspaper and used cans to store the flatware.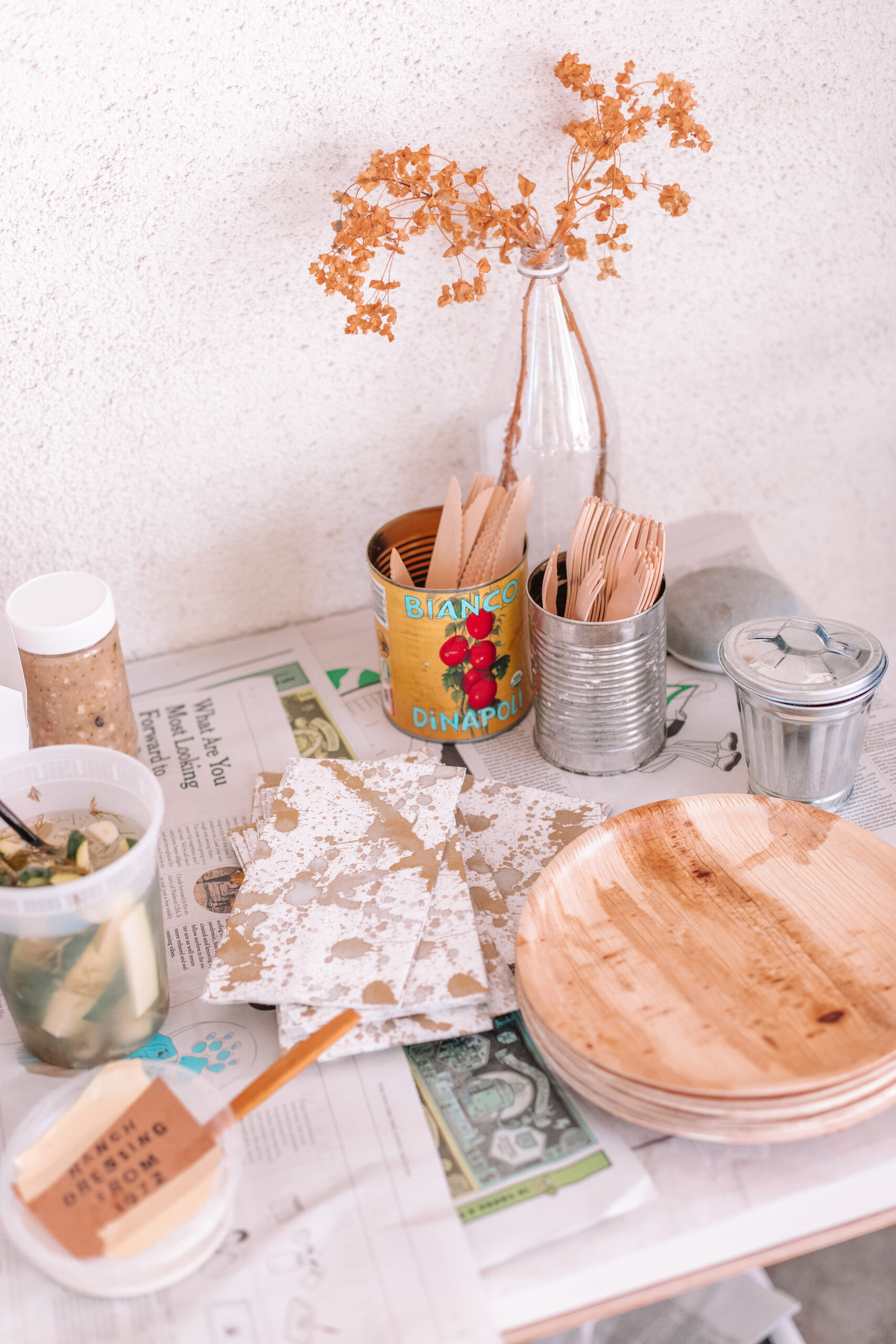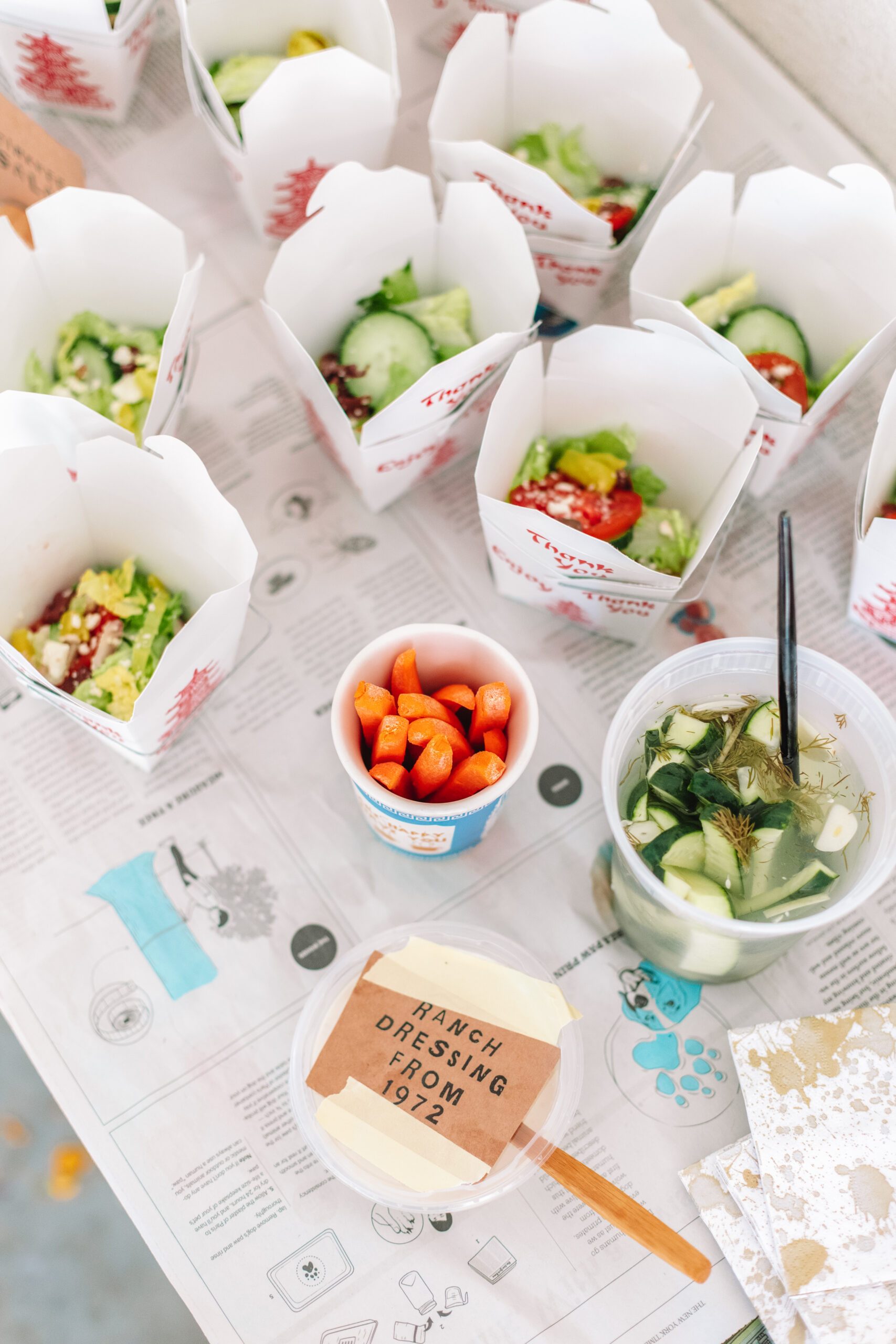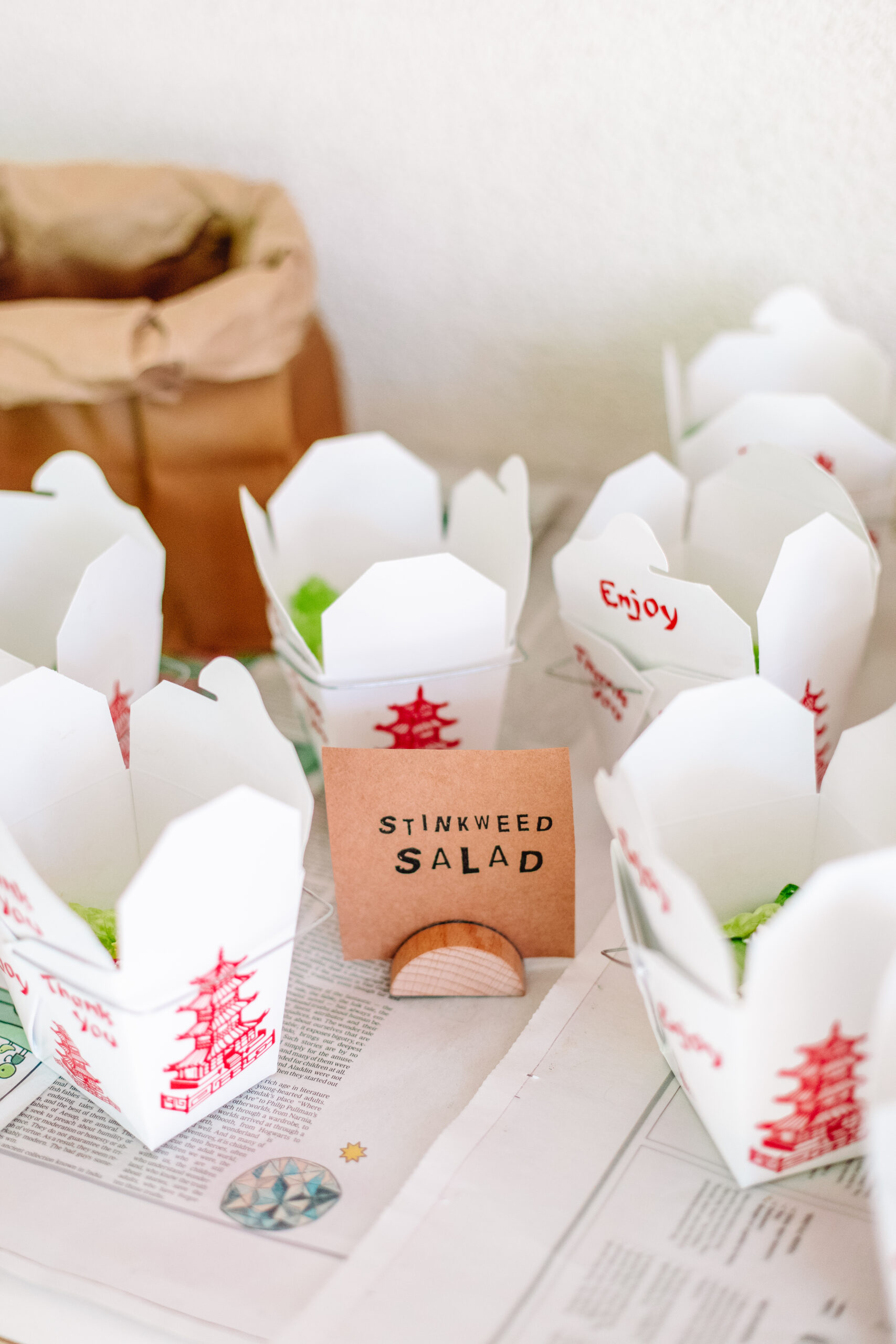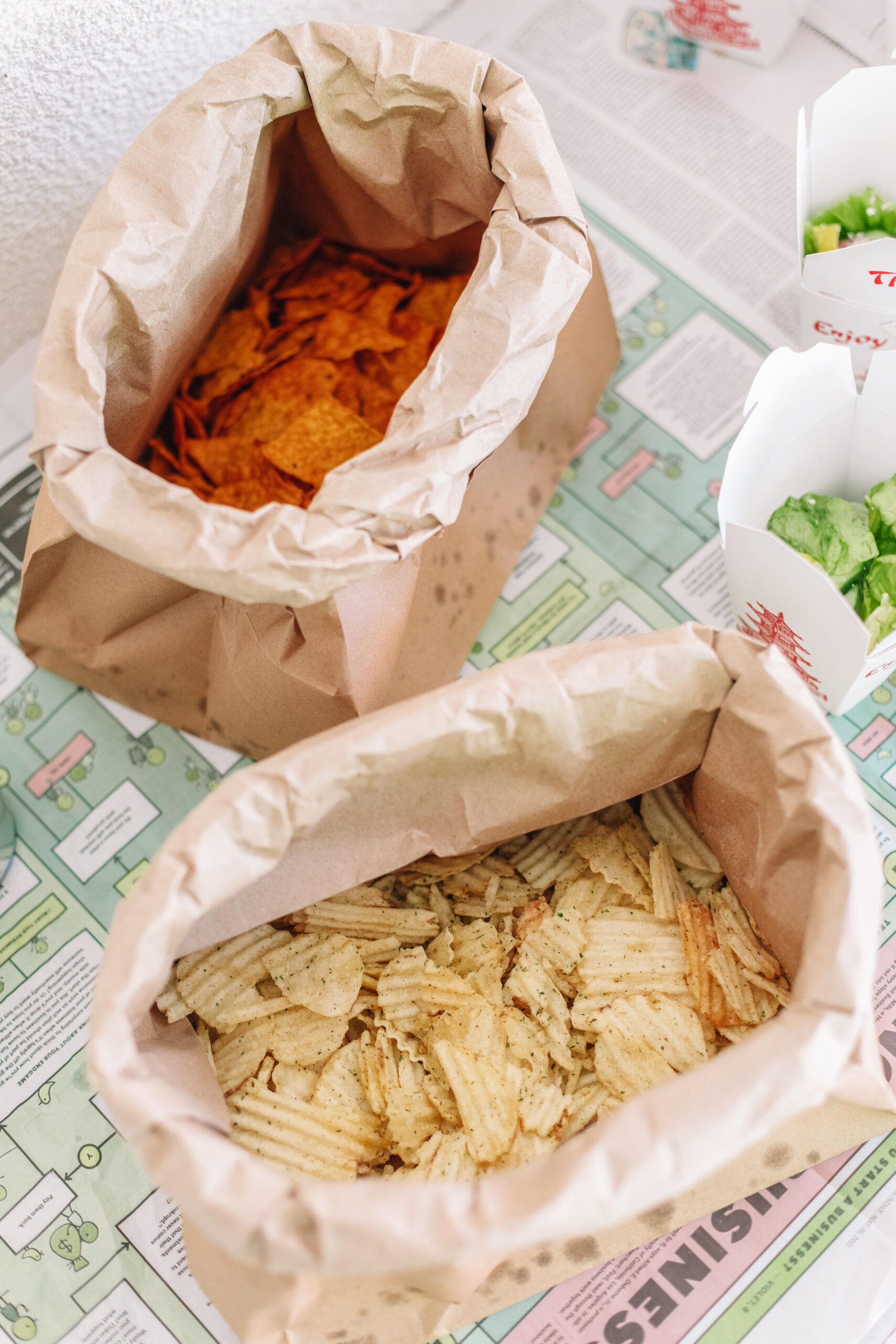 the cardboard fort
the piece de résistance!! gid created this masterpiece surrounding the playhouse and it was soooo much fun. he even added our slide to the window which led into a little trash/ball pit. the night before the party we all painted on it which really was the perfect final touch to make it super oscar-y.
the kids loved this a lot!! sorta wish we could have kept it up.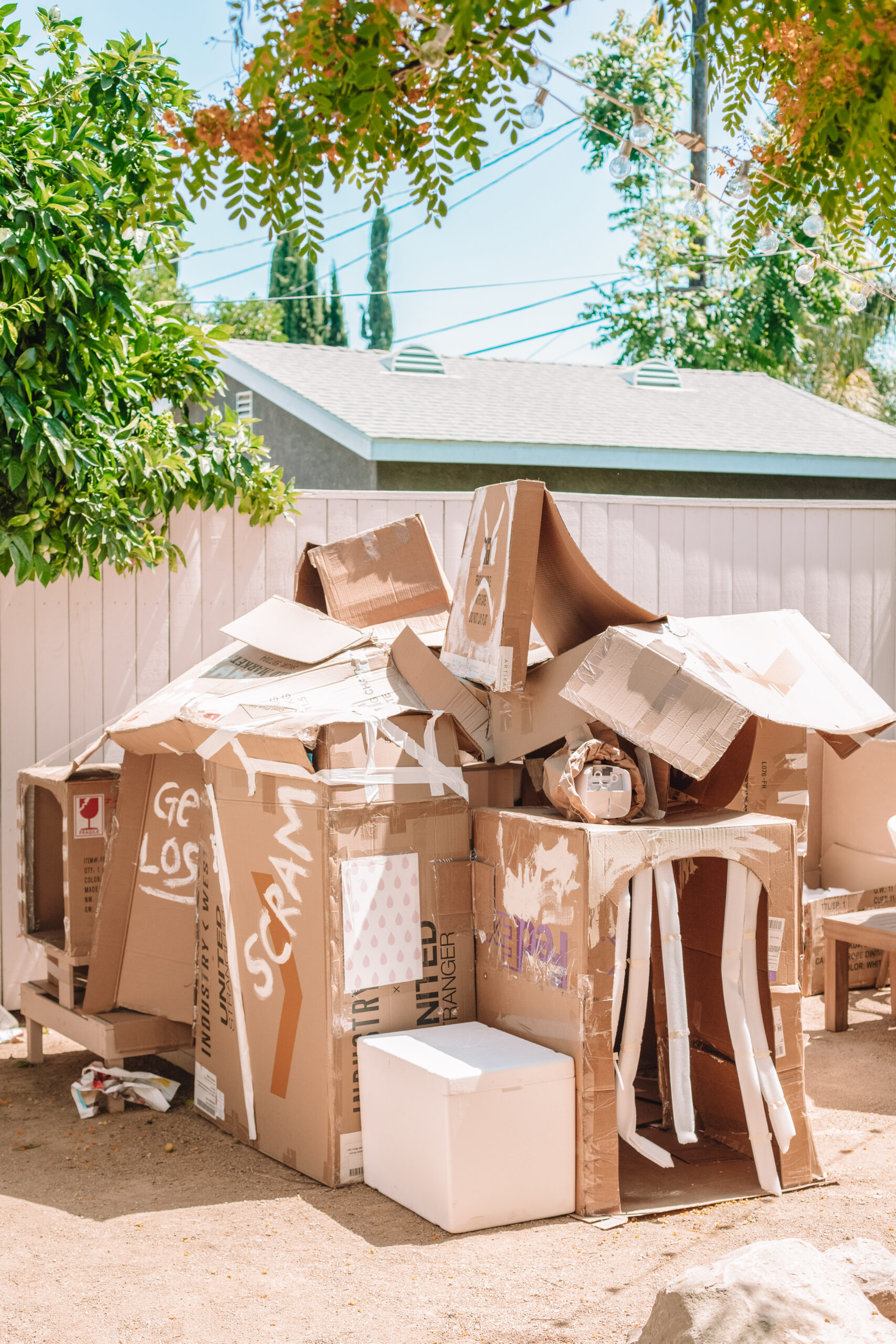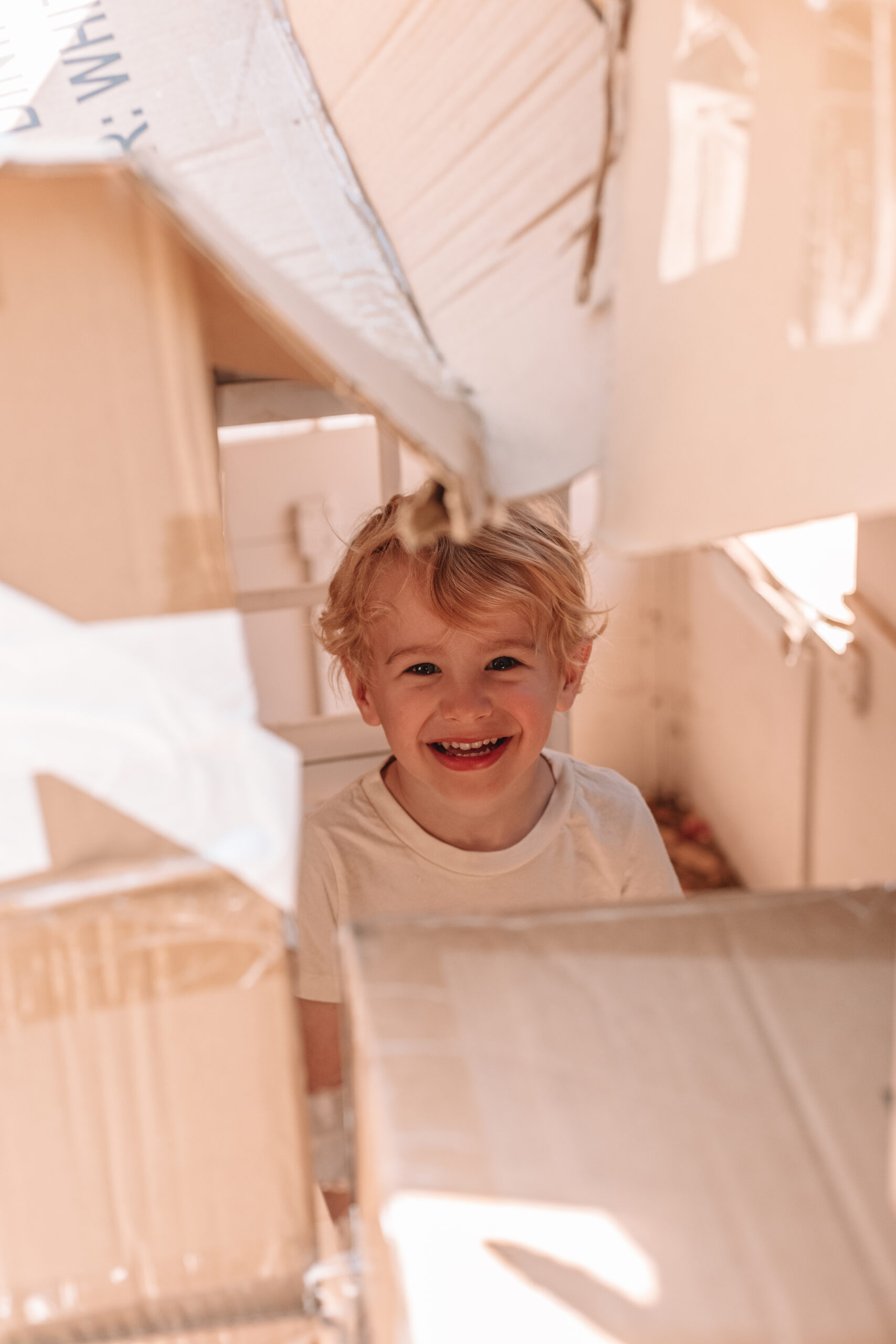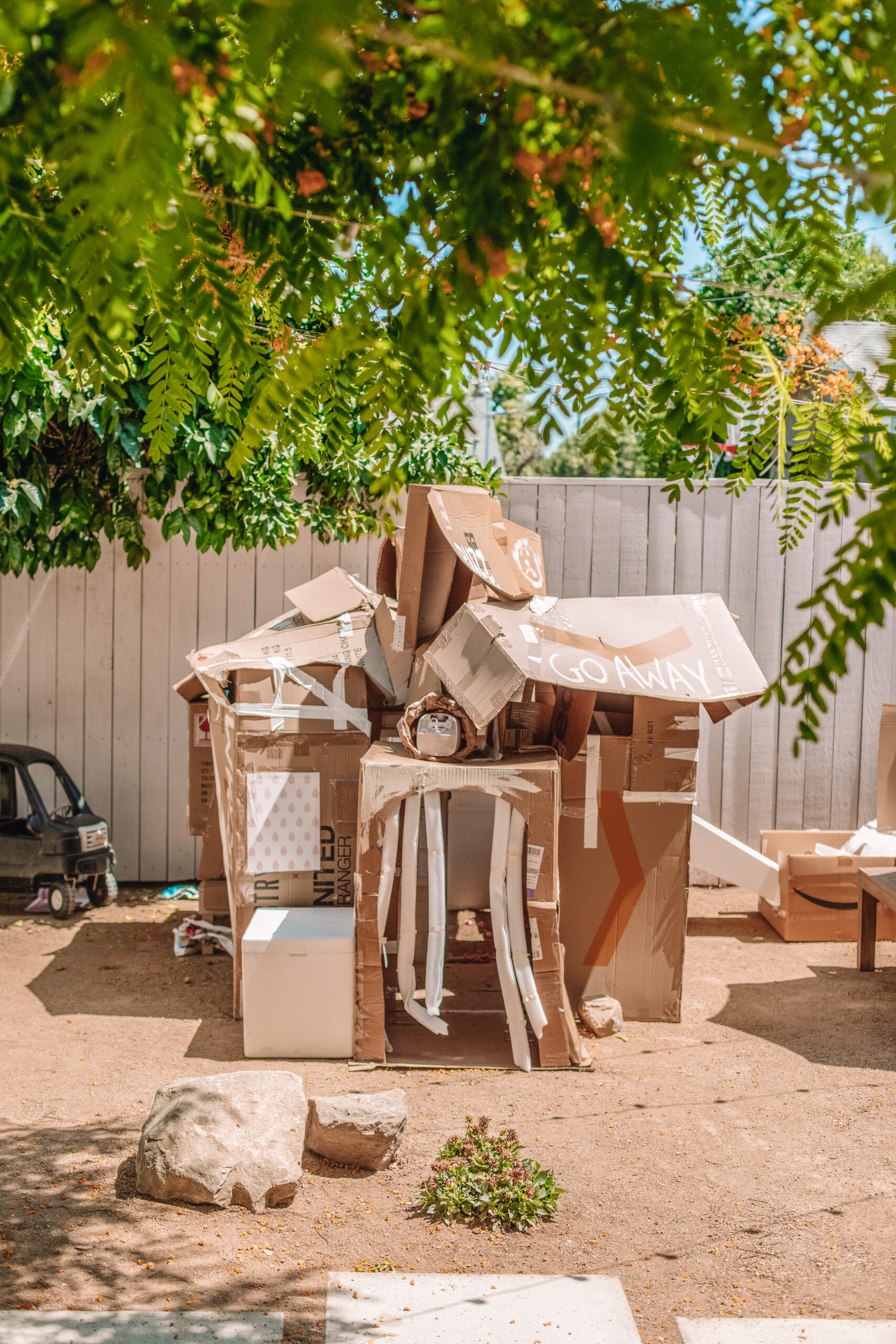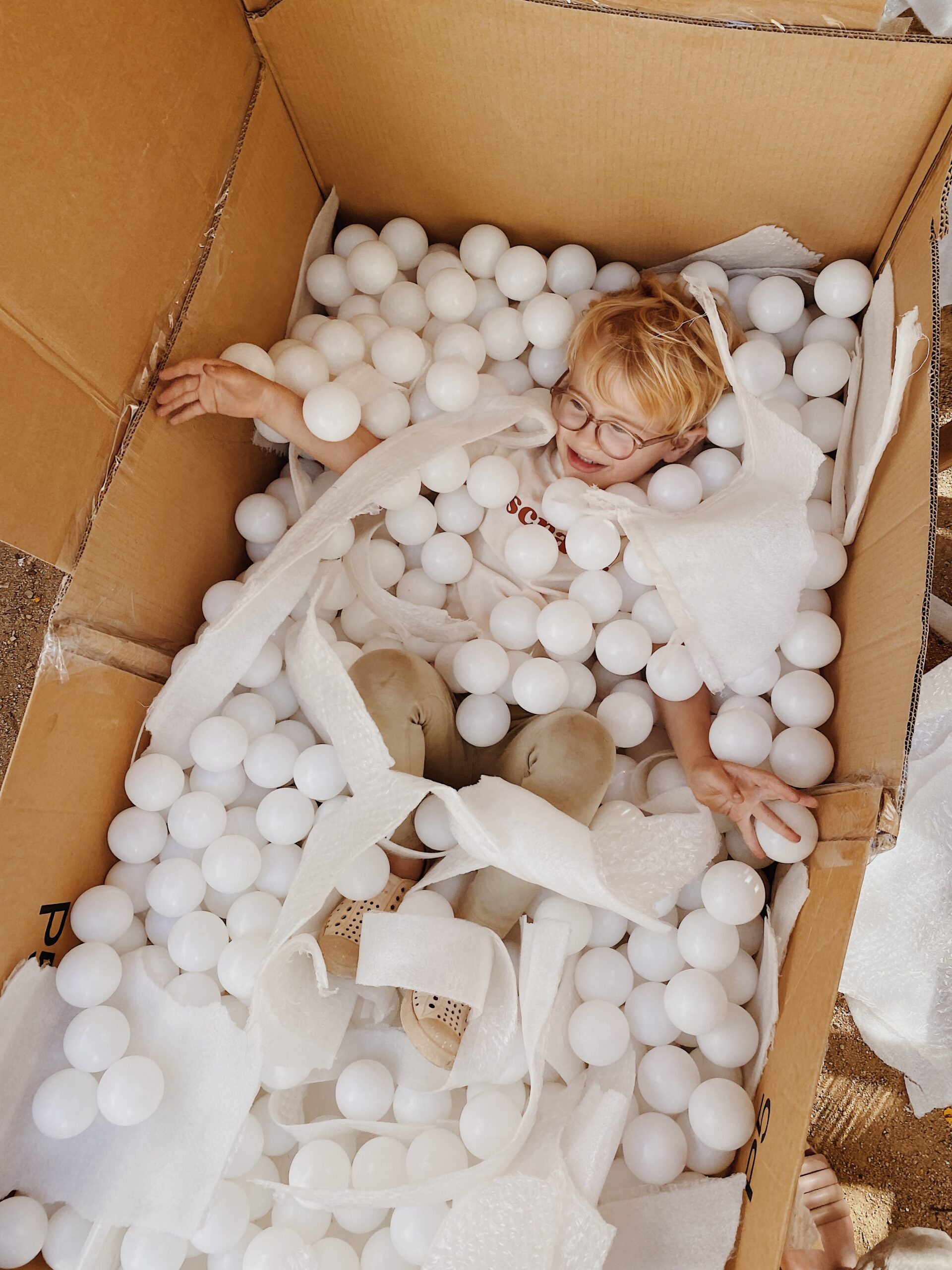 the desserts
i'm always most passionate about a pretty dessert table over anything else!! all the desserts turned out so cute, so i'll go over each one.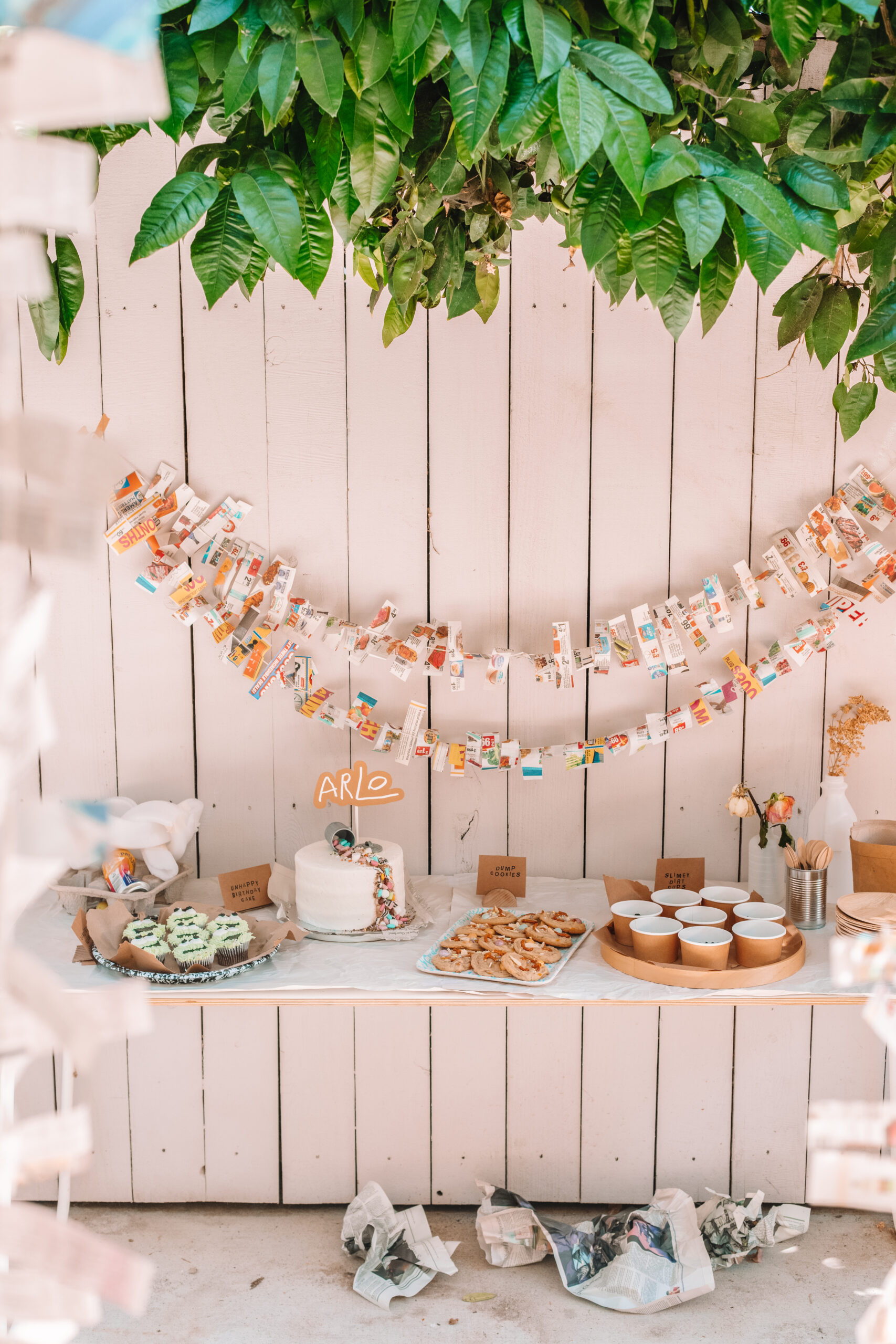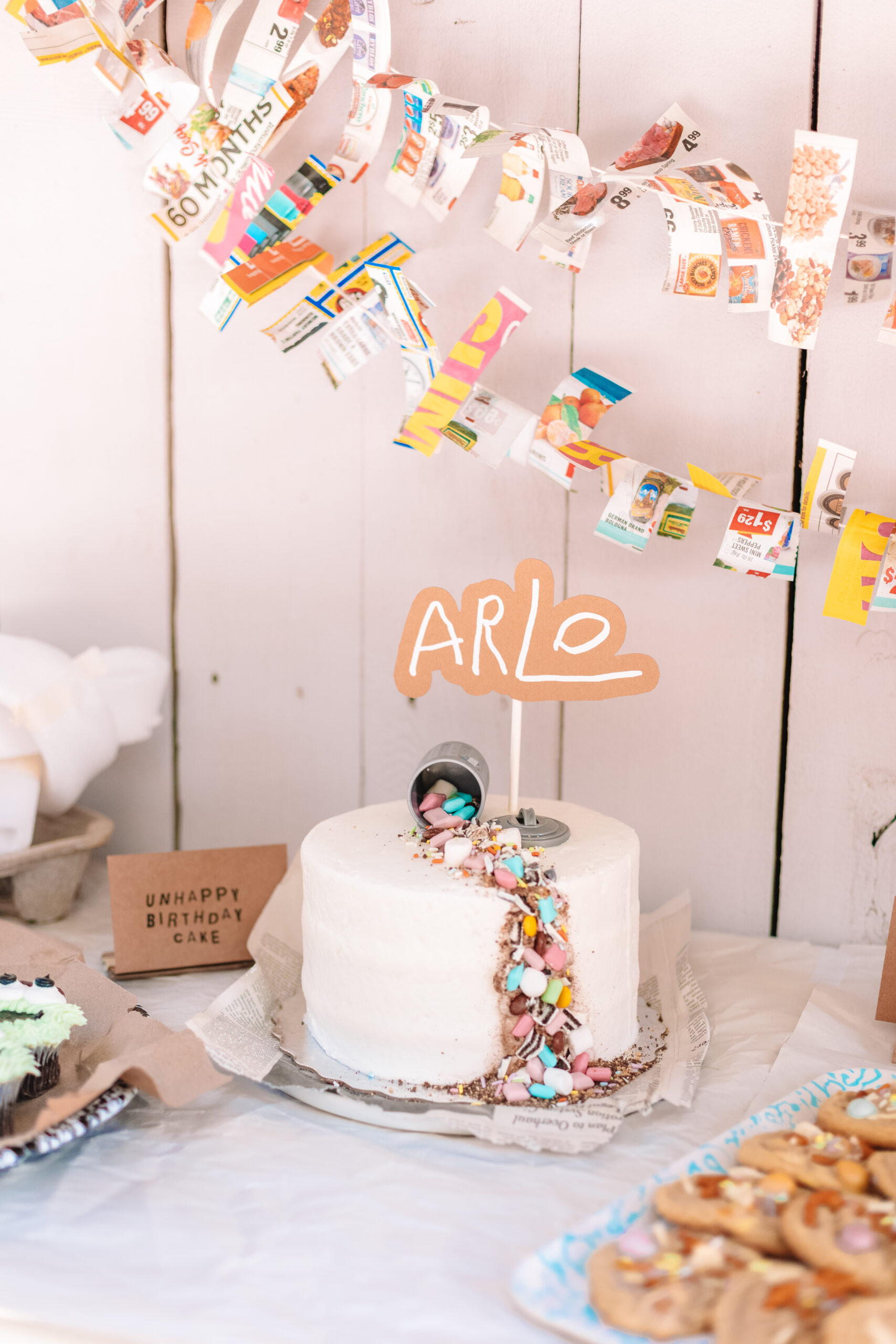 the "unhappy birthday cake"
so stoked on how the cake turned out. i just bought a white on white 3 layer cake from the grocery store, and then brought home to decorate. i tipped a toy garbage can on its side and used a mixture of oreo and nilla wafer crumbs as the dirt. after i spread that out, i stuck candies all around to be the garbage (sour starburst, sliced up mini white fudge oreos, mini marshmallows and some reeses pieces and sprinkles).
the cake topper was a DIY you can see here.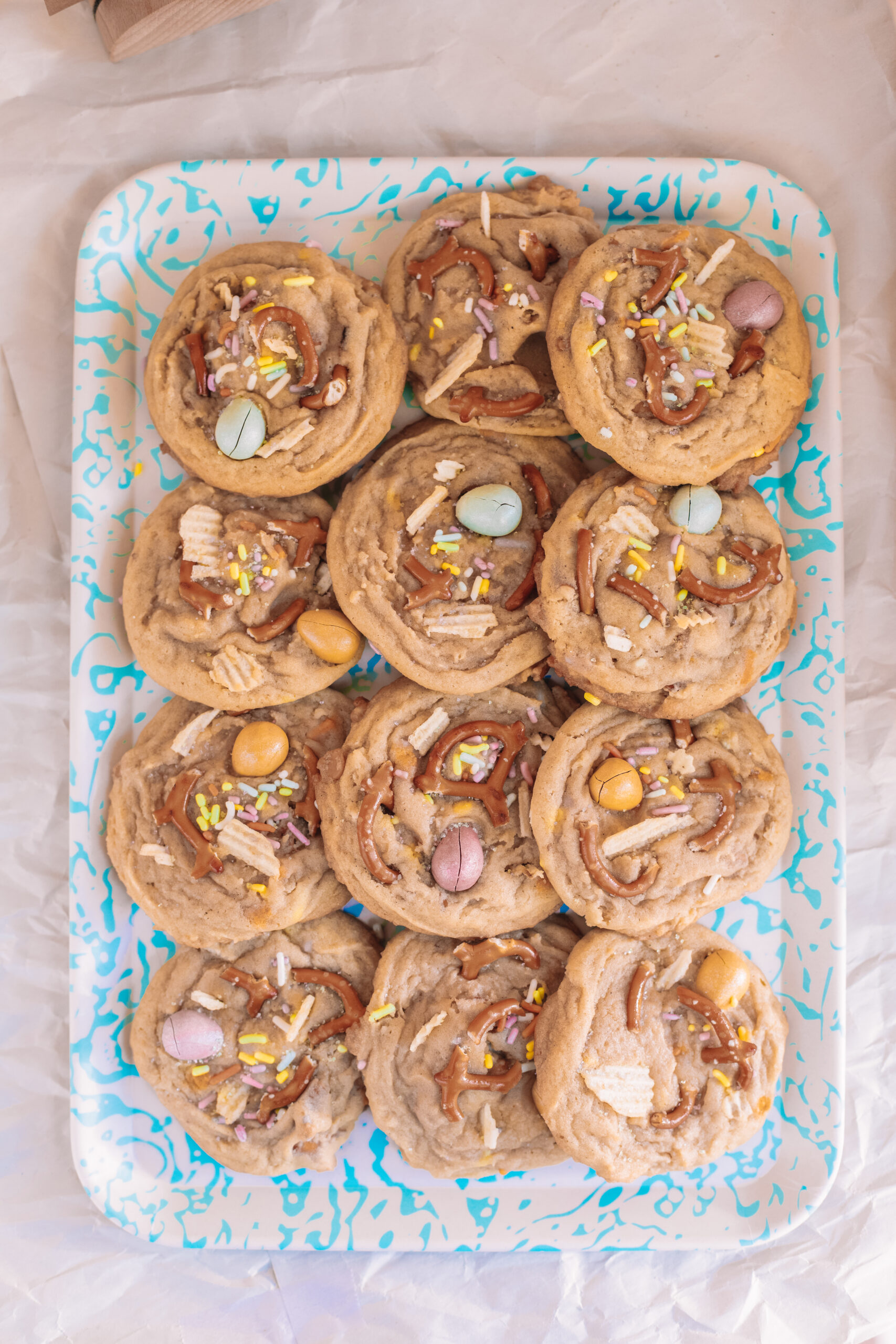 dump cookies
i knew garbage cookies would be perfect — so my sister in law made these and they were sooo good. she did a milk jar base cookie and added some rainbow sprinkles, potato chips, pretzels and some cadbury eggs.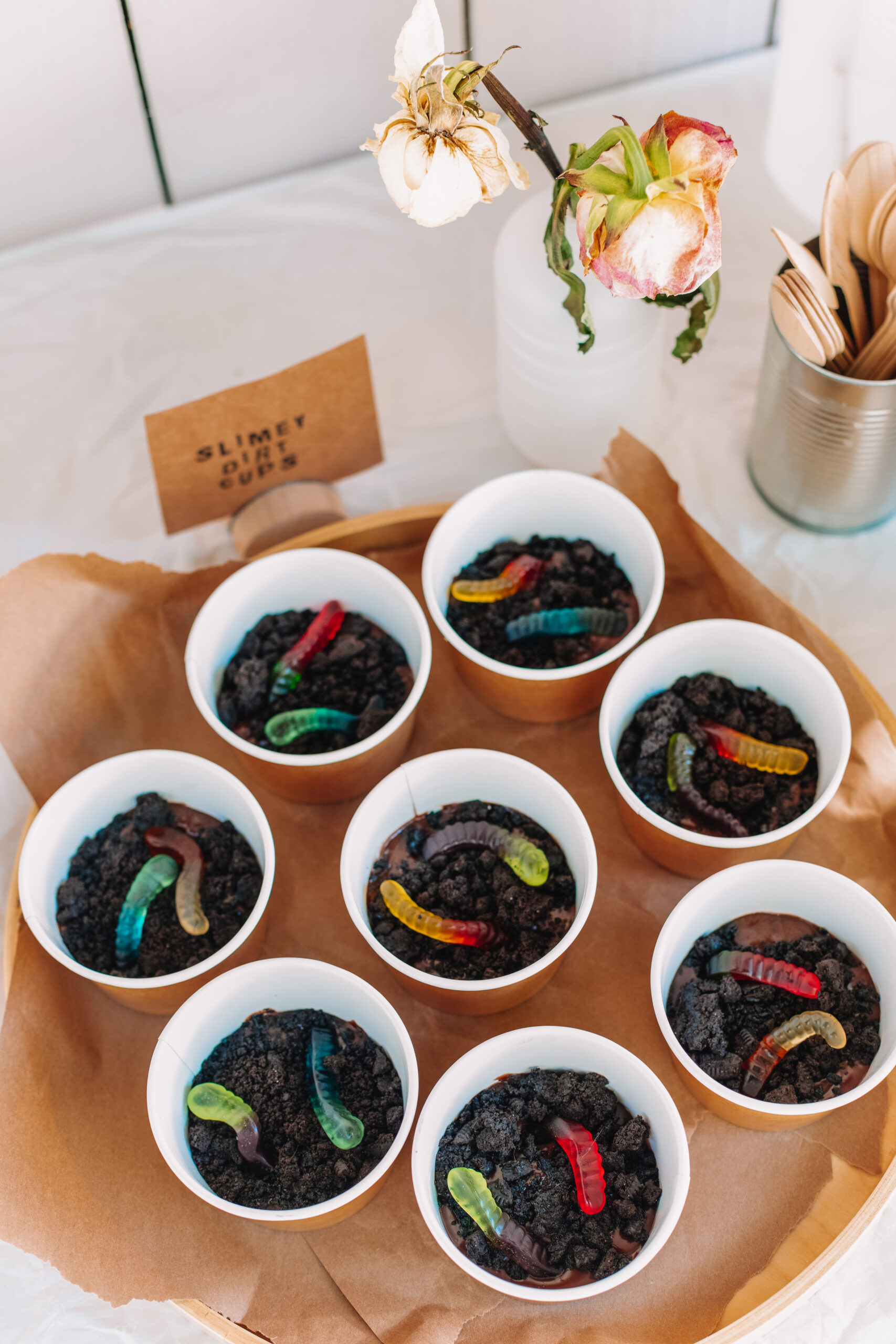 slimey dirt cups
i couldn't have an oscar party without dirt cups– it's just chocolate pudding with crushed oreos and gummy worms, the most oscar and slimey themed dessert ever.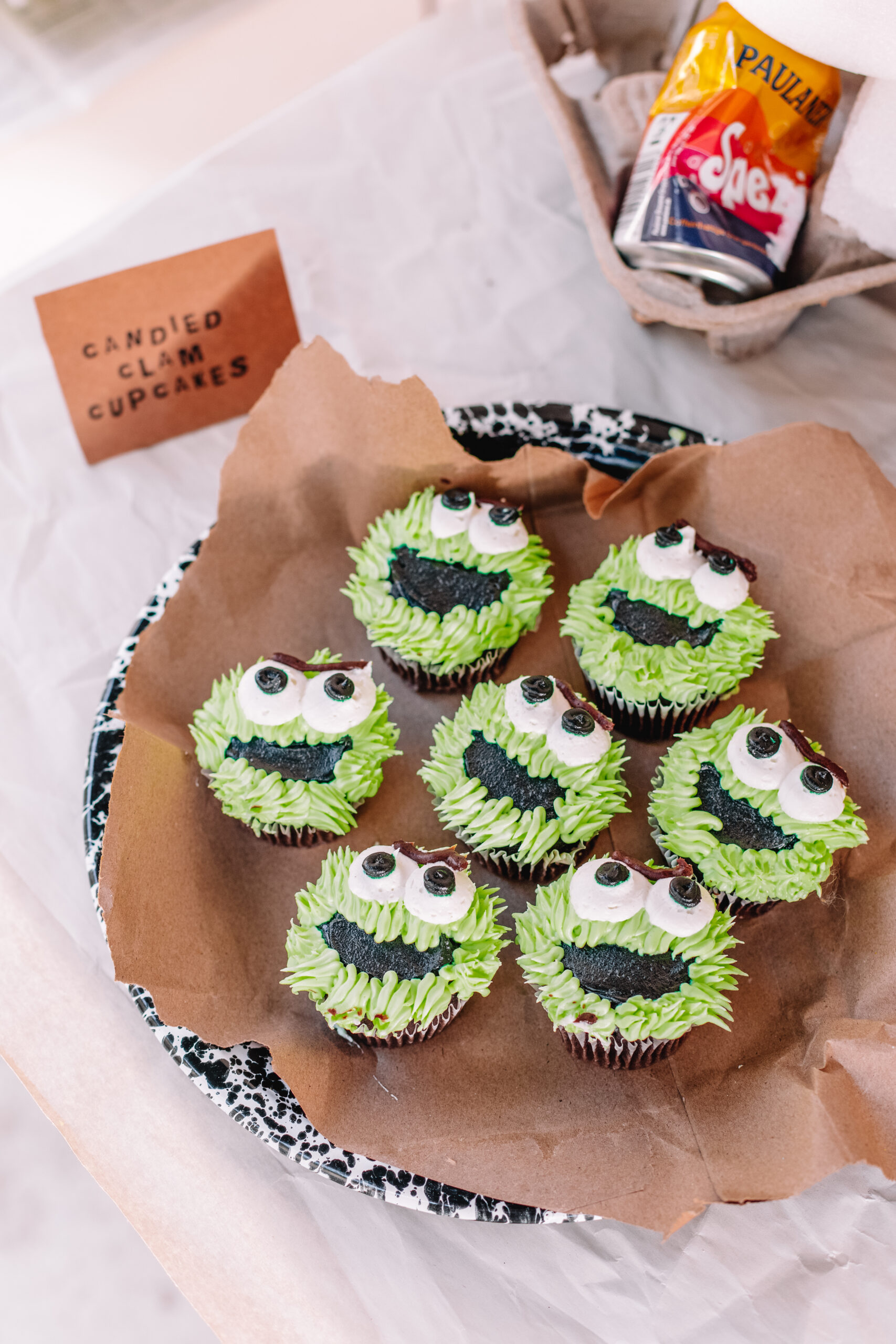 oscar cupcakes (aka candied clam cupcakes lol)
i wasn't planning on doing these but the day i was food shopping for the party i figured i'd just ask the grocery store if they could do them. not only did they make such good oscars, these cost me $9!! i had them made at a local vons, and they were super strict with licensed characters for some reason so they said they couldn't do his eyebrows. i almost skipped them but decided to try to add them myself, so i got chocolate frosting and piped the eyebrows on in 2 minutes.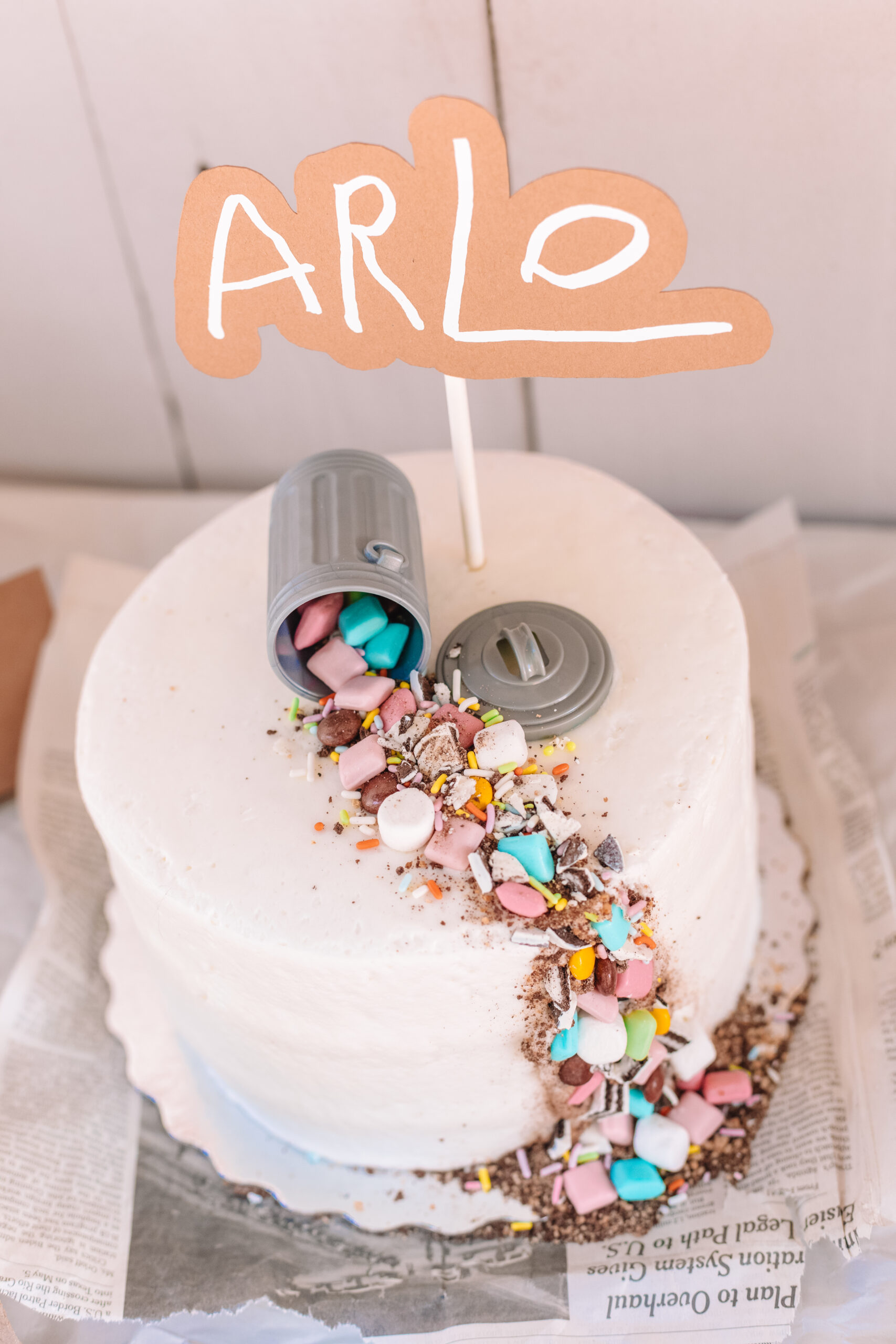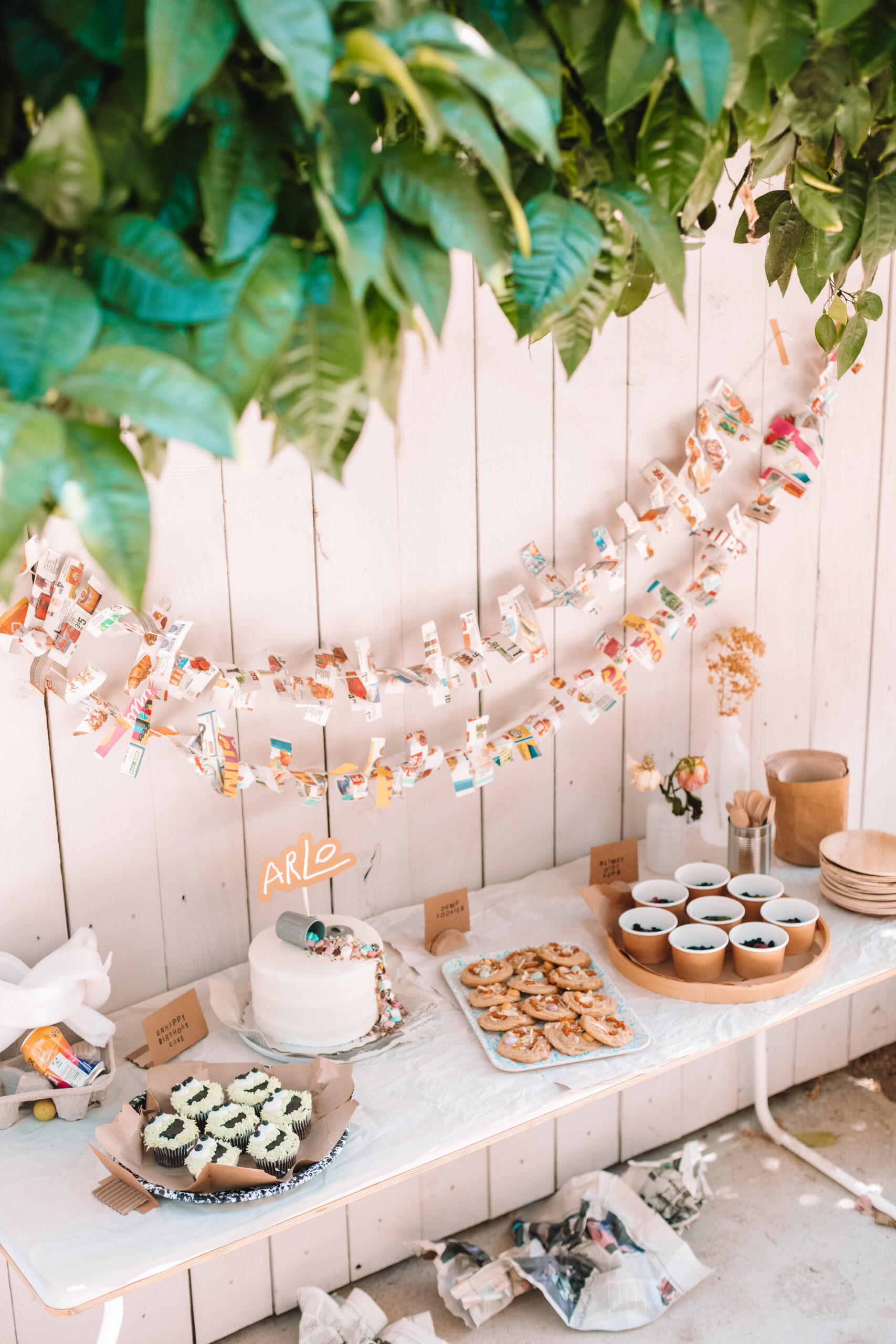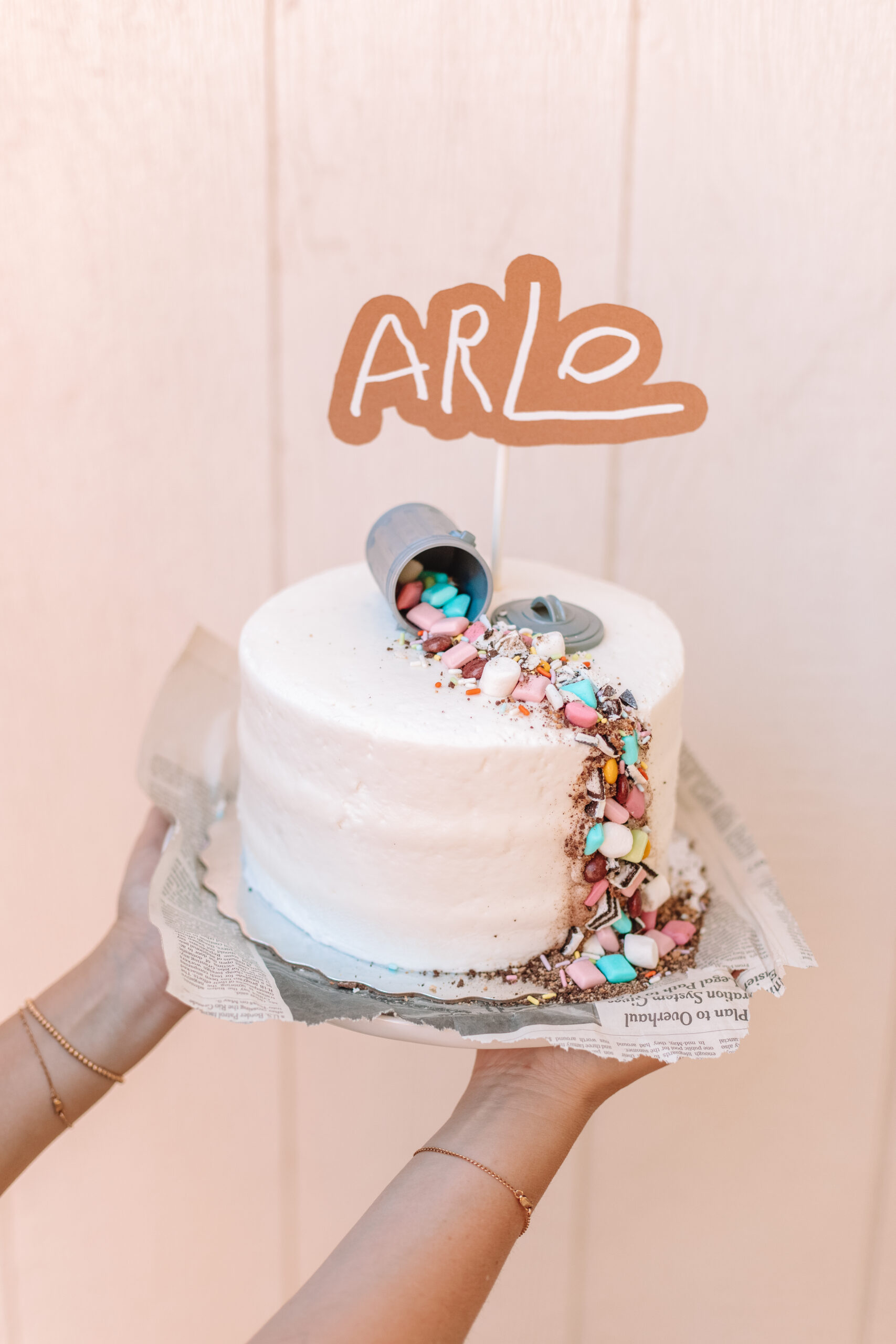 the goodie bags
for the goodie bags i went very simple. paper lunch bags that i labeled with my retro label maker, i filled each bag with a toy trash can filled with gummy worms and a sheet of sad face stickers.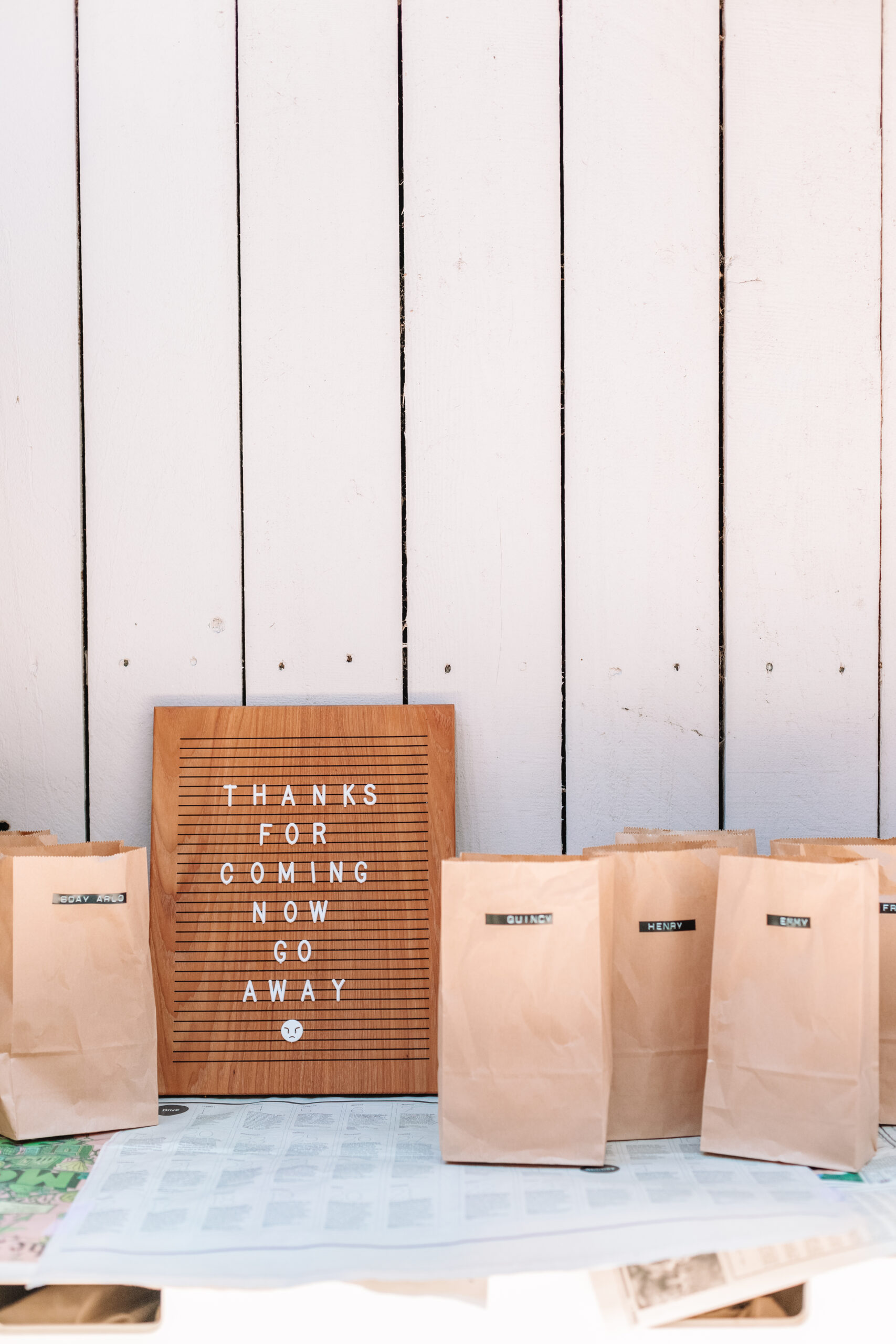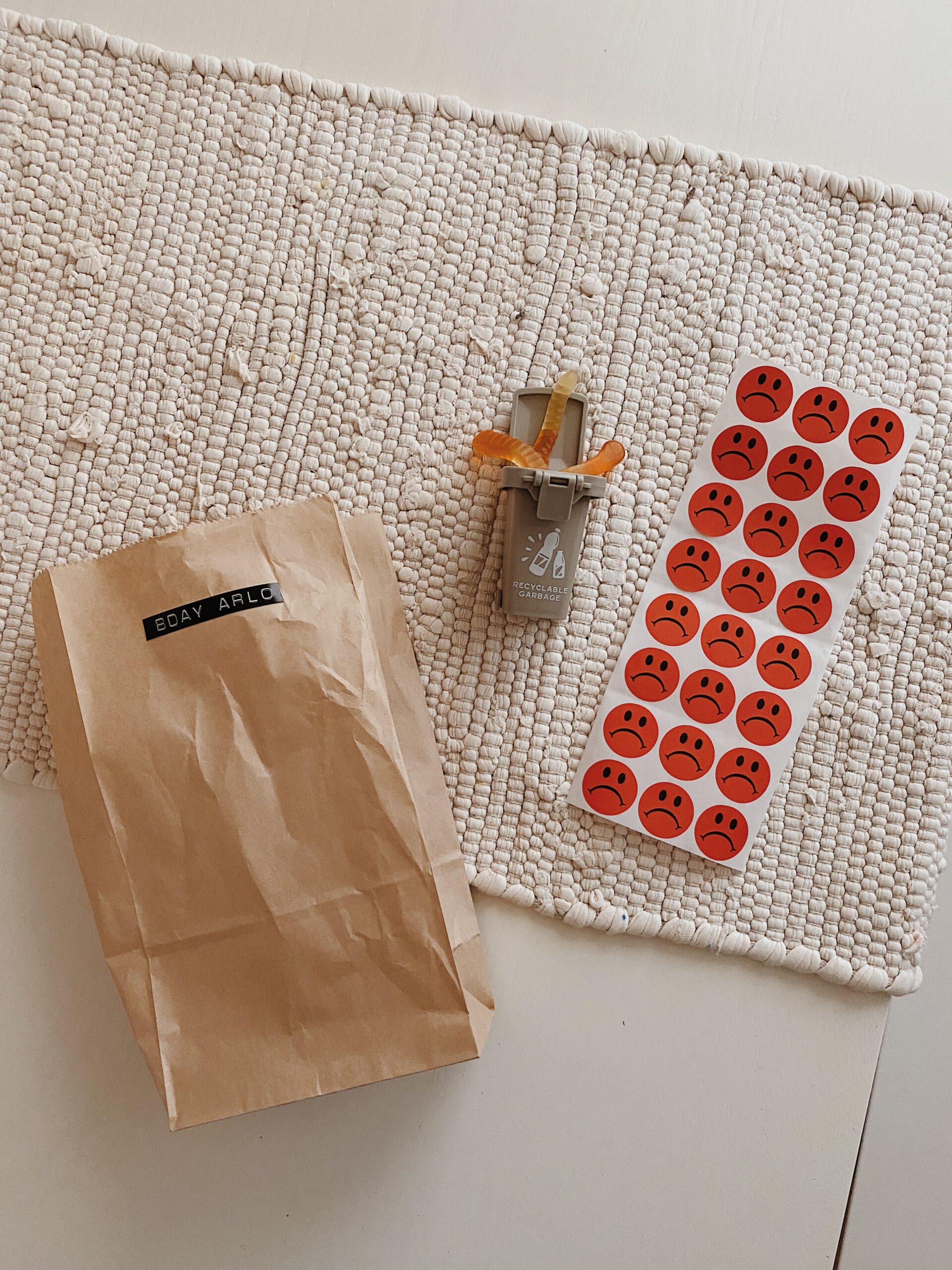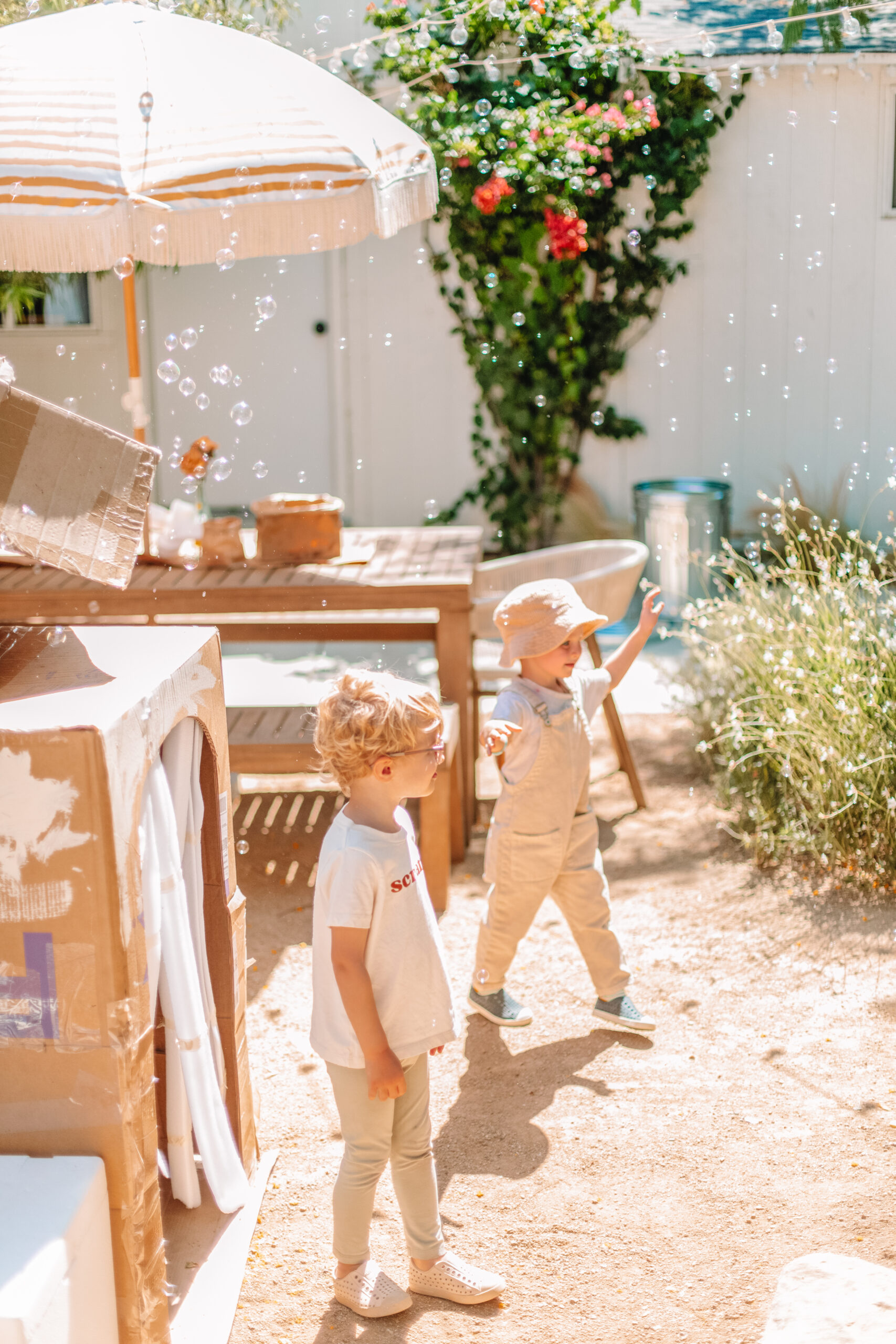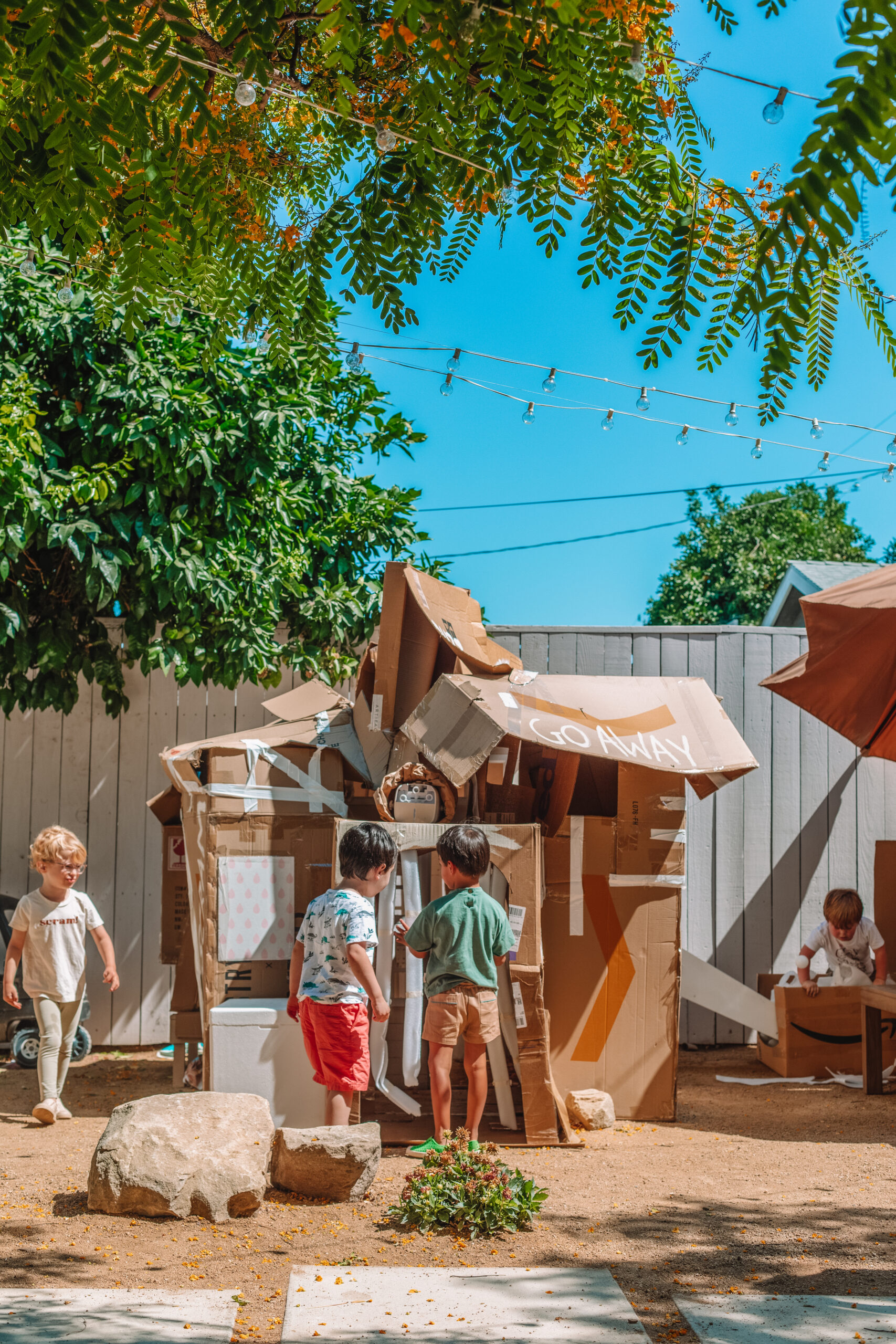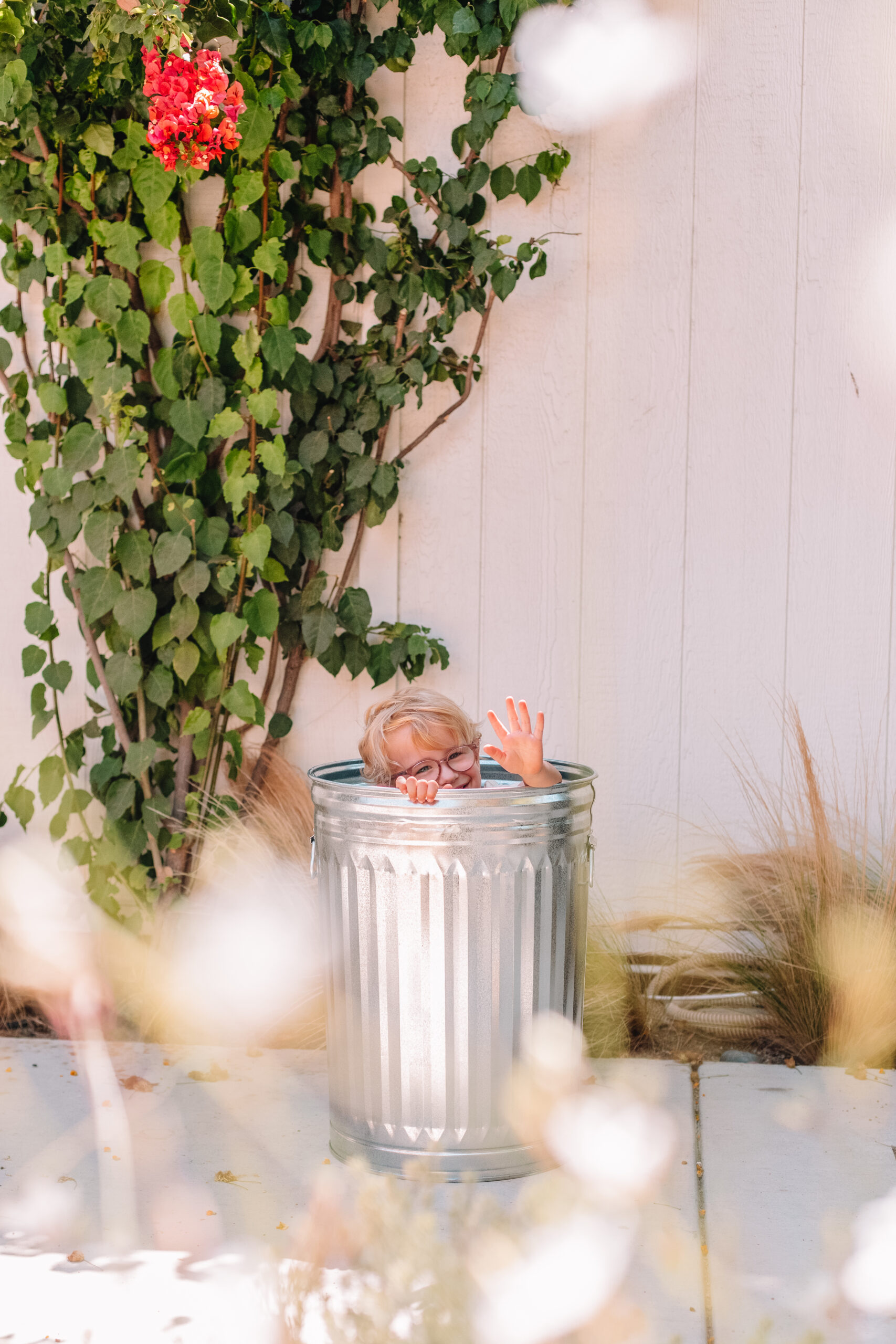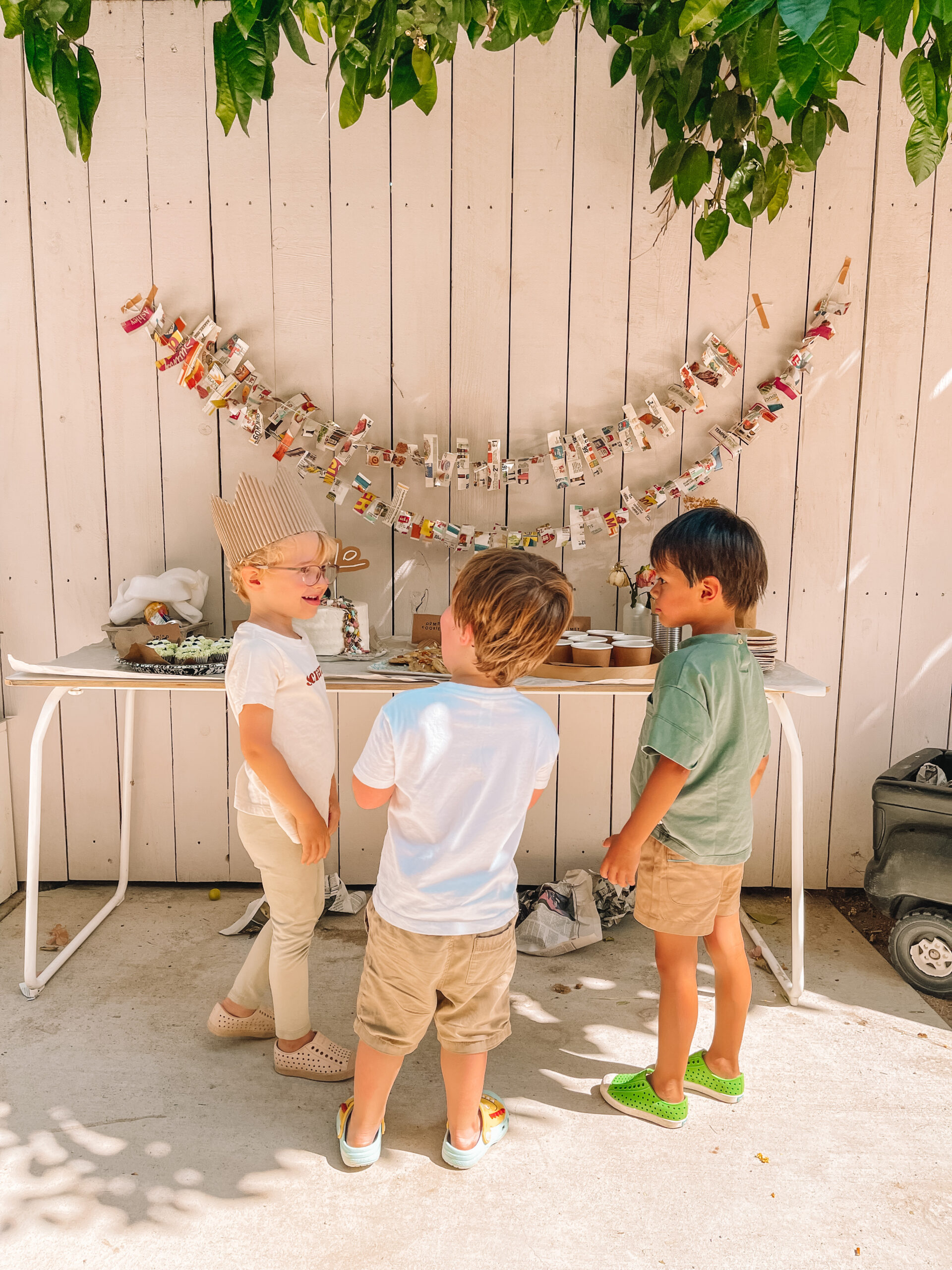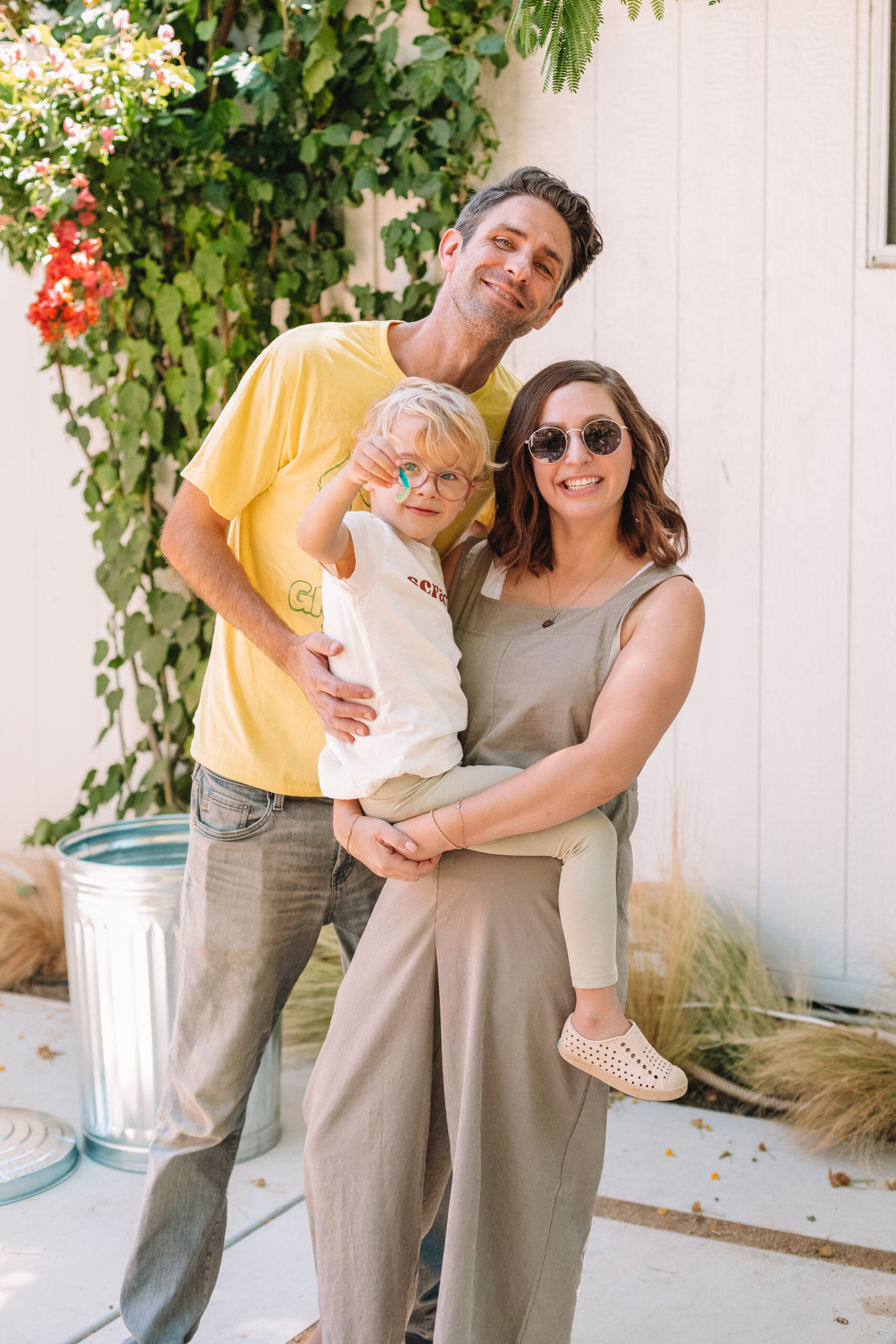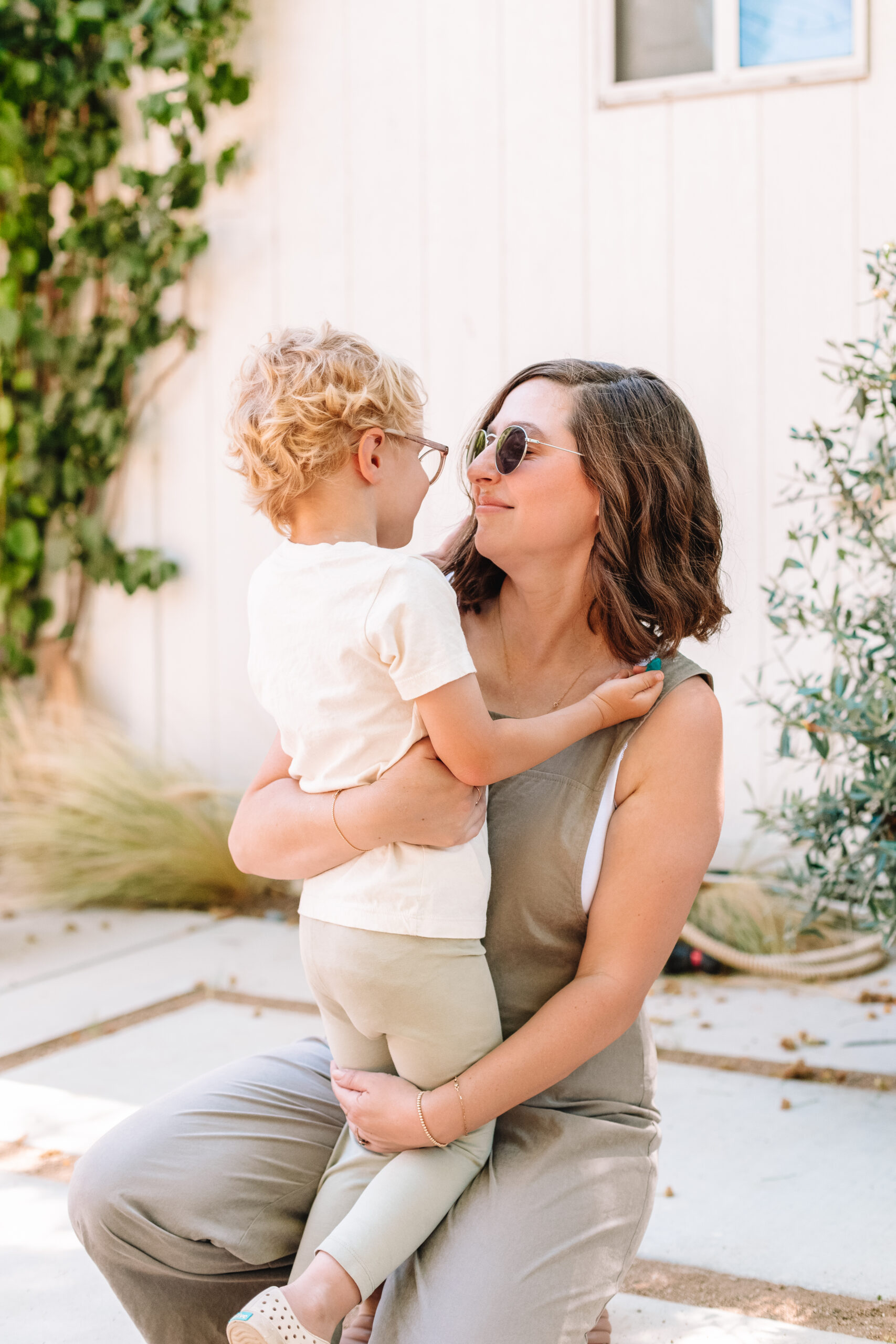 we also got a big camoflauge moon bounce. at first i was on the hunt for an aesthetic looking one but in the end didn't want to spend $1000 on a moon bounce so this was fine.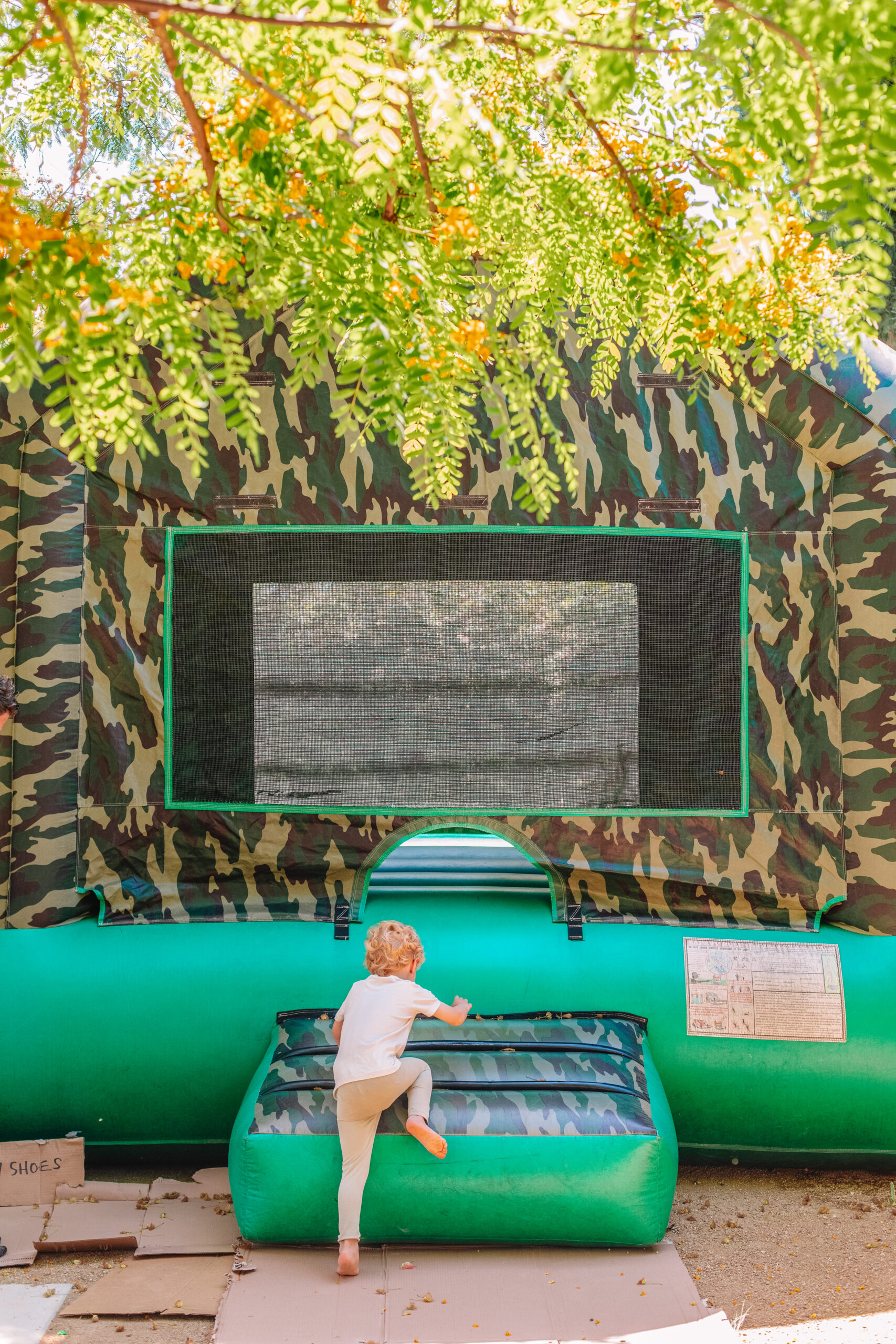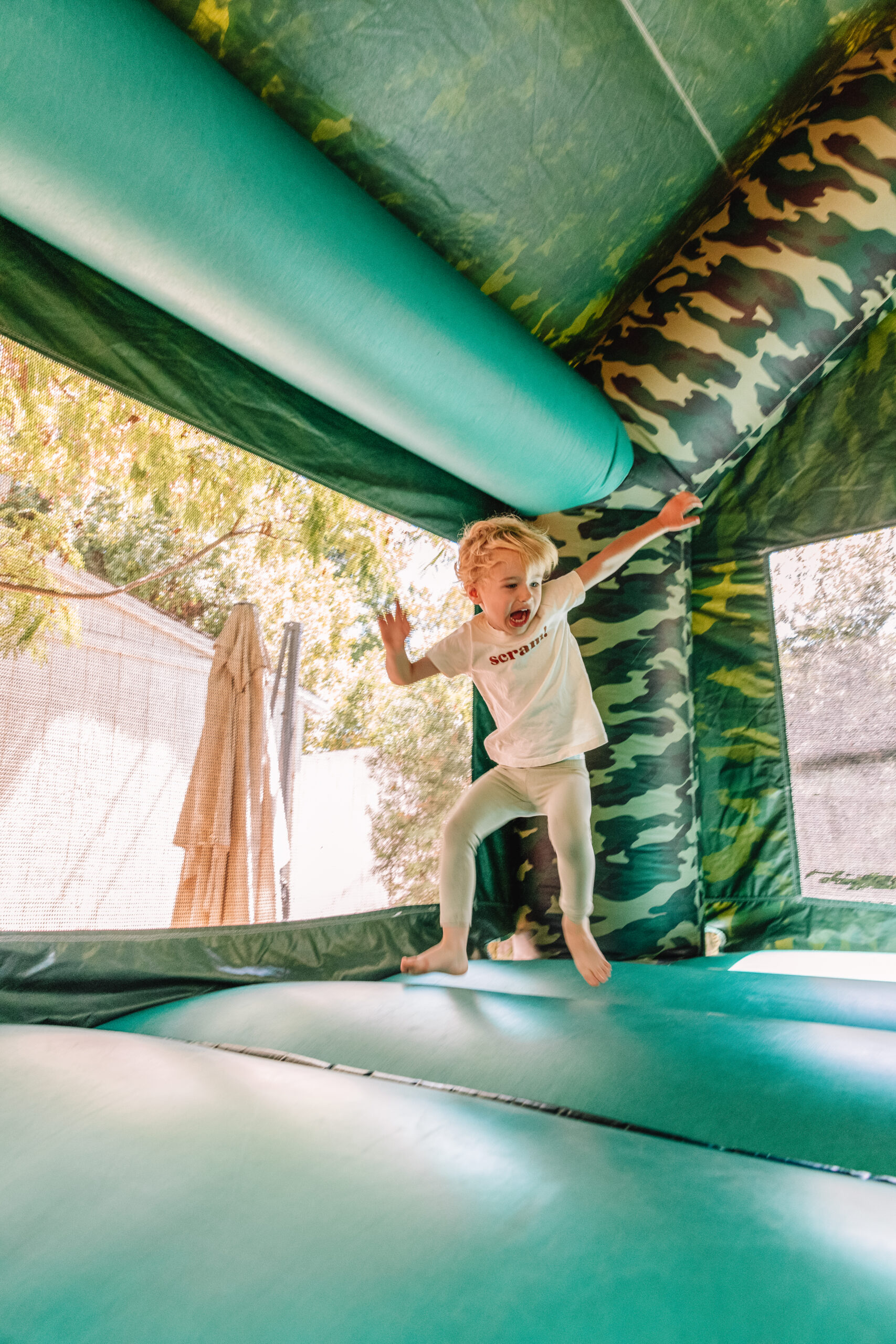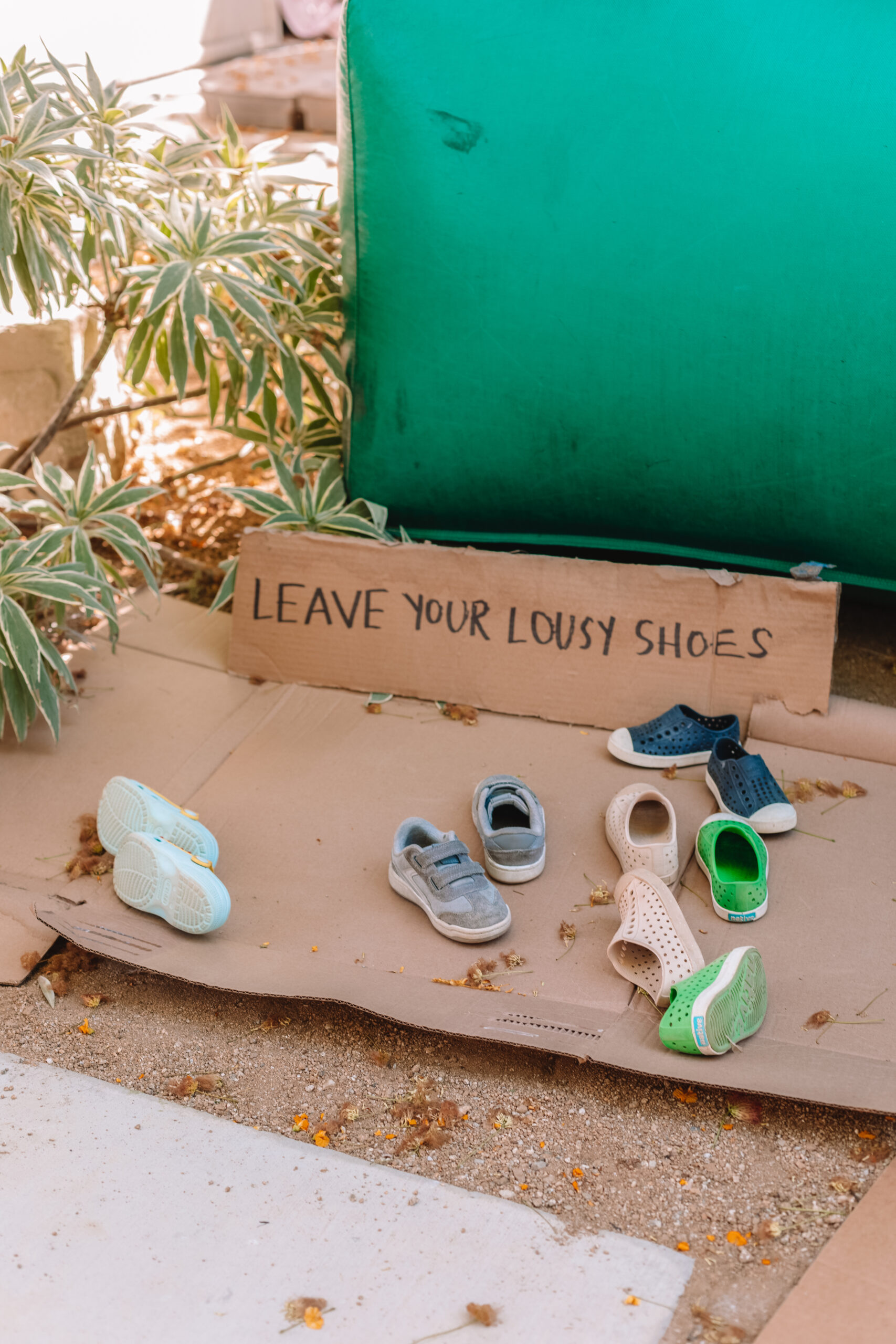 of course i had to make an on theme sign for their shoes lolol.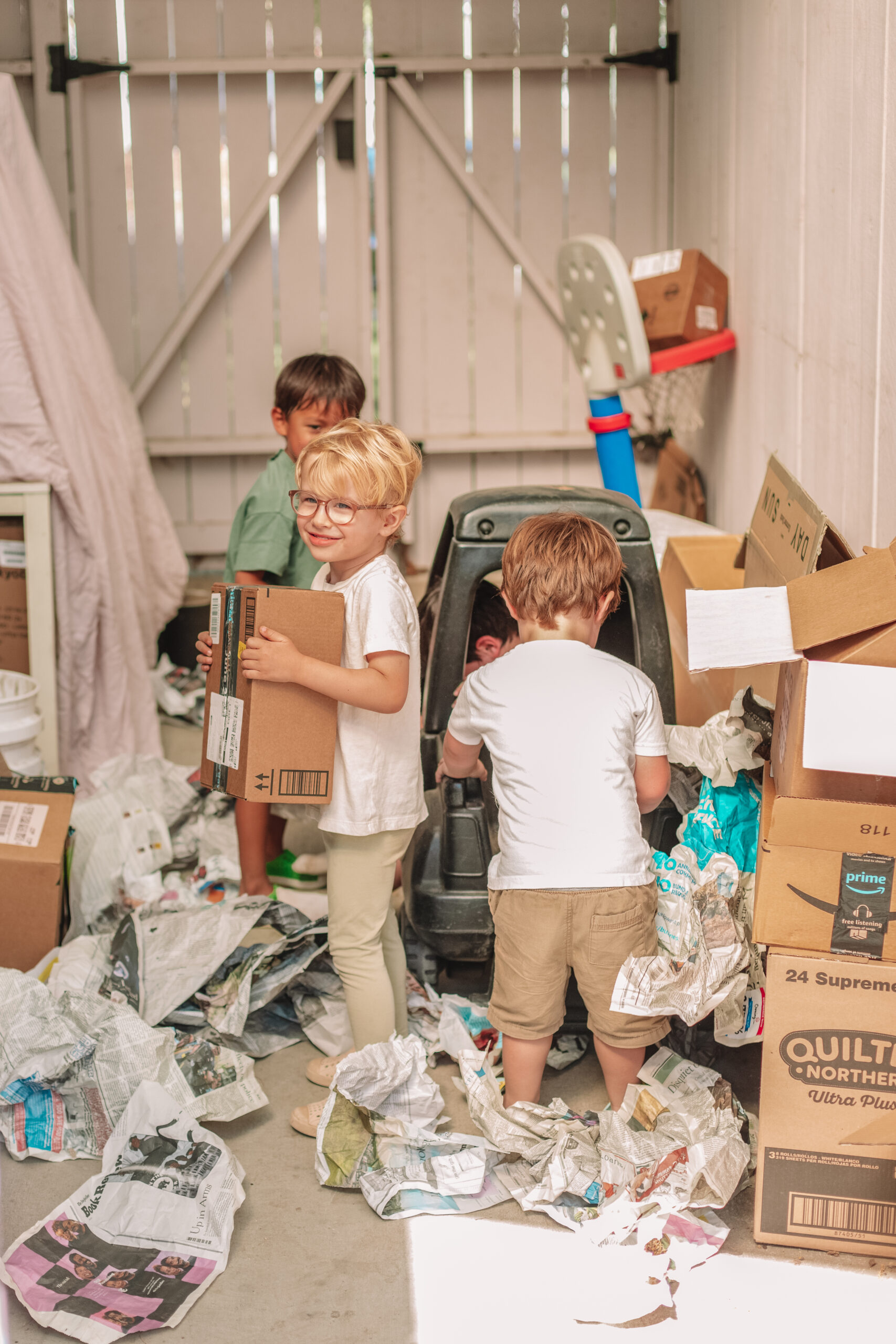 oh kids just playing with heaps of garbage, what fun!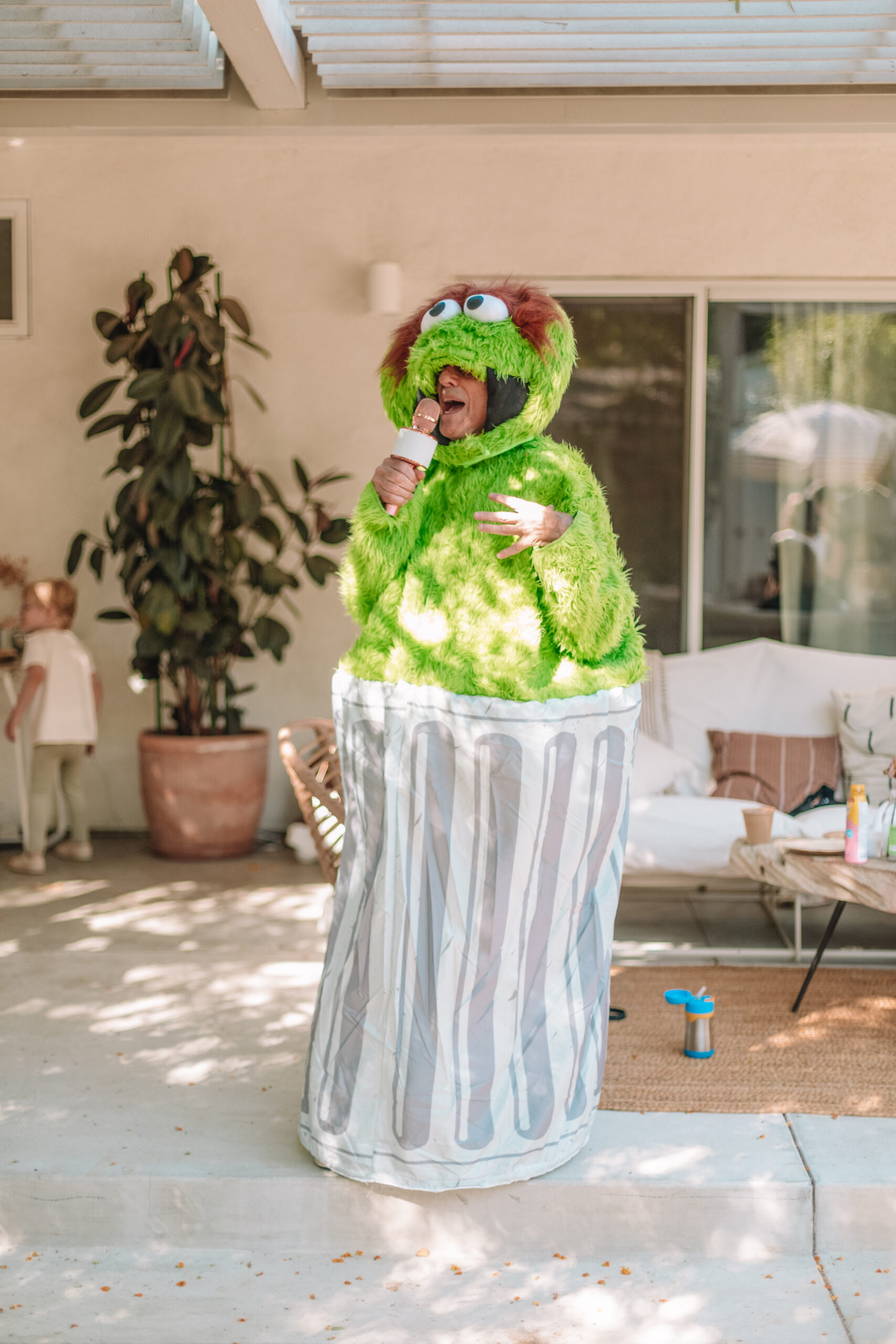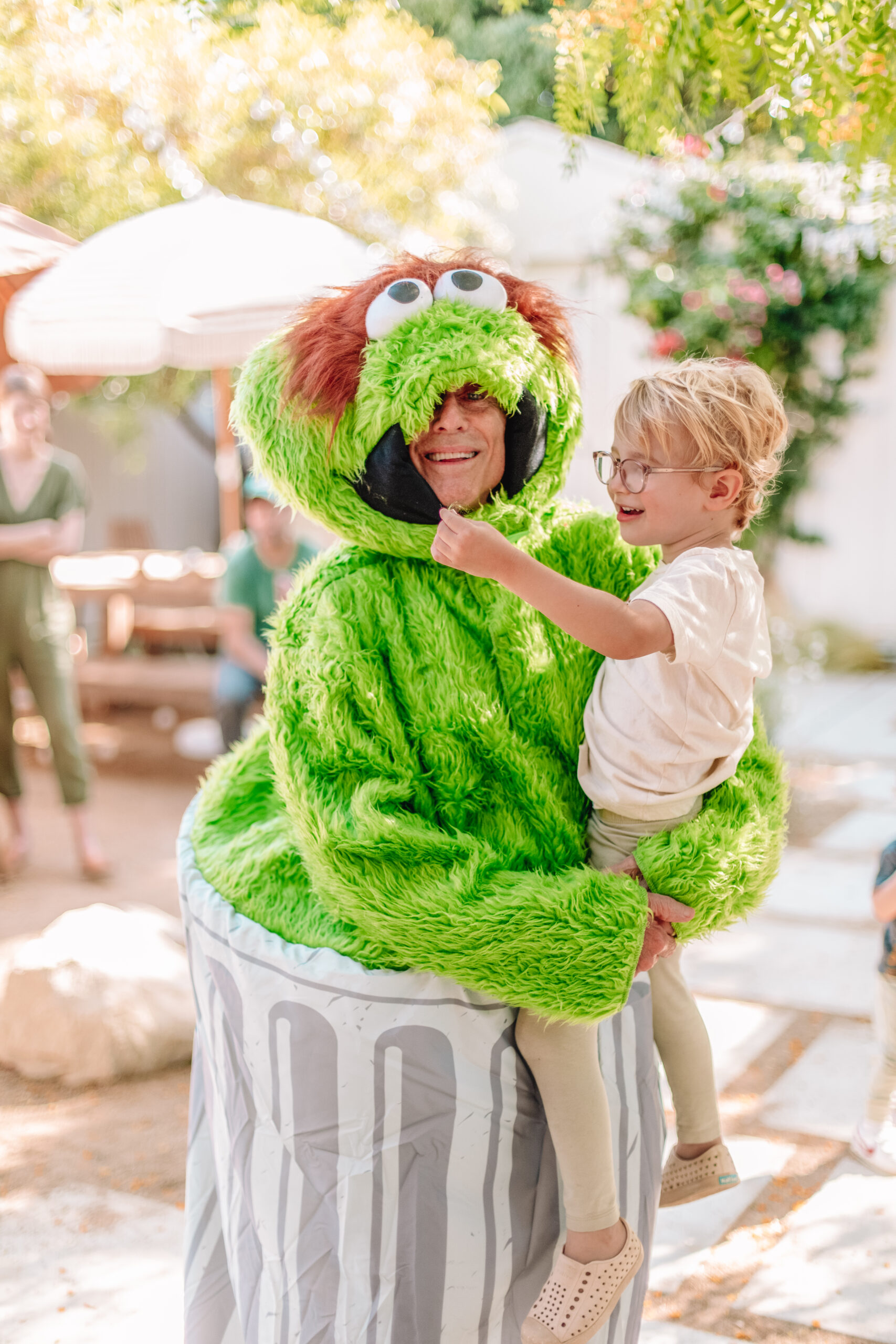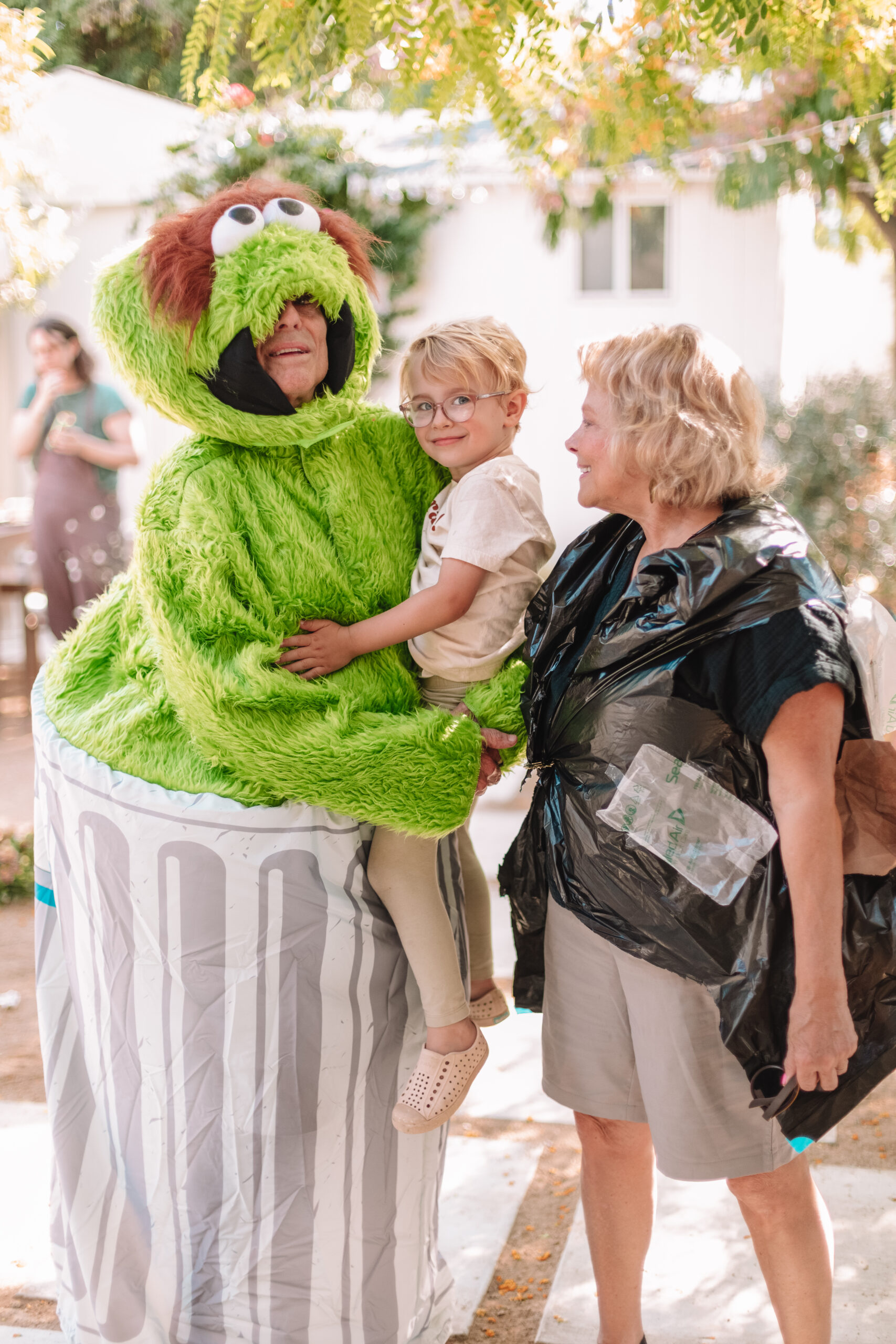 obviously my dad (poppy) can never not be the entertainment hahah. he came out and did some sort of oscar the grouch andrew dice clay hybrid performance for the kids.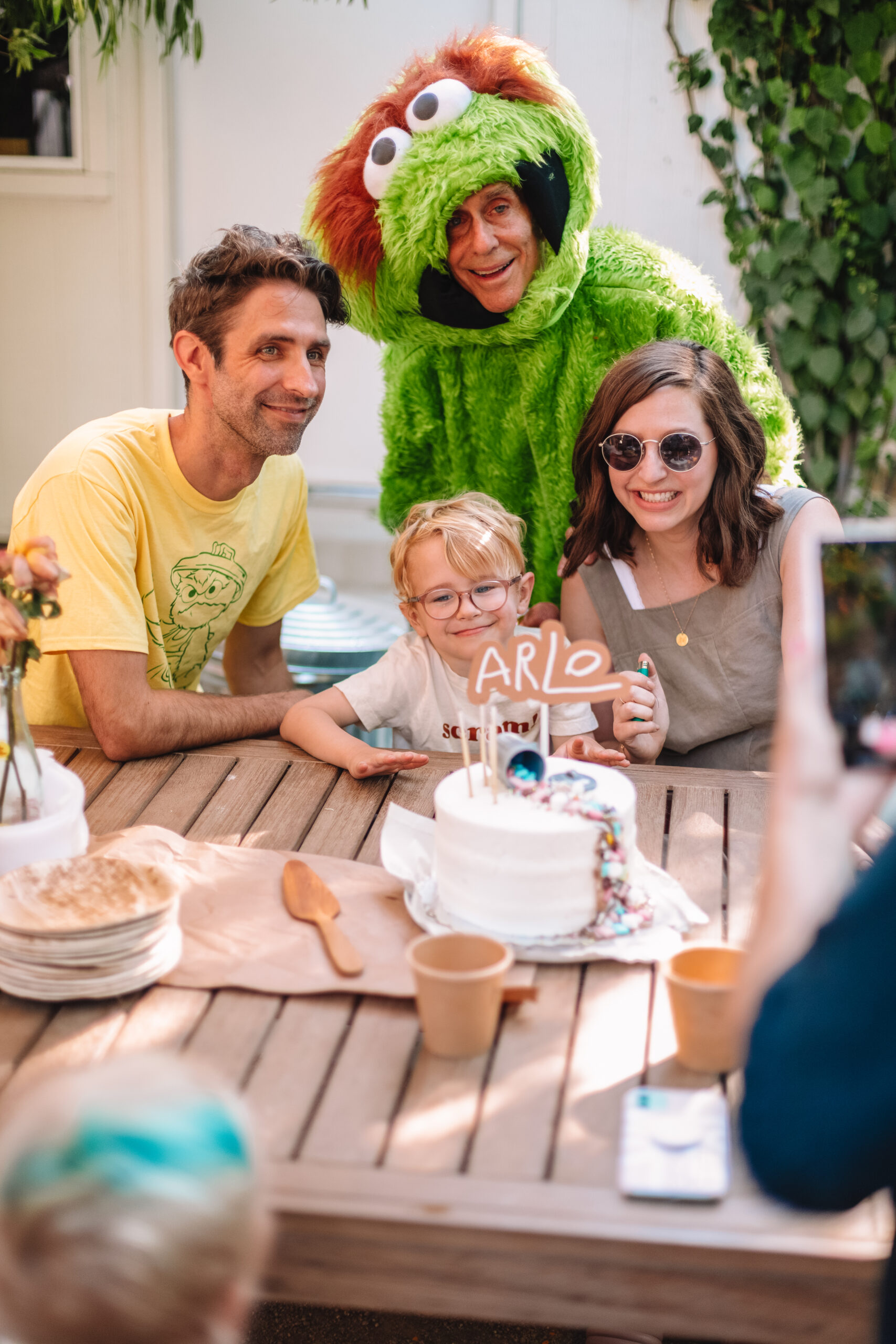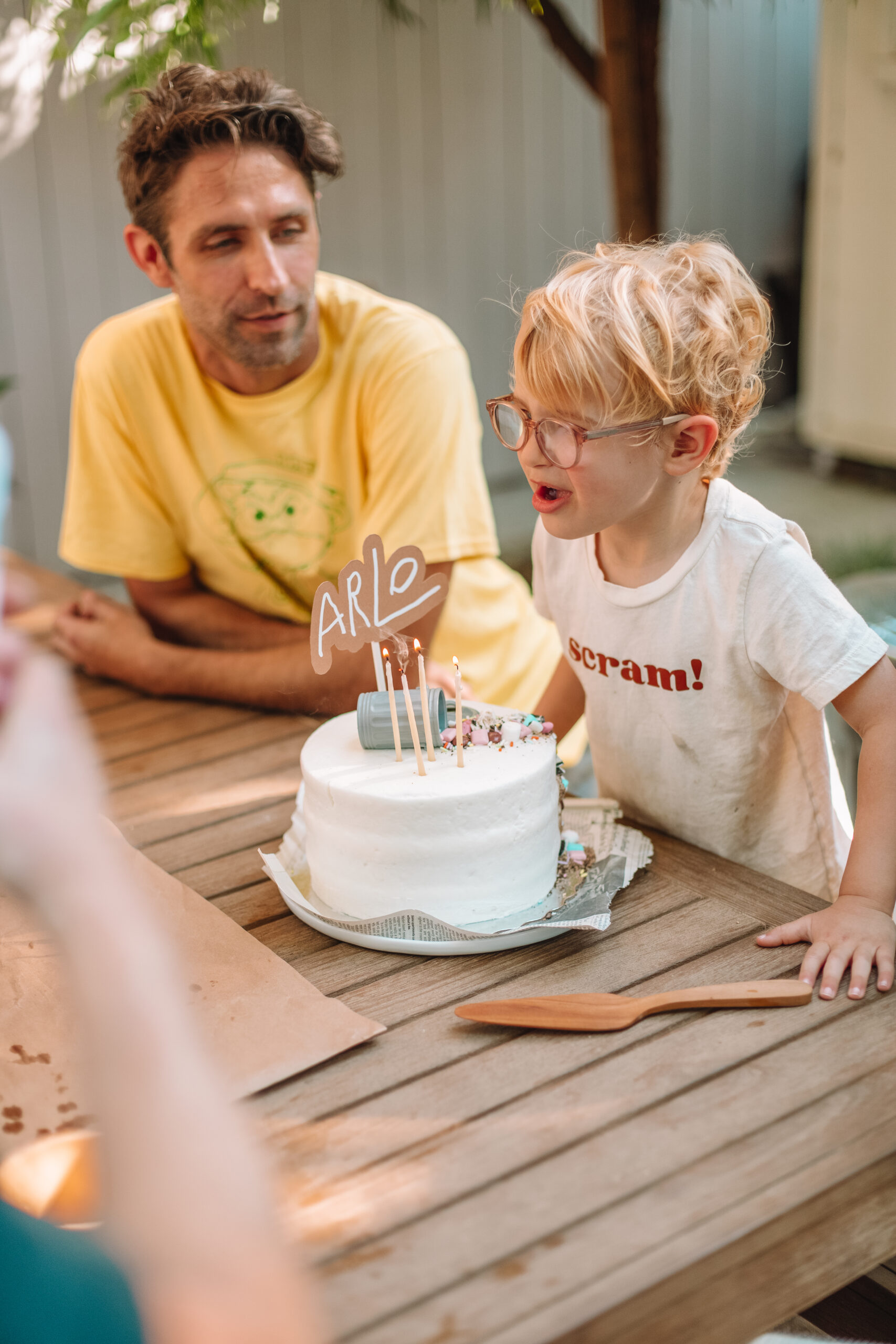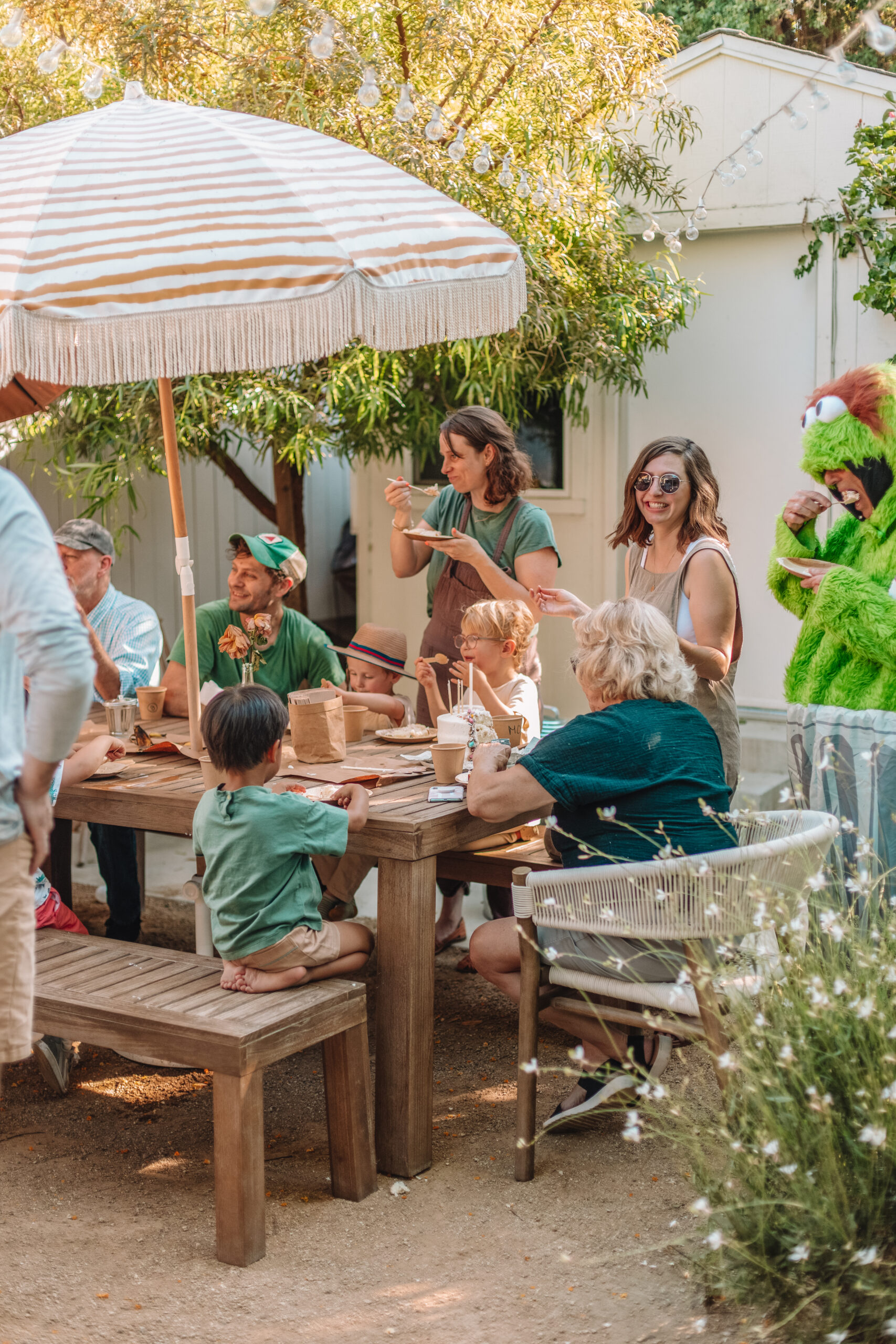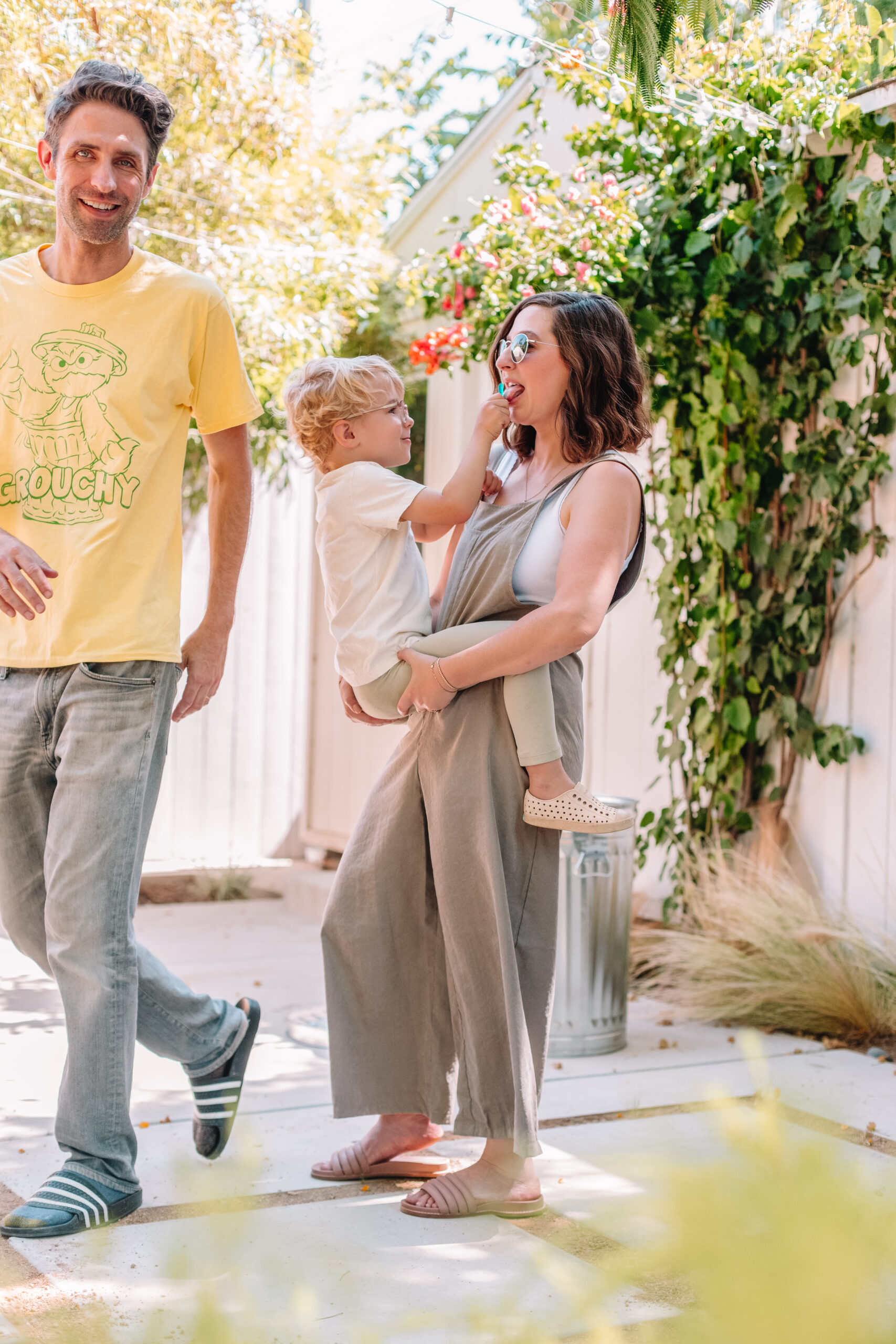 so much work, but the party was super fun, besides the time-outs of course hahaa.
---
sources
beverage dispensers / splatter paper napkins / bamboo plates and utensils / bamboo dessert plates / drinking cups / dirt cup cups / chinese food containers / mini metal garbage cans / mini toy garbage cans (cake) / label maker / sad face stickers / mini toy garbage cans (goodie bags) / font for food signs / kraft paper i used for signs / wood sign holders (similar)
arlos custom tshirt / my overalls / poppys oscar costume / gids grouch tshirt
photos by jeff mindell