arlos under the sea 3rd birthday (at home)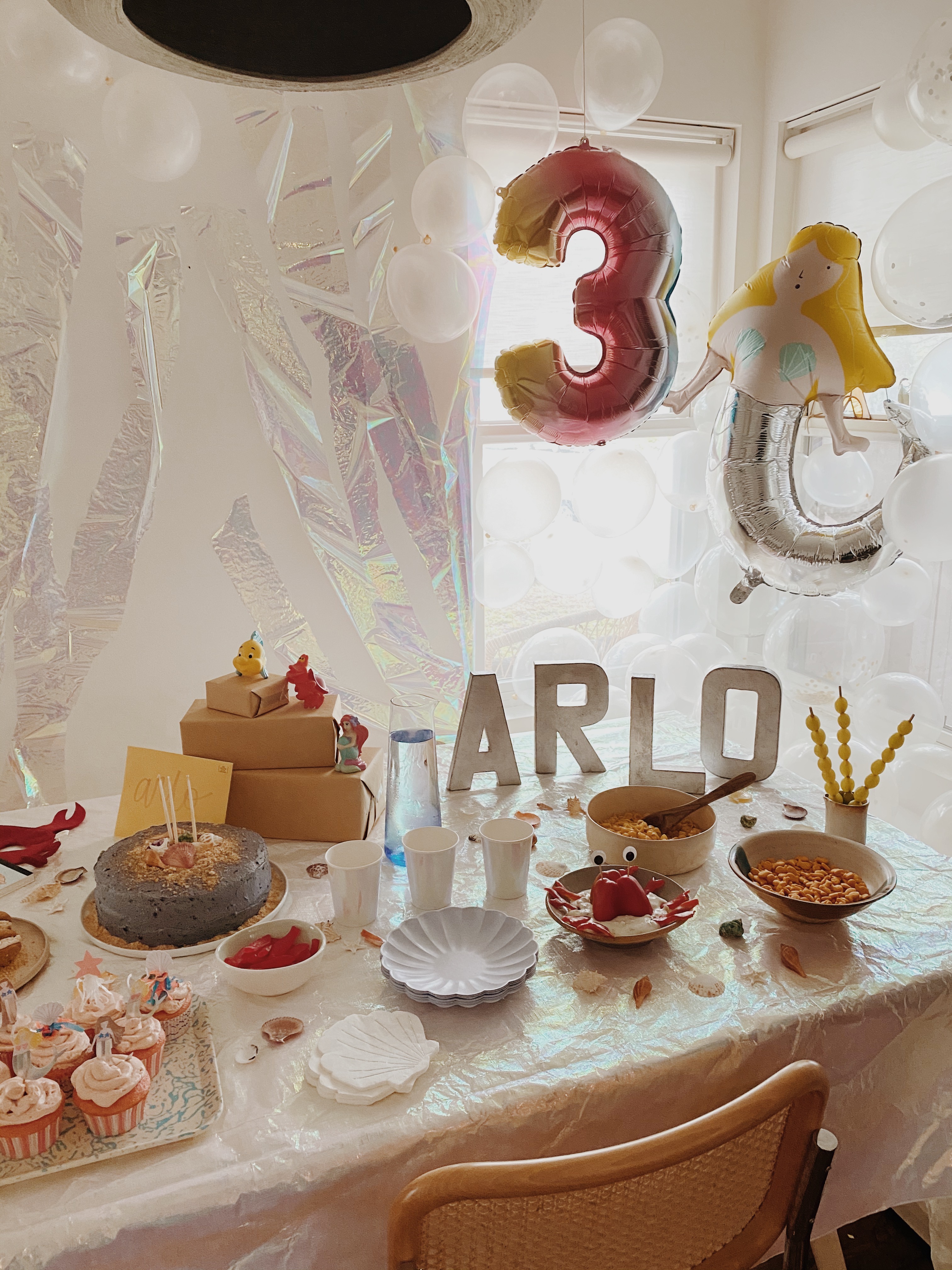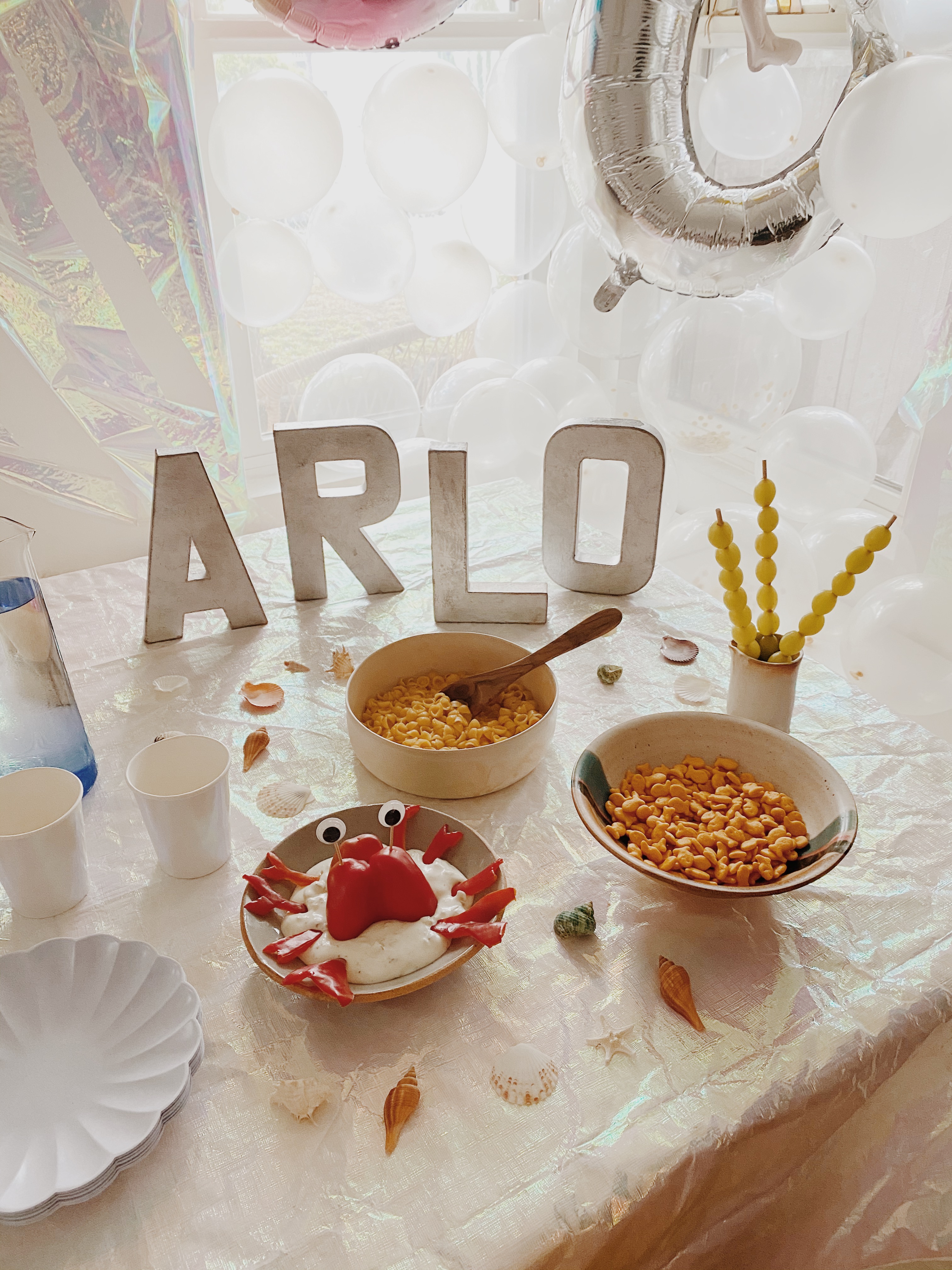 you know i love to setup a cute party, so even though we're stuck at home i didn't let that stop me! i asked arlo way too many times what theme he wanted for his birthday this year, and i thought for sure he'd choose daniel tiger (which i was planning to be a fun creative challenge for me on how to keep it elevated looking) but to my surprise he chose under the sea because he looooves the soundtrack of little mermaid and sebastian. after confirming with him for like 8 days straight, we went with under the sea.
i must say, i was a little weirded out about making a party for nobody, but arlo loved it just being us. he got to have the big exciting moment of seeing our dining room transformed and eating all the sweets we baked, without having to feel overstimulated by a bunch of party guests.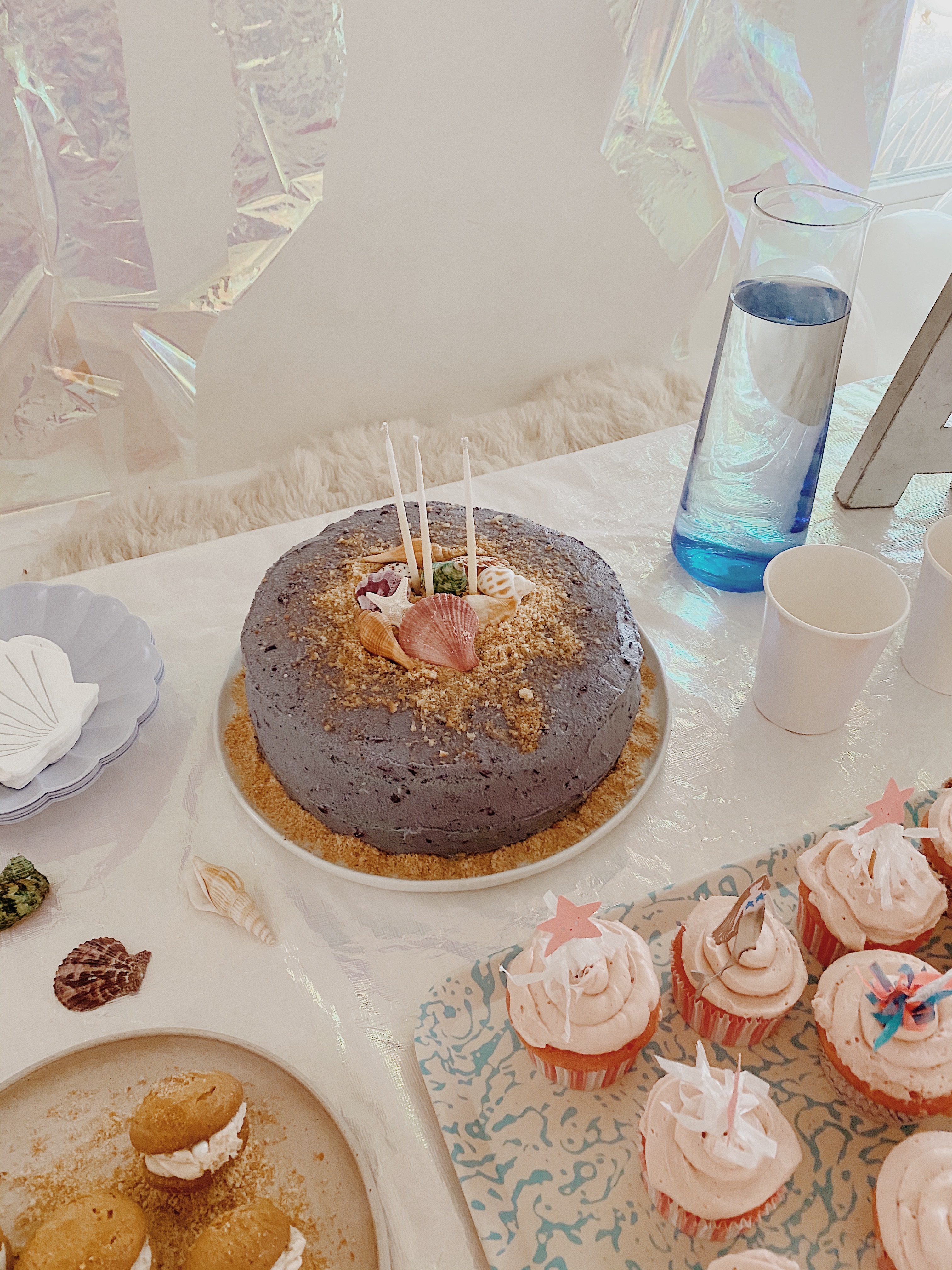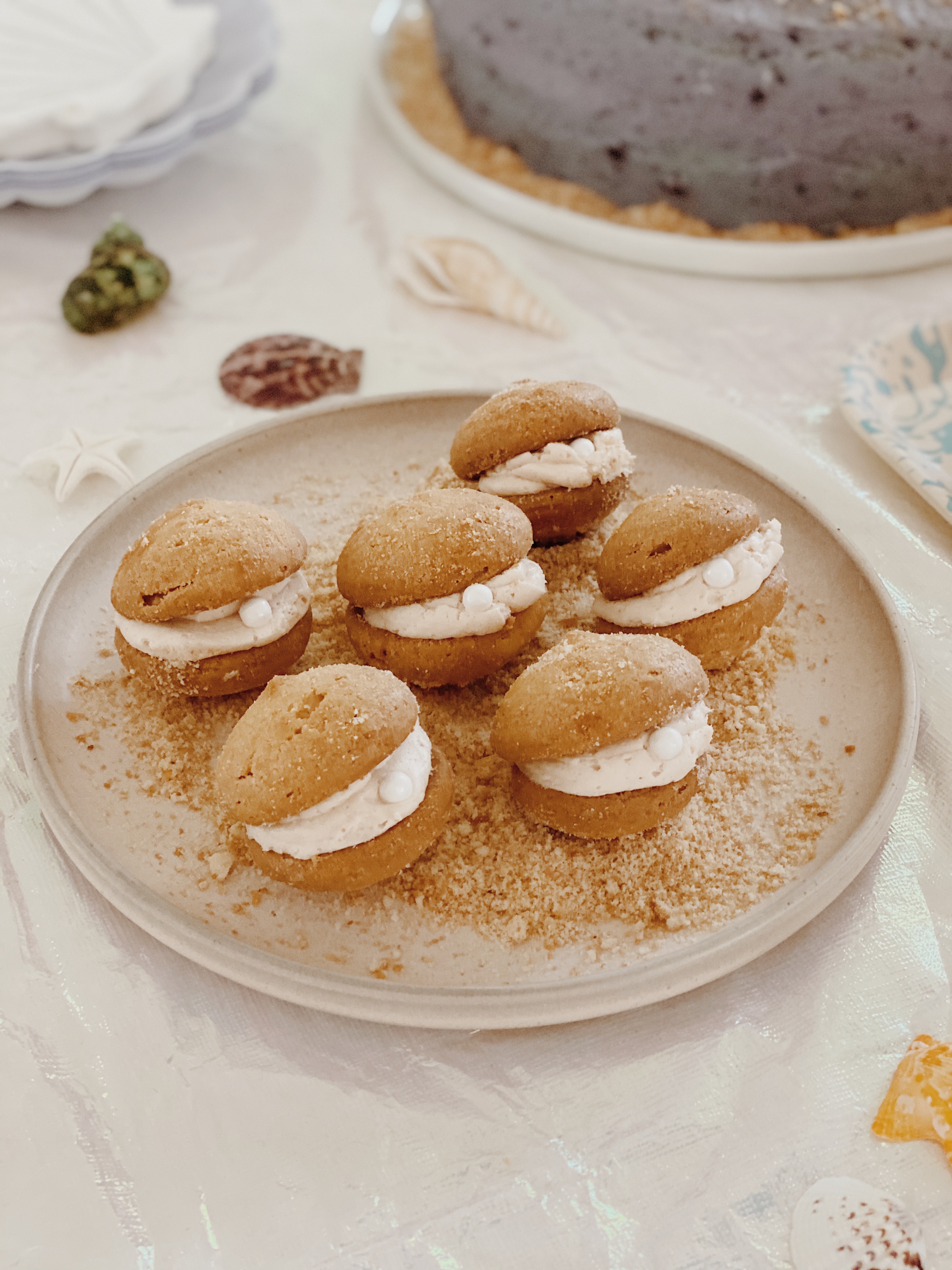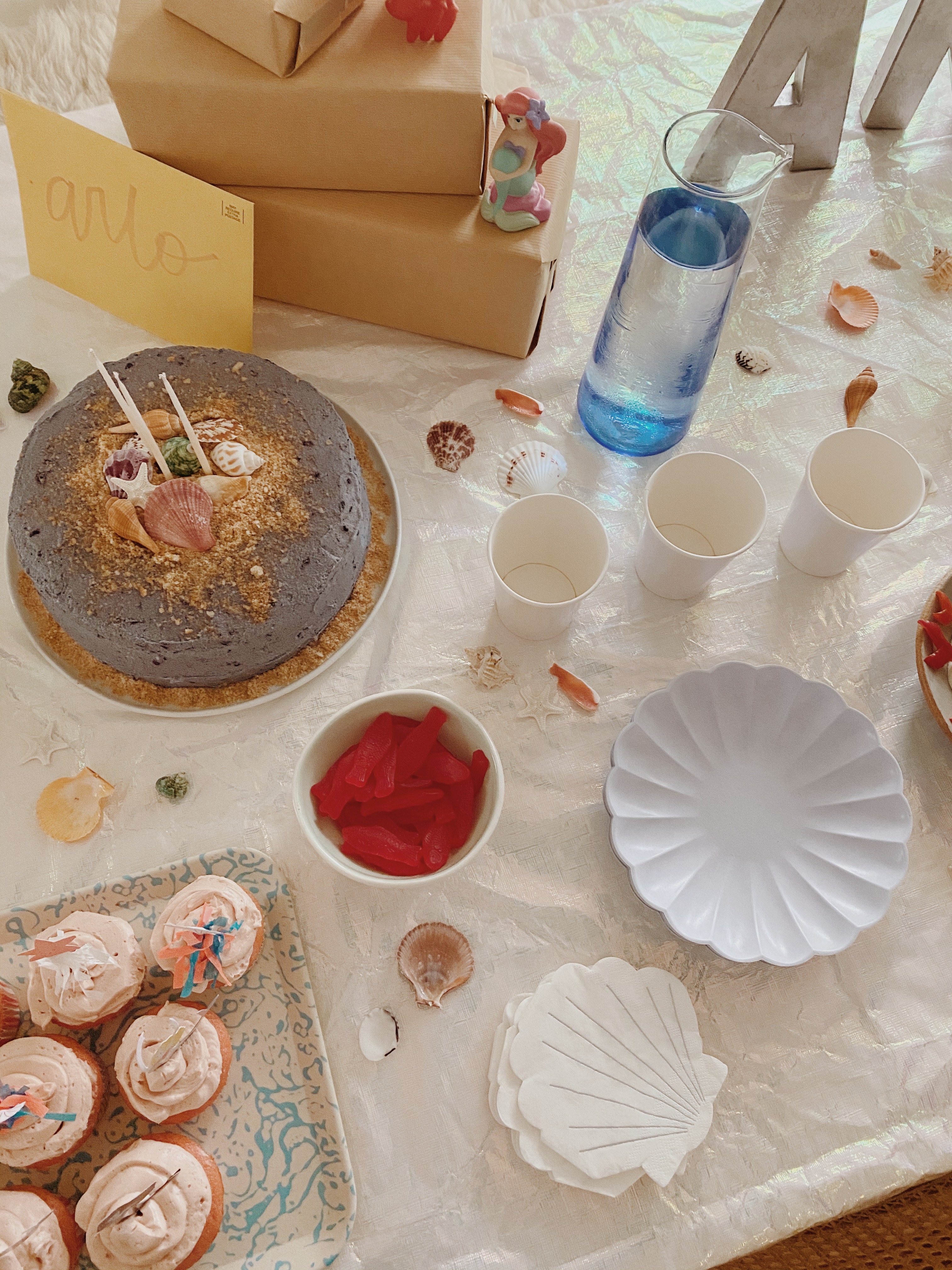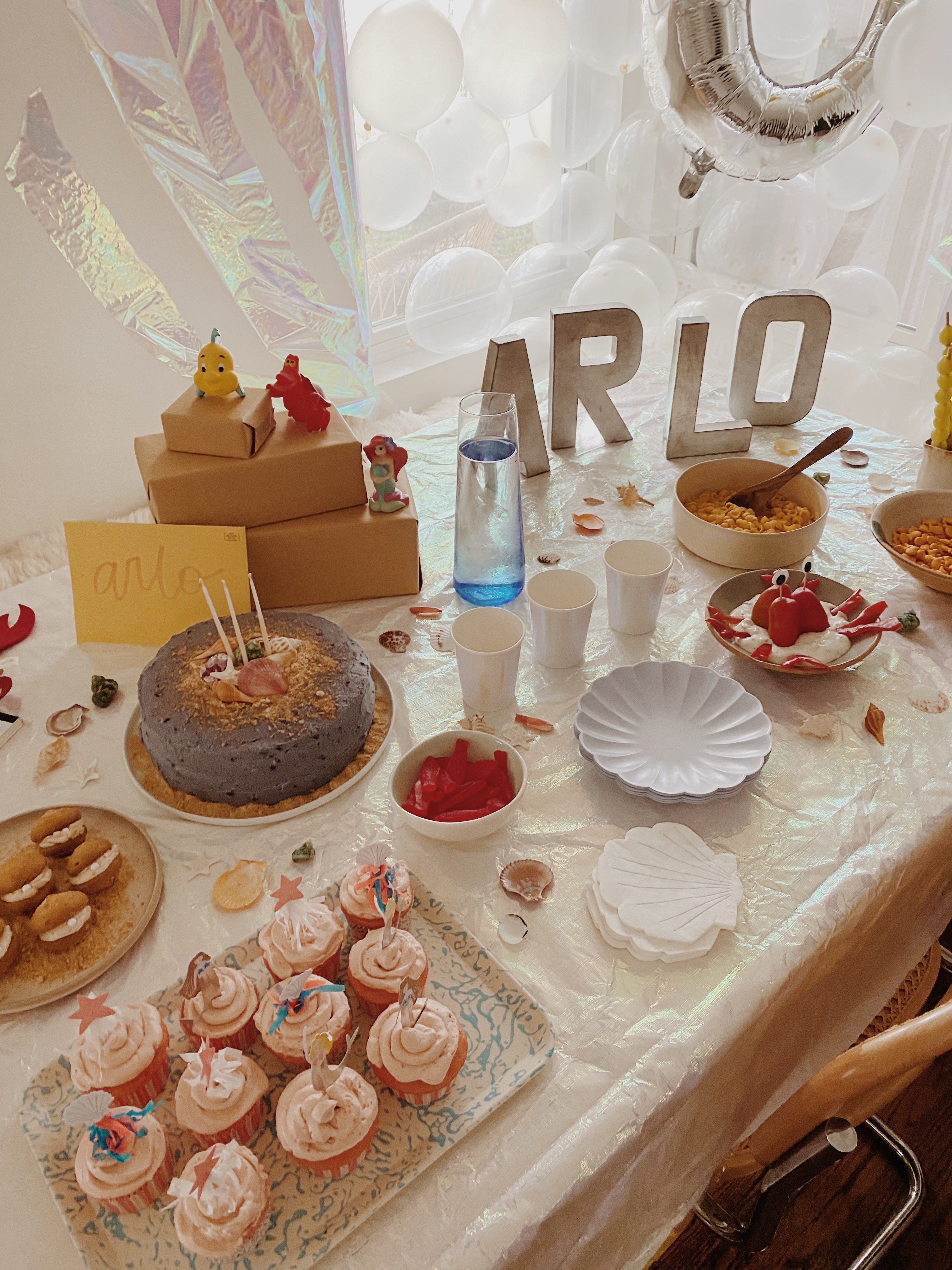 for the food, arlo and i baked the week leading up to saturday. we made the frosting, then the next day we baked the cakes, and then the cupcakes the following day. it made it less overwhelming and more like a fun build up to the party for him. plus he is always sooo proud when he bakes things.
he requested a blueberry cake and strawberry cupcakes, so for the cake i actually just did a white cake with fresh blueberries and jam, and a blueberry cream cheese frosting. i added just a tiny bit of food coloring but the color of the frosting was pretty much the way you see it here. to decorate, we put nilla wafers in a food processor and then sprinkled all over to look like sand. i then just added some of the seashells i bought with three simple candles!
the "oyster" cookies are just two shortbread cookies with frosting i piped inside and then added little candy pearls to each one. since i only had a few cookies i plated them on top of more cookie sand. obsessed with how these turned out!!
for the rest of the food, i just served swedish fish, goldfish and macaroni and cheese "shells". i put some green grapes onto kabob sticks to look like kelp and cut up a red bell pepper and gave it googly eyes to look like a crab on top of a bed of tzatziki. arlo thought this was funny at first, but then refused to eat sebastian, rightly so lol.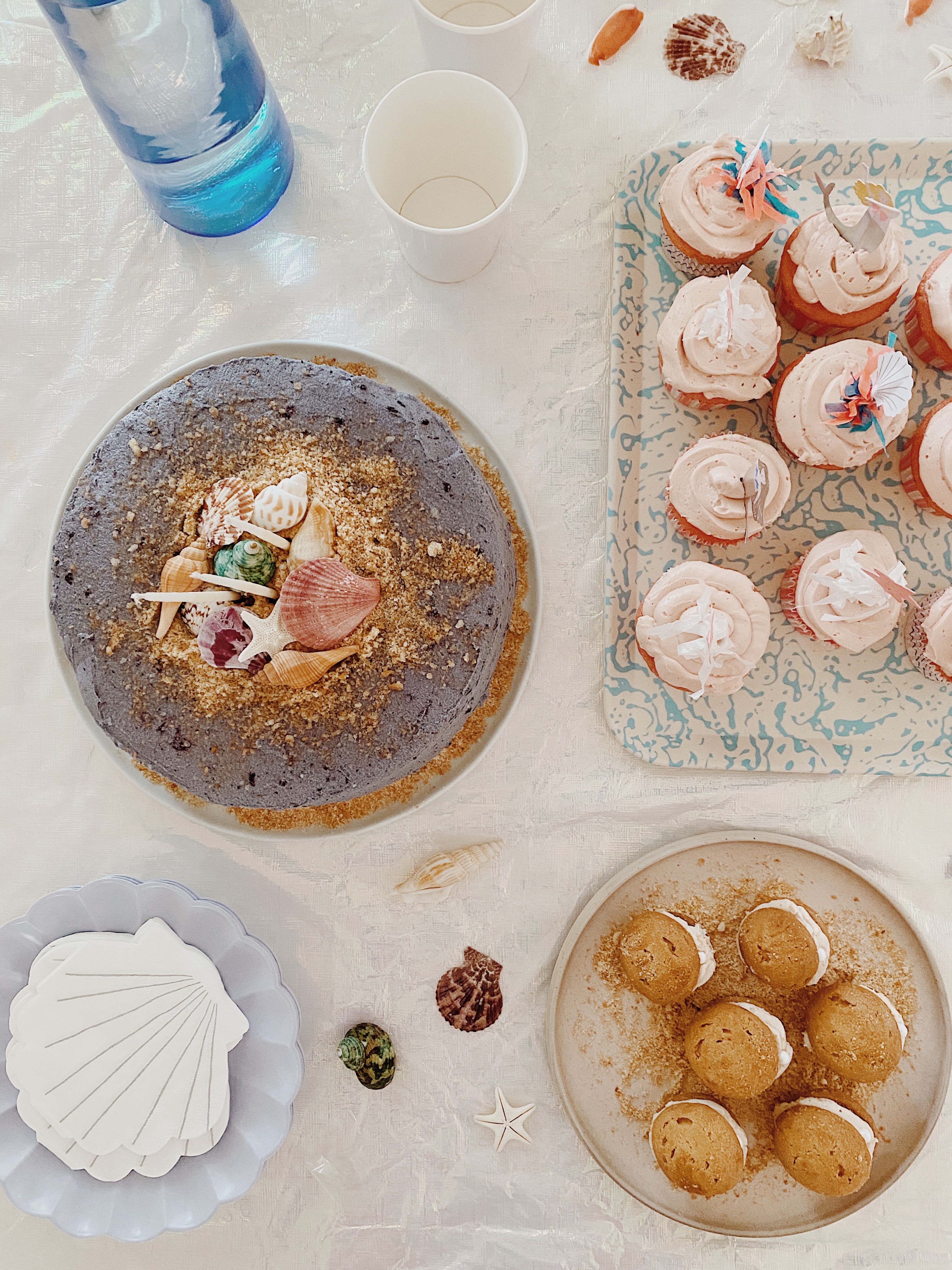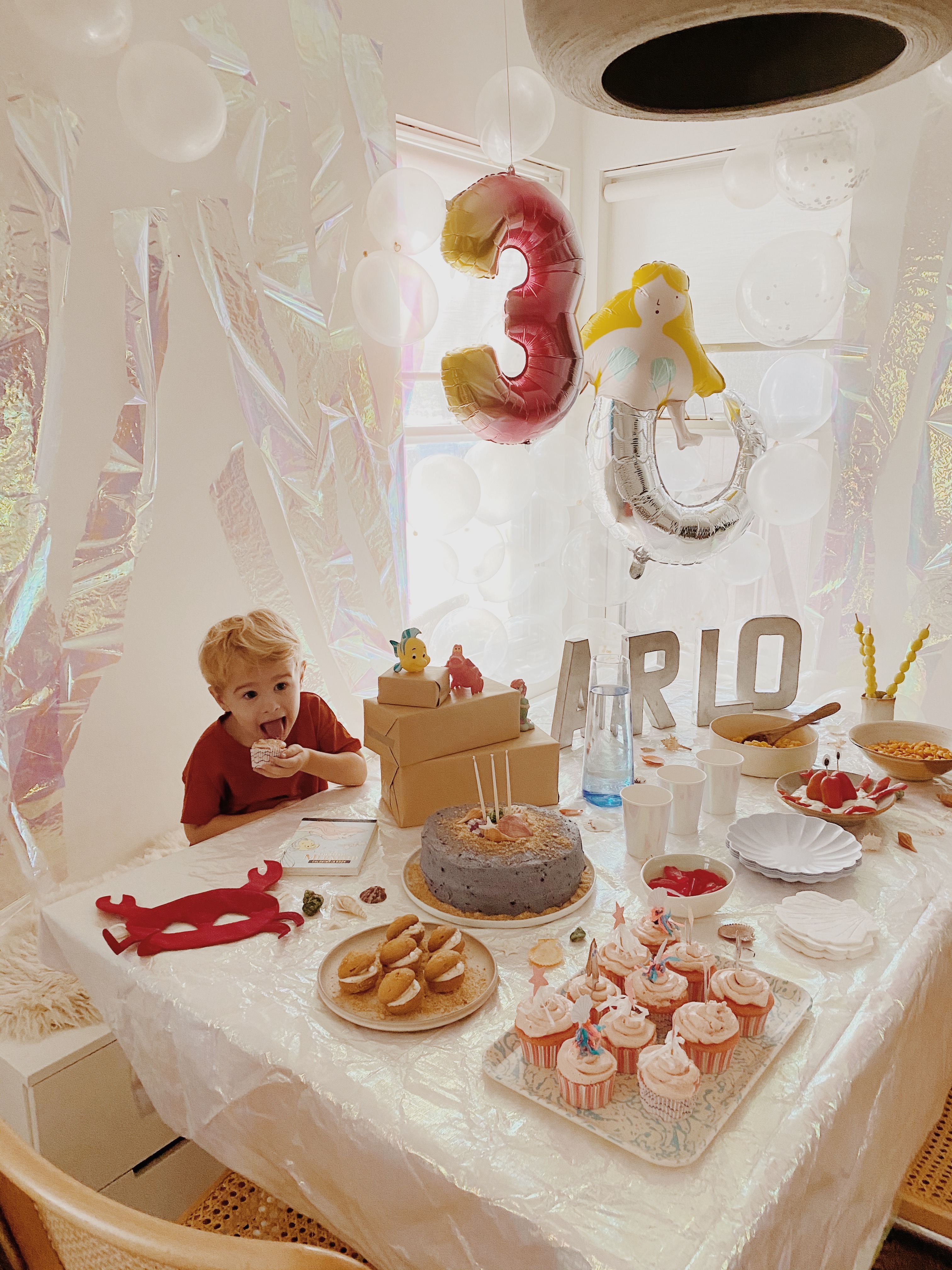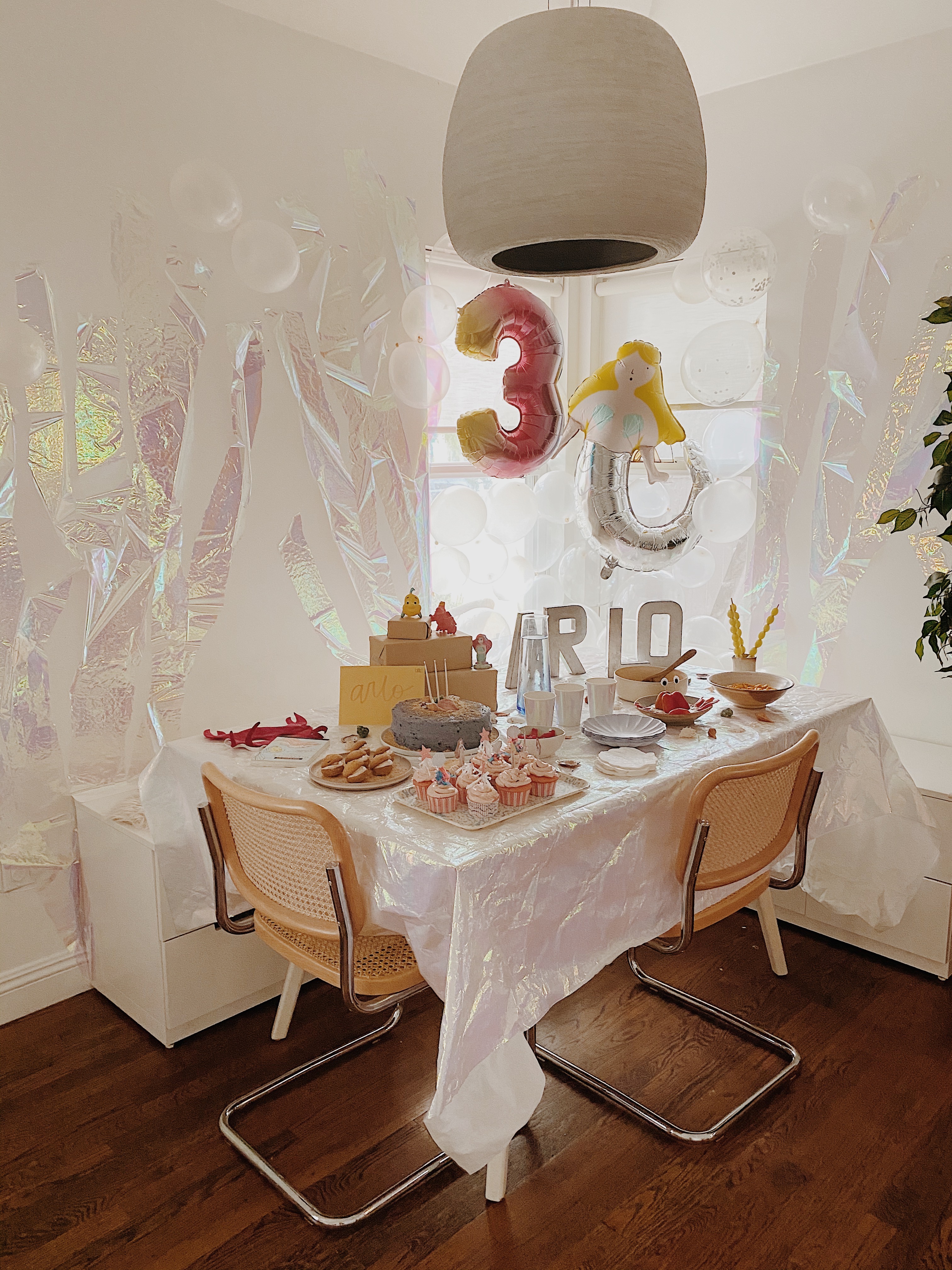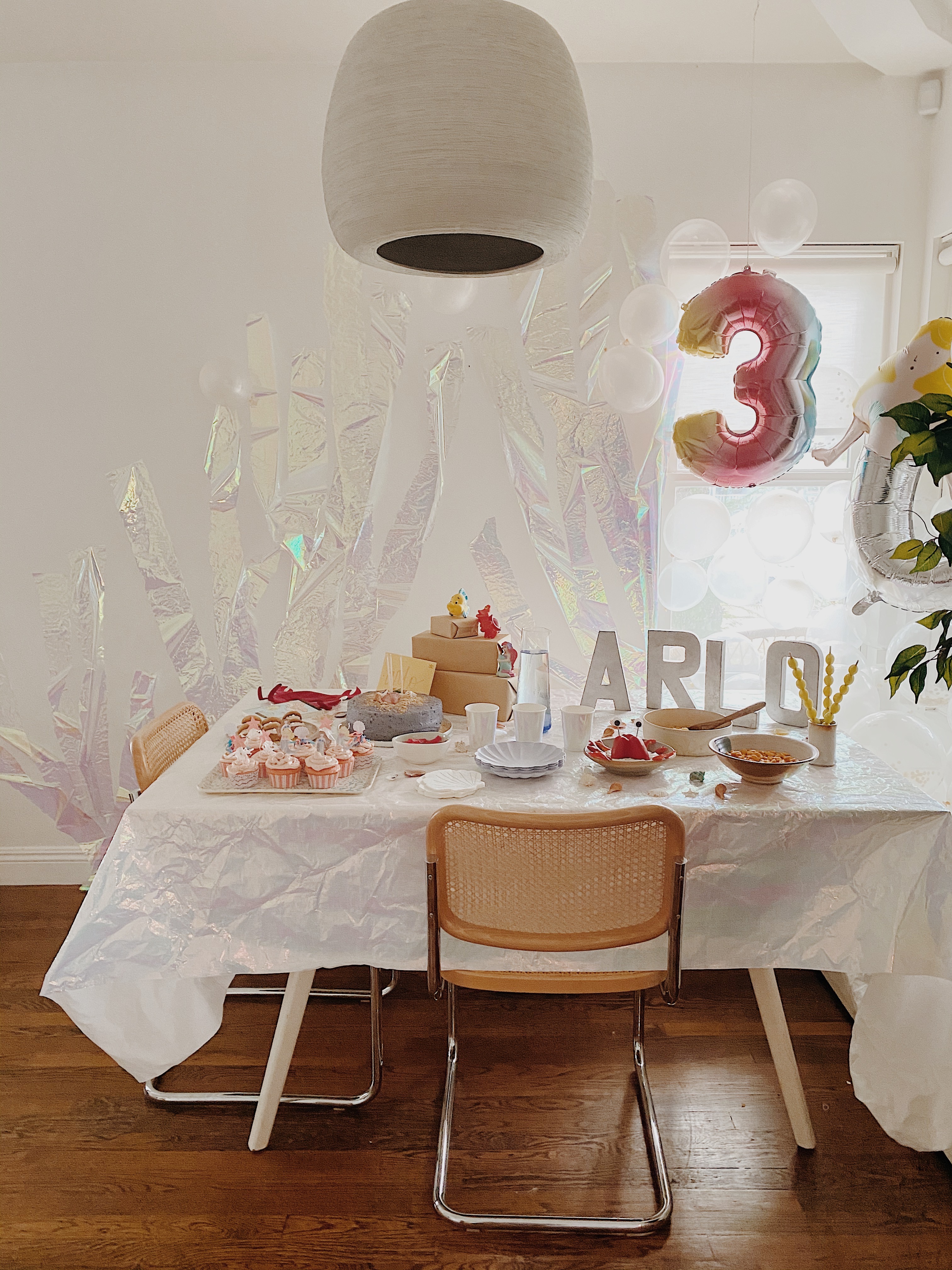 it feels similar to his first birthday party (which was a sky theme) because i used a lot of iridescence again. and also similar to his second birthday party (mamma mia themed) because of all the sea shells haha. i got a cheap iridescent tablecloth and i'll def be using it again for parties. (ps to unwrinkle it a little i stuck it in the dryer with a towel on gentle wrinkle release!)
if you watched my IG stories, you saw us struggling with the wall decorations. i bought iridescent film with the intention of hanging it on the wall, but never really had a plan. well we starting sticking it on the wall and quickly ran out, and it looked like crap. i thought it might have been hopeless until we started cutting into strips. we then hung them to look like coral reefs and they actually turned out so cute!!!
i was worried about getting too many large balloons to overwhelm the corner, but now in retrospect i wish i'd gotten a few more! next time i will. i bought a balloon pump to fill all the clear balloons and omg that was a game changer. we just taped them all up to the walls and windows to look like bubbles.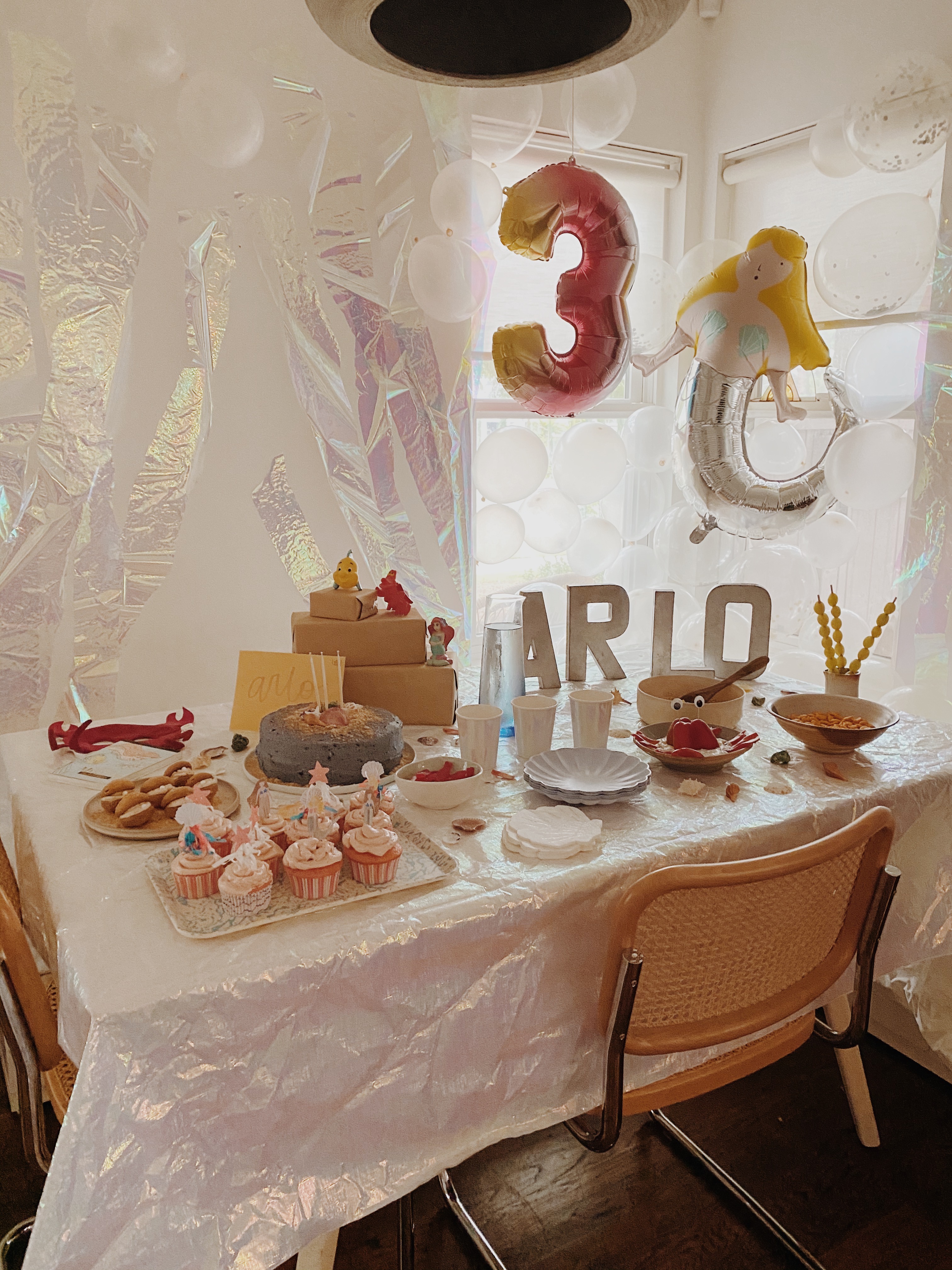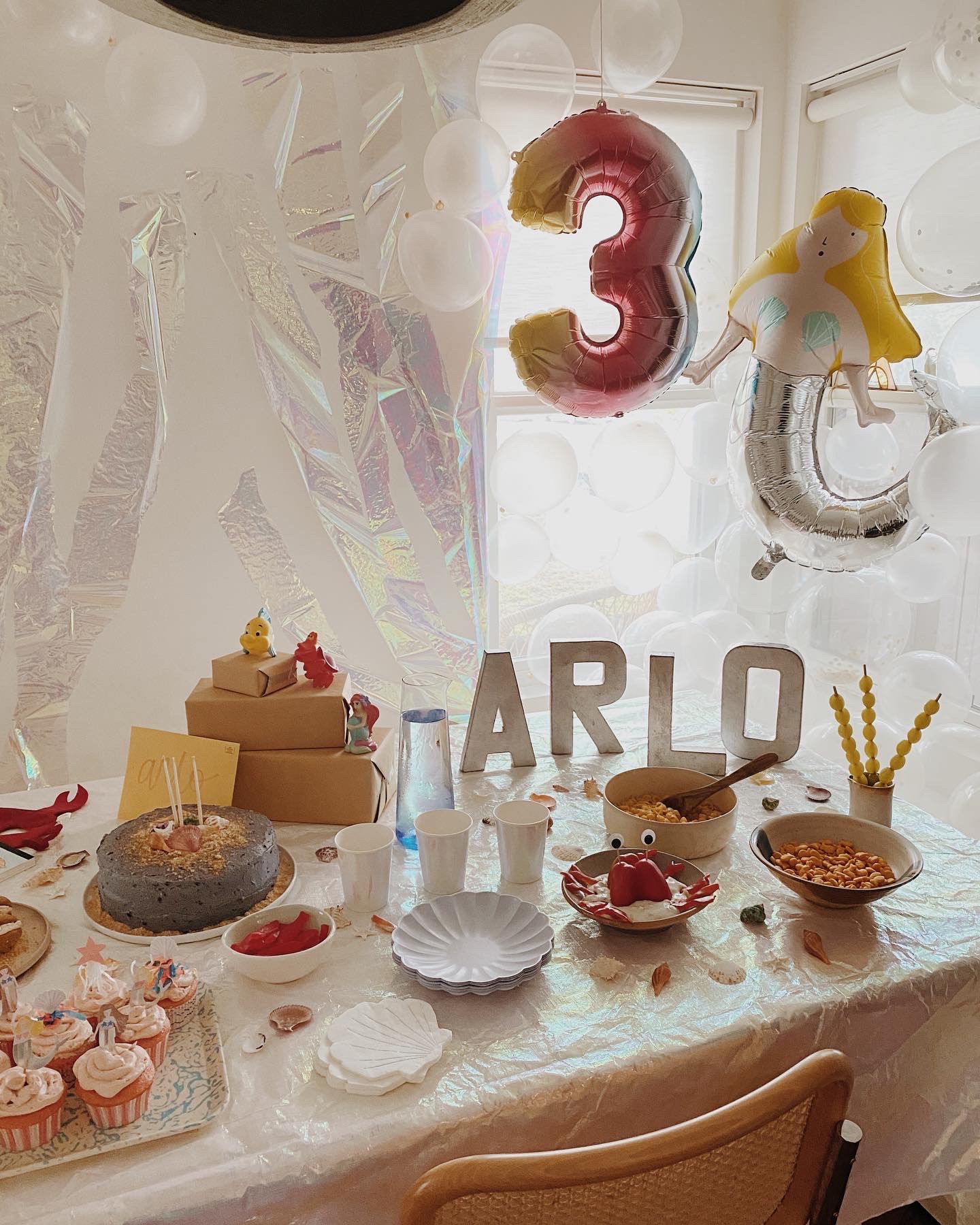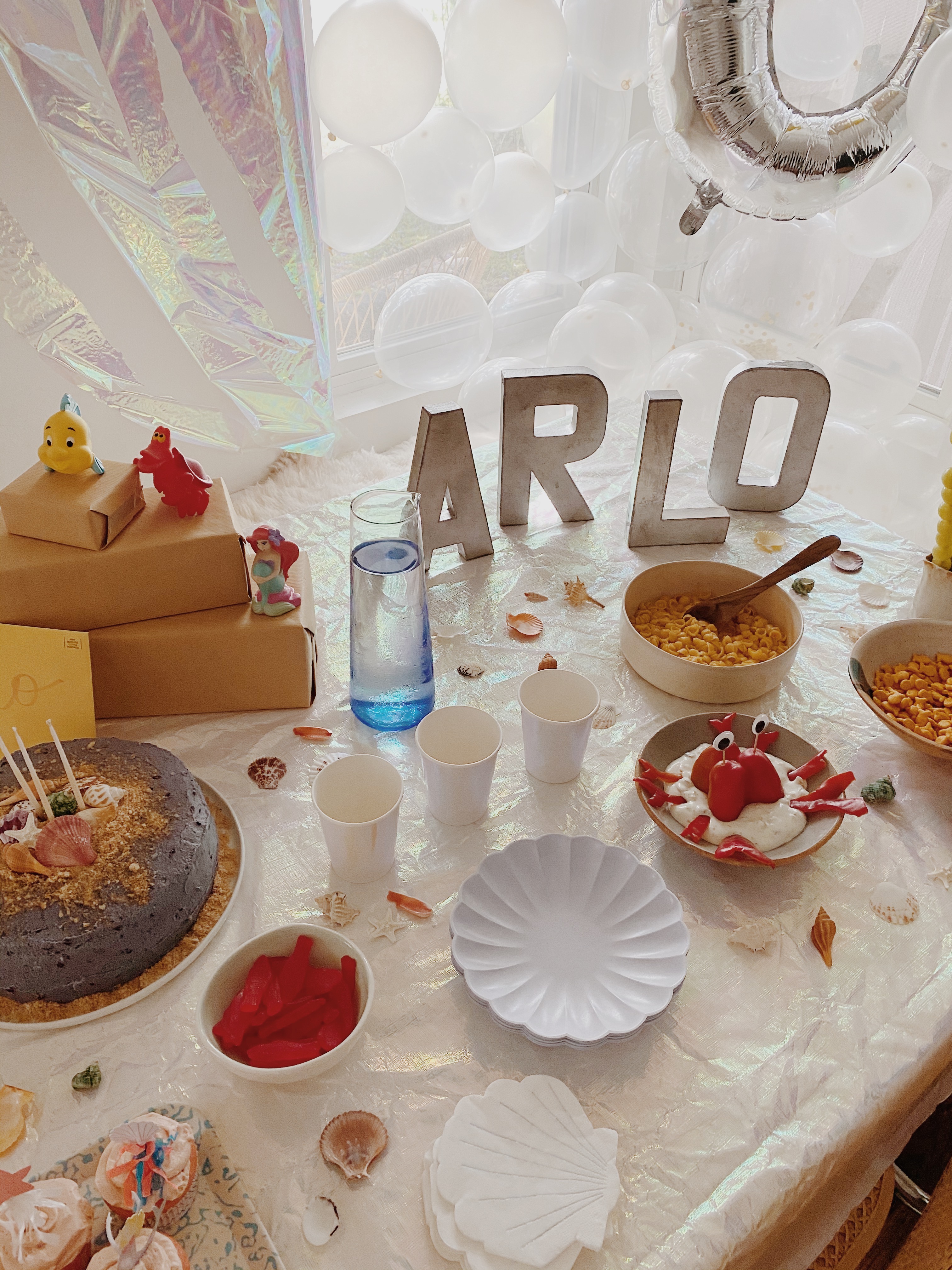 it's been hard in quarantine to have so little to look forward to, so these special moments are worth the trouble in my mind. it gives us all something to be excited about. now i'm sad it's over– but looking forward to the next occasion, because what else am i doing besides going overboard?
(ps the best part about throwing a fake party is that we didn't actually use any of the napkins/plates/cups so i can keep them for another fake party lollll)
---
sources
cardboard letters (i spray painted silver for arlos 1st bday)