wedding stuff : modern floral centerpieces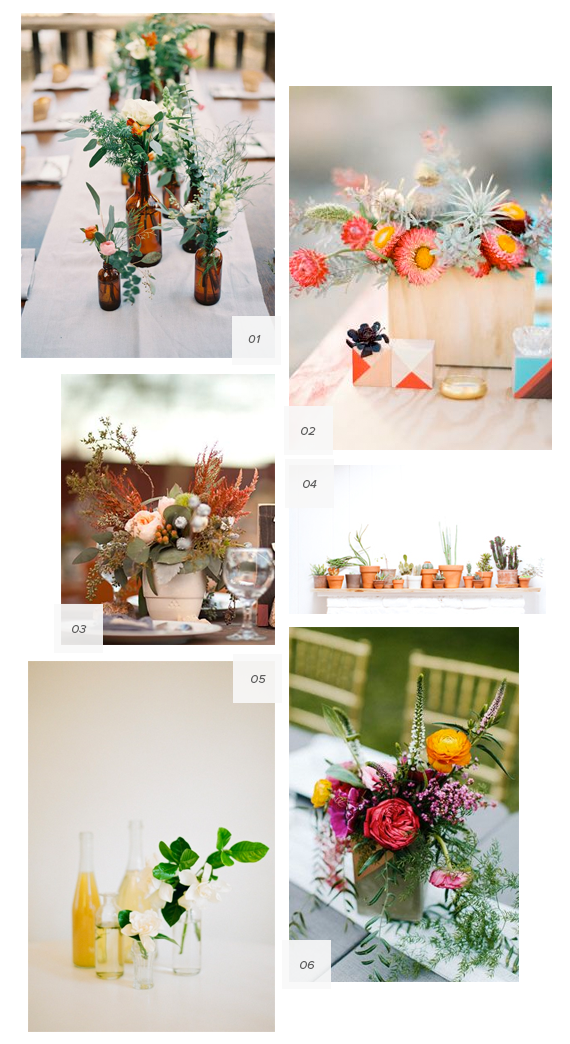 so this week i'm having a meeting about florals — like everything else in the budget, we're not really sure how we can afford a normal floral budget. did you know how much wedding florals cost?! i'd like flowers on the tables and scattered around the property, but i'd also like to spend thousands of dollars on vacations over flowers.
i'm going into the meeting with low expectations for what we can accomplish with our tiny budget, but i'm still bringing lots of ideas.
01. we've talked about having vintage bottles scattered around the tables with various flowers and heights, a look that i love but i'm not 100% sure that's what we should go with yet.
02. another idea i love but not sure i can afford it is wooden box planters. i could for sure DIY them, but then we're left having to fill boxes with probably more flowers than other options.
03. simple pots stuffed with flowers and greens has such a modern feel and shape and i'm assuming all the greenery and filler keeps the prices down, right? is that even what is in this photo? i'm clearly no expert.
04. i am obsessed with the look of a crazy amount of simple terracotta pots filled with cacti and succulents. this would definitely work around the estate, but would this be pretty as centerpieces!?
05. now if i'm reaaaaally saving money, i could simplify the bottle idea and just have two or three little ones next to the water and wine and spread them out and call it a day. super super minimal.
06. i am just in love with a wild and organic bouquet like this – a couple of these spread out on the table and wowwww.
what's your favorite look / idea? and if you have any tips for how to keep your floral budget down, please share!