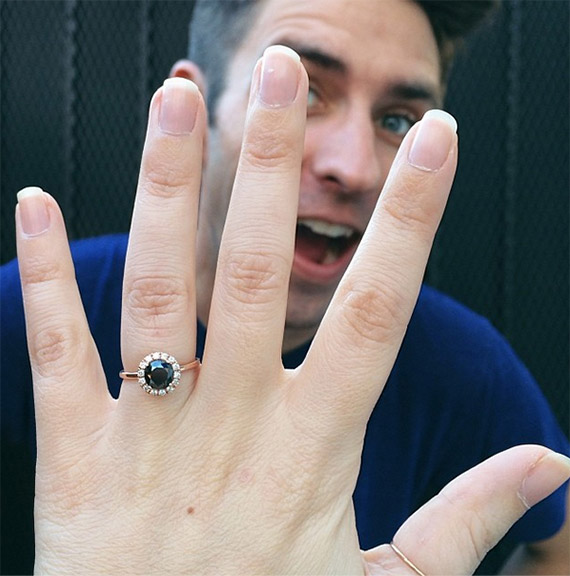 hope you had a great holiday! well! life changed a lot over the past week and a half. gideon proposed five days before christmas so we had a lot to celebrate during the holidays. the hardest part though, we decided to wait to tell my family until my dad and sister arrived, so we kept it a secret for three days. if you're a blabber mouth like i am – that. is. torture. but it was worth it in the end, getting to tell my parents at the same time and doing a toast and watching them cry.
and now, i might as well get personal. if you want to know our story. my boyfriend fiance and i have been together for three years next month. three and a half years ago, i got laid off from my job. not knowing what to do with myself and basically having a quarter life crisis, i decided to go stay with my dad in boston. i stupidly packed up my entire apartment and moved it across the country to put all my stuff in a storage locker. why i didn't do that in la, i have no idea. i soon found out that it snows a lot in boston, and was miserable. i then started corresponding with a really cute boy i knew from college who wrote me out of the blue to tell me i was cute and he liked my blog (my old blog.) we started writing and then talking on the phone and then spending all day every day talking until he came to visit me. we took the bus to new york for the weekend and had a 4 day date and fell madly in love. well, he told me he loved me that weekend. i played it cool and didn't say it back. he's still mad about it.
i decided to go visit him after a trip to see family in indiana. my mom thought i was staying with them, but i stayed with gideon. and i never left. i never asked him if it was ok for me to move in, i just had my stuff sent back to la and we lived together. yep, right off the bat. so basically, we've never dated. most people find it weird.
over these past three years, we've moved three times, been through very rough times, traveled all over, adopted kittens, and i've been hoping he'd ask me pretty much since day one. he's always been my person.
i always hear it doesn't feel different — but so far, it feels VERY different. he now really feels like my family.
to wrap this up, i just want to say that i really hope you all are ok with the blog becoming a little more wedding themed this year. i definitely can't resist a little wedding DIY!