our backyard redo– the plan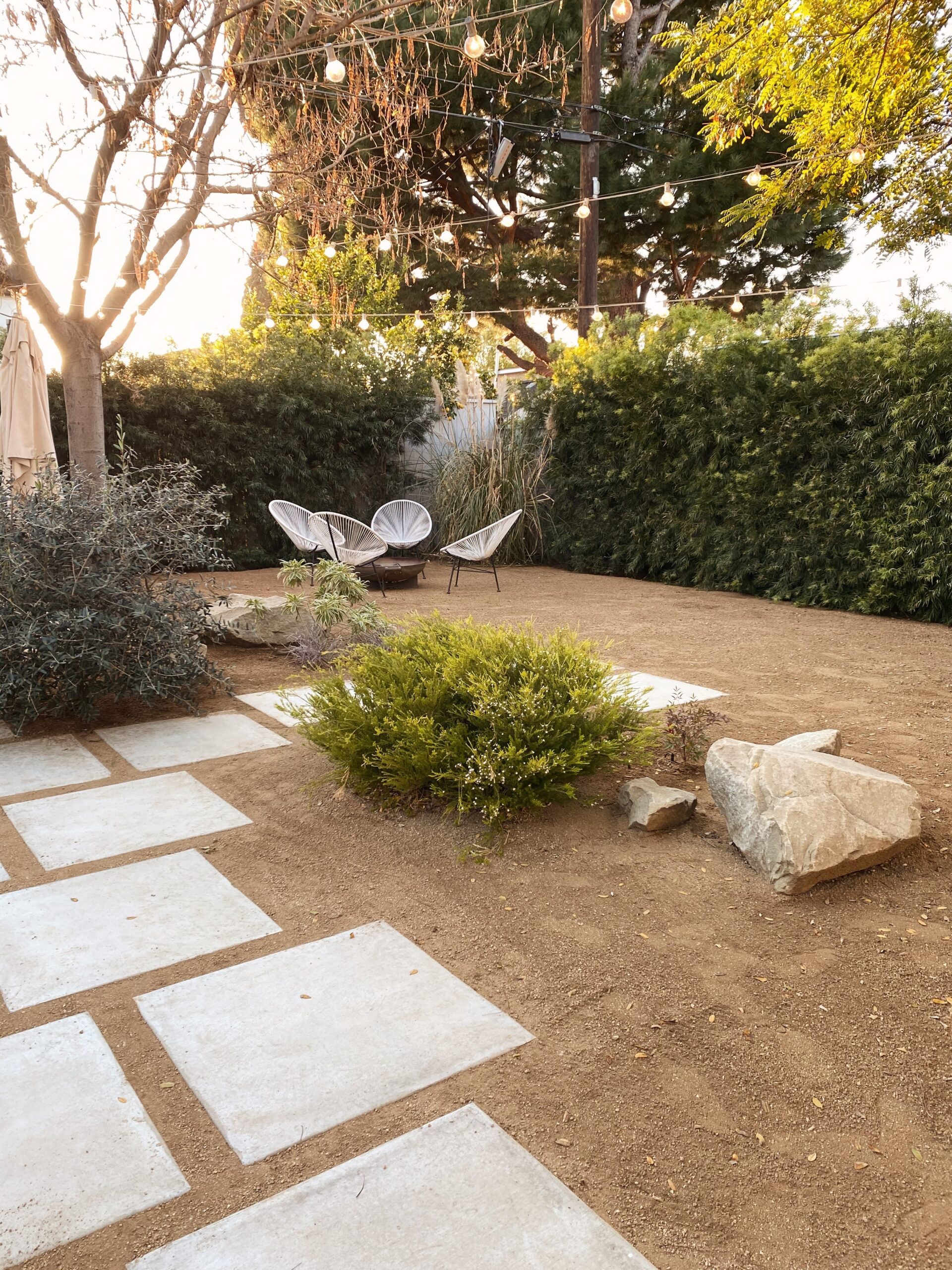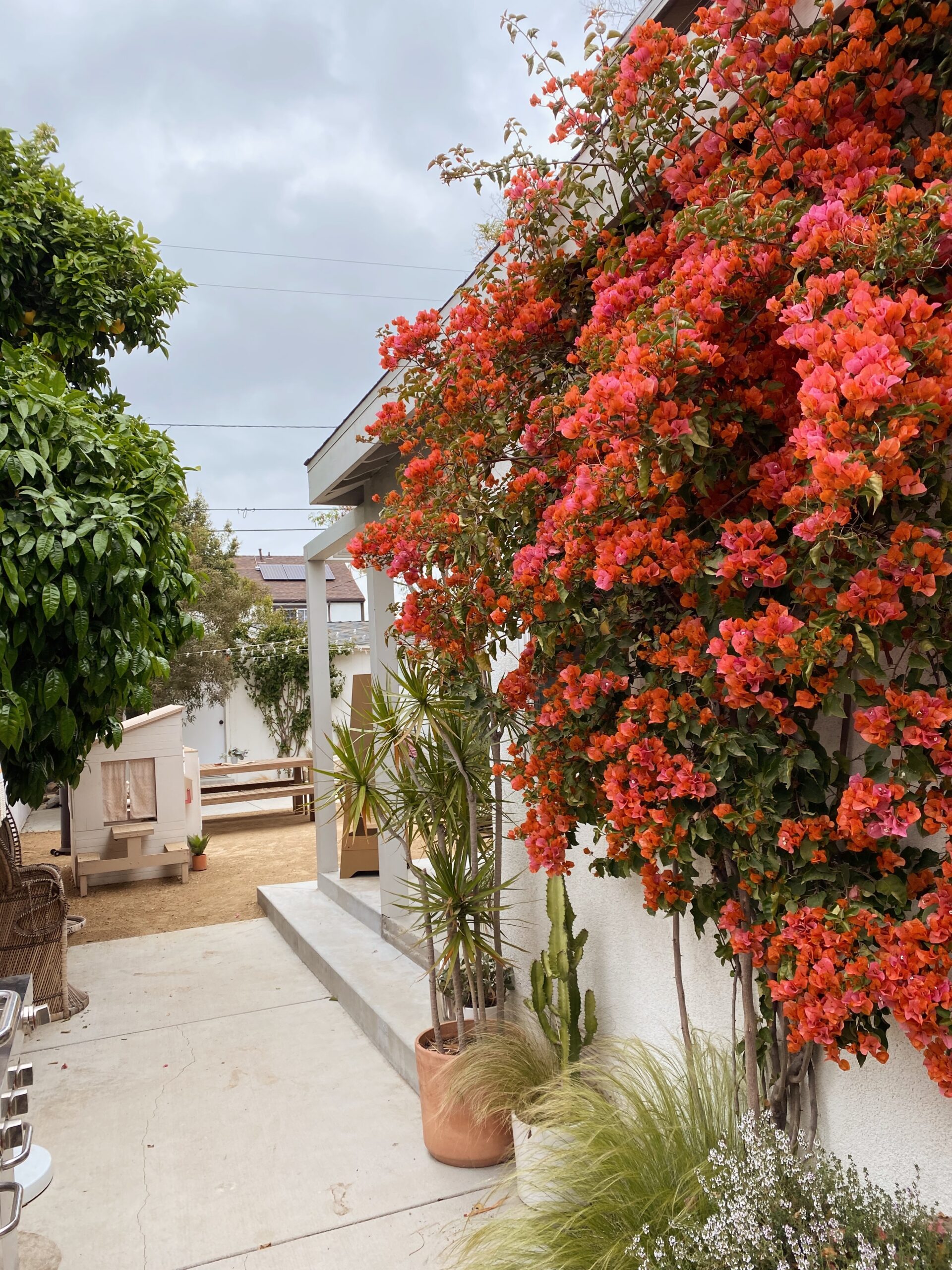 i'm sure some people are going to be very bummed out to hear that we're changing up our backyard, but i'm really excited to make it more suitable for our life now! i love the way it looks, but honestly we barely use the backyard besides to eat dinner when it's warm out.
when we first designed our backyard, we didn't have arlo. we put tons of cacti all over and it was a beautiful desert oasis. once we had arlo and he started toddling around, we decided to remove the cacti (which had gotten HUGE by then) and add softer plants everywhere.
when we were in those initial design stages, i did consider adding a patch of grass for future children, but got lazy and just went ahead with a full yard of DG instead.
but over the years, i've realized our backyard isn't fun, like at all whatsoever, and it's kind of sad! i want the backyard to be a place that arlo can run around and have fun in, and now that we're expecting another one– and now that we have put our house hunting on hold, i decided this would be a good time to make it work better for us in this season of our lives!
adding grass
so most importantly, and the thing that inspired me to make changes to our yard is really wanting grass. we got quotes for turf, but ultimately we've decided we prefer the look and feel of real grass. we decided to add the grass to most of the backyard besides the back fire pit area, so it will feel VERY different.
i really love the look of longer grass, so i'm hoping it looks good to keep it a little long and doesn't get too dirty or buggy if we do! i know grass can be risky, and it might look bad in patches and all that — but i find turf in large areas to look too putting green, even with the new types they make.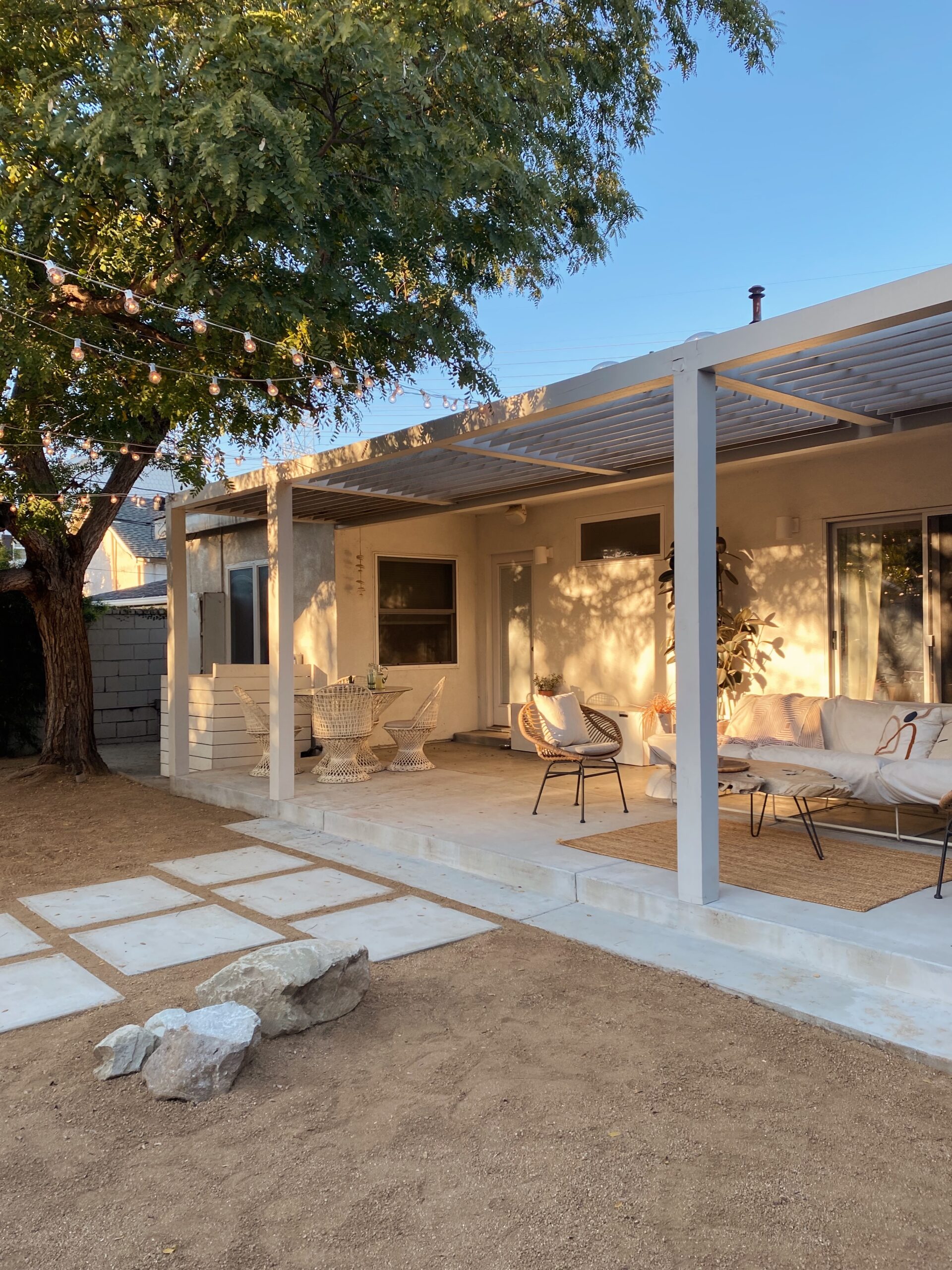 why we're removing the DG
i get asked how we like the decomposed granite constantly– and while i love the look of it, to be honest that's about it. i will miss the beautiful golden color because i've been so happy to look at it for years now– but HEY, LOOKS AREN'T EVERYTHING.
it gets everything dirty, duh.
it's dirt. so that means that everything in the backyard feels dirty at all times. the furniture, the surrounding concrete– everything is always dusty and dirty. and it tracks around and when it rains?? omg IT'S A PIGSTY!!
it's hard and uncomfortable
adding a kiddie pool or a moon bounce in the summer, kids running around, wanting to sit on the ground to crawl around or do a picnic, none of that is really possible with our DG. it's hardened so much and been compacted down so it's basically as hard as concrete. when we've wanted to do a picnic before, we've had to go to the front lawn instead and i just think grass sounds so cozy.
THE UPKEEP
in order to keep the DG looking nice and fresh, it does need a new layer put down every so often which is expensive and annoying.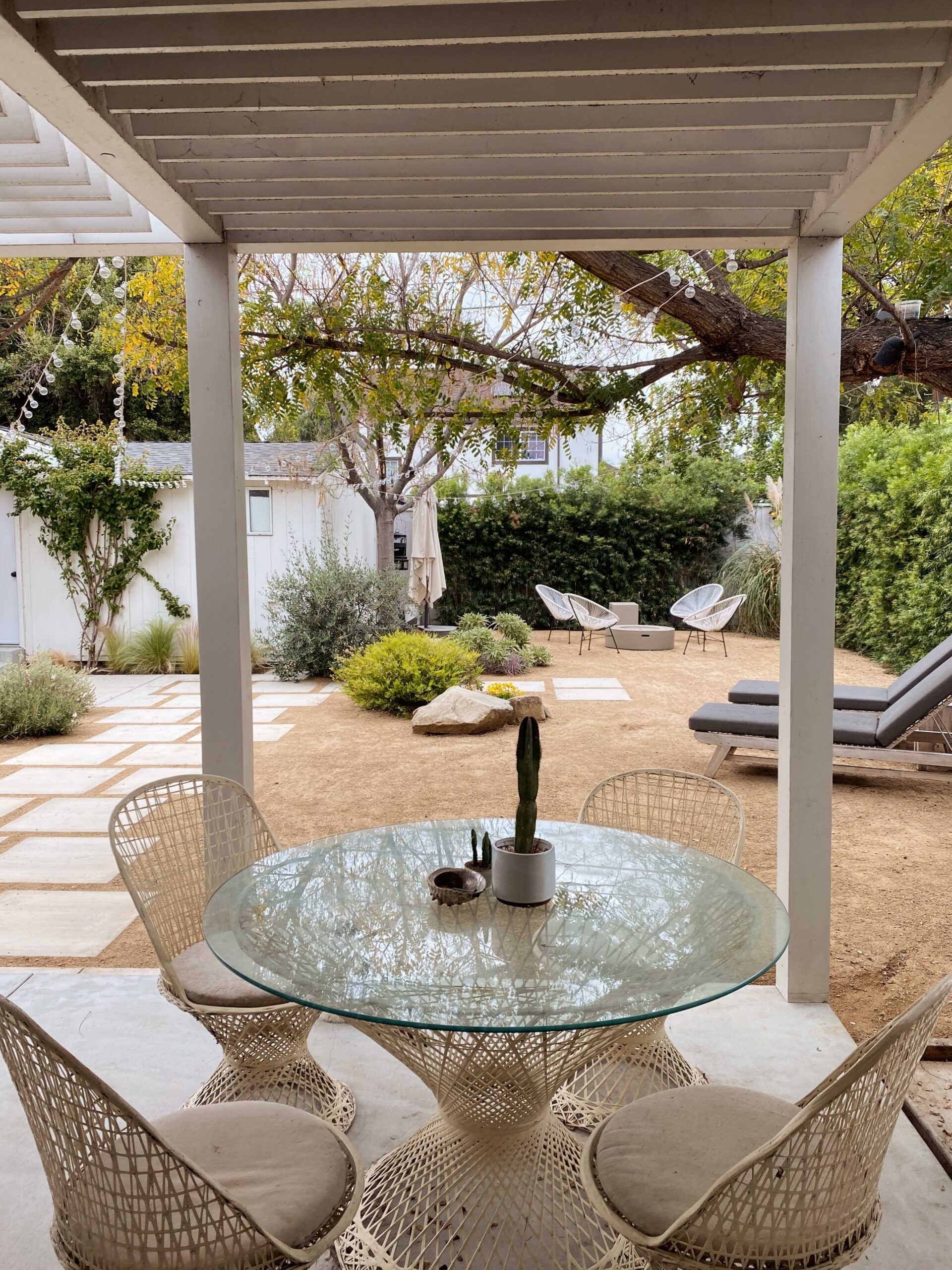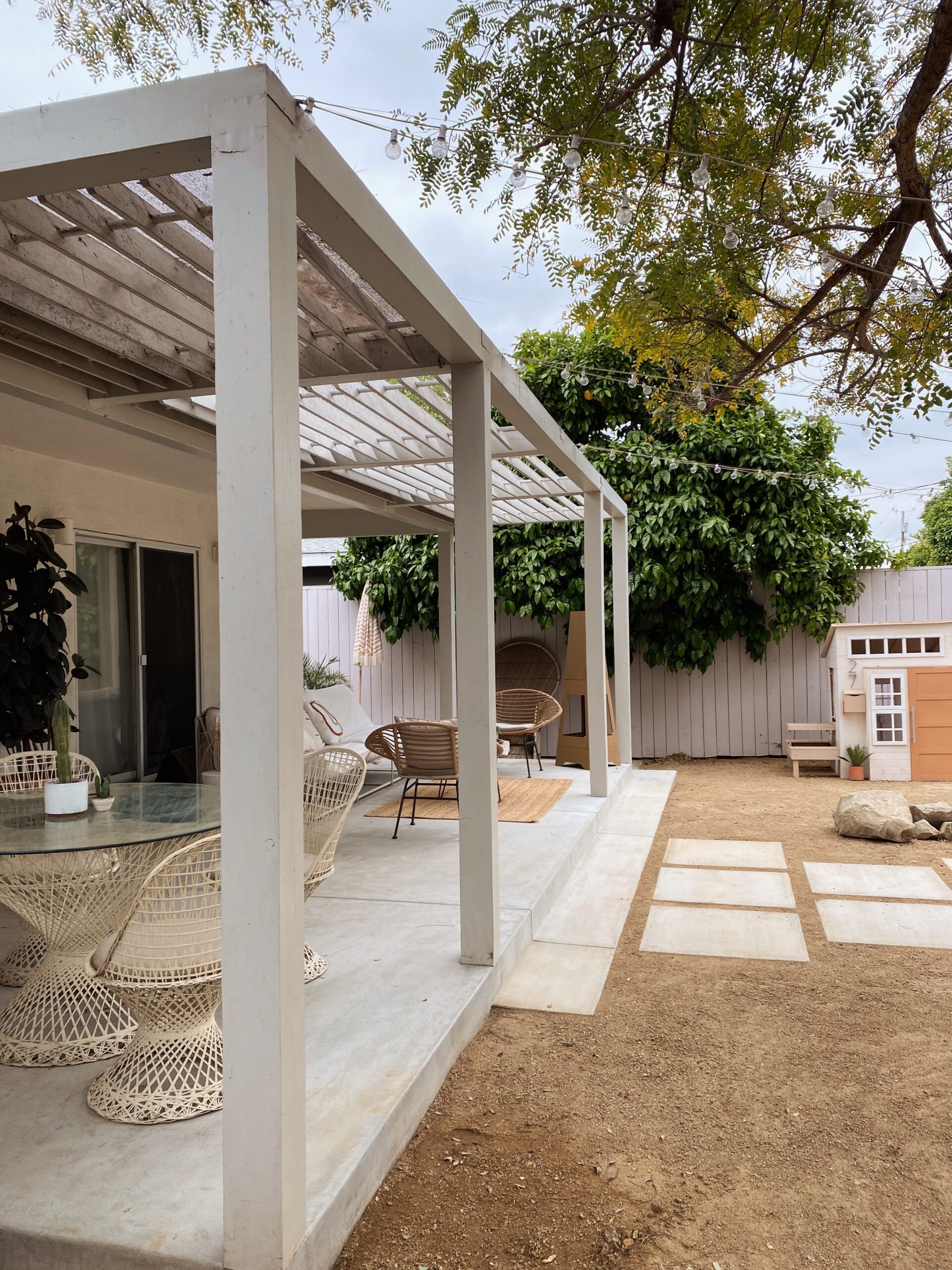 planting on the pergola
the sun we get in the backyard isn't super even on both sides of our pergola, so i'm a little worried this won't work out but i really want to plant jasmine vines over our pergola!! i think it would look so inviting and smell so nice when they're blooming.
because of the design of our pergola with the concrete wrap around step, we can't plant vines directly from the ground so instead we've decided to add large pots to each corner and hope we can train them to go over the top. the pots sorta match the pergola so hopefully they blend in!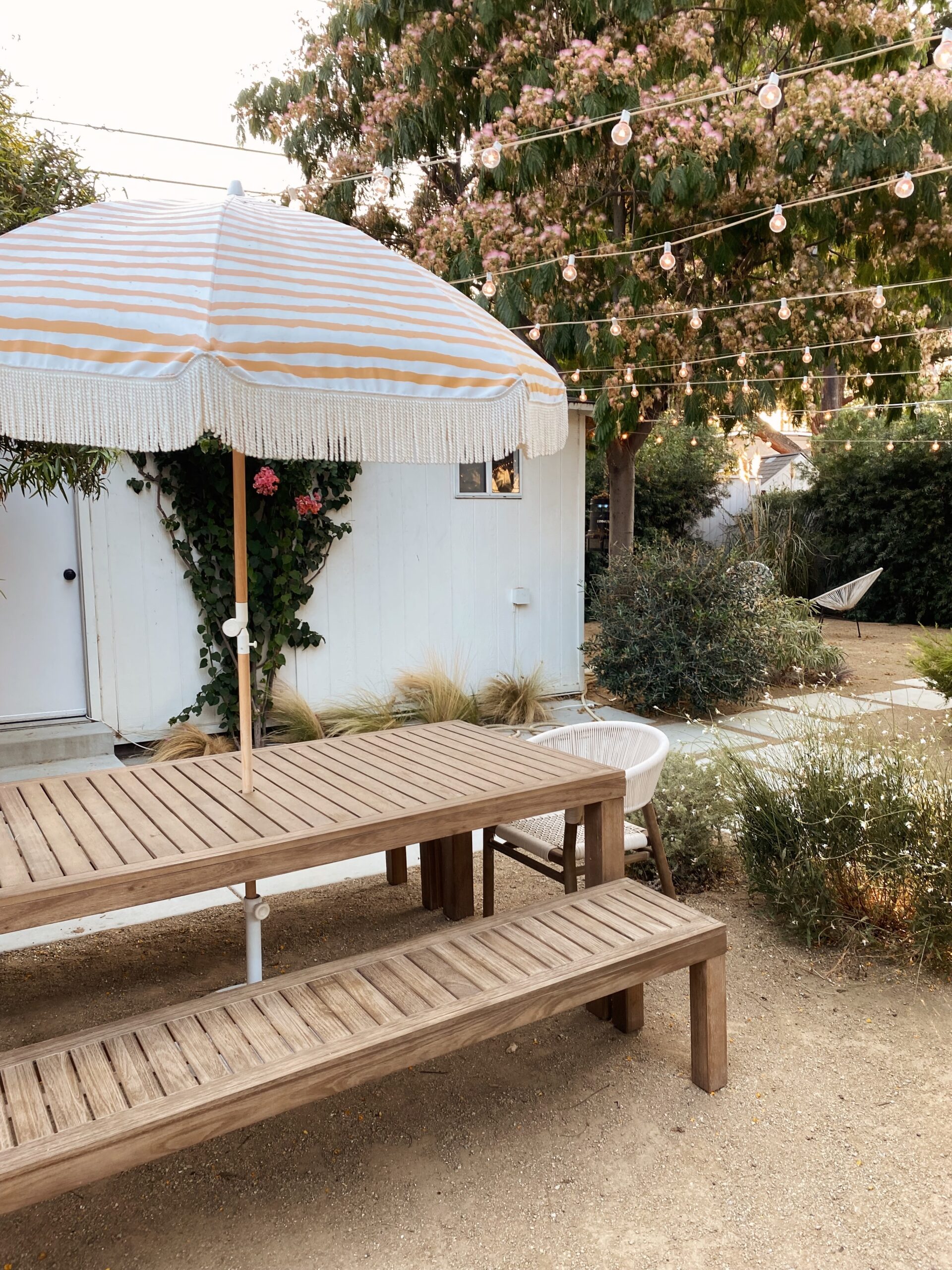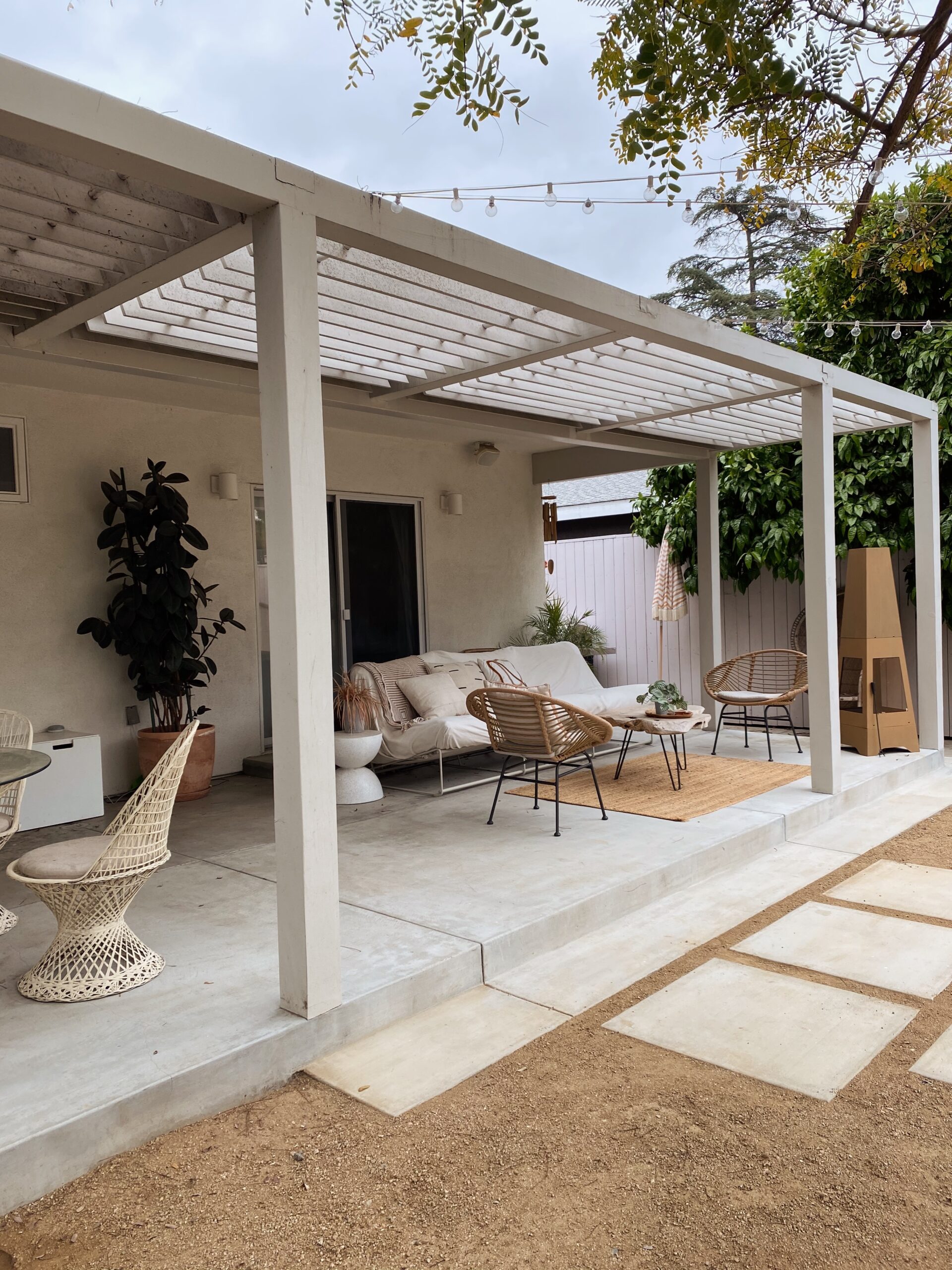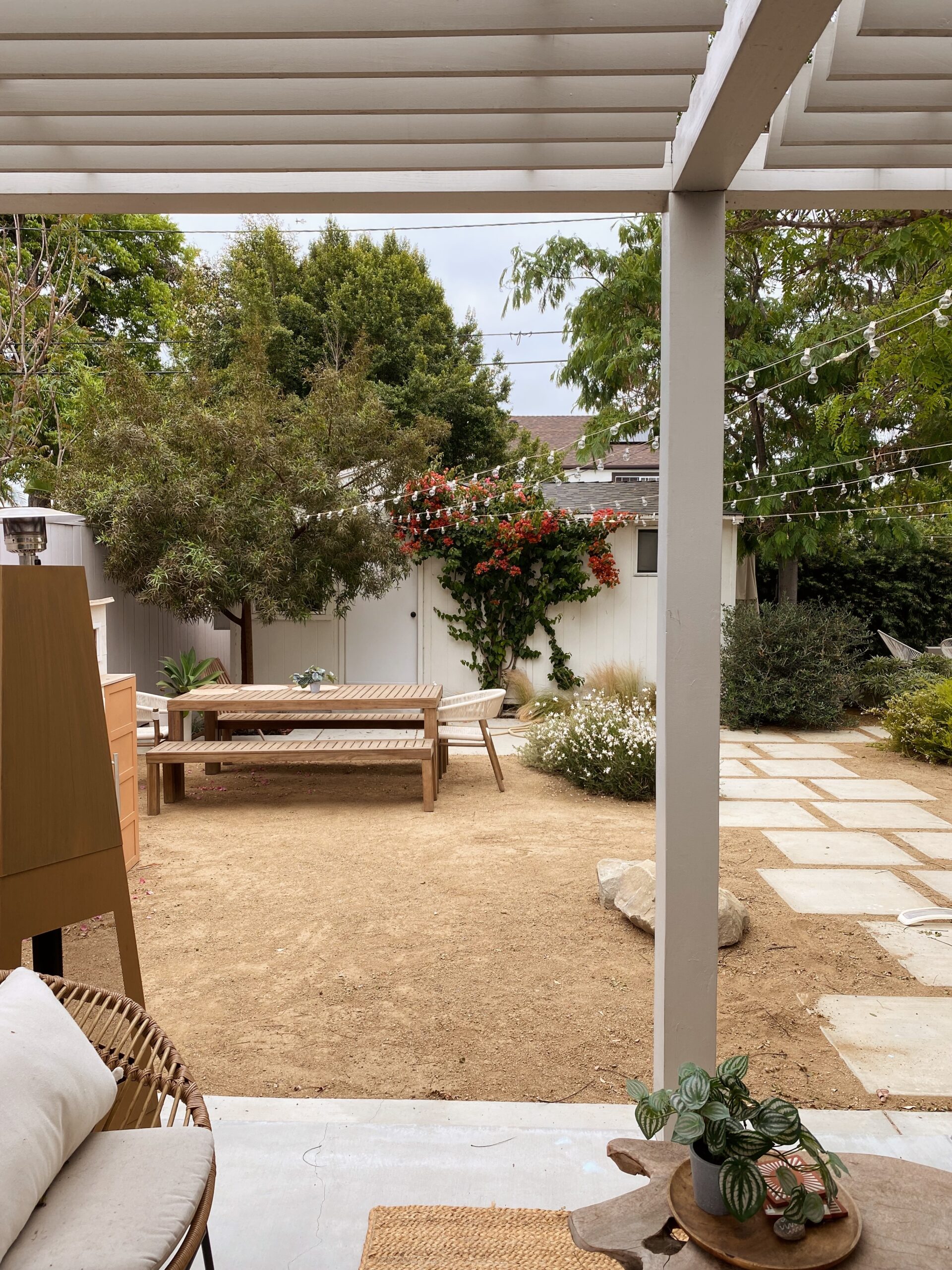 moving our dining table + benches to the patio area
in an effort to also simplify the backyard, i decided to move the dining table onto our patio. it will be closer to the house (easier to carry our food outside from the grill) and i'm really hopeful that it would stay a little bit cleaner on the patio as well.
if it's on the pergola, i can also keep the table without an umbrella — i love the look of the umbrella with it, but i love to use tablecloths or table runners and i've missed that!

adding river rock to the fire pit area
in order to keep one area feel "me" or "grownup" or… "designy"— i decided to keep the back firepit grassless. we considered keeping it DG, but have now decided that gravel would be better.
we went to go find some gravel we liked, i really wanted to find something beige toned and decided on small river rock instead. it's small, smooth and really warm toned. kind of like DG without the things we don't like about DG! the one we've chosen is called "jelly beans" and they're 3/8″ size.
this way– we can also keep some of the beautiful plants we have there and i might even want to add a few more to make it a little section of visual interest.
even though we barely use the fire pit area, i think it will be nice to have it be a defined grownup corner and i'm hopeful that maybe we might use it more?!
the chairs there aren't very cozy, but it might be a crazy idea to swap them for new chairs when we barely use the area– so we'll see on that. either way, i did of course pick out chairs i wanted instead haha.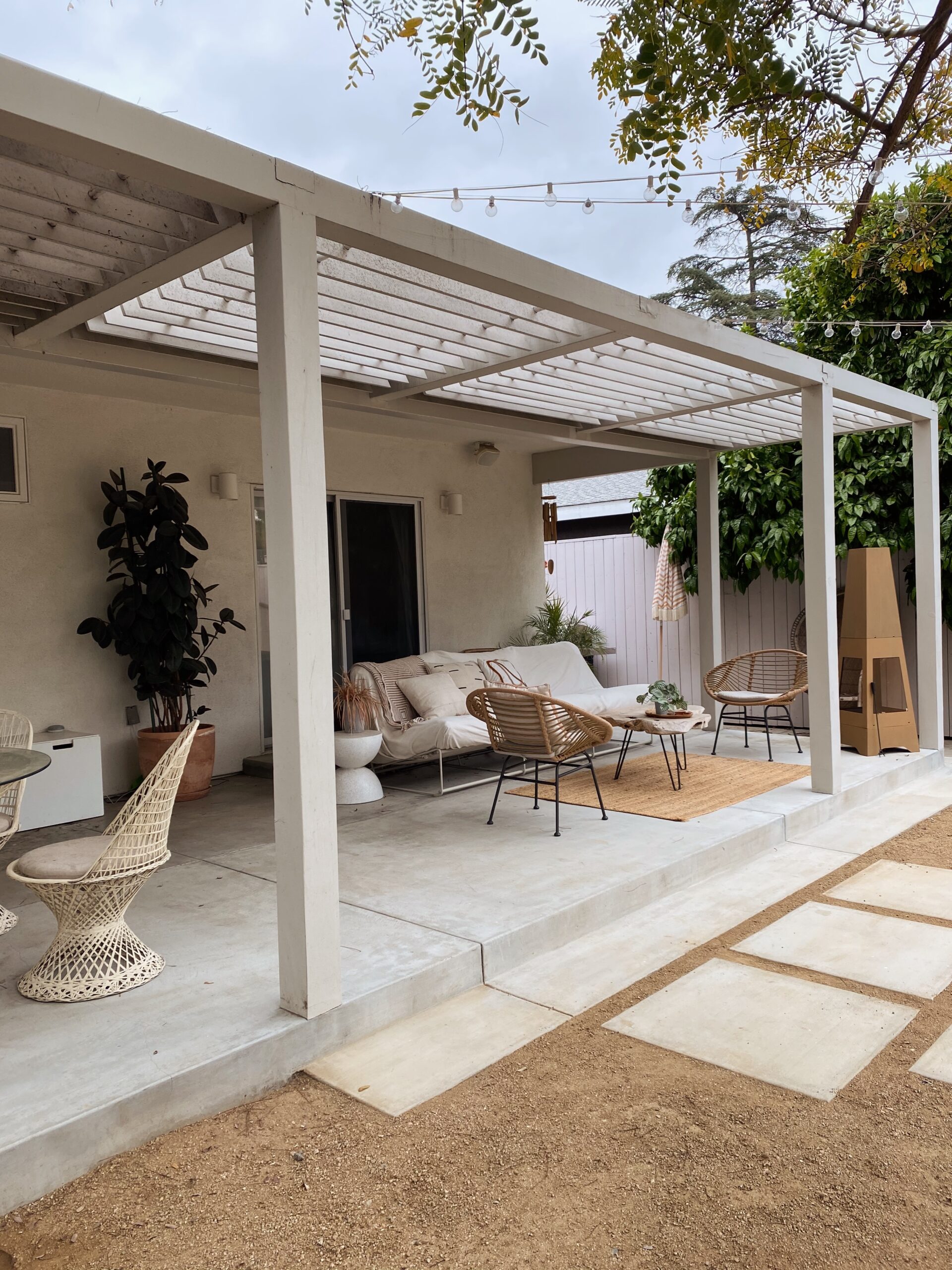 removing most of the furniture
hopeful that we use the firepit area more especially because i've decided to part with the majority of our furniture. right now we have SO many places to sit, and we use basically none of them. i think possibly having less options means that we'd sit in the few options we do have instead.
so we're going to be removing the chaise lounges (we can get chaises when we have an actual pool), arlo's playhouse (he hasn't gone inside in months), and the sofa/outdoor living room situation. we NEVER sit on the sofa and i think it would make more sense to have our dining table there instead.
if we truly miss having a comfy place to lounge, maybe we can get something in the future but for now i think we'll be happier without it.
having two tables to eat at one on patio obviously doesn't make sense, so we're going to move out the fiberglass glass table as well. i'm not sure what to do with it, because i'm not ready to sell it but i don't have a place to put it either. in it's place, i'm thinking we'll do two lounge chairs with the side table we have and call it a day.
making it "fun"
for the first few days of my head spinning about doing this, i wanted to include a play structure for arlo. the more i thought about it though, the more i started worrying it wasn't worth the money. we'd have to add turf because the grass would die underneath, and i started to wonder if arlo would play with it for more than 2 days. so for now, we've skipped that idea.
i think keeping it grassy and adding summer water toys, cars to drive around, chalk etc will be totally sufficient. we also got THIS MOON BOUNCE that we can inflate sporadically! (use code ALMOSTMAKESPERFECT for $29 off!)
also decided to swap out our hammock for one with a spacer bar. you will never understand how much you want a hammock with a spacer bar until you live with one without it for years lol.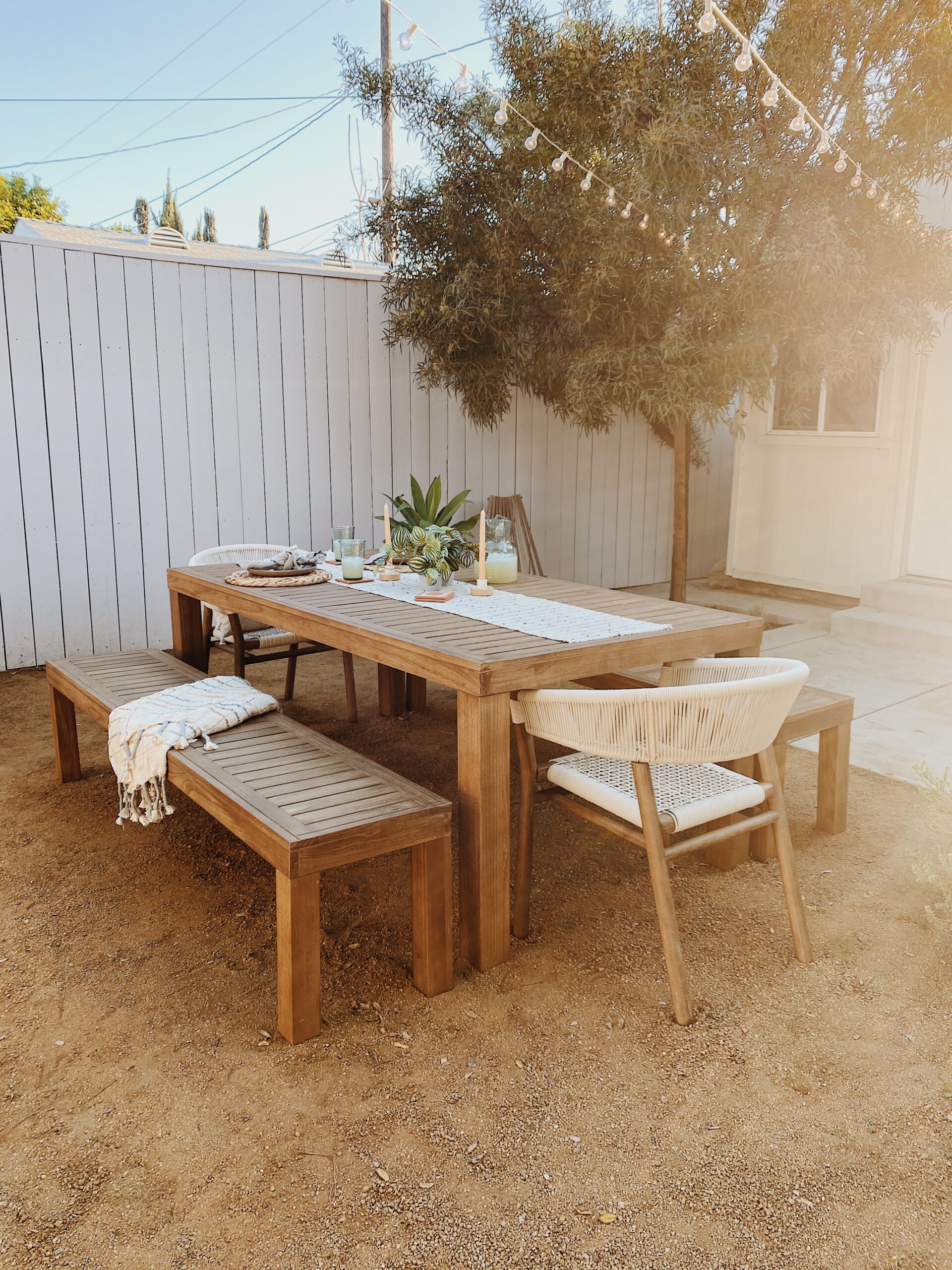 planting along the other fence
our third fence has always been an enigma. you might remember it used to be really ugly, so we refaced it and have been so glad we did– but the rest of our walls have been green and lush and it's just been bare and sad.
so since we're removing the DG, we decided it would be a good time to plant along the fence as well. the yard will be grass, but along the edges of each fence we're planning on adding edging and bark. obviously along the other fences, we kept it simple and added our privacy hedges (podocarpus), but on this side i'd love to get a little more creative and add some more varieties of plants. the light isn't great along the fence so we'll see what can grow– but we are hoping to add some bougainvillea of course!
---
and here's a moodboard! it will definitely feel like a whole new space, but i am really excited and think it's going to feel sooo cozy when it's all done.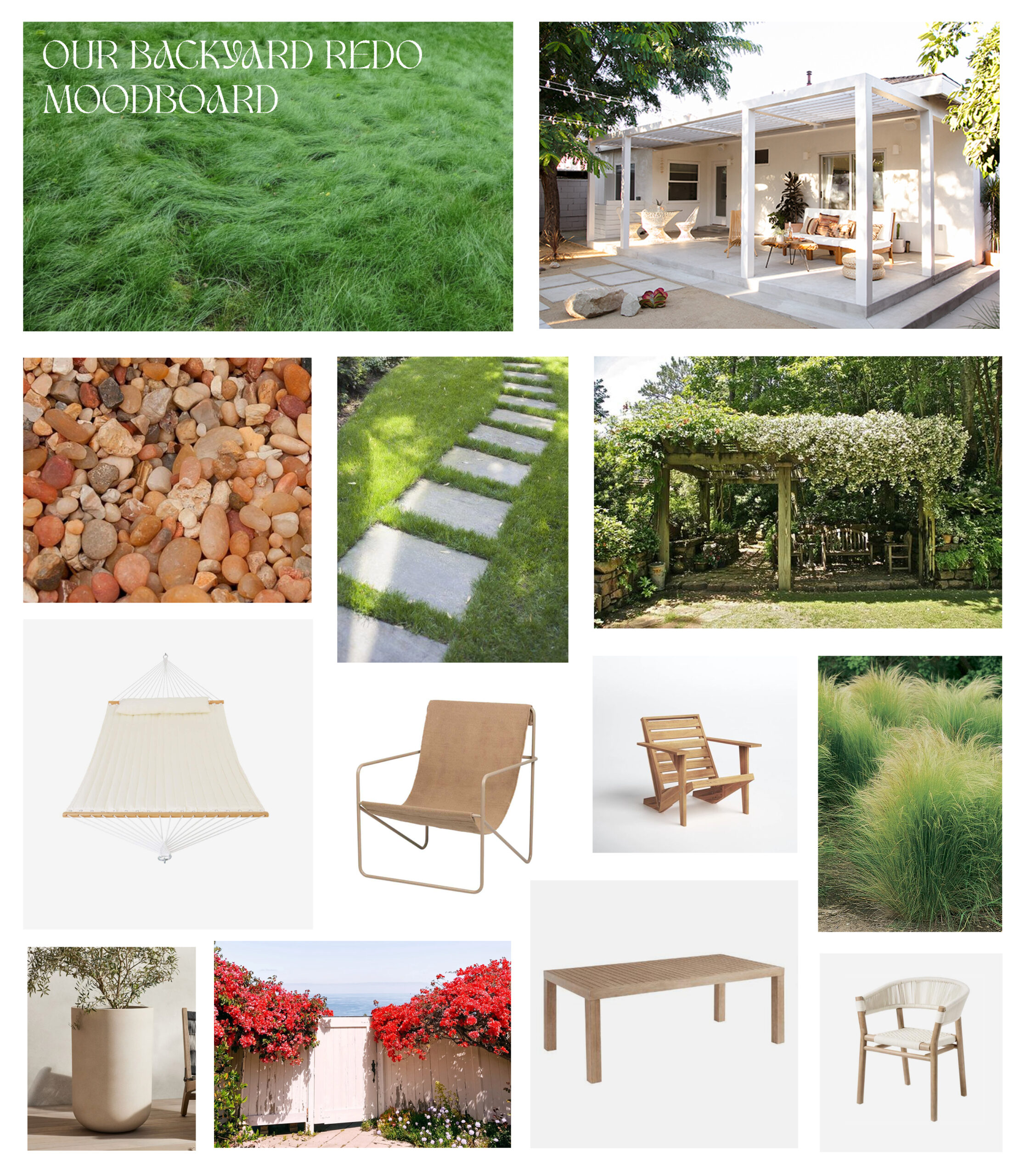 moodboard sources
---
i got a few bids from different landscapers and they're able to remove all the DG and install the grass and bark so i'm hoping most of it will only take a couple of weeks and we'll be enjoying it by the summer 🙂
tell me– are you nervous!? am i going to regret this?!