a modern outdoor kids playhouse makeover
this post is in partnership with ace hardware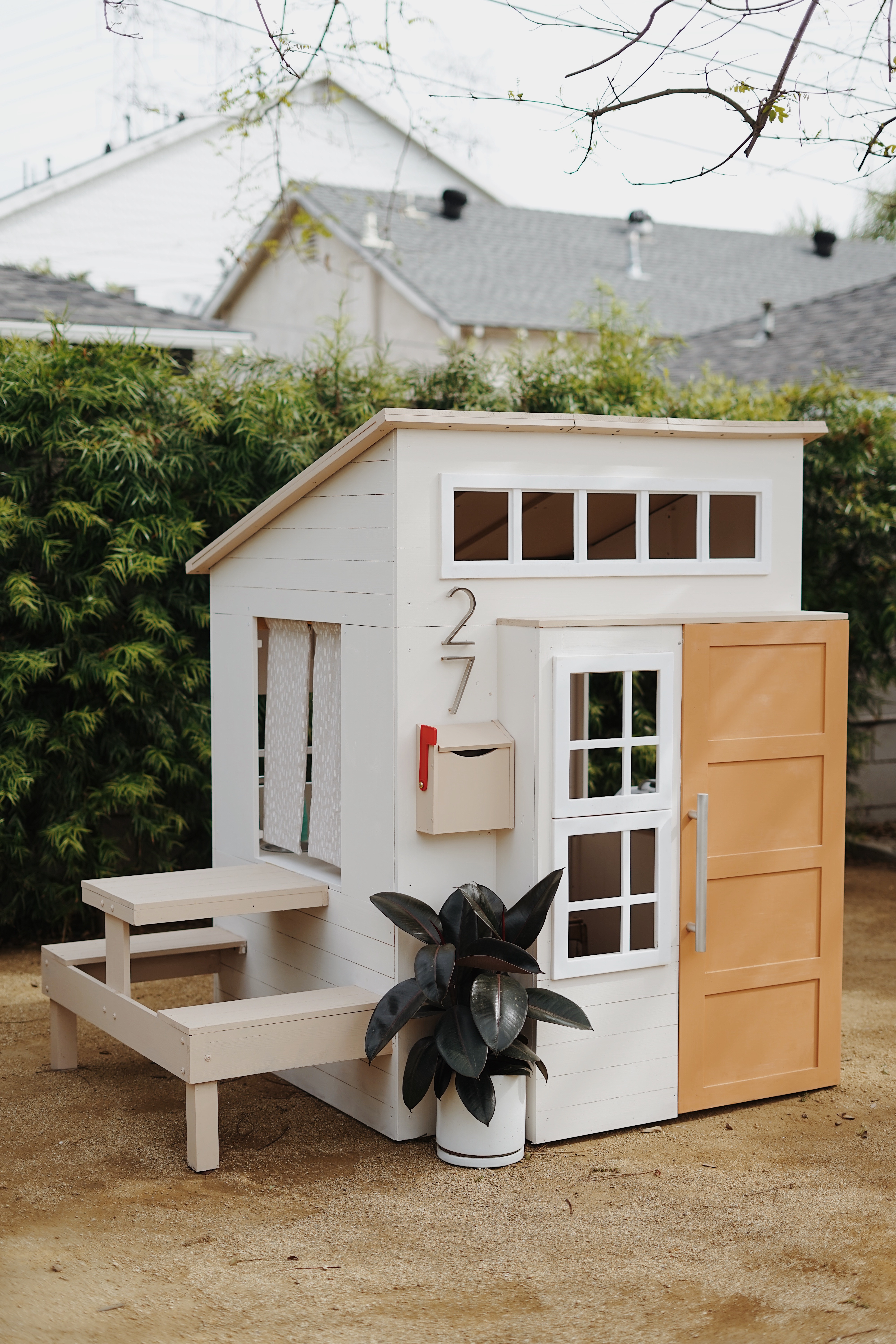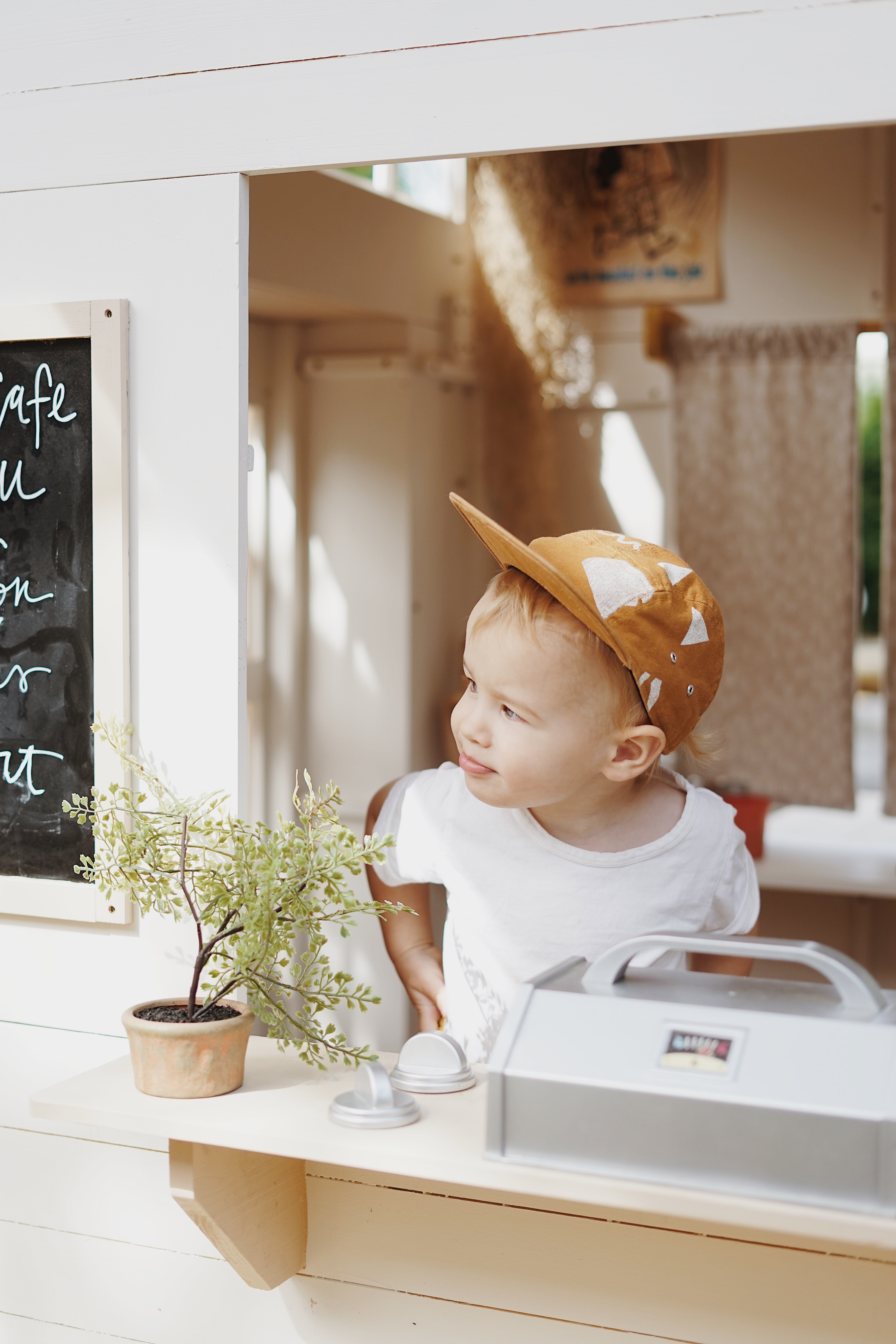 so excited to finally share arlo's outdoor playhouse with you guys! i wasn't actually 100% set on having a playhouse, but i wanted to have something for him in the backyard now that we've removed the cactus and made it more toddler-friendly. whenever we are at the kids museum, he seems to enjoy the little houses most so i thought he would probably love a playhouse and gid rationalized that we can he do playground stuff at the playground.
i looked for any pre-fab houses that were attractive as they came, but all the best looking ones i could find were built custom and i just knew that wasn't a realistic option for us. maybe if gid were a carpenter, but he's not so i'd rather just spend less than $500 to buy one. i didn't love the look of any as is, so i found one with the best "bones" and knew paint would transform it into an actual attractive element of the yard. i worked with ace hardware's paint studio and i'm so happy with how it turned out.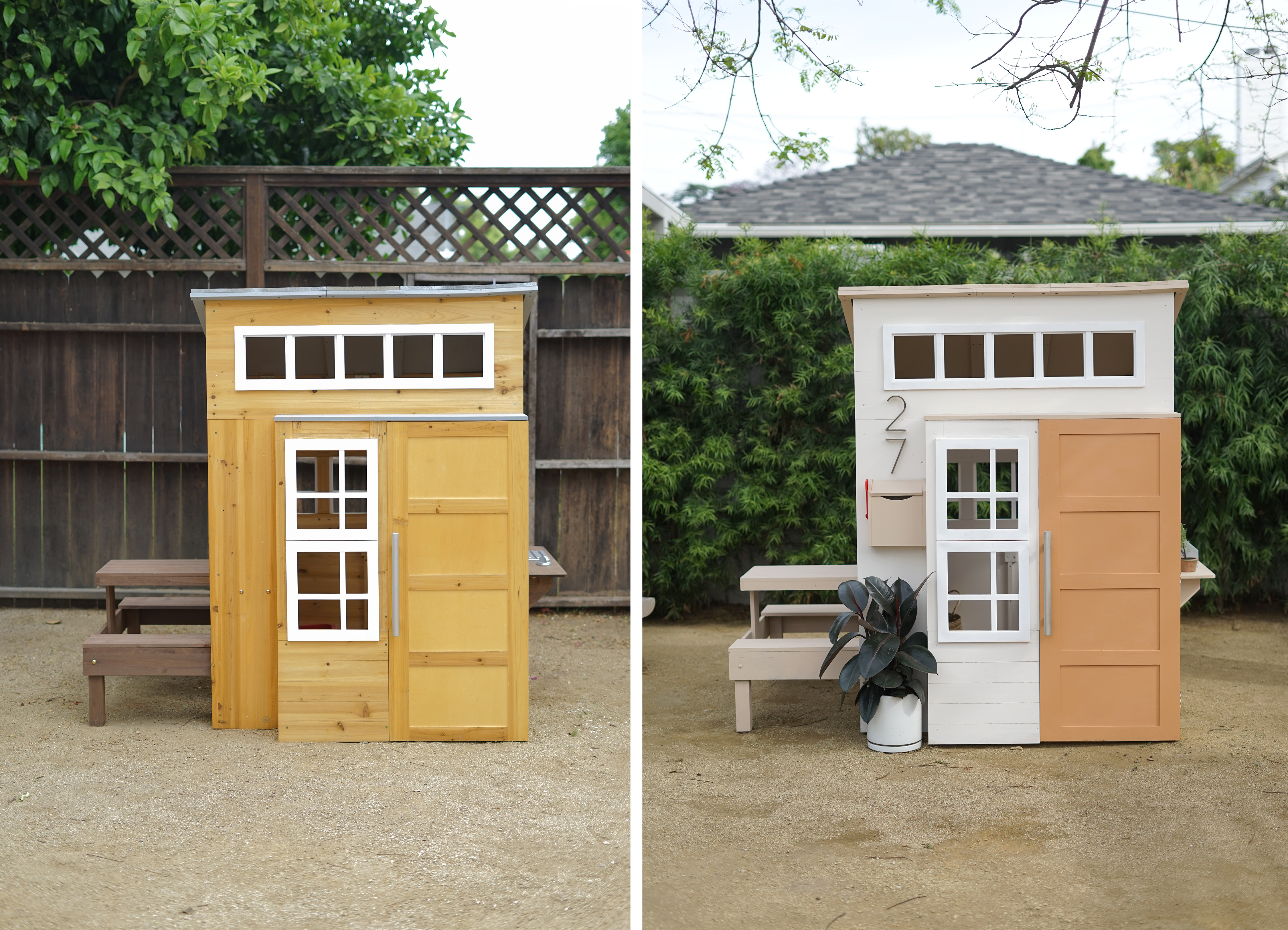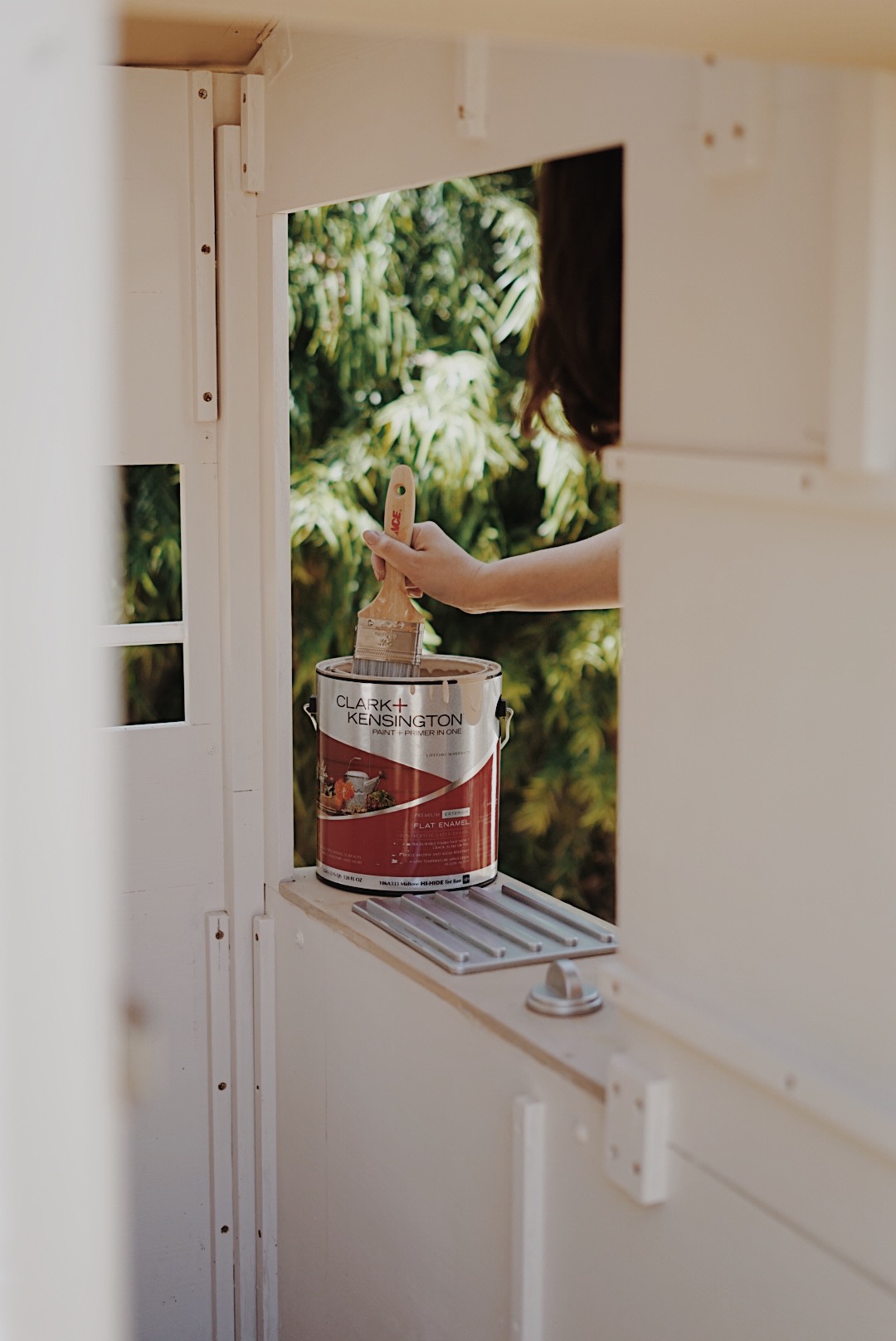 while it's easier to paint the house unassembled, i'm glad we assembled first because it would have been confusing to know what to paint etc (not to mention we'd have had to take off all the part stickers!)
ace sent me a clark+kensington swatch fan book which made it so much easier to obsess over what colors to choose, but i also used their color visualizer which really helped to compare colors and see them in action. it took me about a week to decide on the colors, i wanted a warm off-white for the house that wouldn't feel bright or be too white, and also play off the color of our house– i went with bone white (CW-W2). for the roof and trim, i wanted a putty color because it felt a little more fun than a grey, so i went with playas de tulum (N-W17) and since we honeymooned in tulum, it felt meant to be haha. and for the door i wanted a fun accent color and was inspired by the adobes in new mexico (where we did our babymoon) — i chose toasted cashew (14A-3), which is a beautiful light terra-cotta color, but not too dark! i love it so much.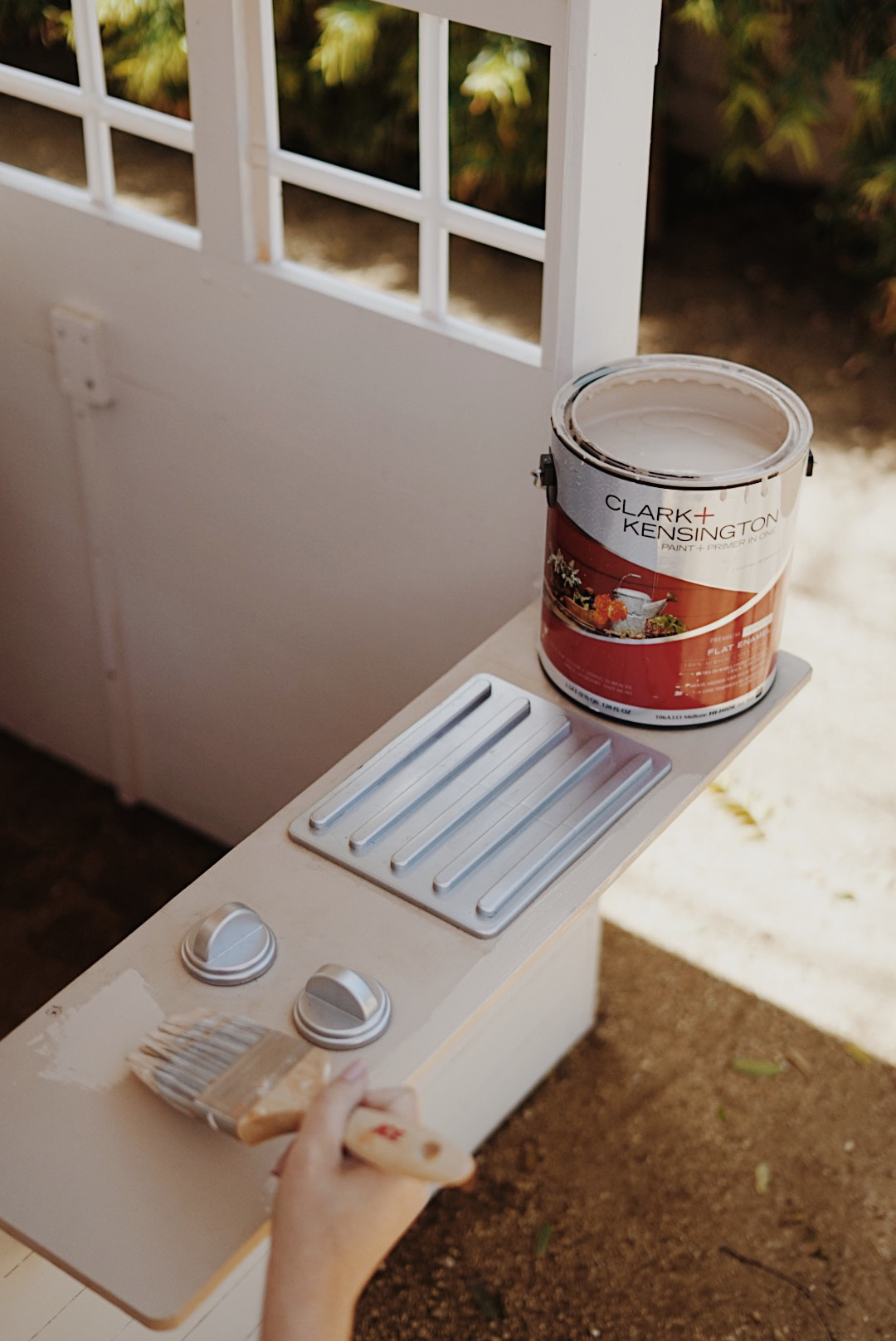 it probably took us about 5-6 hours to paint, gid did the the roof and outside while i sat inside and painted everything white. then we switched, i did the outside corners and he did the inside of the roof (we tried painting that white first too, but it looked better the same color as the roof). my advice if you want to attempt to paint this playhouse yourself :
— get a small chair for painting the inside, this was CRUCIAL to sit on in the house because i can't even stand comfortably in there and i'm 5'1″
— we got a regular sized paint roller which was a mistake, because of all the teeny tiny corners and nooks and crannies, the smallest brushes were key and there weren't actually a ton of areas we could even fit the roller on. so i suggest a small roller, a nice standard sized brush, a paint edger (this was my favorite tool because i was able to smooth so much with it!), and a few tiny brushes for all the little spots. i ended up going back to do little retouches at least 3 times with those.
— keep the accessories off as much as you can during assembly because they will be much easier to paint separately.
— for the amounts of paint to buy, get a gallon of the house color, a quart of the trim color and a sample size of the door color. (we have leftover white paint, but it didn't seem like a quart would be enough– we did about two coats of the white but the paint had much more coverage than i expected! paint and primer in one is so key) we were really unsure about amounts but they were really helpful at the paint studio when i showed them photos of the playhouse. we bought all the supplies we needed, but with ace's extra mile promise you can contact the store to purchase any items you forgot over the phone — and have them delivered for free!
— we got flat exterior clark+kensington paint+primer in one, it's ultra stain resistant and super washable which is obviously crucial for an outdoor playhouse that is being abused daily by it's miniature homeowner!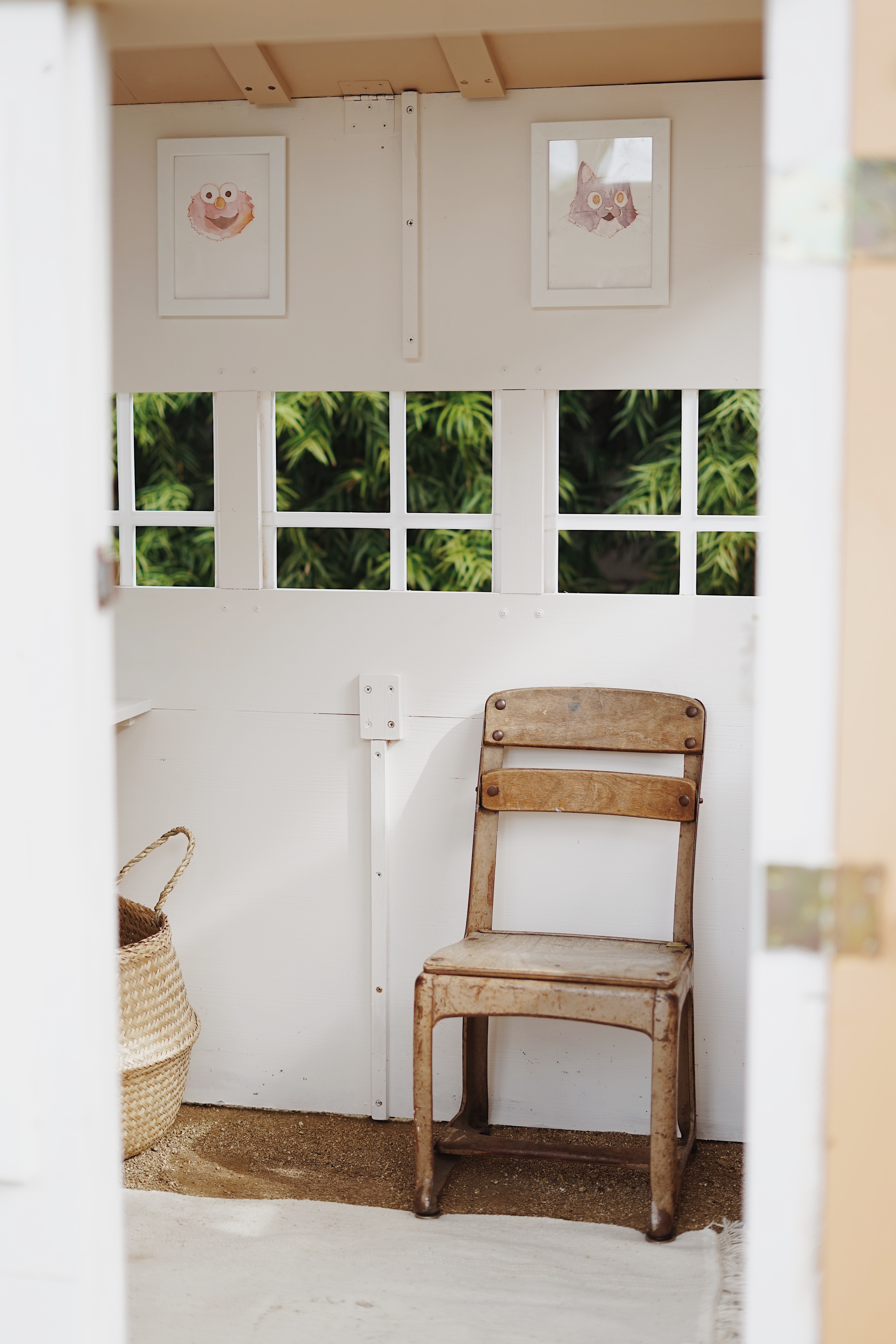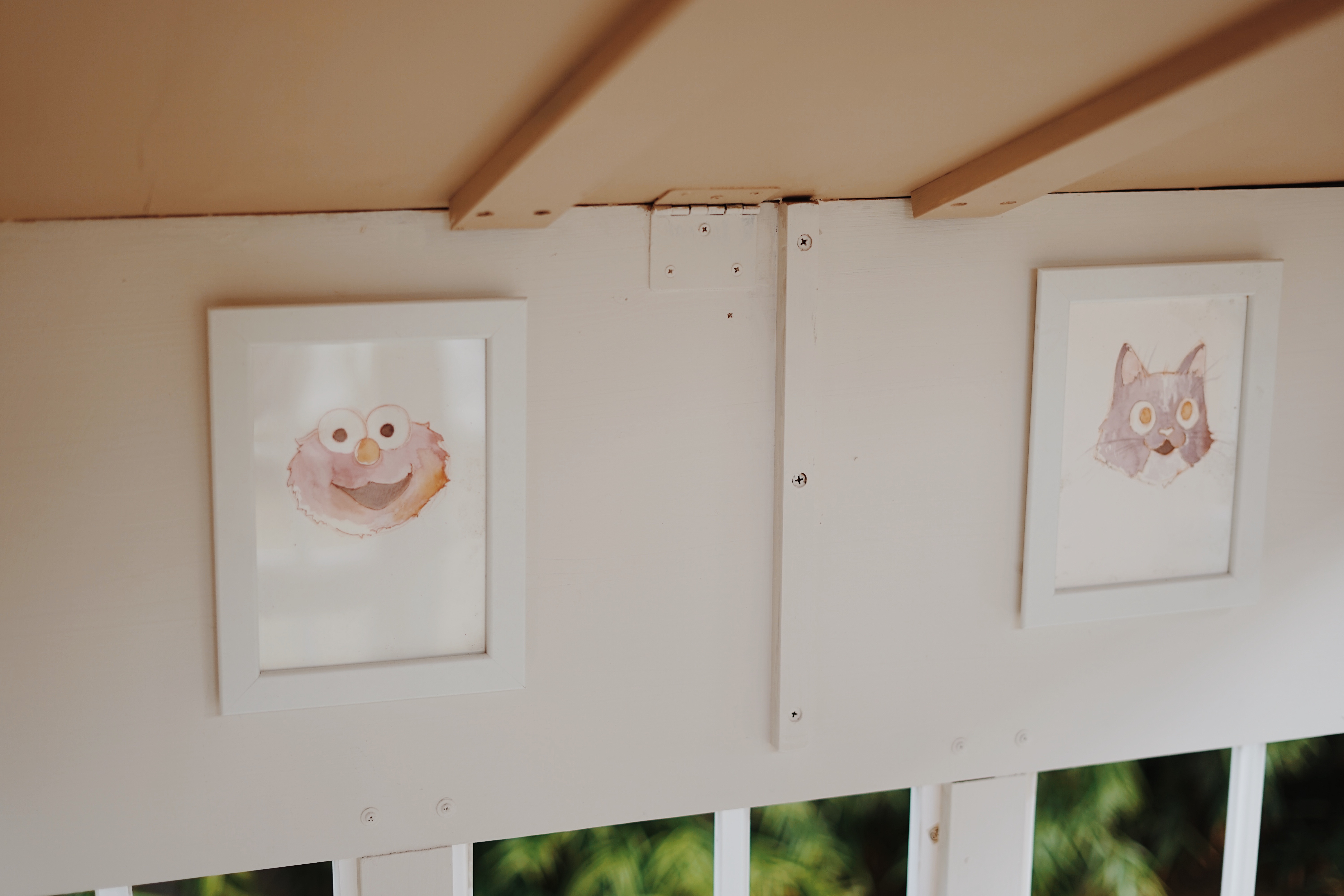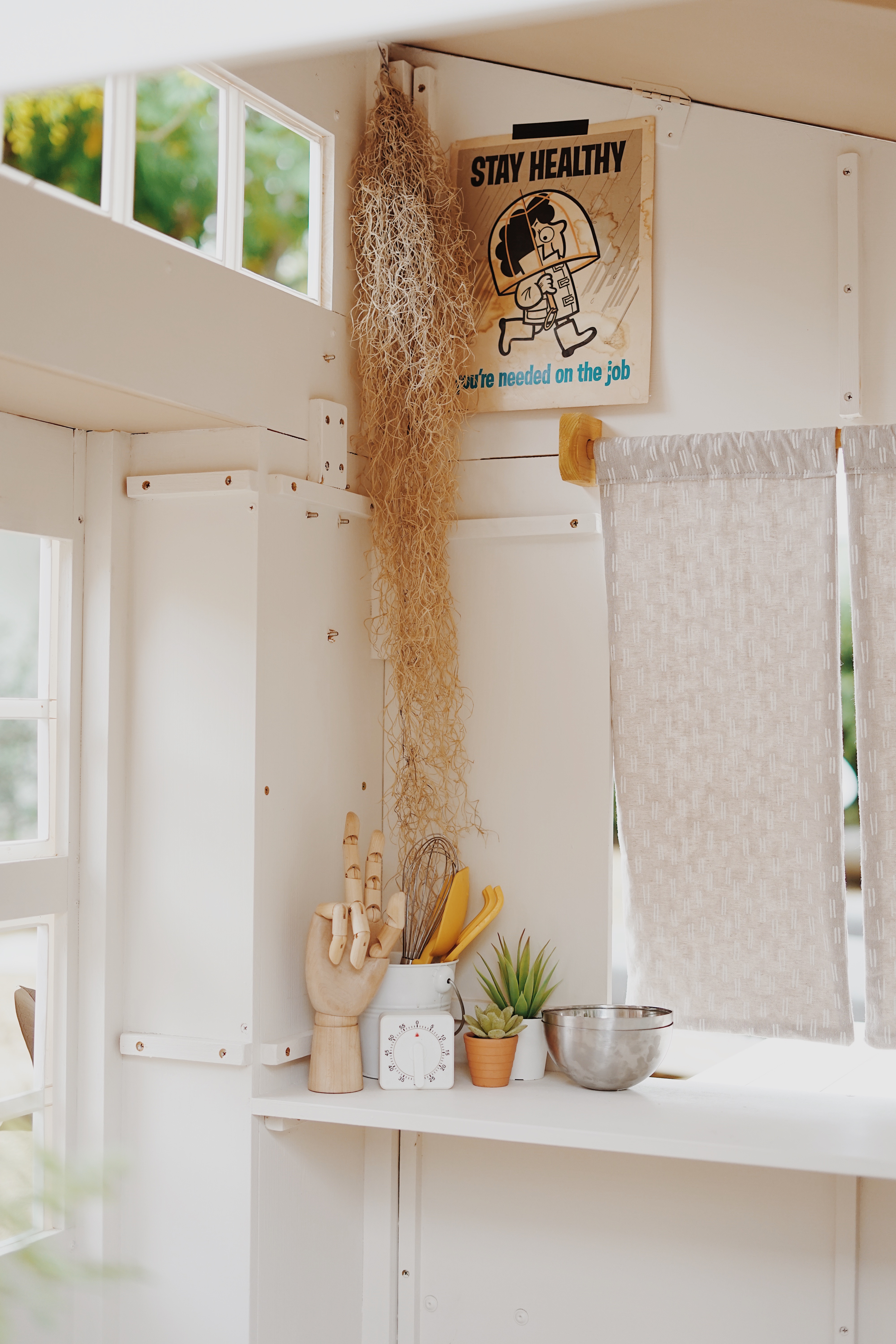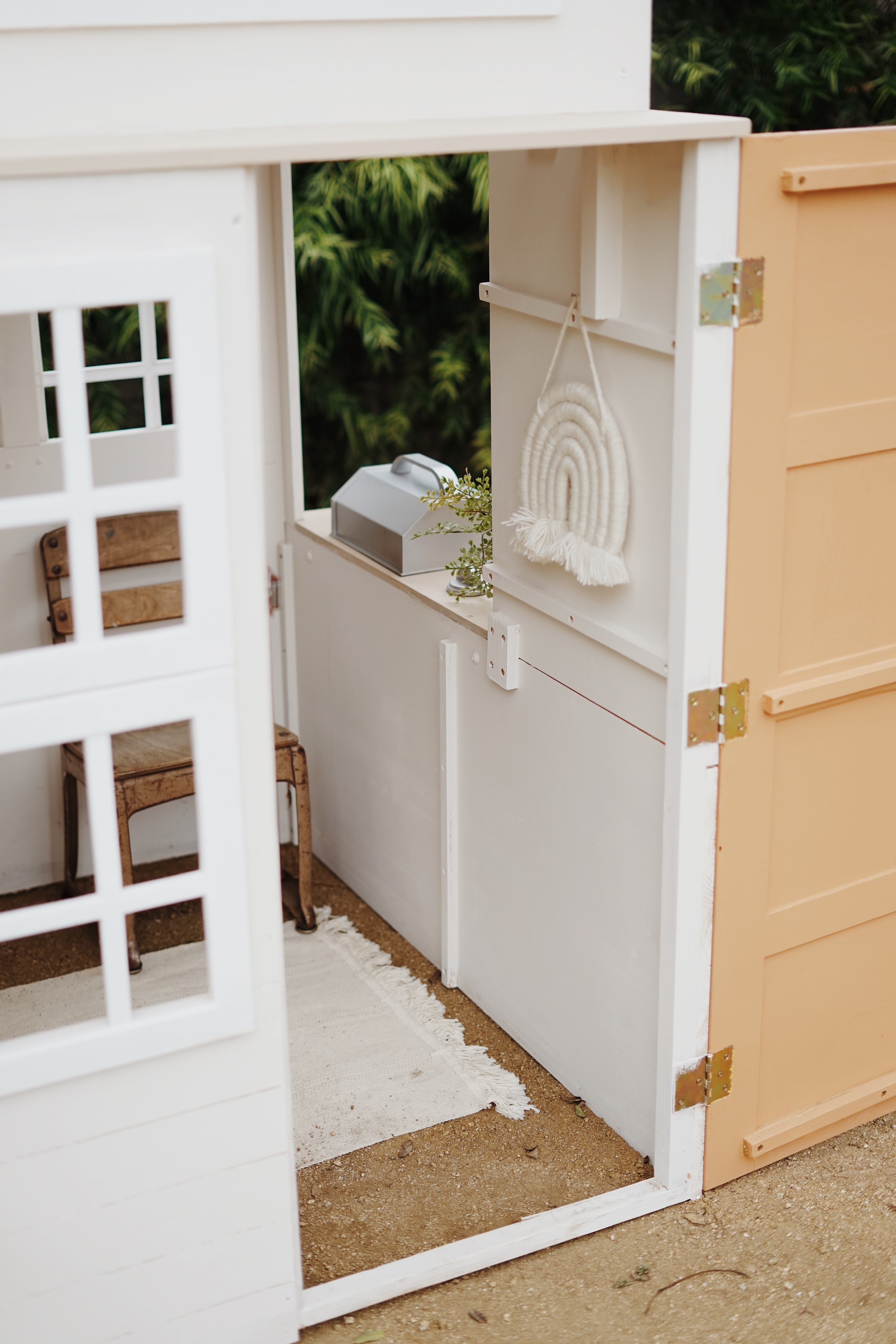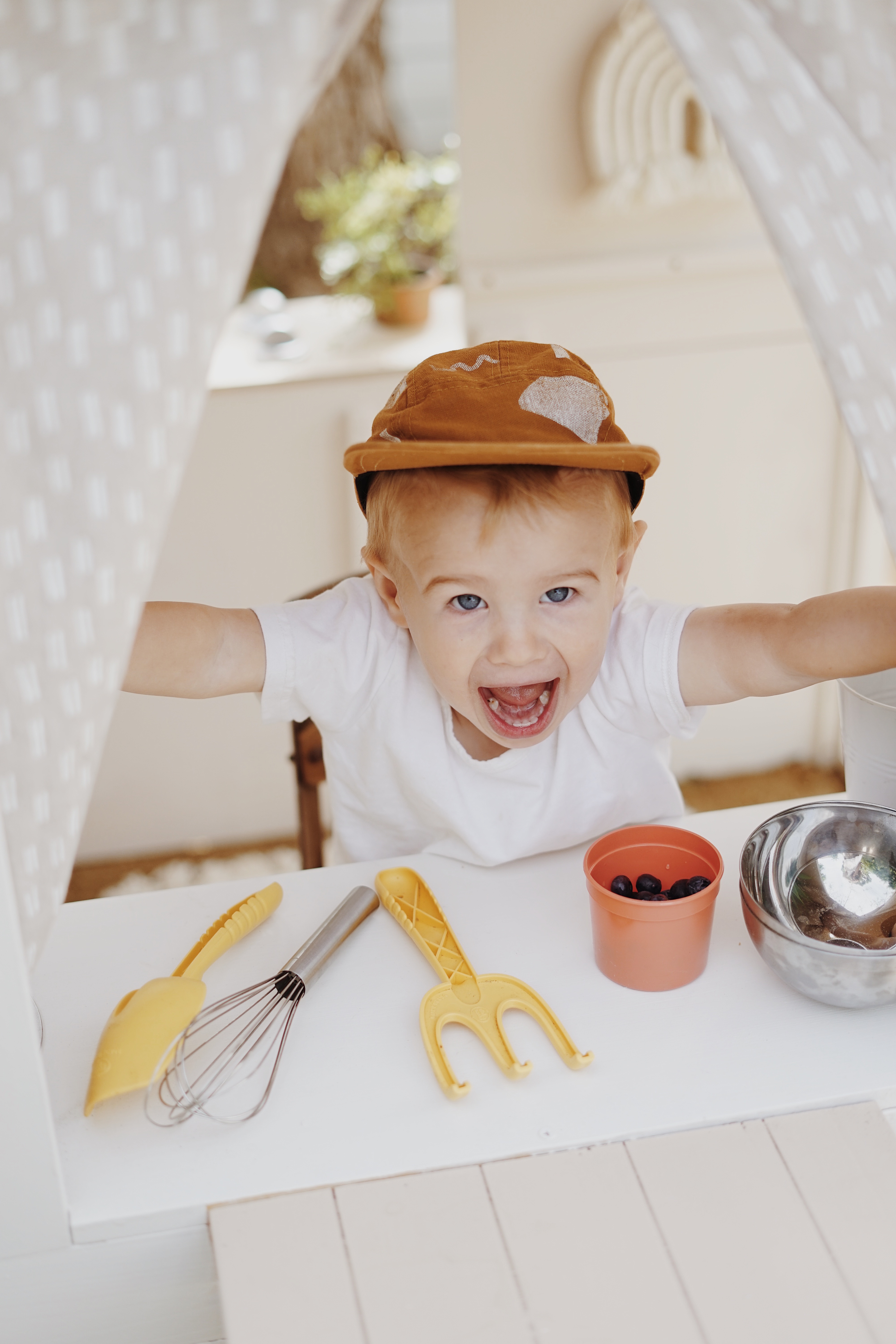 he is too cute. for the inside, i did my best to get cheap accessories — we had an old vintage school chair we bought years ago at a flea market and stuck it inside. i got a $3 cheapo rug, little buckets, cups and bowls and some $1 picture frames. i had gid paint two little watercolors of arlo's two favorite creatures for them, elmo and our cat bodhi. he likes to take them off the wall and show them to everyone.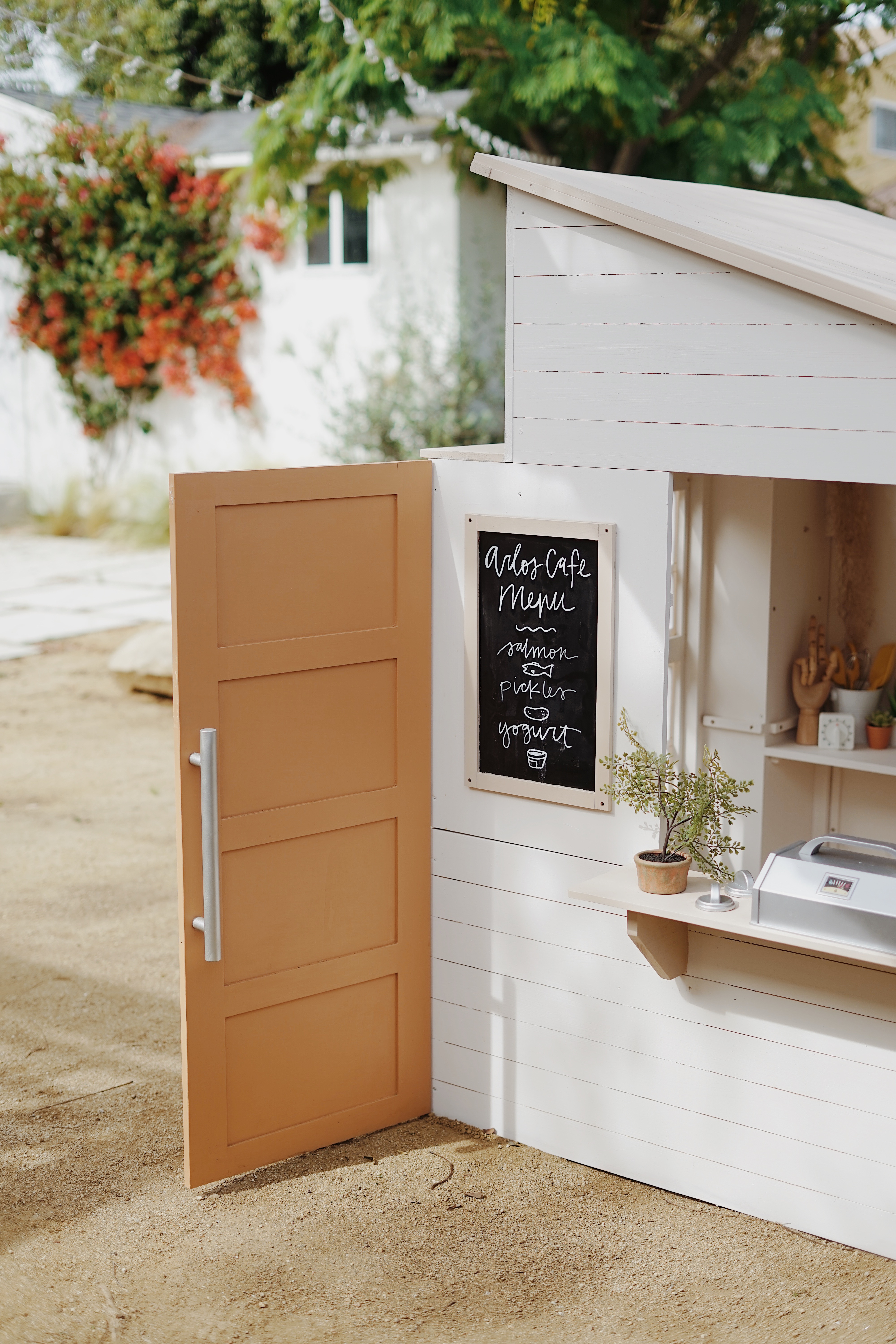 his three favorite things to eat are salmon, pickles and yogurt — so we had to put them on the menu. and the 27th is his birthday 🙂
i was planning on ditching the curtains altogether (it came with BRIGHT red ones), but then realized he might enjoy a little privacy or a game of peekaboo– so i got some fabric and had my sister in law sew them. so happy with how they turned out! also the little curtain rod is the only thing i left natural, i love the little pop of wood.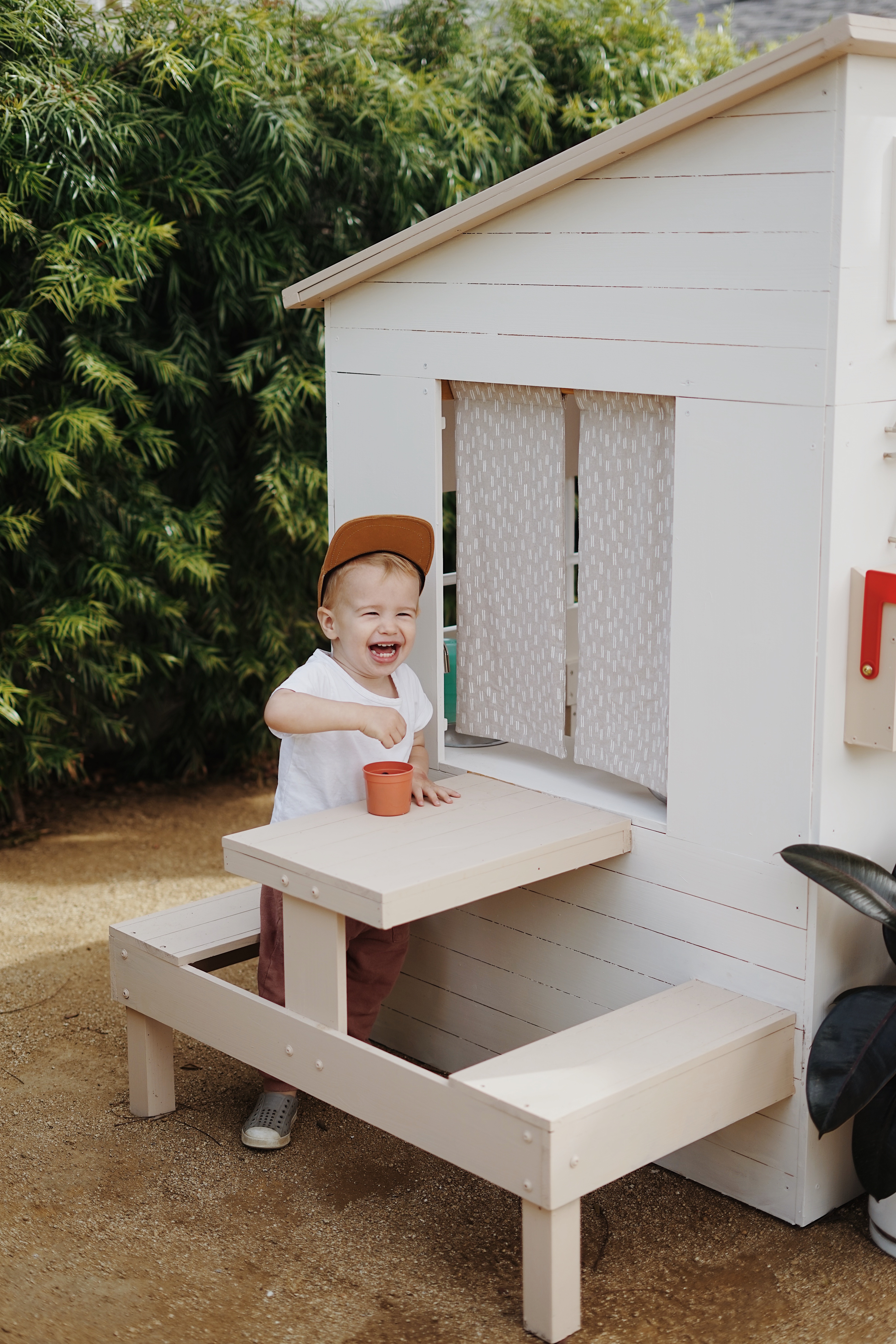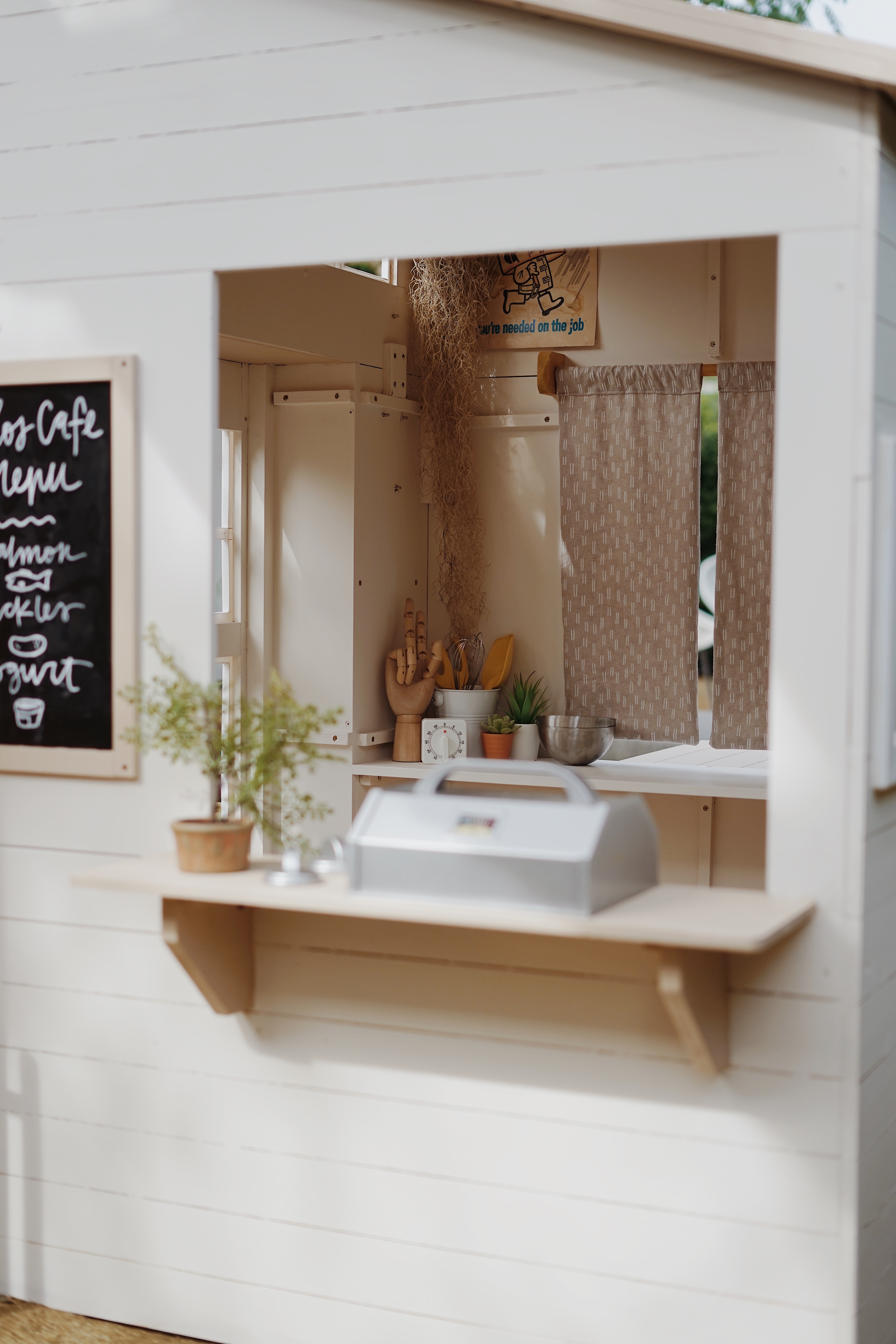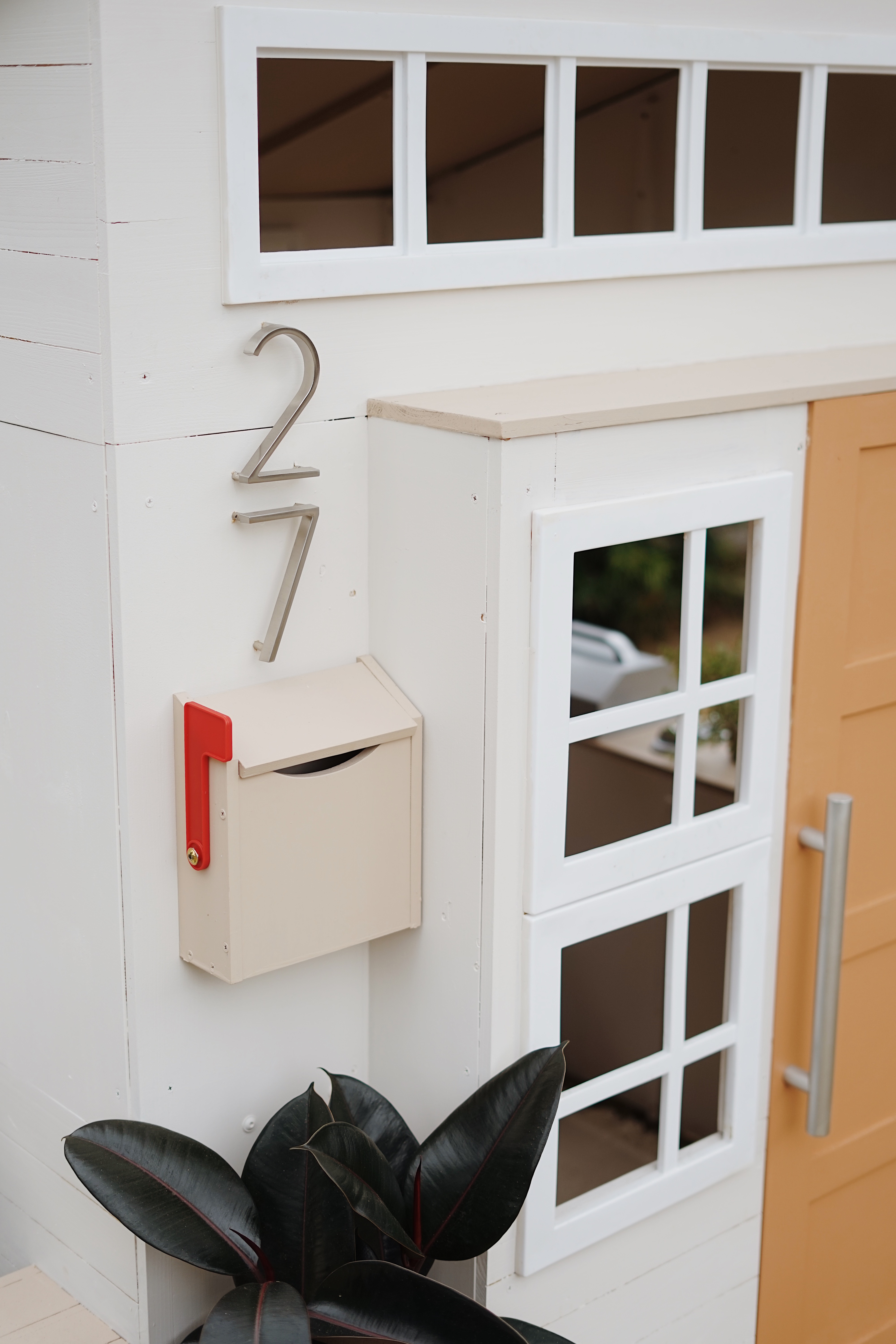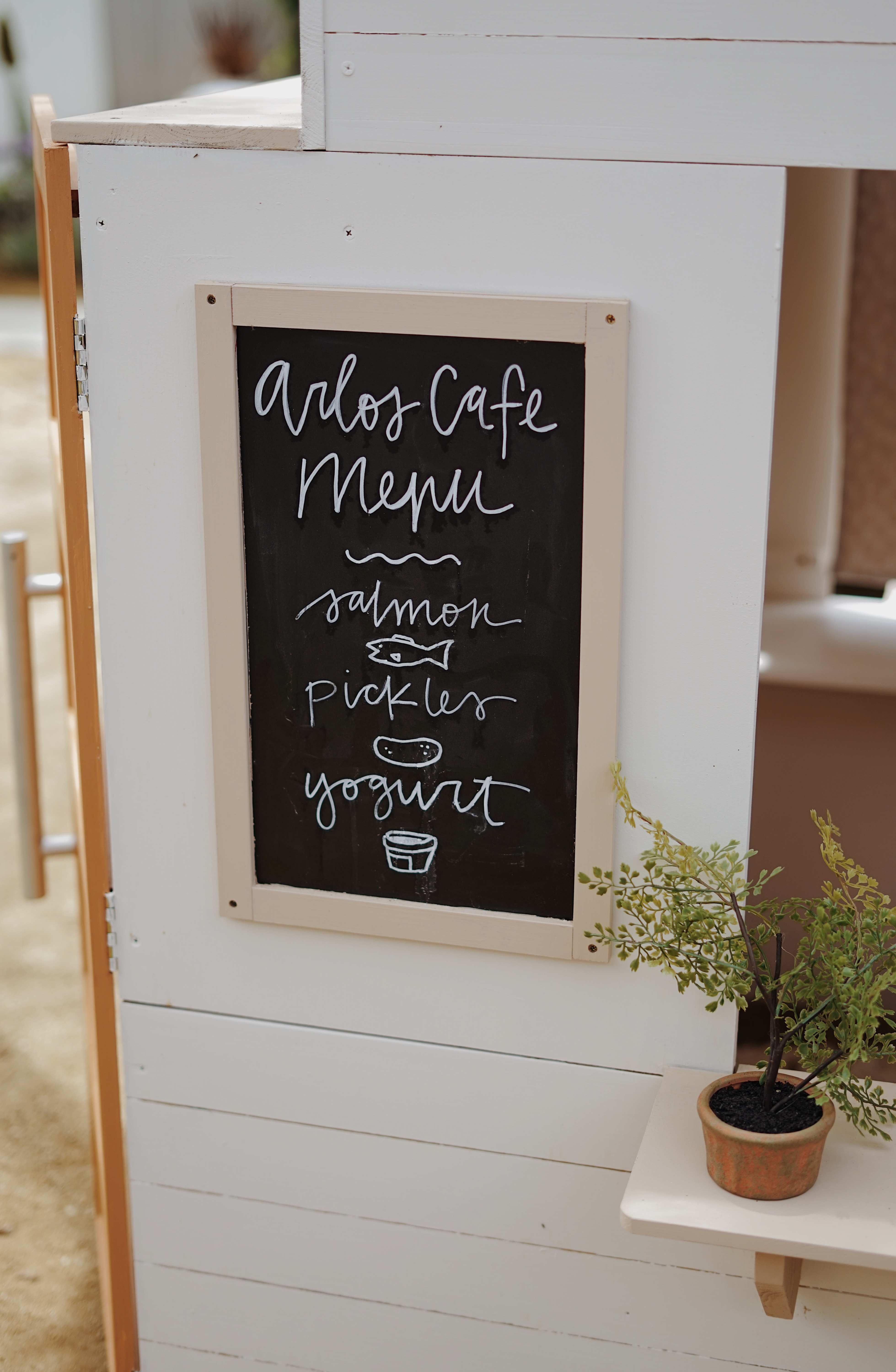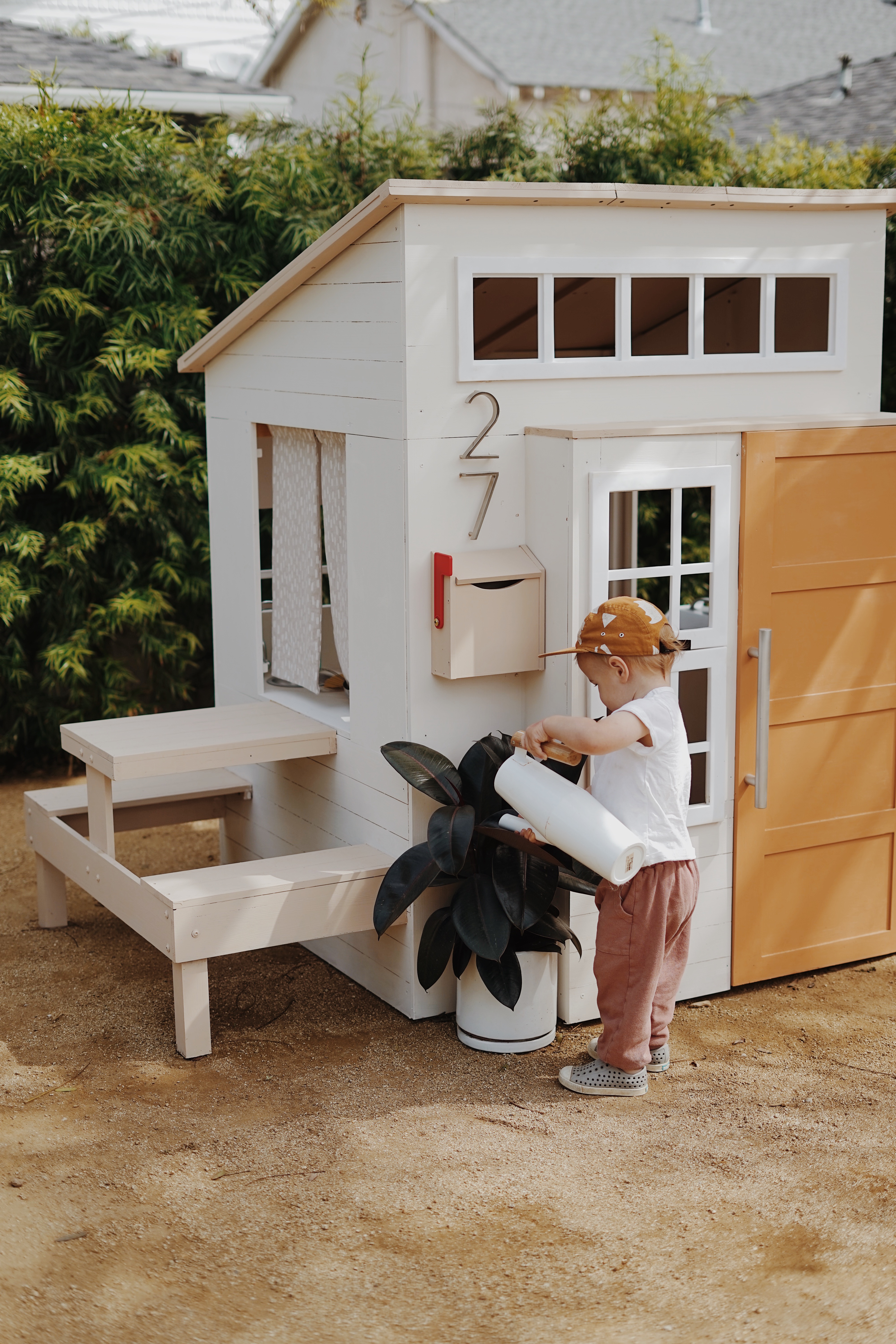 i've been having him care for the plant himself, referring to it as "his plant" so hopefully he can keep it alive!
having lived with the house prior to painting for over a week and seeing what an eyesore it was, i can honestly say i'm sooo thrilled with it now, post-painting. it blends seamlessly into our backyard and i think it looks so beautiful, and not just for a kids playhouse. i truly love it (and arlo does too of course)!
ps, we hadn't redone the fence yet, we just moved it to the other side of the yard.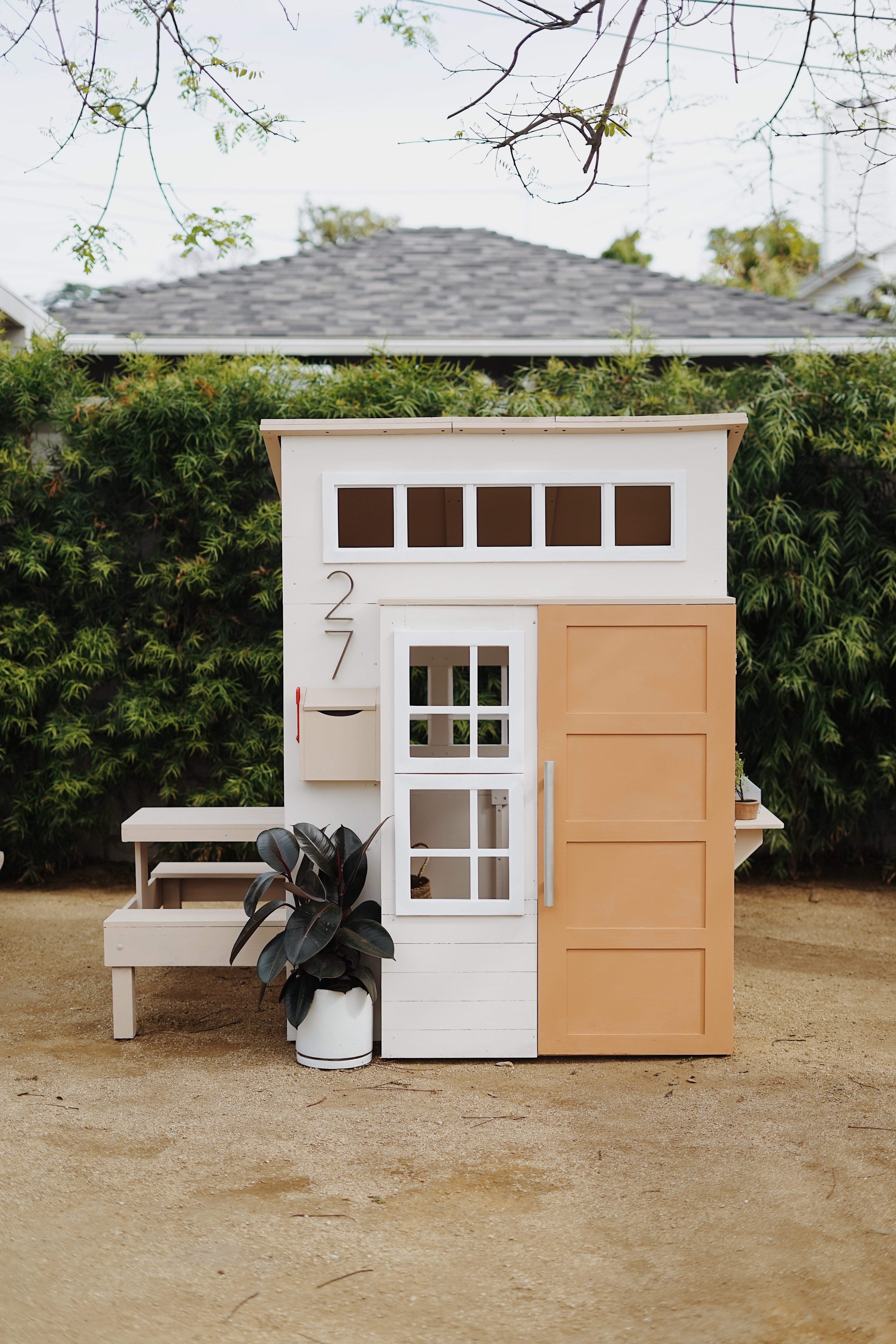 (we also got a tarp for when it rains, which i have link for above)