our interior define couch : a review and FAQ

always getting so many questions on my couch so i thought it would be helpful to have EVERYTHING in one place!!! and thank you for sending your questions so that i hopefully don't miss anything you might be curious about!
we got the couch 3 years ago, when we went to the interior define showroom, i actually had another couch in mind. this couch was so big and i was just like oh thats a really big couch cool, but then we sat on it and we quickly realized it was our favorite. little baby arlo loved it the most too. since then, i've seen a ton of people on instagram get this couch so not to be like hey i started the trend butttt well i never saw it before the showroom.
all the basic info
it's basically two long deep sofas put together, one has an arm and one is armless. they're secured together on the underside with hardware.
model name: jasper
color: wheat — cross weave (kid/pet friendly fabric)
base finish: natural oak – solid wood rail
one long, deep armless sofa and one long, deep one arm sofa right
size of each sofa: 72″ x 48″
my thoughts after 3 years of living with our couch
look wise i still love the sofa. it's modern but also feels like it won't go out of style anytime soon. comfort/size wise as well. the first week we got the couch delivered i was for sure a little nervous i went way too large, but once you get used to it — we may never go back. normal couches feel so tiny and cramped now haha.
the fabric has held up well (i'll talk more about the cleaning care below) but it does pill, the back down cushions do need a lot of TLC to look good, but i'm not sure i would prefer foam because i like how squishy they are now. overall, i'm really happy with the couch and i do recommend it!
what fill is it?
the bottom cushions are their standard foam and the back cushions are down.
is that a pet/stain/child friendly fabric?
it is — when we got our sofa they only had a few options for stain friendly fabrics, now they have tons!! i actually wanted a lighter beige color but we went with this light grey. people always ask about having a white sofa and i'm confused because it's very much a light grey!
what are exact dimensions?
120″ across
72″ at it's deepest
17″ seat height
32″ height
have you removed covers to wash?
no, i actually sort of didn't realize you could for so long. they have zippers and apparently you can remove to clean!
how do you clean it?
for small spills, i actually just use a wet towel and rub out the spill before then i fan (spread) out the water with the towel, because if i skip that step the water spot is usually visible which is really lame. i've tried using gentle cleaners, or even just soap and everything seems to show, so i just stick to water.
i've had it professionally cleaned, but it's expensive and if you have deep stains, they may not even come out. for serious stains, you can also just replace the cushion covers from interior define directly, and the prices for both are basically equivalent.
honestly for the price you pay someone to come clean sofas and rugs, it feels worth it to maybe invest in a product like this and be able to do it way more often. i don't own one but i'd love to hear from you if you do!

does it pill?
yes, the cross weave is tightly woven so it's mean to avoid snagging and pilling, but it does still pill slightly, i've definitely had worse. it's manageable because i sporadically use my fabric shaver and it really helps a ton, it's something you can do while watching tv too haha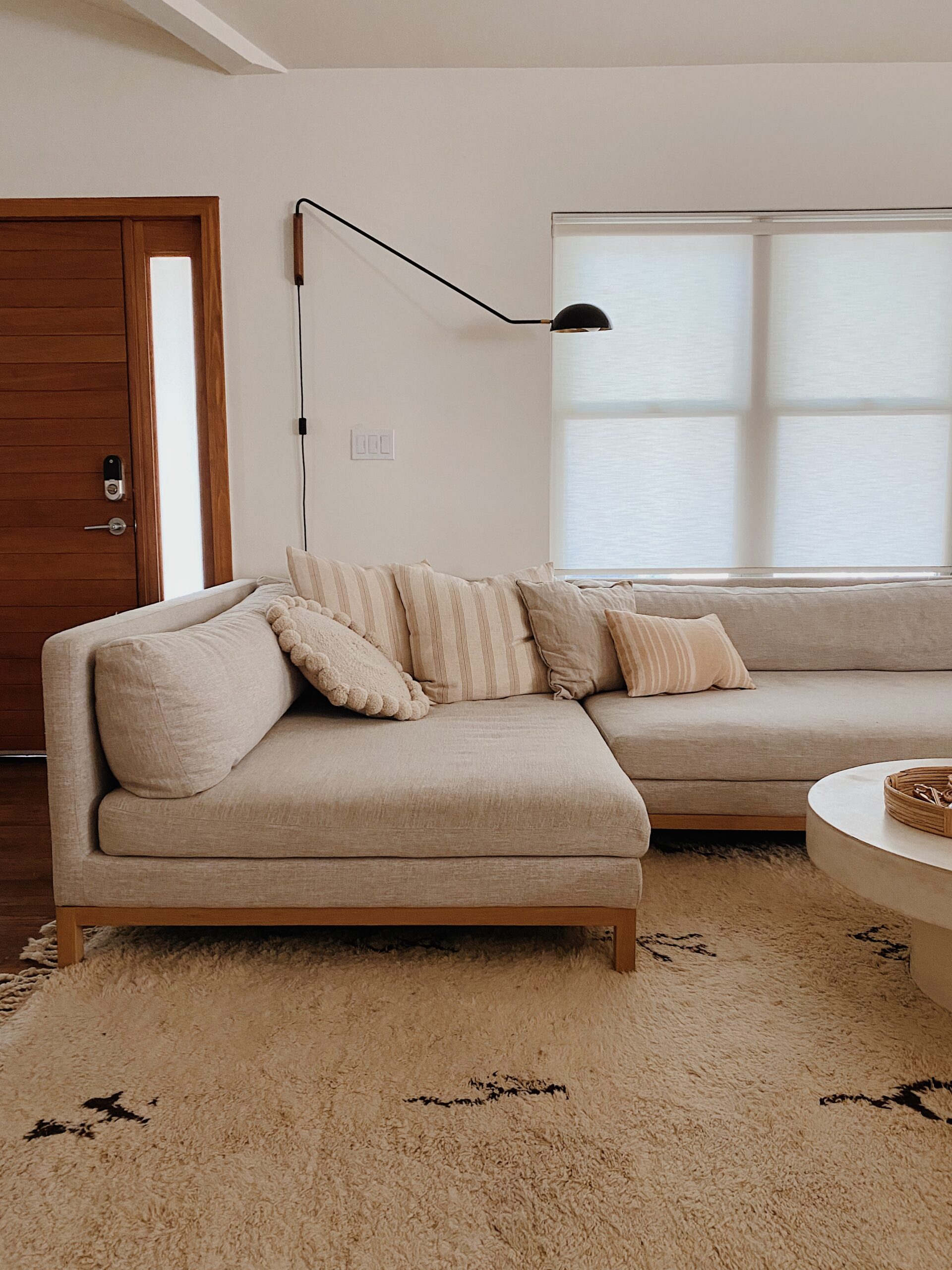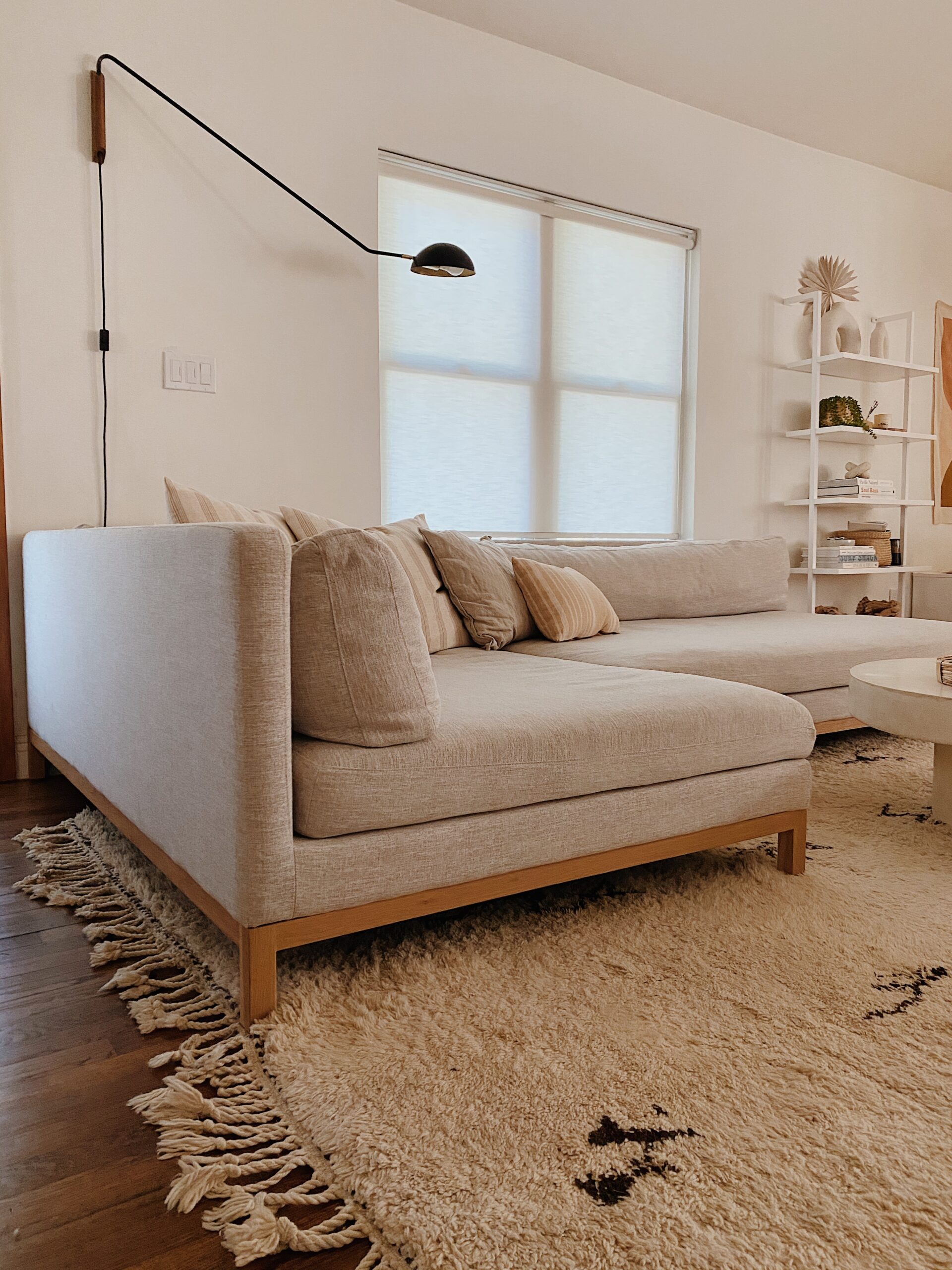 does gid like it since he's tall?
he likes the depth obviously, but with the lower profile back, he stacks pillows behind him to keep his head supported.
is it comfortable without a head rest? do you wish back was higher?
i've been asked about the low height of the back often, and i would say because ours is against the wall and we're able to prop up against pillows it's been fine, if your couch was away from the wall i'm not sure how comfortable it would be.
do you like how deep it is?
i love it because i'm one of those people who always likes to have my legs up even when i'm in a chair, so this way they can always be up.
do you mind having no arm rests?
i don't, because the couch is so deep i like being able to easily scoot/crawl off either side. i'm never really sitting on the edges either, so it doesn't bother me!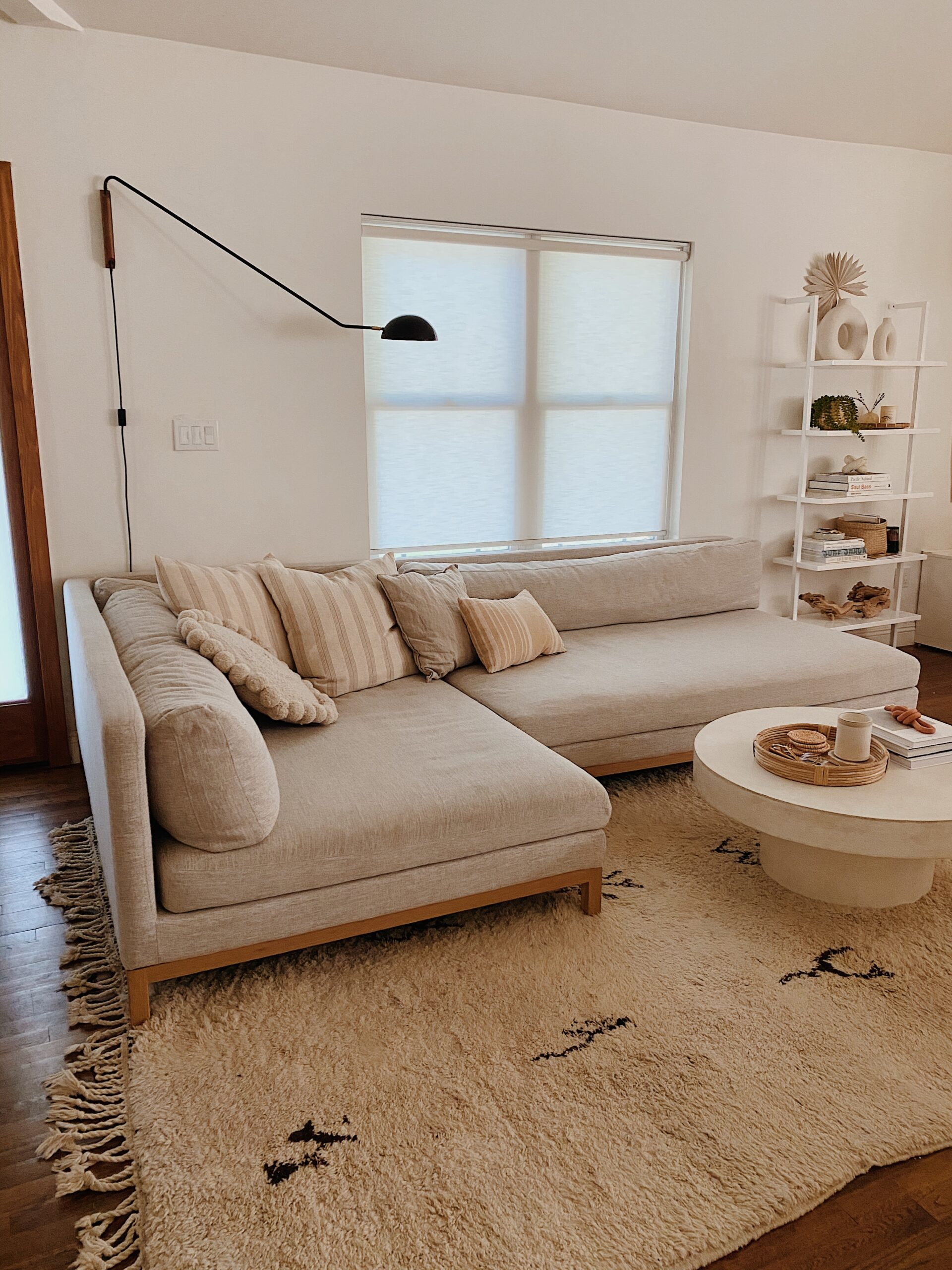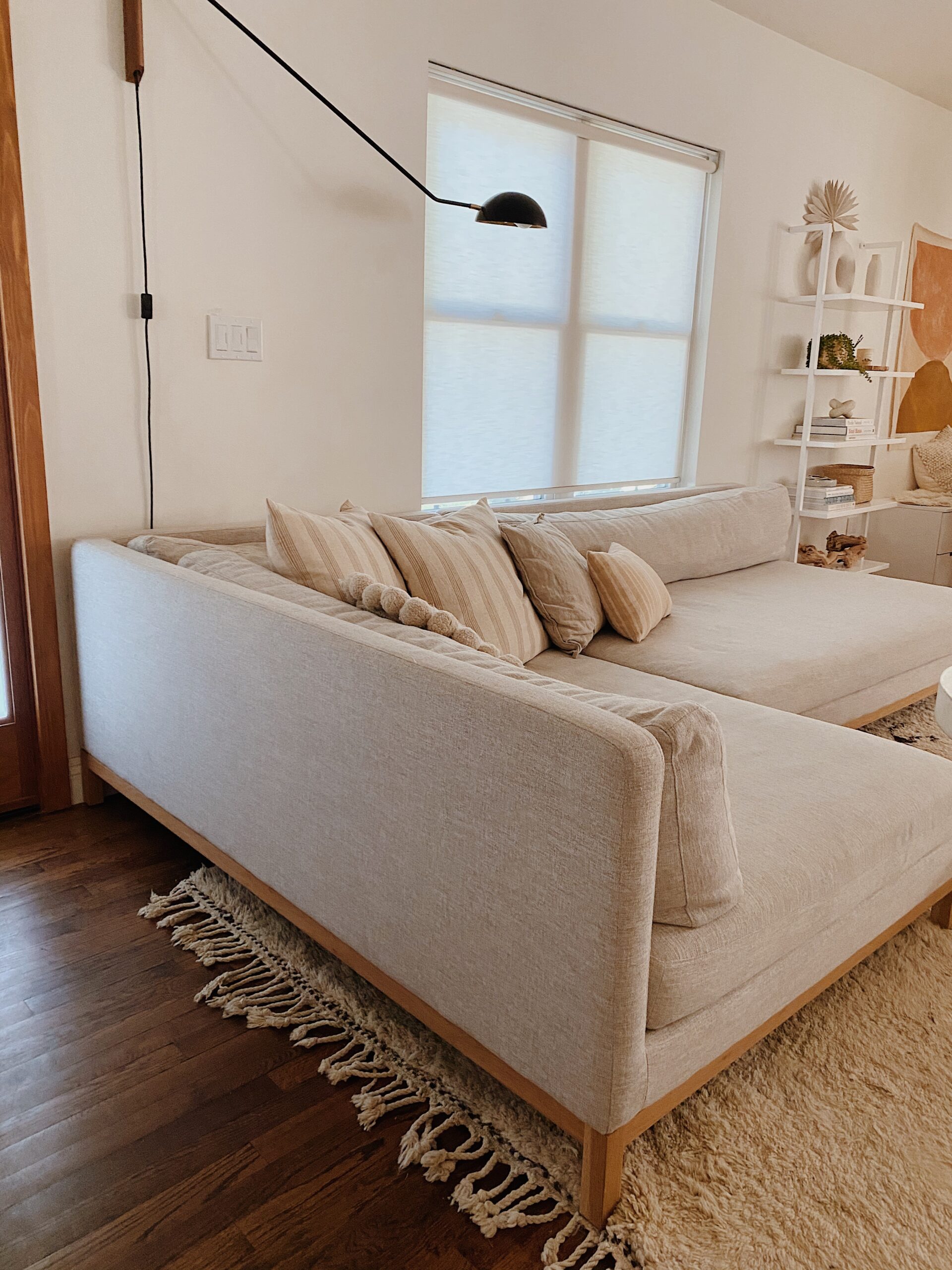 is it a couch or is it really just two beds?
yeah basically two beds haha. who doesn't want beds all over their house?
do the back pillows get lumpy? how often do you fluff the cushions?
yes, they're always lumpy after we sit on them, no matter what. in order to look nice they must ALWAYS be zhuzhed. obviously with super long down cushions like these, it's inevitable.
it's an annoying task but like i said i like that they're actually cozy cushions so i don't think i would change them.
is it firm or soft?
the bottom cushions are firmer than the back cushions, but i wouldn't call them firm. they're still pretty foamy, just much more structured.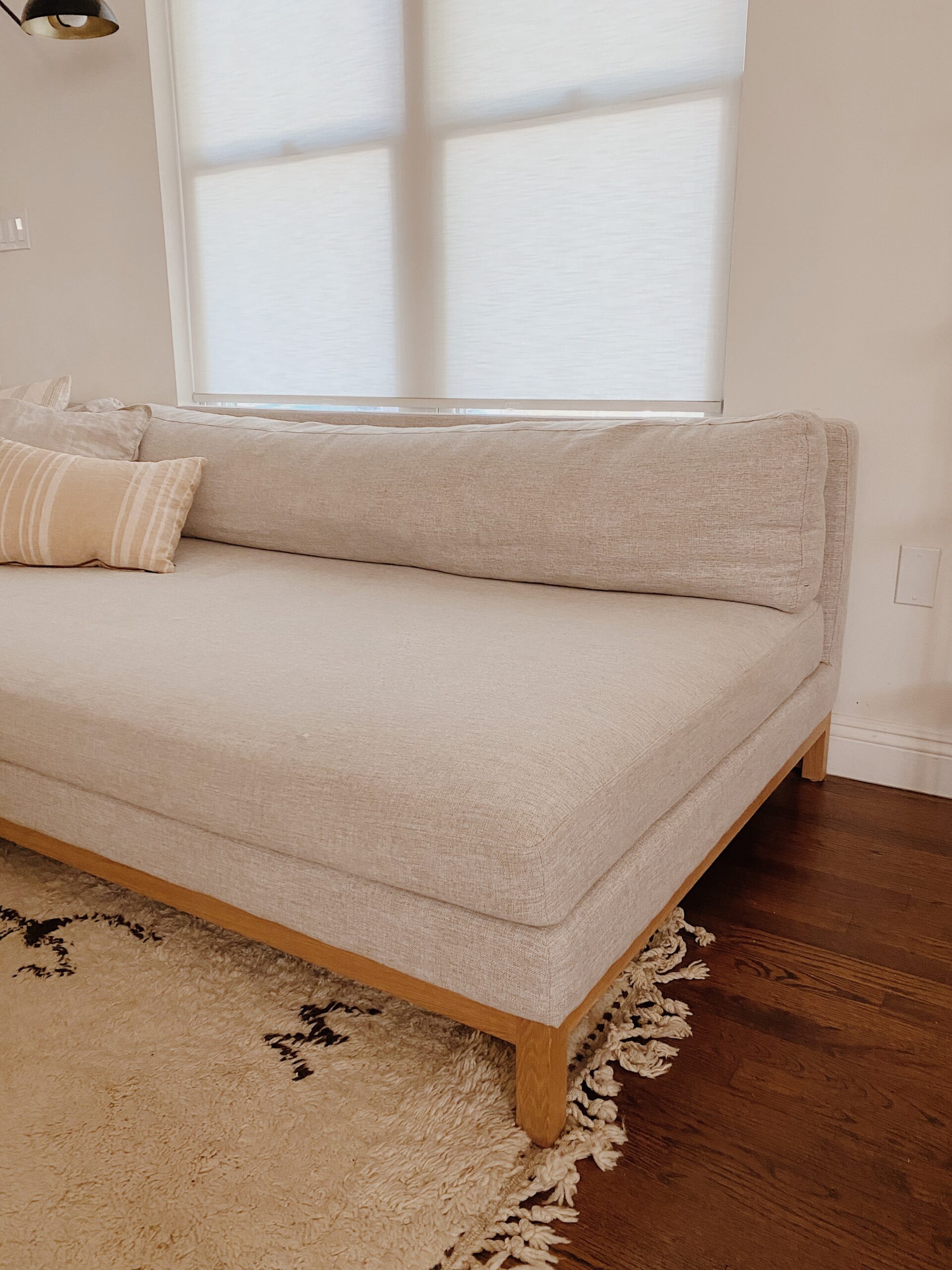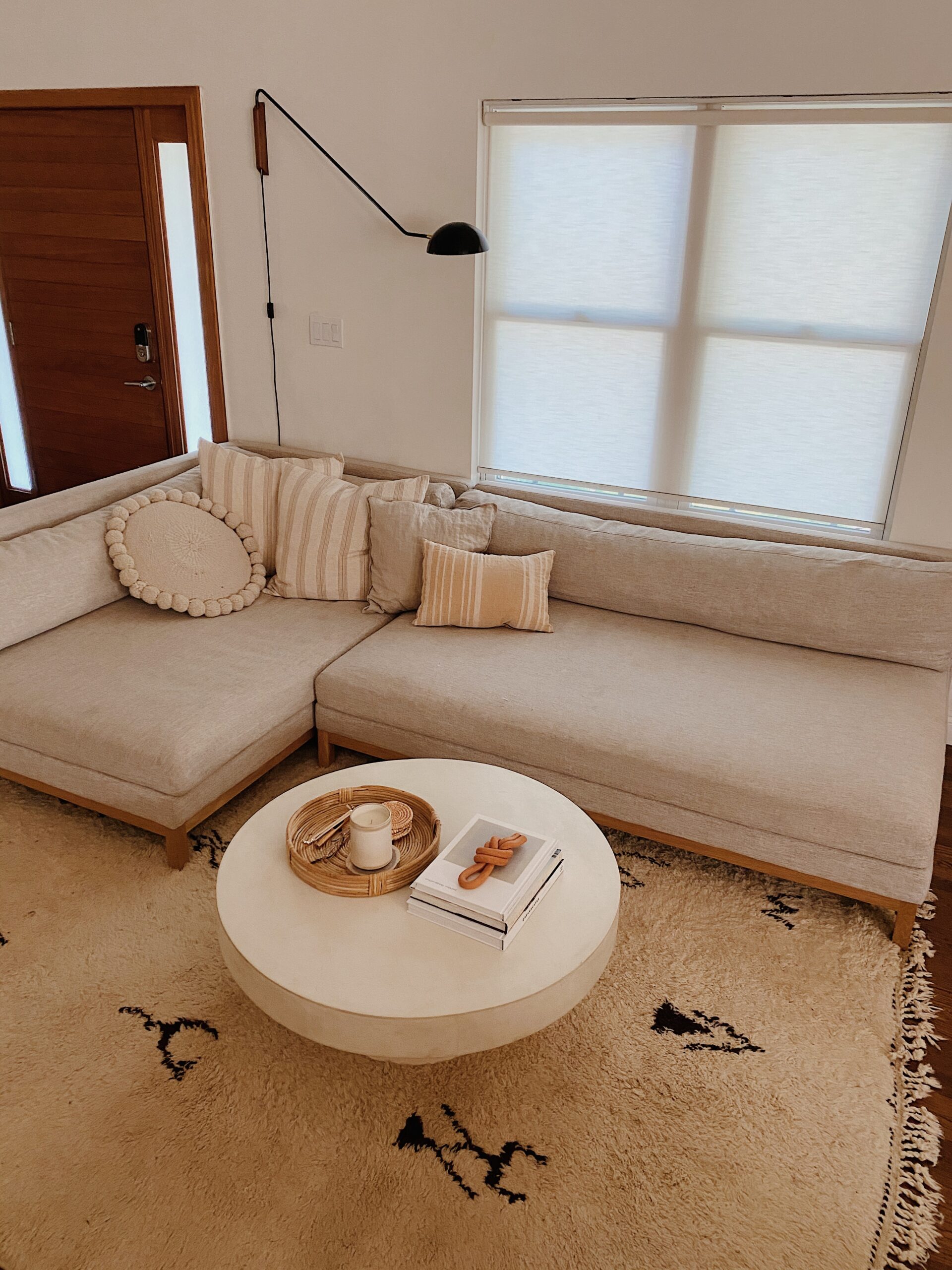 would you buy it again?
i think i would! i still really like the sofa and have no plans to swap it (just hopefully it fits in our future living room if we ever move)
how was your experience working with interior define?
it was super pleasant. the showroom was a really good experience and even baby arlo had fun. the salespeople were so helpful and patient with us while we took hours to decide haha.
how long did it take to come?
this was the hardest part, it took months!! i probably checked the progress like 50 times on their site, but when it finally arrived it was like xmas morning haha.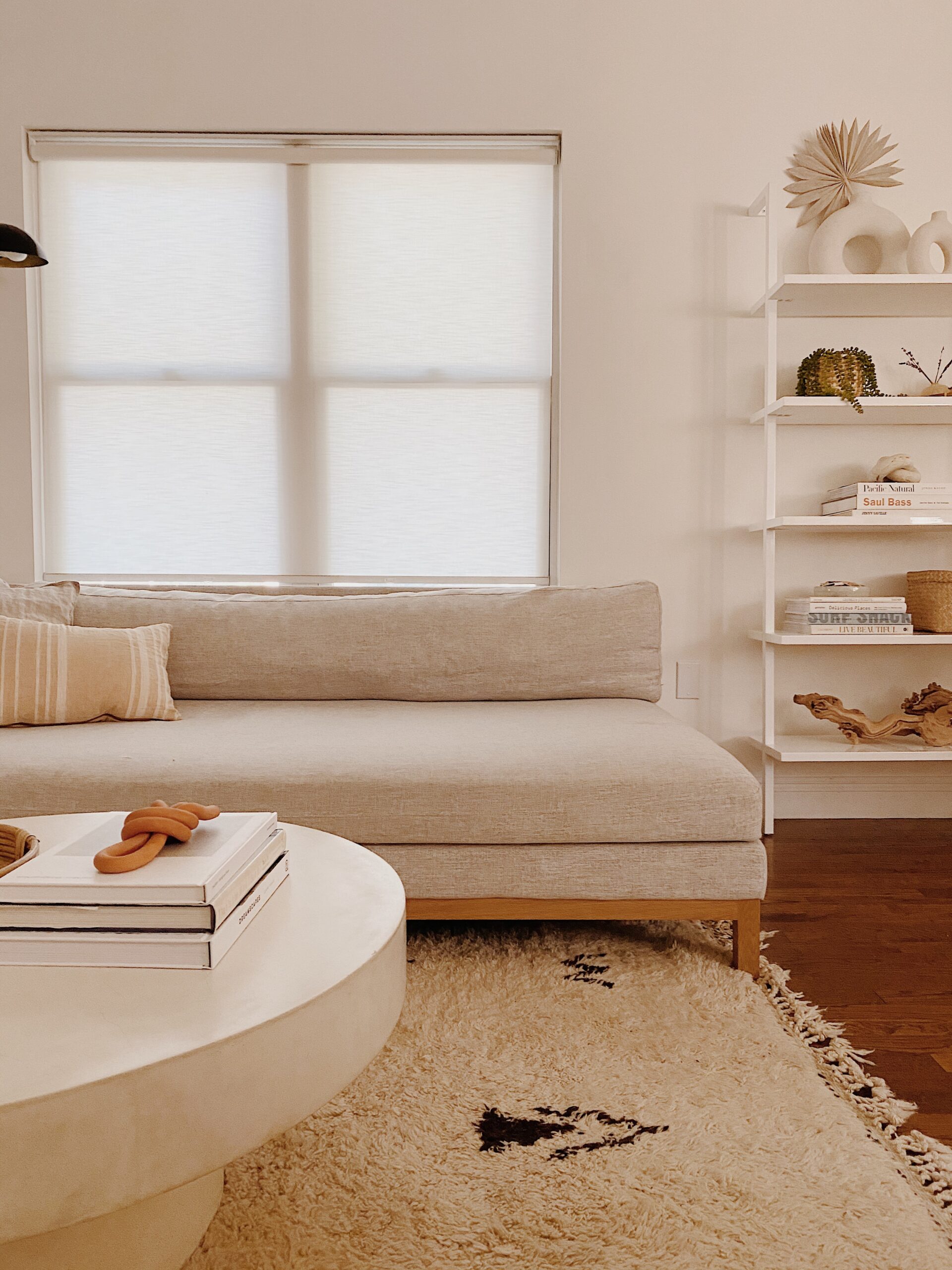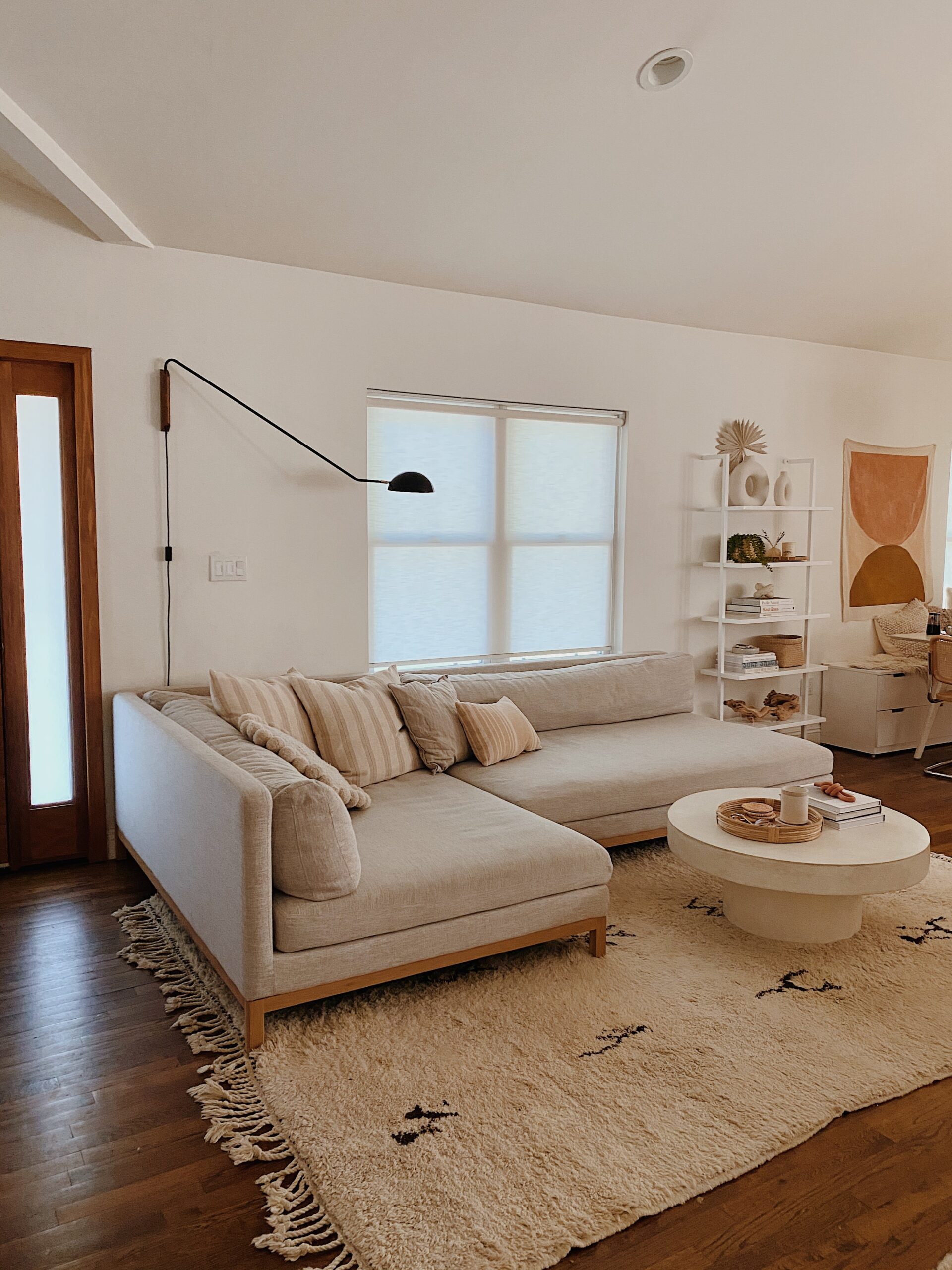 is it weird to sit on since its so deep?
it definitely takes getting used to. i love that i can plop down with my computer anywhere on the couch and it's like a big giant surface for me to have my legs up.
how do you get off of it?
if you're in the middle and you're small like me and arlo, you sort of have to crawl off, or you slide out to the edge and plant your feet down hahah.
do they slide apart?
nope! they have hardware on the underside so they stay together well.
know of any good dupes?
i would say this is the closest i've seen! but this one is a similar look with the wood base.
what would be your second choice for couch?
i haven't shopped for a couch for a few years, but i rounded up some really nice ones for you, some similar and some not!

what do you not like about it?
like i said above, if they had had more pet/kid friendly fabrics back when we bought our sofa –i may have gone with a little bit of a lighter/more beige toned fabric, maybe something thats a little softer. the cross weave is a fine, standard type fabric, but i wouldn't call it soft.
the only other issue is how often we have to fluff the back pillows. obviously this is because they're so long, but i don't see how that would really be improvable because i like the design with the long pillows like they are. maybe if it was more of a down/foam hybrid filling?
how strong is the base?
feels really sturdy. we have had the whole family on it, made dozens of forts, arlo jumps on it, seems to be fine!!
does poppy complain about it?
sure does, but what does he not complain about hahah– he calls it the "sleep inducing couch" but also i've seen him fall asleep on every single couch he's ever sat on so his opinion doesn't count for much!
---
i also decided to include some photos of us actually on the couch to give you a sense of the size too. time for a little trip down memory lane!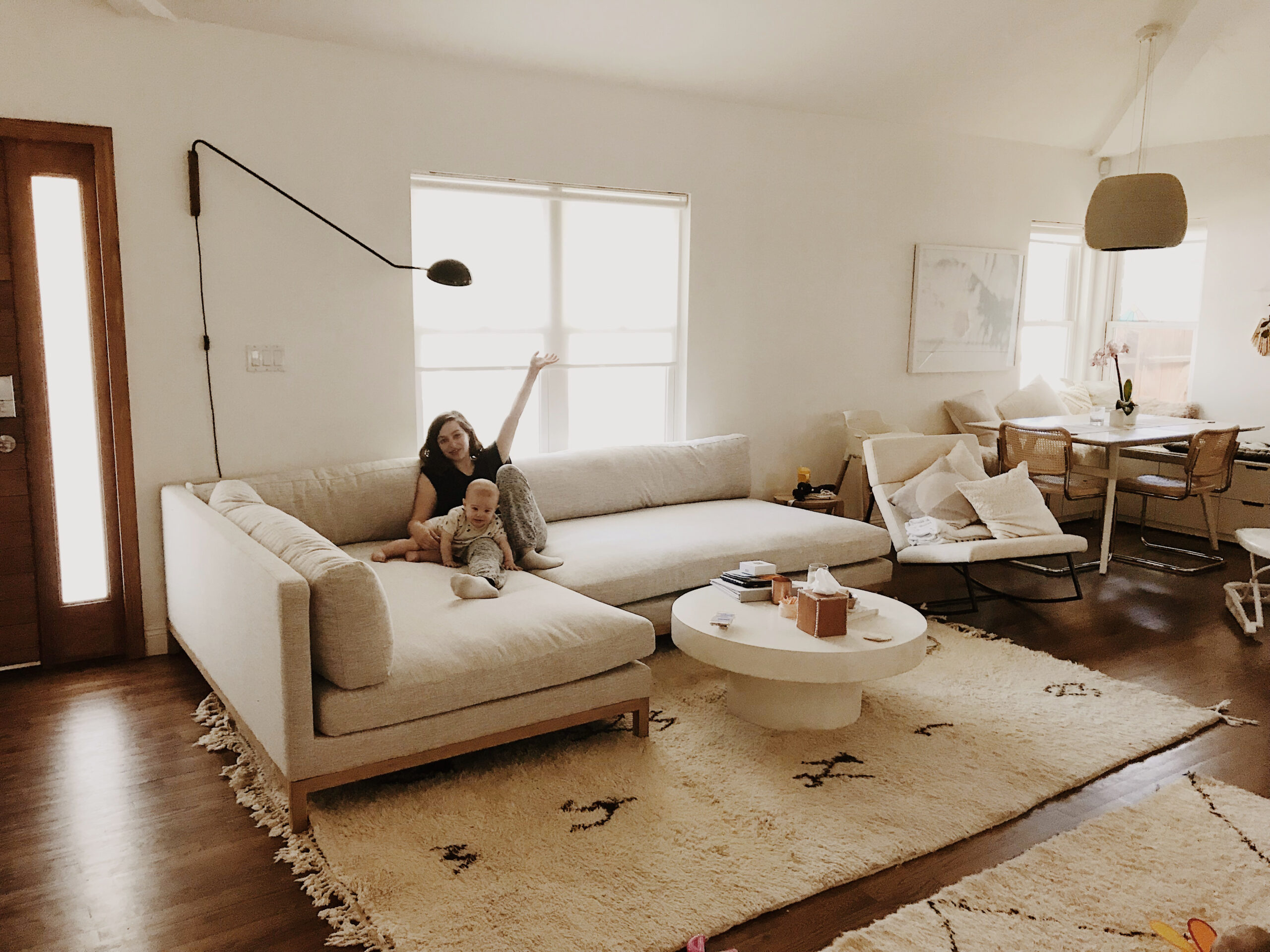 this was the first day it arrived and i was like wow our house feels tiny suddenly!! haha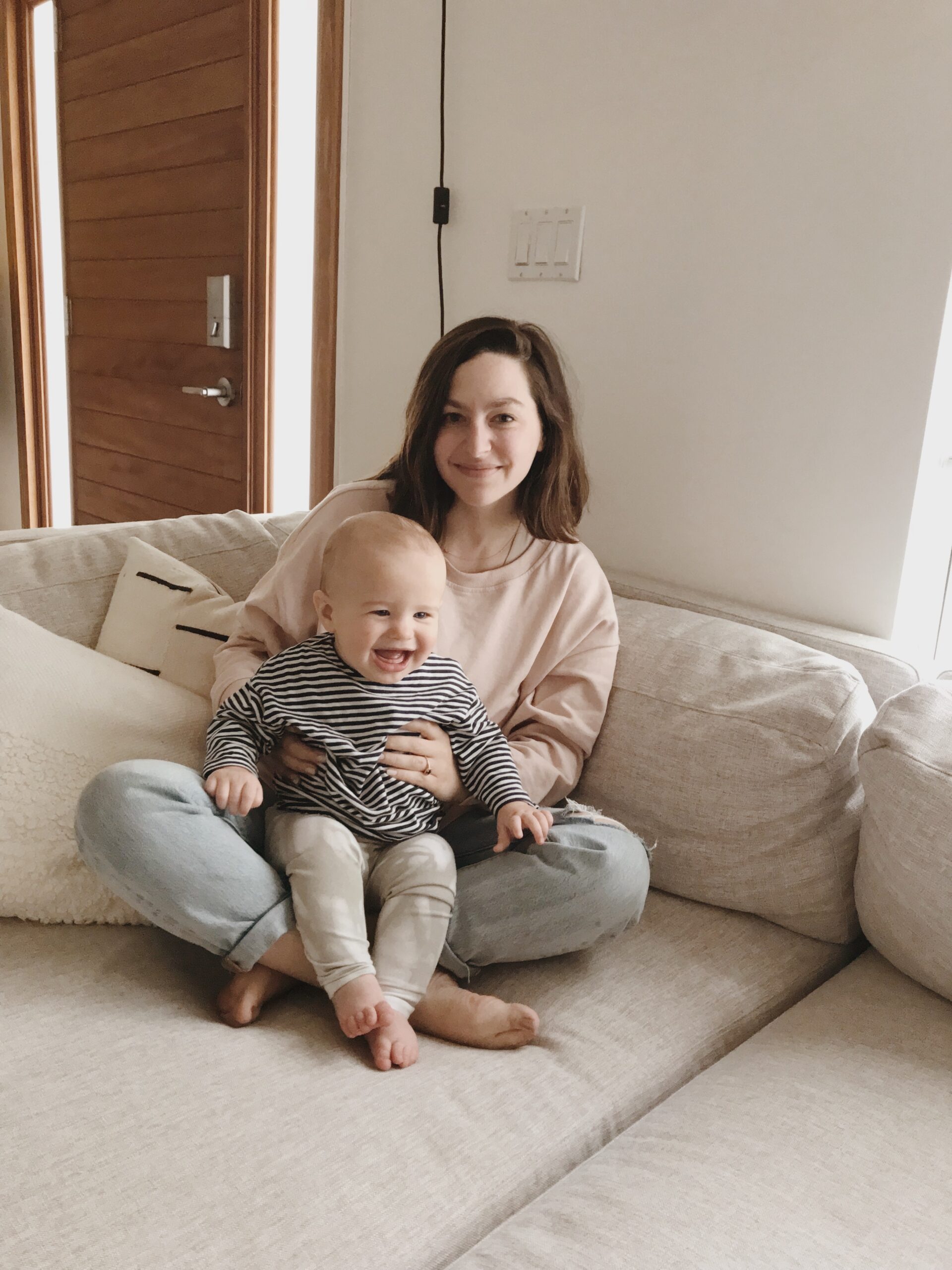 ok sorry for the photo dump, so many memories on this sofa!! i hope this helped sway you, good luck couch shopping and let me know if you have any additional questions.
sources
couch / coffee table alternatives / wall lamp / rug (similar)
large striped pillows (similar) / round cushion / decorative knot