updating our old fence on a budget

this post is in partnership with ace hardware
when we redid our backyard three years ago, we put off replacing the dingy old fence that totally didn't belong whatsoever, but was functioning just fine. it always stood out as the only eyesore and it was always on my list to fix someday, but my neighbors on the other side of the fence didn't want to replace it since it is in fine condition (and is much less ugly on their side since we're on the backside of it).
but when we updated our backyard recently and replaced all the cactus with softer toddler-friendly plants, we started spending so much more time outside and the ugly fence started bothering me more and more. so i made some calls to fence companies and realized i could reface it instead of replace it!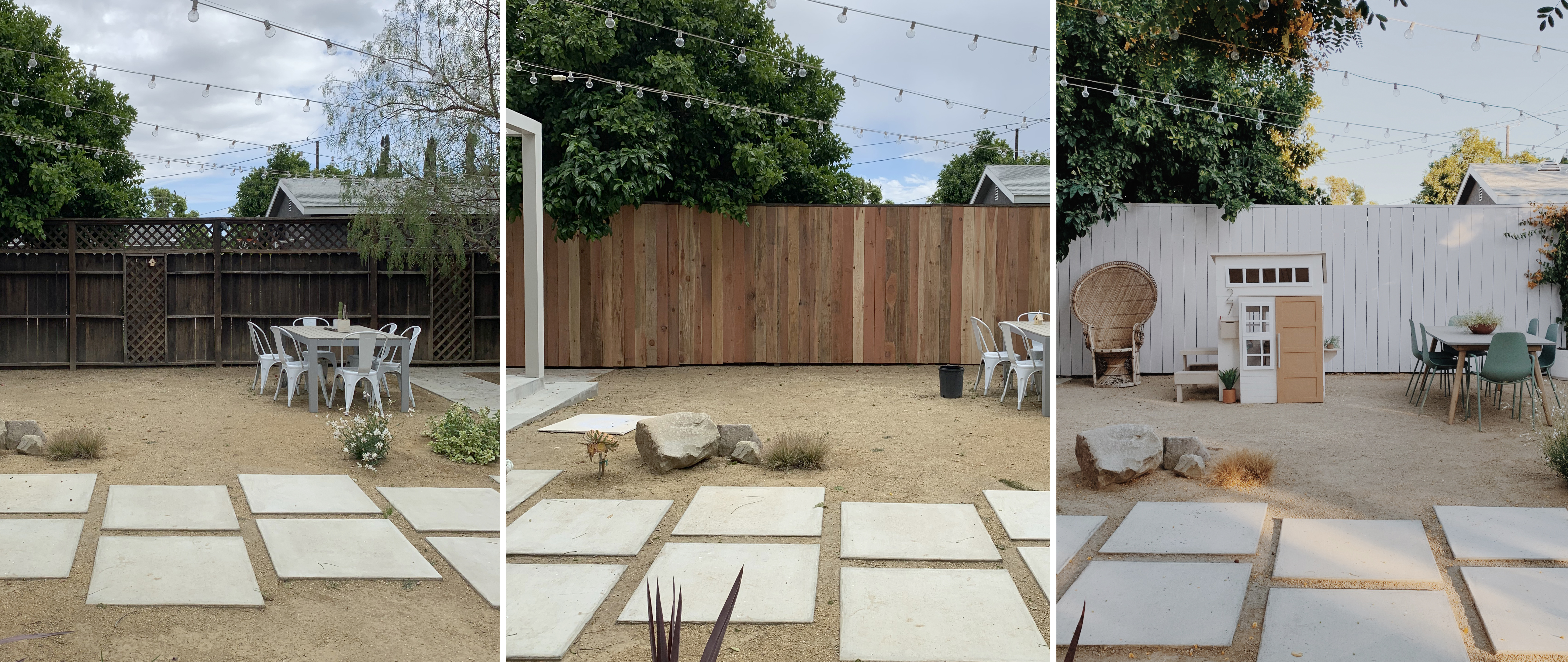 the other side of the eyesore was the front of our house. the fence goes all the way from the front of our property to the back, with an overhang and a side entry gate. the dark stain on them always looked so bad attached to our white house, so i knew that once i replaced the fence, i could have everything finally blend together if it was painted the same color.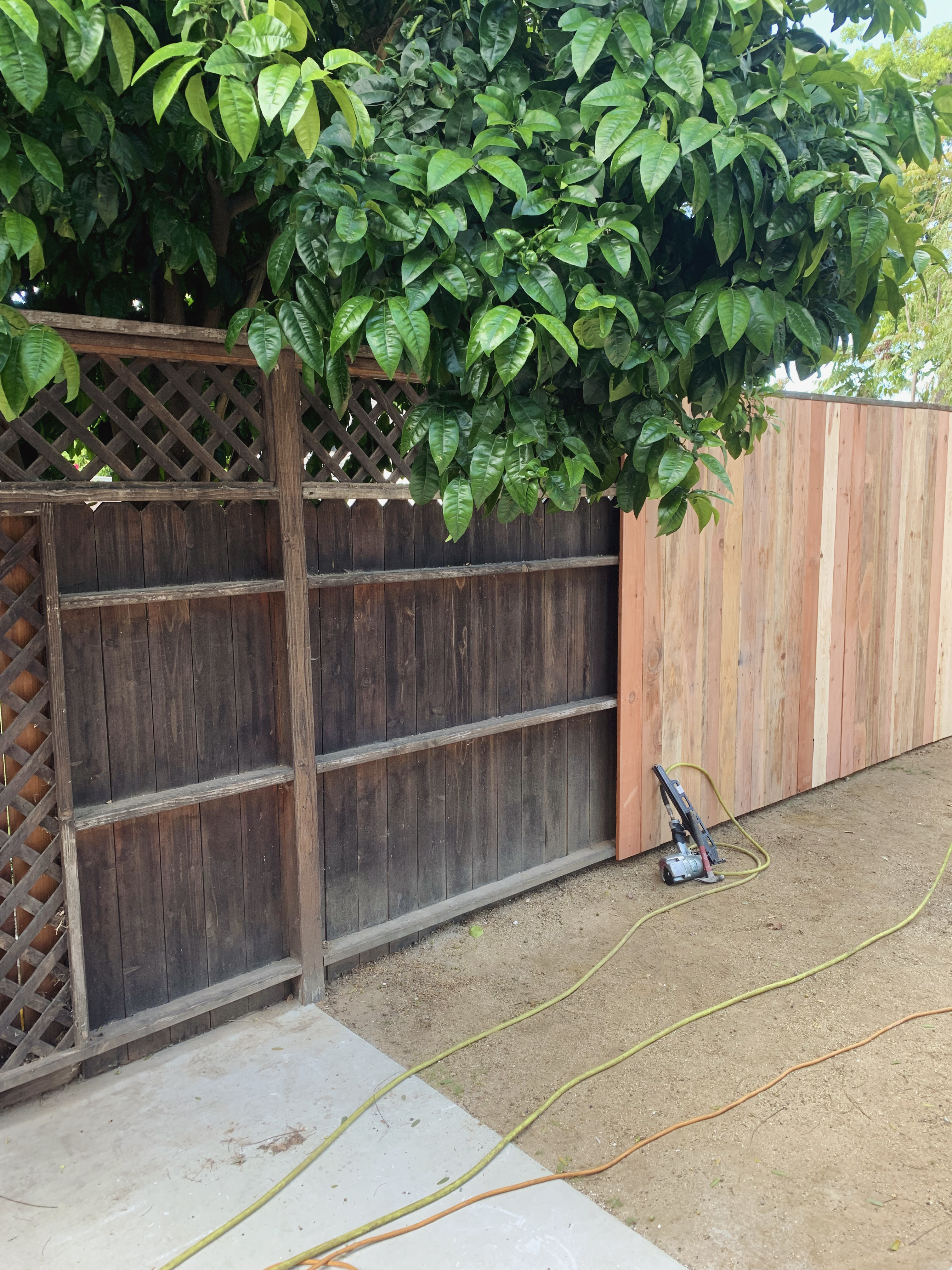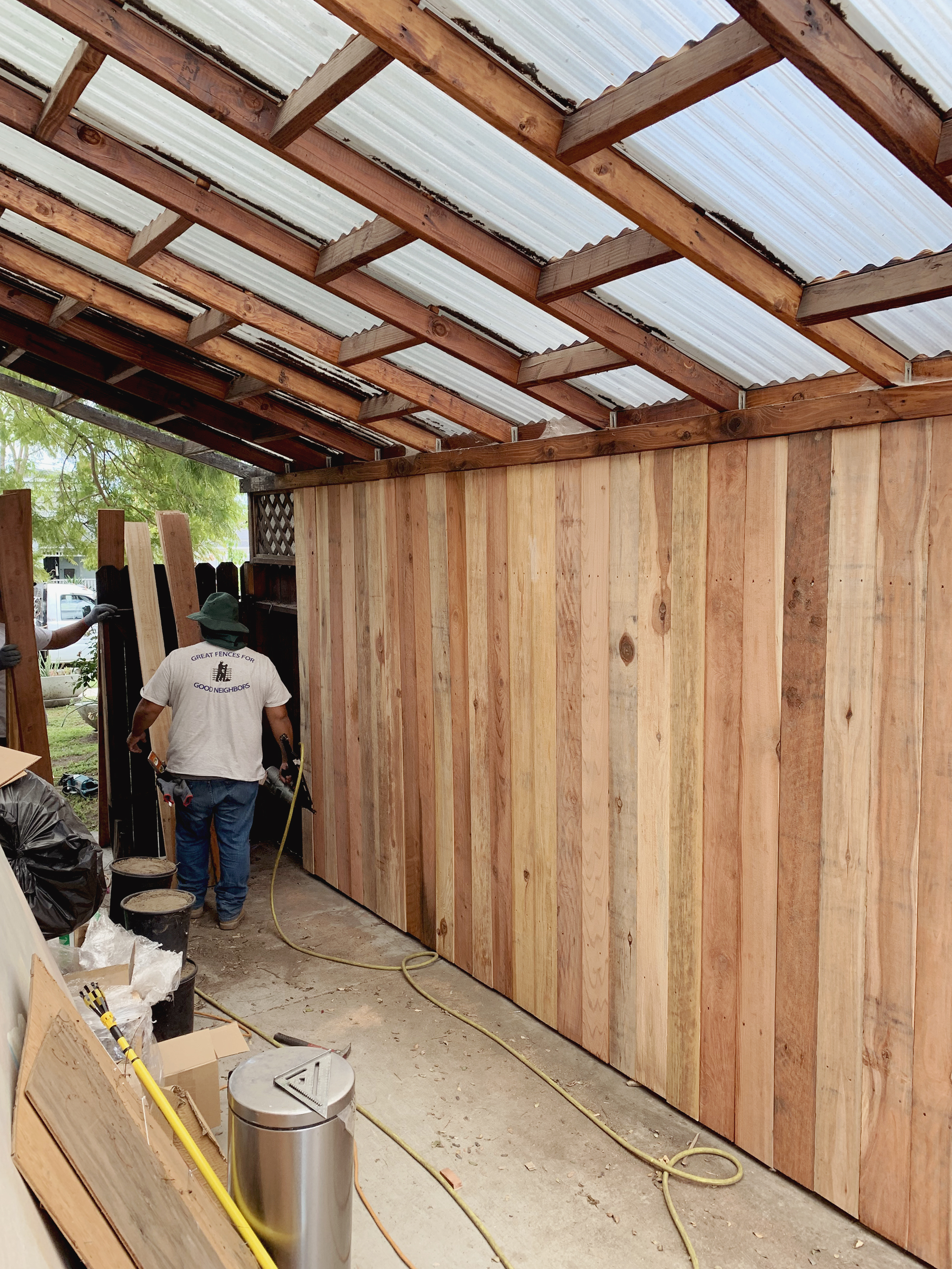 we had already painted our other two fences years ago a light grey, and the pergola we built/eaves of the house are also light grey so, obviously we went with light grey! i went to the paint studio at ace hardware and chose clark & kensington's abstract gray (N-C26) , the color was light and warm. it can be really hard to choose an outdoor paint, because it'll look so different in bright light versus looking at it inside, so make sure to really compare swatches where you're actually painting. the abstract gray looks actually much darker on the new fence and came out lighter on the overhang since that wood is less textured. if you are trying to blend different woods, try painting a patch on both woods before committing to a color!
even though all of clark & kensingtons paints are paint and primer in one, we still decided to do a coat of primer first, since we don't want to repaint any time soon! we told the paint studio what color we were using and they were able to give us a gray toned primer to go with it (definitely helps prevent having to do a third coat of paint!)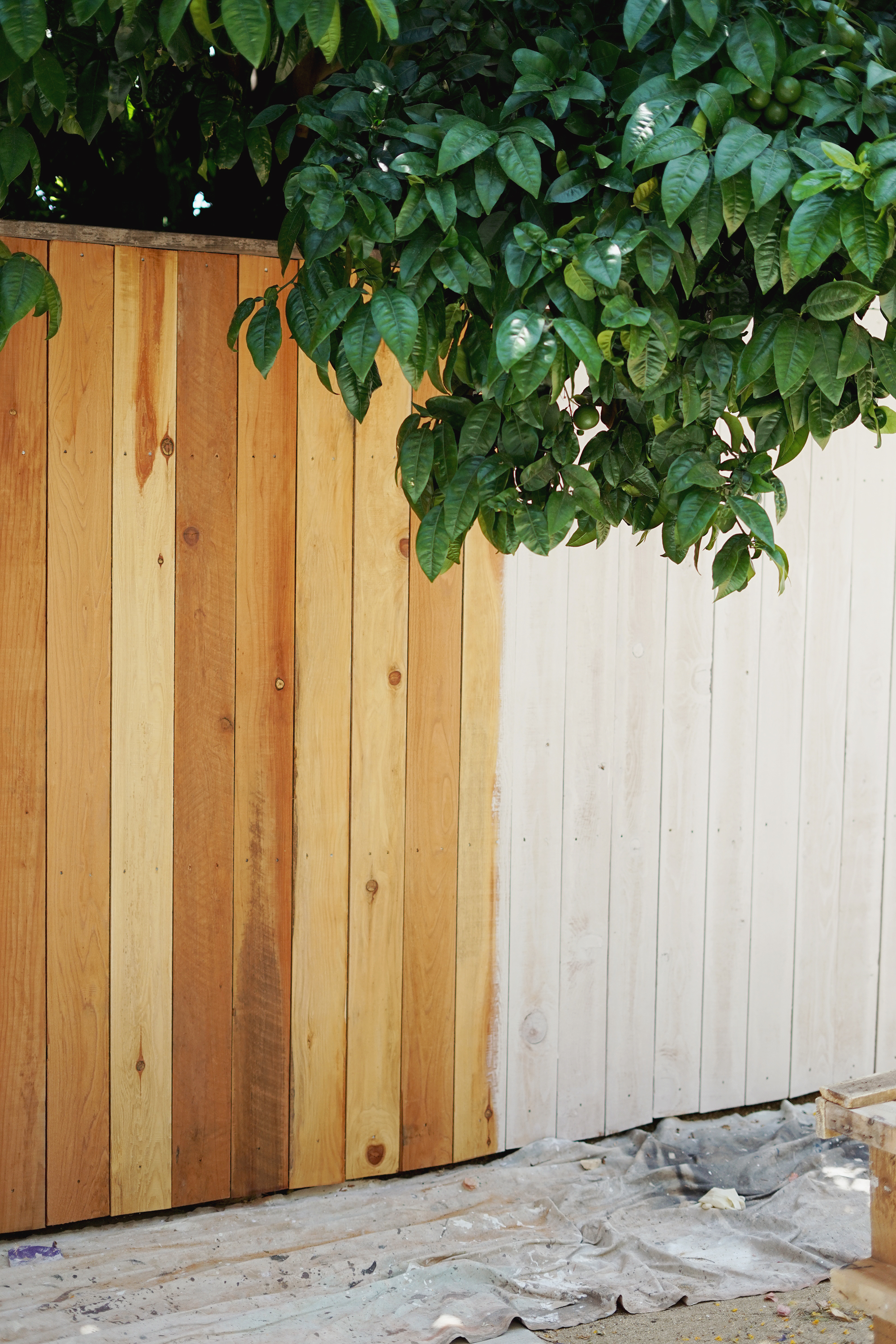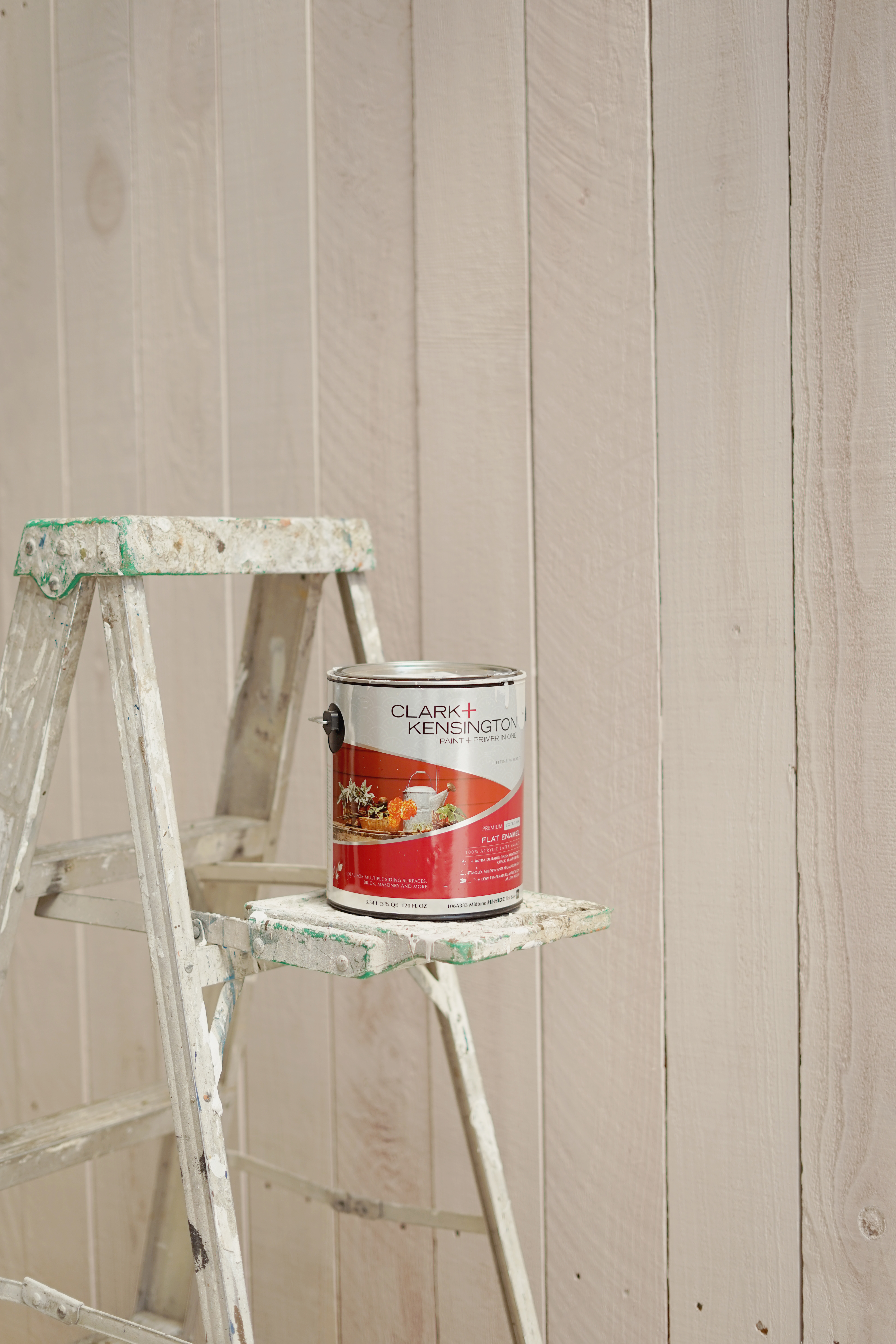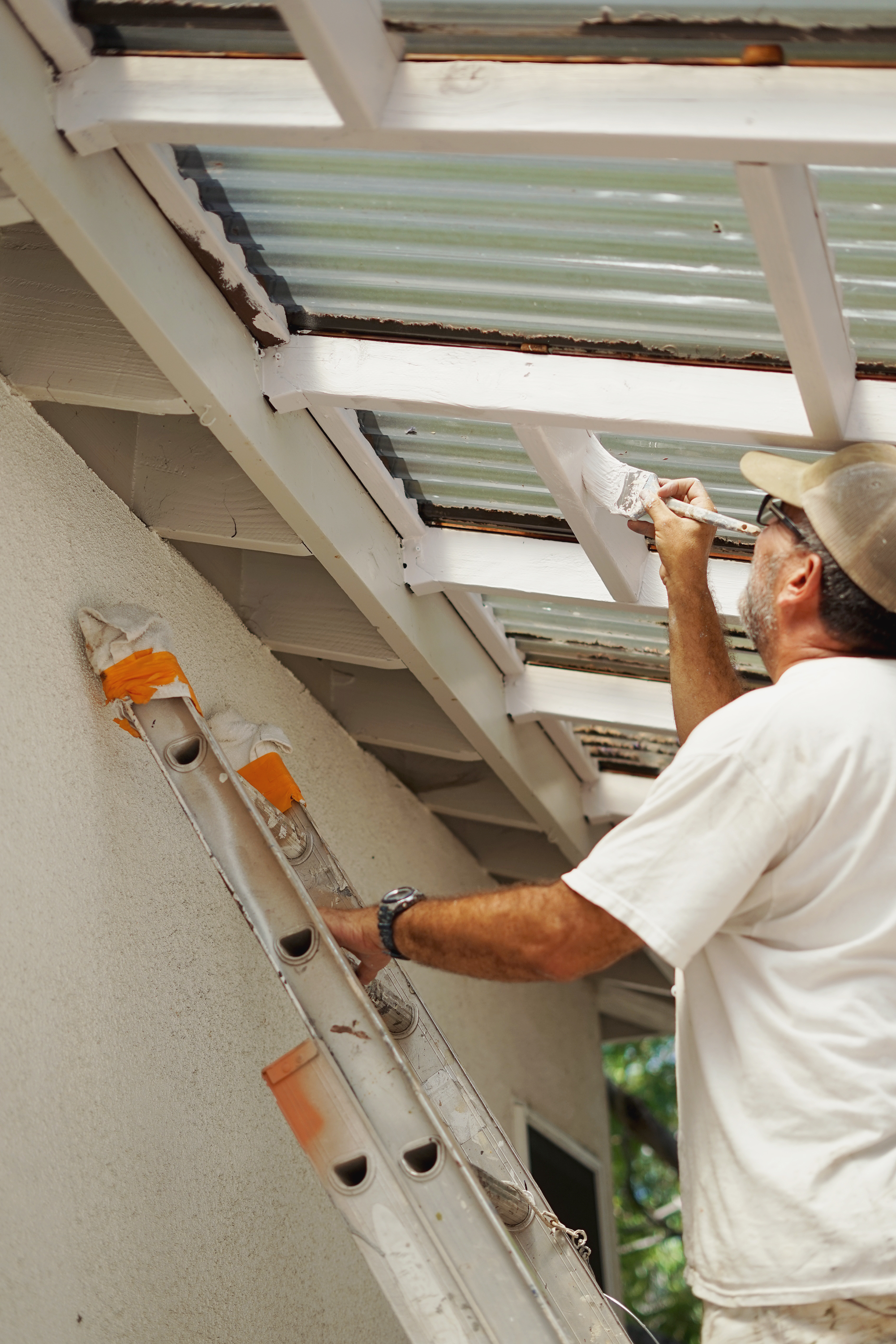 refacing costs a fraction of replacing it completely because it's a very quick process for them to attach planks to the existing fence, so it took around 3 hours to complete all 100 feet. we had them go up all the way to cover the lattice (which my neighbors were fine with thankfully!), it feels so much more modern now. we briefly considered doing a horizontal plank instead, but since our back fence was vertical, we kept it simple (next house!) they had different options for wood, but i just chose the cheapest one they had which was redwood.
as you see from the process photos, the natural wood fence was so beautiful as is! and i really wanted to keep it, but in order to have it blend into the lean to seamlessly, paint seemed like the best option (i was worried that wood stain would look too different on the different kinds of wood).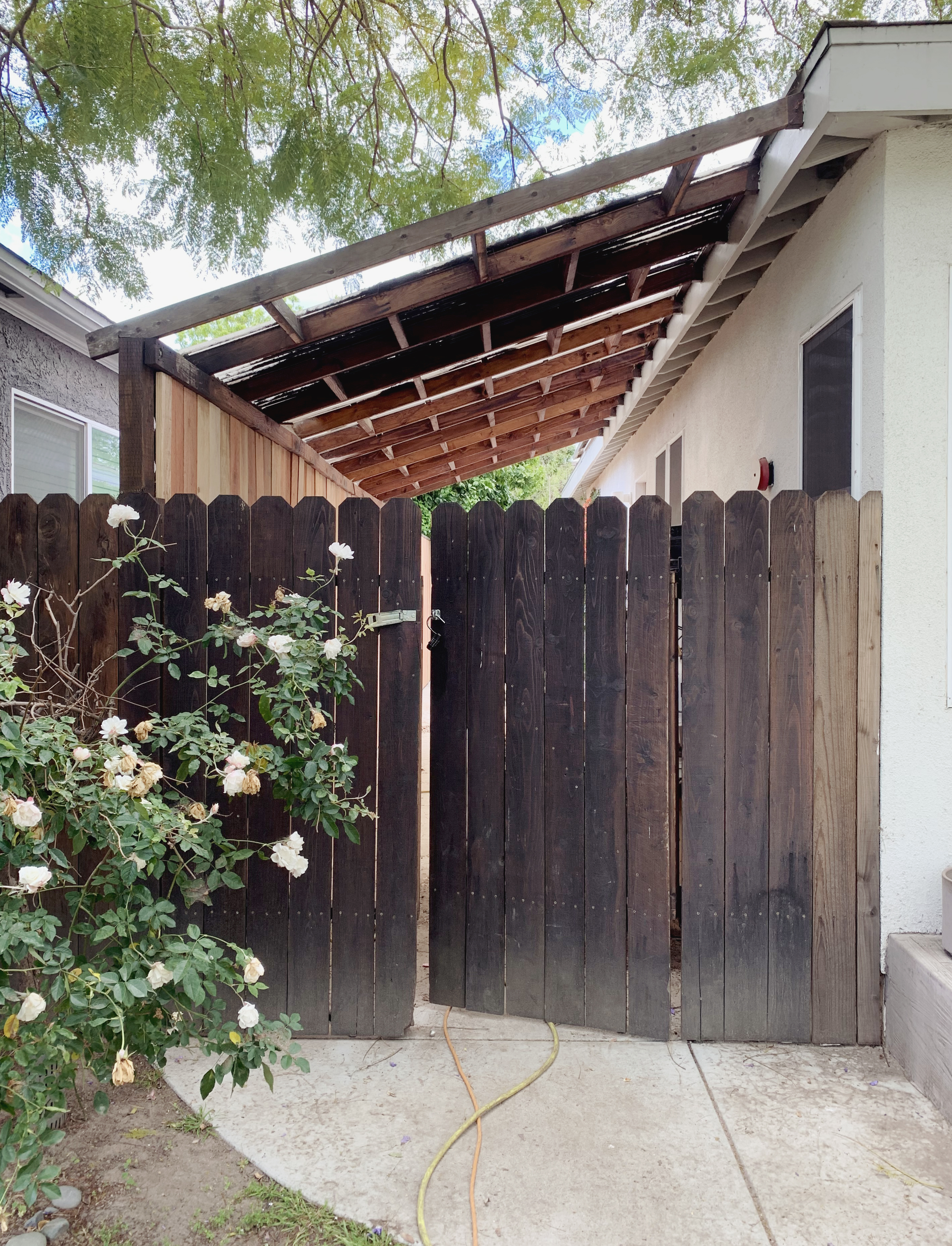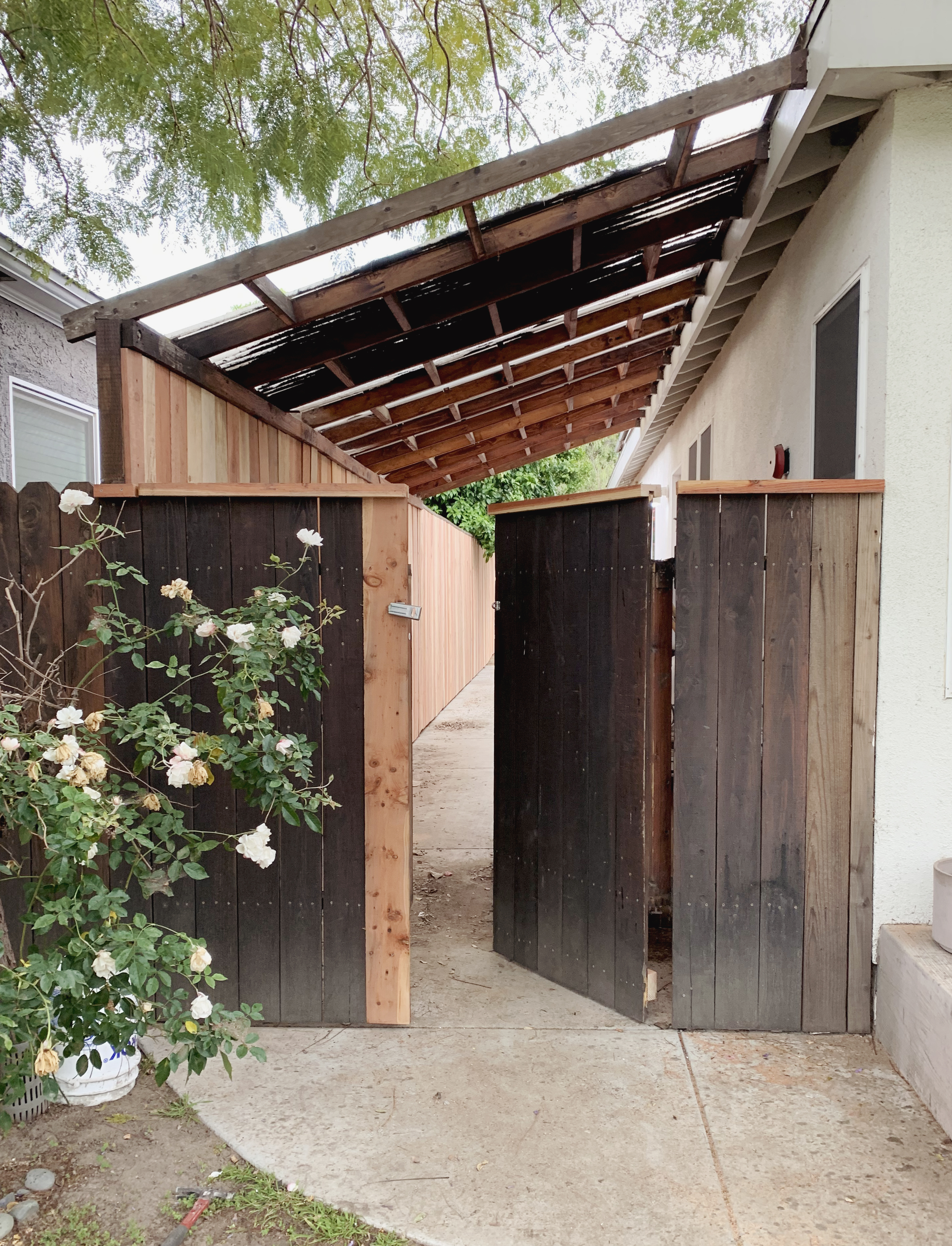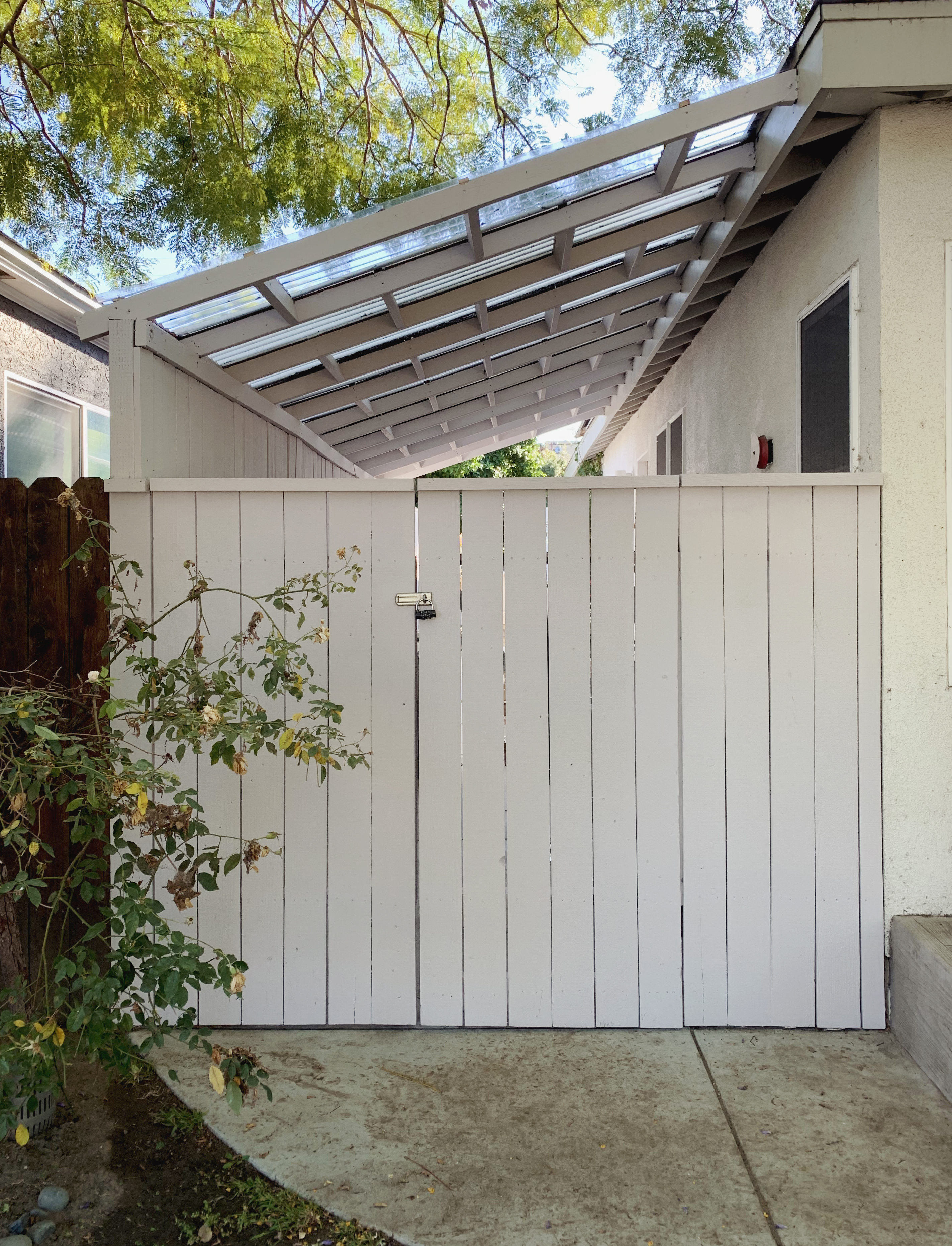 the lean to was really dingy looking, and when we first bought the house we planned on removing it, but it's so nice to have a covered section of our side yard for our trash bins. then i thought about replacing the cheap corrugated plastic with flat plastic to give a modern modern update, but didn't want to spend that extra money at the moment. so instead i just decided once we'd paint the overhang wood, we could clean the existing corrugated plastic and fill in that one really stupid empty part. because nothing is simple, we couldn't find the same corrugated anywhere just went with a plain clear one and hopefully over time it'll age to match the UV protected one. i definitely still would like to replace the plastic altogether in the future and make this look a lot better, but for now it's a giant improvement!
we originally thought about totally replacing the side gate because it didn't actually function that well at all, but the fencing company was able to fix it up a little. they sanded down the back parts that were scraping against each other, replaced one panel and to modernize the look, i had them cut off the dog ear edges and cap off with a small trim piece to match the fence! such a MASSIVE DIFFERENCE.
also in the spirit of transparency, we got three quotes for the fence refacing– one was $7000, one was $7500 and the third was $2500. can you guess which company we went with?! always get lots of quotes!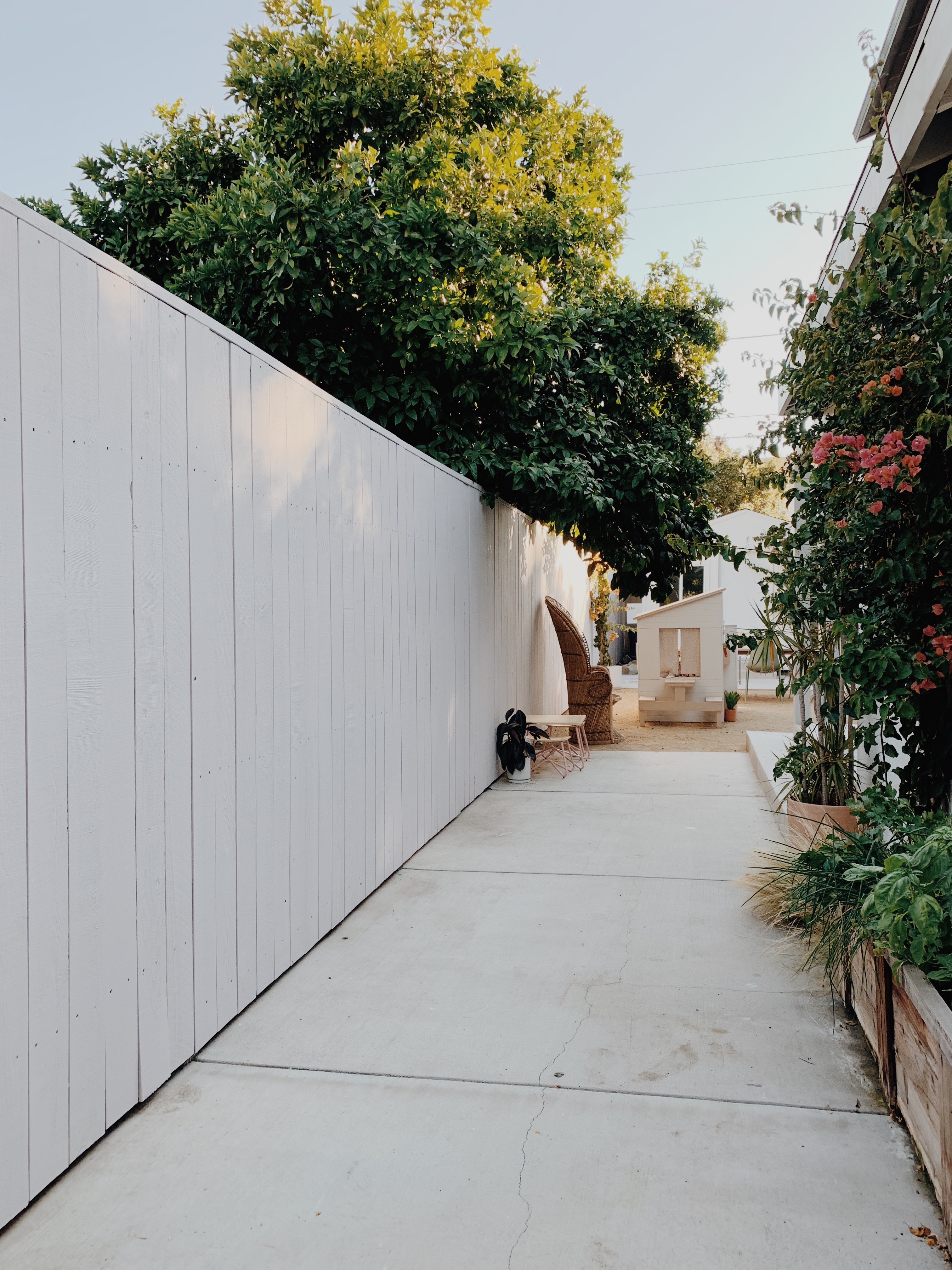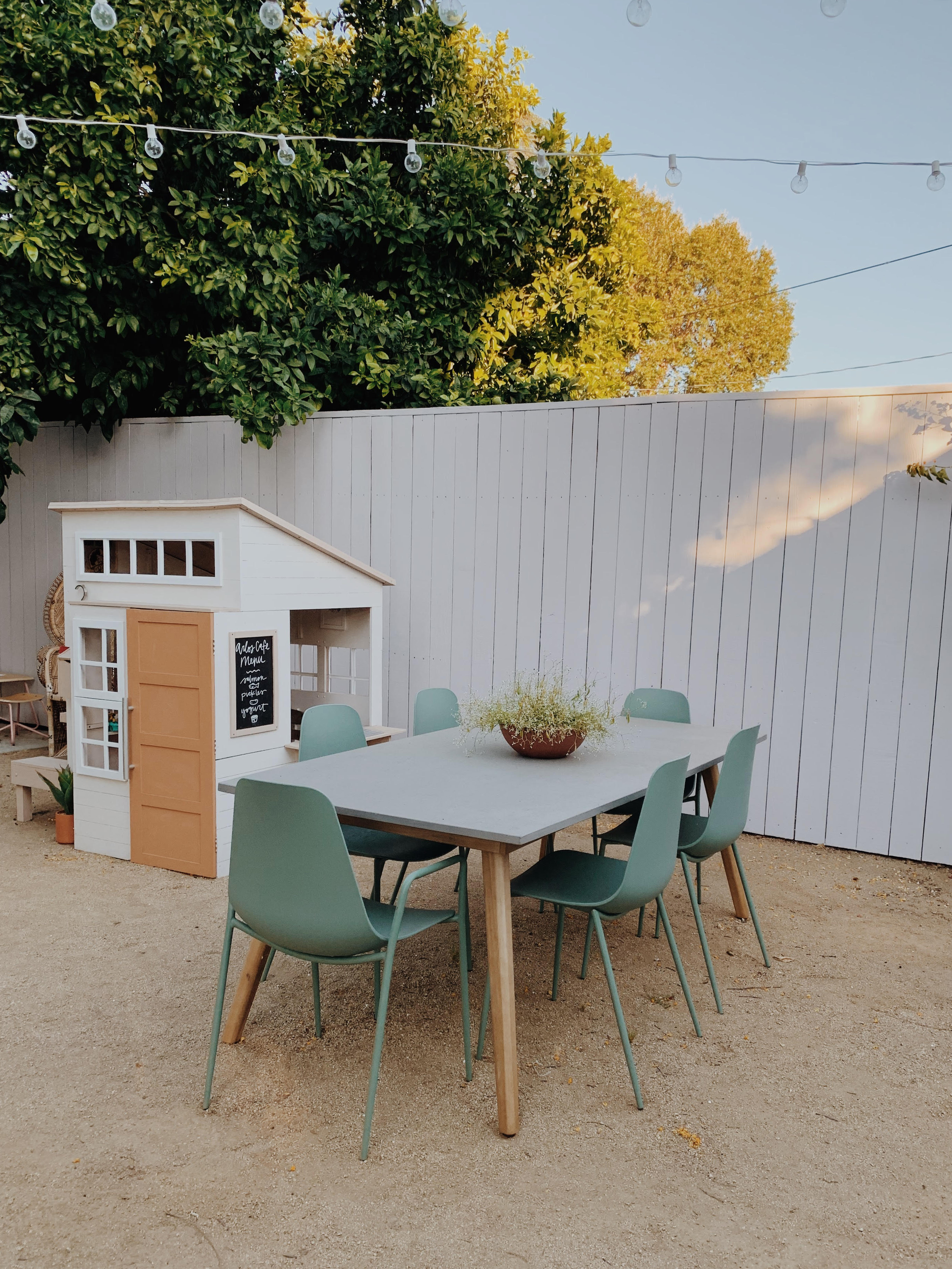 sometimes when you put house projects off for years, you get used to living with them, obviously, but once you finally just bite the bullet and do it — you're like WHY DID I WAIT TO DO THAT?! a lot of people wrote me not even realizing that you could reface an existing fence,  if there is something in your house driving you crazy– it might be a smaller expense to fix than you think! and it's made the biggest difference, not only while sitting outside but from our kitchen and bedroom windows too.
and stay tuned because i'm going to share our updated backyard tomorrow!