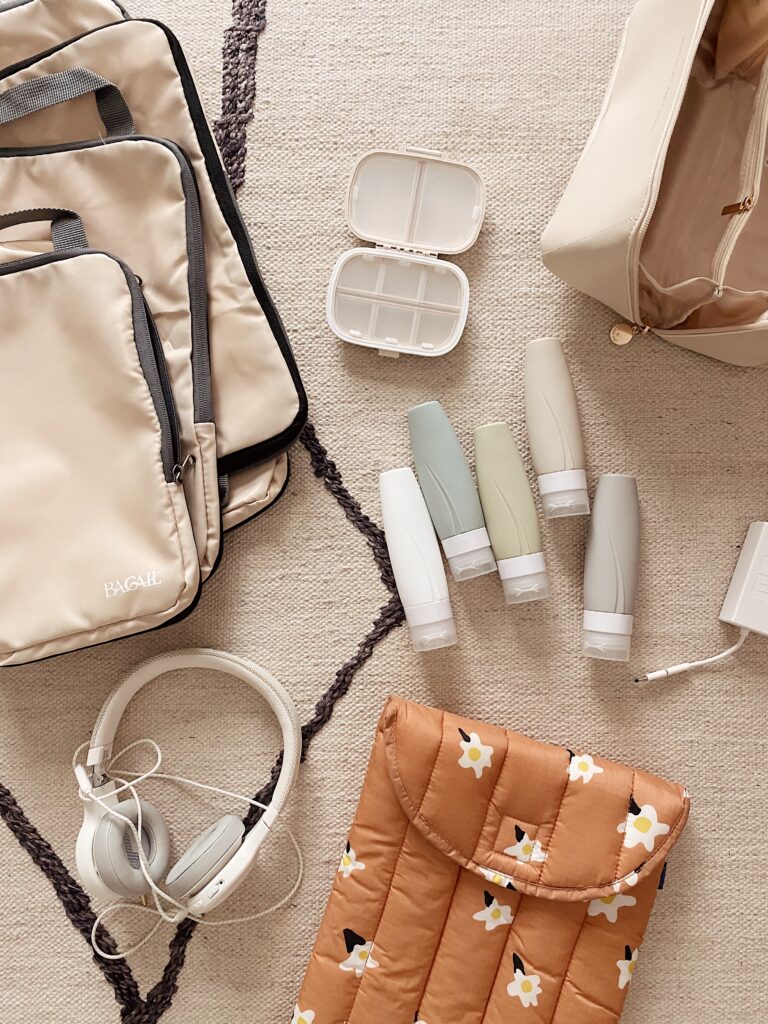 even though we're not huge travelers, i have my system and i have a shelf in my closet devoted to things ready to go. i always keep my travel pouches packed so i don't need to repack them every time, and on the shelf i keep the rest of my travel items, my headphones, a neck pillow, books i won't read and a large cashmere blanket thing i always bring with me for feeling cozier on chilly flights
has been crucial for us to spot our bags from across the carousel!
i always use packing cubes and have found they make traveling with kids way easier too, because i can easily unpack and repack clothes by just keeping them in their cubes in a dresser. this year i got compression cubes because i am a notorious over-packer and i think these might help!
i love this spray for my hair, i use it as a dry shampoo but it also works for styling and just makes my non-washed hair smell and feel so much better.
it plugs right into any house or hotel tv and then i have all my streaming apps ready to watch! cannot travel without it. i keep this packed in a pouch ready to go and i keep a box of batteries in the pouch just in case (also i take the batteries out of the remote when i'm not on a trip!)
we usually use a roku but i bought a chromecast for our second one (because yes now we need two in case we want one in our bedroom and one in the living room lol)
these ones are so chic too!
so much easier than packing a bunch of different medications.
i was using wipes forever, but spray is so convenient!
once you start using ones like this, you can't go back to limited access lol. it's so nice to be able to sprawl your stuff out!
i love this charger because i don't need to worry about bringing a single cord. they're all built in to the one piece and you just plug it right into the wall to charge it.
i got this as a gift years ago and i still bring it with me all the time. it's a giant cozy cashmere scarf that i can wrap around myself and use as a blanket, but it rolls up small enough that i can fit it in my carry on.