california coast road trip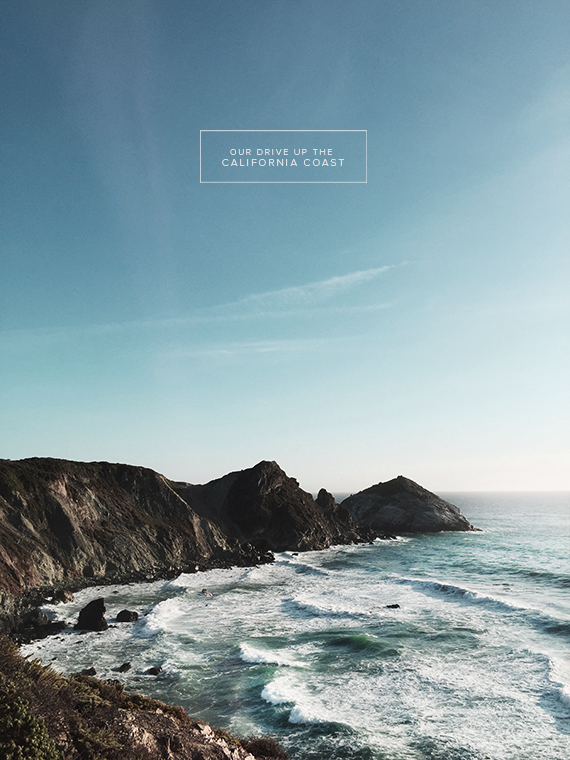 if you follow me on instagram, then you already know a few weeks ago i drove up north to my brothers wedding. gideon couldn't go, so i went with my dad and stepmom and we had three full days to get from LA to the sonoma area for the wedding.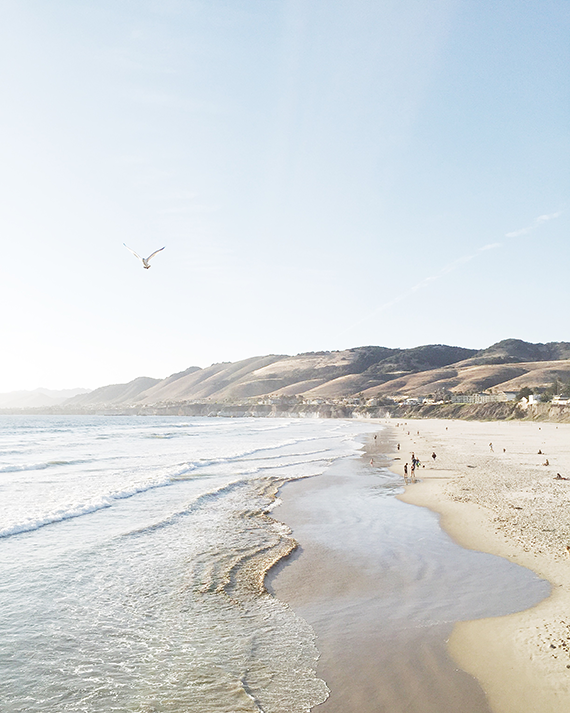 our first stop was in pismo beach — we'd been sitting in traffic for hours, so we were stoked to pull over in this cute little town and have an early dinner. we had clam chowder at splash cafe (and clam strips) and it was as good as everyone told me it would be. we then just walked around the town and down the pier a little before getting back in the car and heading to cambria.
in cambria, we stayed at the sand pebbles inn. it was cute and inexpensive, and the rooms have fireplaces and a cookie. the next morning we had our complimentary breakfast and walked down to the beach before heading to hearst castle — which was only about 10 minutes away.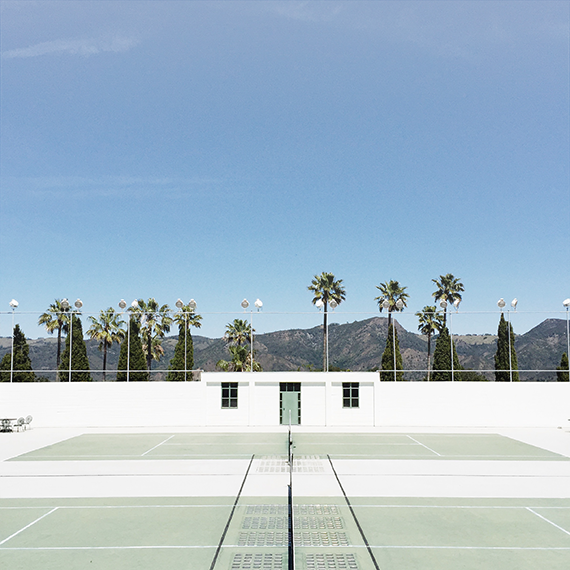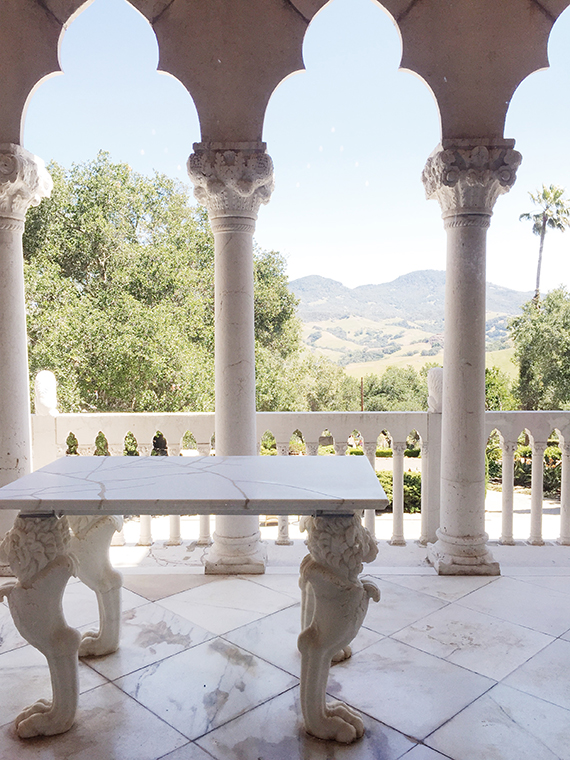 the main reason for this road trip was for hearst castle. two years ago we did a california road trip with my dad around xmas and it was booked full when we got there — so we didn't get to do any tours. after we were dragged in to seeing the movie instead, and buying my dad a photobooth photo and souvenirs from the gift shop – he still pouted for the rest of the day. so we decided we'd try again. this time we took two tours. i think you only need to do one, especially because the grounds are way more interesting than the rooms (in my opinion!)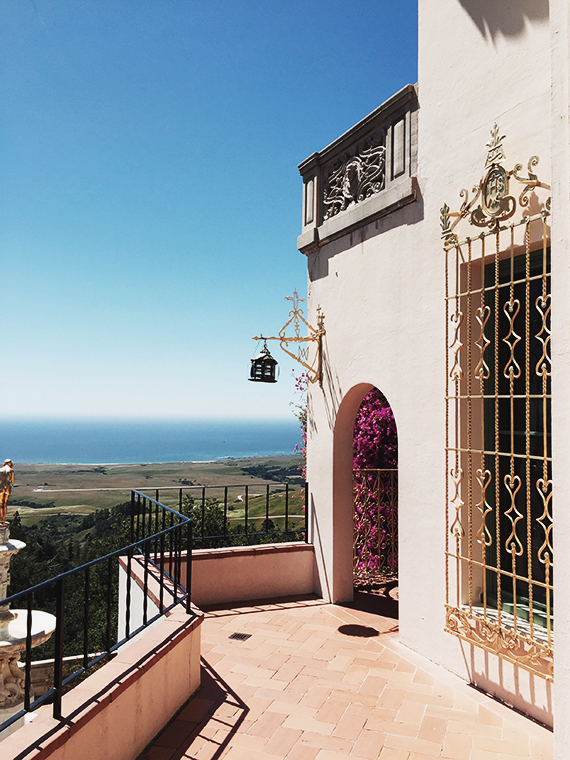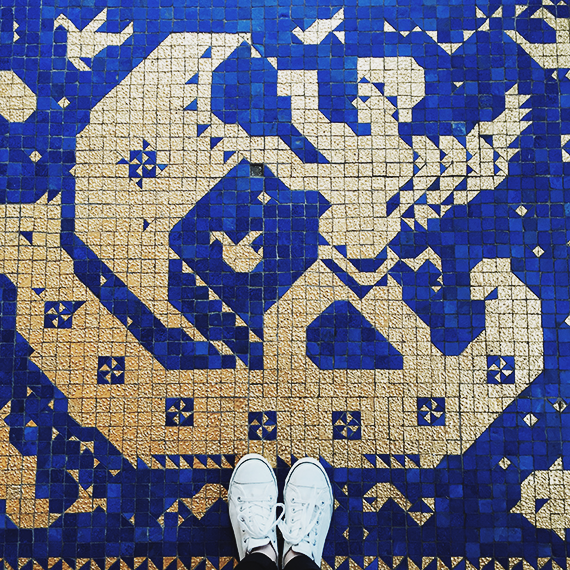 after hearst, we headed to cambria to walk around the town and have lunch. omg. cambria is so freaking cute.
we had a perfect lunch in a little garden at indigo moon, and next door i discovered maybe my favorite store of all time. it's called grow and they sell crystals and succulents and a huge array of airplants and beautiful little ceramic pots – and basically, everything i'd ever want at super reasonable prices. you have to stop here if you are nearby!
another really cute shop i spent too much money at was home arts. tons of gifts and home decor, and everything arranged in cute little sections.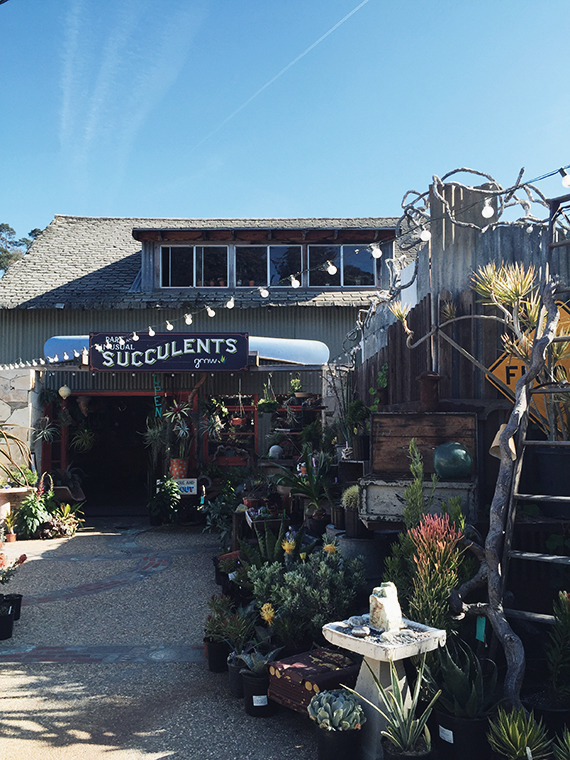 we got back in the car once again, and headed to big sur. this place has been on my bucket list for so long, and it's as breathtaking everywhere you look as they say it is.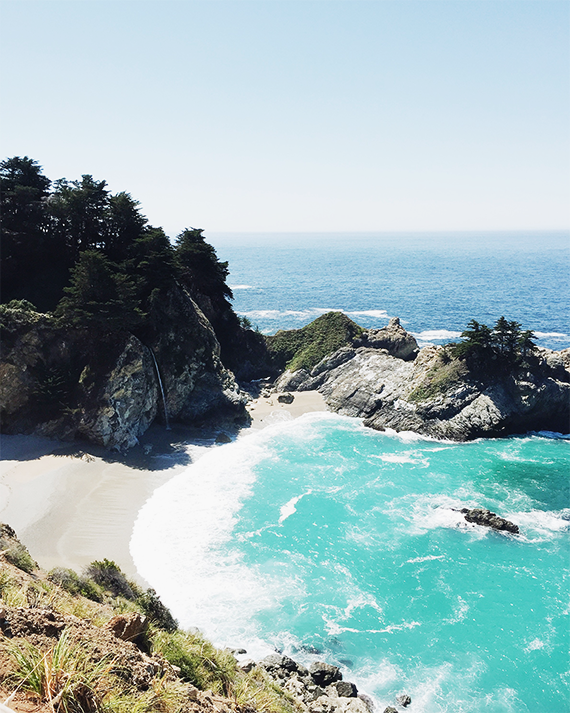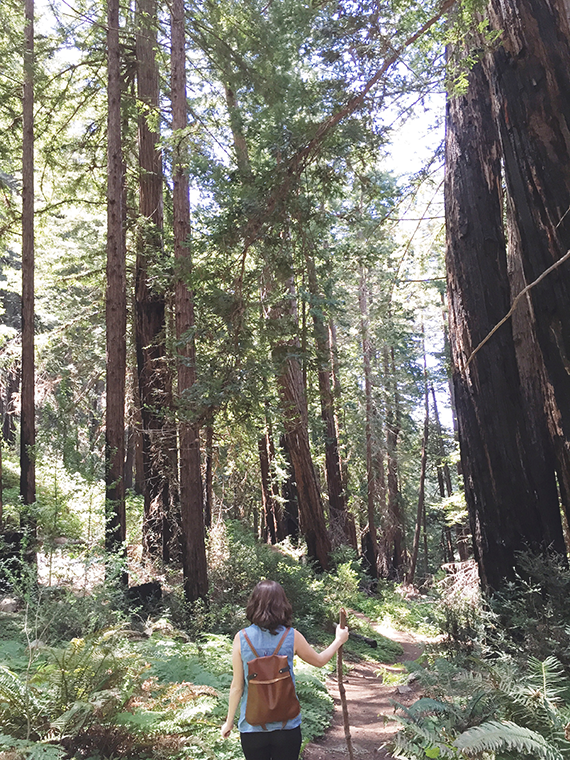 we stayed at glen oaks big sur for two nights so that we could take a full day to explore big sur. the hotel is by no means cheap (although nothing in big sur is) and they don't have TVs, which is a total bummer for someone who doesn't have cable at home and LOVES hotels because there is cable there usually. but it's a really cute place. and they let me print like a dozen copies of my best man toast trying to perfect the font size.
we headed to julia pfeiffer state park to see the real life screensaver, mcway falls. it was incredible. i didn't want to leave, i just wanted to stay for 5 hours taking photos. and because gid didn't get to go, i'm coming back here and i'm staying till the sun sets. on the other side of the park was this huge forrest, which if you live in LA – is very peak. we walked along the trails and saw a waterfall. my dad found a walking stick which we alternated using. (ps my backpack is from equal uprise)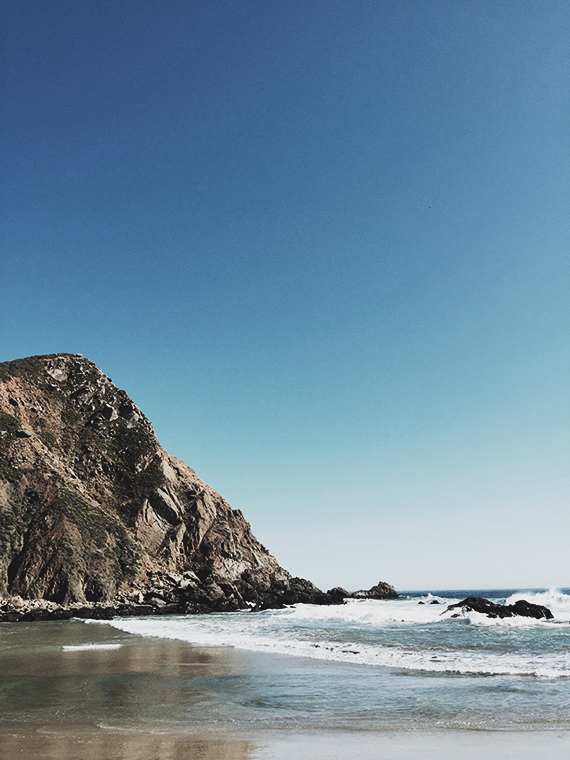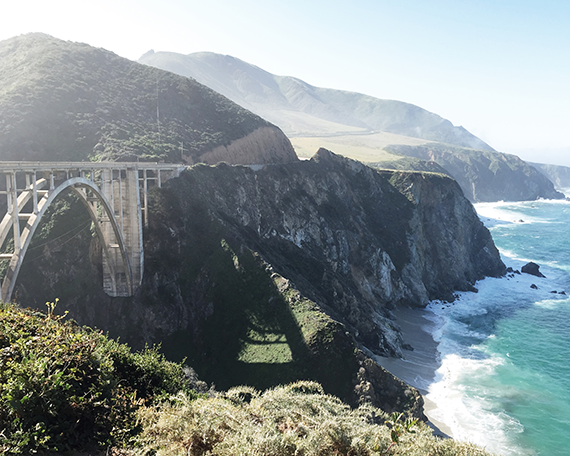 then we went to pfeiffer beach (which is not the same place as julia pfeiffer) and walked around, looking at shells and rock sculptures and the purple sand.
the last picturesque sight we saw was bixby bridge, which you can actually just stop to see on your way out of big sur if you're going north. it's stunning, all of big sur is stunning. it's almost overwhelmingly stunning.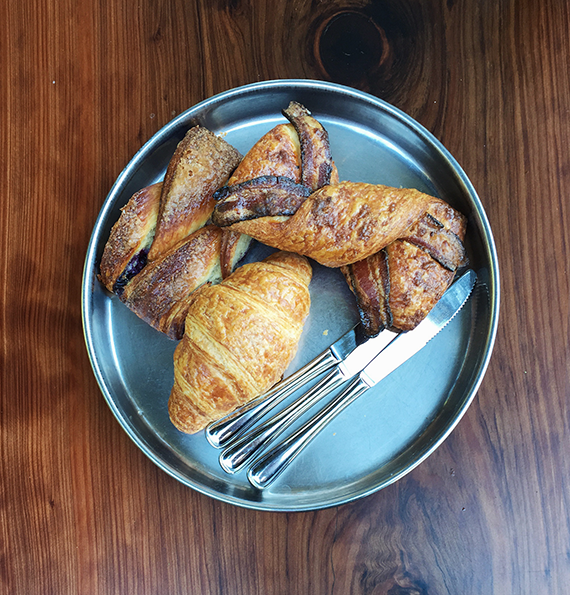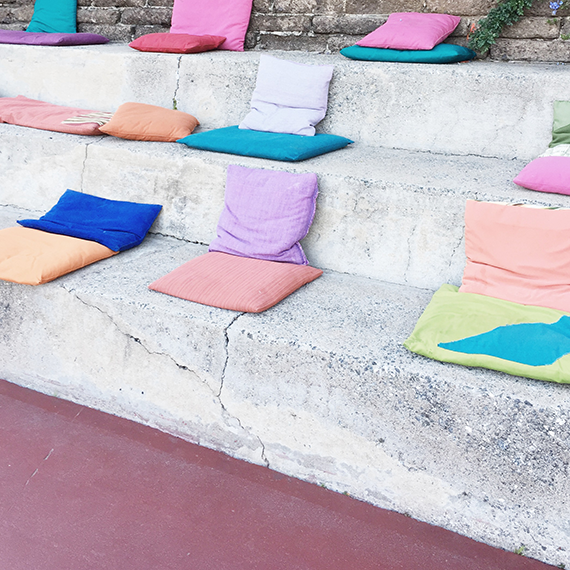 as for food + shops…
BIG SUR BAKERY i recommend it more for breakfast than dinner. dinner was expensive and had a limited menu, but the breakfast was INSANE. the staff is so friendly it makes you want to move in. we got the blueberry streusel, a butter croissant and a bacon bowtie. every item was so amazing, we came back the next day and ordered the same exact thing.
NEPENTHE you have to at least go have some wine here, but this is the restaurant with the 360 view of the coastline. we had dinner at sunset and i really enjoyed my beet salad.
CAFE KEVAH we had lunch below nepenthe here, which is another tiny menu. but the view is dope.
BIG SUR TAPHOUSE we had wine here and it is such a cute tiny place. we were mad at ourselves for not eating from their bar menu for dinner instead of big sur bakery.
BIG SUR ROAD HOUSE another place we were kicking ourselves for not eating and just having coffee, this is owned by our hotel and is sooo cute.
PHOENIX SHOP below nepenthe, this store is chock full of cute gift items.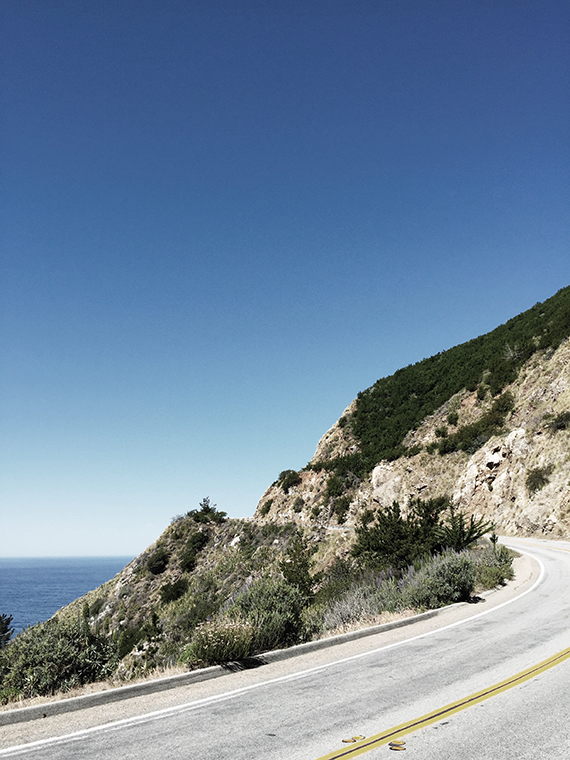 we then headed north to sonoma for the wedding, and i flew home on sunday. i'm definitely doing it again, and hoping next time we can go waaaay north.