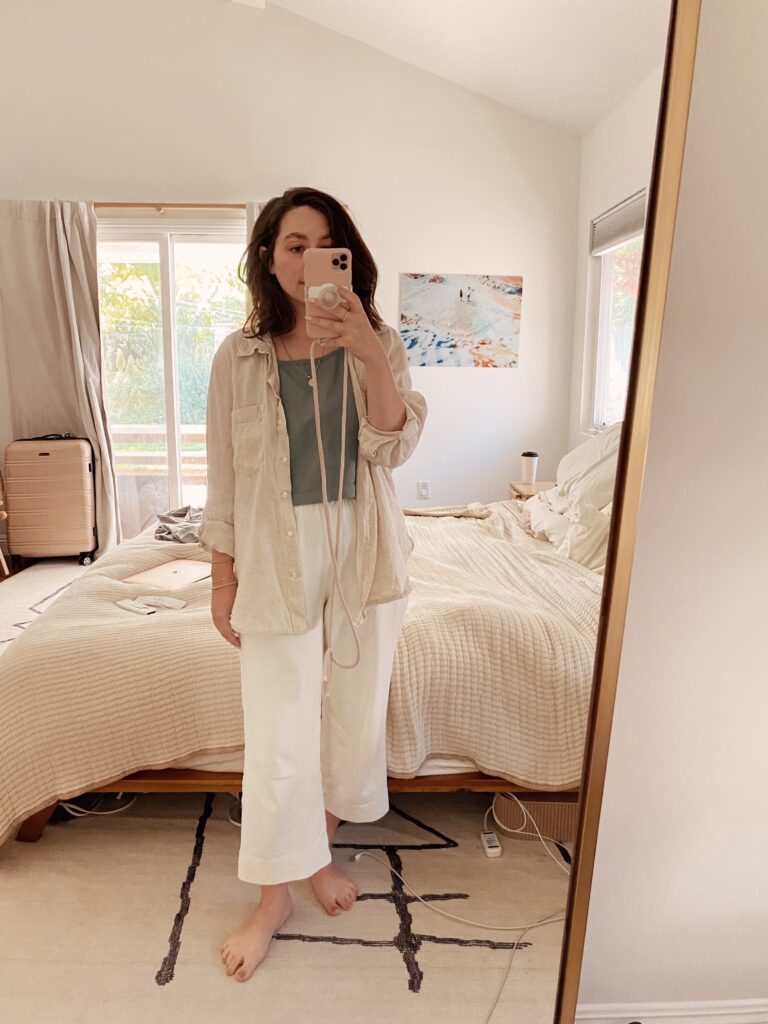 watching : succession (better late than never! we're on s3 now)

eating: tried a new salmon recipe by molly baz – i liked a lot! (the boys like the way i usually do it though)
wearing: this new linen shirt is gonna be my go-to layer this summer (i sized up for a boxier fit)

i've been wanting to write little personal updates when i can here and i never have, so why not start now?! having the blog redesigned has given me a newfound passion for the blog after all.
this week we're heading off to martha's vineyard for our annual trip, it's such a schlep to get there from la but once we're there i'm always so happy. and then i'm depressed because i never want to come home and constantly questioning why i don't LIVE in my happy place!!?
since we started bringing arlo there, i've been feeling like the trip goes by way too quickly, it takes a couple days to actually settle in, plus 1 day of travel (we take a ferry to get there) on each side, so really it's 5 days! so i decided last year we were staying for a second week, especially if we were bringing a baby this year, and we're actually doing it this year! so we'll stay for one week with poppy + family in a house (with a pool!), and the week after we're moving just the four of us to a sweet cottage on the other side of the island. i am so excited.
and because this is our first time traveling with two kids and i forgot how much crap you need for a baby and we'll be on a target-less-island, the trip prep this year is intense! i sent like 8 boxes straight to poppys of stuff like snacks, diapers, a portable high chair, a pool float for izzy that i decided to order after searching for a cute one that was under $40 for longer than i want to admit, et ceteraaaaaa.
arlo is about to be done with kindergarten which is just insane, and we're going to be celebrating his 6th birthday right when we get back from our trip!! he wants a scary shark eating a person themed pool party this year so wish me luck lol. going to try my best to not overdo it, which will be easier than usual because we're having the party at my in-laws.
and izzy is about to be 8 months old! she is sitting up, eating everything and so fun to be around. no teeth yet, very excited to see her on the beach soon, most likely trying to eat all the sand.
i will be around while on the trip, but hopefully less than usual! in a perfect very unrealistic world i'll be doing puzzles, swimming, going to the farms and then coming home and cooking elaborate dinners with all my fresh produce? i even bought a book, who thinks i'll read a chapter of it?!