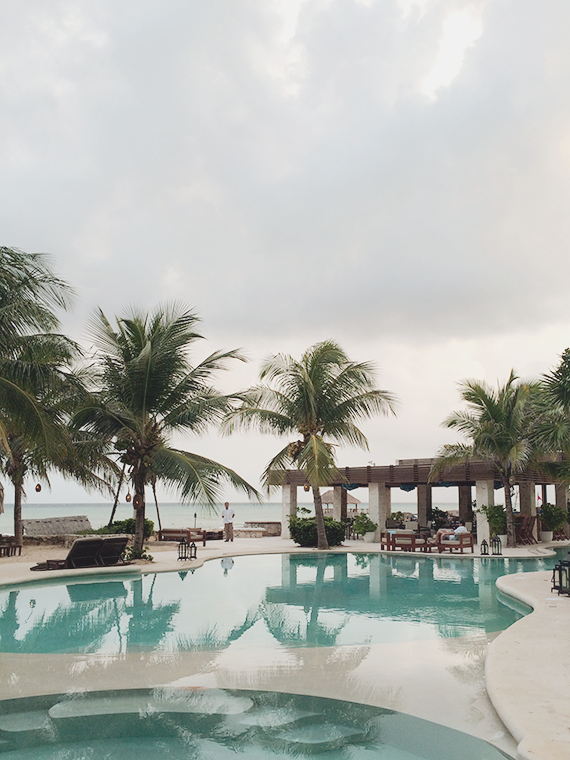 after we left tulum — and i have to be honest, i was crying as we drove away from our new honeymoon friends and our hotel, we headed past playa del carmen to the viceroy riviera maya for the last couple days of our trip.
i originally wanted to stay in tulum the whole trip, but we got a really great deal and decided the last leg of our trip would be for complete R&R since we were going going going in tulum. it was SUCH a different experience than tulum, the resort is insanely gorgeous – and they make you feel like royalty. no joke, they have "butlers" that do whatever you want. it's pretty cray.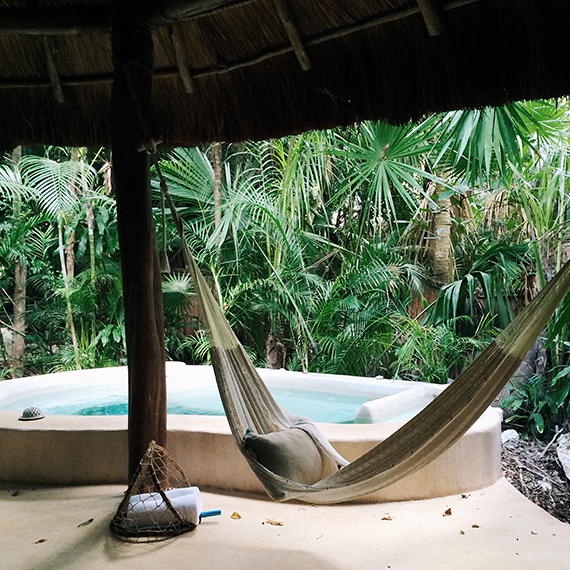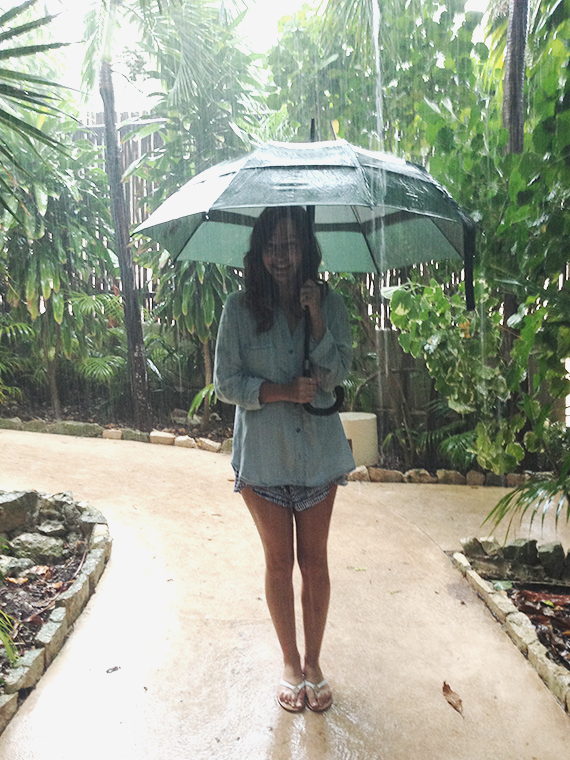 all the rooms come with their own private patios and pools – we got to our amazing room and it started raining. remember how i said it didn't rain once in tulum? so we just relaxed and ordered room service and rented DVDs from the lobby. until it kept raining and we got a few leaks in our roof, so they moved us into a new [bigger!] room.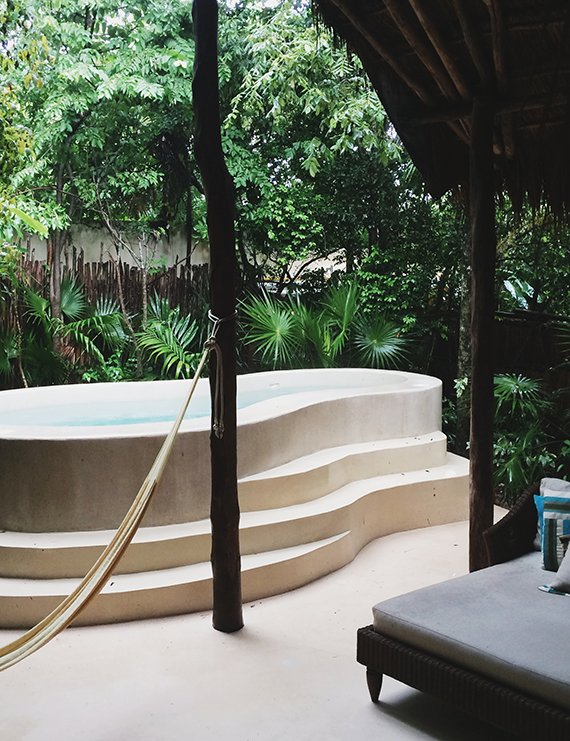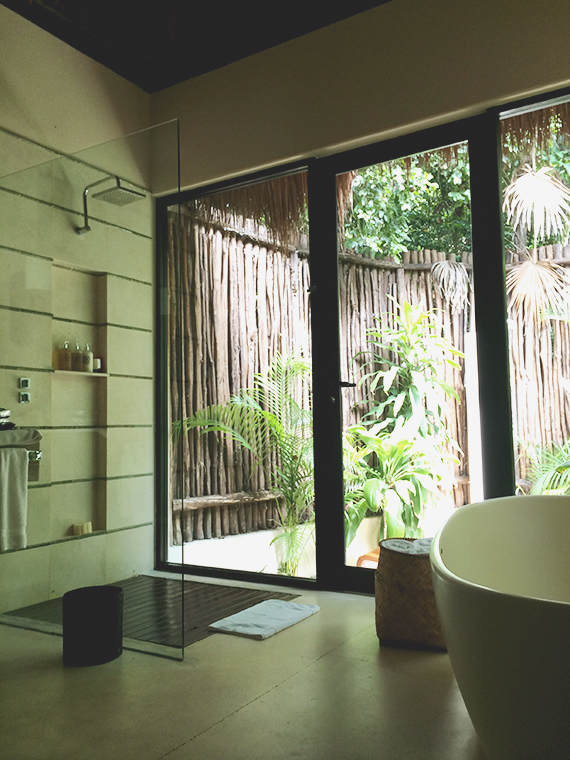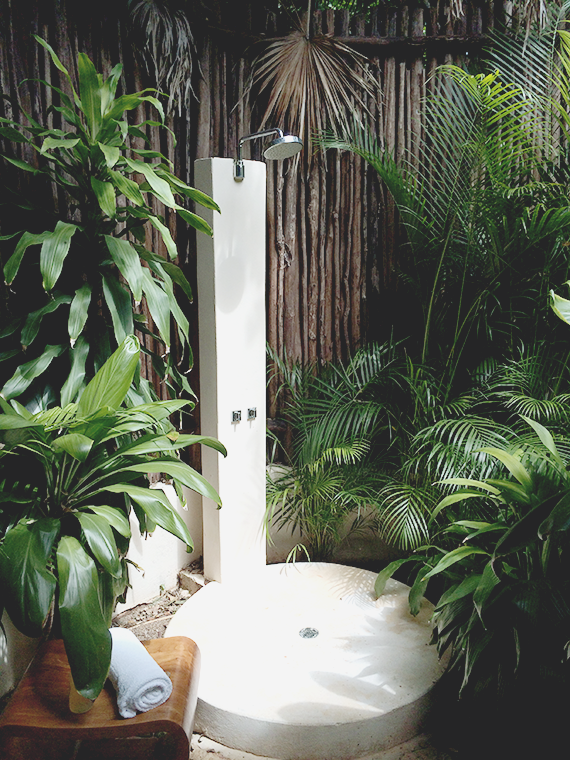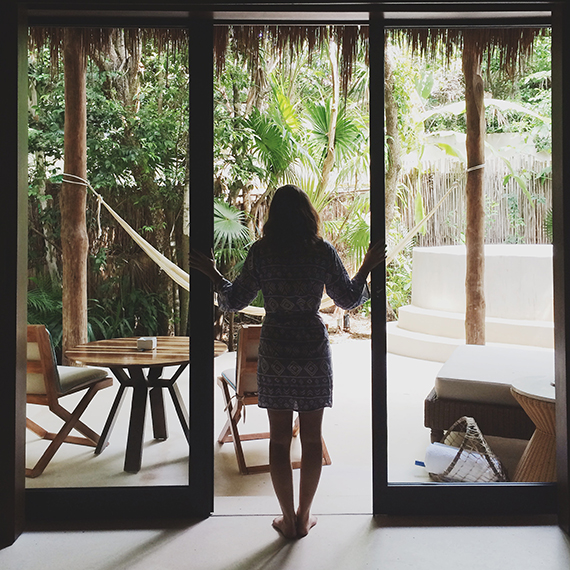 i mean. not a bad place to be camped out. like i said, this was such a different vibe than we got in tulum — it was much more resort-y and luxurious than we'd gotten used to. you could flush all the toilet paper you wanted and we got to watch NEXT in spanish. (remember that show?!)
the resort was also WAY more isolated than we'd been in tulum. we didn't really want to drive around that much, so since we had decided it would be our time to just chill — that's what we did. we mostly hung in our room for the three days we had there and drank wine and swam in our private pool. remember how i said only stay at hotels with a breakfast package? well the viceroy had the most amazing breakfast package ever. you could just order WHATEVER you wanted. like no, like you could order EVERYTHING. so that's what we did. everyday. we would stock up on breakfast like we were hibernating and then have some snacks we bought at the grocery store for the rest of the time. the food at the viceroy is amaze. but pretty expensive if you're a normal person.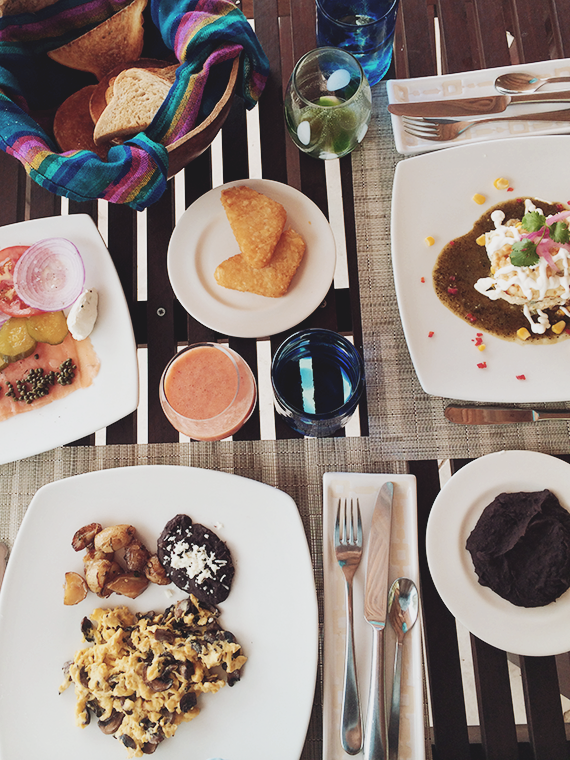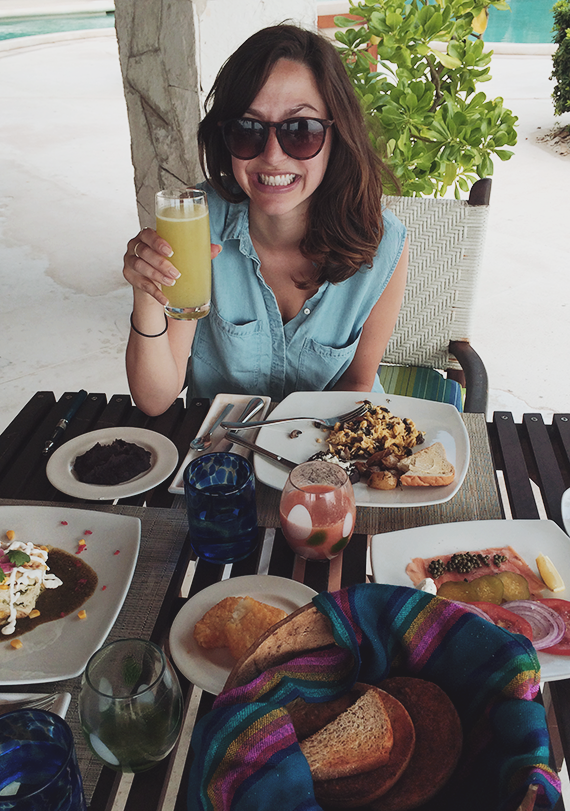 as you can see – i'm very content with our breakfast. you could also order room service which we did every other day than this.
we spent one morning on the beach drinking FREE seltzer (my dream) and collecting shells.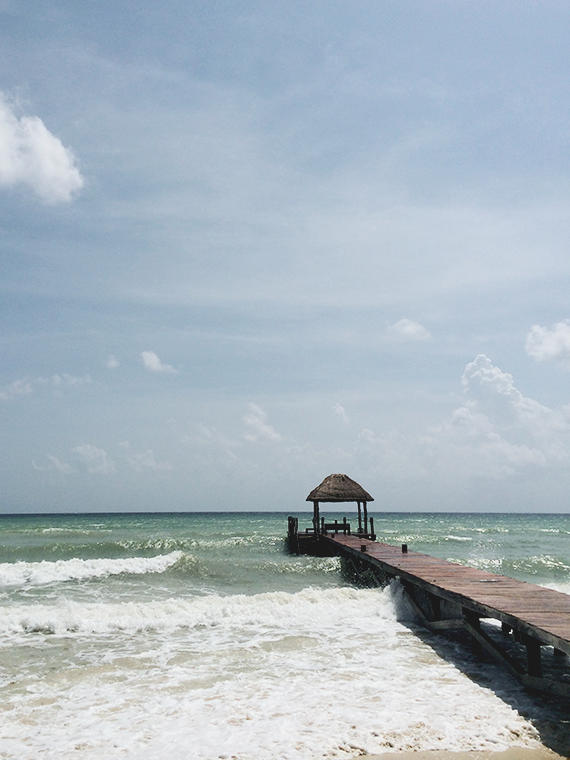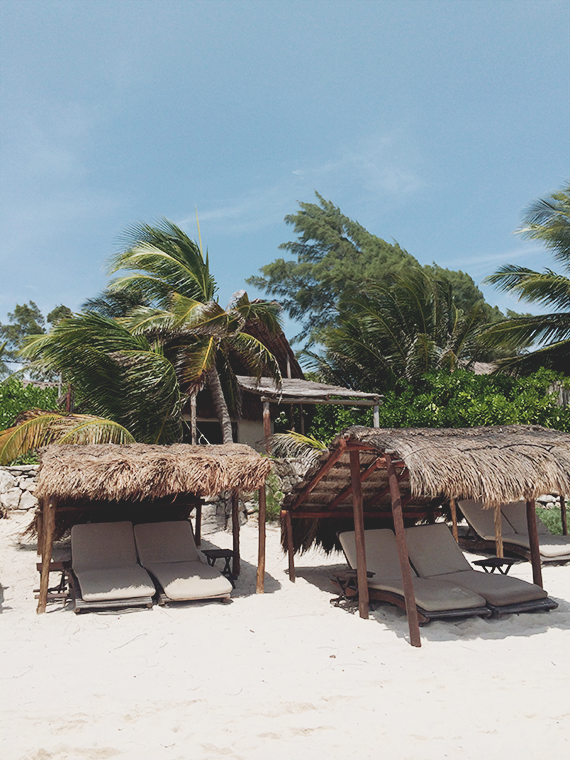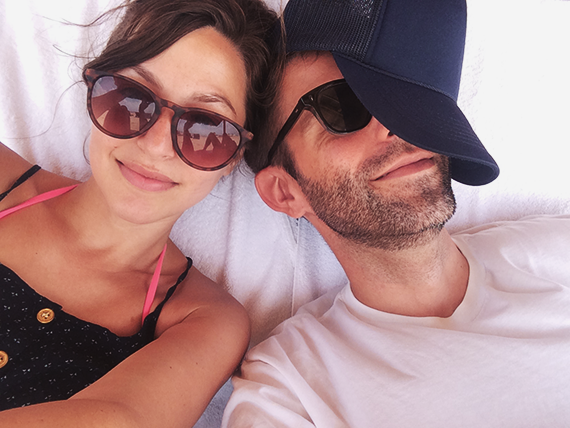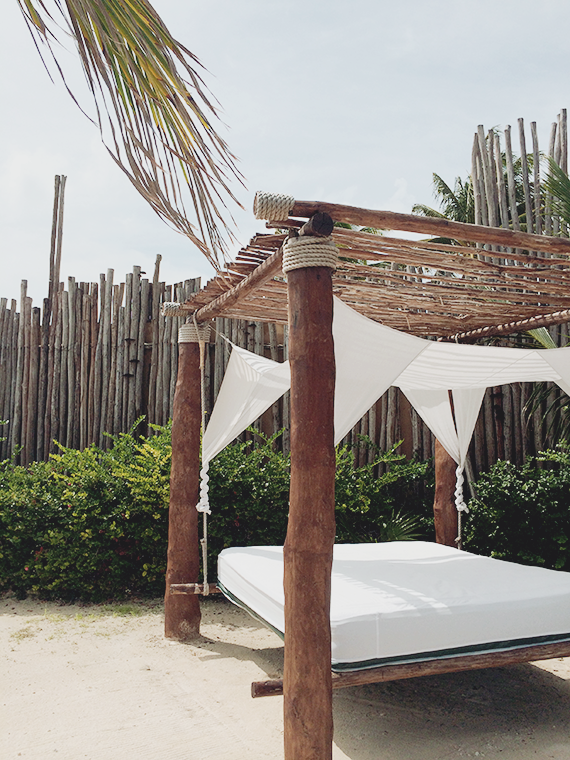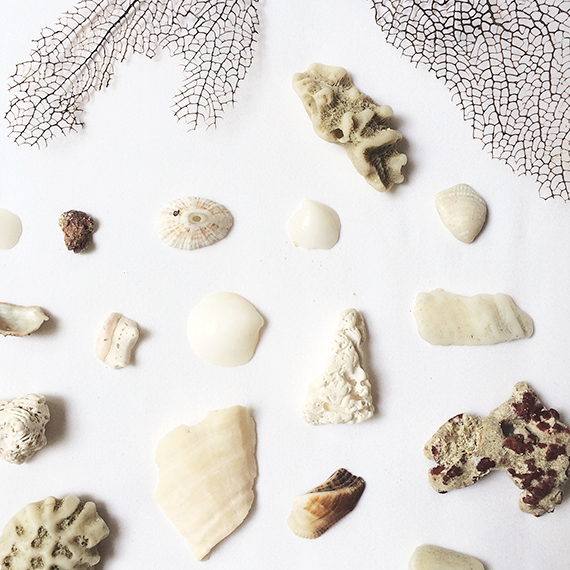 we then went on one excursion — ATVing. while i would love to recommend the company we used, i refuse to. the adventure tour center was so fun and relaxed and had snacks and photos included. this company didn't allow you to take your camera so that they could charge you an absurd amount for crap photos. we went into the most amazing cave ever and the dude took photos with a flash. because i'm a sucker, i still bought the photo DVD and complained all the way home.
it was still a really fun day though, ATVing in mexico is pretty awesome – you can do whatever you want and go as fast as you want through these crazy jungle villages. i'm a chicken so i rode on the back with gideon. during the excursion, we visited a mayan temple and had a mayan ritual to allow us to enter. it was awesome. we also swam in another cenote and visited that cave i just mentioned two seconds ago.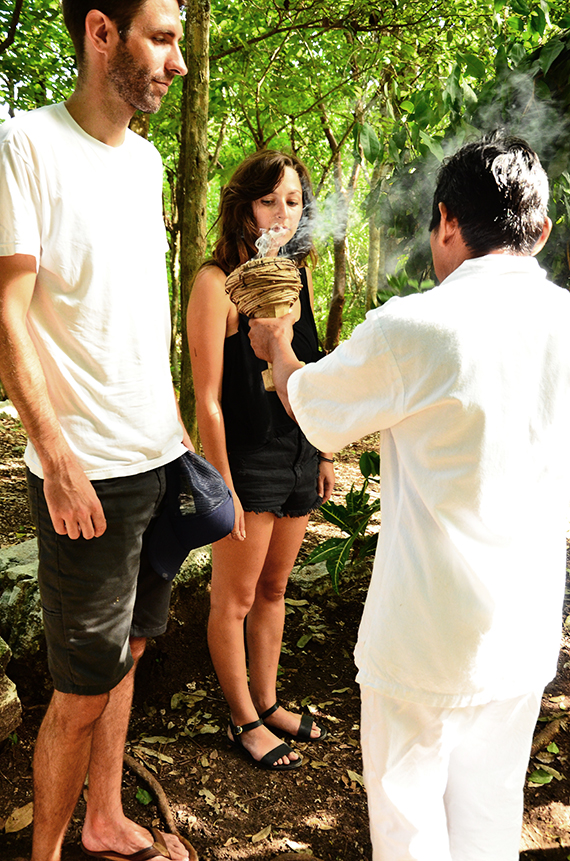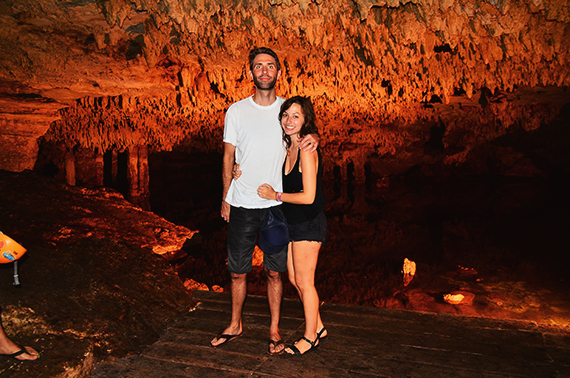 we also walked around playa del carmen, which was actually really a cute town full of shops and restaurants that i took no photos of. but i do recommend going for a day if you're nearby.
but i haven't mentioned the highlight of our stay at the viceroy. it was BY FAR – the spider monkeys. this guy was sitting right outside of our room.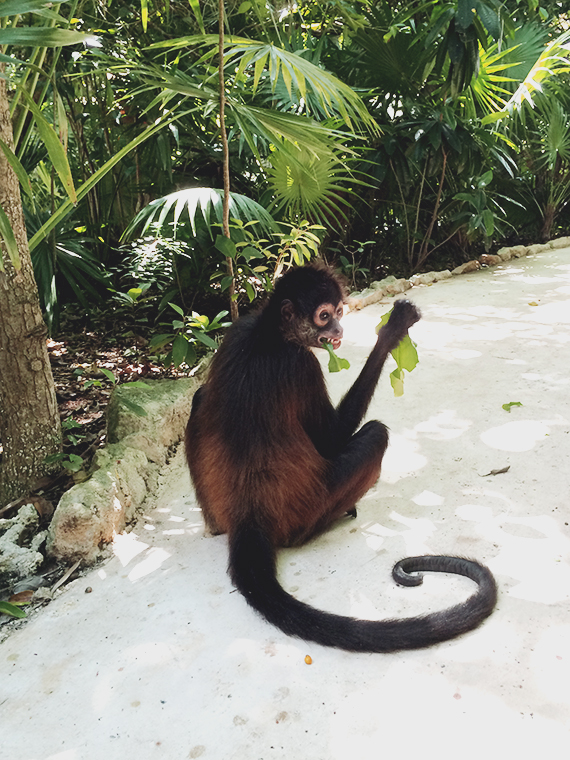 tips from OUR TRIP
like i said, this was a straight up fancy resort. if you want a more authentic trip, i suggest tulum. if you're traveling with your family and your mom prefers a TV and air conditioning – this is the type of place to stay. it's the opposite of roughing it.
also like i said, get a breakfast package! it's such a pain to have to get up and worry about your first meal, so it makes the trip a lot more relaxed when you can avoid that.
if you're staying in, stock up on wine or booze at a grocery store. the hotel has a mini fridge.
if you're here during low season, it's probably best never to be outside without liters of bug spray on and every citronella candle they have lit. i got about 25 bites on my legs during one breakfast al fresco.
prepare to eat at the resort more than you plan when you're isolated. we were day drunk so often that we never felt like venturing out.
our "butler" was incredible. (feels so weird to say that) he was so helpful and provided us everything we wanted and i really loved him. his name was homer.
while i was obsessed with tulum, i loved having our last few days here. and i loved being able to use the amazing amenities + room as an excuse to veg and try on all the lingerie from my bridal shower. this place was so private and quiet and serene. so if you're planning a two-parter trip, i think the R&R portion should definitely be at the end before you have to fly home and be super sad.