modern ikea play kitchen hack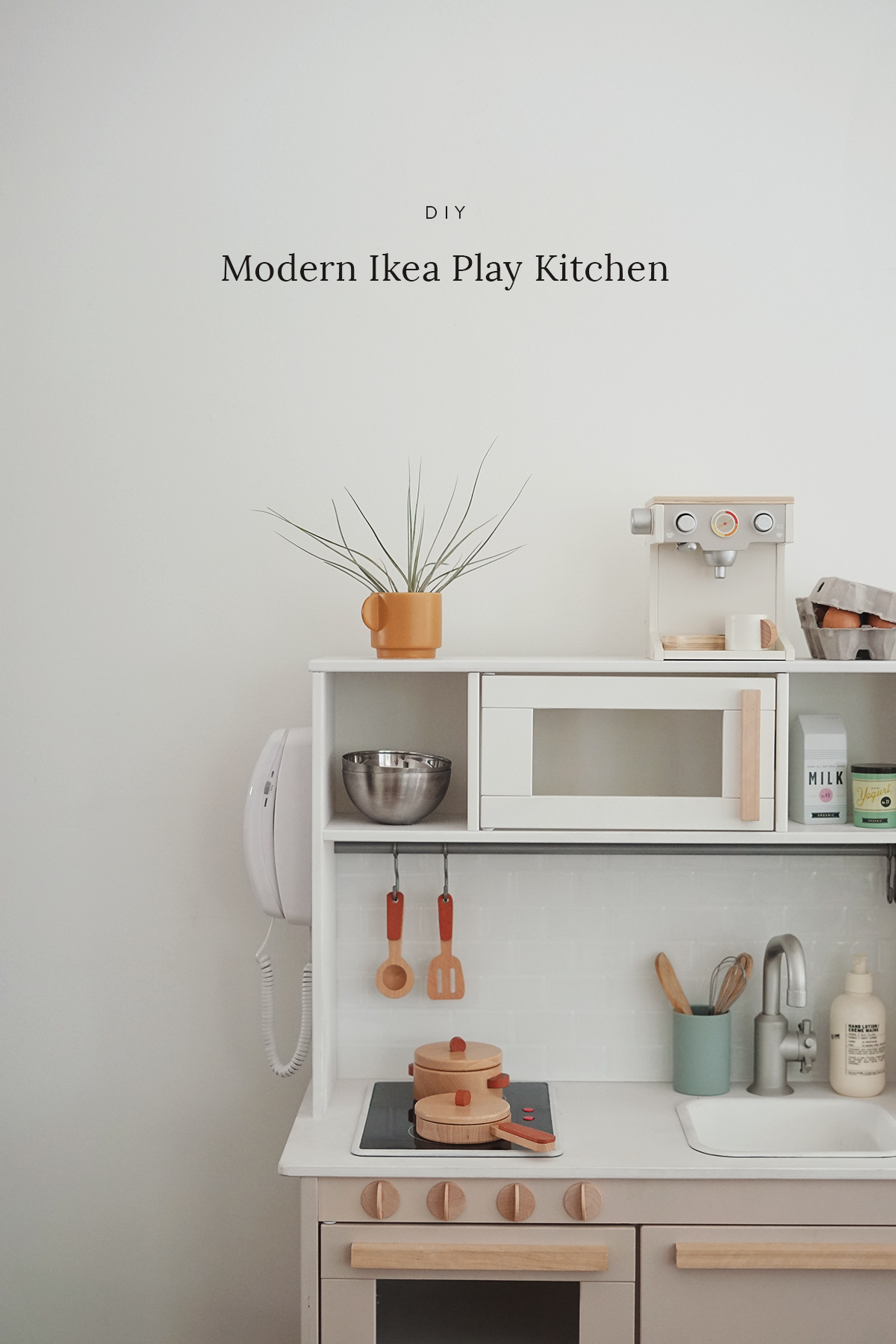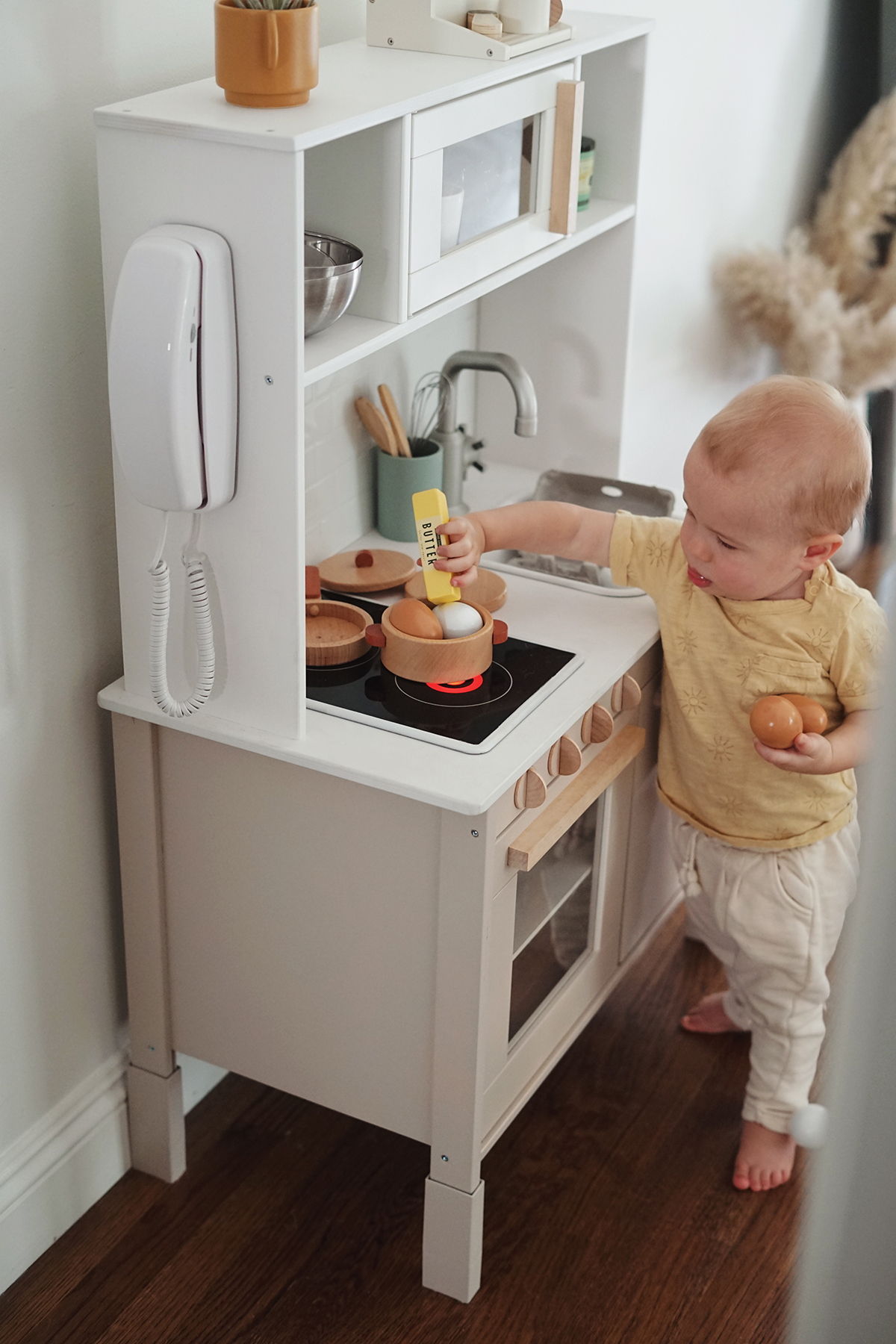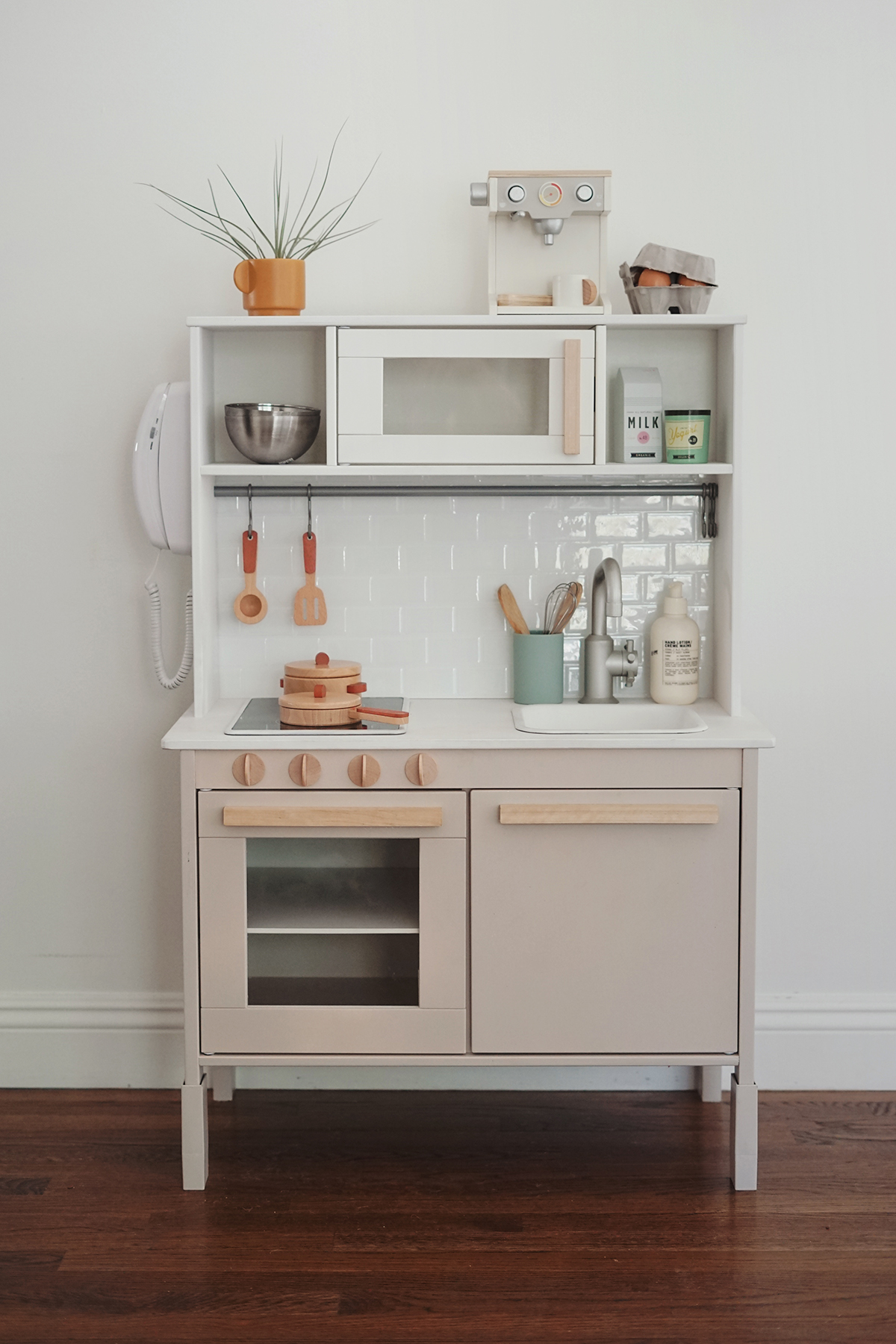 so excited to share arlo's play kitchen!! i honestly don't think i've ever been so passionate about a project. i planned to do this for his christmas present, but once it was done i decided to just let him start playing with it now because he is obsessed. just like me! there have been sooo many iterations of this ikea hack, but i've never really seen one before that was truly my arlo's style before.
when i was a kid i was obsessed with my dollhouse. my mom used leftover wallpaper and carpet samples from our house so it matched (TEARS!). my dad worked in the mall business and at his office there was a model of the mall they did next door. every friday, my dad would pick me up from school and take me out to lunch at the mall and over to his office so i could stare at the model. forever. he would just hold me up and i would just take it all in lol — so i guess i really like miniature things. and a miniature kitchen is no different apparently. the day i finished the kitchen, i pretty much just sat nearby looking at it. so normal.
anyway, i hope that since it's only early november, you'll have time to do your own for your own kid (and more importantly, you)! let's get into the details. there are A LOT. but quickly, in case you don't know what the original ikea duktig kitchen looks like, here's a before and after.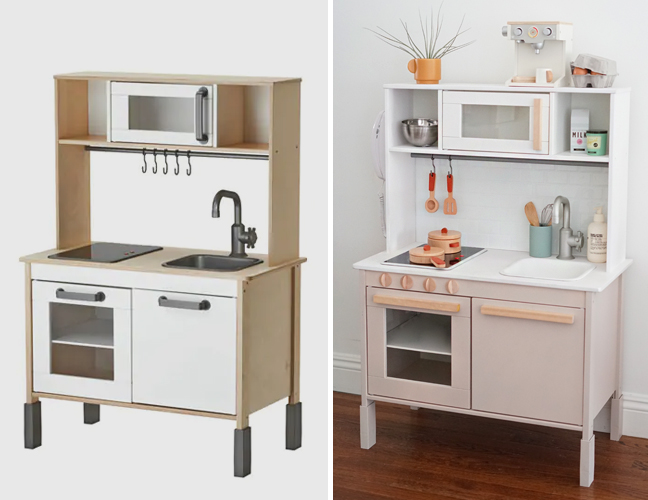 painting
i originally wanted the kitchen to match our kitchen (ala my dollhouse), but i couldn't come up with a way that didn't involve contact paper, and i didn't want to have it look crappy so soon, so we decided to do beige on bottom and white on top as sort of a nod to our kitchen. (sure why not.) painting was definitely the most trying and time consuming part of this project. first i took all the pieces out of the box and then tried to figure out what was the top and what was the bottom. once you familiarize yourself with it, it starts making sense, just keep referencing the photos of the kitchen.
i taped off all the plastic parts on the cabinets and the stovetop. i trusted that blue protective film on the stove even though it looked not that perfect up close, i added a few pieces of tape but i wish it was a little more perfect. i used a white paint pen to fix little blemishes on the stove after the fact and now that it's on there i don't notice any imperfections though. i also really made a goof and taped/painted the wrong sides of the microwave and stove. (i didn't even realize until i was done and everything was inside so i had to go and paint some more) maybe try not to do that.
i sealed everything at least twice, but with all of the plastic pieces (the sink, the stove and the faucet), i was really paranoid about the paint chipping, so i sealed them like literally a dozen times. btw, i cannot believe how many moms reached out to me on instagram saying theirs chipped and i asked if they sealed theirs and they said no. SO HOPEFULLY mine won't. i'm sure they will a bit, but the sealing for sure helps more than nothing. you guys need to seal! spray paint on plastic is just always sort of an inevitable chipping disaster. i had already clocked so much time with spraying everything outside that i just kept going until i got reaaaally over it.
even though the faucet was already silver, i got nuts and decided i wanted it to be satin nickel like our kitchen sink. so happy i did because the color is much lighter than the original and feels like it blends better with the kitchen now. i left the rod and hooks as is because those seemed like they would just chip immediately.
a lot of pieces already come white, but i wanted to paint them all so they'd match and lose the grain that was on only some of them.
there are a few pieces that will confuse you when it's unassembled. like i only realized at the last minute that the piece that goes between the stove and cabinet i wanted to paint beige, but i wanted the sides to stay white. so i taped off everything but the edge to paint. you might get tripped up a couple of times so don't rush into painting before you really get a feel of what everything is.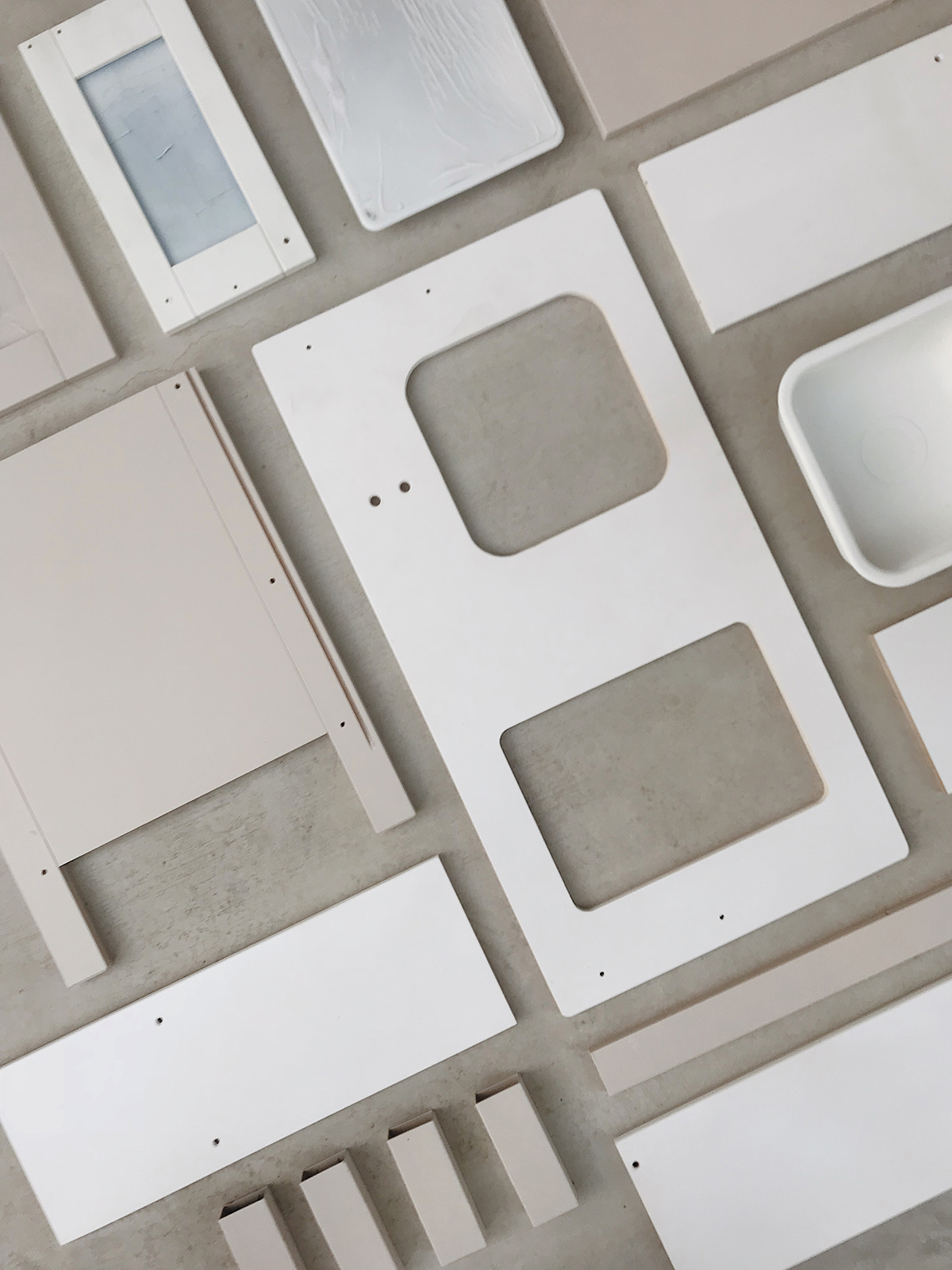 backsplash
once we assembled the kitchen, i got a really thick piece of poster board from the craft store and measured it on the back. i then cut it out and tiled it using these subway tile stickers. the backsplash was basically the last element we added and it made such a big impact. it really felt like it took it to another level!
as you can see below if you look closely, i messed up on the tiling quite a few times and i was getting really mad at myself, but once it went up you really don't notice any of that. i added some wood glue along the edges of the kitchen, stuck the backsplash on there and then used painters tape to secure it for a day while drying.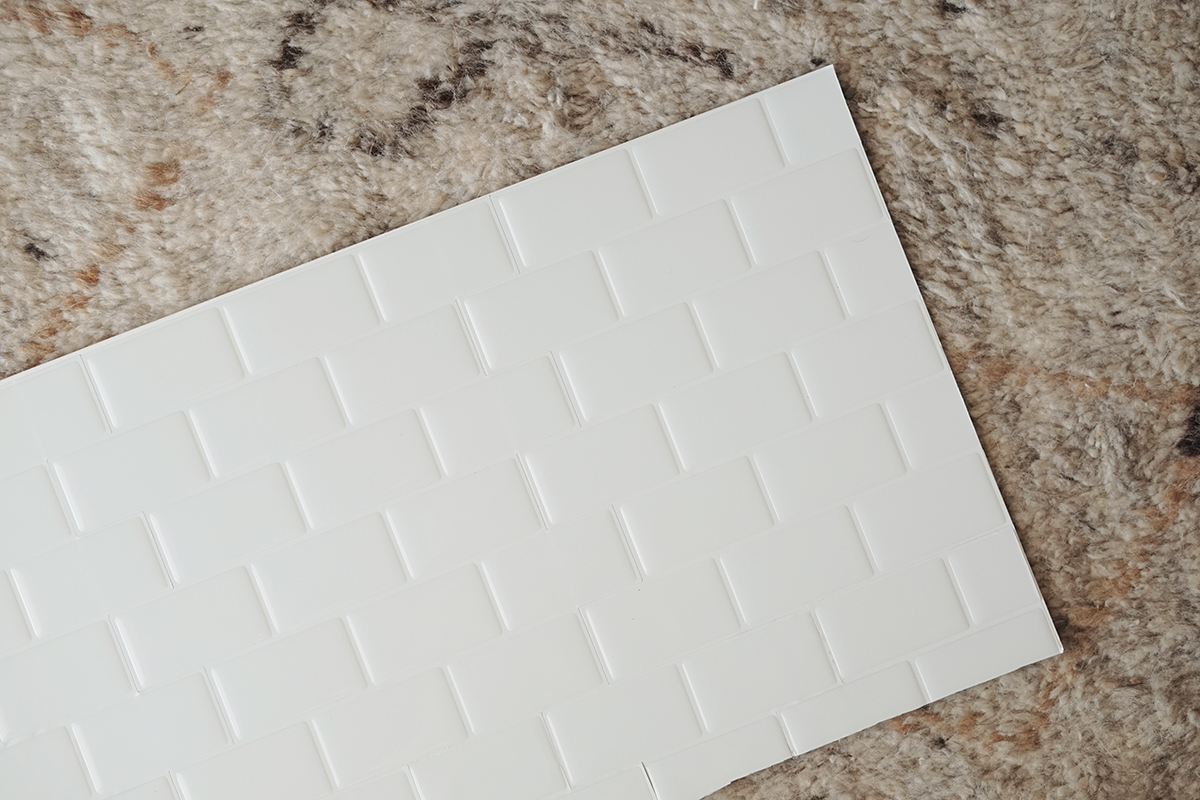 the hardware
as i said, i wanted to have the bottom be wood to match our kitchen but couldn't figure out how to do it the right way, so instead decided to do all wood hardware as like, a nod to our kitchen. i considered buying wood knobs but struggled to find anything that would look right/fit/not cost a ton. so we decided to make them! and while that sounds complicated, it couldn't be more simple.
our original plan was to use the square dowels and actually make them into pulls, but once we were about to cut everything i was scared they would protrude out too far and be dangerous/annoying. so instead, we just cut the square dowel rods (they're 3/4″) and glued them onto the cabinets directly. i would have liked to have a pull to hang a little dish towel from but i am so happy with how these turned out. i worried arlo wouldn't be able to grab them as well as an actual pull, but he hasn't struggled with it at all.
and for the adorable little wood oven knobs, i got a bag of wood rounds from the craft store and gid cut a few of them down the center, and glued the halves on! could they be cuter?!?!! we were worried that he would pull them off and break them immediately but so far so good. he barely messes with them since they don't actually function so they're basically just for me.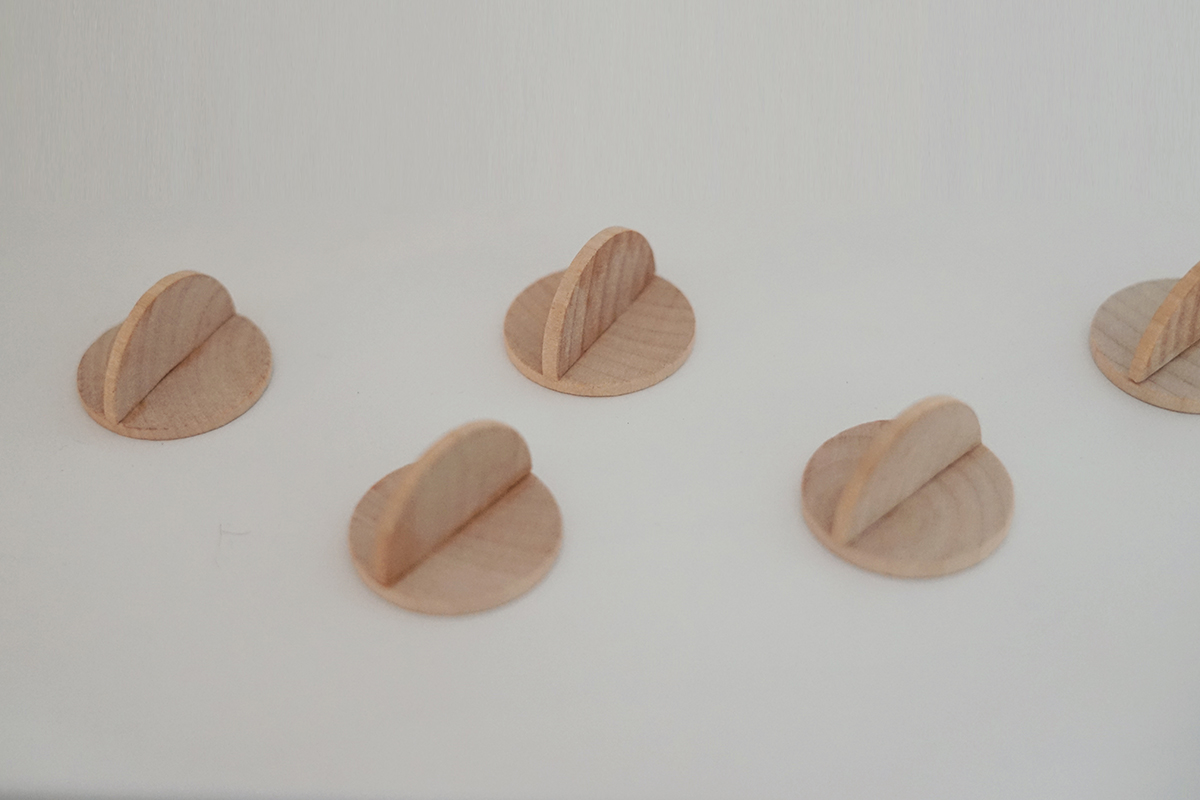 accessories
arlo loves to pretend everything is a phone, he holds up the remote and the thermometers and his shoes to his head and says "YA?!" so i knew we had to include a phone on here. plus one more place he can press buttons. (we're planning to get a shorter, safer cord for him but haven't found one that fits yet, right now he's not playing with the kitchen unattended don't worry.)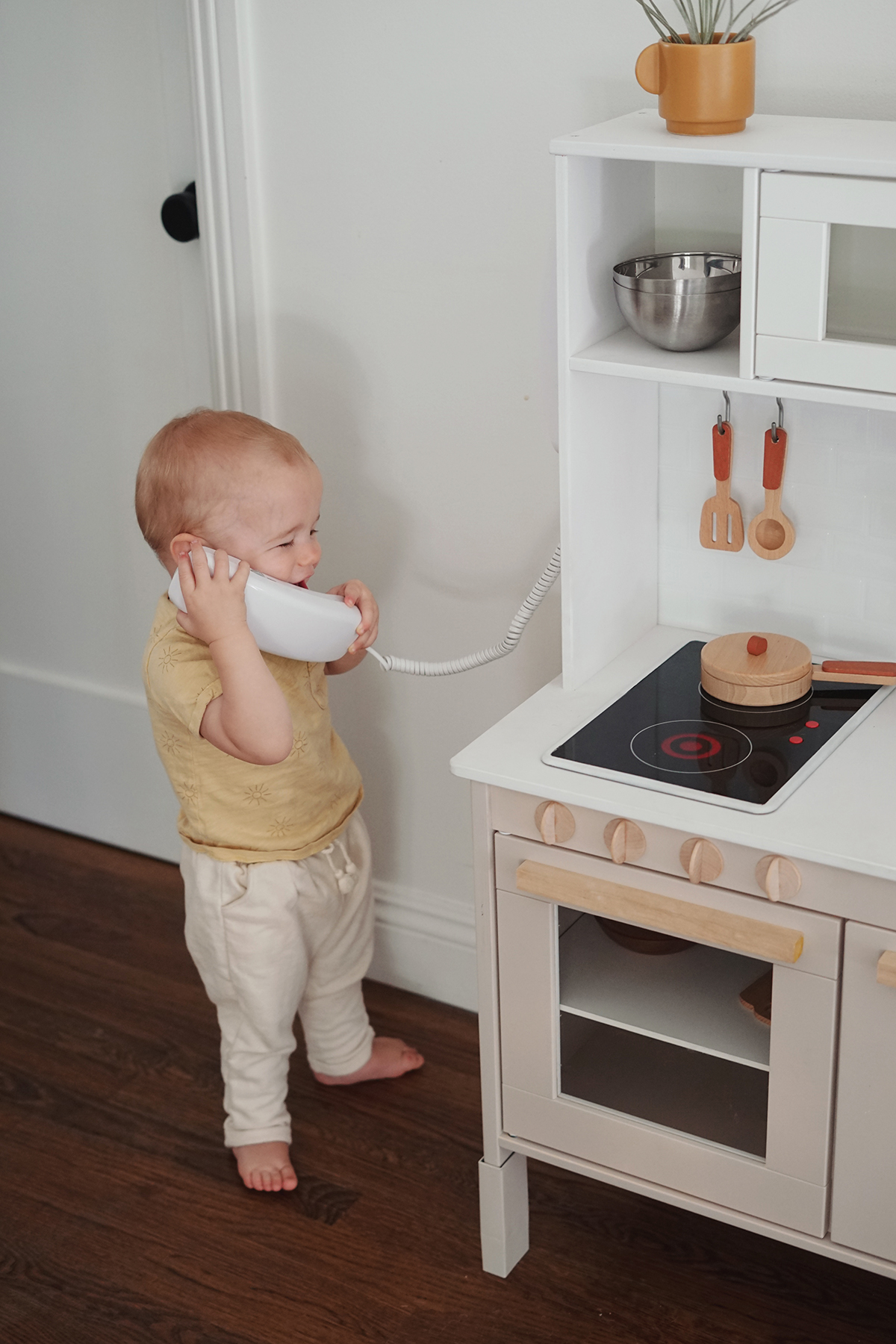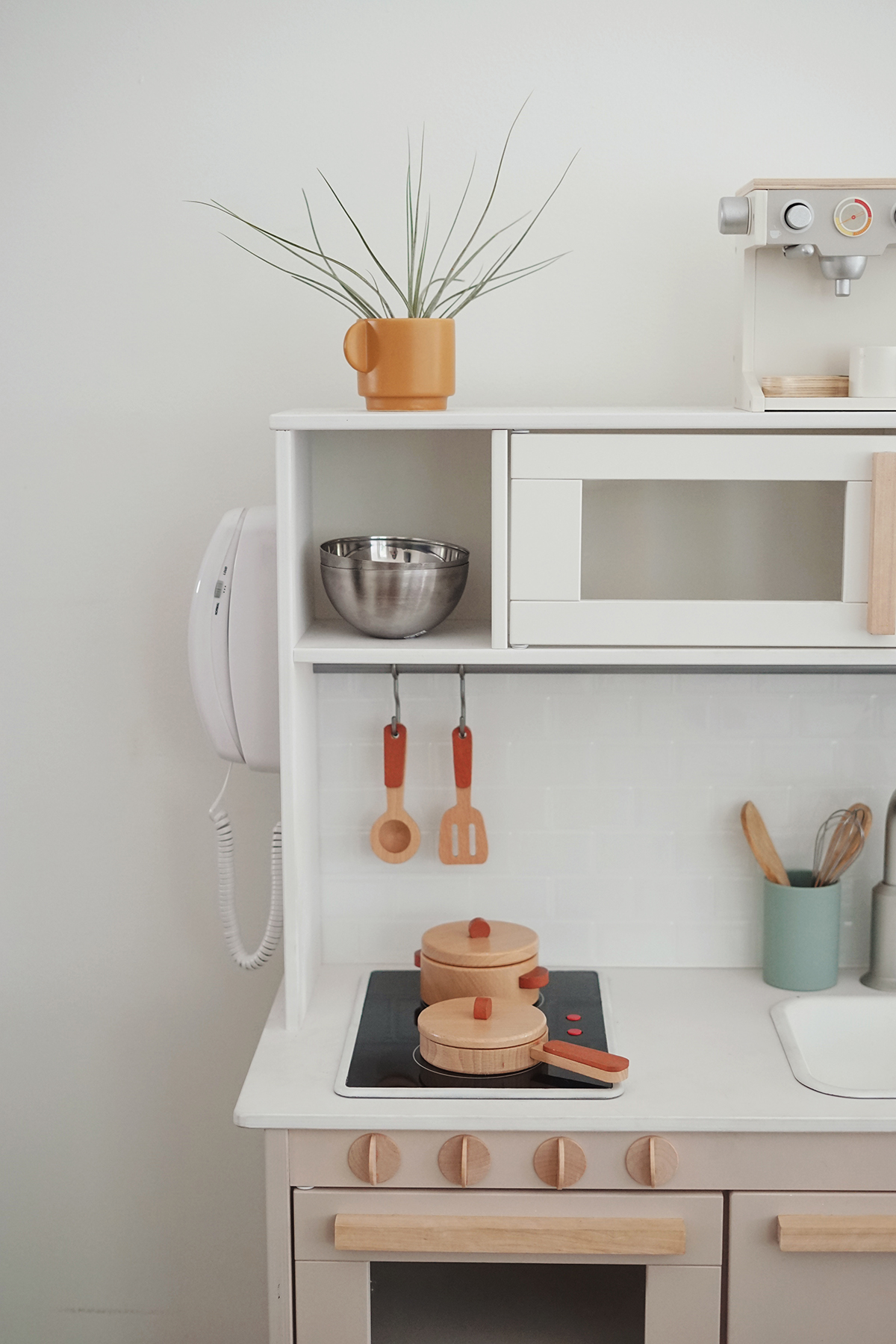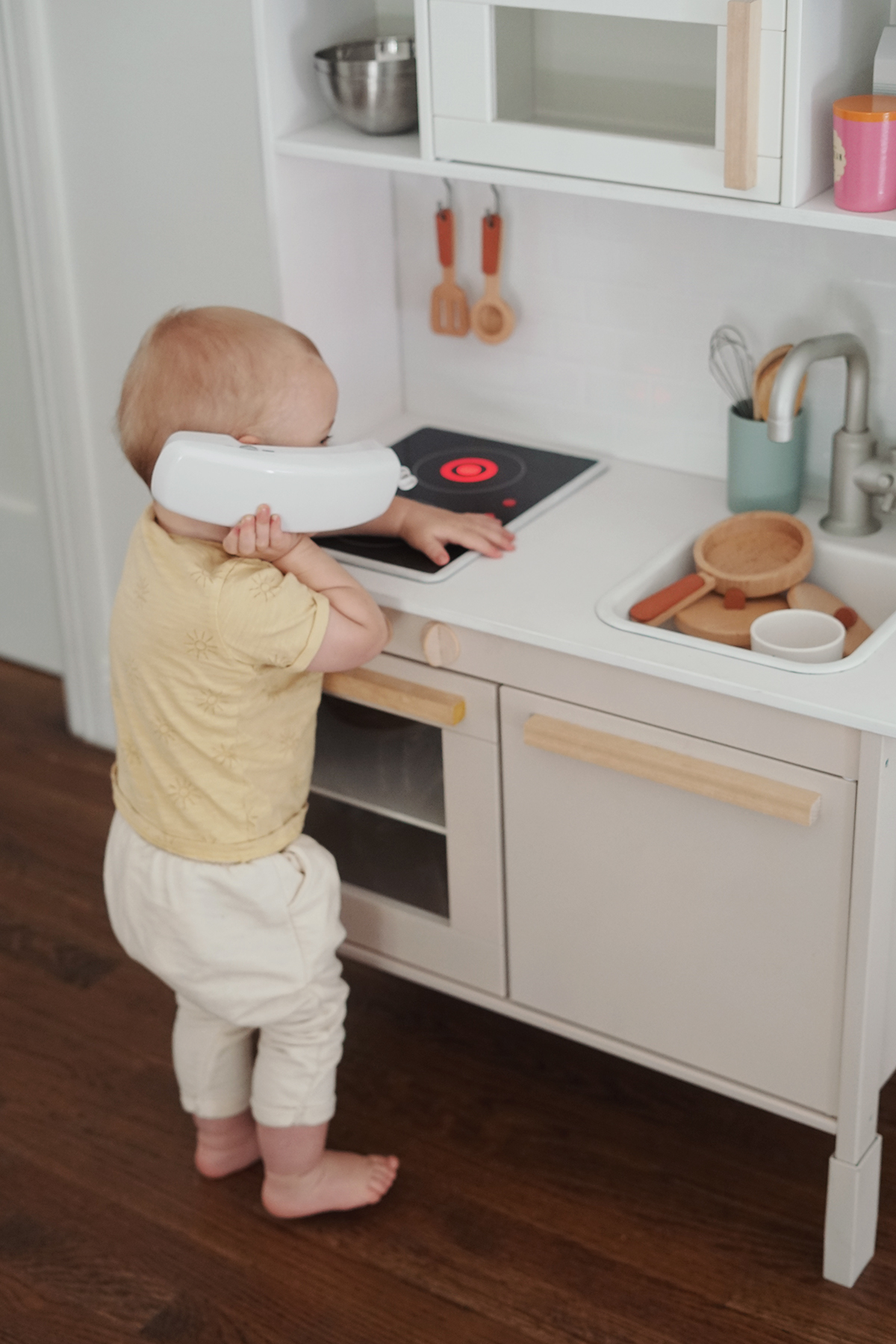 that photo is so me, a sink full of dishes but i'm too busy talking on the phone to do them.
you might have seen arlo knows how to work our nespresso like a grownup barista, so when i saw this little wood espresso machine i knew he needed it. and i just noticed from the website that i did not properly put it together and the part i thought was a spoon actually goes on there, so oops lol. i also want to get this toaster and this mixer HELP MEEEE.
i got this little toothbrush cup for his utensil crock (i love that it looks sort of ceramic), the mini whisk we already had from ikea, and the wooden spoons were ones from our kitchen we cut down to fit. the pot and pan set come with a bunch of pieces and they work so perfectly with the kitchen, but right now it sadly says they're unavailable (omg this happens so much on amazon!!). i didn't include in the photos, but we also bought arlo a SECOND set of pots and pans and i blame gid for that because he rationalized and now we have two sets of cookware. it's really absurd. anyway they are gorgeous.
i got the play food from here, again they come in a big set! so cute. i also added a le labo soap for photos because how could i not? but i'll be taking that back now.
i've seen a lot of people replacing their stovetop with a cuter alternative, which i agree, looks so much better, but the fact that the stove that comes with the kitchen lights up and has buttons — i knew arlo would love it too much to skip it, so i kept it as is.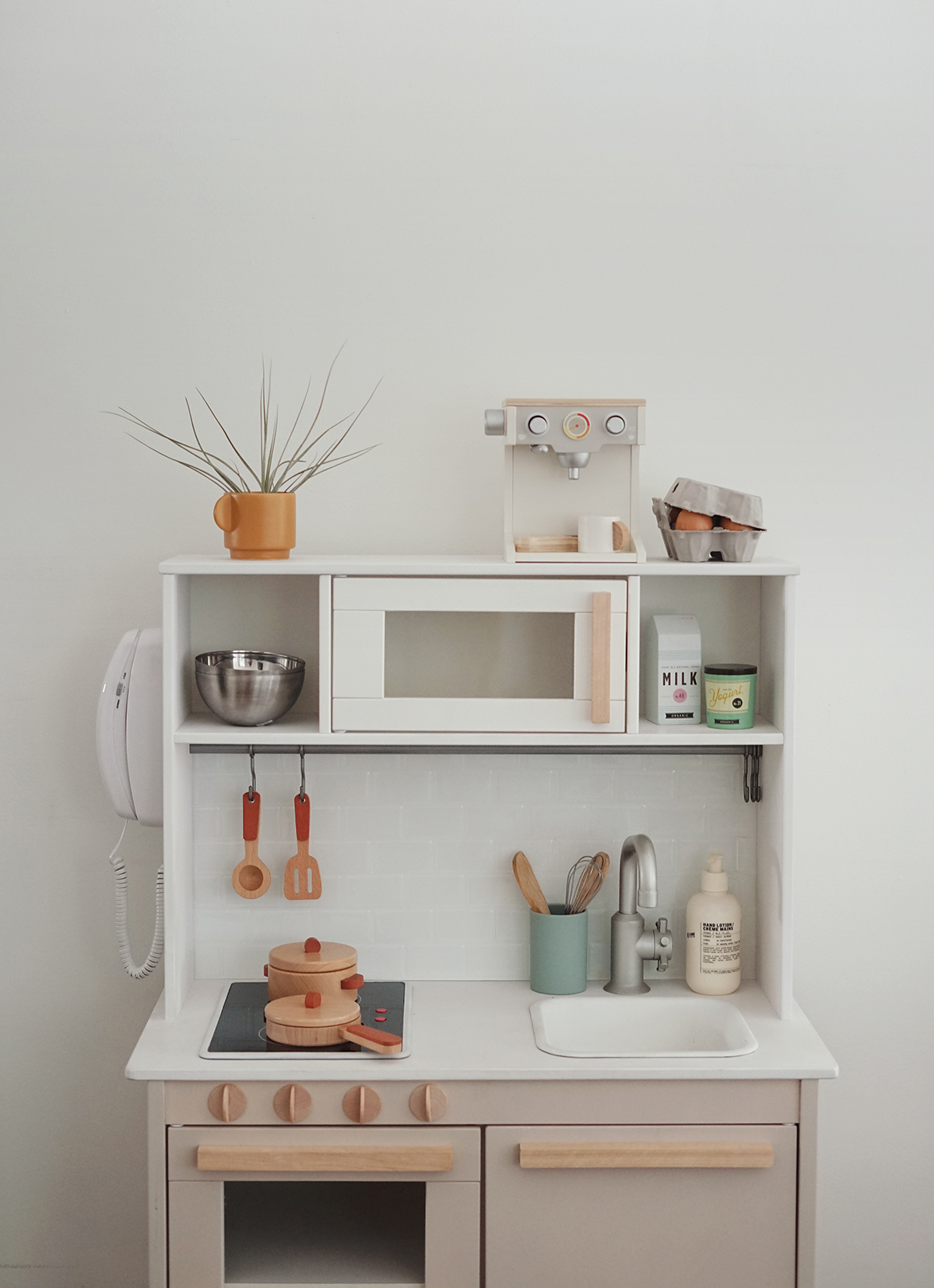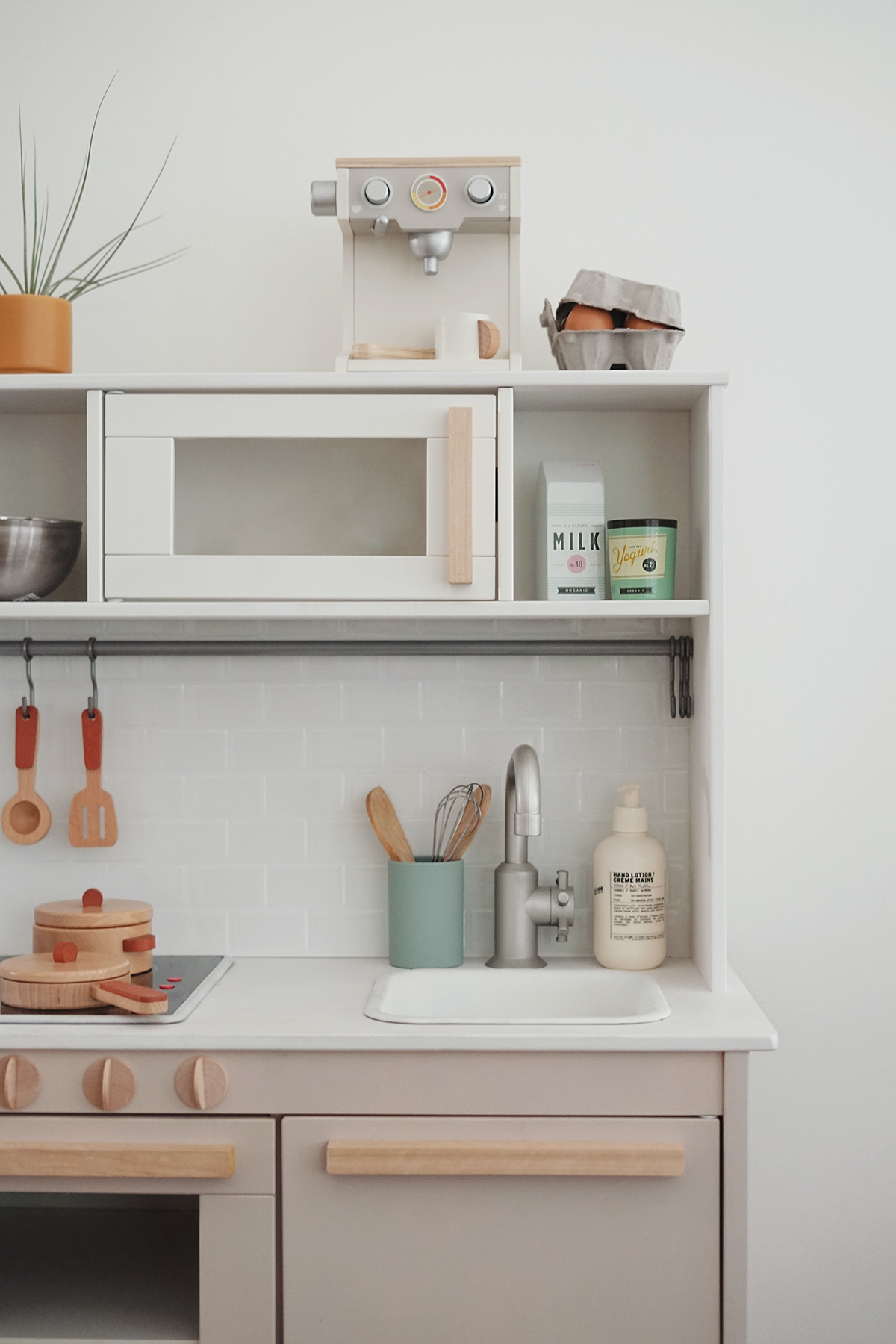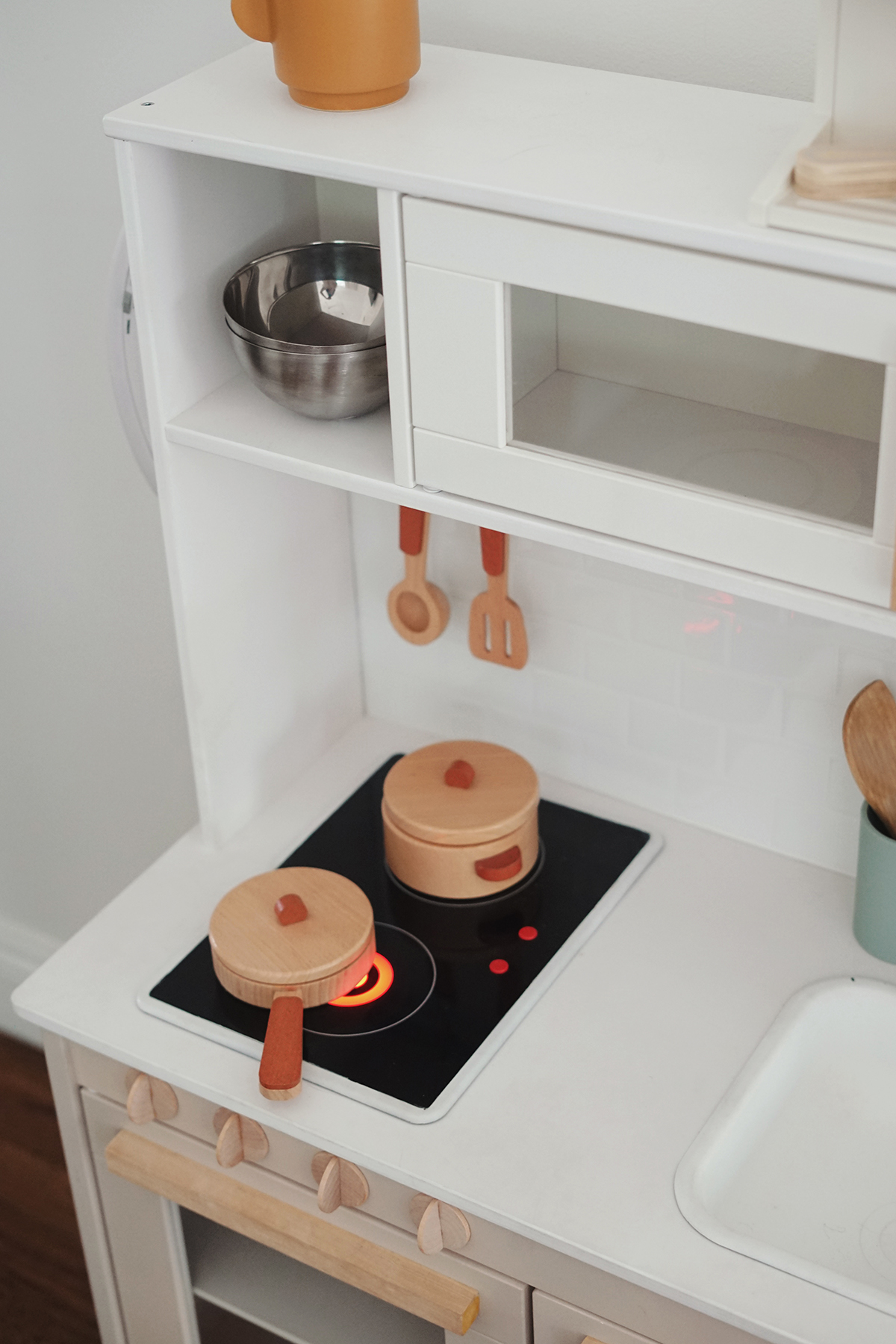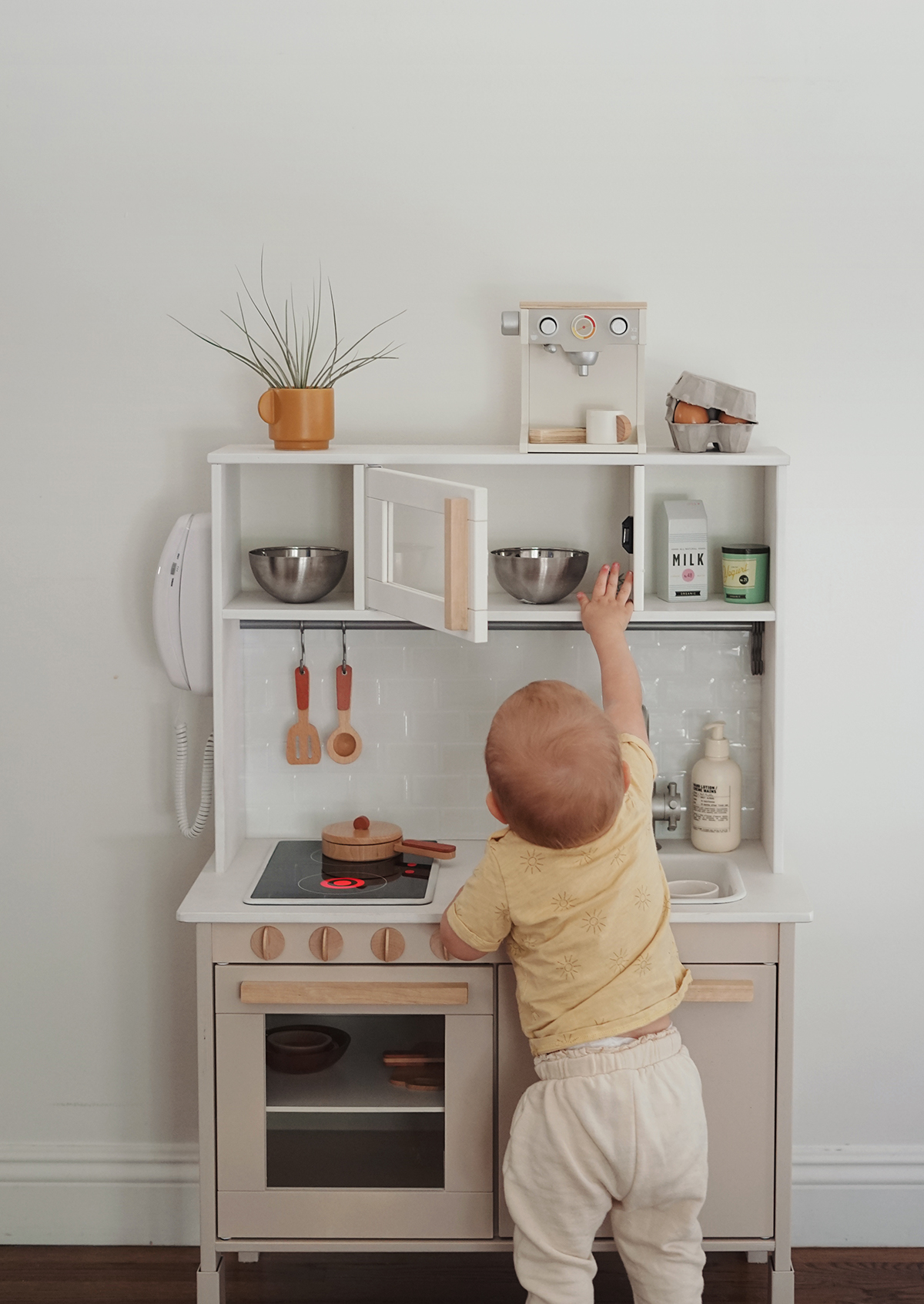 i think that's it! let me know if you have any questions and i would love to see if you try it out yourself!!!
---
sources
utensil crock / espresso maker