traveling with baby : my carry-on packing list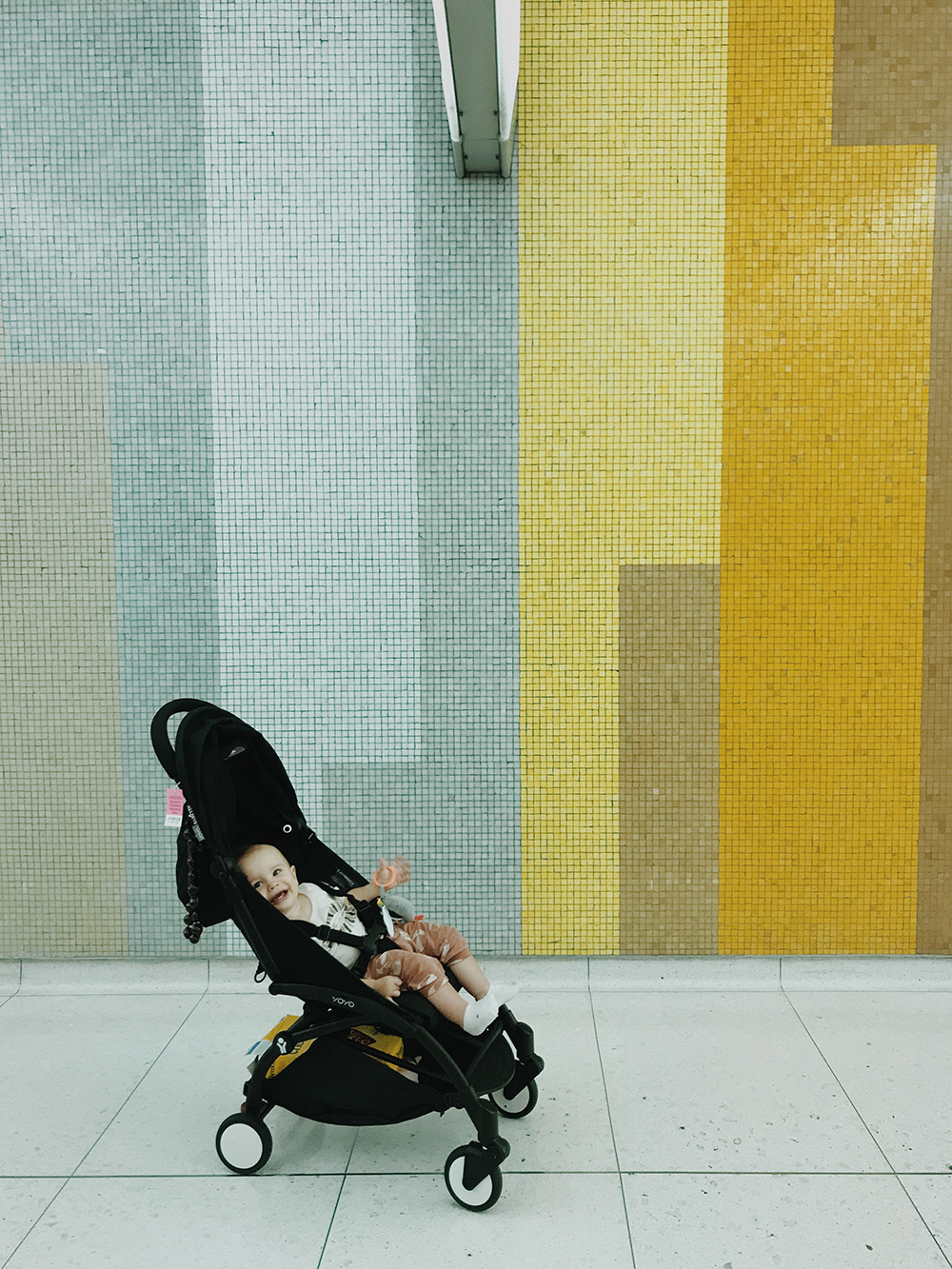 now that i've taken arlo on two trips within two weeks of each other (that was a mistake on my part but i blame my ical) — i am way more conscious of what to bring and what not to bring on the plane with us, and how to survive a 6 hour plane ride with him.
a lot of people aren't sure if you need to buy an extra seat or if it's worth saving the money, and after doing two flights without gid and with arlo as a lap infant, i can honestly say if you can afford it — buy the extra seat. if he won't sit in it, it's still so nice to have the extra space because you can feel claustrophobic real quick.
arlo doesn't drink milk anymore, so i'm not including bottles or anything like that on this list! but here are our essentials : 

baby food pouches
now that he doesn't breastfeed or drink from a bottle, i knew it was crucial to bring a few food pouches with me for him to suck on during the elevation changes. i had him suck on them on the  ascend and descend and he didn't end up having ear discomfort whatsoever! bring extras in case you need some more food for them too.
snacks
everyone suggested i bring way more snacks than i could even imagine arlo eating, and they were right. not only did he eat everything i brought, he also ate my free cookie. and my second free cookie. i brought large plastic bags full of cheerios, blueberries, goldfish, string cheese, a banana and cereal puffs. no joke! (here's the snack container)
ipad
for those moms who oppose screen time, have fun! we'll be over here chilling quietly. arlo is obsessed with dave & ava. it's like the only thing he's ever watched since he was a very young baby, so we bought the very expensive app and i can't imagine travel without it. we also have this game smart shapes, which he really enjoyed playing on the plane too.
headphones
we got lectured by the flight attendant for blasting dave & ava so i guess you need headphones for baby if you wanna blast your shows. we have these for arlo, they're so cute but he doesn't like to wear things on his head, hopefully yours won't mind!

diaper pouch
i've mentioned my love for pouches many times! the diaper one is so crucial, because i can grab it and throw it in any bag if we change it up the diaper bag sometimes. inside i keep half a dozen diapers, a few disposable pee pads (instead of a diaper changing mat), wipes and an annoying toy to distract him during changes. (so sad, the pouch set is sold out!!) and ps here are our diapers.
a couple of really annoying toys
you know those toys you were gifted that you originally planned to toss because they are ugly and make lots of noise and you hate them? bring those! they are the most entertaining for sure! my mom got arlo this set and i was like ewww but honestly i don't think he's ever played with anything for so long. he could sit there and press those three buttons on the keys over and over and over for like 20 minutes. we also brought some favorites in a zip pouch like a q-tip container full of empty gift cards, a toothbrush, measuring tape, an old thermometer. things with buttons!
a small board book or two (plus a book or magazine for me, in case!)
arlo loves his books, so i brought a few of his faves to look through, even though i wasn't sure i'd have any personal time — i brought a book and a magazine and arlo took a 40-90 min long nap on every flight so i did end up having some time to myself! but i watched movies instead lol.
sippy cup
in case traveling with an infant isn't stressful enough, you'll want to make sure you have to get stopped in security too! here's our white sippy cup we get asked about constantly.
stickers
i took this idea from studio diy, we only started doing stickers in the last month and he has really taken to them! at first he had trouble placing it down the right way and 2 weeks later he's a champ at it — this is a really good thing to bring on the plane and to restaurants too. it keeps his attention for like 3.5 whole minutes.
washi tape
another idea from kelly, i brought a roll of washi tape and placed a bunch of strips all over the tray table for him to peel off, then i'd stick them again, he'd peel, and so on! then we did it on the window. a nice easy thing to go back to doing in between other activities.
an extra outfit (in case!)
arlo doesn't have blowouts anymore, but he does love to drink from a water bottle and spill all over himself! (and sometimes me if i'm lucky) i brought him an extra outfit, a sweatshirt and put him in socks to keep him warm! i forgot my own sweatshirt. 😐

a personal pouch
instead of carrying a separate bag, i always keep my belongings in a pouch or pocket — chapstick, lipstick, my phone, my wallet, etc. it's nice to have it separated so you can access easily.
*travel stroller
we bought this stroller just a few months ago and i'm really not sure why it took so long because i'd always wanted it. honestly i don't think i would bother with the giant stroller on the next baby, this one is much easier for me to carry, it rides smoothly and i can fold it up while holding arlo. i can't imagine traveling without it! they make it very easy to gate check your strollers for those first time traveling mamas!
---
hope this helped you!! please let me know if you have any questions and share any tips if you have them!