modern advent calendars and what to fill them with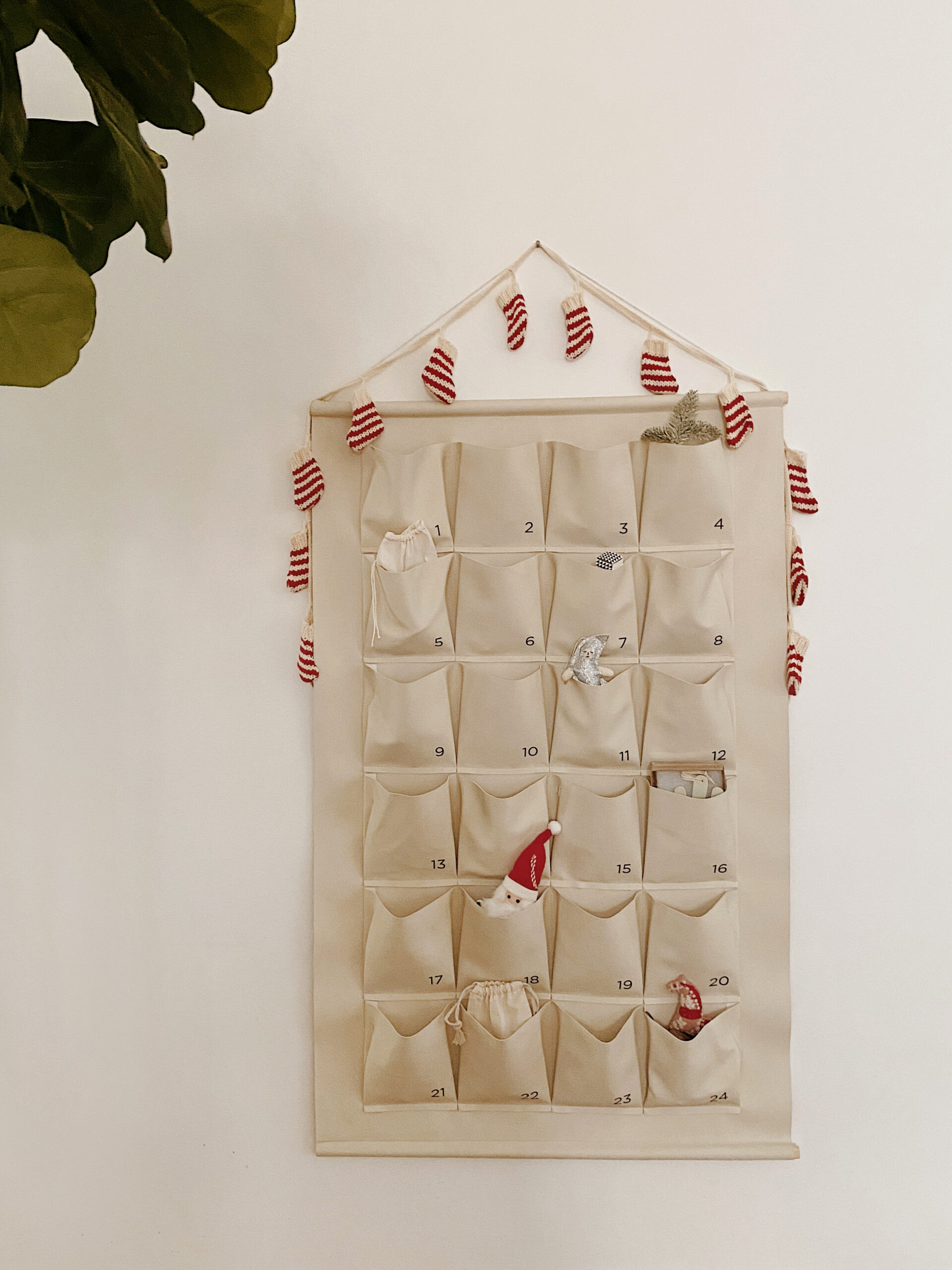 i never had an advent calendar (being a jewish kid), but since we got one for arlo last year i'm so into it now! they are really fun and i just love doing something festive every single day leading up to christmas. last year i made a printable so that our calendar was filled with more activities than stuff, but i got some stuff this year for ours too.
i ended up getting a new one this year because the one we used last year had such tiny pockets, i wasn't really able to fit much besides paper in there– so i'm excited to have some more space this time! it's from gathre and i copied a friend who put the stocking garland on hers!
(i gotta say tho, this is the large size advent and i swapped for the small because the large is MASSIVE. unless you have a bunch of kids, i prefer the small size!)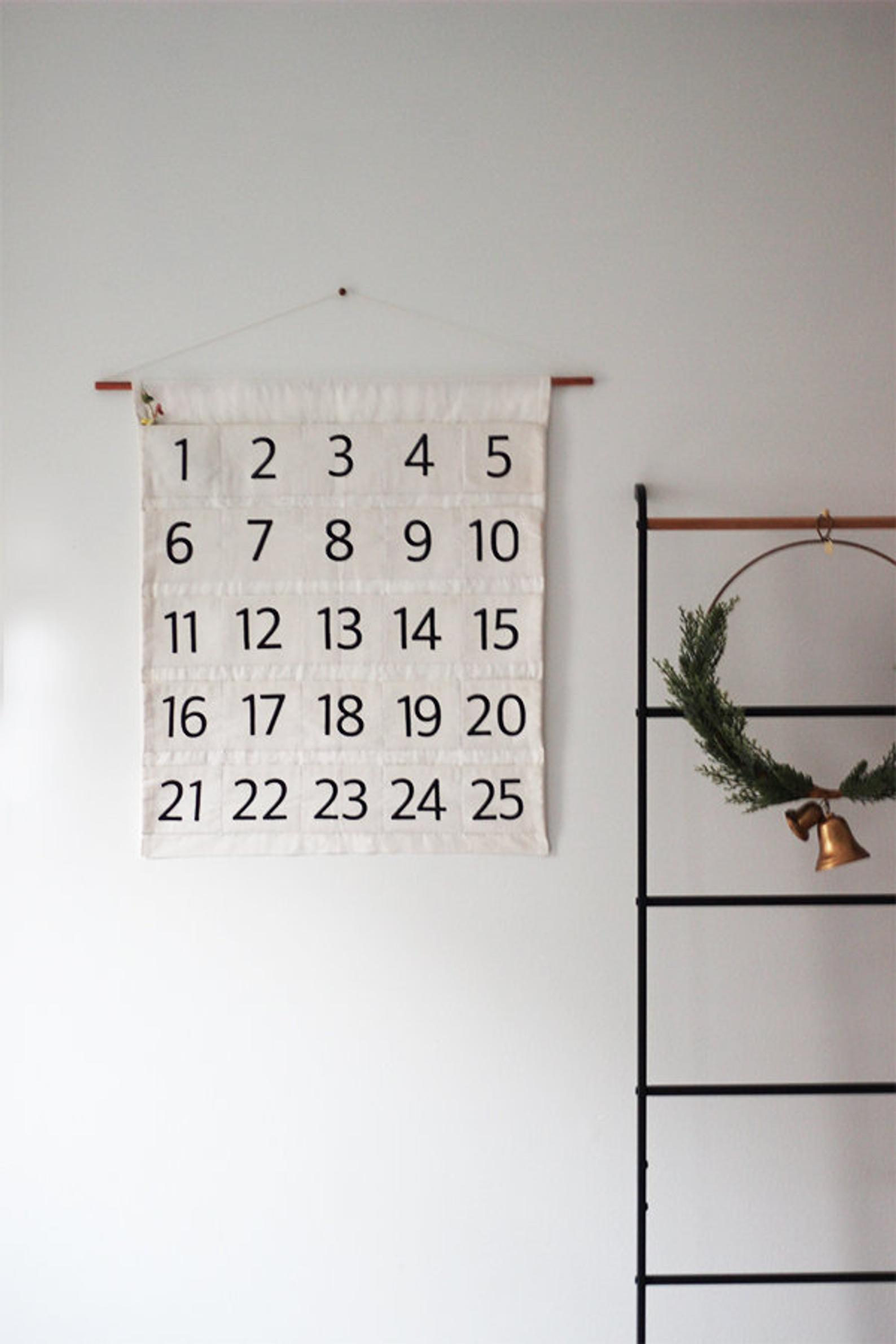 this cute advent calendar is so nice and simple!!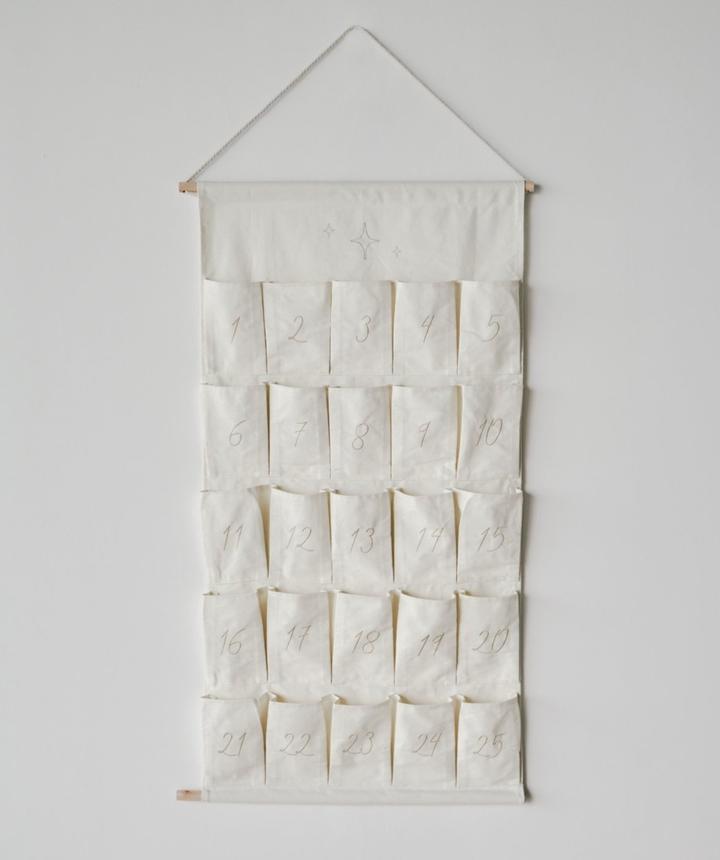 this one is so nice and has big pockets!! (and use code 4D2A1EDD9B9 for 15% off!)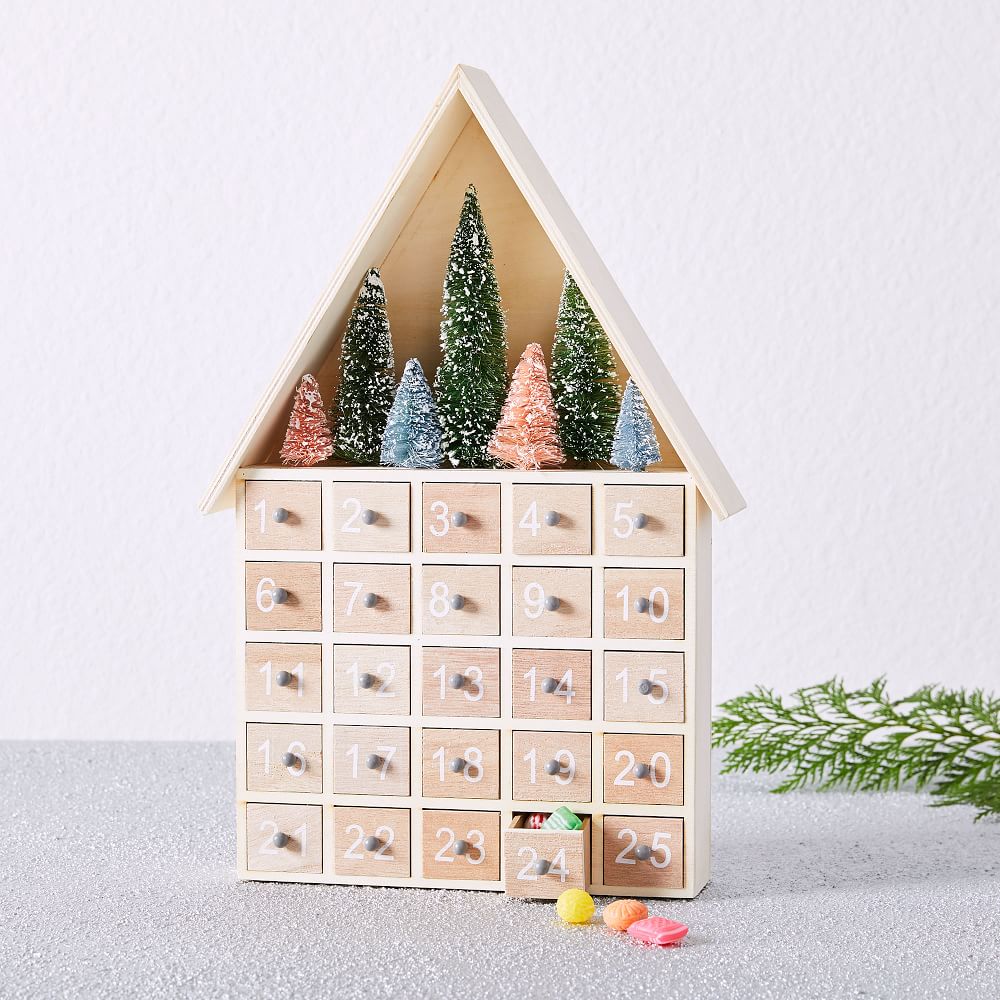 if you don't have the wall space, i love this wood house — it feels very old school to me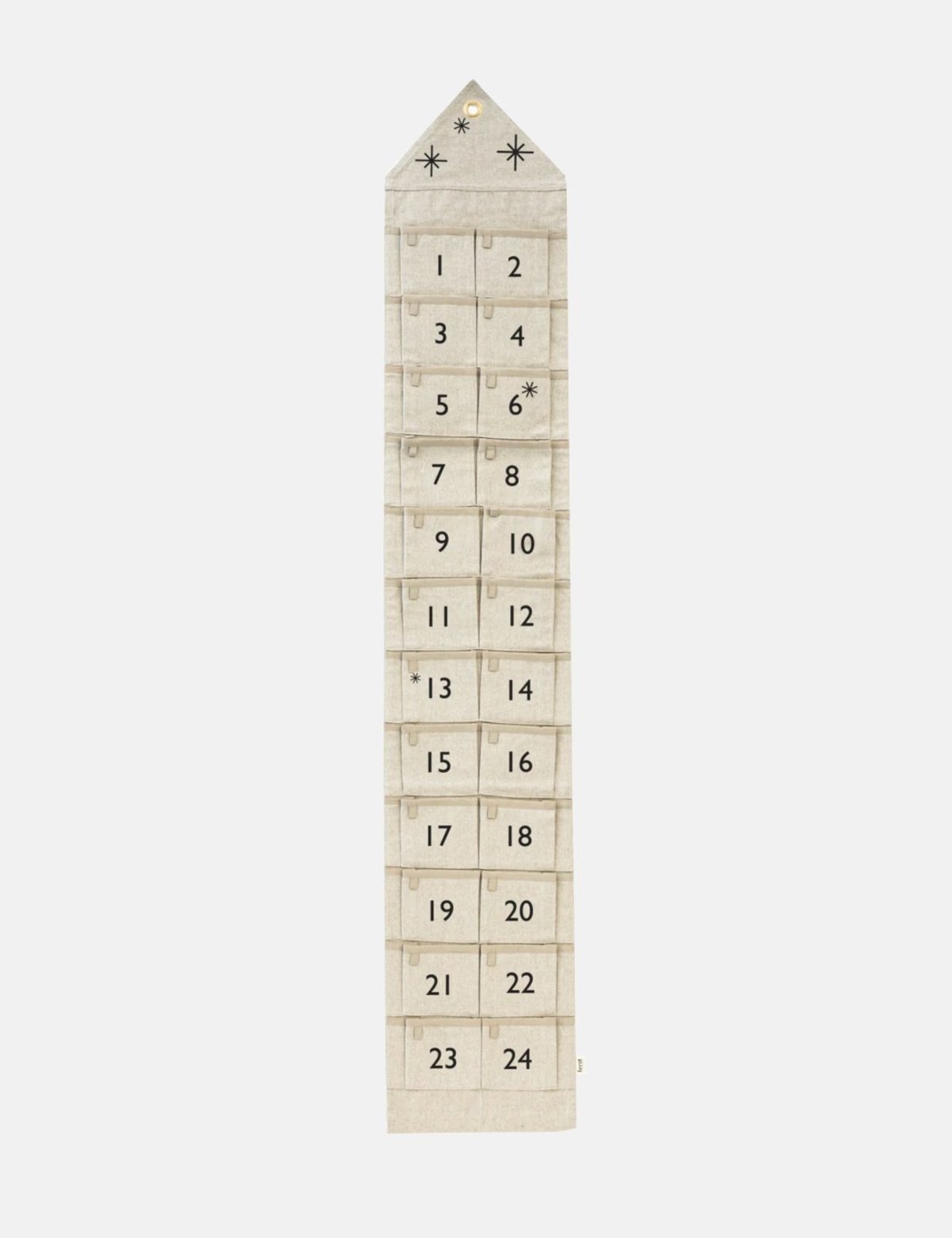 this ferm living advent calendar is such a perfect size for a small space or hallway where you might not want to dedicate a big piece of wall to the calendar — plus it's pretty.
some cute diy advent calendars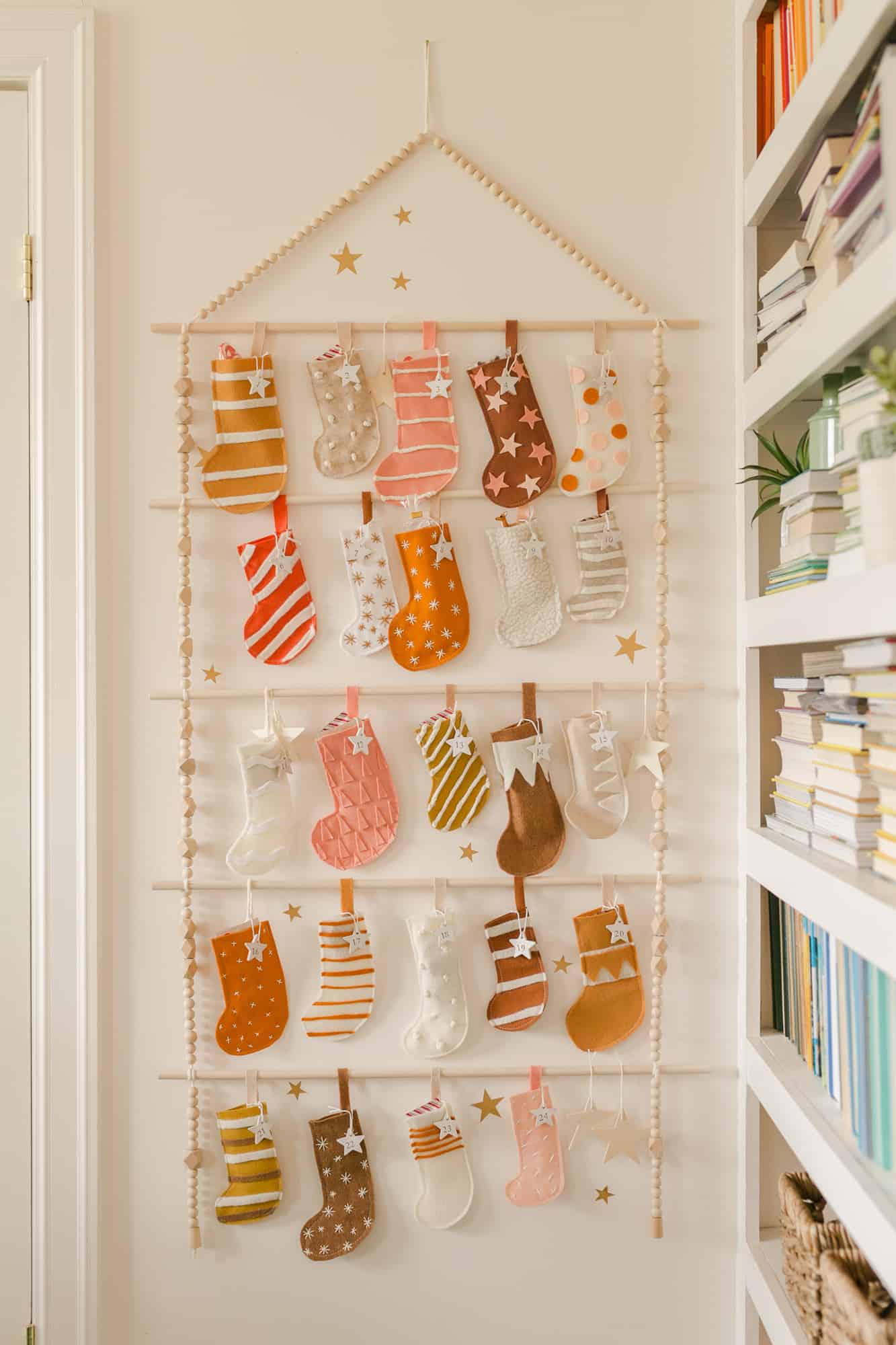 i looooove this one by a beautiful mess! it's so adorable and special.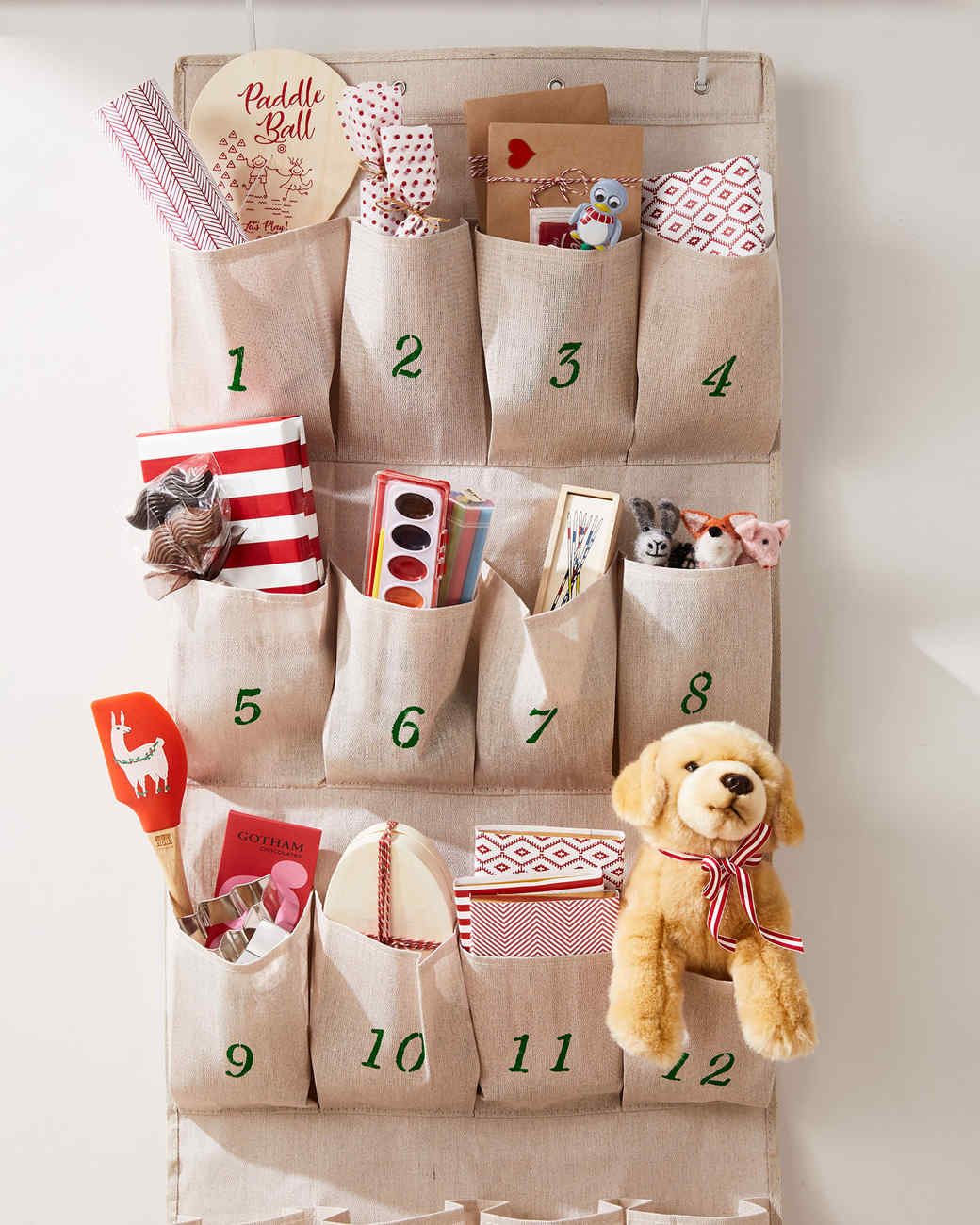 a cute diy (AND EASY) advent calendar using a canvas shoe organizer (you could use pretty iron on letters instead of these stencils too)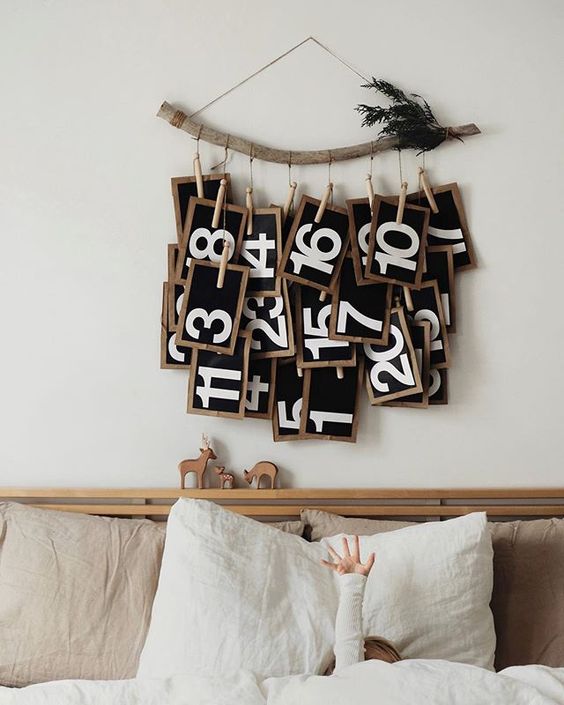 suuuuch a cute diy advent by @brookandpeony using recycled stendig calendar pages. (although i've been told this kind of advent calendar can feel very messy)
---
filler ideas!

printable advent calendar activities
the activities i designed were really fun for us last year so i'm planning to do them again!
candy
i'm gonna put a couple little festive candies inside but keep it limited! there are so many fun christmas themed candies arlo would go nuts for (i linked to reeses shaped like nutcrackers above!! WHAT. lol)
snacks
i also got a bag of cashews because he loves nuts haha. any little bags of their favorite snacks would be perfect!
inexpensive toys
if you're staying home and you're trying to not fill your whole house with cheap crap, this isn't that easy. i was able to find some random cute little things he'd like at our local hardware store (i got a whoopie cushion, two little dinosaur toys, a rubber snake and a little wind up chicken) here is a really helpful product (it's sold out now but i found on ebay) if you want to keep it simple! last year i found some cute squishy snowmen and a santa that arlo still plays with to this day.
ornaments
i got a few ornaments that i knew arlo would love, so i decided to include them in the advent calendar versus presenting them when we first decorated our tree! this way it'll hopefully make each one more special. (i got this giraffe and a mickey one)
stickers
i filled a lot of days last year with a couple of stickers on the days i didn't have anything else. arlo wasn't the most excited because it was the same ones over and over haha– but it was something to do!
art supplies
a little watercolor palette, new markers, new crayons, all perfect things to include!
temporary tattoos
arlo is afraid of trying these but they'd be easy and cute too.
holiday crafts
i always love to grab a few craft kits for the holidays so now that i have large pockets i can stick them in here! i got a paint your own dreidel kit and some plain craft wood ornaments to paint.
figurine set
i will never forget the hanukkah that my mom got me all of the 90210 barbie dolls and gave me one each night. it was a great thrill of my life hahah– that would be such a fun idea. arlo already has 8000 "guys" but if your kid loves a show or movie and doesn't have the figurines, would be fun to purchase them and spread them out so they collect them over the month!!!
cars or dinosaurs or mini stuffed animals
anything they're into but we have always had a soft spot for the metal toy cars at cvs so if i can make it there i will prob have to grab one for his calendar!
collectible surprise toys
ok this is a guilty pleasure of all of ours. they aren't cheap when you end up buying a dozen of them, but they are really exciting and make me and gid feel like kids again haha. last year we got a bunch of the toy story ones and put them in our calendar and it was sooo exciting to open them up and see who we got! especially whenever we got a guy we really wanted (although we now have three woodys haha) i think i love them so much because i love mini everything as we know. i found this cute disney princess one and here is the toy story one.
band-aids
fun AND useful, get a pack of mickey or elmo or paw patrol or whoever they love.
dollhouse accessories
i wanted to get arlo a christmas tree for the dollhouse but i haven't gotten to it yet– was thinking it would also be fun to get him some new food items or a laptop. if you have a dollhouse this is the perfect excuse to add some new accessories!
---
ok i hope these ideas helped!!!