holiday gift guide / for the moms
my mom is a very tough person to buy for. if she doesn't like her gift, it will be locked away in a closet never to see the light of day again. here are some simple and hopefully timeless items that have no reason to sit in a closet.
love you mom!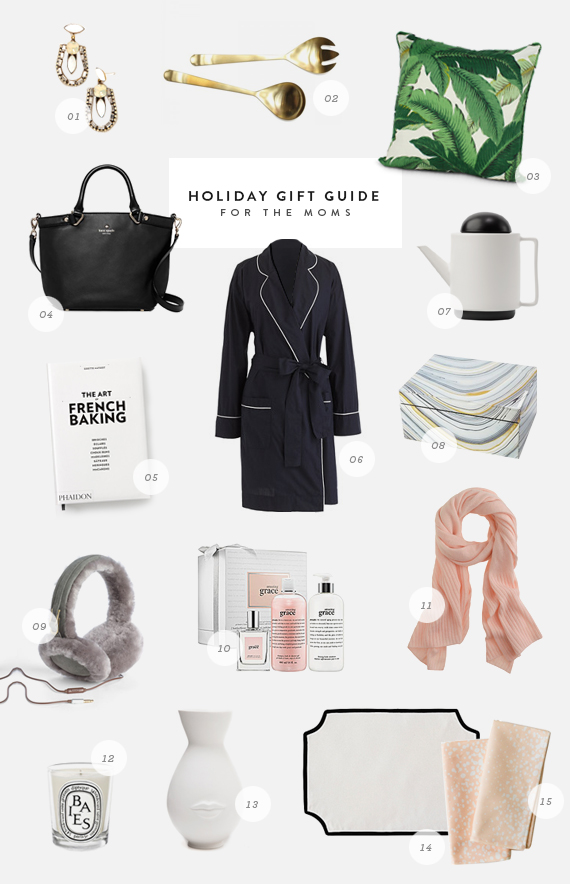 click through for sources
01 . every mom loves a beautiful pair of fancy earrings. she could wear these with jeans and feel glamorous.
02 . no woman could resist a gorgeous set of serving utensils, like these gold ones.
03 . a pretty throw pillow you know she'd love — i kinda also just want this for myself.
04 . a gorgeous everyday purse that mom would cherish (and hopefully for many years to come)
05 . a cookbook to inspire her to bake you something right away.
06 . my mom asks for pajamas every year. who doesn't want comfy things for xmas like this classic robe?
07 . if your mom drinks tea, chances are she probably needs a new teapot [desperately]
08 . a pretty agate box for her jewelry that would look lovely in her bathroom or on her dresser
09 . for the moms who live with snow, headphone earmuffs are probably the best gift ever.
10 . a fragrance or beauty gift set always goes over well. i LOVE the smell of amazing grace by philosophy, it's sweet and simple.
11 . a cashmere scarf. need i say more.
12 . everyone loves diptyque candles, but most people (i know) wouldn't buy one. treat yo mom.
13 . a jonathan adler vase for the stylish and hip mom
14 . these placemats are so sweet and timeless, they'd make any mom happy
15 . for extra brownie points, pair a beautiful set of cloth napkins along with the placemats.