diy holiday gift / bloody mary gift set
christmas is only three weeks away – so i'm going to show you guys some easy homemade gifts that hopefully won't let your family or friends wishing they'd gotten an itunes gift card. with today's gift — there's absolutely no way!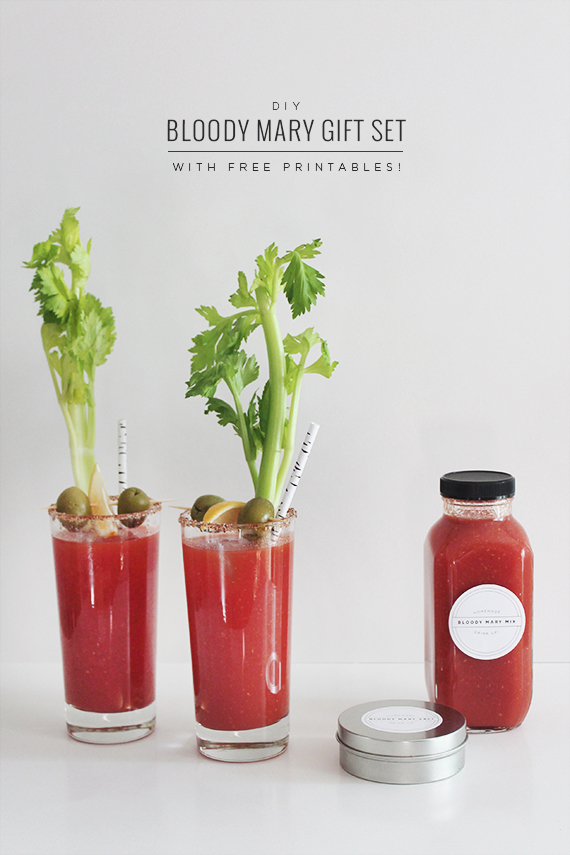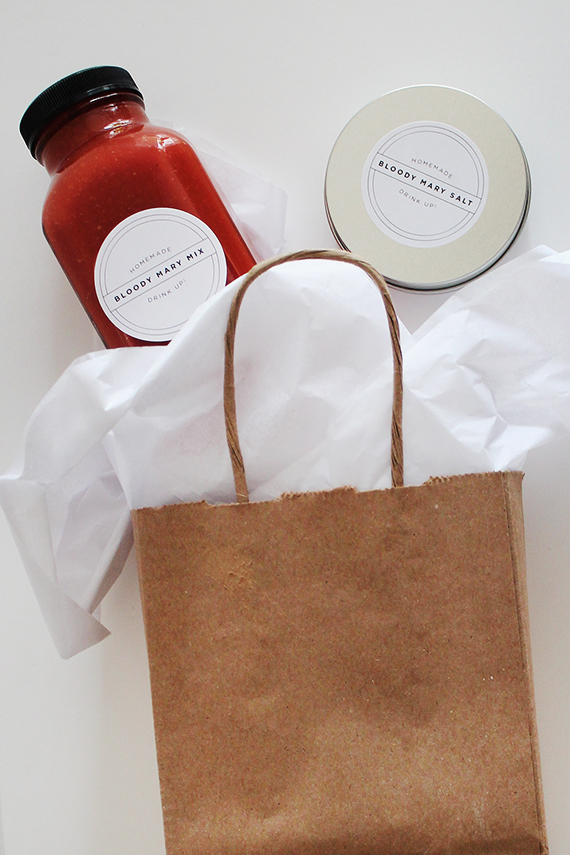 the instructions are pretty simple for this project. get some pretty bottles and tins, print out my free printable labels and follow the recipes!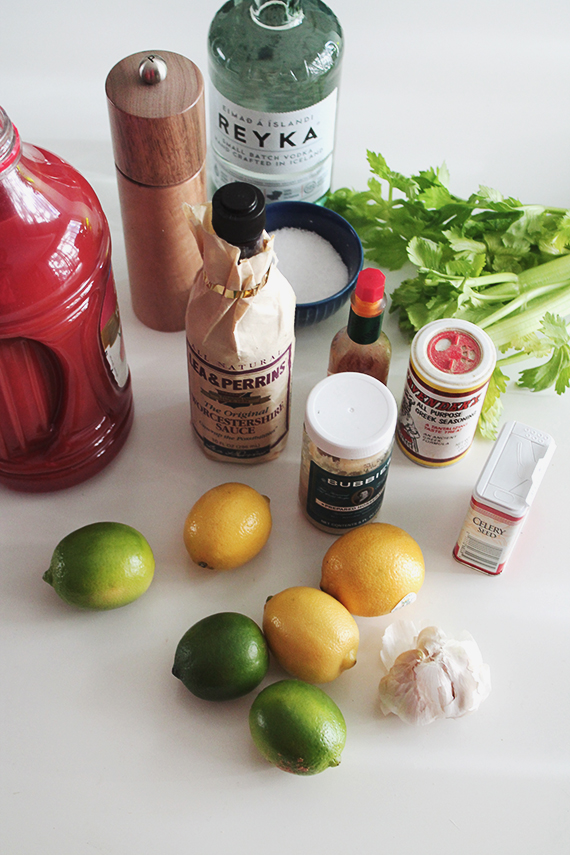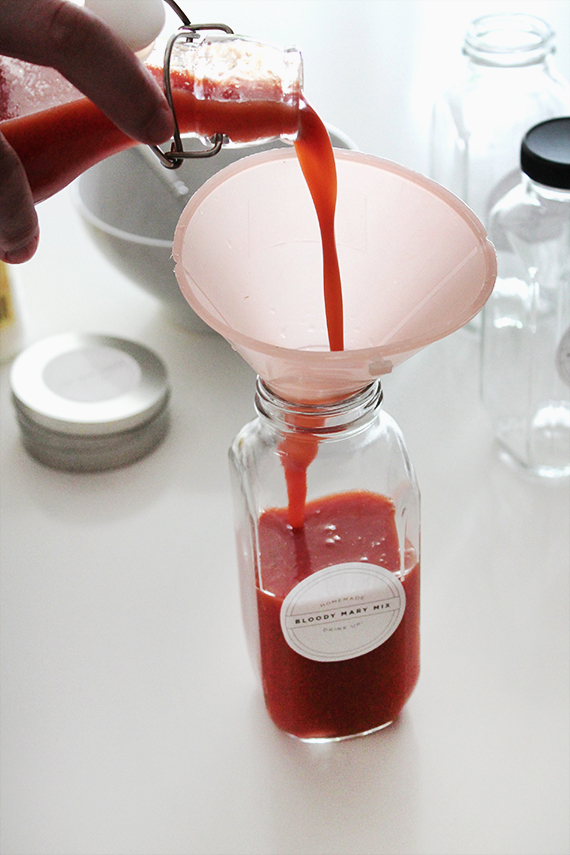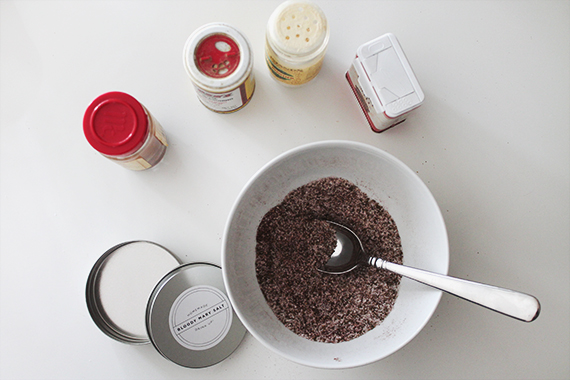 the recipes +
bloody mary mix
(doubled & adapted from emeril)
ingredients
6 cups tomato juice
6 tablespoons lemon juice
6 tablespoons lime juice
3 tablespoon prepared horseradish
2 tablespoon worcestershire sauce
2 large cloves garlic, minced
2 teaspoon tabasco sauce
1 1/2 teaspoon salt
1 1/2 teaspoon freshly ground black pepper
directions
in a blender combine the tomato juice, lemon juice, lime juice, horseradish, worcestershire sauce, garlic, and hot sauce and process until smooth. transfer to a nonreactive container and add salt and black pepper, to taste. refrigerate overnight.
* i prefer my bloodys on the spicy side — so i added extra everything spicy.
bloody mary rimming salt
(adapted from the seattle times)
1 cup kosher salt
2 tb celery seed
2 1/2 tb granulated garlic
2 tb smoked paprika
1 tb black pepper
mix together the ingredients in a bowl. good for up to six months.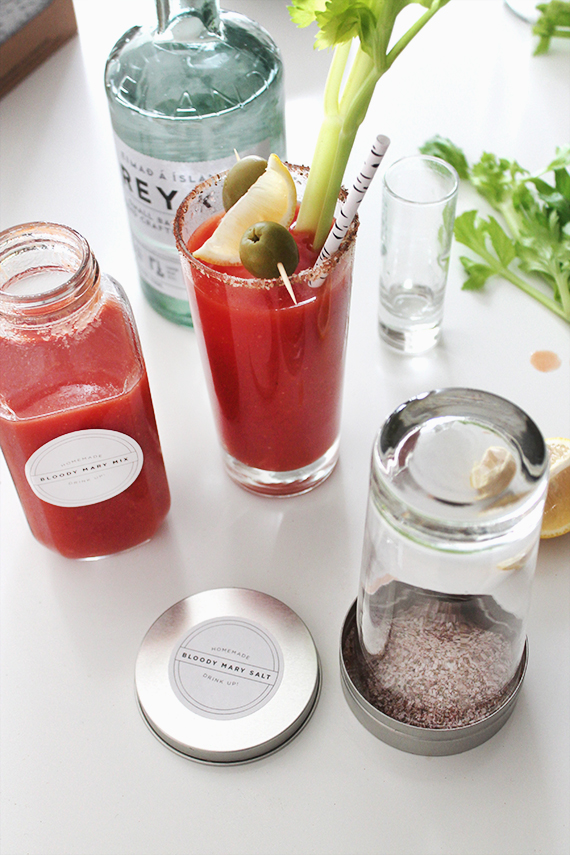 the packaging +
materials
empty bottles (i used these lovely 8oz french bottles from specialty bottle. each bottle holds about 2.5 bloodys)
empty tins (i used these flat 8oz tins which fit my glass rims perfectly)
round labels (the printable i designed specifically for this 2″ avery label)
download and print out the labels i've provided below. you can print onto the same avery labels or you can just print onto paper, cut out and glue. half the labels are for the rimming salt and half for the mix. carefully apply labels to your bottles and tins (i recommend prior to filling because you can hold easier when empty)
after making the mix and salt, and letting the mix chill overnight, spoon the salt into tin and pour mix into bottles with a funnel. chill mix until ready to deliver to your lucky friends, family, or hostess. place in a gift bag and you're a big hit this christmas.
these labels are for personal use only, and NOT for re-distribution.
if you'd like to post a link sharing them, you may not directly post the downloadable files.
please credit and link back to this post for downloading the labels.