diy thankful tags / free printable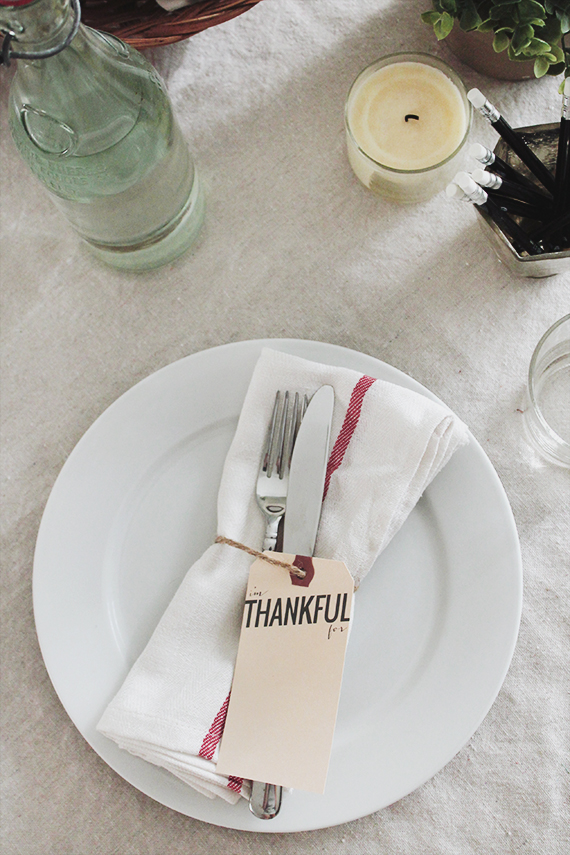 here's a really easy and fun thanksgiving diy for you guys. using standard mailing tags, you can print directly onto them. then tie them around each napkin, have each guest fill theirs out, and after everyone has had a bunch of wine, they have to read them aloud.
you can obviously make these last minute and use them however you'd like. i used them as napkin rings but you could also fill a bowl with them or tape a tag to each plate.
fill a cup or jar with pencils or pens and you're all set!
materials
shipping tags (the templates are designed for these #5 tags measuring 4 3/4″ x 2 3/8″)
a printer and printer paper
washi tape
twine
step one . in order to print onto the tags directly, you need to print a guide with the size of your tags onto your paper first (i followed these instructions)
step two . once your guide is printed, remove the string from each tag and tape them over the guides. make sure you feed the paper the right direction. it actually took me a LOT of prints to get these right. so i recommend doing a bunch of test prints, but you did just buy a big box of tags so if you mess some up i think you'll be ok.
step three . once you have all your tags printed, tie a piece of twine through and around your napkins. some leather cording would also look dope.
click above to download the printable. click HERE to download the guide.
if you have photoshop, you can compile the files. if you do, just make sure you don't accidentally print with the guide layer on. i did that. too many times.
if you don't have photoshop, just download the separate files and print one by one.
+ these tags are for personal use only, and not for re-distribution. if you'd like to post a link sharing them, you may not directly post the downloadable files. please credit and link back to this post for downloading.