what i ordered from amazon in july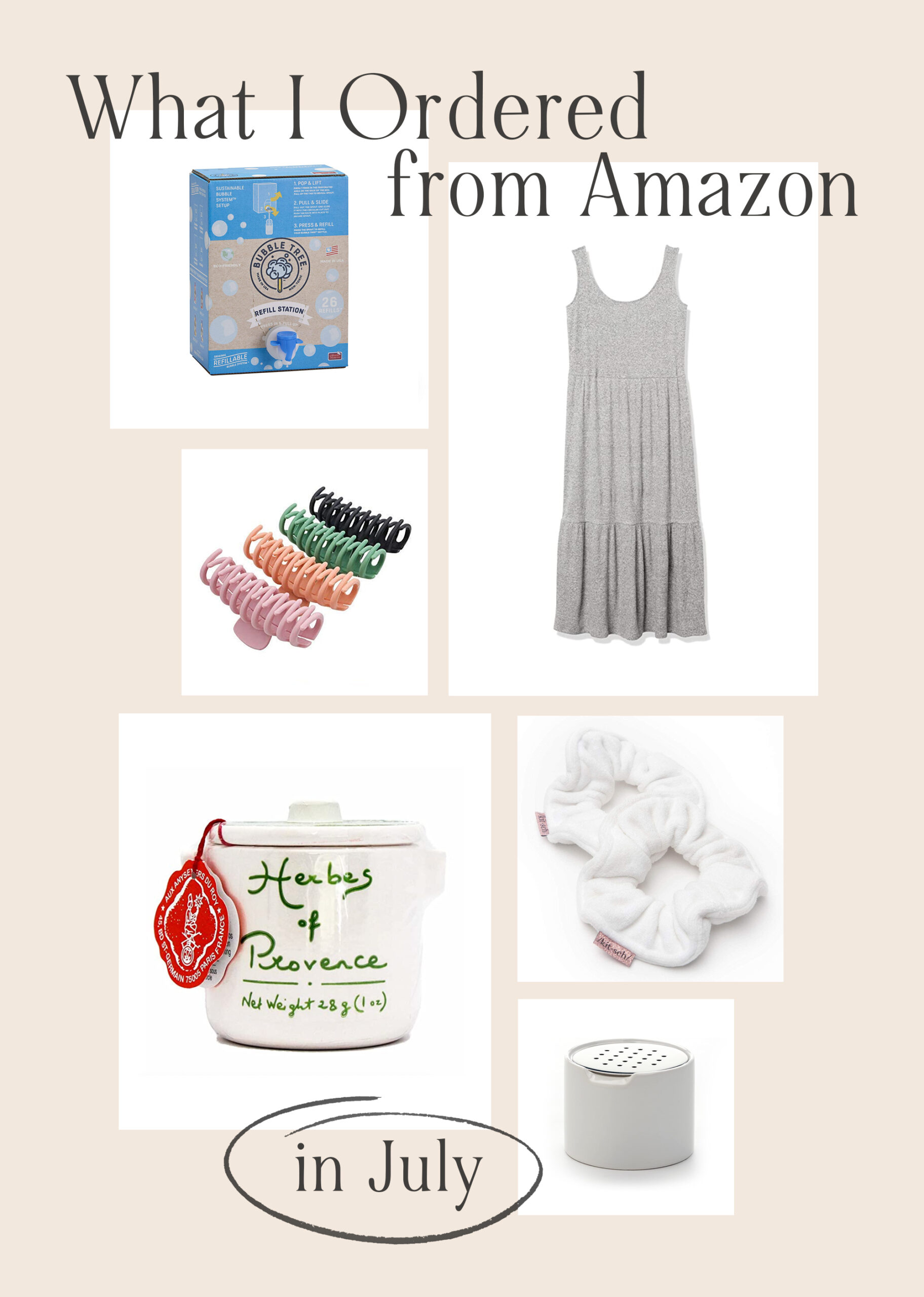 this month i actually ordered a bunch of super useful things i really wanted to share with you!
this bubble solution refill is in a box instead of a giant plastic bottle AND the price is super reasonable. we go through a ton of bubble solution so i was stoked to find this, the bubbles are awesome too.
i looove this casual tiered summer dress i'd been waiting for a restock of. super flattering and easy to wear. i ordered in the grey marl and the light pink which i returned because i found it a little too pink (and slightly sheer too) the grey is perfect.
been wanting to get these pretty hair claw clips for pool days and finally did. they're so inexpensive and work really well on my thick hair.
by now you may know of my undying love for herbs de provence, i use it on almost everything i cook. i love the crock it originally comes in but if you run out, you can order this refill box like i do.
got these towel scrunchies for drying my hair quicker– my thick hair takes FOREVER to dry but i do feel like these are helping.
fruit flies are everywhere in our kitchen right now, so i got this ATTRACTIVE fruit fly trap!! it recommends using apple cider vinegar but we actually had some leftover fruit fly bait to use instead.
speaking of bugs, we also got some of these table fans for our backyard dinners. they have actually been helping, we have one on each side of the table and the flies aren't coming for us as much (can't say the same for the mosquitos)
for gids birthday, i got him this portable neck fan because he's ALWAYS hot. i mean this couldn't be a more perfect gift for the consummate summer complainer haha.
also stocked up on more of these dishwasher pods, they're made with natural ingredients and come in sustainable packaging and work really well. our dishes are super clean!