homemade strawberry ice cream!!

this post is in partnership with walmart
we've talked about getting an ice cream maker like every summer since having arlo and we finally did it! i was resistant because another small appliance we don't have space for seemed daunting, but when i saw this beautiful modern white one— i decided we should go for it. so excited to make a bunch of magical summer memories with this thing.
almost everything here is from walmart, i found so many beautiful kitchen items to include in this post that i had to actively make myself stop shopping. the little beige ice cream bowls are our favorite ever– they're actually nut bowls that come with a wood base, but we've used them daily for years for arlo snacks, guacamole, mise en place, and now they're the perfect size for a small serving of ice cream!!
also i NEED to mention these white steak knives — we use steak knives constantly for quickly chopping a cucumber for arlo or fruit in the morning. these knives are not only gorgeous, they work SO WELL. i was shocked how well they cut tomatoes too. i got two packs and i'm so glad i did.
lastly, the strawberry huller!! this seemed so unnecessary in theory, just like all the kitchen tools that serve one purpose and then take up space in your utensil drawers, but as soon as i started hulling the strawberries with it — i was like OH WOW THIS THING WORKS. i am a convert.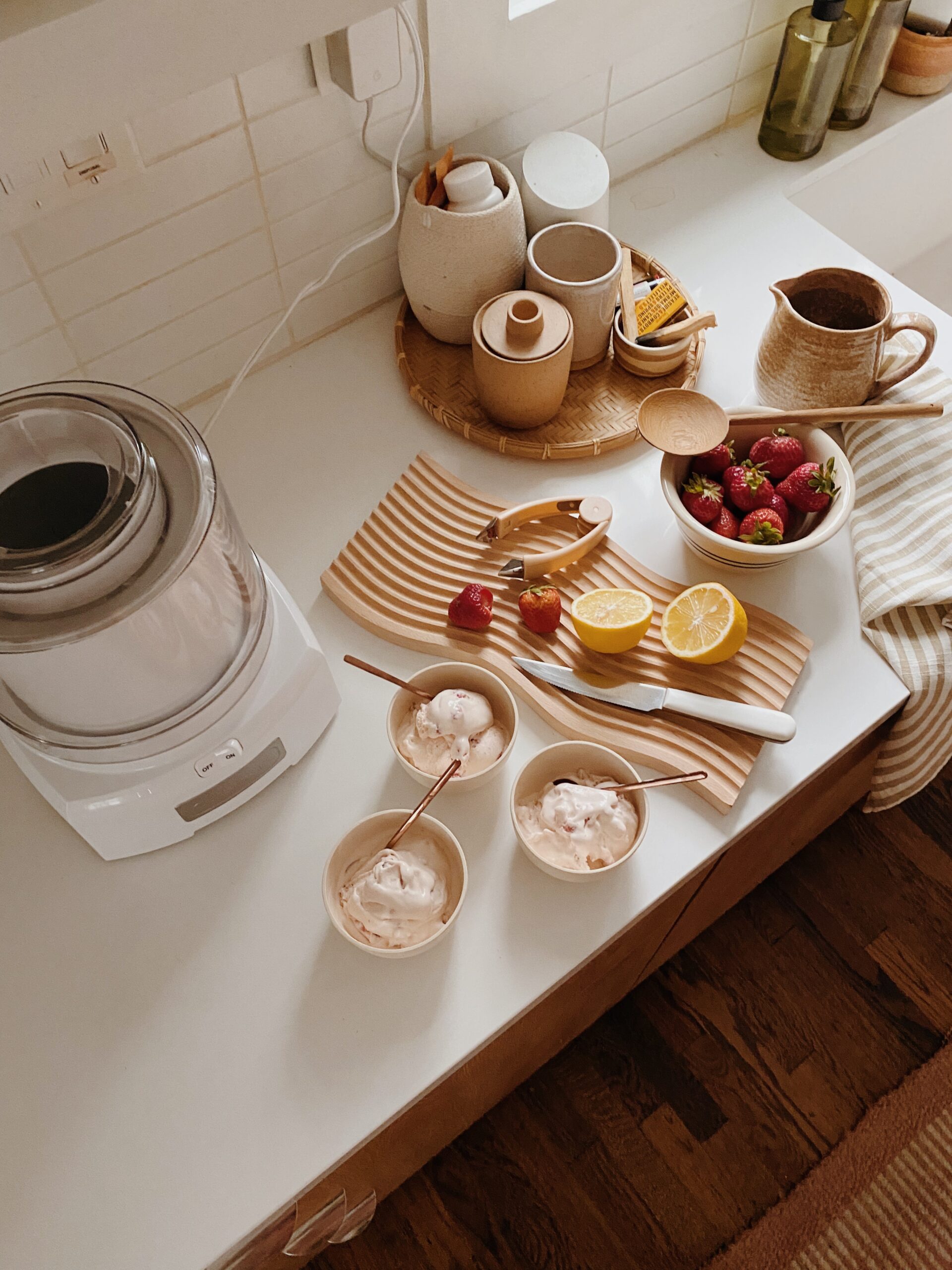 shop the post

---
ingredients
1 1/2 cups strawberries, hulled and diced
2 tb honey
1/2 cup granulated sugar
1 tsp lemon juice
1 cup heavy whipping cream
1/2 cup half and half
1 tsp vanilla extract
directions
in a large bowl, mix strawberries, honey, sugar, and lemon juice. let it sit for 20 minutes, or until the strawberries have released their juices.
mash the mixture with a potato masher or fork until there are no longer any large strawberry pieces (if you prefer a smooth ice cream, use a blender or food processor instead*).
add heavy cream, half and half, and vanilla extract to the strawberry mixture. stir just until combined.
pour the mixture into your ice cream maker, and follow your manufacturer's instructions (mine took about 15-20 minutes to churn). you can eat the ice cream soft-serve, or freeze it in an airtight container for 3-4 hours to thicken it up slightly.
---
didn't know what to expect but the ice cream was sooo creamy and delicious. so excited to make a million more flavors!