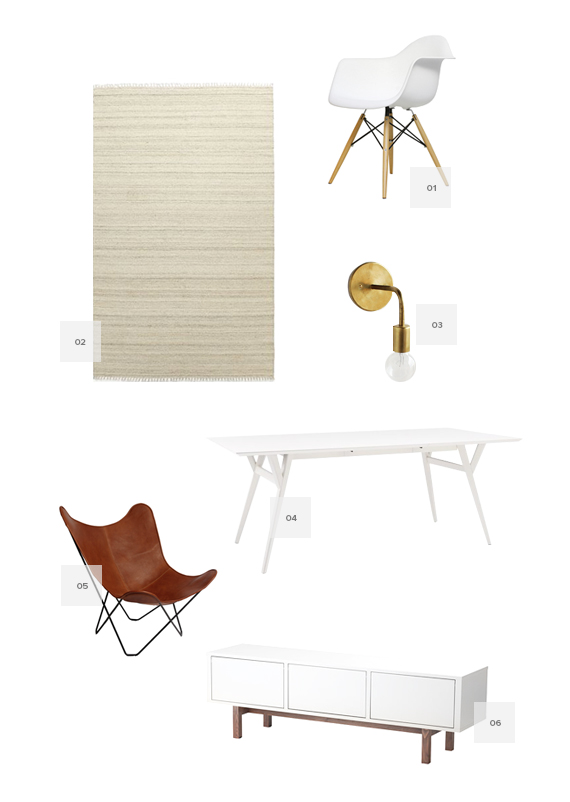 i ALWAYS want new stuff for the house, i don't think there will ever be a point in my life where i wouldn't be totally willing to purge everything and have a shopping spree at west elm. but right now with the wedding looming, it seems wrong to buy anything new for the apartment. but i want to so badly. here's everything that i think about pretty regularly.
01. as comfortable as our office chairs are, i really hate that they're black for the most part. it was my bad. the office would look so much cleaner with white shell chairs (or these if i'm feeling nice to our butts). and when i say cleaner, i mean cleaner because there is crap everywhere.
02. i reeeally want a new rug for the bedroom. right now we have a cowhide that doesn't reach our feet, i'd love for the room to feel a little warmer with a big chunky simple rug.
03. i've been saying we need lamps/sconces for a while now. still haven't done it.  and every time these onefortythree sconces come back in stock, i debate it until they sell back out. maybe i need to just DIY, right?
04. we have a docksta table, which i am ok with, but it barely fits four peoples plates. i'd love a big dining table for sprawling out my craft projects – because honestly that's all i use the dining table for.
05. i've always wanted a butterfly chair, and i've never gotten a butterfly chair. not sure why. just one of those things.
06. you've seen our shelving unit, but you don't know that it's a pretty big eye sore at this point. i mean, i still like it, but i do kinda miss the bare walls. we want to move after the wedding, so it's not worth taking down probably, although i mean, we'll have to take it down at some point anyway, right? would be so nice to just see a simple cabinet with the tv at this point.