thirty, flirty and thriving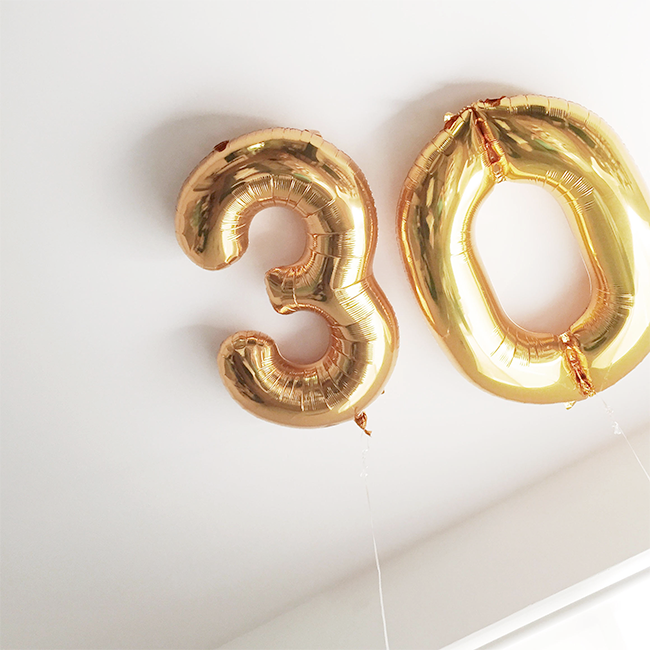 today i am 30! i know i know, enough birthday talk already — but this one is a big milestone for me. i have been dreading turning 30 for about 3 years now, and my husband (who is 5 years older) has repeatedly told me that 29 is way worse than 30 because all you do is dread 30, so by the time you turn 30 – you're just used to the idea. and now i totally get it. i think everyone turning 30 just questions all those things like have i accomplished enough, am i where i want to be, what's gonna happen in the next 5 years, etc. and while i'm doing that – i'm also trying not to. when i see people younger than me that are way more accomplished or successful or famous – i always think hmm… they're younger than me, boo. but maybe being a legit adult means you kind of get rid of that envy and jealousy and start getting inspired by it instead. had i started this blog sooner, maybe i'd be further along in the game than i am now (instead i had a weird comedy movie blog for about 2 years before this one where i did posts like "the top 10 scenes in movies where people eat lobsters"). despite all the things i haven't done yet, i'm super lucky to be where i am in my life and that's what matters. and i am waaaaay nicer, kinder, and wiser than i was at 25. well i think so anyway.
i'm stoked for the future and the next chapter and the babies and the house and all that. so 30 is cool with me. i still am gonna shop at forever 21 and i'm still gonna watch the real world.
so how was it for you?
oh and PS, my birthday celebration last week turned out to be an amazing surprise party with a video of my friends and family along with a day on a boat with lobster rolls. it was perfect. i'm saying bye early this week to celebrate just a little more (along with celebrating gideons birthday on sunday). bye!