my favorite daily makeup essentials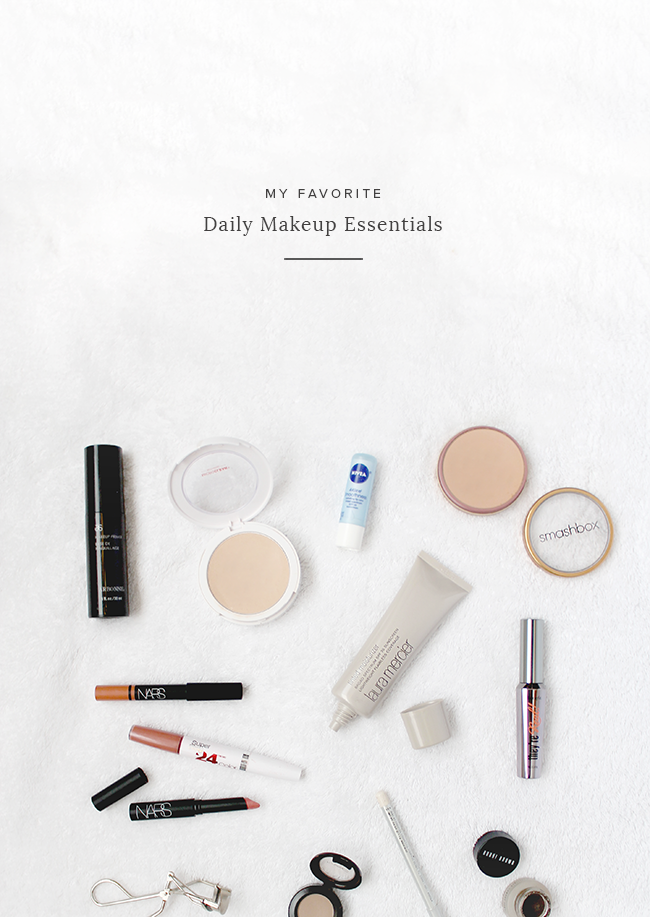 when i got married, i decided to skip booking a makeup artist and instead have my maid of honor do my makeup for the wedding (didn't hurt that she used to do makeup professionally). because i had her do it, i bought some fancy makeup which i never did ever, and got to keep it! buying a few fancy items really taught me how fancy items are actually pretty nice to have around — and i've really started figuring out which products are worth splurging on and which ones aren't.
btw — i know this is a different type of post than normal. i always find reading about other womens beauty regimens super fun, so i thought you might too. if you guys like this type of post, i have more where this came from (how about favorite skin care products, hair products, nail polishes!?)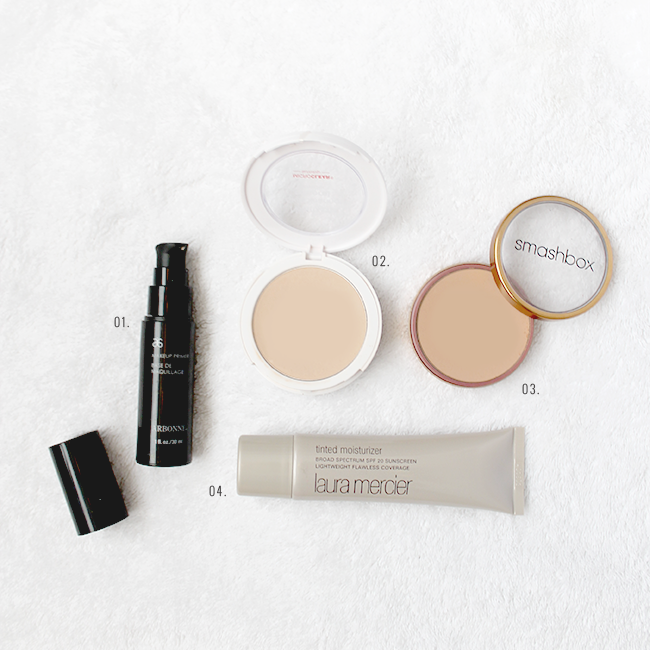 FACE
day to day, especially if i'm just running errands, i just wear powder from the pharmacy. i've been buying this neutrogena powder for years, i find it to be really subtle and just evens out my red. i had gotten some fancy powder for the wedding, but i honestly don't see much of a difference. in the winter, or if i haven't been in the sun a lot — i brush some bronzer over it along with a little extra as blush. i do see a difference between pharmacy bronzer and this fancy bronzer, the pharmacy ones can look jersey shore in a matter of seconds, but this one is really natural and light.
for the days when i want to look a little better, i use arbonne primer. my sister in law bought this for me for the wedding and i am OBSESSED. i honestly didn't know what primer was 8 months ago, but it feels like silk going on and it keeps my whole face really even and not at all oily. the best part is even though it's expensive, i use less than a dime size for my entire face. i just recently started using tinted moisturizer, because apparently that's what you do when you're in your 30s. i googled the shit out of which was the best one and everyone said laura mercier. i have to agree, it's light and for someone who isn't used to wearing concealer or foundation, it doesn't feel cakey compared to just using powder.
---
PRODUCTS
01.
ARBONNE MAKEUP PRIMER
02.
NEUTROGENA SKIN CLEARING MINERAL POWDER
03.
SMASHBOX BRONZER (SIMILAR)
04.
LAURA MERCIER TINTED MOISTURIZER (IN BISQUE)
---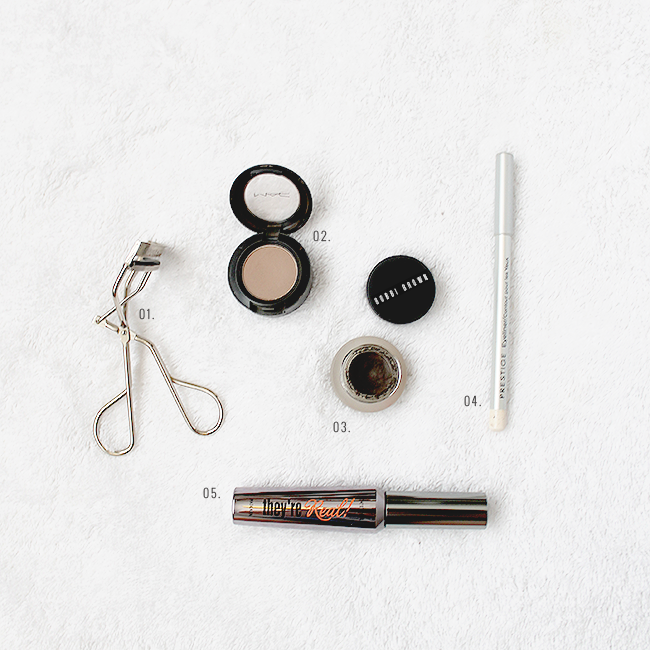 EYES
i've literally been wearing the same exact eyeshadow and eyeliner for over 15 years. that is cray, but i guess i like what i like. i've never looked good in heavy eyeshadow, so i've always stuck with this really pretty simple mac shade. and when i'm doing nighttime makeup, i just add a little darker eyeshadow to the corners sometimes and that's about it.
as for the eyeliner, the only thing i've changed in the last 15 years is the color. i have always worn a thin line on my top lid, like always. i honestly feel naked without it. i used to wear black, but once i started using a dark brown, i felt it looked a little softer and better on me. this bobbi brown gel eyeliner is basically no fail for me, i apply it with an angle brush and it always stays on from day to night. when i'm doing errands, sometimes i'll use a cheap pencil, but i rub my eyes quite a bit and the pencils smear really easily.
i never believed in eyelash curlers until my maid of honor forced me to buy one. i must say it does make a big different before applying mascara, but i'm still trying to figure out how to do my left eye as well as i do my right eye. how does anyone do it?!
i do feel like i'm buying mascara quite a bit, and while i do notice a difference with the more expensive brands, i still will buy my share of maybelline before a vacation or whatnot. i definitely like to layer on the mascara, and this one really doesn't look clumpy.
my last trick is a really simple and hopefully really helpful one if you don't know it. i used to work on a TV show where i had to wake up at 6am and be on camera. i looked so tired everyday, so my girlfriend recommended i put white liner on my bottom inner lid, and it really does the trick to get rid of the redness in your eyes. when i'm looking a little worse for the wear, i just put a tiny bit on the inside and outside — and obviously i don't need an expensive liner for this.
---
PRODUCTS
01.
SHU UEMURA EYELASH CURLER
02.
MAC MATTE EYESHADOW (IN WEDGE)
03.
BOBBI BROWN GEL EYELINER (IN SEPIA INK)
04.
PRESTIGE WHITE EYELINER
05.
BENEFIT "THEY'RE REAL" MASCARA
---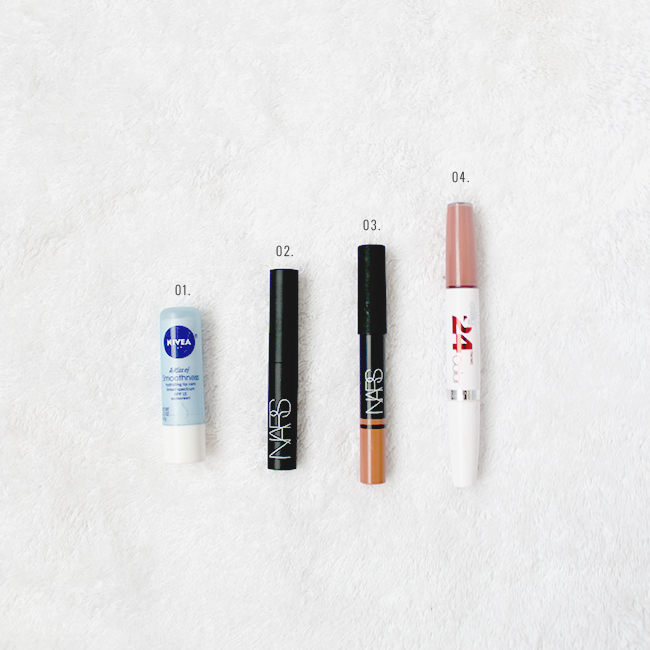 LIPS
just like everyone says you should, i try to remember to put chapstick on before i do all my makeup. this doesn't always happen, but i use this nivea chapstick all the time. i have about 5 tubes scattered everywhere, i always keep one in my purse, one in my nightstand, one with my makeup. i also have a really bad habit of picking my lips (we call this "lippy" in our house) because i have pretty dry lips. sometimes i remember to scrub them in the shower, but for the most part as long as i use this stuff regularly i'm in pretty good shape. doesn't hurt that it's cheap and its near the checkout stand at most pharmacies so i don't forget to stock up.
as for everyday color, i am a huge fan of my nars pure matte lipstick. i got the same shade as my sister in law after seeing her wearing it — and it's so natural and pretty and not too pink and it is super pigmented so it stays on for a good while. it's like, the perfect everyday color. when i'm mixing things up, i also love my nars satin lip pencil. again, it's really pigmented so the color stays on pretty well. if i wear a darker lipstick at night, i usually layer this on top to make it a more "me" shade.
for nighttime, i am obsessed with this maybelline lip stain. not only does it stay on for waaaay longer than the fancy lip stain i bought for the wedding (which was YSL!!!), but they have so many cute shades – and i get compliments on them constantly. the only drawback is when my lips are super dry, i'll wake up with what looks like a nasty chapped vampire mouth if i forget to remove it before i go to bed. but i love it.
---
PRODUCTS
01.
NIVEA HYDRATING LIP CARE
02.
NARS PURE MATTE LIPSTICK (IN MONTEGO BAY)
03.
NARS SATIN LIP PENCIL (IN ISOLA BELLA)
04.
MAYBELLINE SUPERSTAY 24 COLOR (IN PERPETUAL PLUM)
---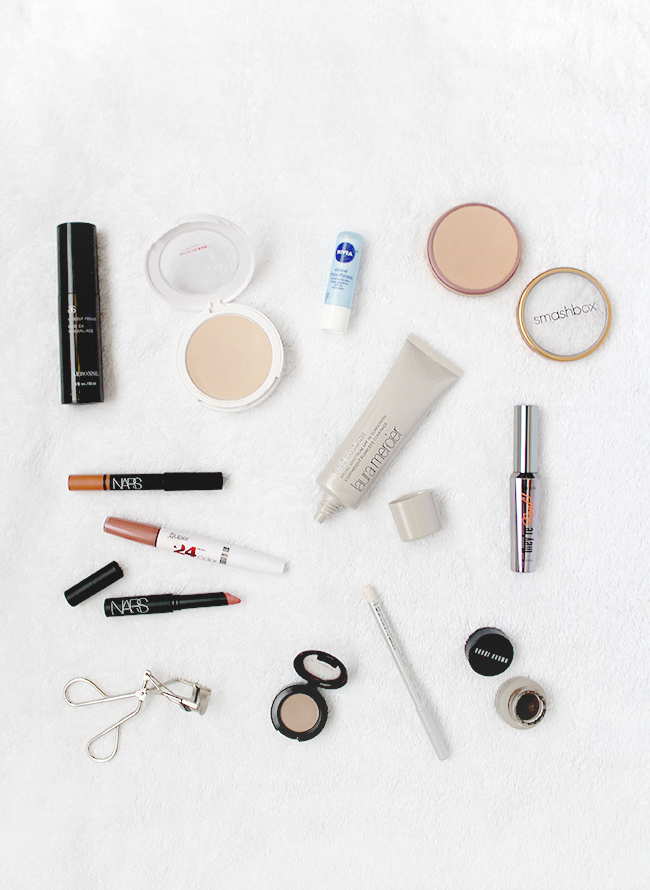 so that's it, i always feel like i wear no makeup, but when they're all piled together it seems like a lot of products… jeez it'd be fun to be a boy right?
and did you like this post? would love to know if i should do more beauty posts!