peach, pistachio and crispy sage pizza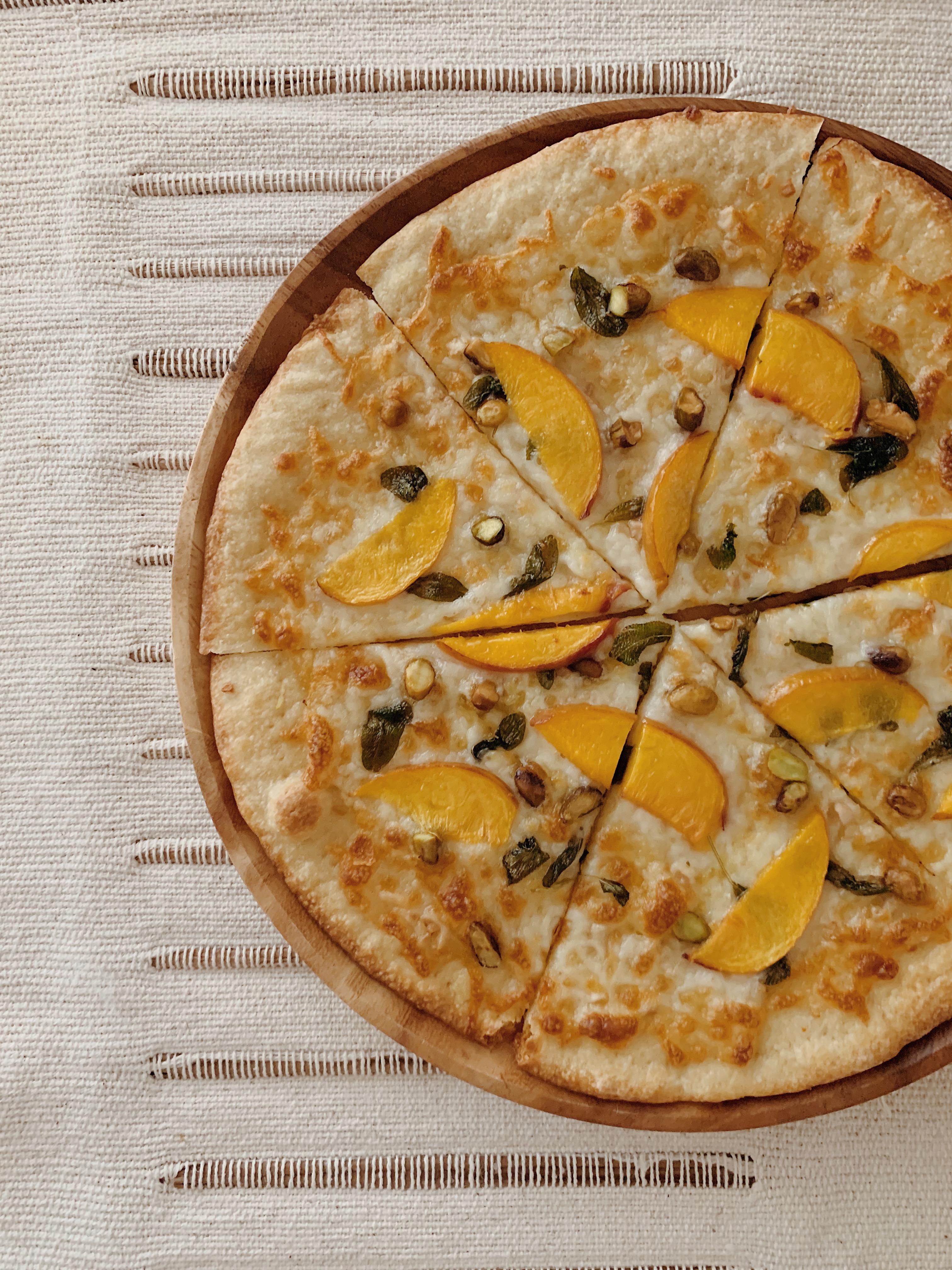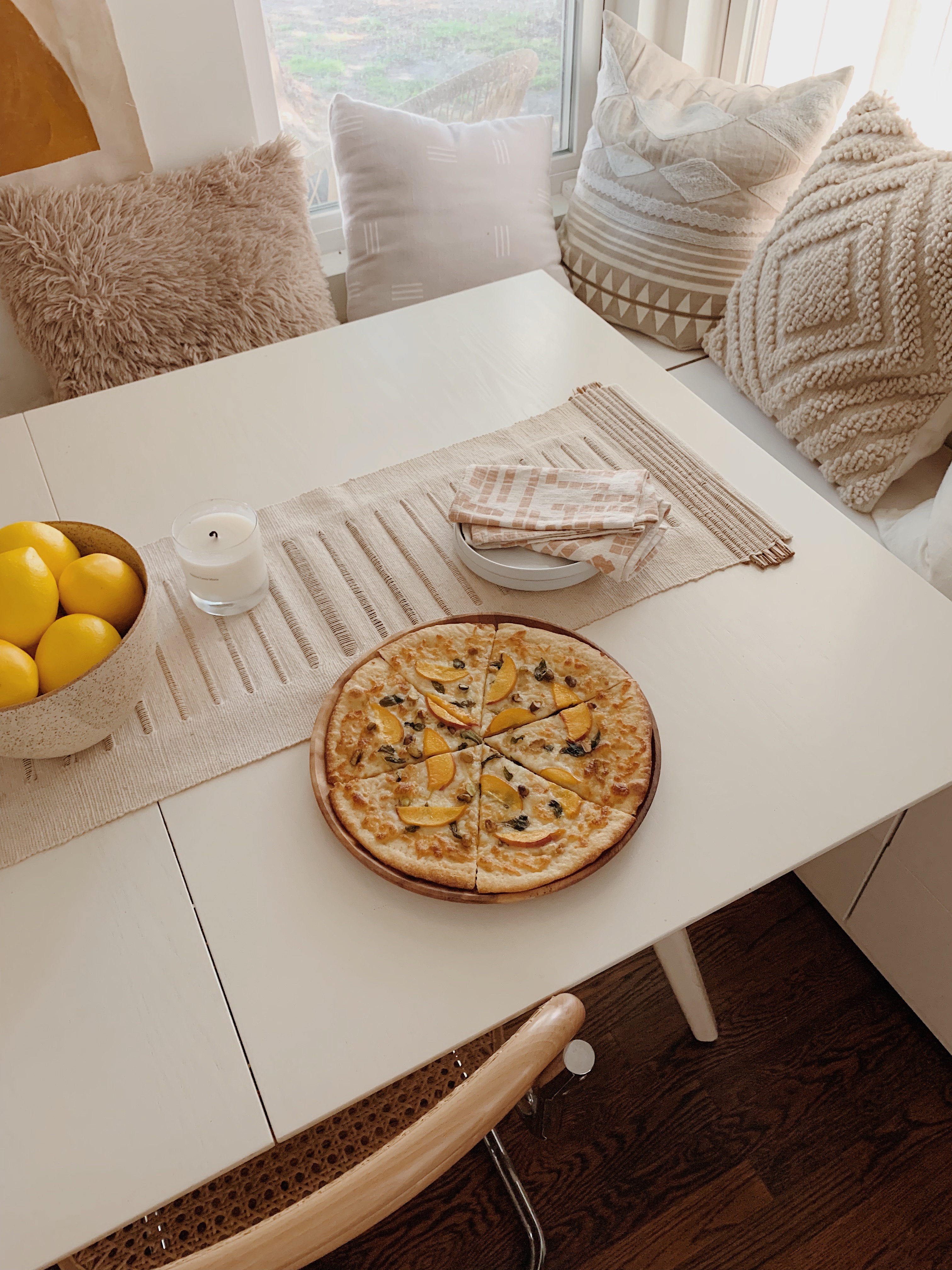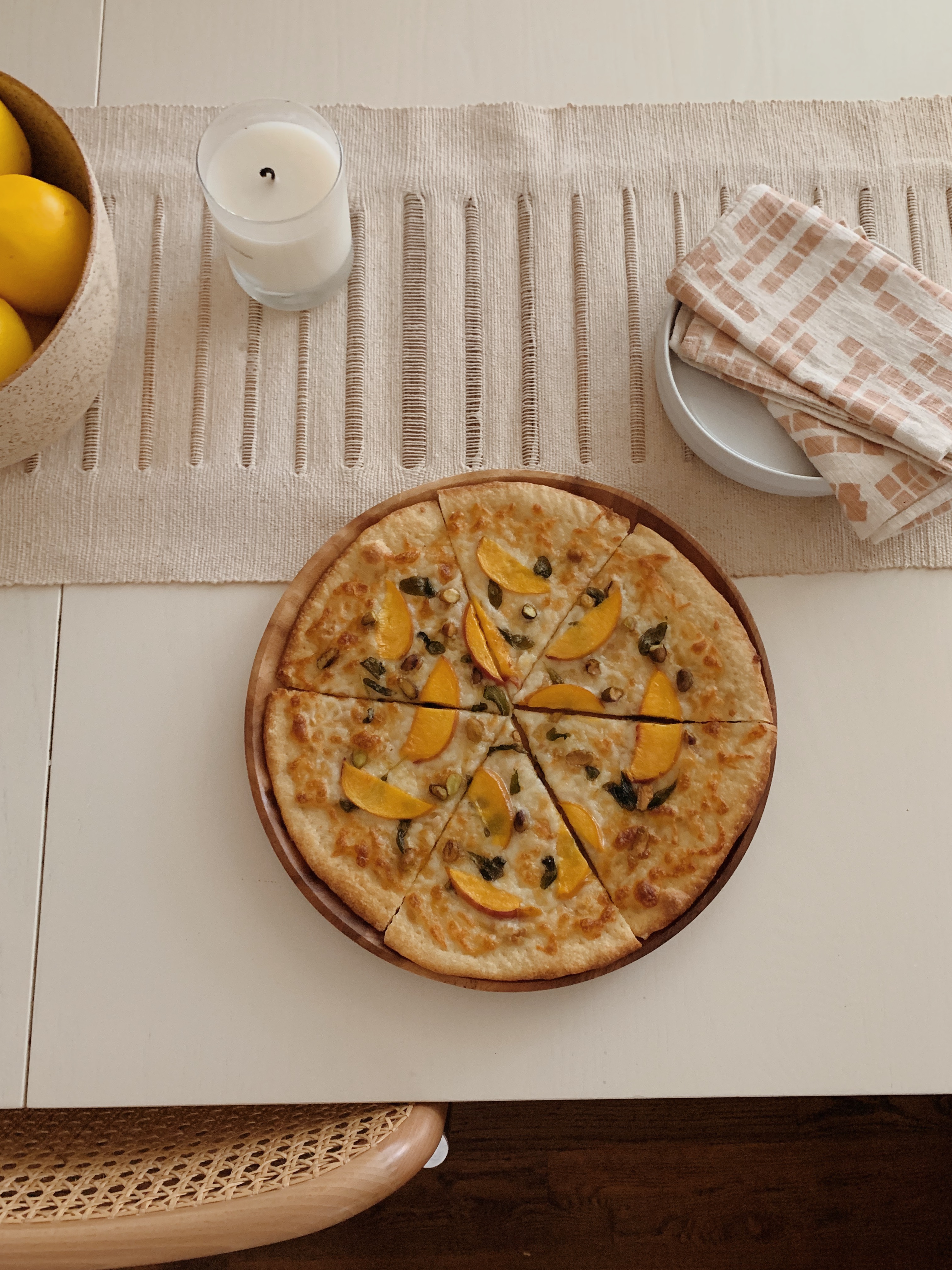 i have been getting way into making pizza the past couple months, but like all my cooking, i've struggled with creativity and thinking outside the standard toppings (i usually do pepperoni, mushrooms, peppers, onions etc) but when i saw a pizza from this place mykes pizza in arizona on instagram stories, i was INSPIREEEED.
i still haven't made my own dough which a lot of you tell me is very easy, i'll try it soon– i usually mix it up between dough from trader joes, the italian deli near our house, or these flatbread doughs that are insanely easy and i love a crispy flatbread crust. you can do this recipe with whatever dough you want, but i used the flatbread one.
the first night i made it i couldn't believe that i'd hyped it up so much in my head and it lived up to it. it was super delicious and so easy, and seems fancy enough to serve as a fun appetizer for entertaining too. the next time i made it, i decided to go a lot heavier handed with all the ingredients and i can't recommend that enough! the bites that have all three toppings are the best bites, and you bought all the ingredients so you might as well cover that pizza!!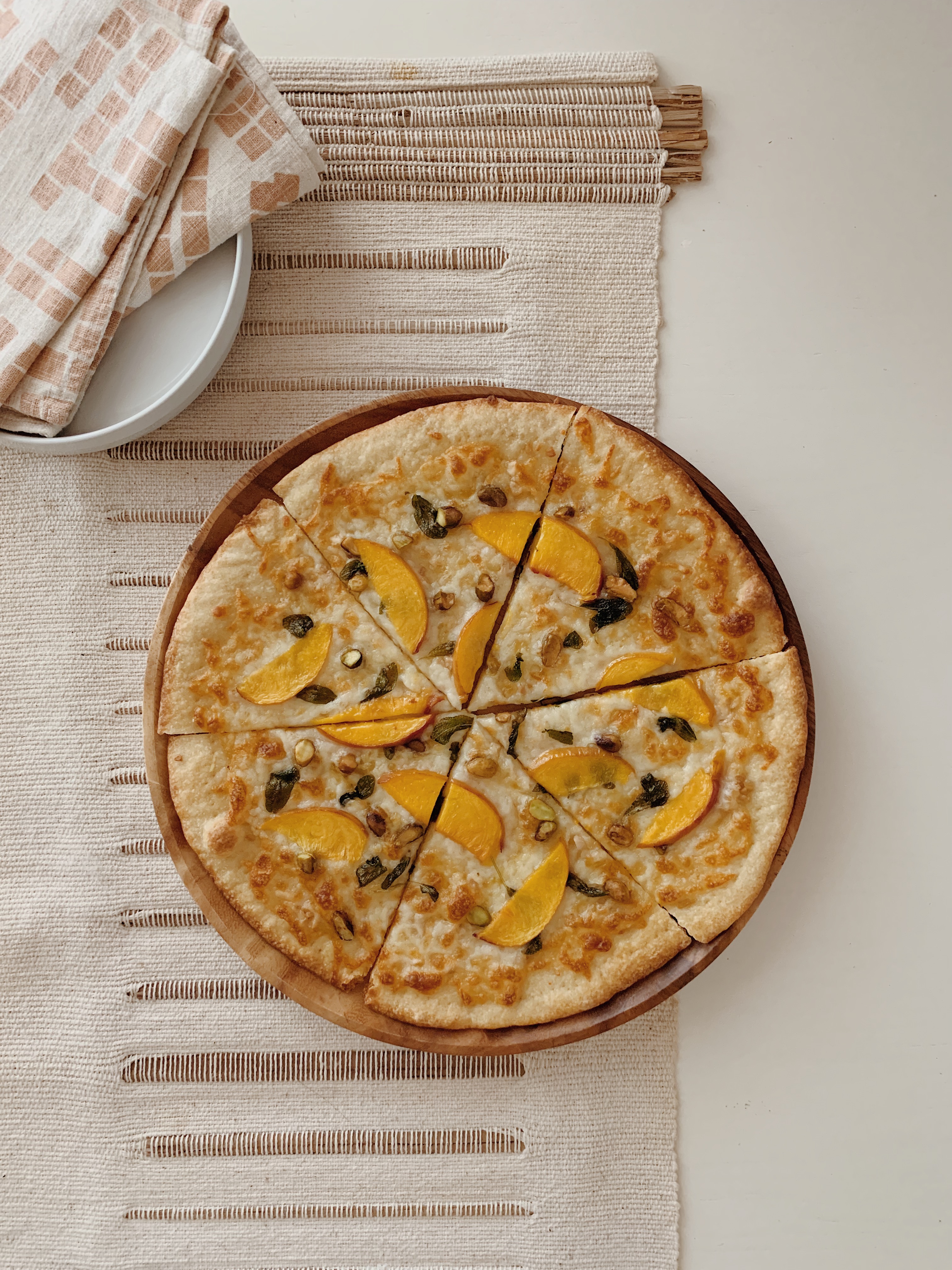 peach, pistachio and crispy sage pizza
ingredients:
pizza dough
olive oil
minced garlic
grated mozzarella
one ripe peach**
deshelled pistachios
fresh sage leaves
**when peaches aren't in season, sub butternut squash or figs
---
1. preheat your oven (and pizza stone). brush olive oil onto your dough, and spoon on a tablespoon of minced garlic to spread around. i also like to create a crust by poking around the circumference with a fork
2. top with grated mozzarella
3. pan fry your sage leaves for 10-30 seconds, they don't need to get dark or crispy yet, but you'll see them change in the pan (they'll crisp even more in the oven so don't overdo it)
4. top pizza with the sage leaves, halved pistachios, and thin slices of peach. cook until crust is crispy and it looks like pizza!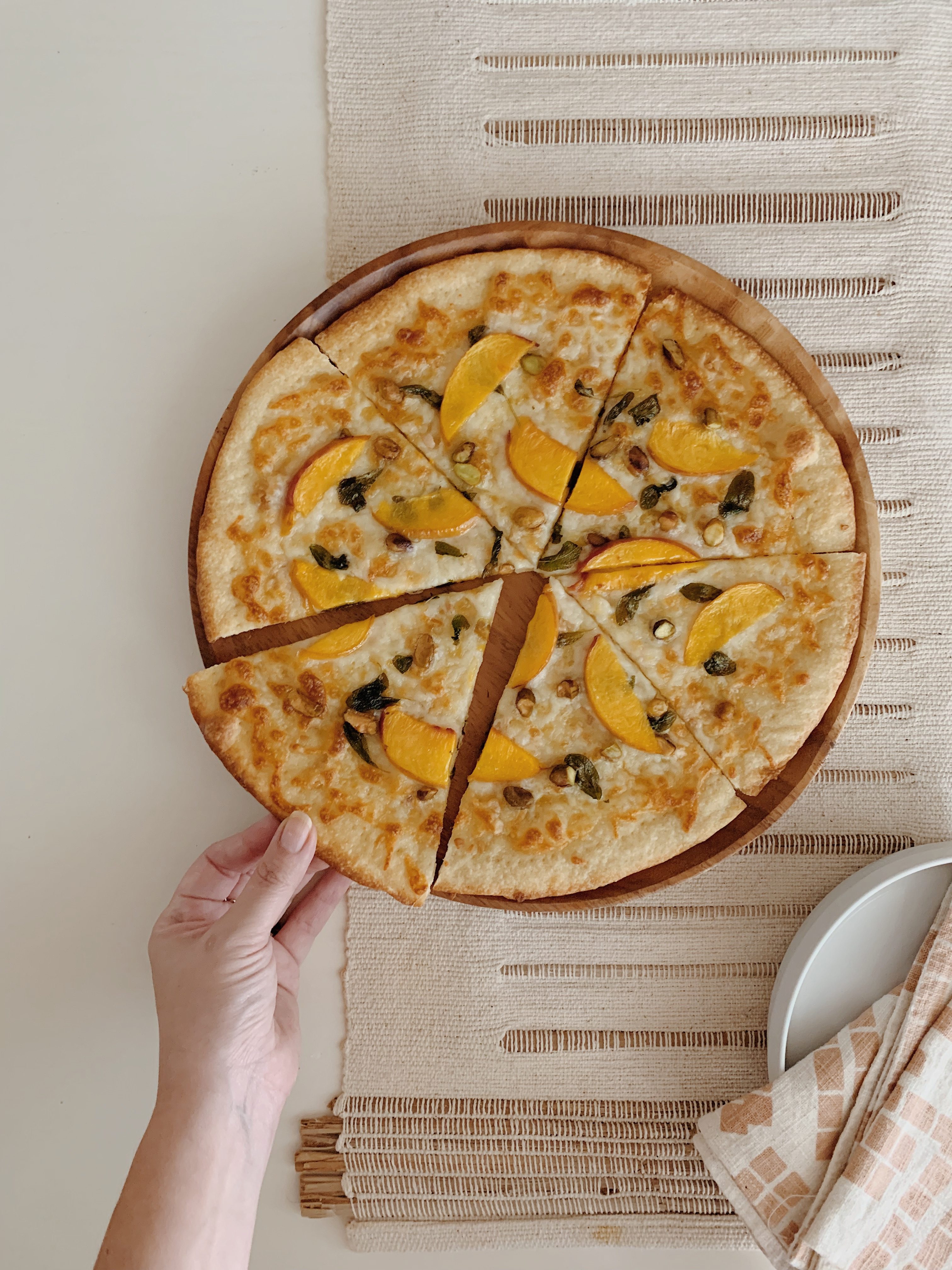 tag me if you make it! would love to see!