grilled chicken kabobs with bok choy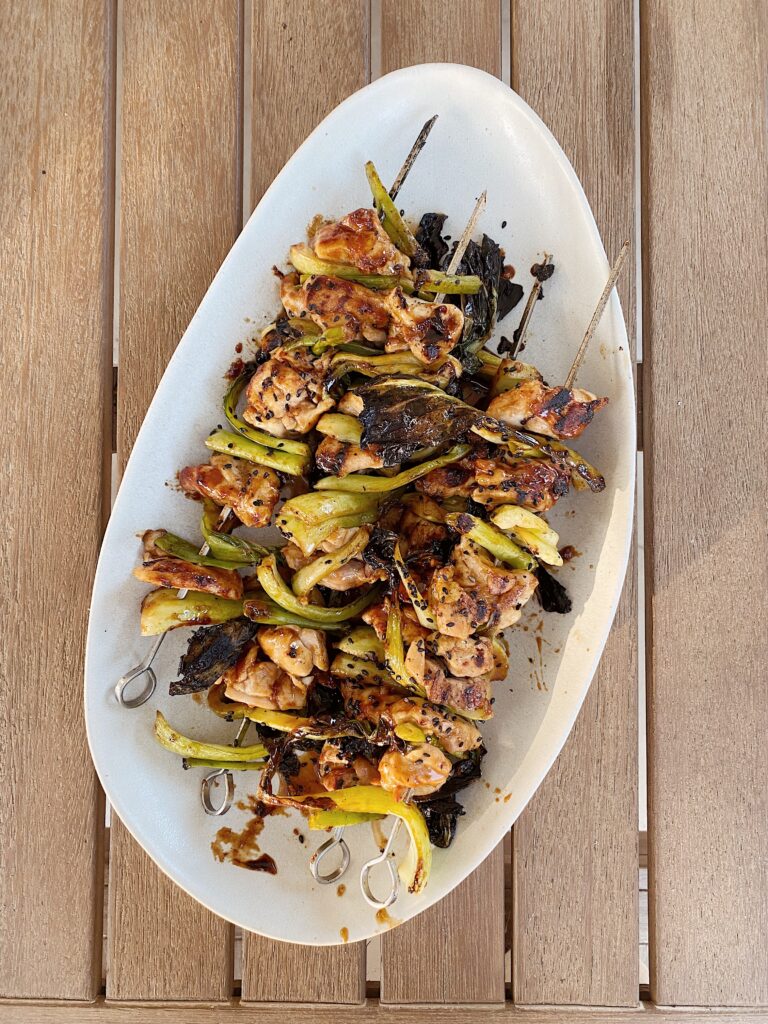 ok these are not my prettiest food photos ever, but i loved this meal so much i thought i should share! the recipe is pretty simple but felt fancy (for me!) i served it with corn on the cob and jasmine rice.
ingredients
1/4 c hoisin sauce
3 tbsp soy sauce
1 tbsp plus 2 tsp sesame oil
1 " piece ginger, grated or minced
2 cloves garlic, grated or minced
1 lb chicken thighs, cut into 1″ pieces
1 lb baby bok choy, rinsed, cut in half lengthwise
1 bunch scallions, cut into 2″ pieces
2 tbsp vegetable oil
kosher salt + fresh ground black pepper
toasted sesame seeds (i used black sesame seeds)
directions
in a medium bowl, whisk together hoisin, soy sauce, sesame oil, ginger, and garlic until combined.
set aside.
in a large bowl, add chicken, bok choy, and scallions. drizzle oil, season thoroughly with salt and pepper, and toss to coat.
preheat grill to medium-high for 3 minutes. if you're using wood skewers, soak them in a shallow pan filled with water for 10 minutes to prevent scorching. i use these metal ones! once soaked, thread chicken, bok choy, and groups of 3 scallions onto skewers.
transfer skewers to the grill and cook for about 4 minutes, flipping occasionally. after the first 4 minutes, begin brushing the skewers with the hoisin mixture after each flip. cook for an additional 4 to 5 minutes, or until the thickest piece of chicken reaches 165ºF on thermometer.
transfer to a platter, sprinkle on sesame seeds and serve.