our simple hallway makeover
this post is in partnership with frame it easy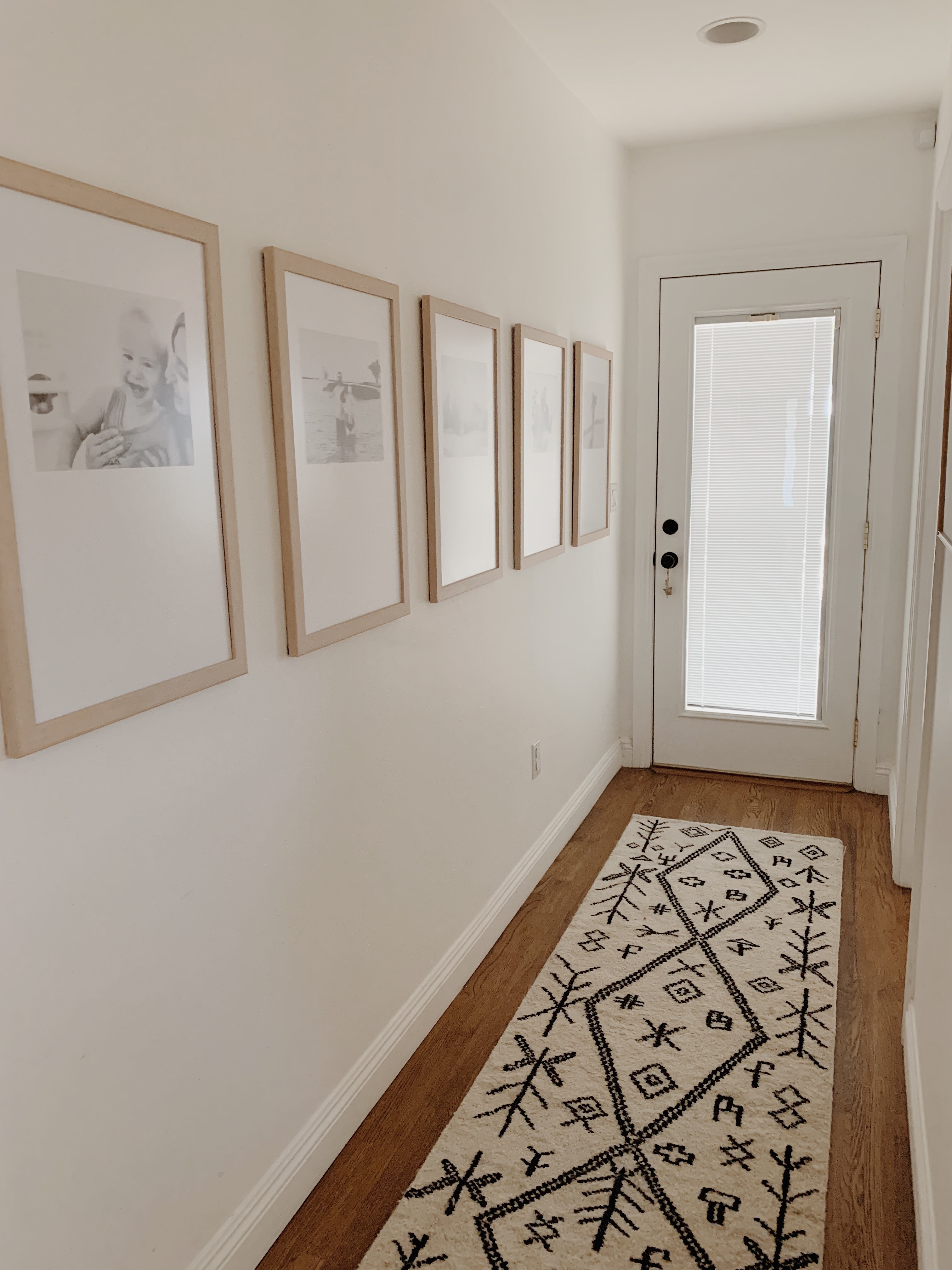 a hallway is so easy to overlook, and i didn't even realize because it was completely overlooked for almost exactly 3 years now! (our house-aversary was halloween) there are so many more important spaces in a house that take precedence but we spend so much time in the hallway, walking from room to room (as one does in a hallway) and our laundry is in the hallway so we spend a LOT of time sitting and watching the exciting process (arlo's hobby, i personally don't find it as fascinating). so after needing a little house project to "get my fix", i decided to do a mini makeover.
we've always wanted to hang some family photos up now that we have arlo, because that's like, what family does. but we really don't have a lot of wall space in general (our house isn't big), so we've never come up with a place for them. i considered our hallway but since it's so long and narrow i didn't really think it was the right spot but that was dumb of me because it's actually the perfect spot! they aren't in our faces all the time and they're a fun thing to look at when we walk by. i worked with frame it easy, it was so easy to order from their site, and i was able to fully customize the exact size i wanted to fit the wall perfectly. i was also able to quickly duplicate the frame so i didn't have to rebuild 5 times, and the frames arrived super fast too.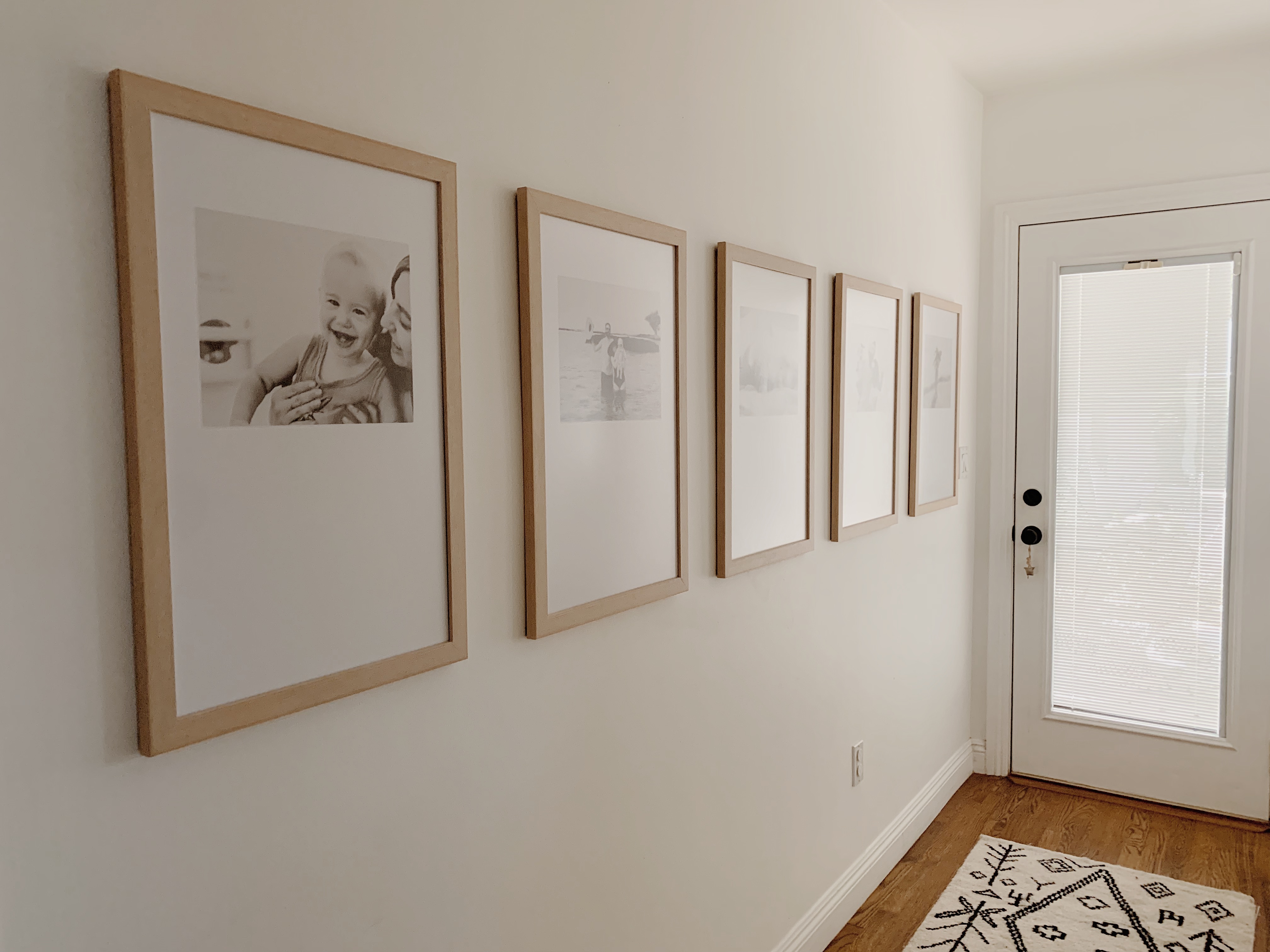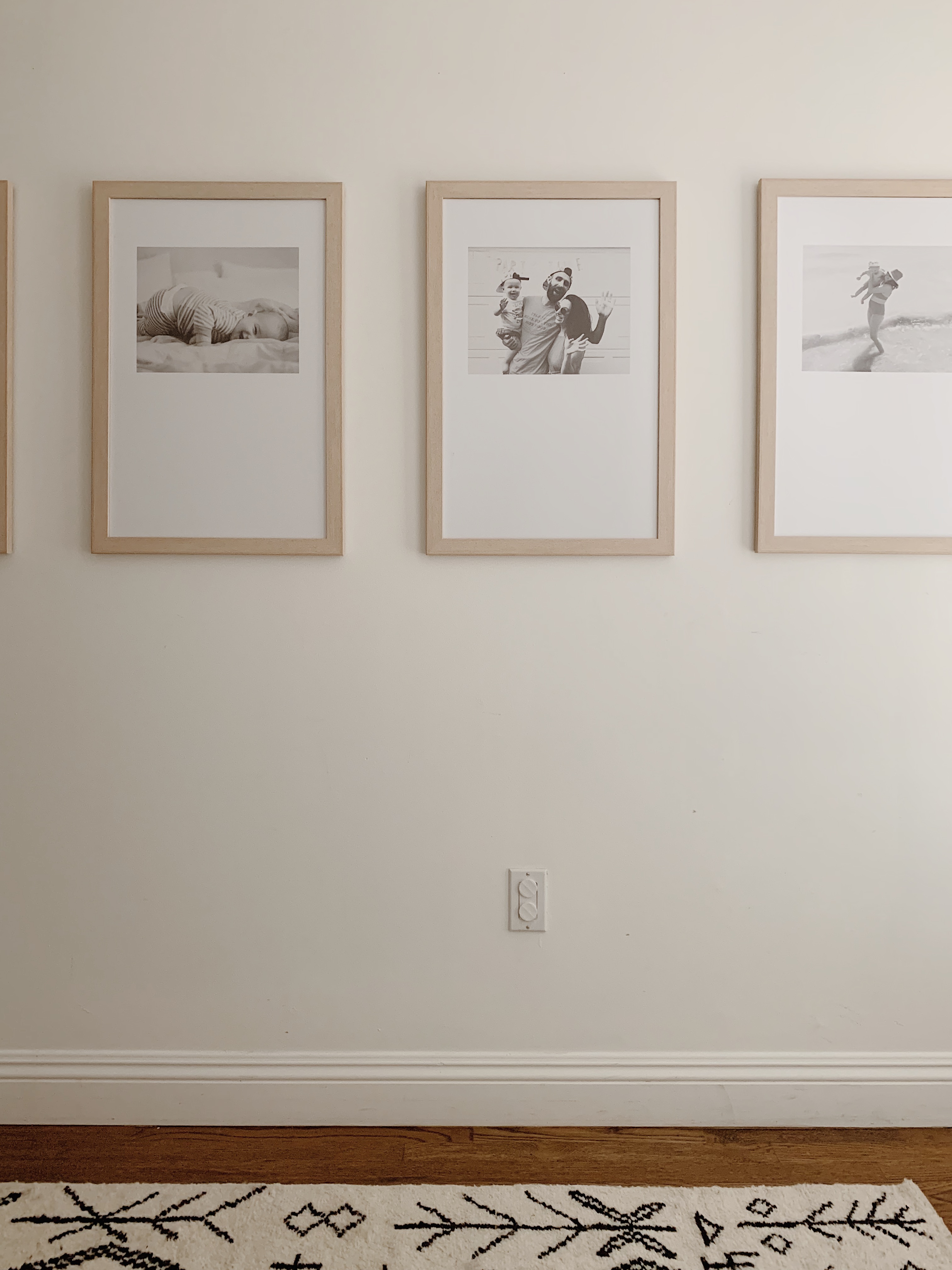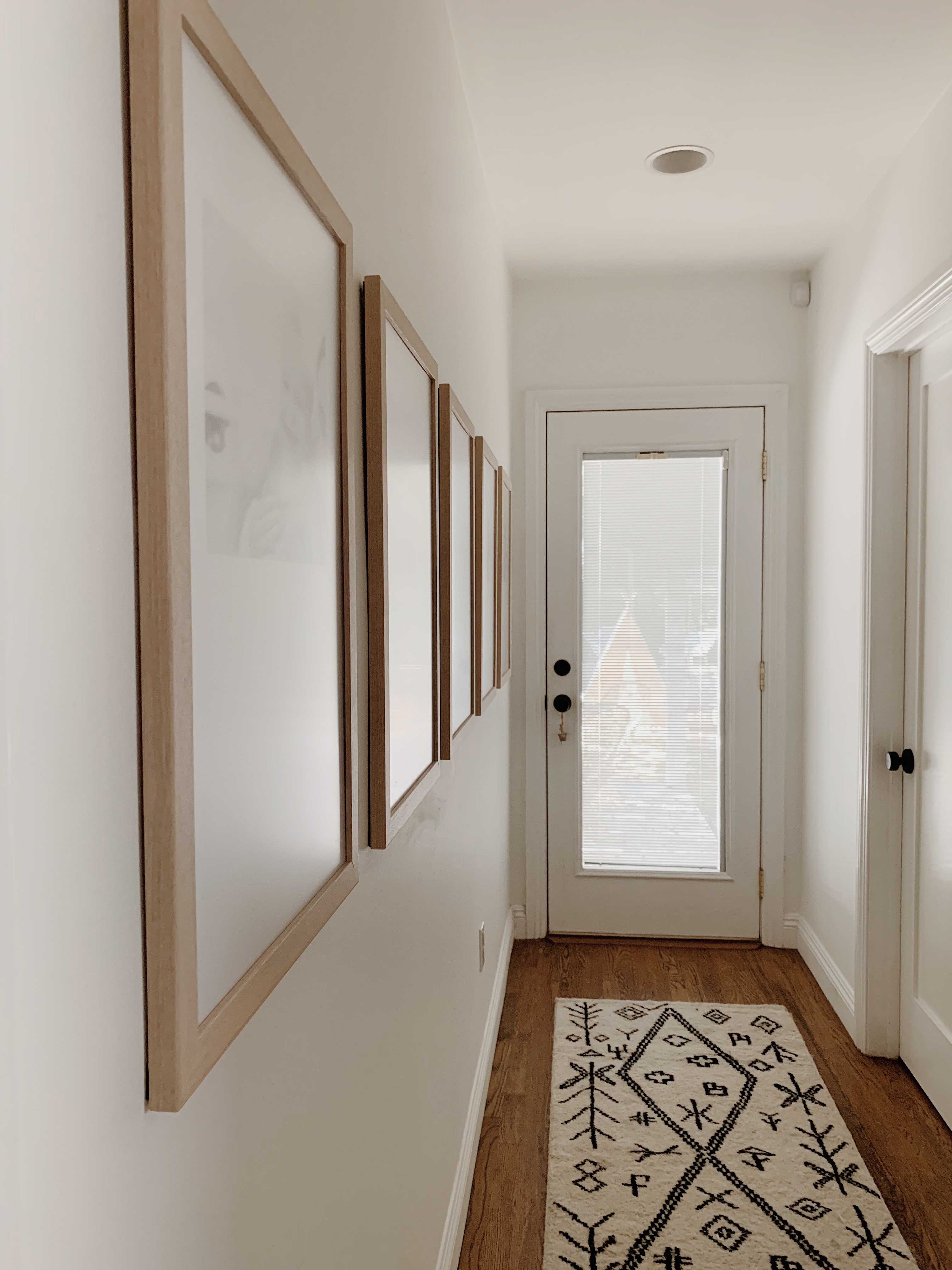 first, we measured the full wall area we had to work with, and then we did some sort of math for like 5 days because we're terrible at math — and came up with 5 frames at 18″ wide for the look we wanted. (i also considered doing two rows but ultimately decided that was so not toddler friendly). i did the light wood frame (honey color) in 18×27″. i love that they're tall and thin and just look exactly like i pictured. my absolute favorite part is the non-glare acrylic, i always prefer acrylic because i'm paranoid about babies / earthquakes / etc and the non glare looks good no matter what time of day.
i love the look of an oversized mat but decided to add a "faux" mat to my images directly to because i loved the idea of an offset. it ultimately will be a slightly bigger pain to replace the photos, but i saved the file so i can swap them out and reprint whenever. if i had done a standard mat, the prices of their frames are still about half the price of other online shops.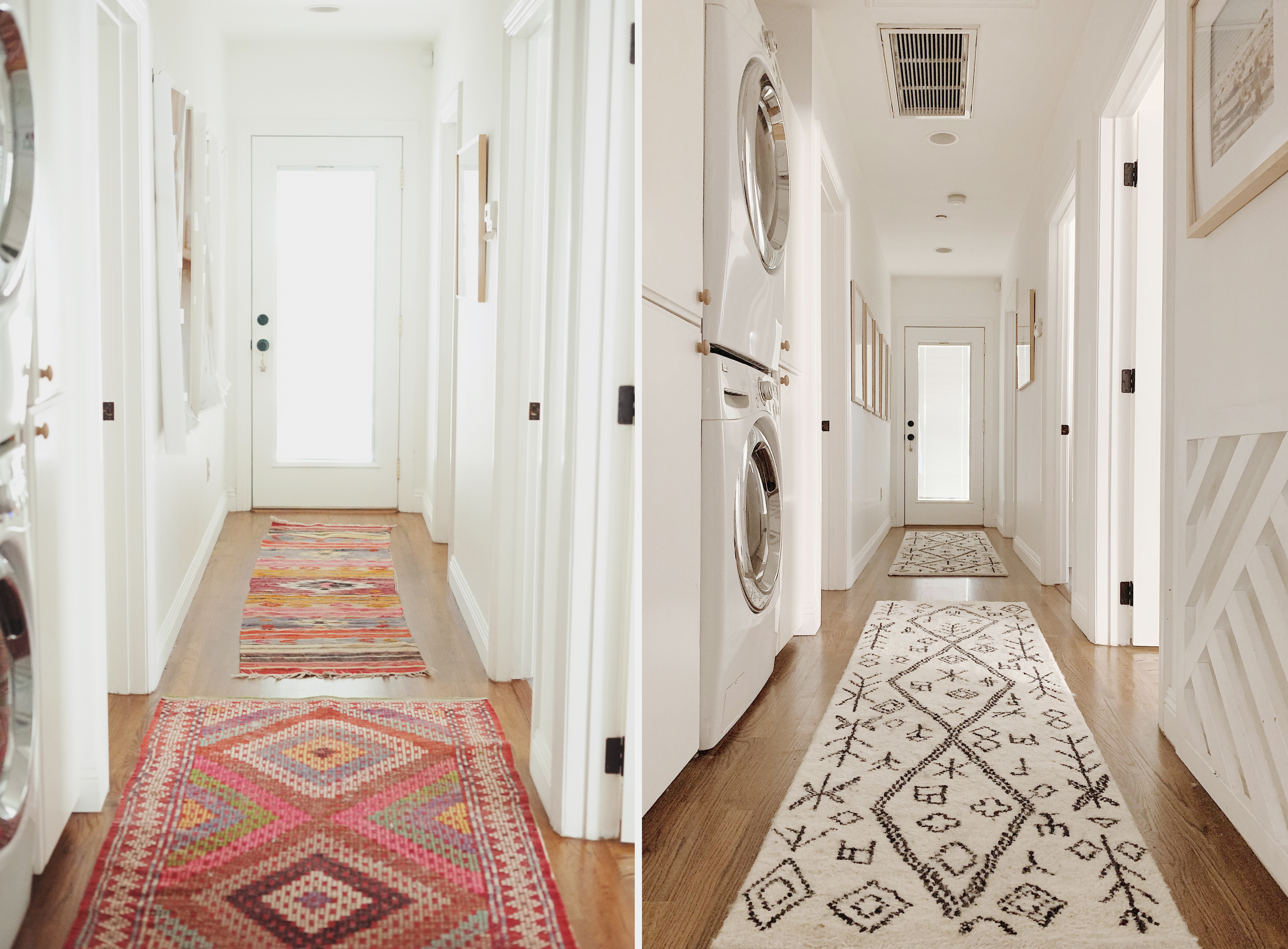 btw when i said the hallway was overlooked, the thing is that actually the hallway was one of the first areas i "decorated" when we moved in. we had runner rugs from our wedding that we used for our aisle and i just threw two of them down and called it a day. then i did that project to redo the cabinet fronts which made the hallway soooo much nicer to look at. but recently it occurred to me, as much as i loved the runners because they're cute and sentimental, they just didn't really go with the rest of the house full of beige moroccan rugs lol. we've been casually searching for a super long vintage beni runner for a while, but to no avail. so i just finally decided to replace them with a pair of runners. they're just two of the same rug but i actually love it. and we had three giant engineer prints of arlo hanging from his birthday party (…in june lol) so i was really excited to replace those.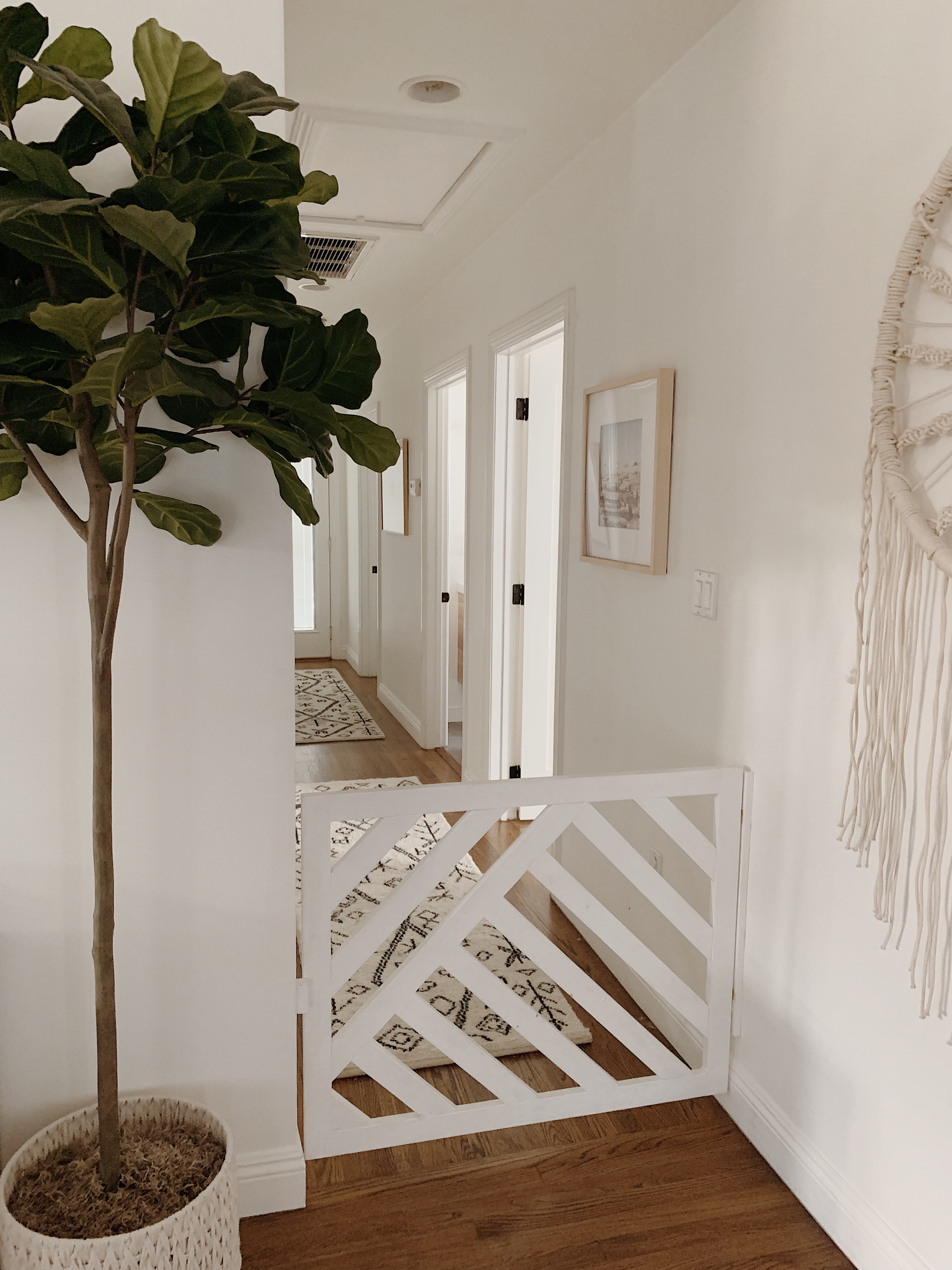 i get so many questions about the baby gate and really i should just do a full post on it, but haven't. i came up with the design and just had my carpenter build it for me and paint it white. we attached it directly to the wall and i love it so much more than a typical baby gate, especially because it's one of the first things you see when you enter our house. but i get lots of questions about the construction and like i said i didn't build it! i sure did outsource well though huh.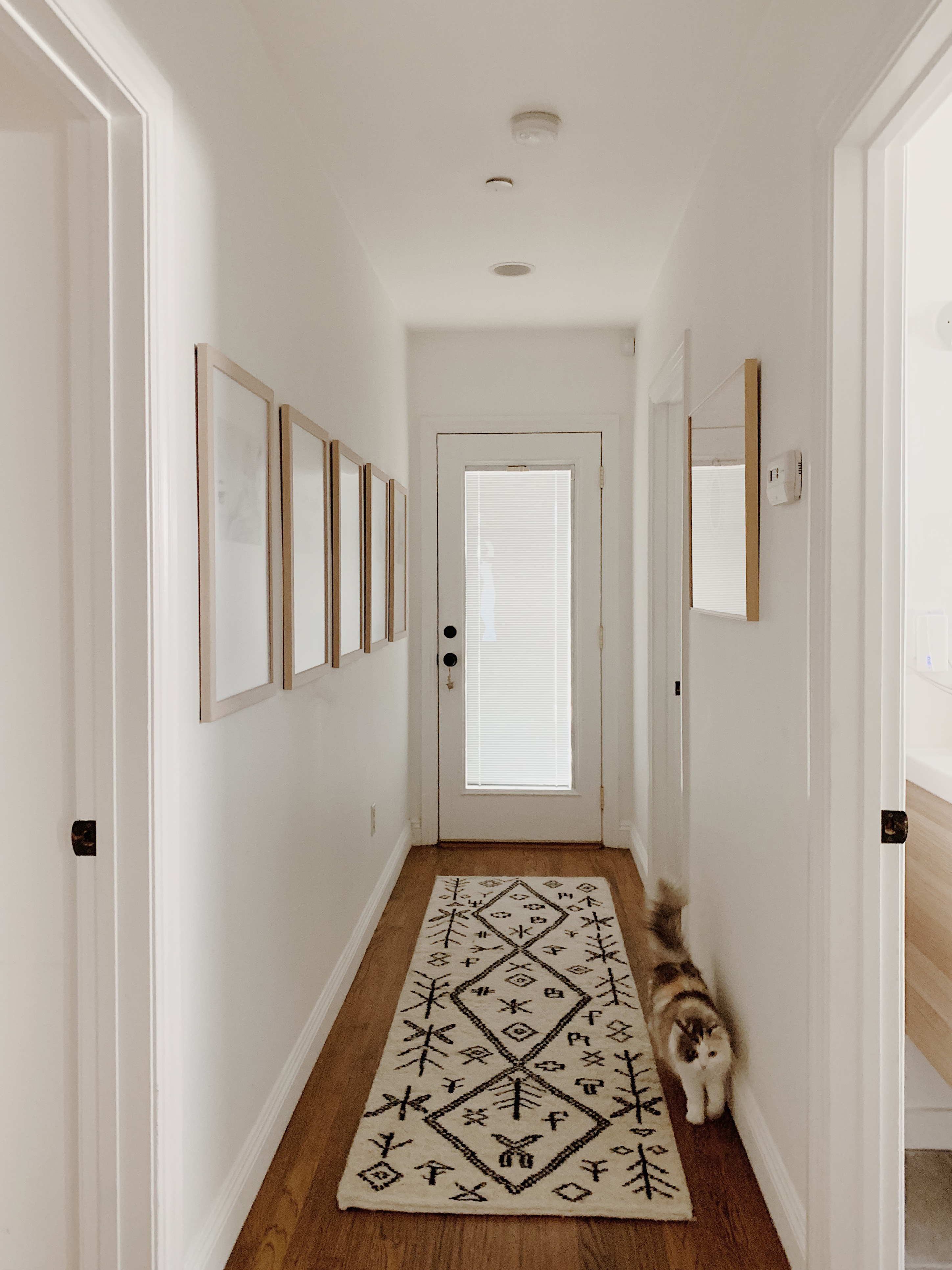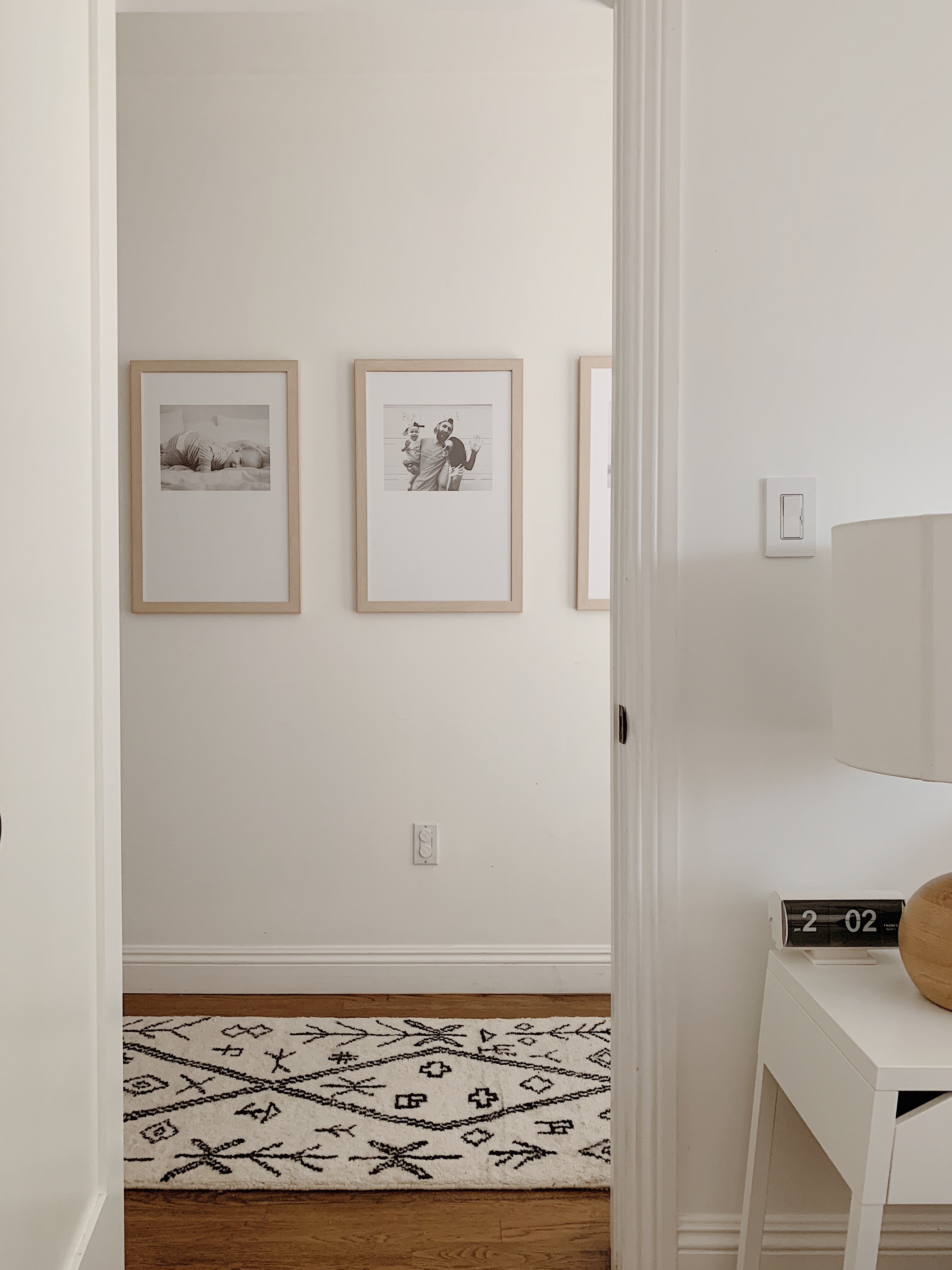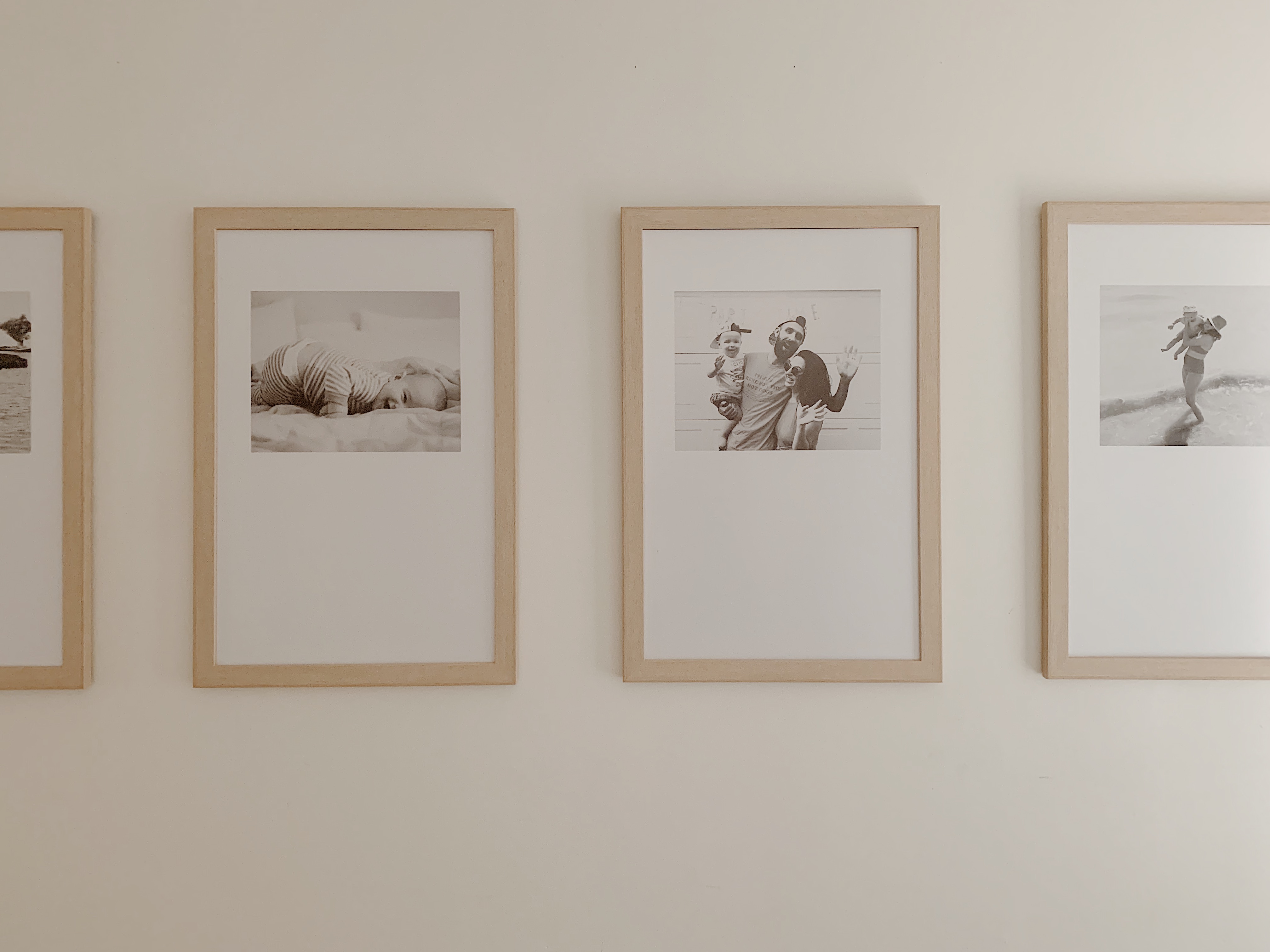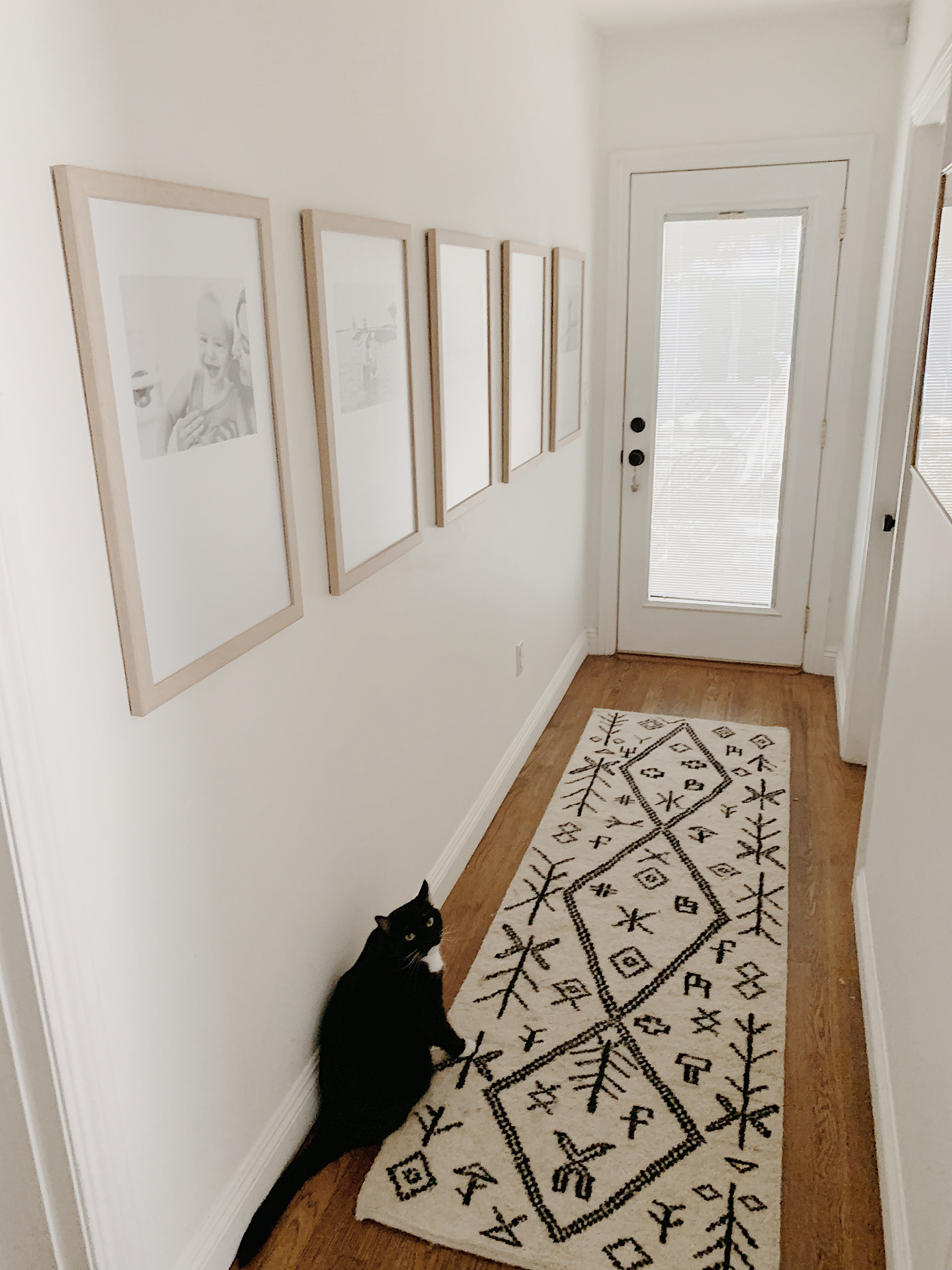 the hallway feels so grown up now! and like, finished! i love it so much. the rugs are sooo much more comfortable to sit on during a laundry sesh. and i pick up arlo to look at each framed photo and point out arlo, mama and dada and it's a very fun way to kill 3 minutes a day. basically i'm v stoked on how just a couple of little changes made such a big difference and a perfect way to do a little spruce up for the holidays.
sources
---
+ for 10% off your order from frame it easy, use code AMP
(expires 12/31/19)