This post is sponsored by Comfort Zone
All thoughts and opinion are 100% my own
i am so excited to announce my partnership with comfort zone, i truly love and swear by their products and have for years! as you guys know, i have many cats and i bring in new furniture pretty often, and we would not be able to have anything nice without comfort zone.
people usually don't understand what the product is exactly when i explain it to them — they assume it's some sort of cat nip type of thing. but it's actually not that at all. comfort zone products mimic a cat's natural pheromones to send them calming signals and help reduce unwanted behaviors, such as multi-cat tension, general anxiety, urine spraying and destructive scratching. the comfort zone diffuser just plugs into an outlet and is detectable to cats, and it makes them feel like they're in a safe space.
all three of our cats are kind of stress balls in their own ways…
bodhi has always been our "scaredy cat" despite being gigantic and the only boy. he has been anxious since he was a tiny little kitten and always been a total mamas boy who would sleep and knead on me all day, or meow at me until i let him (he is sleeping on my arm as i type this). every time we've moved, he has been a complete wreck and when we moved into our house he stayed in a bathroom drawer for a day until i woke up to him on top of me screaming at 4am. now that he's older, he's finally a little calmer but he will always quickly skulk away to hide in a kitchen cabinet if a scary stranger is nearby.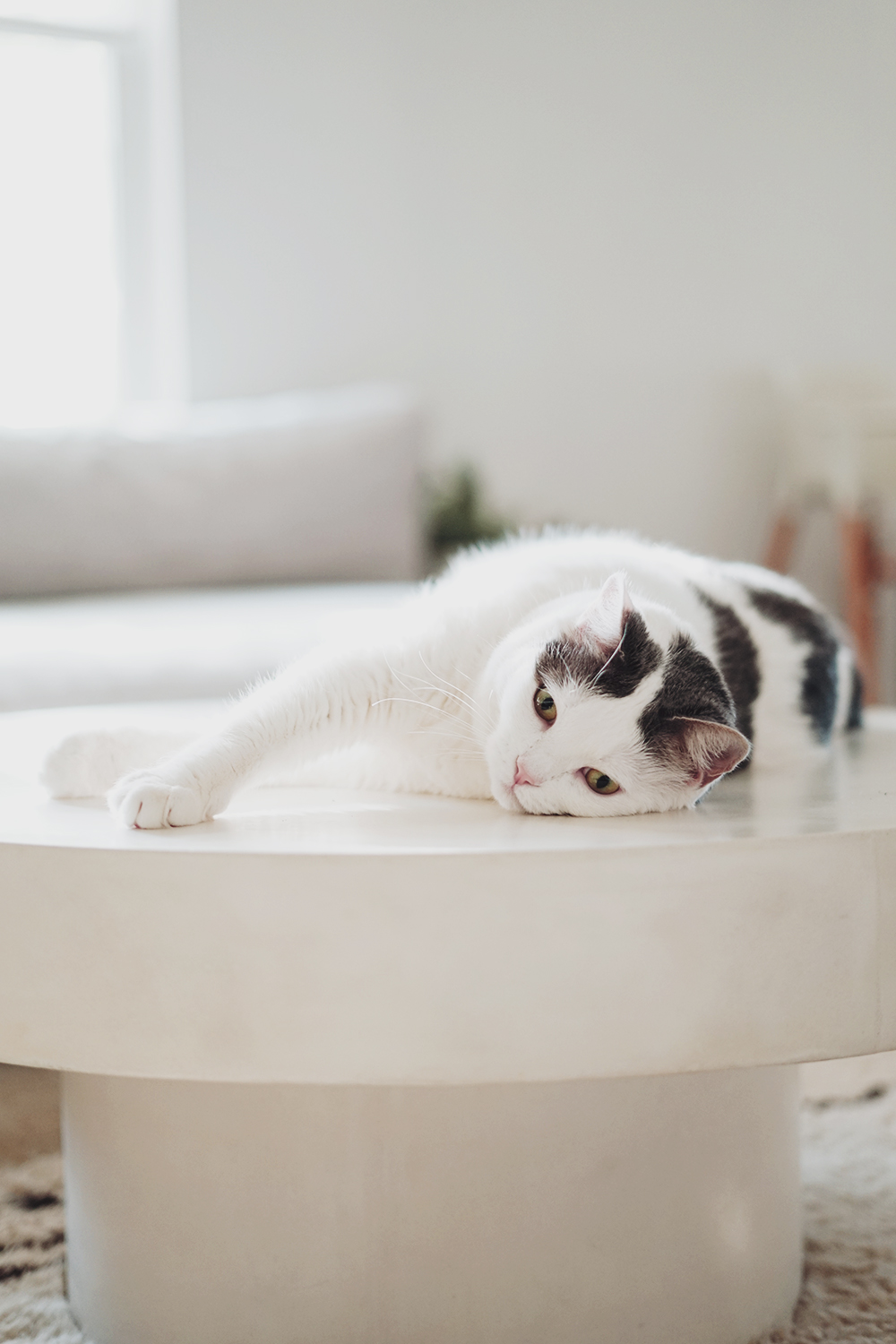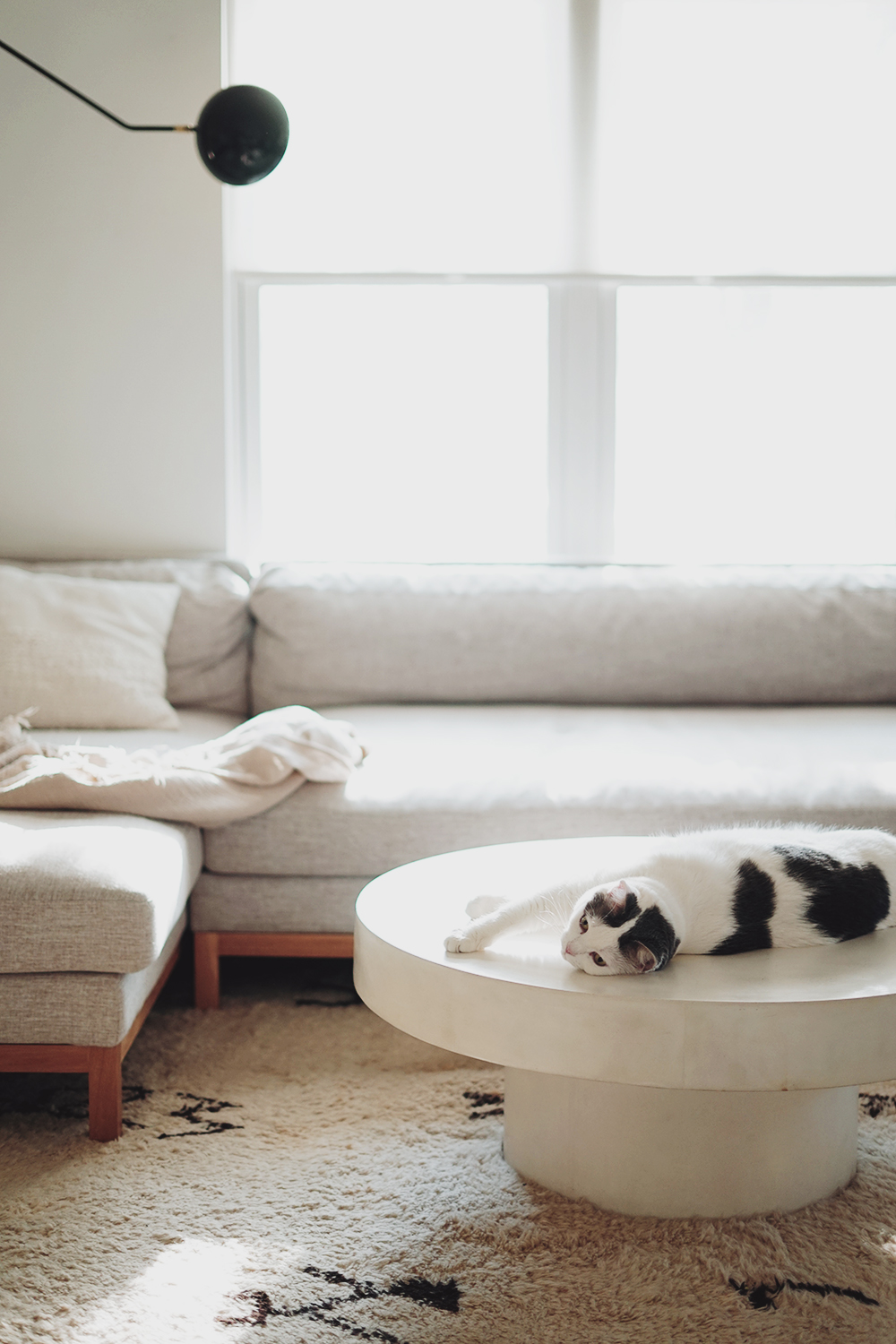 lucy has always been brave and pretty confident, but if a vacuum cleaner is within ear shot, she will disappear. she is also apparently afraid of the outside world because one night she escaped when someone left our backdoor open after a party and she sat outside the door waiting for us to let her back in lol. she's a good cat though, but her problem in life is rocky!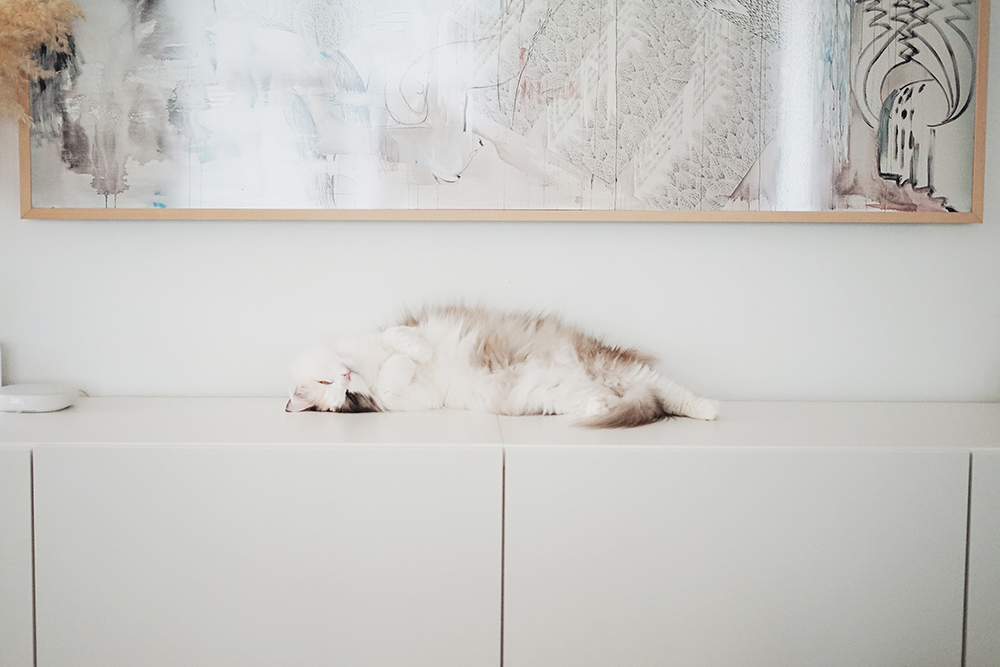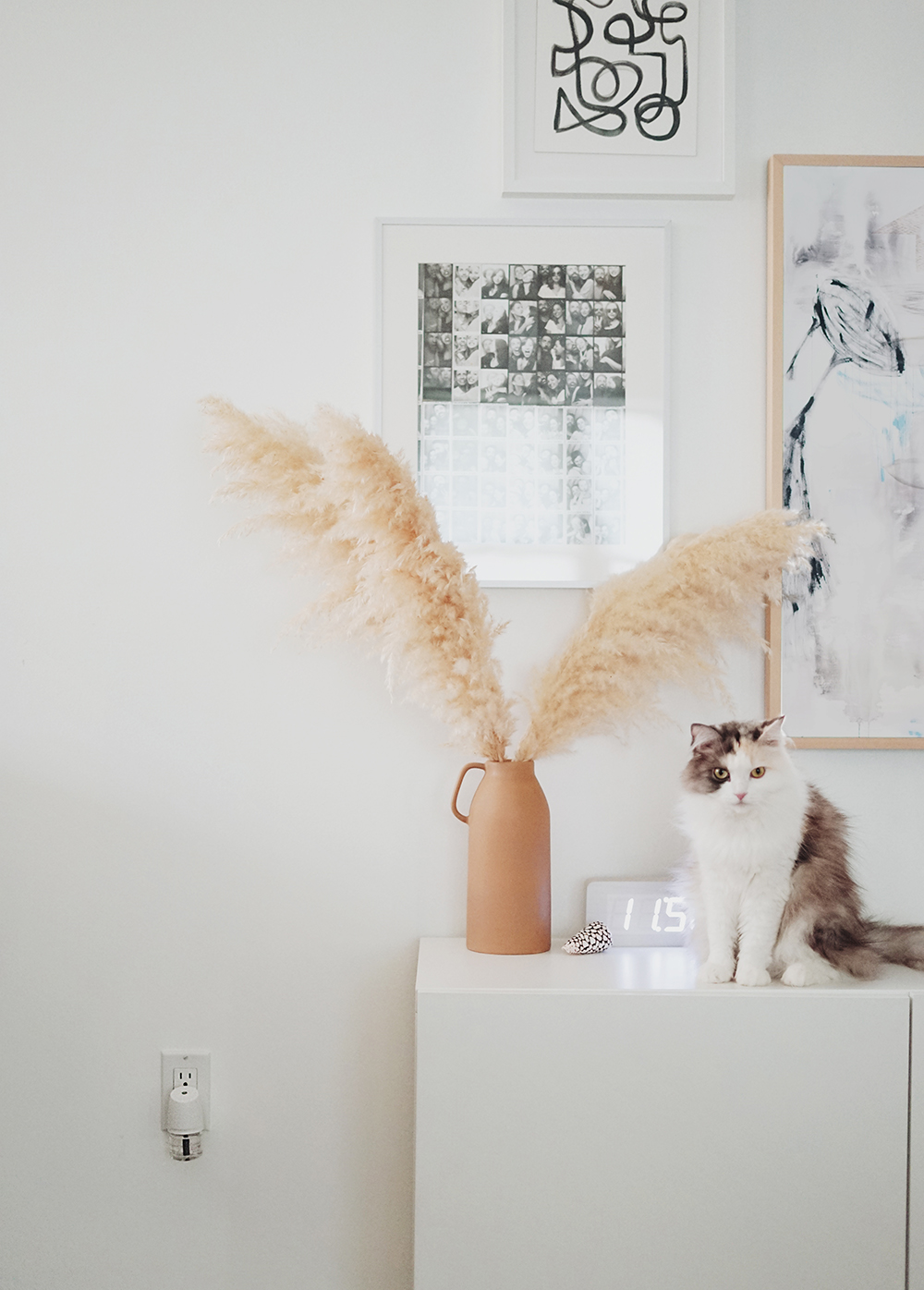 rocky has been pretty happy living with us, she loves to sleep in bed with us as i have shared many times, but she is always sleeping with one eye open because of lucy. so during the day she's fine sitting on her perch in the living room, she is usually afraid to use the bathroom so a lot of times we have to escort her to and fro and as you can imagine with a baby, it's a fun extra chore.
i posted about the terrible bathroom situation and our redesign of the guest room, but i still haven't shared how we converted the cabinets for them because we haven't really fixed the situation still. we got rid of the fancy robot, and we put two boxes in the guest room and one into our bathroom just for rocky — but rocky hasn't really used hers whatsoever and bodhi (we think) is still going outside the two boxes, despite cleaning them regularly. i put diffusers in both rooms, so i'm hoping that helps! does anyone have any additional tips besides adding more boxes?! that didn't work lol.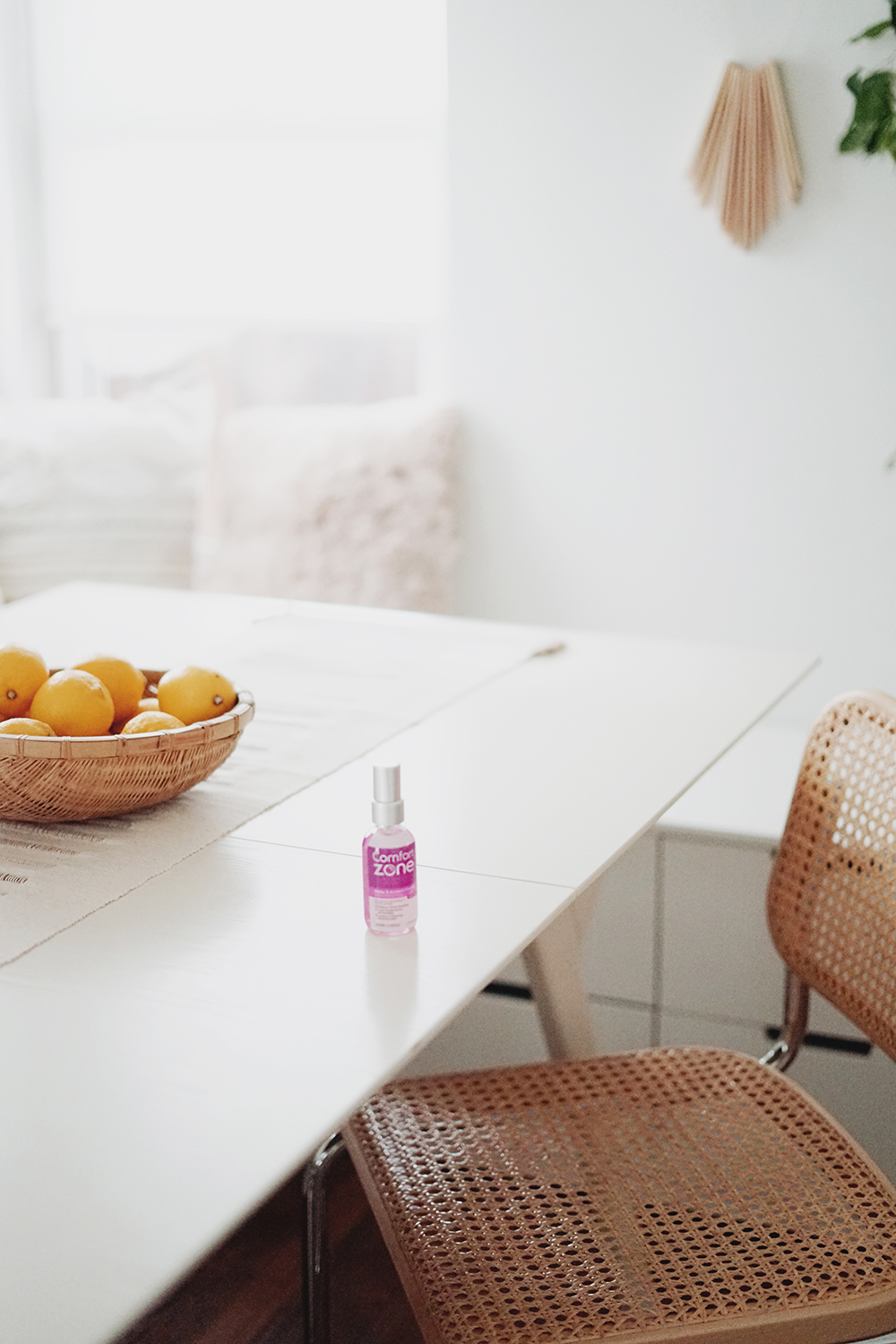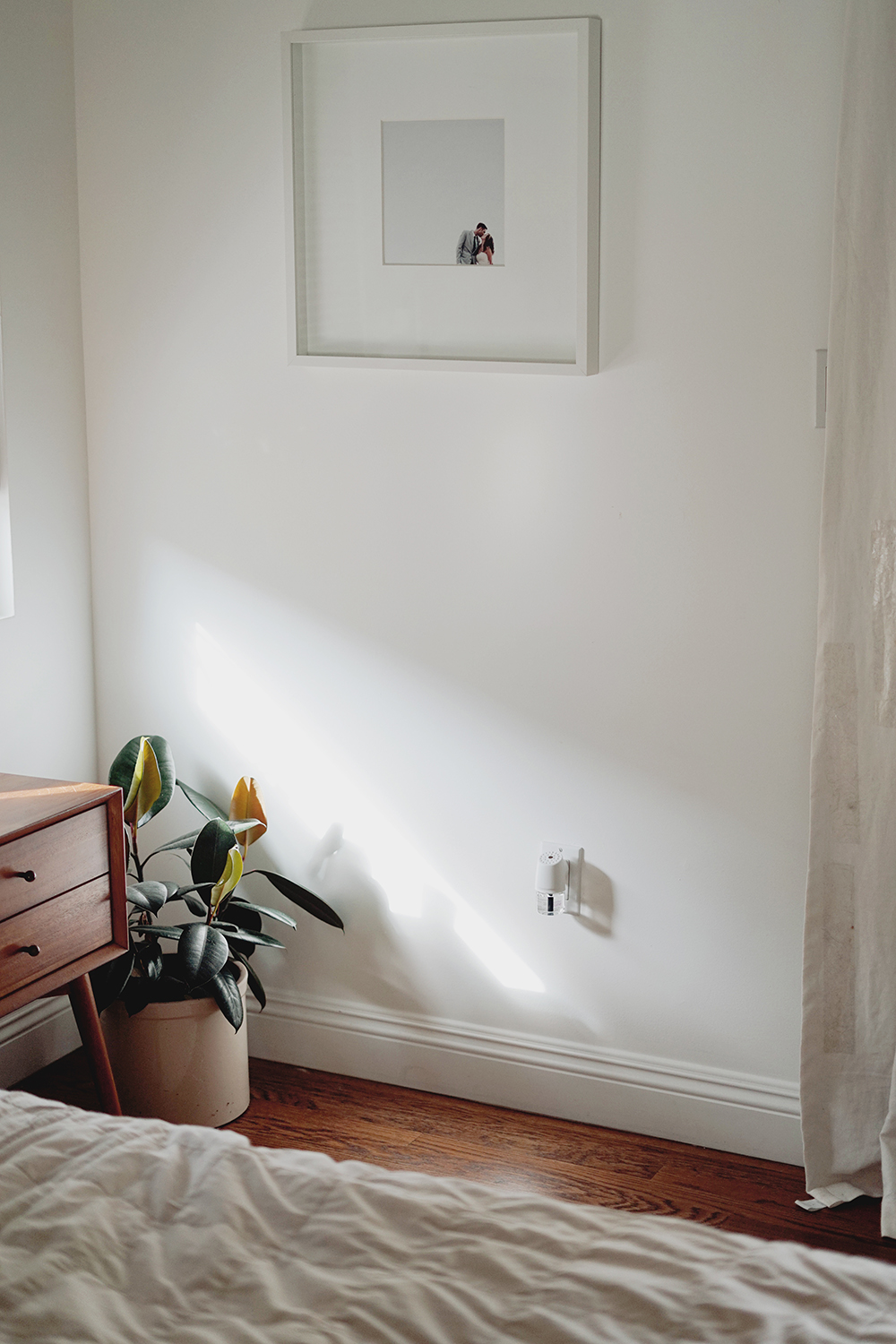 we used comfort zone diffusers a bit in the beginning when rocky first moved in, and we've used the spray on all our new furniture for years and years (like those new dining chairs they would normally be obsessed with but have totally left alone because of it) — but now because of this timely partnership, we're going to make a real effort to try to remedy their behavioral issues. comfort zone not only makes a calming diffuser, but they also make a multi-cat one so i'm really hopeful that can help ease the tension a bit between the girls!
it was actually this partnership that helped me to decide to fix the bathroom situation and the guest room. i'm really hoping that if we stay proactive, and try to reward the girls when they are getting along, i think we can all be much happier together! especially gid because he's the one who cleans the boxes… 🙂