how to have nice furniture AND cats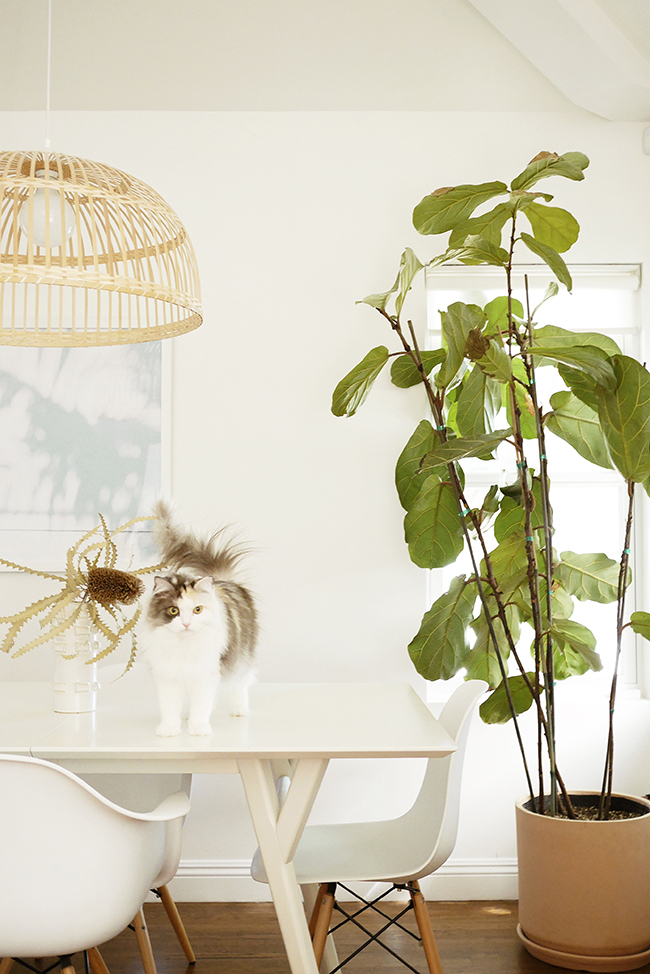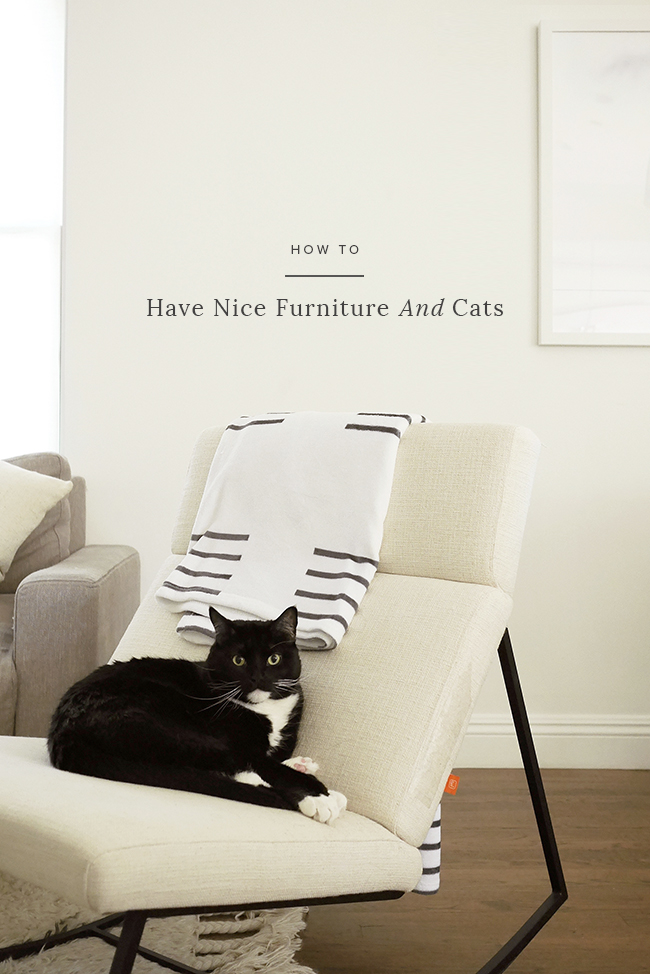 i get asked constantly about how i deal with having three cats and a fairly tidy house and nice furniture — and to be honest, it's a constant struggle because all three of our cats are assholes in different ways (assholes whom i love). but here are the tips i do have, hopefully they can help you decide to adopt that cat that needs a home!

scratching
for sure our biggest challenge is the scratching. we have a couple different methods that we use, but the most important one is to make sure you have scratching pads for them in any room they are doing it.
our two older cats are good about using scratching pads because we raised them since kittens, but our third was an adult rescue who definitely never used one and we can't seem to convince her to. there are some decent looking cardboard ones or you can diy a permanent one like we did. (only one cat actually uses this one and the other one only likes cardboard, if you're worried about whether they'd like before making it, just get some rope and see if they're into it)
when we get a new piece of furniture they're interested in, we first cover it for a week with a familiar smelling blanket. once it smells like they're used to, we take it off and spray it with feliaway. it's a product that makes it smell like they've marked it already.
if that doesn't stop them, we put sticky paw strips, they're basically just large double sided tape strips that you can run on the side of any chairs or the top of your sofa etc. these work really well but after they're fully covered in fur i take them off, and sometimes the cats come back. the other less sticky method we use is blankets — everywhere. if you don't feel like having strips of furry tape all over your furniture is that cool, i get it. it's not. toss a throw blanket over any spots they keep messing with (your headboard, your sofa, an arm chair…) it really does work!
when you're ready to remove the strips once they're over it, always make sure they're not in the room to see you do it!
---

---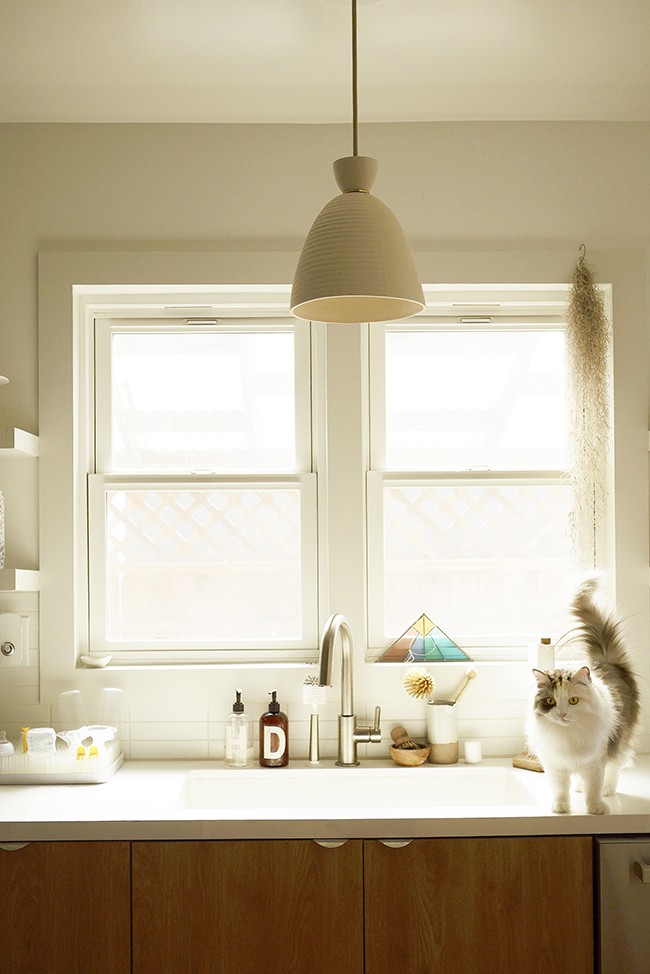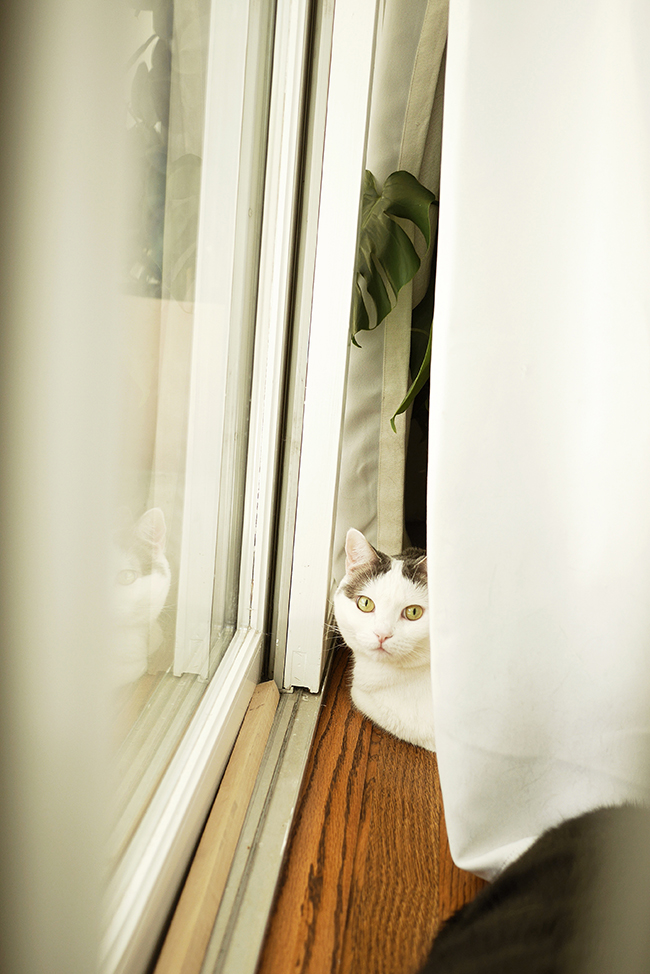 cleaning
another question i get is "how do you keep your house clean with three cats?" short answer is we don't if you look closely. our last apartment had light hardwood floors, and when we bought our house i debated for a minute if we should lighten our wood floors here (for looks as well) — well the answer was yes, but i didn't do it obv. light floors are waaay more forgiving when it comes to fur everywhere and scratches. so my first tip would be live somewhere with light hardwood floors. if you can't do that — hire a housekeeper. and if you can't do that, you just have a lot of upkeep. i got gid this fur remover recently and it's amazing.
we have a housekeeper twice a month and it is the best use of money for the sake of our happiness and marriage. neither of us ever clean the toilets and resent each other for how we use the toilets. but unfortunately with three cats, twice a month isn't really enough to keep up with the incessant fur. so in between her visits, i have a dustpan close by for all corners and we use a swiffer as well. we're also planning to get a roomba soon because i think that will help us big time.
as for the barf and bathroom stains, we always use nature's miracle and it works really well. it gets rid of the smell so they don't try to keep marking it or anything, and it gets out the stains well too.
---
---

pooping
sadly, we haven't mastered the whole living with a cat without having a disgusting shit situation in our house. the other mistake we made as cat owners when buying our house was not buying a place with a mudroom or laundry room. if we could contain the litter box in a separate place like that, we'd all be much happier, but because we have no space for it anywhere — we use the guest room as their poop dungeon.
in my dreams, they'd all happily share one box and never track litter outside of it, but in reality — we got an expensive litter robot in the biggest size so our biggest cat bodhi would be able to fit, and he has refused and revolted against this idea. so now we're back to two boxes, the girls share the litter robot and bodhi uses an old shitty one in the closet. it's really not even close to ideal and the room reeks and cleaning takes gid forever (hey! i do lots of other stuff! just not litterboxes). so i'm hoping we figure out a better situation in the future.
we also used to have a really cute one that i didn't mind being out, but again — bodhi couldn't hang with it so we had to get rid of it. i get asked a lot how we hide our litter boxes and i hope to someday astonish you with my solutions. but if you also can't hide yours, there are also tons of great ideas for disguising litter boxes in the open. we just haven't figured that part out yet (and now that baby has arrived we may never). here are two cute pieces of furniture, one is a vintage cabinet with a hole cut on the side, the other is obviously made for concealing the litter box. if you're able to scour a flea market, i'd try a vintage cabinet because it's way less obvious and probably fits into your decor way better.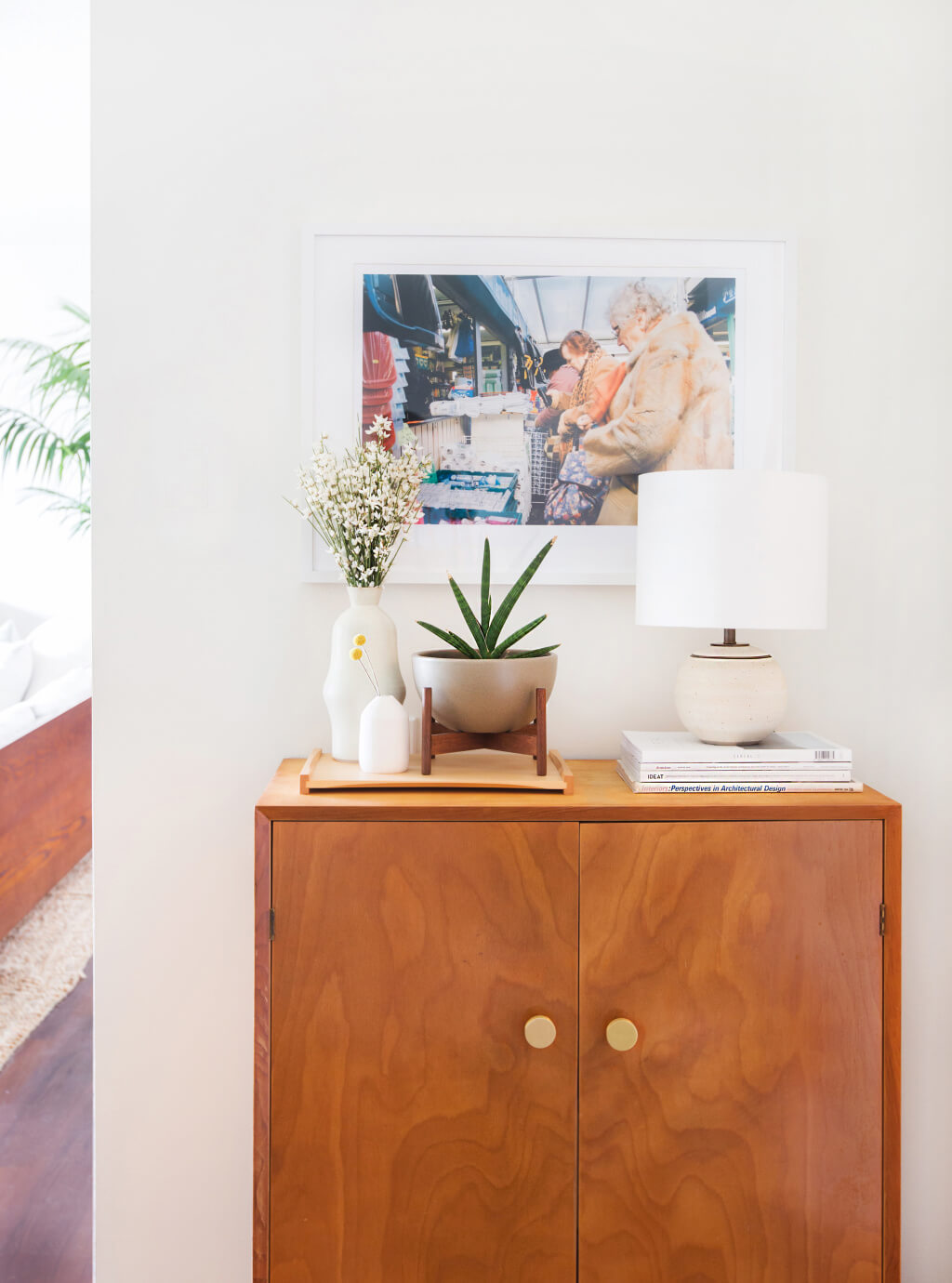 inside that cabinet is a litter box!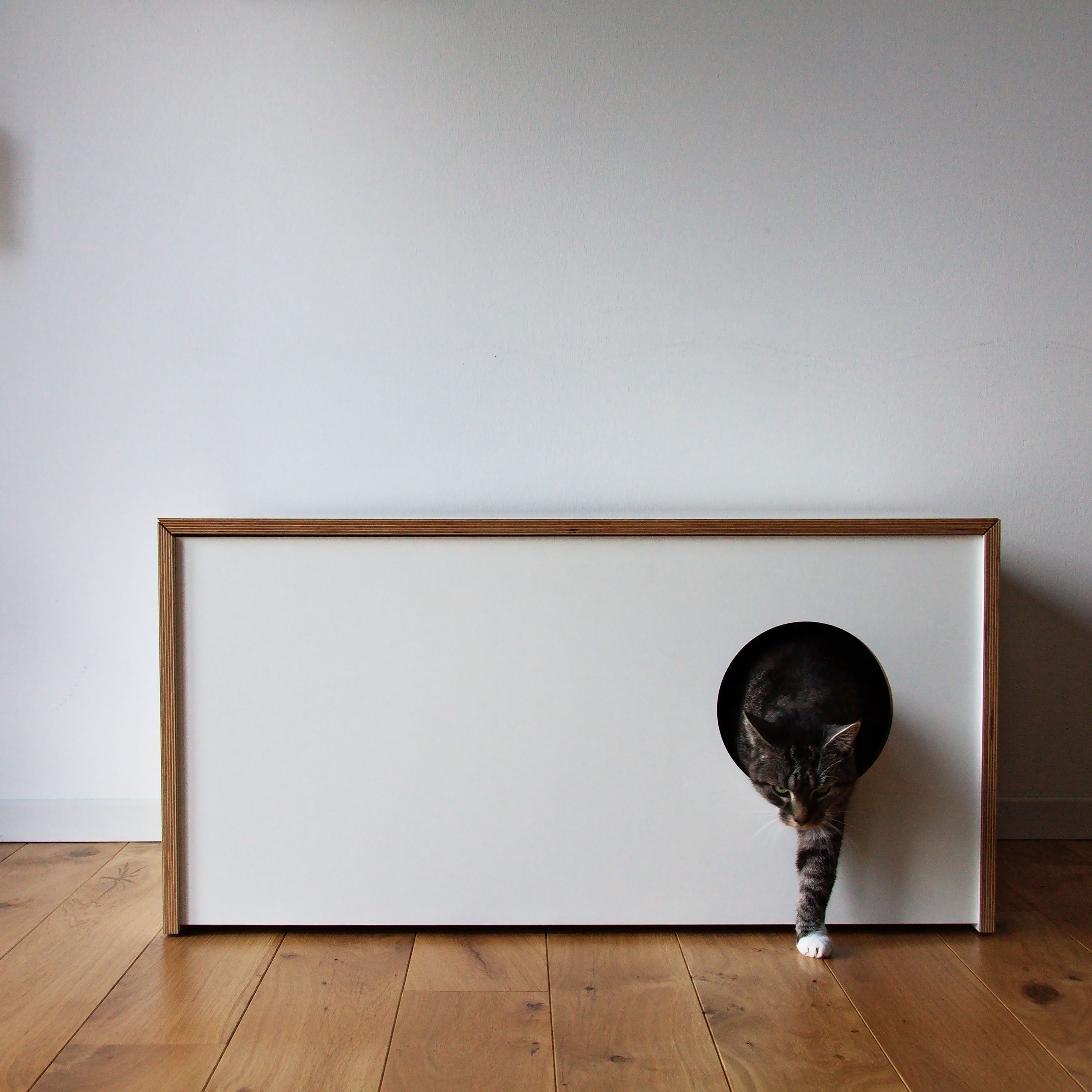 ---

---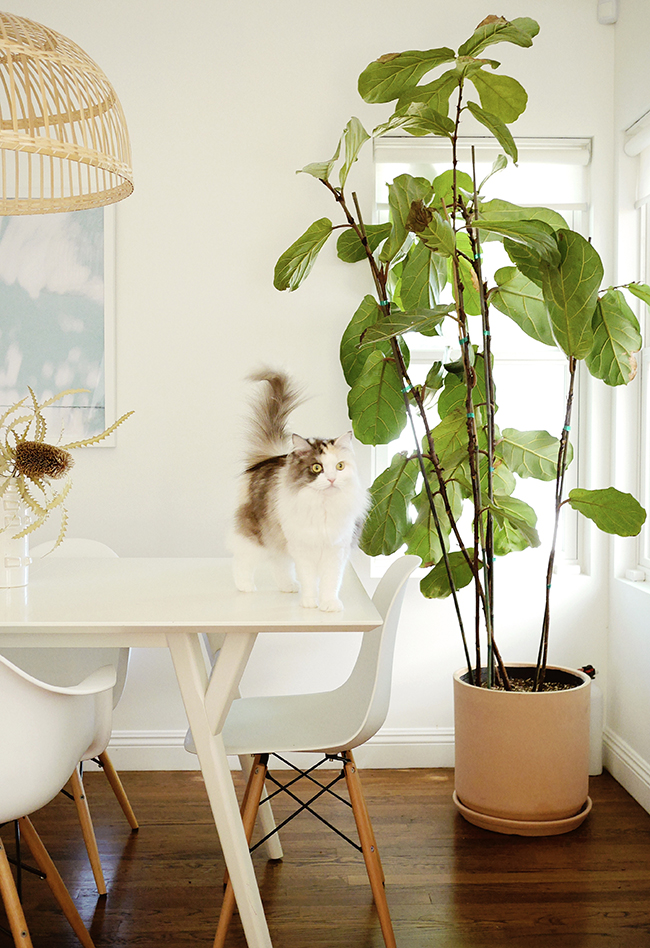 lastly, spray bottles and lint rollers are your friends. stock the f up on them. but this thing has been our current favorite.
i hope i covered everything, let me know if you have any additional questions though!