our dining room : the reveal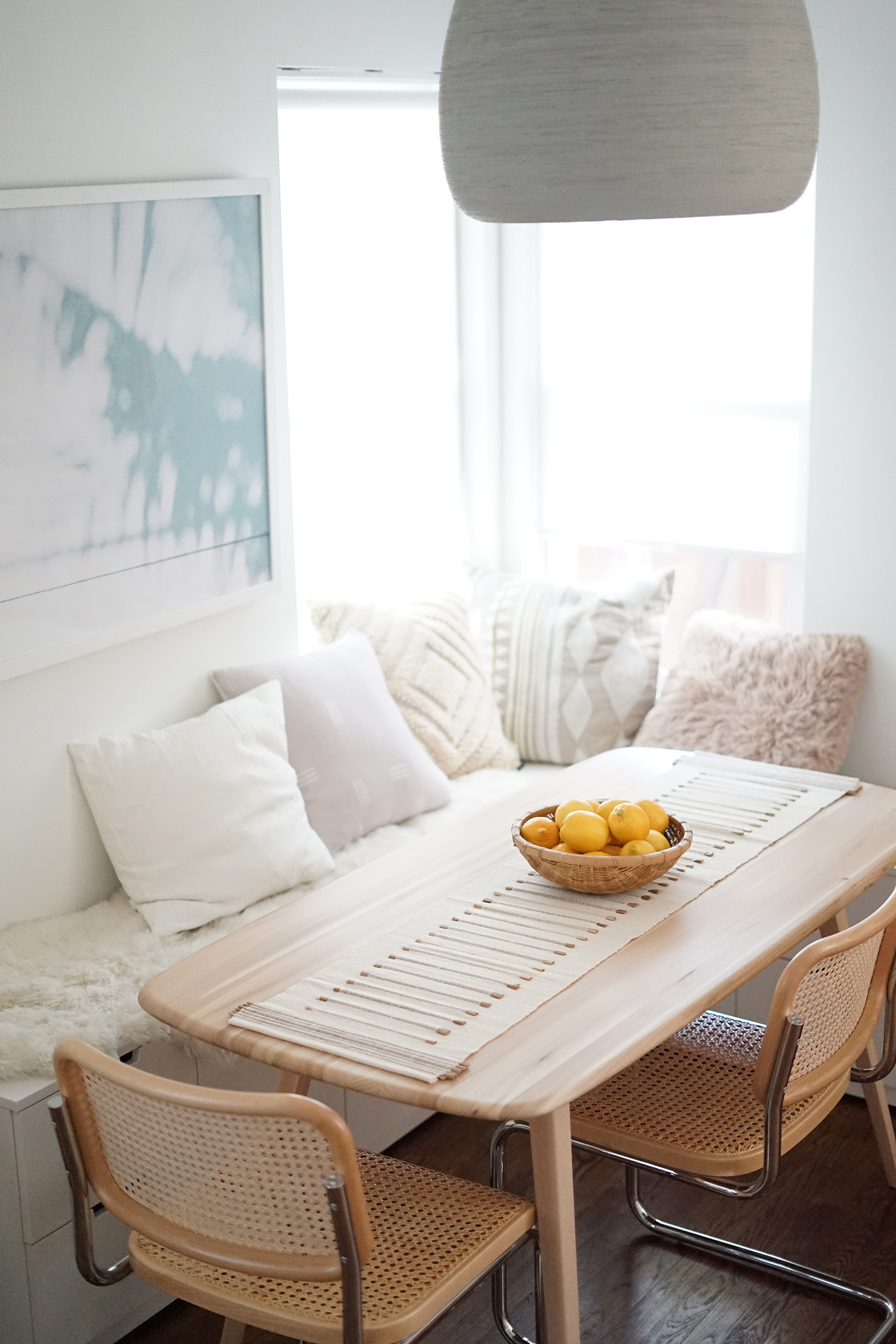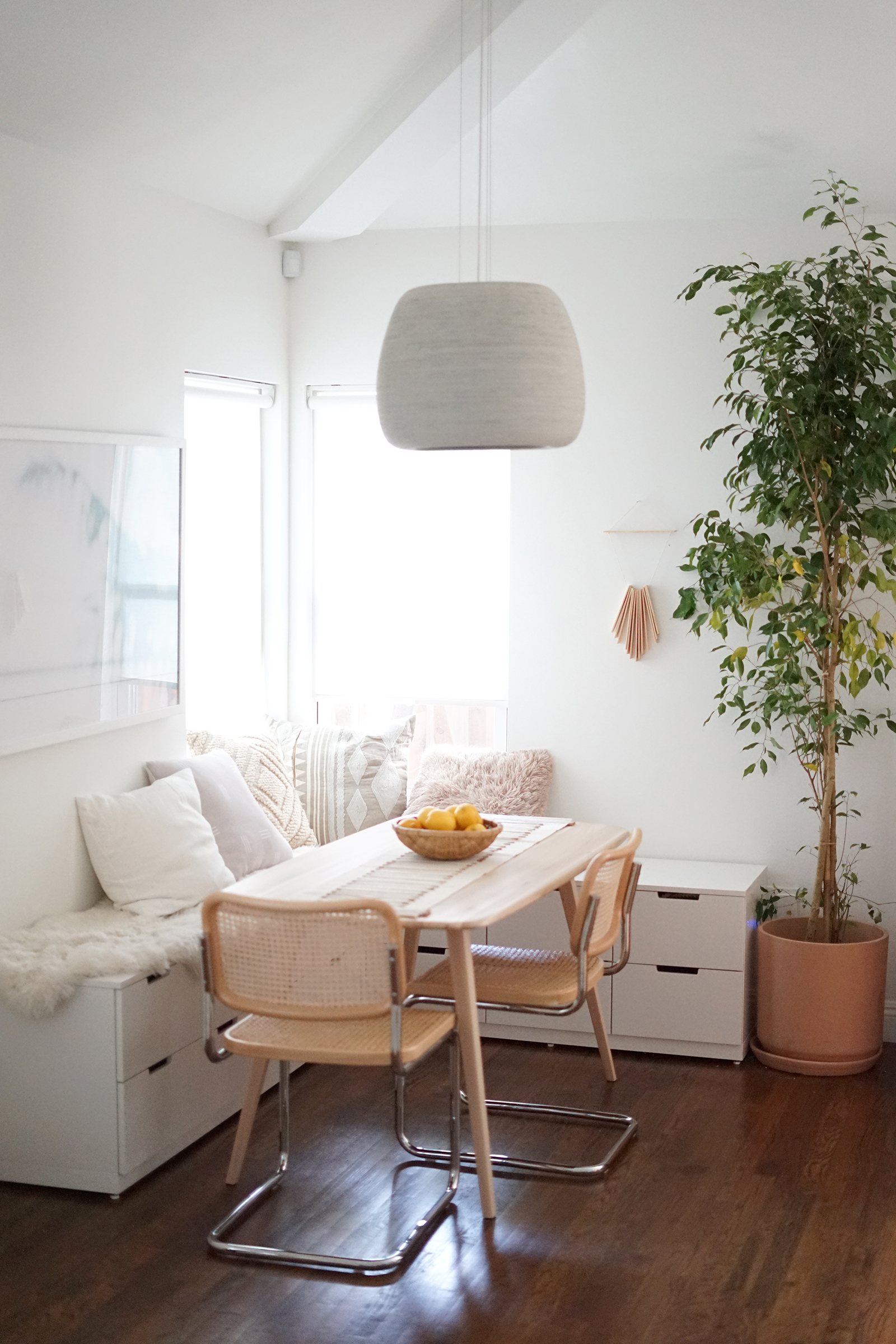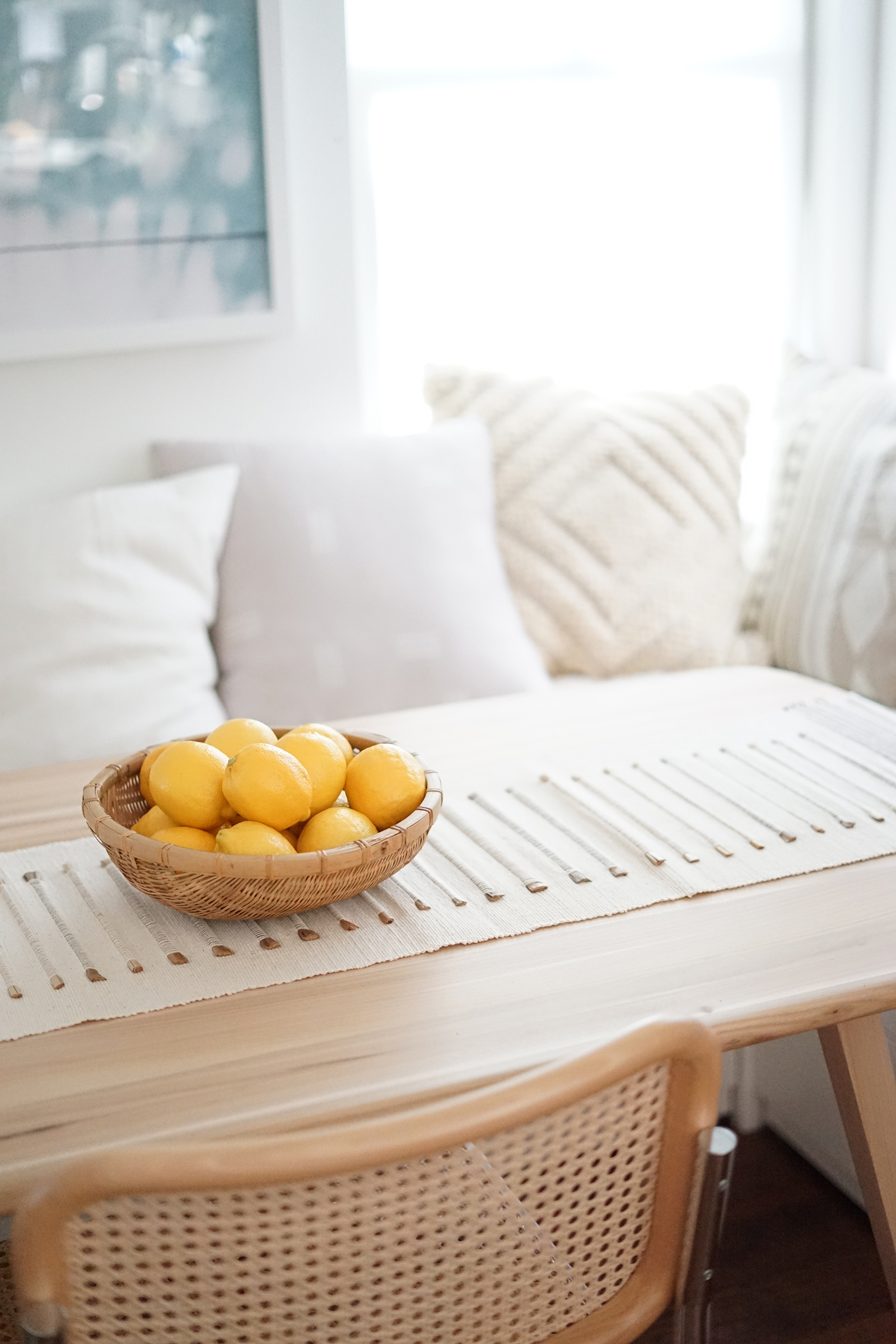 excited to finally be sharing how our dining room turned out! it was quite a while ago that we posted the before, but things take a little longer when you have a baby, it turns out.
anyway, in case you need a refresher of what the original space looked like…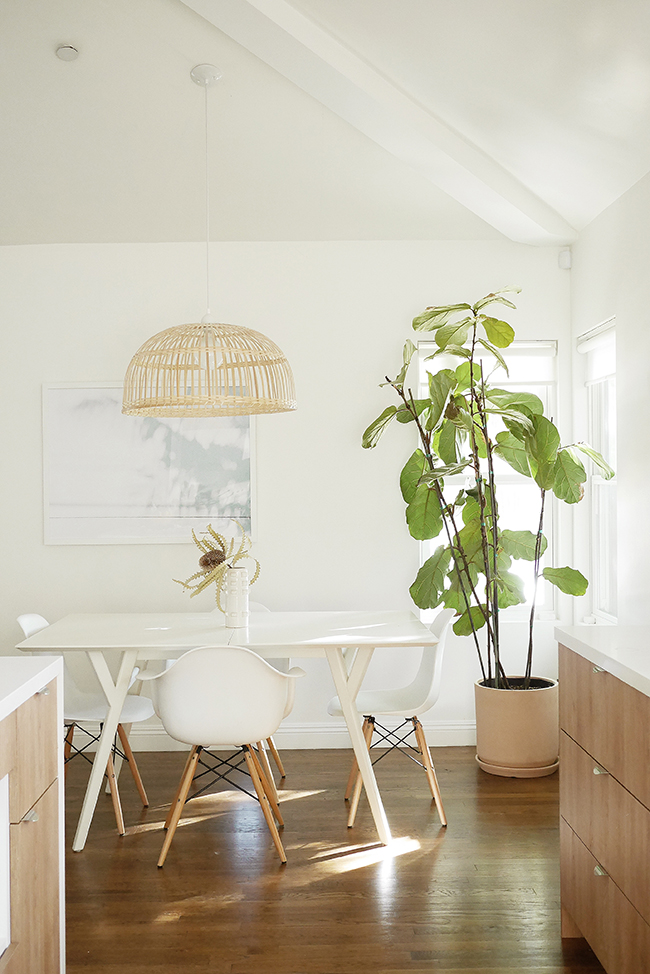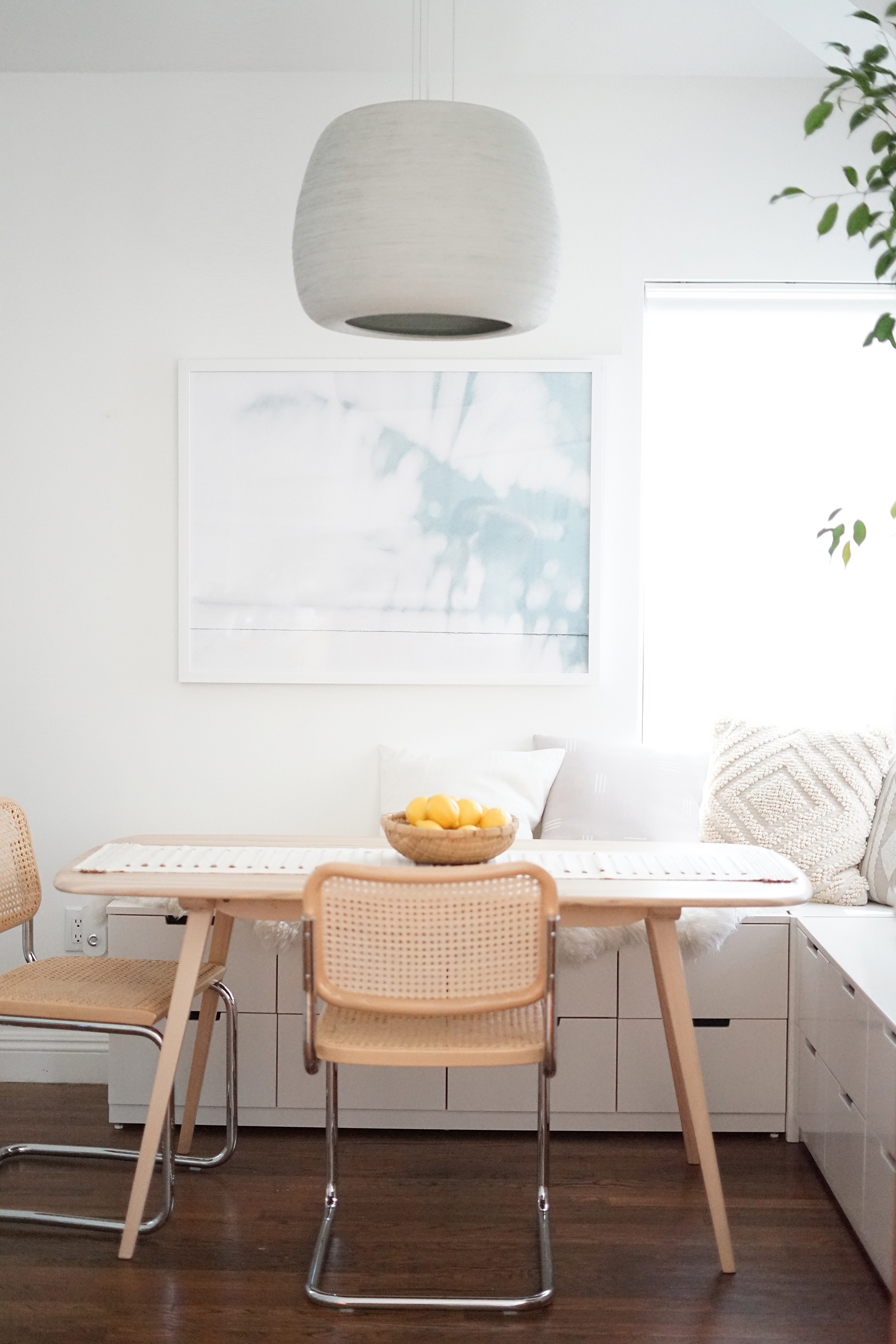 i worked with y living on this room redo, and the space turned out even better than i pictured. it went from a blasé corner to a really special "room". ok it's still not a room, but it has a big impact on our great room in general. and we have so much more space now that it's against the corner. and more storage, obviously — so basically it was win, win, win!


built-in seating
we stuck to the original plan for the built ins, we used nordli dressers from ikea (one 6-drawer and one 8-drawer) and mounted them to the walls, then i had my carpenter build a small hollow box to go in the corner, and it worked perfectly so that the drawers all still open. it's soooo nice to have all this extra space. the drawers aren't really organized, but they hold cake stands, serving bowls, tablecloths, candles… it feels amazing to feel a little less cramped. when arlo gets older, i'll designate a few drawers to his art supplies etc.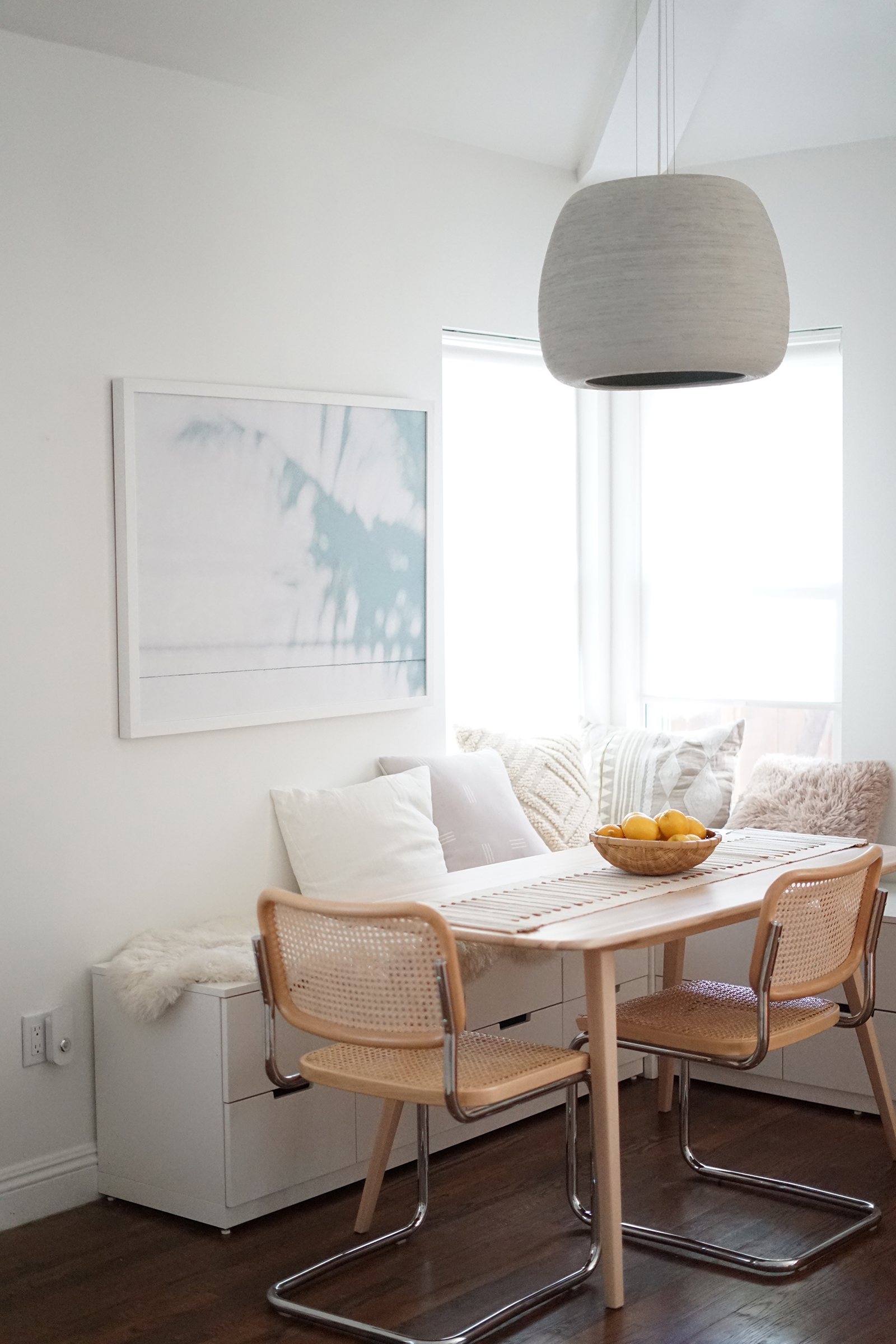 furniture + lighting
we replaced the rattan pendant with this concrete beauty — it definitely gives the room a whole new feel. it looks so much more grownup and we LOVE it.
i have always wanted breuer chairs and i am so obsessed. they work so much better for the space than the shell chairs did.
we got a new table as well, which is so pretty, but i didn't measure very well, so the chair doesn't slide in between the legs lol — this is why you should always triple check your measurements before shopping online!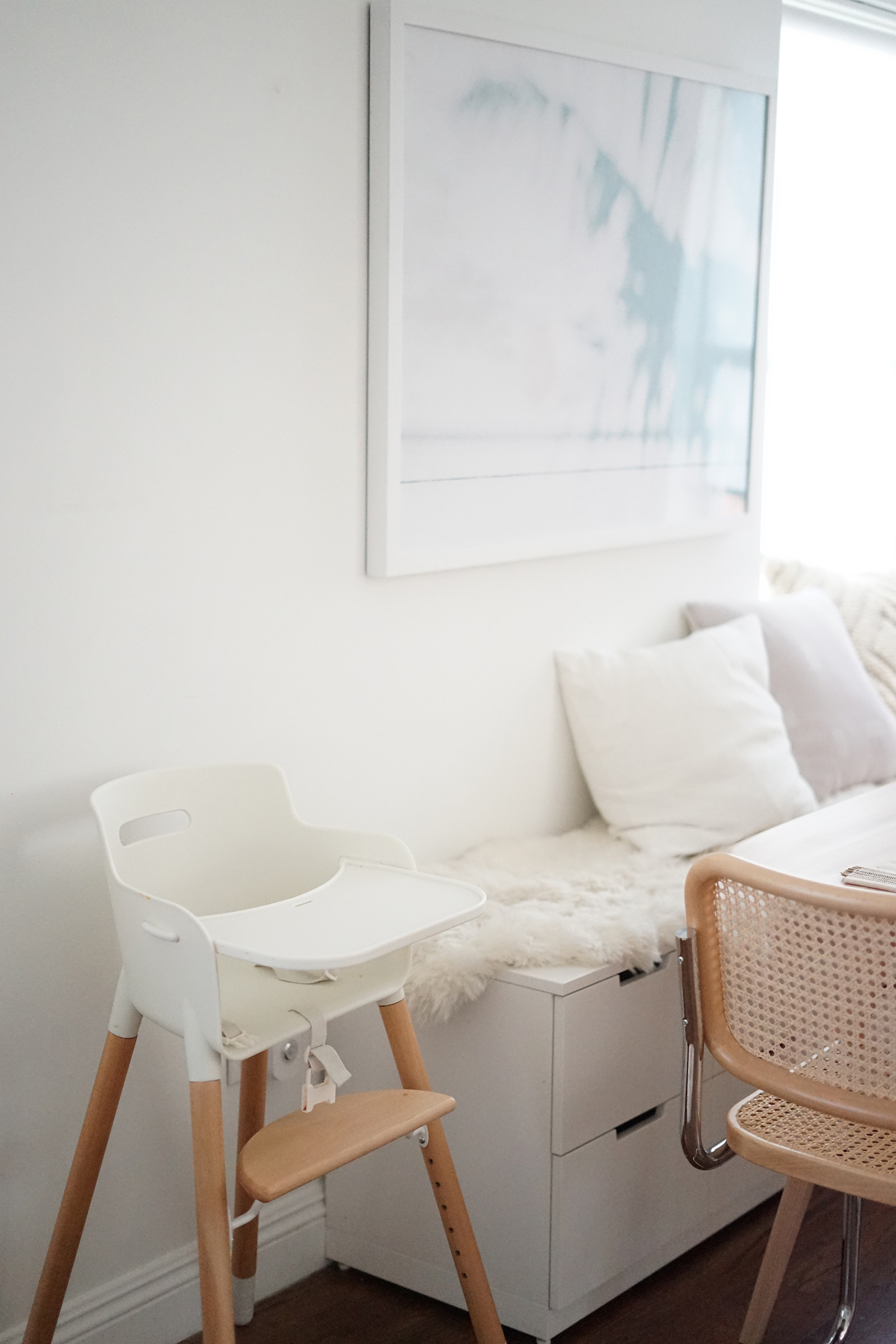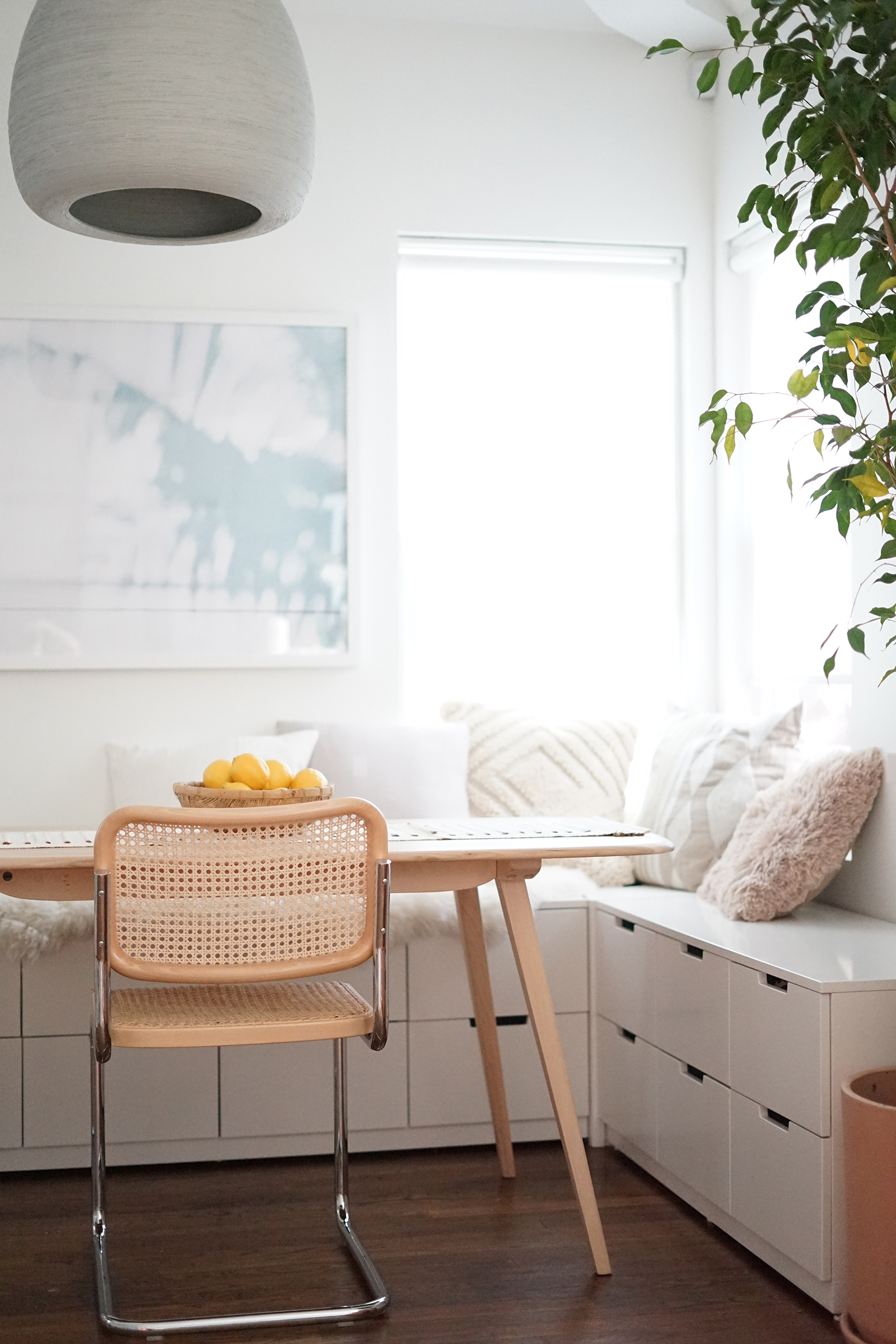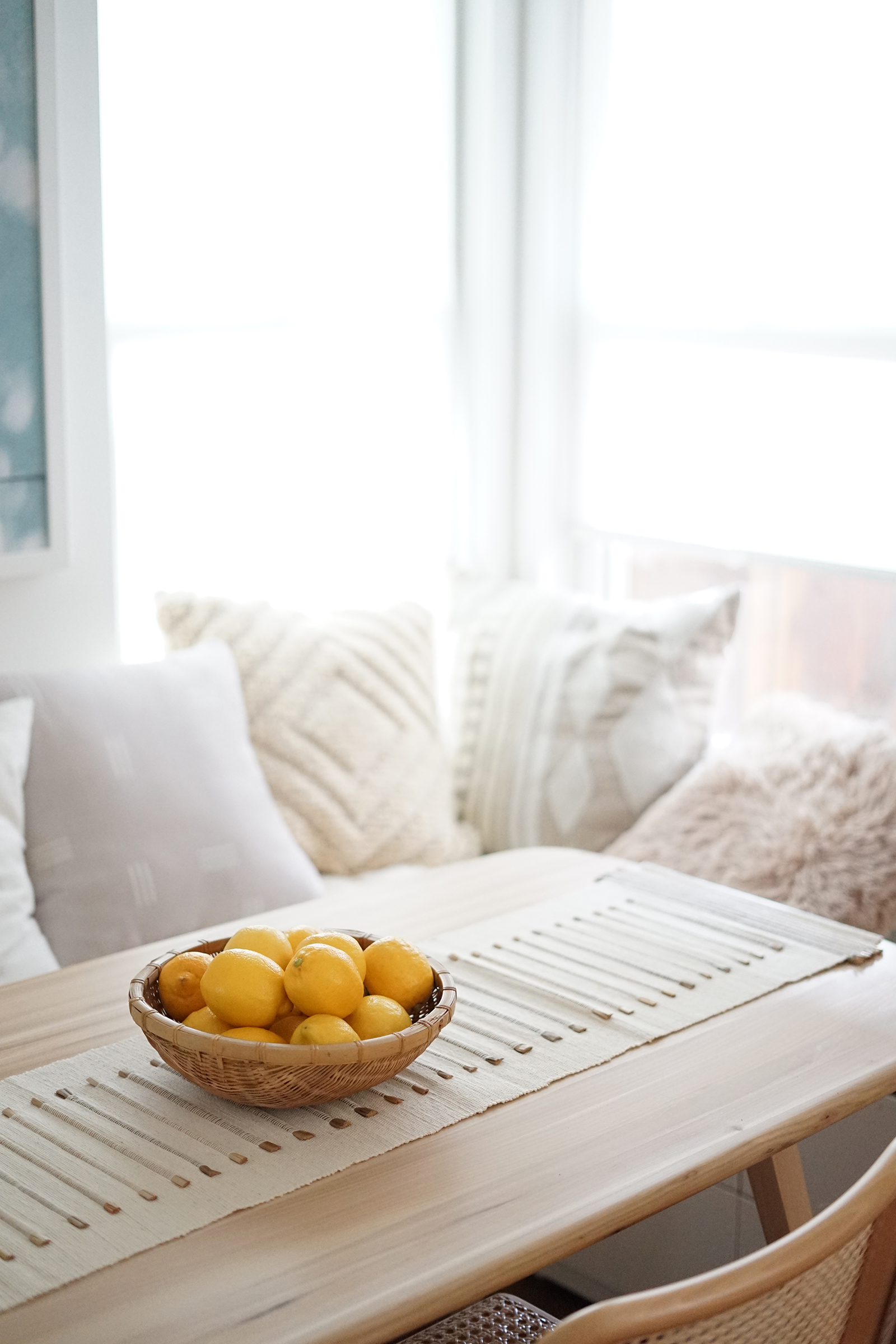 accessories
you may notice from the before photos we have a new tree. unfortunately our fiddle was already being a jerk and didn't take too much to being moved further away from the window, so it started looking very sad. we moved it to another room to see how it does there and got this big pretty ficus instead.
we planned to get two cushions made for the benches, but after spending an hour at the upholsterer debating our options, we decided it wasn't right for our life right now. the prices were so high and the only way we could avoid having the cushions not staying in place would be to permanently attach to a piece of wood, making them no longer washable, which scared me with a future toddler or two. so for now, we have no cushion. instead i tossed a sheepskin down and it is working perfectly for us! i also got three cushions to have on hand, which are out of stock now but these are similar.
once i got this throw pillow, i collected a few more neutral pillows to match, and the bench seating is surprisingly comfortable. no one ever prefers sitting in the chairs, everyone that comes for dinner asks to sit in the nook so i'm v happy about that! honestly expected it to be the opposite.
when i said my plans on instagram stories, a lot of people wrote me and suggested i not move the art. so then i did a poll and everyone said not to move it… and i never understood why but i listened. until i actually looked and the art looked really weird and off center so i moved it to where it should be. it's a print from my society 6 shop btw! i've also got a plan that i might want to make some art, a pair of canvases for this wall instead to bridge the gap from the sofa, but i'll decide that later. the wall hanging on the other wall was an easy DIY project i did.
also our high chair blends in perfectly with the space! we ended up getting a new high chair with a similar look, and this one is a lot less expensive and more practical for us. luckily it's still really pretty.

sources
table / chairs / built-in seating / pendant light / sheepskin
wall art / wood wall hanging / high chair / table runner / fruit basket
pillows from left to right : one / two / three (similar) / four / five (similar)
---
thank you to y living for providing product for this post that i love so much!
they are also having their spring living event right now — up to 20% off!