2018 reader survey results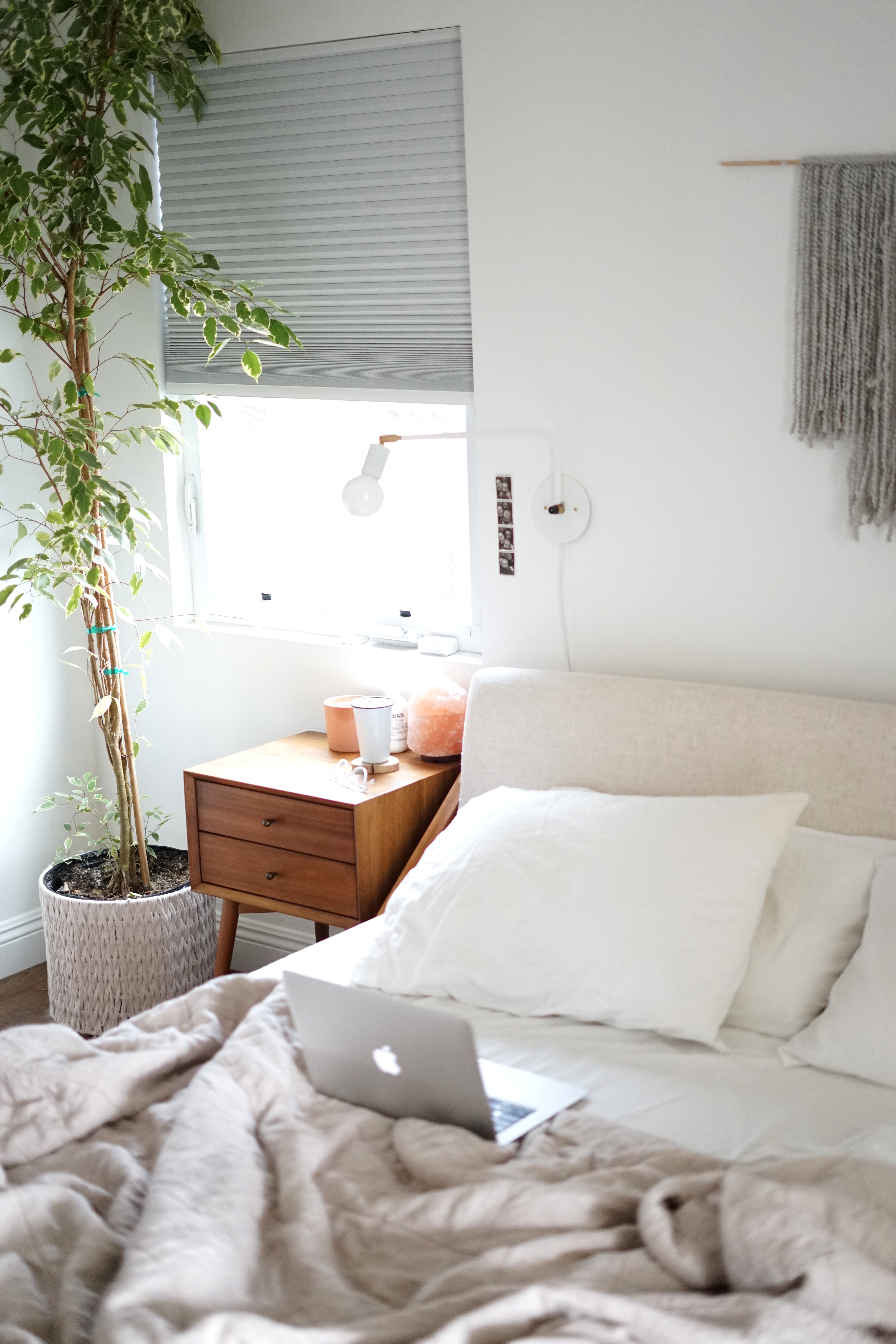 bet you forgot all about that reader survey you guys graciously filled out for me, so did i! but i finally got my act together to write this post and answer your questions!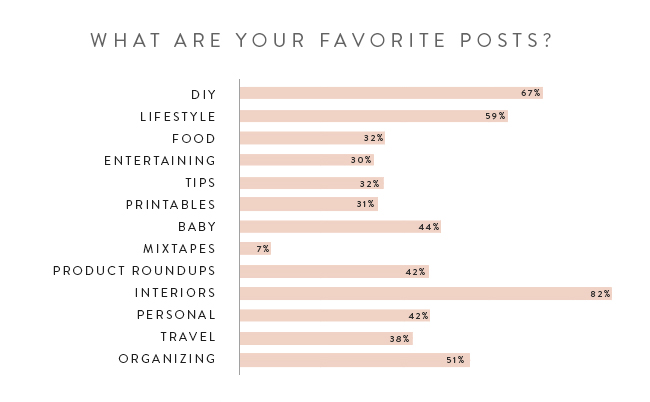 you guys loooove interiors, and you made sure to tell me you want room redos and where is my master bath renovation? it's coming, but first we're gonna do the front yard. then we'll do the bathroom. can't wait to deal with a reno with arlo!
i was thinking, what if i posted other peoples house tours more often? would that be something you guys wanna see?
i do really want to show you more organizing posts for sure. planning to do a kitchen drawer tour, arlo drawers, and organize our hallway cabinet.
you guys say you like DIY still, but whenever i do a DIY i feel like no one cares. is that just me being too hard on myself? do you actually like them?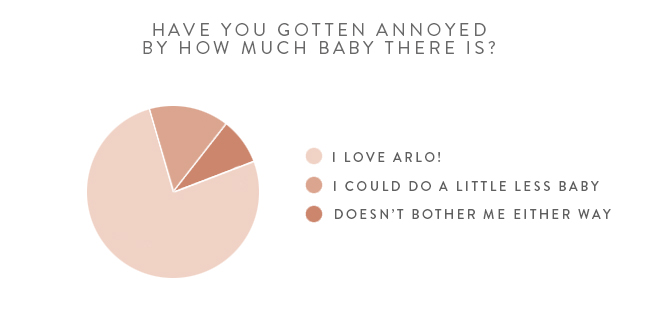 i was so glad to learn that for the most part, you guys are all cool with the introduction of arlo this year. even those of you who said you're not really baby people, thank you guys.
i don't want this blog to be just about being a mom, but being a mom is now the majority of my life, so it is what it is really. i'm just glad that i can keep you non baby people entertained, and that arlo is cute enough to make it somewhat enjoyable.
---
if i skipped your question, it's because i lost track of it, and i'm sorry. and for the ones that were similar to each other, i melded those together.
Do you still love DIYing? blogging? What do you want to do? Babies change everything don't they….
tbh — no i don't love DIYing. i enjoy making things here and there but the pressure i used to put on myself to regularly create projects almost weekly really sort of burned me out on DIYing. so now i only make things i really want or need versus just making things for the sake of making things, that helps a lot. i do still enjoy blogging, and i hope those of you who really are here for the DIYs aren't too bummed that's not really what it's all about anymore.
Would love to know how you got your blog to be popular and what you did to make that happen.
sometimes i can be hard on myself and feel disappointed i'm not more popular for the amount of time i've been blogging, i do try to remind myself that i love the people who do read and that's so important. i don't know a lot of tricks for success, i just have always tried to stay true to let the blog represent me, my passions and what's going on in my life.
Was it hard for you to make the leap to full time blogger from your part time mix? 
Did you quit your job to be with Arlo full time? If not, what do you do for living?
so many questions about this — and i said in last years situation in last years survey results, but here's how it's happened.
i first started the blog while i had a part time job 2 days a week, i had so much extra time that i had the time to work on the blog. i didn't start it with the intention of it being a job, but just with the intention of channeling my creativity. i had had a dumb movie blog prior and i really liked writing, so i started a second one. (i wish i could share my old blog with you but i stopped paying to renew it) the job was working on the tavis smiley show as the editor, it paid well enough that i was able to just work those two days.
once the blog started doing better and i was earning money, i debated whether or not to quit editing and work on the blog full time to see if i could really find success, but i never had the guts to do it.
when i got pregnant i still planned to come back after, but wasn't sure how i'd really feel about leaving arlo… and months after he was born and they asked when i was coming back, i couldn't handle the idea and thought it's now or never if i wanna try blogging full time. so i told them i wasn't coming back. just a few weeks later, the production ended, like they all were when everyone was being outed for misconduct. v weird timing for me, but i didn't have a job to go back to now so it felt better for me.
and now i'm blogging "full time" i guess, i'm more like a work-at-home mom. i'm not doing as well financially, but we're making it work. most of you guys said in the survey you're cool with sponsored posts, so i hope you do understand that without them, the blog can't survive. i hope to get into a more regular posting routine, once i figure out truly how to juggle everything.
how do you stay fresh on inspo? it seems like so many things on instagram/pintErest are really melding together!
i struggle with this too — but i struggle on inspo-overload. i think it's so hard to not want to constantly replace everything in our houses and wardrobes when all we do all day is see what stuff everyone else has and wants and buys. and i am sooo guilty of it, i always want more more more. sometimes the best way to feel content AND inspired is to stop looking at all of it and get outside.
how is being a mom both similar and different to your expectations? your pregnancy/motherhood posts are great I think because you're honest and clearly love Arlo so I'd love to hear a bit about how you thought it might be!
i had no idea what it would be like! everyone warns you your life as you know it is over and you can't know how that feels until it's your reality. which it totally is. i expected it to be hard, and it totally was, but it's getting better every month. every month he gets more fun and more cute and i get more comfortable taking him out in the world and doing scary things and gaining confidence as a mom. i miss my old life of going to palm springs and movie theatres and doing three errands in one afternoon, but i can't imagine life without him.
I am not judging you, but I cringe a little at some of the crude language. I would never have contacted you about that had you not requested. Your little one will likely not be permitted to talk like that and it is easier if he doesn't have to "unlearn" that. Love your blog and your style.
i debated excluding this one but left it in because fuck it. lol. i obviously don't want to offend anyone, but i do swear in my everyday life when i find it appropriate. i write the way that i speak, and i think it's most important to stay true to who i am, crude or not. hope everyone is cool with that.
what advice you wished you had known about pregnancy, birth and motherhood?
that it all gets easier and you grow together. he gets older and more fun everyday, and you get more comfortable in your new role at the same time.
what are your most cherishED moments of motherhood?
pretty much every time he laughs. so cliche, but laughing together fills my heart with SO MUCH JOY ITS UNREAL.
what are your hardest moments of motherhood?
sometimes it can feel really isolating to be home with him all day, it's especially hard when he's not feeling well (which thankfully hasn't happened for a while these days). i honestly could not survive motherhood without facetime. we facetime both my parents and my best friend daily, and it is so nice for me to have people to talk to and for arlo to feel like he gets to see them everyday, not to mention it's the best invention ever for grandparents to feel like they're there with us.
how do you find such great shops?
i mean, i pretty much find everything in life on instagram, don't you?
what motivates your lifestyle?
wearing pajamas all day as much of the week as possible is my #1 priority.
what do you hope to teach Arlo?
to be a nice and funny and likable person who follows his dreams and isn't afraid to try new, scary things and do whatever it takes to create a truly happy life for himself.
How did you get started blogging and have you done anything specifically to grow your engagement?
i really haven't done a lot to grow my engagement, which is probably why maybe i'm not as popular as i could be for how long i've been blogging. again, should i do a post on this because i have thoughts.
whO do you follow for inspiration?
i love following taylor sterling, she is just so cool. bethany menzel makes me want to copy everything she owns. and i want the life of cosmic american who just hangs out in the jumbo rocks every night, so chill.
What's your morning routine/night routine?
does this mean beauty, or life? is this something people are actually interested in? because if so i'll do a post.
i see that you have multiple revenue/passive income streams with your society 6 shops, etc. (i have two prints at home and love them!). what other revenue streams do you do for work that allow you to work from home? how did you make the transition? did you take any online courses/workshops/etc? any good resources you can share for monetizing your skills?
yes! i've thought about doing a post on this because it's a big part of how i make money. i didn't take any online classes, and i don't keep up with anything as much as i wish i did — but how about i do a full post on all of my different revenue streams instead?
what made you choose LA? And what do you like about living there?
i moved here in high school with my mom, who came to live with my step dad. when it came time to choose a college, i applied to schools all over but ended up deciding to stay put and go to otis college of art & design in LA. it's where i met gid (but didn't actually reconnect until 8 years later) so i am pretty happy i stayed here. we have talked about leaving but almost all of our family is here, so it's probably never happening.
i like the weather (duh). and i like the food and the culture and disneyland and i love how many amazing places there are within driving distance — i complain about the prices and the lack of natural beauty here (in the valley specifically), but i can't imagine living anywhere besides california.
Do you think Vanderpump Rules is real?
probably not but i DON'T CARE BECAUSE IT'S SO GOOOOOD.
---
again, if i missed anything — i didn't mean to! let me know if there's anything else you want to know!