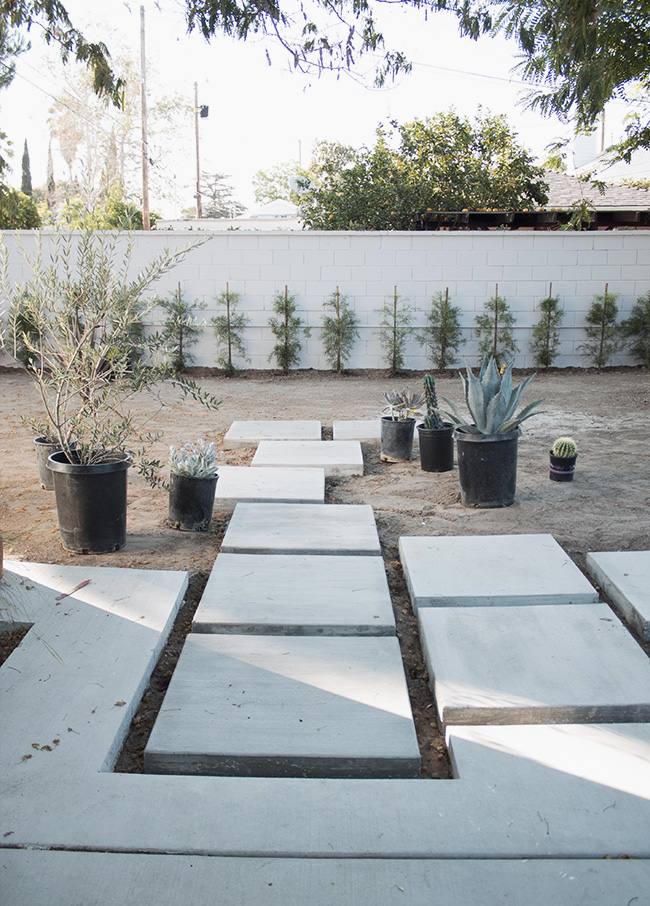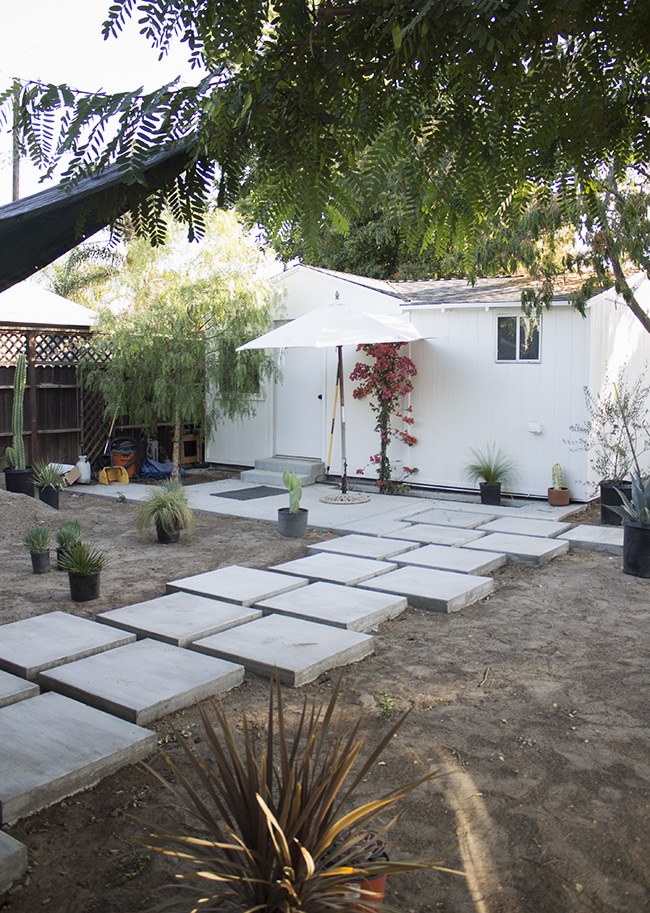 it's been four months since the last backyard update, and we're soooo close so i thought i'd share the progress before the big final reveal.
bear with me, it's still not that pretty but it's getting there! 

what we've done
as you know we painted our house. that made such a huge difference. we also painted the shed (studio) the same white color, but decided to keep the trim white to make it kind of disappear as much as possible. i think it really worked! we planted bougainvillea into that large hole we cut in front and it's looking so much better already. the tree we planted has been growing and i'm so excited to see everything big and blossomed on there.
you can see we successfully murdered all the weeds. that was a big long un-fun process and next we'll deal with the same issue in the front yard.
we replaced the back fence, and painted it the same color we painted the concrete wall. it's a light grey despite how light it looks. we planted 25 podocarpus in front of both fences, because i listen to you guys and you told me not to do bamboo. in the corner of the fence we planted some pampas grass, hard to believe it'll ever look like this, but we're hopeful!
we moved the AC unit like i said we would. it cost a ton and even though it's still so visible, it's a huge improvement. we're going to build a structure to hide it, still trying to figure out what.
we removed the three posts on the patio, and replaced with a huge engineered beam. this is kind of hard to tell with the scaffolding which was put up during that process. that's coming down this week. it's going to feel so much more open without those stupid posts!
AND as you can see, we poured concrete! this made such a huge difference. it finally feels like our backyard. we doubled the depth of the patio (it was 6 feet, now it's 12), with a low profile wraparound step (which i am obsessed with). we weren't sure that the extension would match/look good and we considered putting a layer of self leveling concrete over the old slab, or cutting out the old slab, but went with the cheapest and simplest option and i am so glad we did. they totally match just fine and it looks amazing. we also added two steps to the entry doors, which was so crucial and i can't believe this guy who lived here didn't think to put them there. we also cut out one big unnecessary piece of concrete to create this edge which is going to look so dope when the DG is down.
also, ignore the huge tarp over the yard, that's for the crew to not melt while working on it.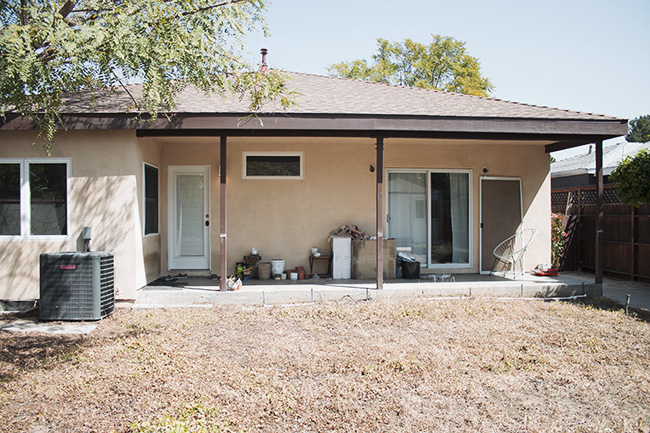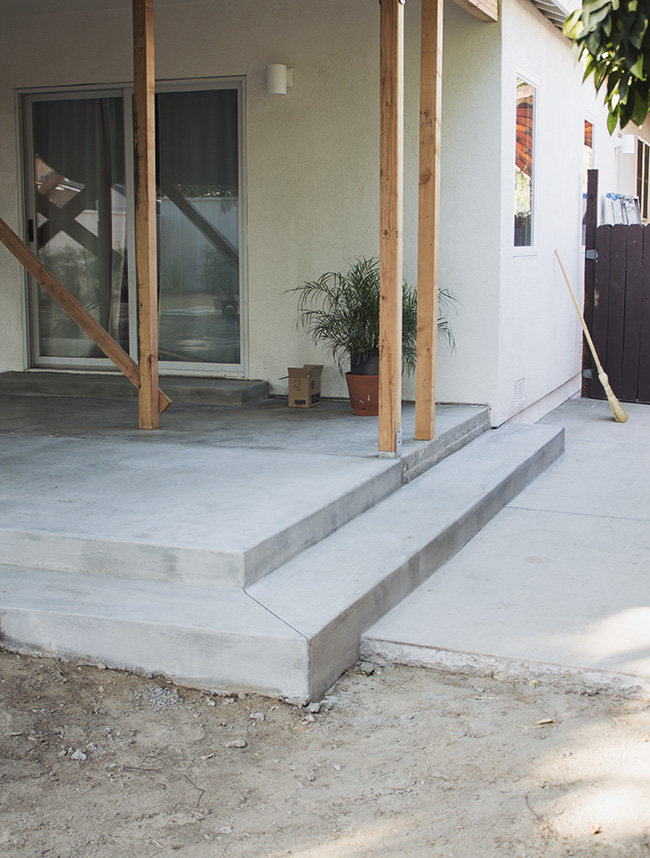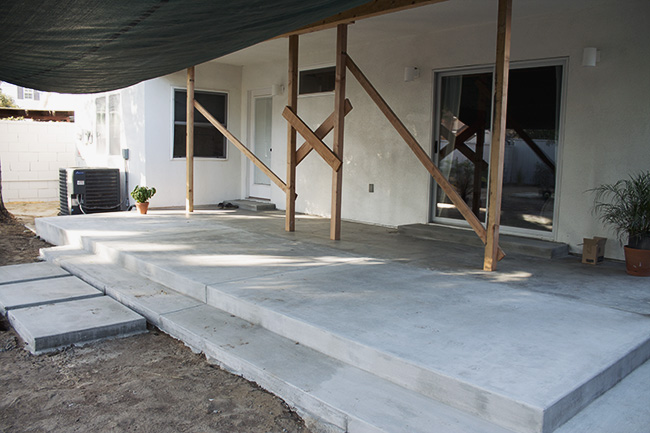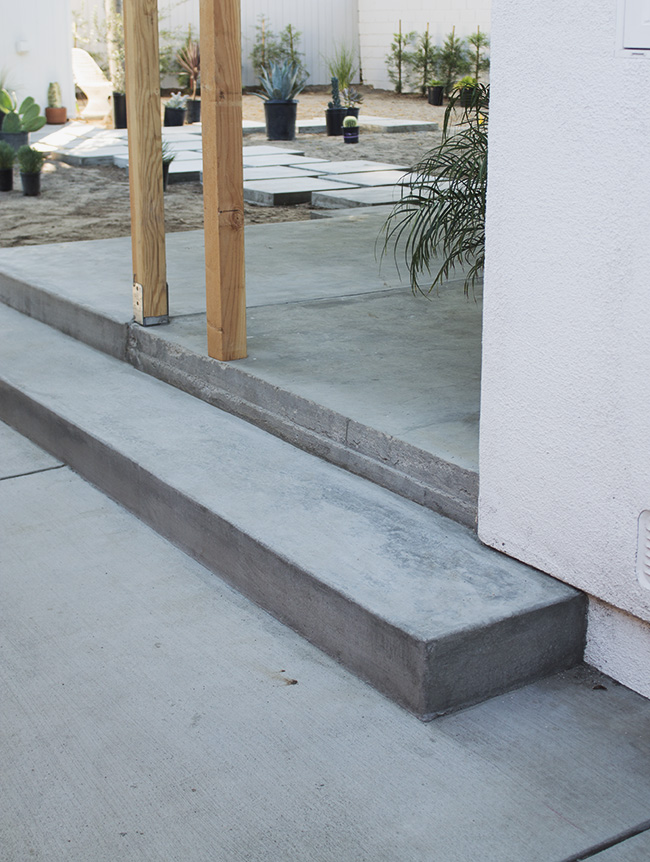 we did 2.5′ stepping stones to lead to the studio and to separate the yard into three different areas. right now they look like they're huge because they're 3″ off the ground, but once we put down the decomposed granite, they'll blend in more. i've never had a pathway to the studio, and it has been AMAZING to finally have one. we cut into the existing concrete to continue the hopscotch-esque pattern, and although it looks crazy — i think it's rad. we considered doing a straight simple pattern for the stepping stones, but decided we wanted it to feel a little more casual and fun, which i think this pattern does!

what's happening next
now that the concrete is curing, our next step is to build the pergola over the patio extension. it's going to be super modern and simple, with no exposed hardware. i'm hoping that only takes a week or so, so that we can just be done and start putting out our furniture! we have boxes and boxes of things we've ordered in the garage, and it's going to be like christmas morning when we can finally unpack everything.
as you can see allllll of the plants, we purchased hopefully all of our plants for the yard. we're going to grade the yard and set up drip lines for them this week, then planting them — before then laying out the DG! does anyone have DG in their yard btw? we're buying the type with stabilizer but man it's expensive. also, we got a big cute ass olive bush. i have ALWAYS wanted an olive tree, so i am so excited about this guy.
once those two things are done, we ARE DONE! we can finally hang our string lights, lay out our furniture, plant food into our raised beds, EEE!!!!!