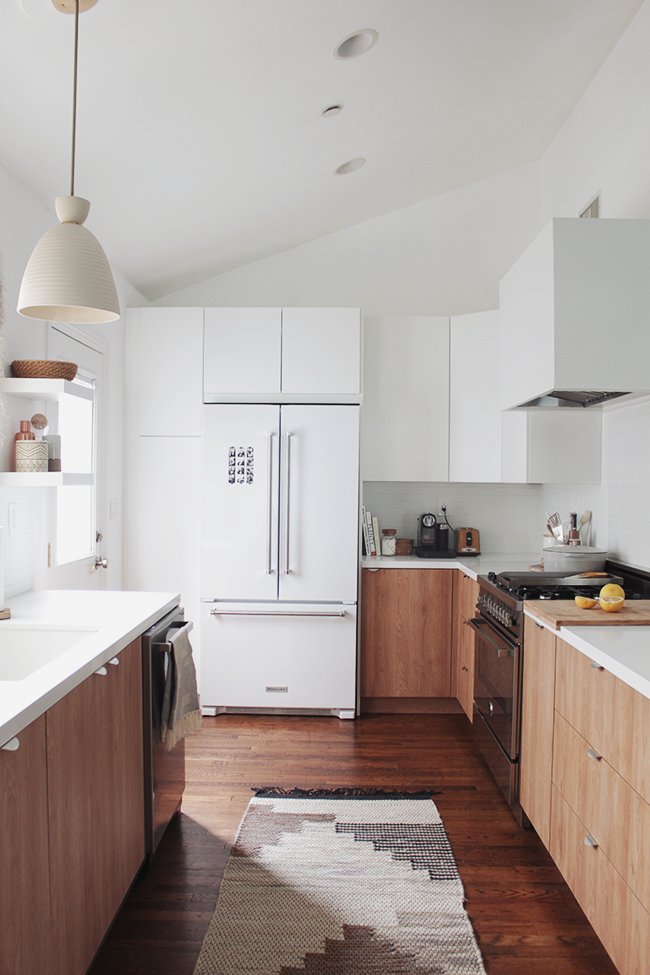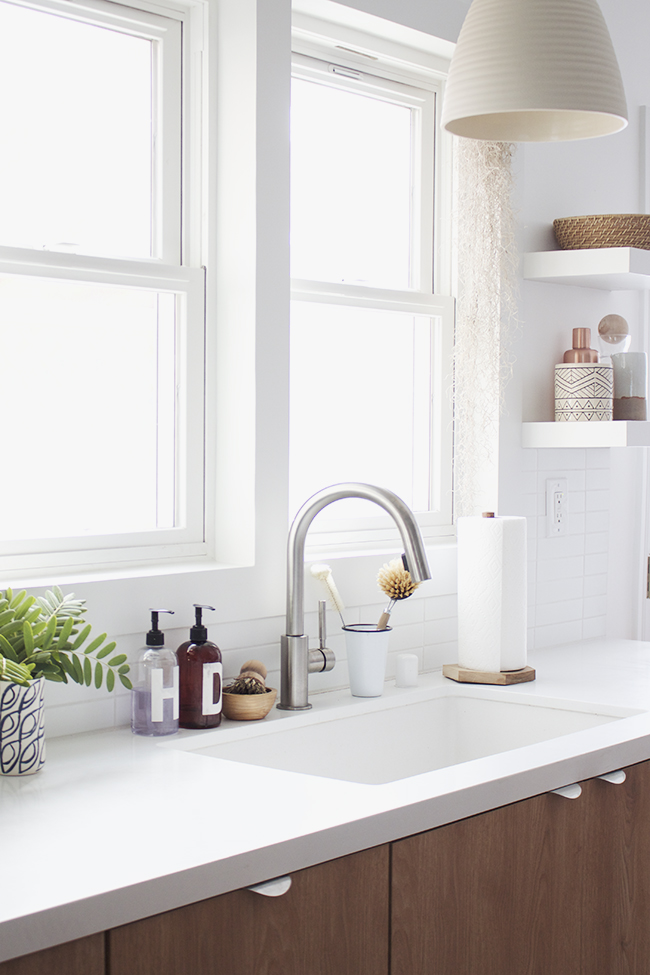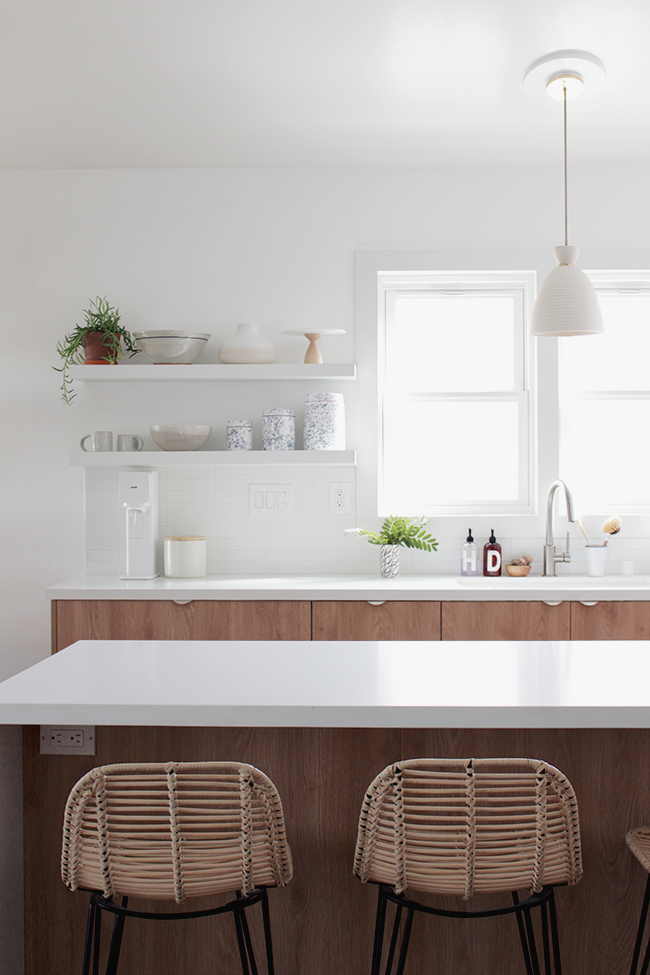 K GUYS! it's that time! you've been asking and i've been finishing little details and then putting it off but it's finally time to share the finished kitchen with you.
now i don't want you to forget how the kitchen looked when we moved in. oh boy it was a doozy. barf. and even though i don't want it's ugliness here, i figured one before and after photo in the sea of prettiness was acceptable.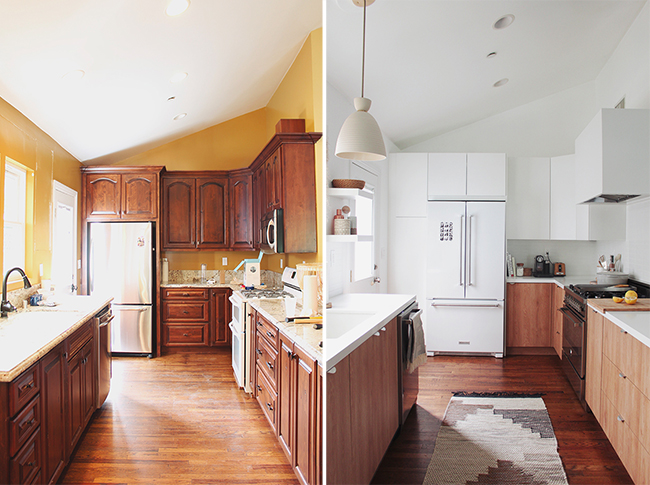 we kept pretty much the same exact galley layout as the original kitchen, the only changes were moving the fridge over to the right and we brought the range hood down lower so we could keep it the same height as the cabinets (they had to go through our closet instead which seemed very worth it.)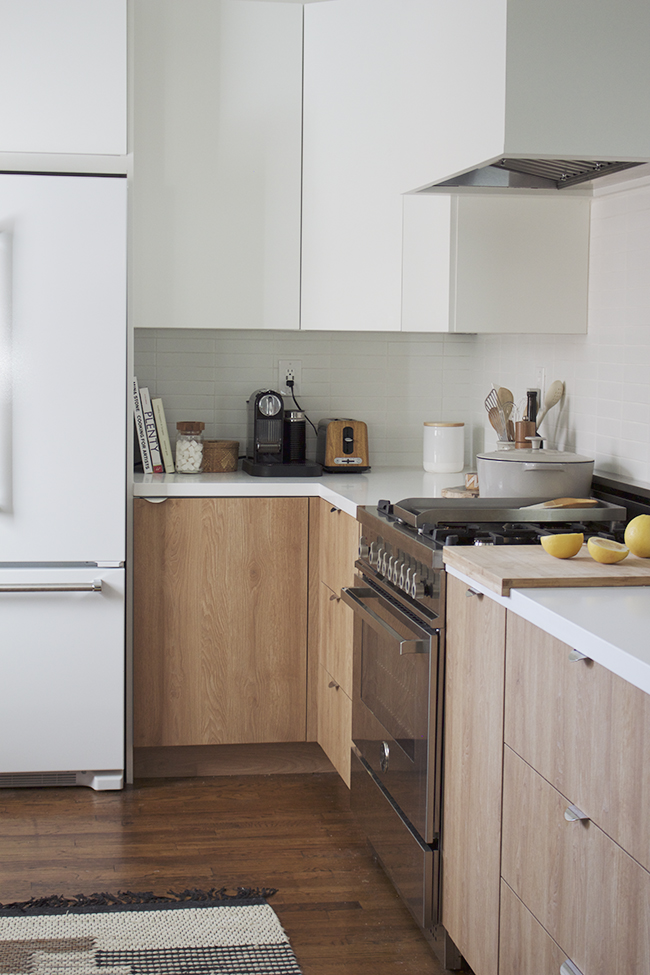 we went with ikea cabinets and used semihandmade doors/drawer fronts. this was the best idea ever — i really wanted to use ikea because of all their hidden drawer options and drawer dividers and they look so different than the finishes ikea offers. they were also super helpful with extra pieces and making things clear (because the ordering and delivery process is pretty intense). we had a woman from ikea come to do the kitchen measure/plan and she ended up doing the oven 5 inches further to the left than i'd wanted — so once i noticed we had to scramble and have semihandmade make a piece for each side of the oven so that we could have the edge of the range at the edge of the wall. it worked out! also once the kitchen was finished, i wasn't happy with the amount of space between the top of the fridge and the cabinet above it — and even though my contractor didn't want to fill it, we compromised and he was able to cut some scrap we had to fill the gap halfway. it looks so much better now.
we skipped hardware for most of the upper cabinets and just used these minimal pulls from superfront. the cabinets to the left of the fridge ended up being too close to the fridge to open comfortably, but i didn't want the hardware to be visible, so we used two of these pulls and they're basically invisible!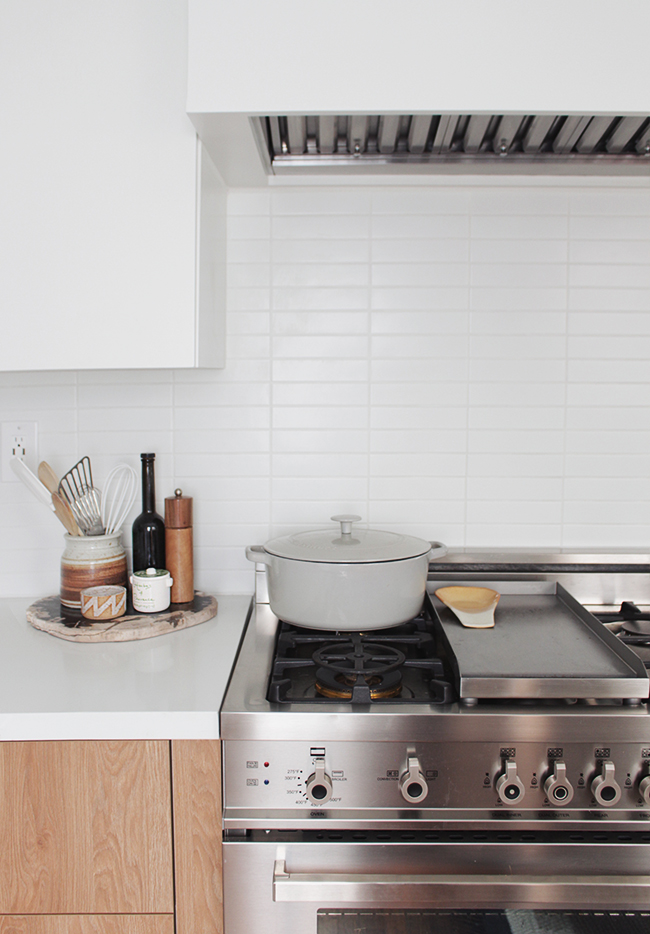 we went with this matte white subway tile for the backsplash, with a light colored grout (i think it was snow white).
and remember how i didn't know what to do about the range hood and the tall ceilings? i decided to just go with the simple box, so i had my contractor build the simple plywood box around it, and paint the same color as the upper cabinets. i am so happy with how it turned out.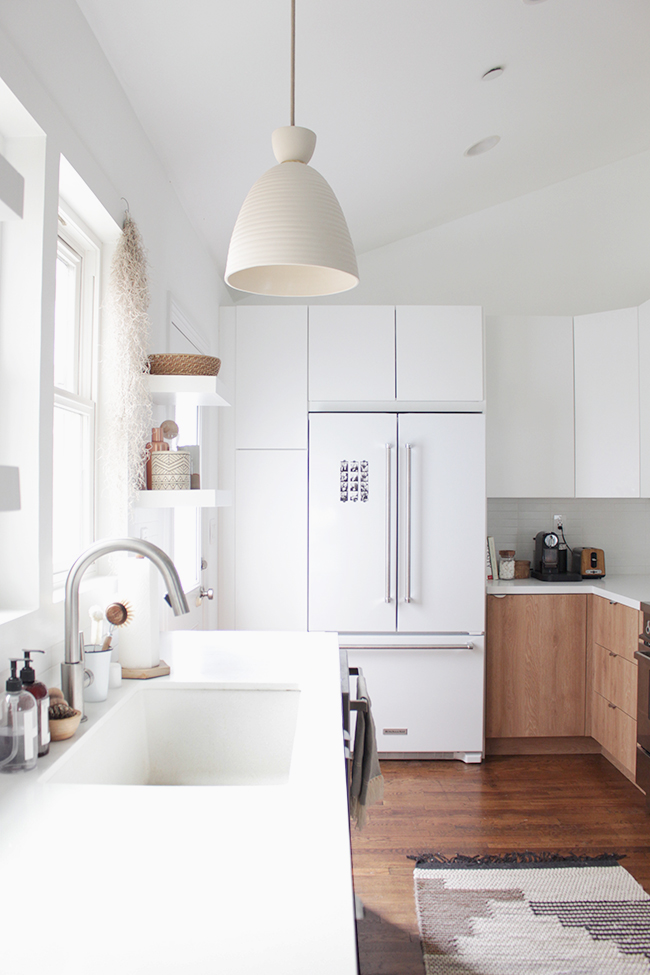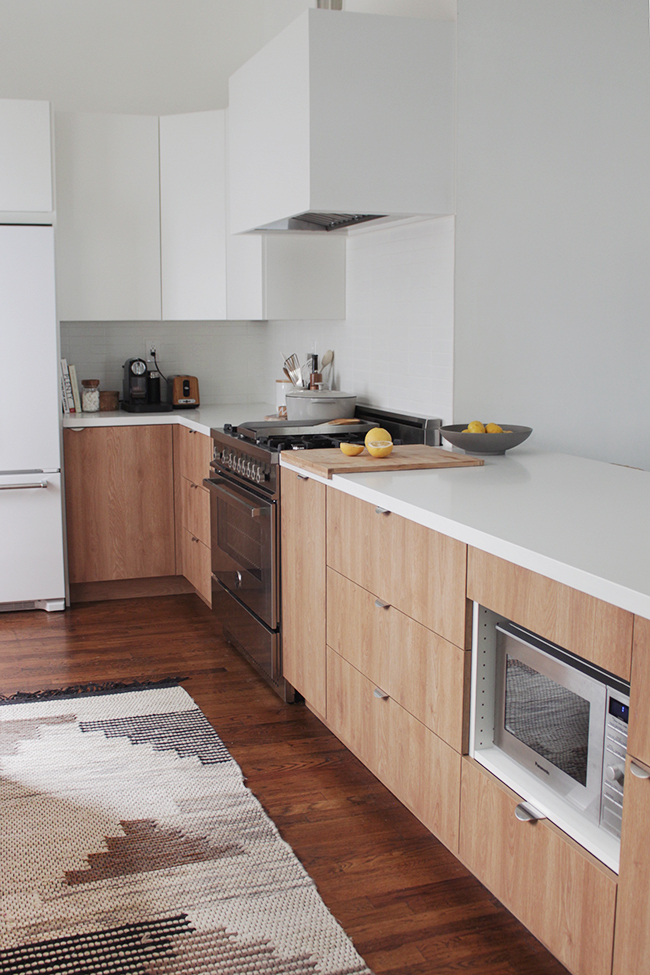 we ended up moving the microwave down, and even though all four of my parents are very confused about this choice — we love it (i'm sure until the baby knows how to open it). i also like that we left it as a hole basically so we can easily swap out the microwave if it breaks. we really don't use it enough to warrant designating a more prominent position for it, so i'm happy with where it is.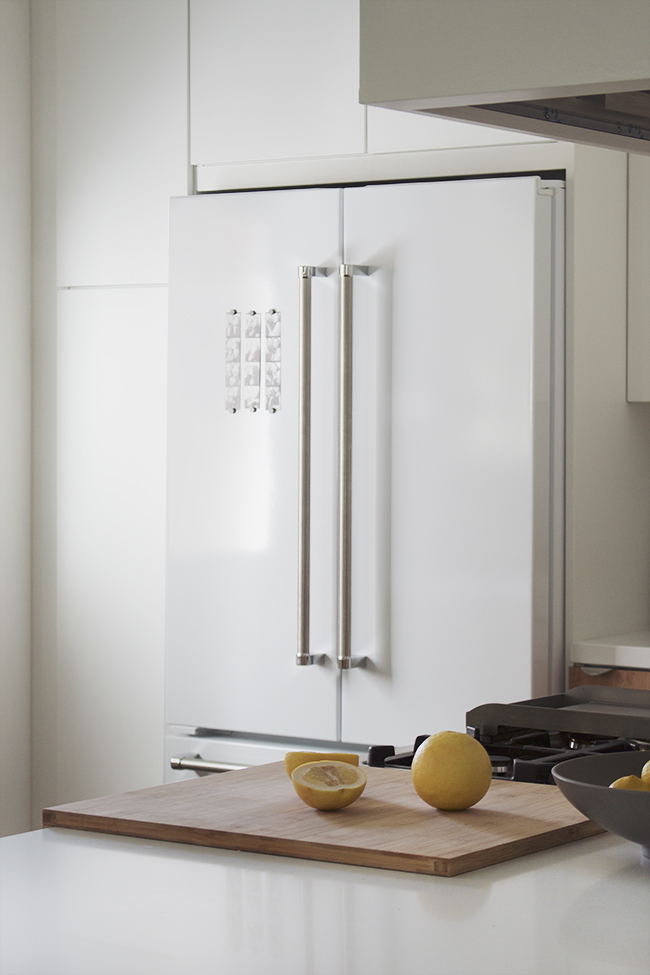 i went with stainless appliances, but decided on the white fridge since it would be so front and center. it's the only appliance you actually see when you walk into the house, and it blends in but looks gorgeous and i reaaaally love it.
i have always wanted a professional range and my dream came true. i've always enjoyed cooking and baking, but doing it on your dope ass fancy ass stove makes you happy every single time. it's from bertazzoni (along with the dishwasher) and i love it so much. we also got a griddle top which was the best choice ever, i'm making pancakes every weekend and life is so cool.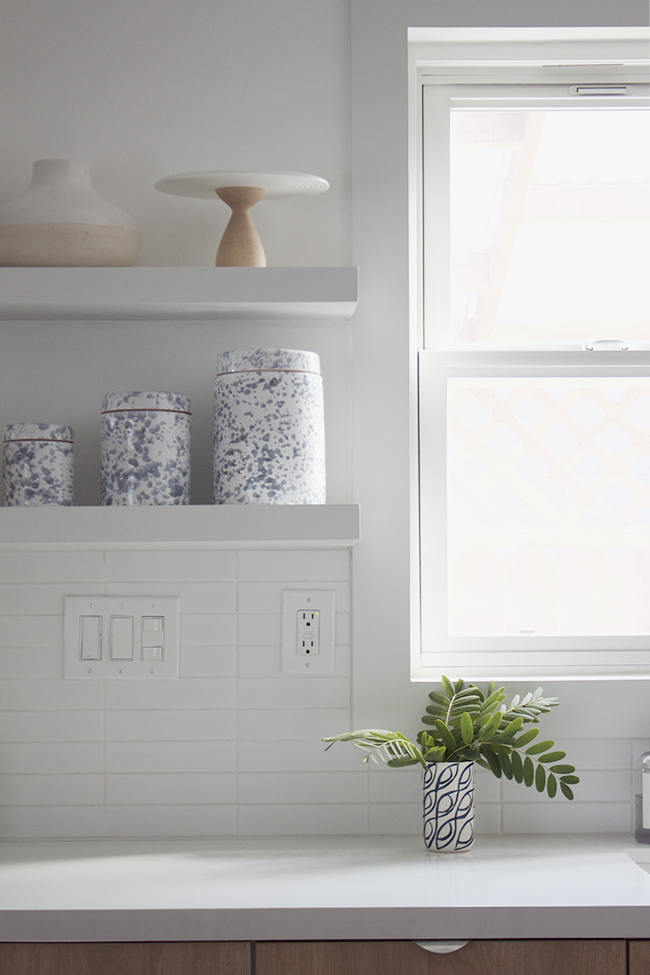 we decided on two open shelves on each side of the window, and we'd bring the backsplash up to the point where those started. but once we started really planning, i realized it would look so weird in between the two windows (why they didn't just put one large window in, i'll never know), so i decided to have a simple flat window frame built and then everything would look more built in — and it does! so happy we decided to do that.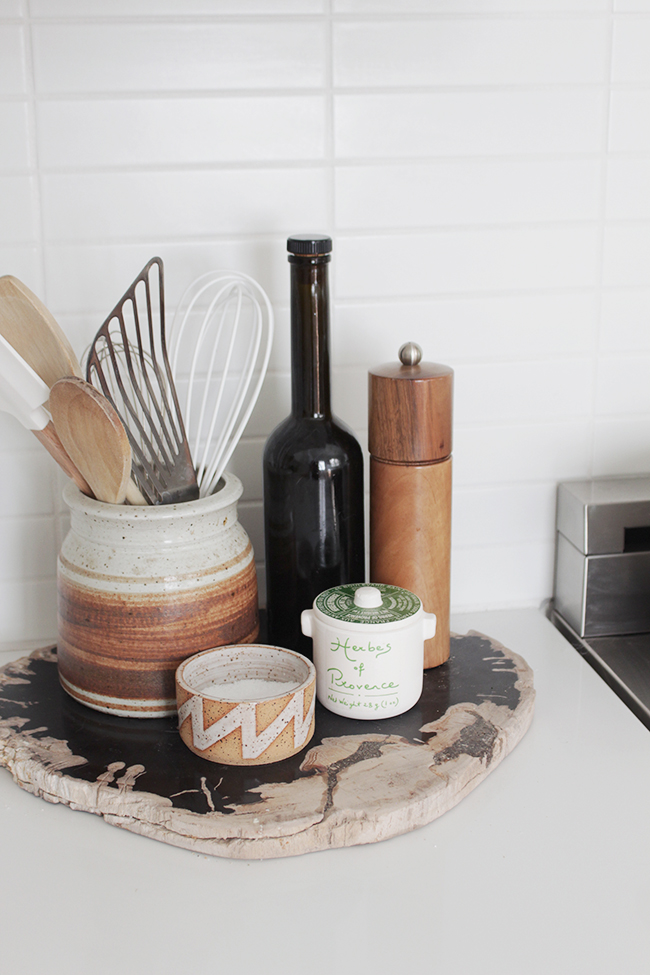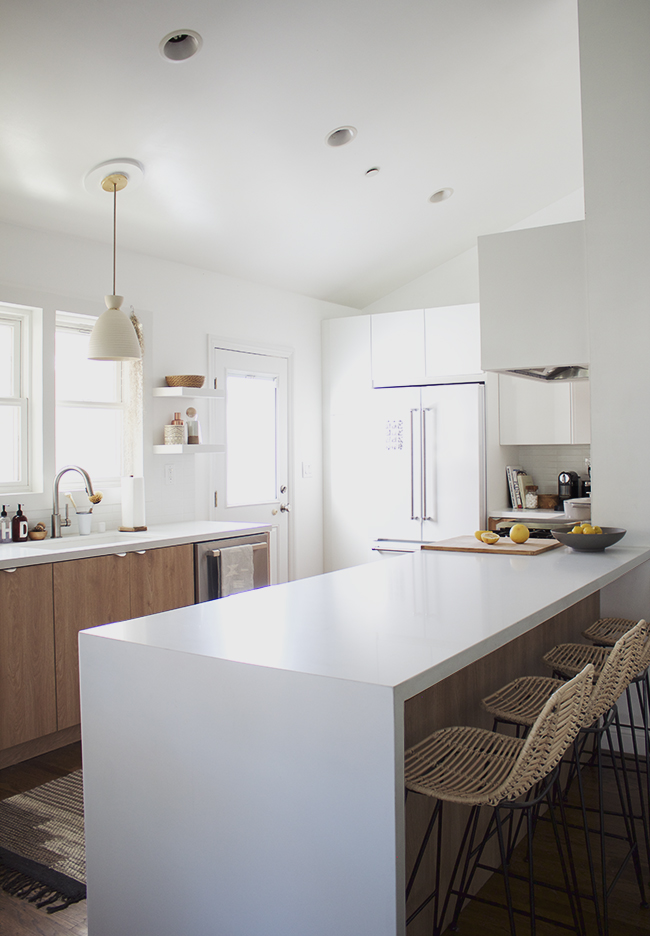 we went with a waterfall edge on our island and it looks soooo nice. we originally had a little shelf on the end which held all our cookbooks and it was kinda hard to lose that storage space, but i think it makes the biggest difference aesthetically so whatever. we went with a gorgeous white slab that's called silestone (from this place) — so far it's been so chill, v low maintenance, we got one scratch on it and we got it right out with comet.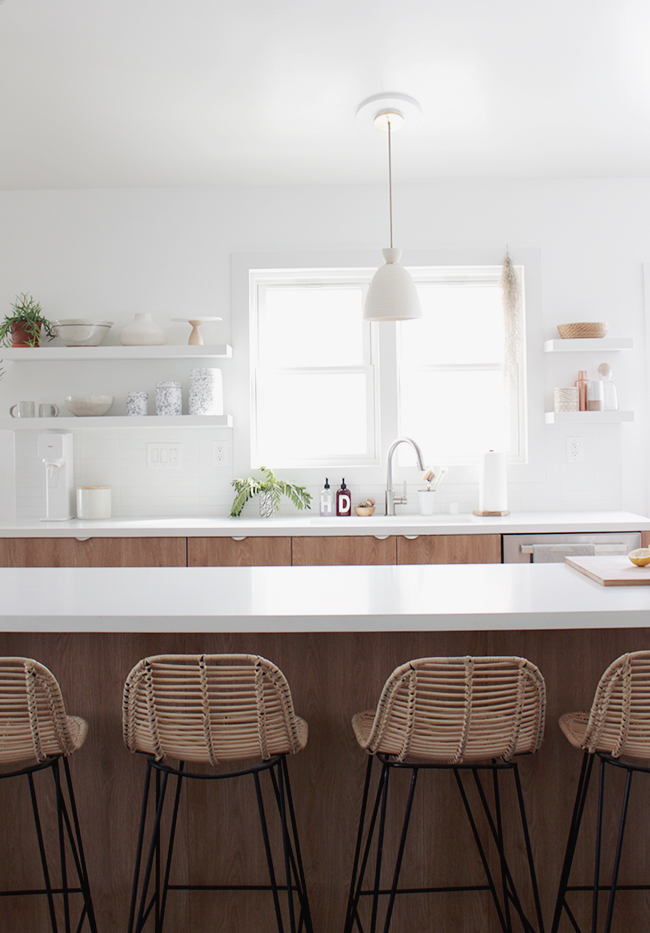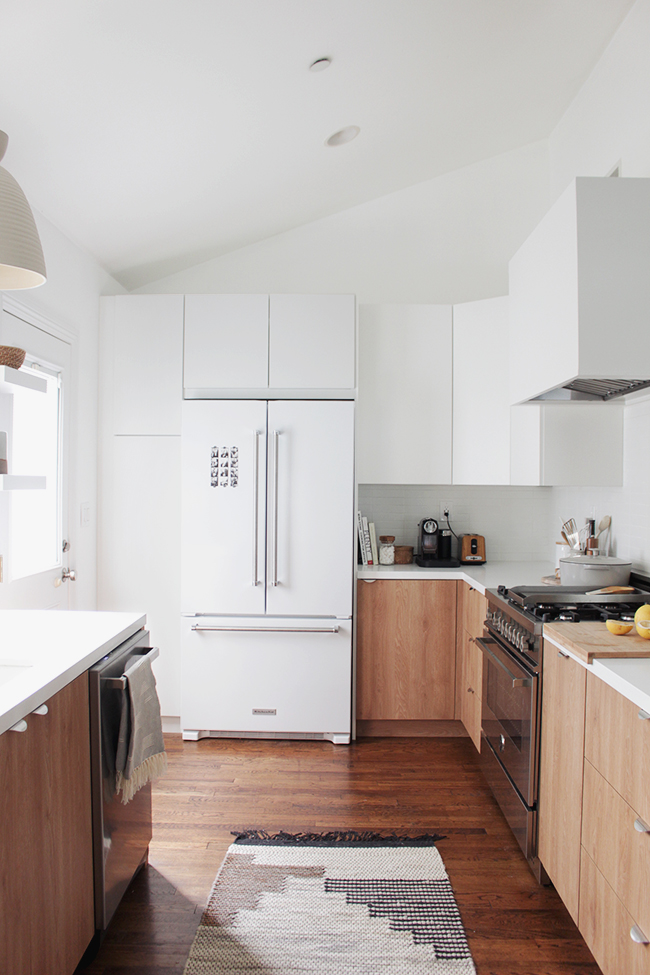 and that's it! i'm still completely in the honeymoon phase with it. like it just makes us happy to be in there all the time, even doing fucking dishes.
and in case you want all the sources for everything in one place….
BASICS
lower cabinet doors (in tahoe), upper cabinet doors (in supermatte white), superfront drawer pulls, matte subway tiles
appliances
fridge, bertazonni range, dishwasher, microwave, sink, faucet, hood
ACCESSORIES
bar stools (similar), pendant light, stoneware canisters, runner rug, black petrified wood tray, pepper mill, soap bottles, dish brush, enamel cup, cast iron casserole, spoon rest, cake stand
---
i'm gonna do some follow up posts for you guys, like i was thinking a post on the breakdown of some of the prices for the kitchen as well as a tour of the drawers and stuff. would you like that?