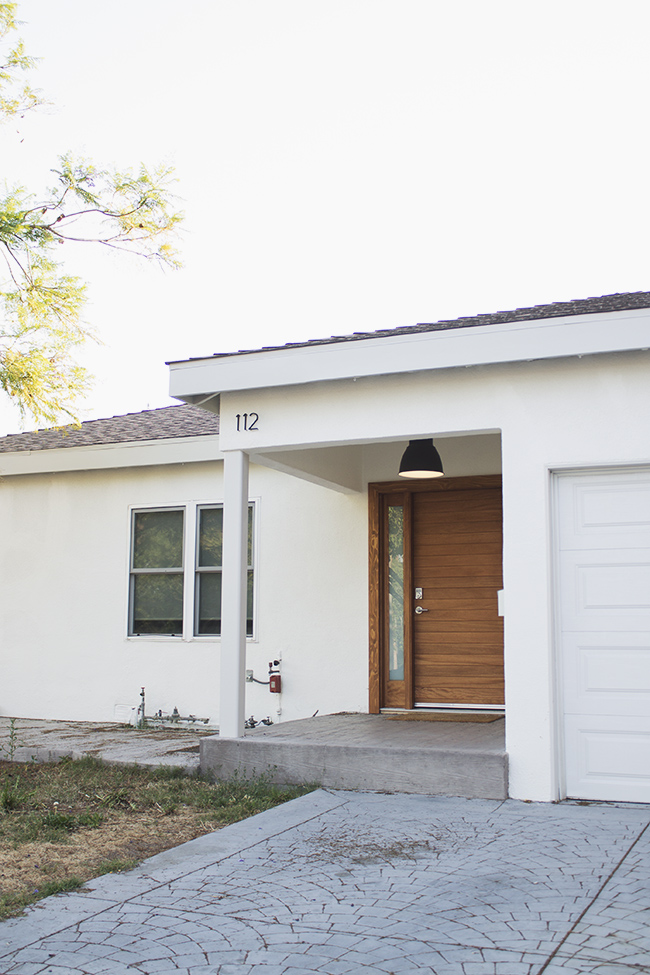 woo! as promised last week, i'm so excited to show you that our house is WHITE! now i'm not saying that anything surrounding the house itself looks good, but i can't even believe what an improvement the paint job made. when we used to drive by our house and see it from the street, we'd think oh that has potential, now it basically looks like a cute house. now check out this ugly before color…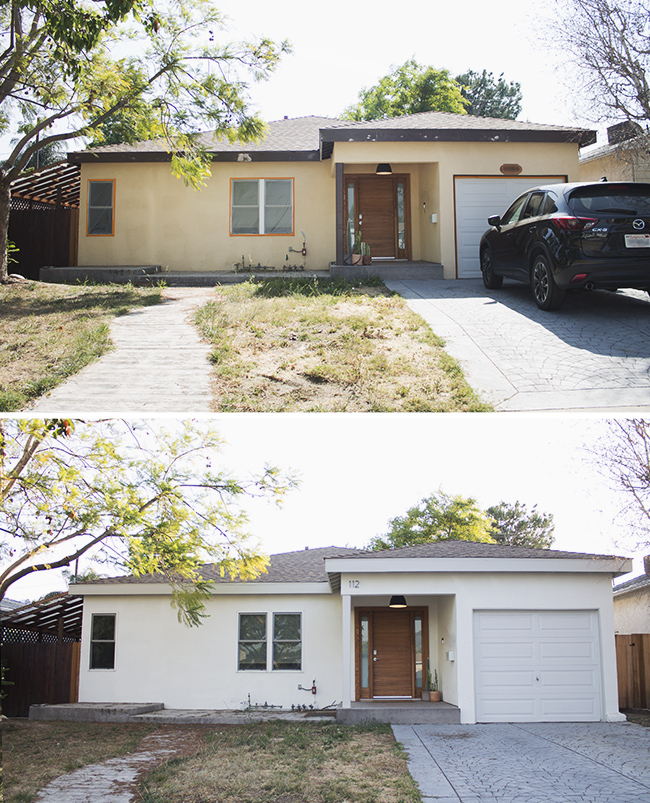 BLERFGUNSHSTINE!! EW. unfortunately i forgot to take wide before photos when we first moved in, but check out the previous front door that you know i hated so much and was the first thing i replaced.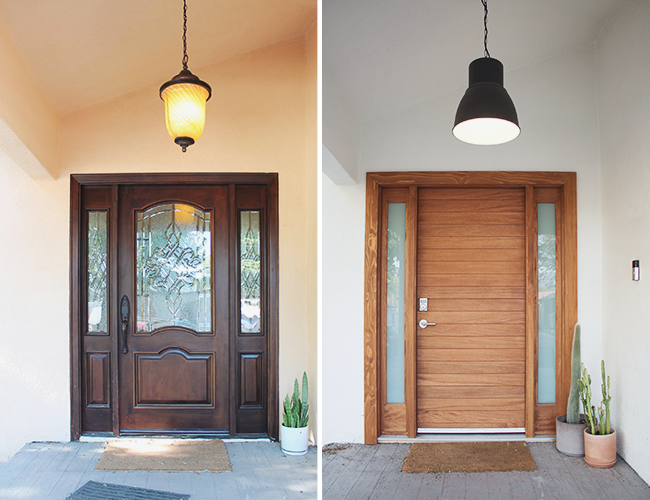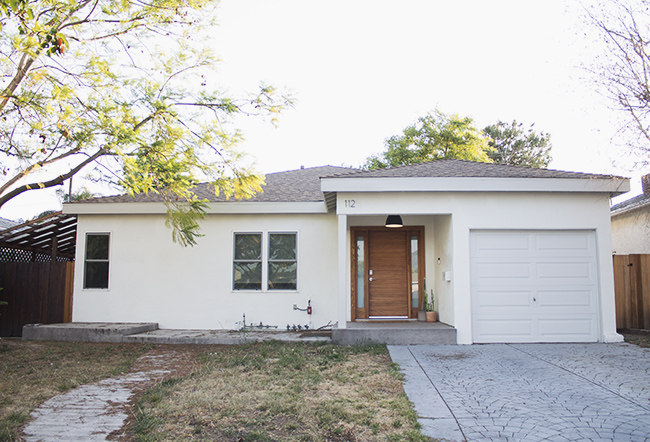 so much better right?! i loved the new door when we swapped it out, but i can't believe how much better it looks against white. oh man that's a sexy new door. also we were planning on painting our garage door, but once we painted the house we noticed the garage door suddenly matched the trim and we were instantly stoked we went with a lighter trim color.
we definitely could have gone with more contrast, but i feel like this low contrast look is real modern and chic and i am a huge fan. we went with benjamin moore aura exterior moonlight white (2143-60) in satin and aura exterior rodeo (1534) in semi gloss for the trim.
as for other things… this is the first time you're seeing the exterior of the house, so i'll tell you some of the ugly things we're planning to address :
the windows are very awkward, so we want to grow something in front to hide that weird in between area. see those ugly pipes and things under the window? we're going to build a box to disguise that area and paint it to match the house. we're also considering maybe painting the window frames black (although that can be a bad idea right?) or possibly building wood frames for them to match the door. we were also considering maybeeeee fixing the front yard and making it look less like dirt and weeds.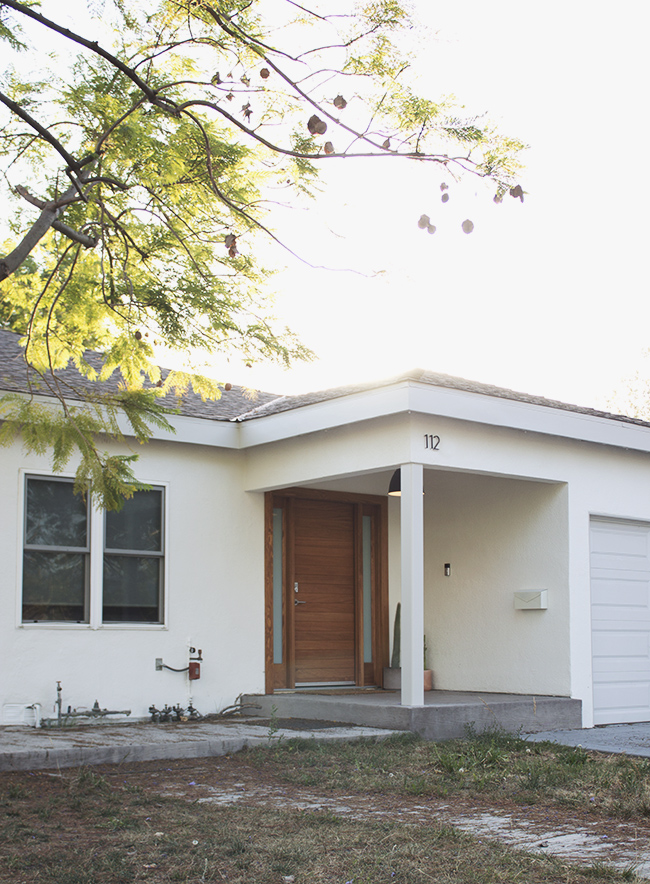 anyway, still a lot to do but the paint has made it feel like a whole new house. i'm really really happy.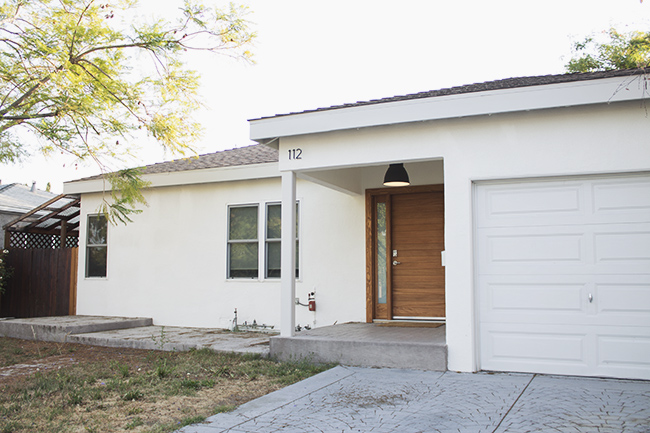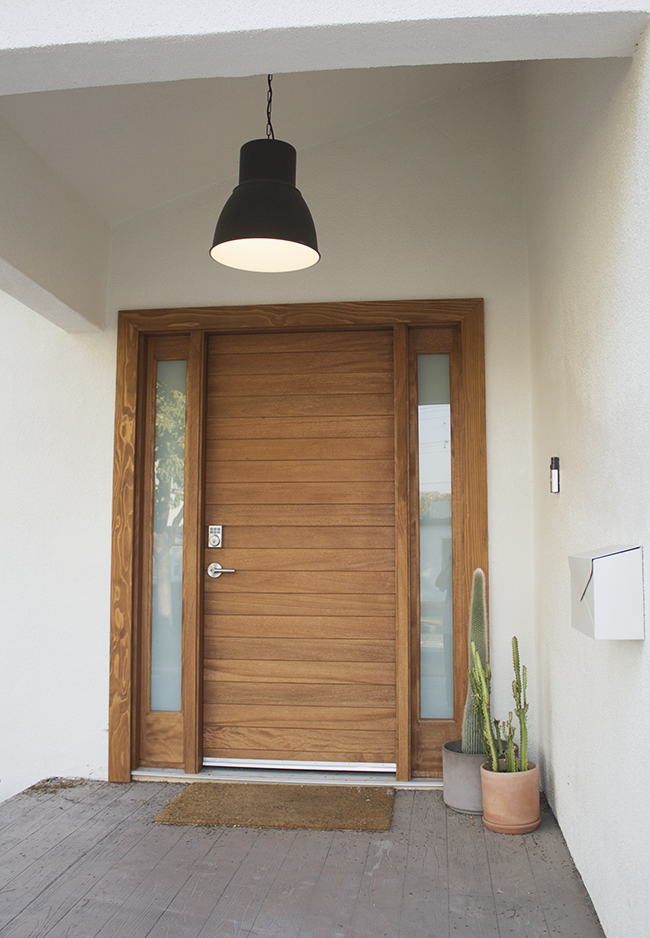 SOURCES
house color : benjamin moore moonlight white
trim color : benjamin moore rodeo
overhead light : ikea
house numbers : amazon
mailbox : amazon
front door : eto doors
keypad deadbolt : kwikset
door handle : kwikset
---
this post was in partnership with benjamin moore.
all opinions are 100% my own.