i've decided that the radio silence has gone on long enough without at least giving a little update of where i've been. we're TWENTY FOUR DAYS away from the wedding and between 24/7 wedding tasks and actual work, it's all just been too much for me to be able to blog right now. there have been very few days where i'm not checking something off or making something, so i will have plenty of DIY posts when i can get that together. but here's an update on where we are with this thing.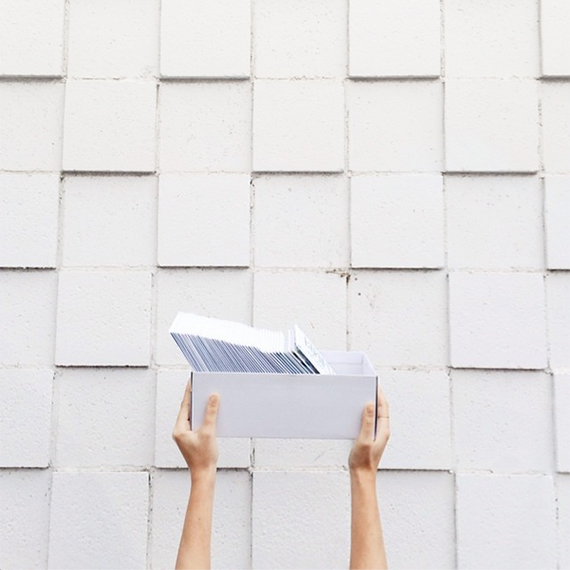 INVITES after two proofs and a lot of back and forth, we finally were happy with the invites we designed, which i will share soon. after spending two days hand addressing every envelope, we felt so good and so much relief. but then shit got real like right away.
THE WEEKEND while we have all our vendors ready to go, i've also been planning our rehearsal dinner and welcome drinks at my favorite palm springs restaurant. it's been a little stressful choosing two menus, but i'm excited for the party. and i think i finally just found my dress for it maybe.
ATTIRE we've gotten gid's suit and it's at the tailor now! all of the bridesmaids and junior bridesmaids and flower girl have their dresses (i went with mismatched) and the groomsmen got some matching grey suits downtown that hopefully don't look as cheap as they are. i'm not totally decided on my accessories yet but i think i'm close (going very simple with it, of course.) i have some simple sandals, a fancy bracelet and possibly a gold flower crown. and my final dress fitting is next week, EEEK.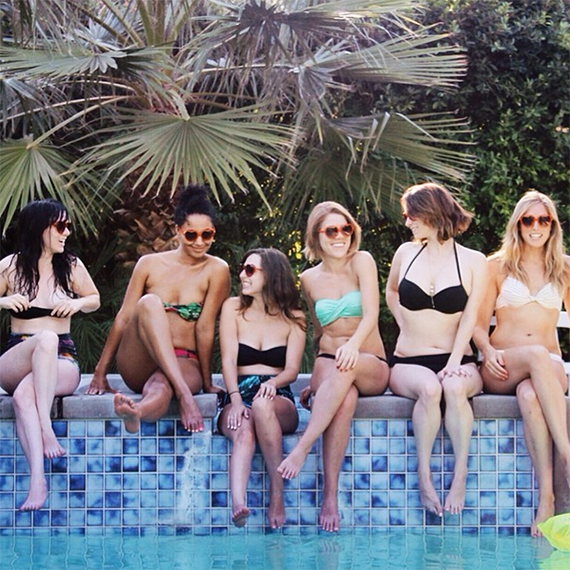 MY BACHELORETTE PARTY my friends threw me a super fun girls weekend in palm springs at this amazing house they rented. we stayed in the pool gossiping, drinking a ton, we had matching heart sunglasses, we played a custom jeopardy game, painted our nails. this was by far the best part of the wedding for me so far.
DECOR my parents have been working with the same carpenter for over ten years now – so he offered to build our chuppah as our wedding gift! i am so excited to see it, it's something my stepdad designed and will be all blonde wood like i like. we've picked out all of our rentals and i am feeling very good that we were able to get a cool modern look despite using any hipster-y rental companies. well let's hope so. i have a couple of mexican blankets we're going to toss around to try to decorate — and i have purchased a couple of kilim runner rugs on ebay for our aisle.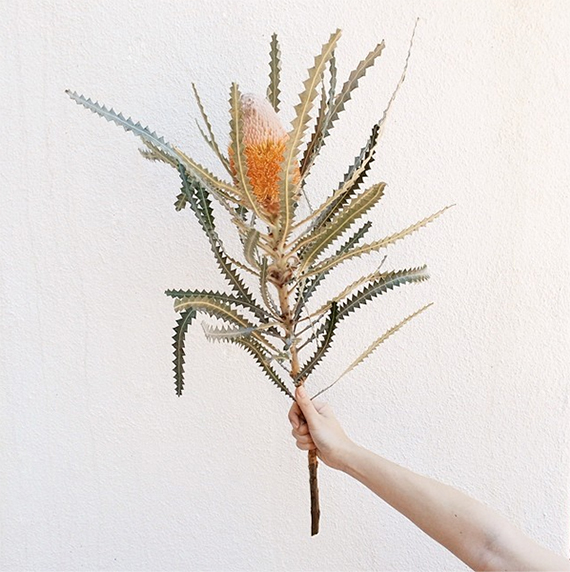 FLOWERS florists are so expensive, so for some reason – i hired mine to just do my bouquet and a couple of flower crowns, and then i enlisted the help of my stepdad to do the rest. well it's been pretty stressful, we have a huge venue space with a lot of need for filling. we've taken multiple trips to the flower mart and picked our favorites and then gone back when we found out they wouldn't last in the heat. we're keeping it simple and going to use a lot of cacti and succulents and just a few flowers thrown in for color and warmth.
BOOZE we went to costco and bought a bunch of wine to sample, brought them home and had a tasting and have picked our wines. now we just have to buy it, along with vodka, beer, champagne. ugh. we're just sticking with wine, beer and a speciality cocktail which we're basing off of our favorite at the ace palm springs.
GETTING PRETTY i also decided to have my maid of honor do my makeup for the day. we went to sephora and picked out everything and i'm feeling very good about the makeup! i've also been exercising three times a week which has made blogging even more not possible. i've never been one for exercise, but barre is actually kinda fun and really hard – but by the time i get home and am showered it feels like i start my day so late. but i think my bod is looking good so that's what matters. we're also whitening our teeth. i had this plan 5 months ago that i would be getting bi-weekly facials, eyelash extensions, highlights, spray tan… i've done none of that. i guess i'll try to exfoliate before the wedding as much as i can.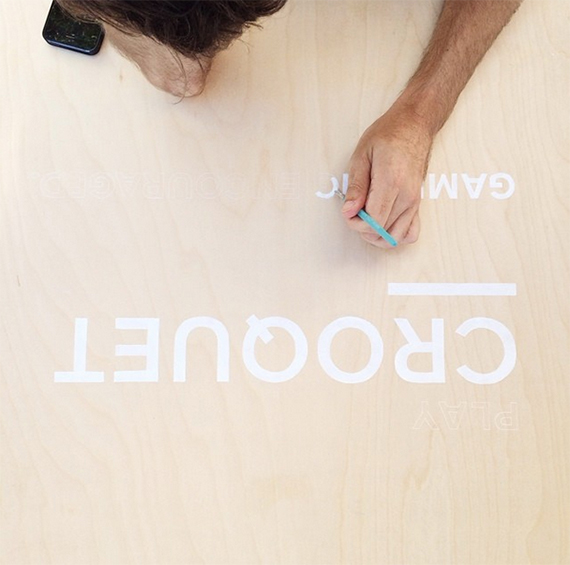 MAKING WHAT FEELS LIKE EVERYTHING so far, we've made all of our dinner napkins. they're linen. we've painted almost all of the signs that will be scattered around. we're spray painting hundreds of candles and bottles for the tables. we've designed and printed our programs and menus. we turned those programs into fans. we've hand painted 300+ rocks for scattering. my best advice for making this much is to enlist your friends and family for assembly lines. my mom, cousin and i made 135 napkins in like 2 hours.
still on the list : we're making a flower girl basket, hanging plant holders, dessert signs, a photo booth background, and probably a lot more than i'm remembering right now.
WELCOME BAGS you may remember i was debating whether or not i needed these, but all of my female relatives say YES. so instead of a wedding favor, we're going to offer people a succulent from the table and have a bag waiting for them at the hotel full of a couple nice things and some snacks. we tried to keep the cost low so i skipped the sunglasses i was planning on putting in and subbed out for wholesale playing cards and advil. i'll ALSO do a post on the wedding bag once we compile them. promise.
ADVICE i really thought making everything would be a blast, but it's a lot. A LOT A LOT. and while we're finally seeing a light at the end of the tunnel now, in retrospect there are a lot of choices i would change. honestly, i would probably just elope in the caribbean. but i'm feeling very positive that we will get everything together and it will be my favorite day ever. but i'm also just really looking forward to laying on the beach in tulum and not making shit. i'm on DIY overload and sorry you guys aren't getting to experience it. but i promise to get my act together and post them at some point. i do kinda miss this. a teeny tiny bit.