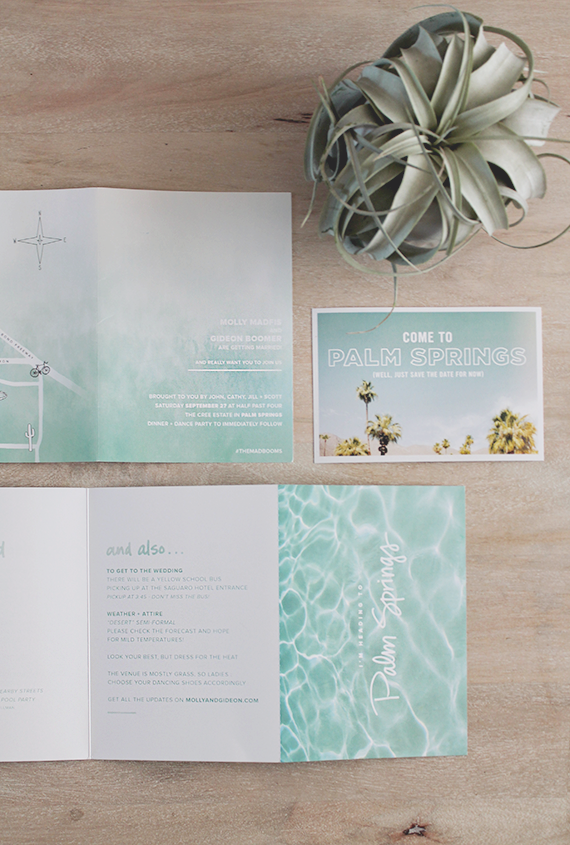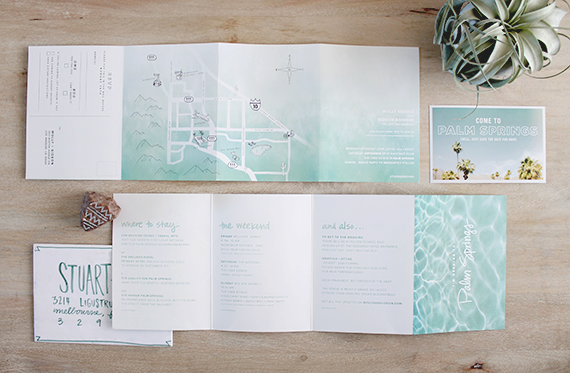 a few of you have asked to see more of our wedding, well — i still can't show you yet because i'm excited to say that it'll be featured on my favorite wedding blog fairly soon! but for now, you've also asked to see our wedding invites / aka the bane of our existence / aka one of the best things g and i have ever done together.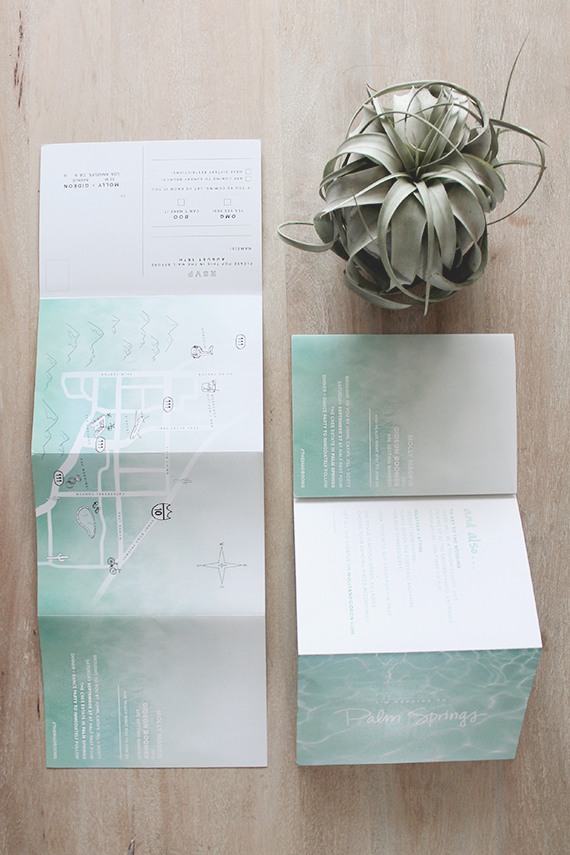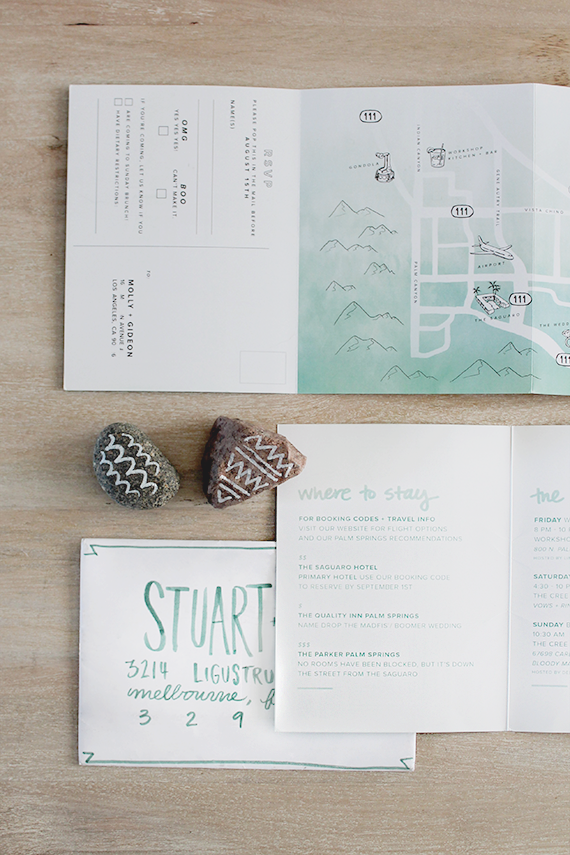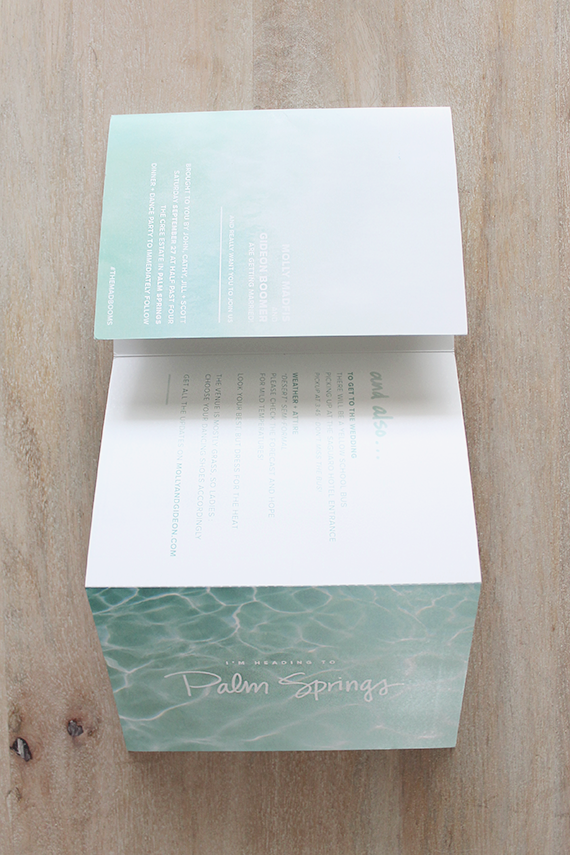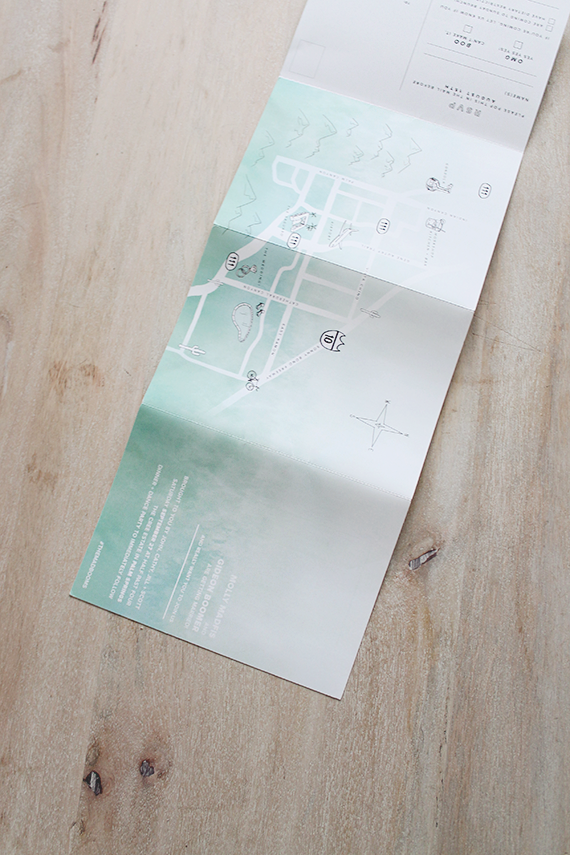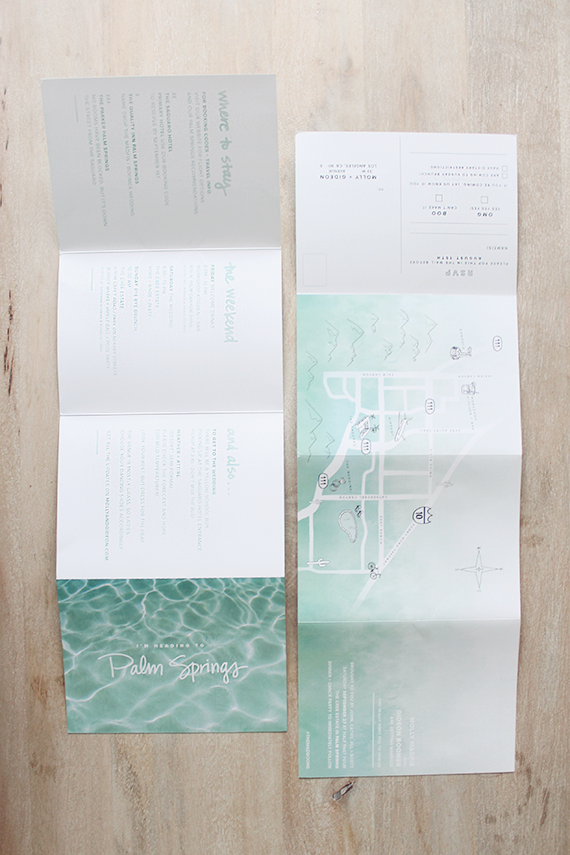 we decided to design our invites to be like a brochure, we wanted to try to convey the palm springs vacation feel to them (to really entice people to come). we stuck with same kind of vibe as our save the dates, but while they go together, they're pretty different.
it was a little difficult + a lot tedious to design the accordion layout, because we had to figure out what configuration worked best, which we changed multiple times. when our guests received them, they'd see the front, which was essentially the "invitation". they then would open to reveal all of the info laid out, as well as a map gideon illustrated on the back of palm springs. we included our RSVP postcard within the brochure, so we had that perforated for easy removal, but made sure the invite had three additional panels to keep it still pretty once they'd RSVP'd. we were really into the idea of postcards for the RSVPs because it's so much easier to just drop 'em in the mail and we saved on additional envelopes. we went with smartpress for printing the invites, and they were super helpful every time i called to ask mundane questions about how to best design the layouts. (they were also super affordable)
because our wedding was pretty laid back, we made sure to use wording that still sounded like us. the most formal thing we did was including my parents name on the front, but we still made sure to keep that wording casual (by skipping their last names). i hand wrote the words and gid digitally painted the watercolor background. we also assembly-lined our envelopes with a marker that basically matched the invites. gid did the guests names and i did the addresses. that took forever.
i am so happy with how the invites turned out, it was a total labor of love + it was so fun for the two of us to collaborate on them together.