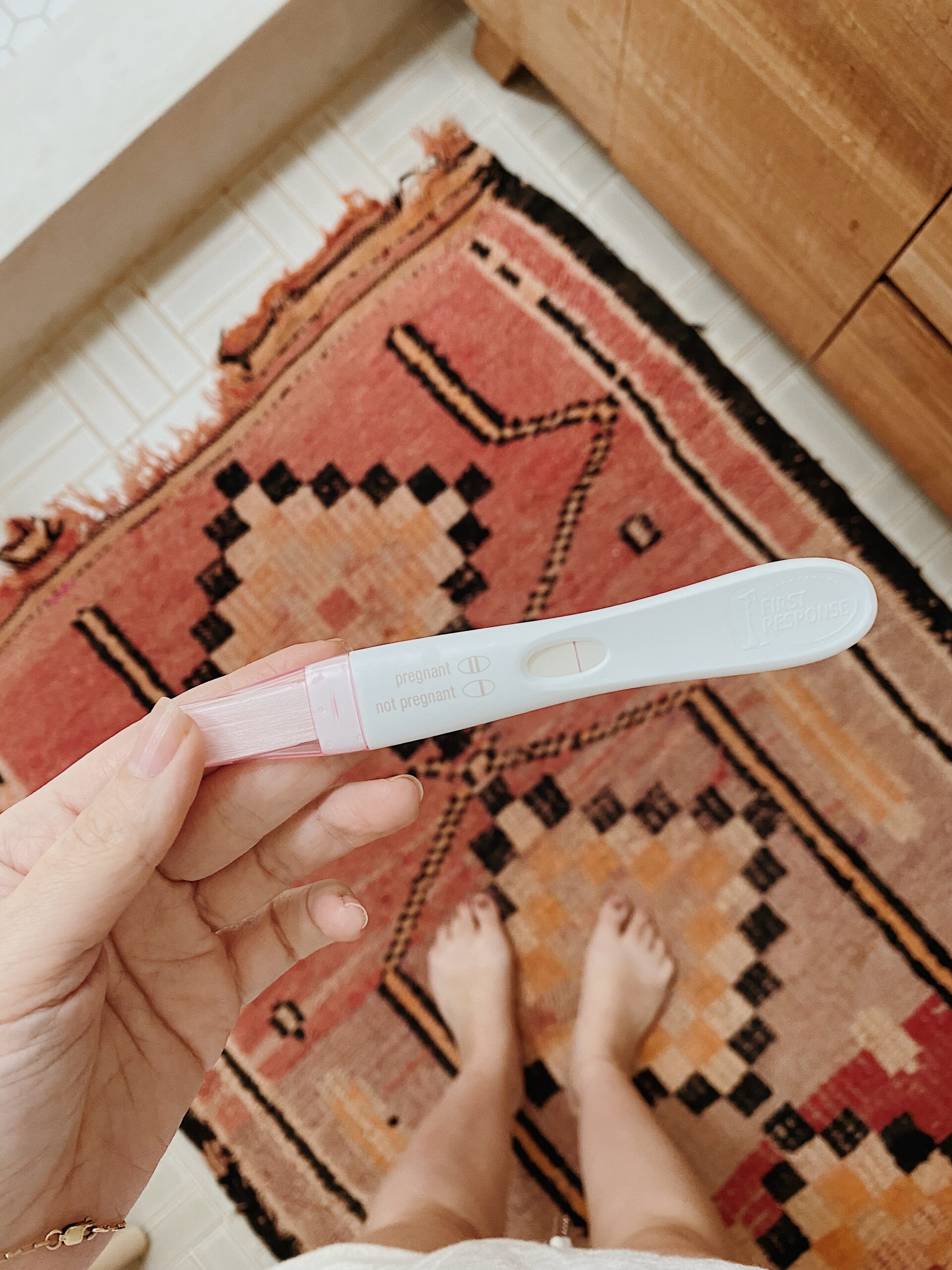 i wrote about my miscarriage back in december, but since it's been sadly a fairly long road now, i thought it would be cathartic for me and hopefully helpful for you to write about our journey of wanting a second baby. so i'll start from the beginning. sorry it's long winded but so is my experience.
i was content before we starting trying
pre-pandemic, i was actually pretty happy just the three of us. when arlo was almost 2 i wanted to try for a second, but at the time we weren't in the right place to try yet. so i let go of that. then for a long time i debated if we wanted a second one at all.
arlo was sleeping so well, he was in school and i felt like i had some independence again. i was exercising and finally feeling good about my body and enjoying my free time socializing and we had a date night sitter and were going out a few times a month for dates. things were really good and i was in a really good place.
then the pandemic happened, and obviously our life came to a halt. it was pretty immediate that i realized how different our time at home would have been had we had another kid already. harder in so many ways, obviously, but maybe easier in a lot too. arlo would have had someone to play with, and having an only child (who had been thriving at school with friends) was rough for me. and for him.
everyone said young kids are so adaptable, they'll be fine, but it was freaking hard. he changed a lot over the year– we had tons of fun and made so many memories, but he became pretty socially anxious, and really forgot what it was like to be with anyone but us.
(and luckily once he started back in school, it only took a few weeks before he started changing back and now loves being around friends and family constantly. he went from saying he only wanted it to be the three of us to complaining why no one is coming over for dinner most nights hahah)
so since i wasn't out and about and i no longer had my independence or a life, i wanted a second baby now very suddenly. gid was not on board because we had no idea what the future was going to look like. remember how bleak and scary those early days were? i don't blame him, but i spent quite a few months just trying to convince him we should try.
i was getting scared because arlo was getting older and older and so was i. i had waited so long that now i felt like we really had to hurry suddenly and wasn't expecting a pandemic to happen to change my entire planned out life timeline.
then we started actually trying
once we were on the same page, we spent the first few months with little success. gid was on an antidepressant which made it challenging, and i was using ovulation strips which i feel like were just making it harder for me. the strips can steer you so wrong and just confuse you so much, am i right? it was just not working for us for a while.
i was confident we wouldn't have issues since our first time having arlo was really quick. in retrospect it didn't take that long for me to get pregnant, but when you're in the trenches every month feels excruciatingly long. we started trying in the summer of 2020 and got pregnant in november.
my prolonged miscarriage in december
i did write about this already, so sorry if this is redundant. we were so happy to get pregnant, i was trying not to get too ahead of myself but i was really excited and felt hopeful. i did a blood test and everything seemed good. the wait for that first ultrasound felt like forever, and i went to see my OB around 8 weeks.
because of covid, gid wasn't allowed to come in which just made me feel generally way more anxious about the idea of getting bad news. i did tell the nurse before the ultrasound that i was a little worried, but i also talked all about my plans for upcoming visits and whatnot so i guess i didn't actually know.
as soon as he started looking and not saying anything at all– i knew. they didn't really see anything. there was a sack but nothing or something very small inside. he thought maybe it could just be too early and had me come back again the next week.
i would never wish the experience of going through that alone on anyone, i'm still very much traumatized by it. it SUCKED. and to have to do it twice. the second ultrasound was the same thing, there was something little there but no heartbeat.
he suggested i just take the pills at home since it was christmas and covid and i thought it seemed best too. i was miserable for a few days and bled all over our bed and was just so happy to be through it. this is where the blog post from last time ended, but unfortunately it wasn't actually over yet.
about a month later, my numbers were still not going down to zero. the pills didn't work. i bled SO MUCH and had the worst cramps of my life but somehow it didn't work?! i had to go to another doctor for an ultrasound who confirmed that i would need to do the pills again.
this obviously wouldn't have happened had i just opted for the D&C to begin with, but my dr never expressed that there was a chance it couldn't work and never had me come in for a checkup to make sure that it did.
because there was so little left, it was too late to try the D&C so i had to take the pills at home, again. this time was way better, i preemptively took pain pills (that they refused to prescribe me) and i was much less uncomfortable.
it felt like it didn't work by the end of day 2 because nothing had really come out, and then as i was peeing i just felt a huge something come right out. this is totally TMI but whatever we're here already. it was weird how quickly and smoothly it fell out, pain free. and i looked down and saw a pretty substantial sack and old tissue mush and was like ok it's OUT.
omg i was so relieved to be done with this miscarriage. this was now late january. i was finally no longer "pregnant" and i could try again!!
trying, again
just a couple more months of crying whenever i got my period, and i decided to stop with the ovulation strips. they did help me in november but i thought they might be throwing me way off to when i was ovulating, so instead i decided to try looking at my calendar and doing days 10-20 of my cycle.
in april, i wanted to take no chances so i made us do it every single day and i got a UTI. hahaha. i was like WOWWW i better get pregnant so this was worth it.
another positive pregnancy test
it worked!! i got a positive pregnancy test and i was soooo so happy. but i was also so jaded. i didn't even want to take the test because i was like this is such a waste of a test i'm about to get my period FINE i'll take the test but it says negative, oh wait does it say positive??? whoa it says positive omg. we cried and hugged so much.
after what happened in the winter, i decided i didn't want to return to my OB. i made appointments with two new doctors, women this time who could actually understand what i was going through. i told everyone close to me, again. i was jaded AF but i was so hopeful.
then, only one week and two days later i started spotting. i was like ok maybe its implantation. it's fine. then that night it was actual blood. i collapsed on my bathroom floor and just cried and cried. i even held my stomach and begged "please".
turns out you don't want to be a new patient when you're having a failed pregnancy because they don't care about you at all. both offices advised me to go to the ER, so i called my original OB and spoke to the other dr in his practice who helped me through the miscarriage since my actual OB was so checked out. he wanted me to just rest for two weeks before coming in for a 6 week ultrasound.
i stayed in bed, i started feeling hopeful again. i spoke to so many women who bled, some throughout their pregnancies and i thought ok maybe this can still happen. i hadn't had any sharp cramps at all. i went to an acupuncturist and i felt like there was a chance.
after a few days horizontal, i was still bleeding. i started feeling way less hopeful. and instead of optimistically googling "implantation bleeding" i started googling "chemical pregnancies". and then i noticed my stomach started feeling like menstrual cramps, so i took a pregnancy test and there it was — negative. i was like ok well that answers that, it's over now.
i got out of bed and walked to my brothers house while blasting my sad anthem where i immediately drank some much needed rosé. i was devastated that night but i woke up the next day and felt a little more at peace. i think having those few days in bed distraught helped prepare me emotionally.
and i was just so glad to not have to go through a drawn out miscarriage this time around. i went to the dr who confirmed it was out of my body already, and that it was just bad luck but not considered a second miscarriage or a reason to worry yet. i asked all about fertility testing and my progesterone levels, but he thinks the fact that i've gotten pregnant (now four times altogether) and carried a full term baby mean everything should be ok and that i can just try again right away. and he reminded me many times to try to remain stress free (ha.)
so, we'll be trying again. not sure if i can emotionally handle another miscarriage, but i've decided i need to STOP future tripping.
STOP the future tripping
between all of this and also casually house hunting, i've noticed that i am generally much sadder these days. we put everything off and i plan everything around things that haven't actually occurred yet. it makes me feel like we're living in limbo.
there's no reason to do this or that house project because we could be moving. and we need to move soon so that we know where arlo will be going to school for pre-k!! and if i get pregnant then we'll have to make sure we're settled before we have the baby!!!! and arlo will be 4 in june so that means no matter what, they'll have at least 4.5 years age difference between them. and that means that when arlo is going to college our second baby won't even be in high school yet. and what if they aren't close because they're so far apart in age? and why didn't i just start trying sooner? i'm going to be 36 soon oh noooo…
and so on.
this shit is swimming around my mind most of the time. it's not healthy and when i really reflect on it, i'm not doing well. i started seeing a therapist on top of our couples therapist, and it's been really helping.
together we realized that i needed to reflect on the time before i was obsessed with having a baby and how i felt, what was making me happy. i was truly content and living in the moment. so gid and i decided together to make a conscious effort to plan for our life right now instead of what could/might/will happen in the future.
i need to not spend most of my days and losing sleep at night thinking about the fact that it's been this long and i'm still not pregnant. because i can spiral like a mofo.
so i'm going to try to exercise in real life again (after everything my body has gone through, i've gained some weight this year), i'm gonna bleach my teeth with the bleaching kit my dentist gave me that i prematurely put away when i got pregnant for a week. i'm doing acupuncture regularly and i'm going to be trying to enjoy my life right now in this exact moment of not being pregnant. as best i can!
and we're gonna fix up our guest room and turn it into an office for gid (who just got a new job!!!), and i'm even thinking of painting it. because why am i putting off enjoying our home right now and feeling creative– to just wait? if we move we can bring the furniture. if i get pregnant we have plenty of time to convert it into a nursery.
i'm going to stop planning for anything that hasn't actually happened.
and hey maybe those things we want to happen will actually happen when we're not so damn focused on them.
---
so that's where i'm at now. it's been a shitty time for us– but i think this attitude shift will be really good for me. i want to be happy again, and i want a baby too. so i hope to report back soon.