home tour : brit roennigke's sunny california casa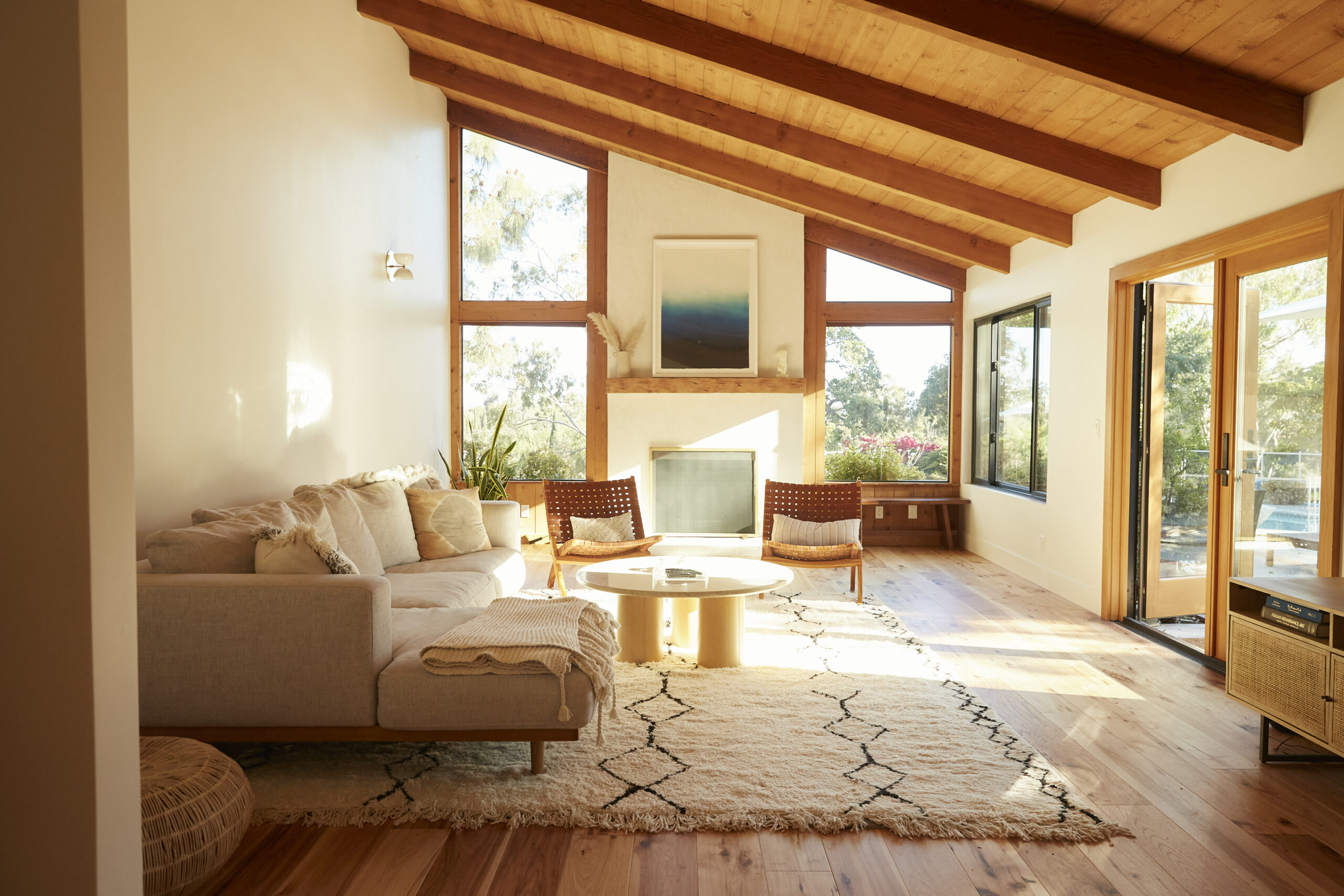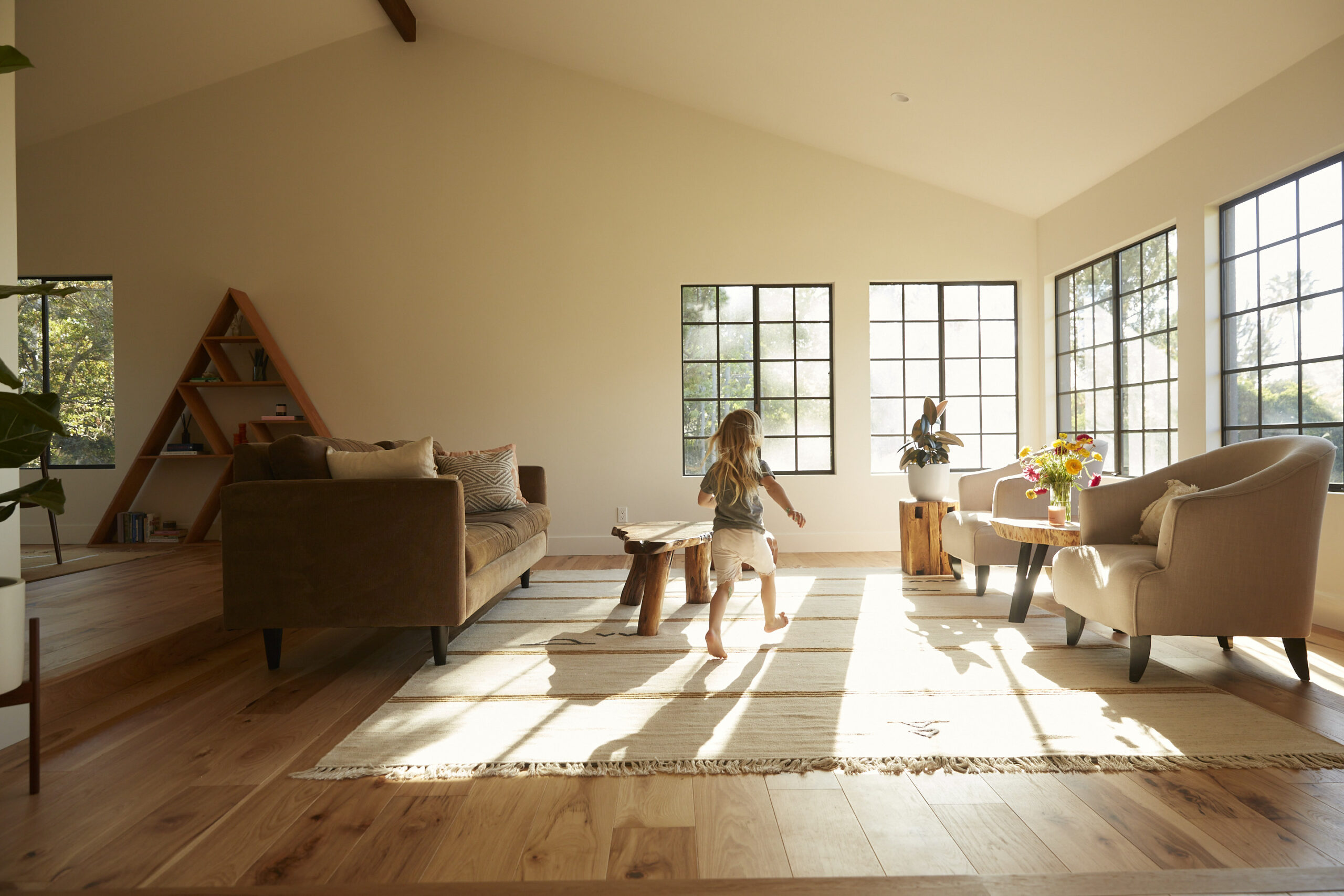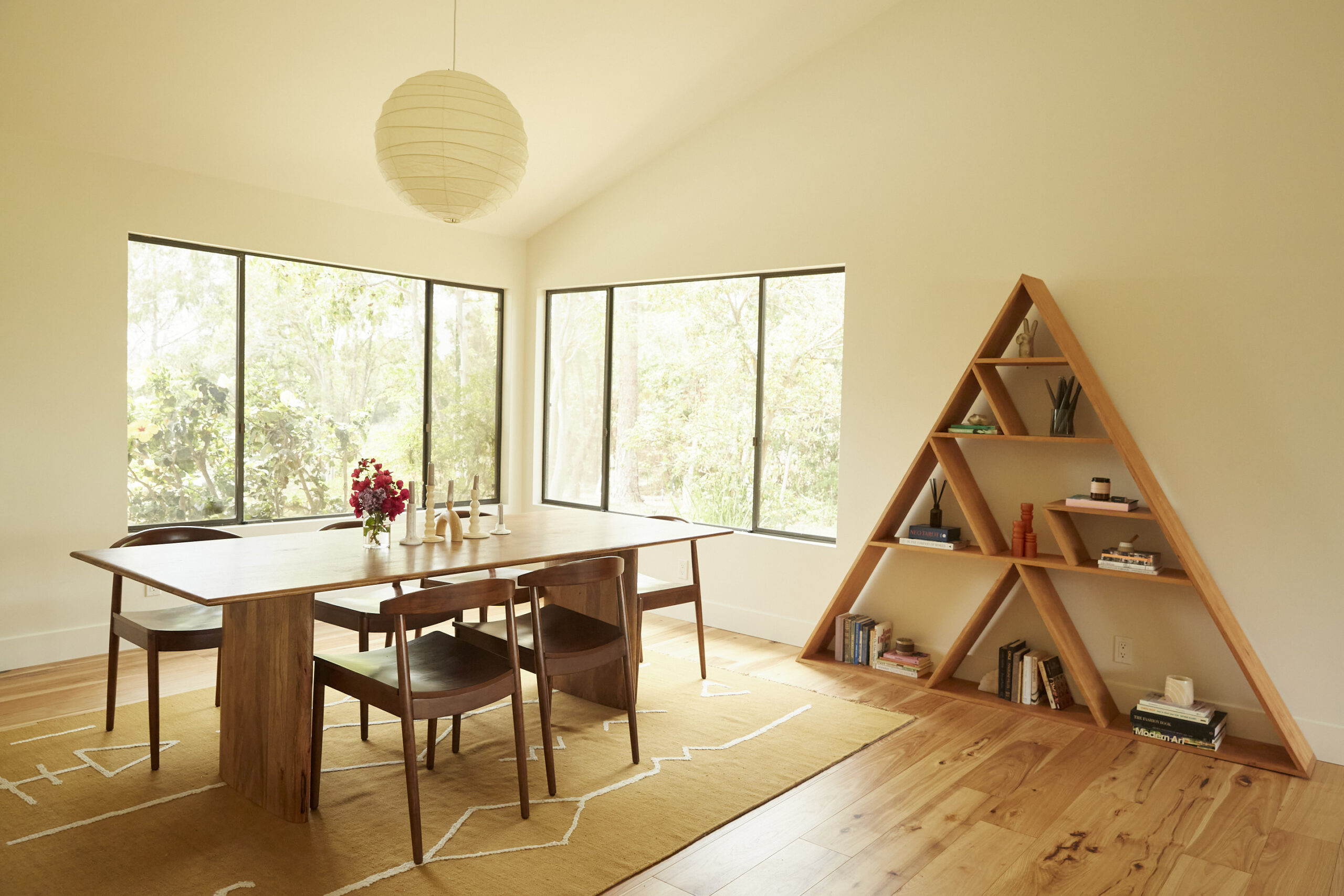 so excited to share this home with you today! brit founded roen candles and they just are finishing their house they fixed up throughout the pandemic. i am obsessed with so. many. details. you will be too!

tell us about you and what you do!
I'm a California native. My husband, two kids and I recently moved from LA to the San Diego area. We love being closer to the ocean and spend most weekends at the beach.
I started making candles as a creative outlet but it quickly changed from a hobby into a small business. I was a one-women operation for the first couple of years and now I'm lucky enough to have a small team. Each candle is hand poured in our little studio using a small batch approach.
I used to be a buyer in the retail industry and I got to the point where I was so burned out and just dreaded Mondays. Now I truly enjoy what I do and who I work with, I honestly look forward to the work weeks….we have fun 😉
how many sq feet is your home?
Our new home is just under 3,000 square feet which feels insanely big compared to our 1,000 square foot LA bungalow we were coming from.
what drew you to your house when you bought it?
All of it, we actually saw it on zillow and before even touring it we knew it was our house. It was built in the 70's and hadn't had any updates since then but when we walked in we were instantly taken by the beautiful bones and incredible light. The den in particular really pulled us in with its wooden vaulted ceiling and huge windows. We also loved that the den, living room and master are all sunken rooms that naturally break up the space.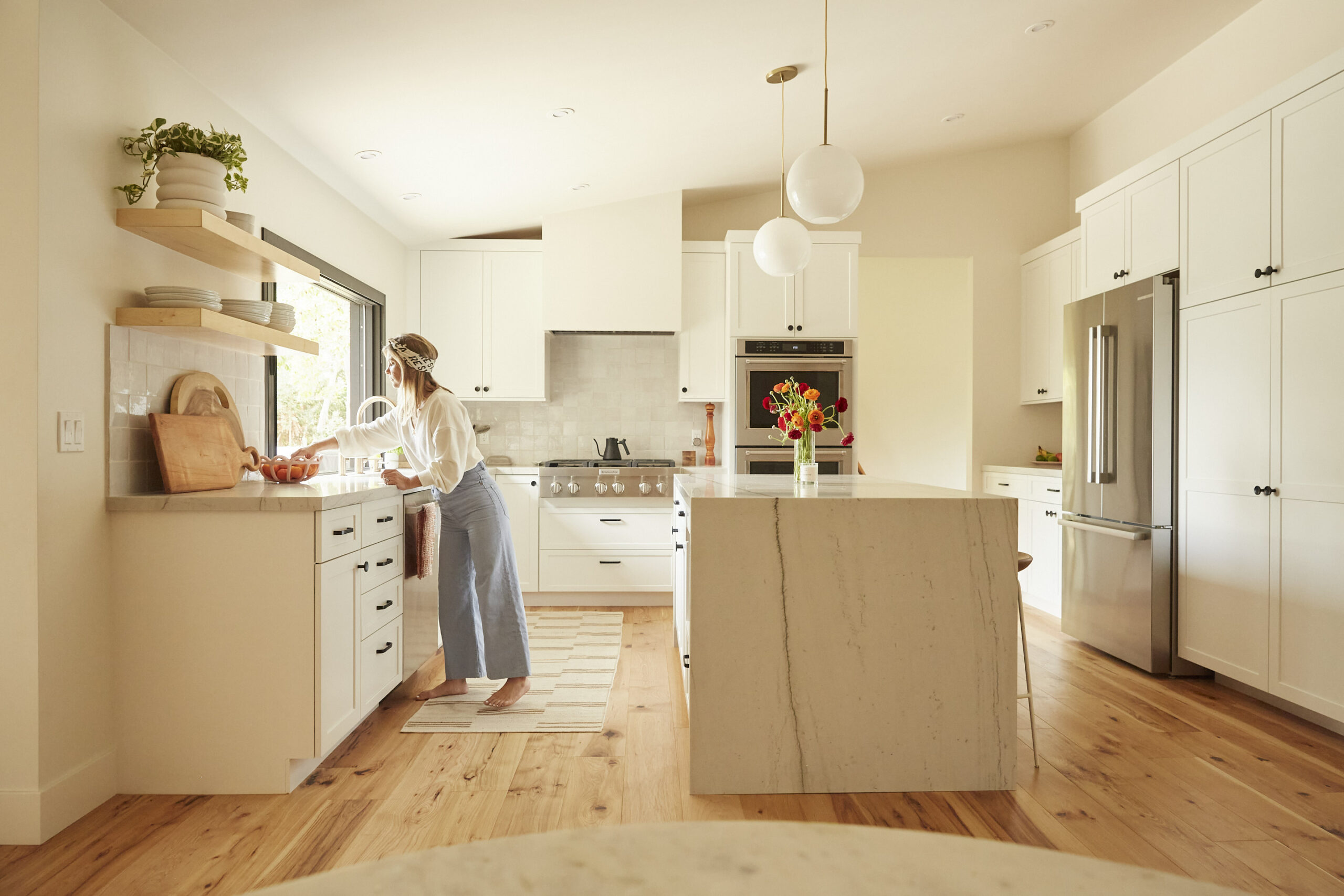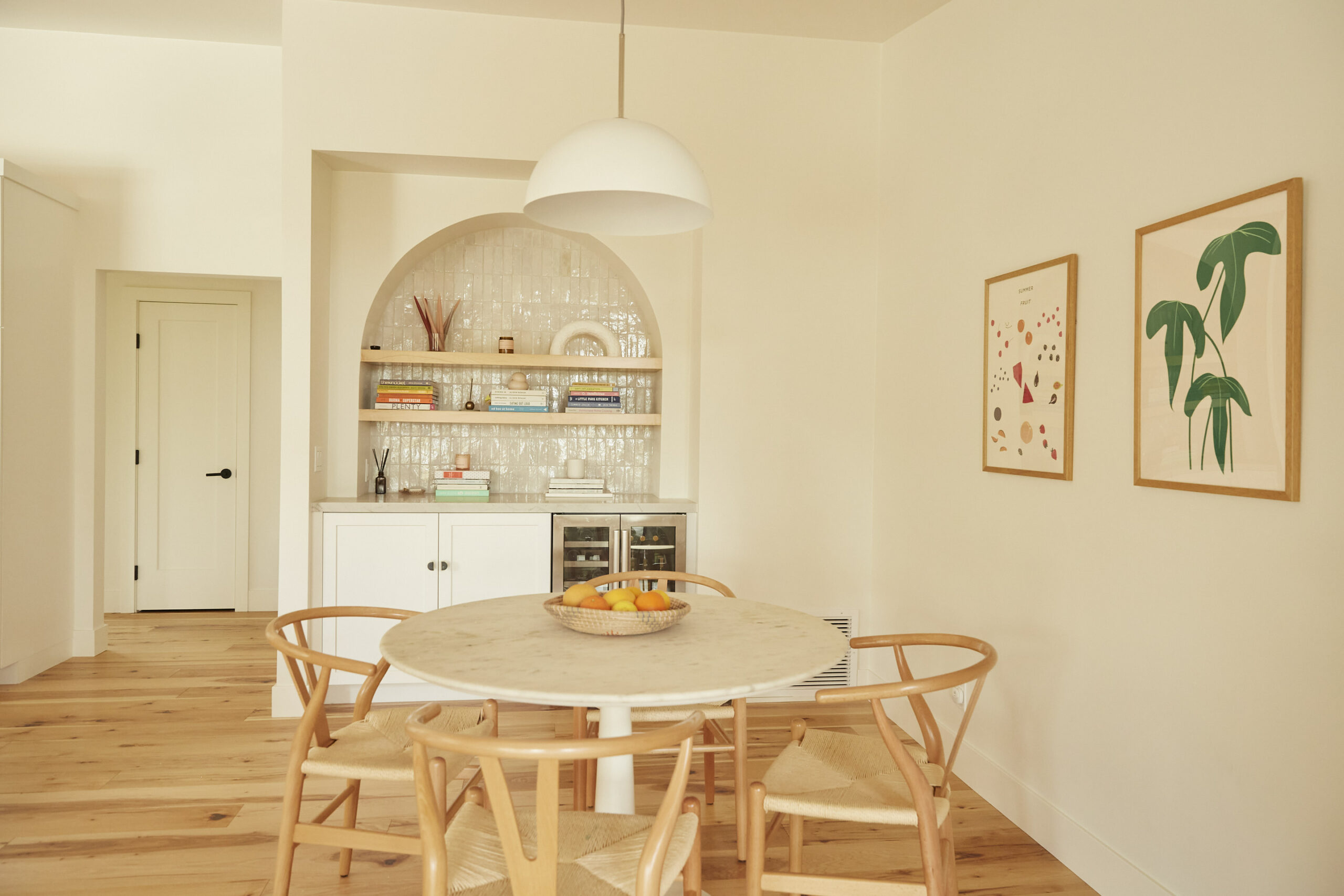 how long did your renovations last?
We started our renovation in September and are just about finished, so just about 9 months. It actually went pretty quickly and was a very welcome distraction in these crazy times.
did you do everything at once?
how did you plan everything without going crazy?
We did the whole house all at once, with the exception of the walled off in-law area we were living in. Honestly, we didn't have a solid plan when they came to demo it. The only spaces we had a design layout for were the kitchen and the master bathroom.
Our approach was what our contractor lovingly calls "design as you go". We were picking fixtures and making design calls as it was being built. The arch we have in the kitchen was a very last minute addition. Luckily we had an incredible contactor, we could just show him a picture of something we liked and he would make it happen.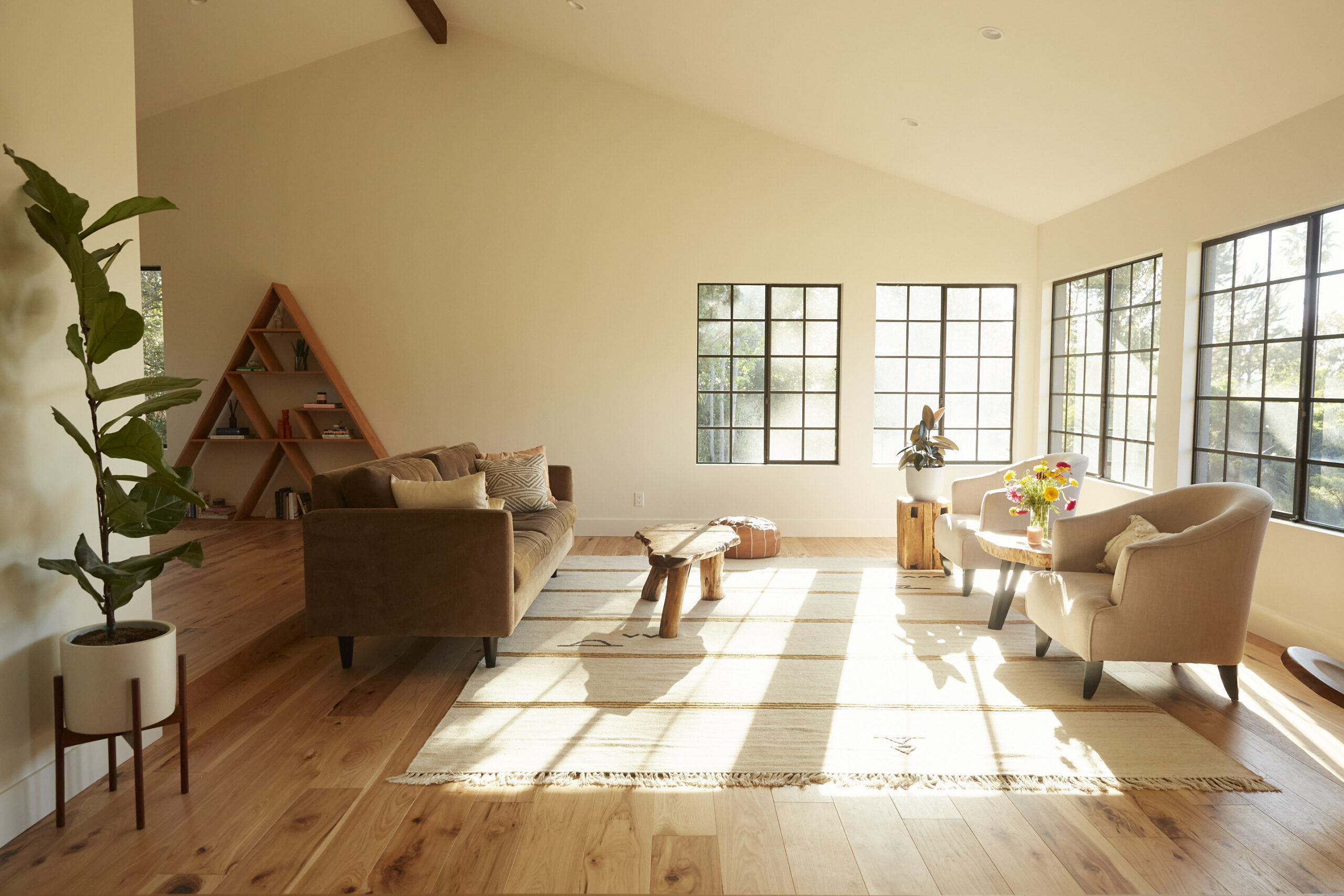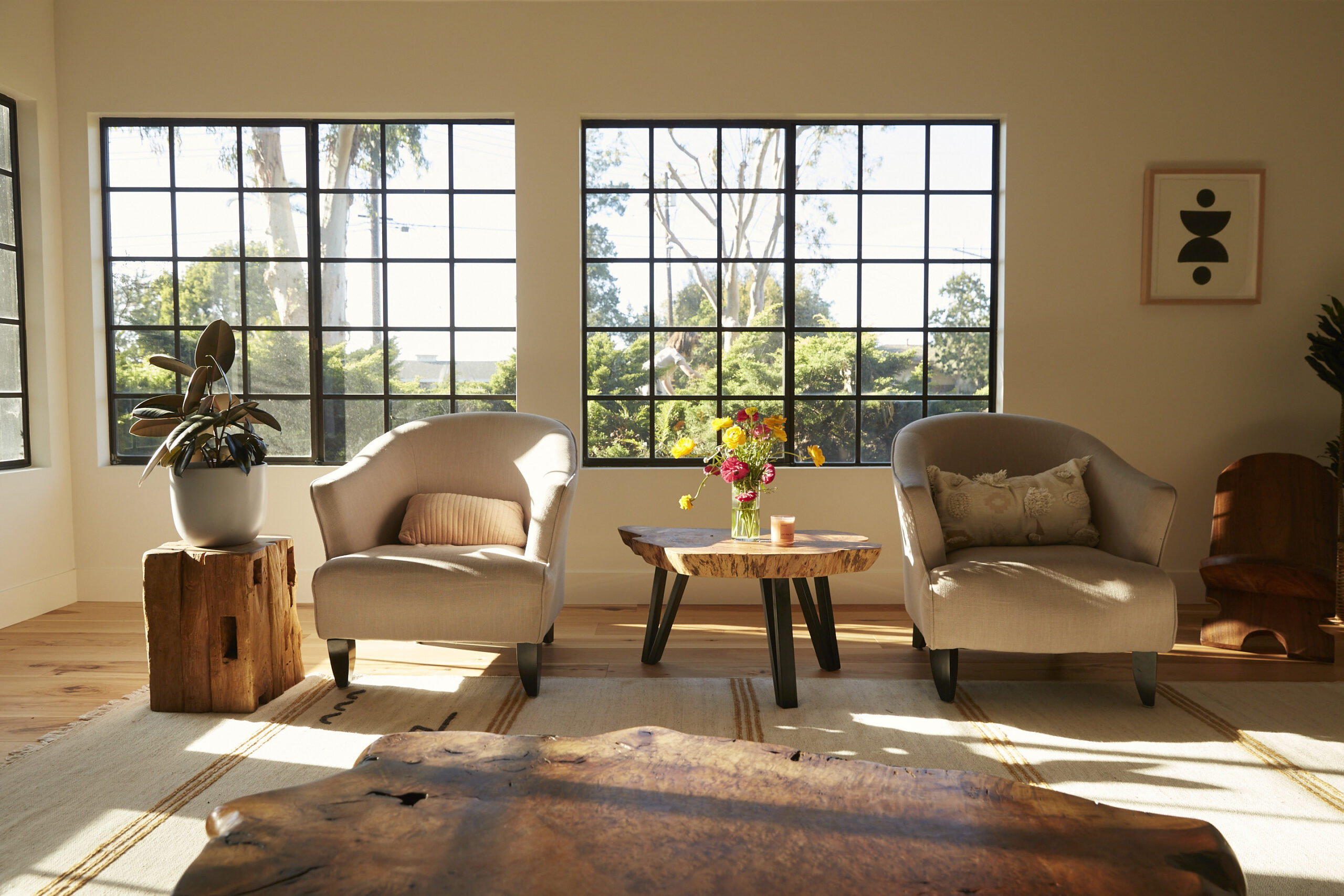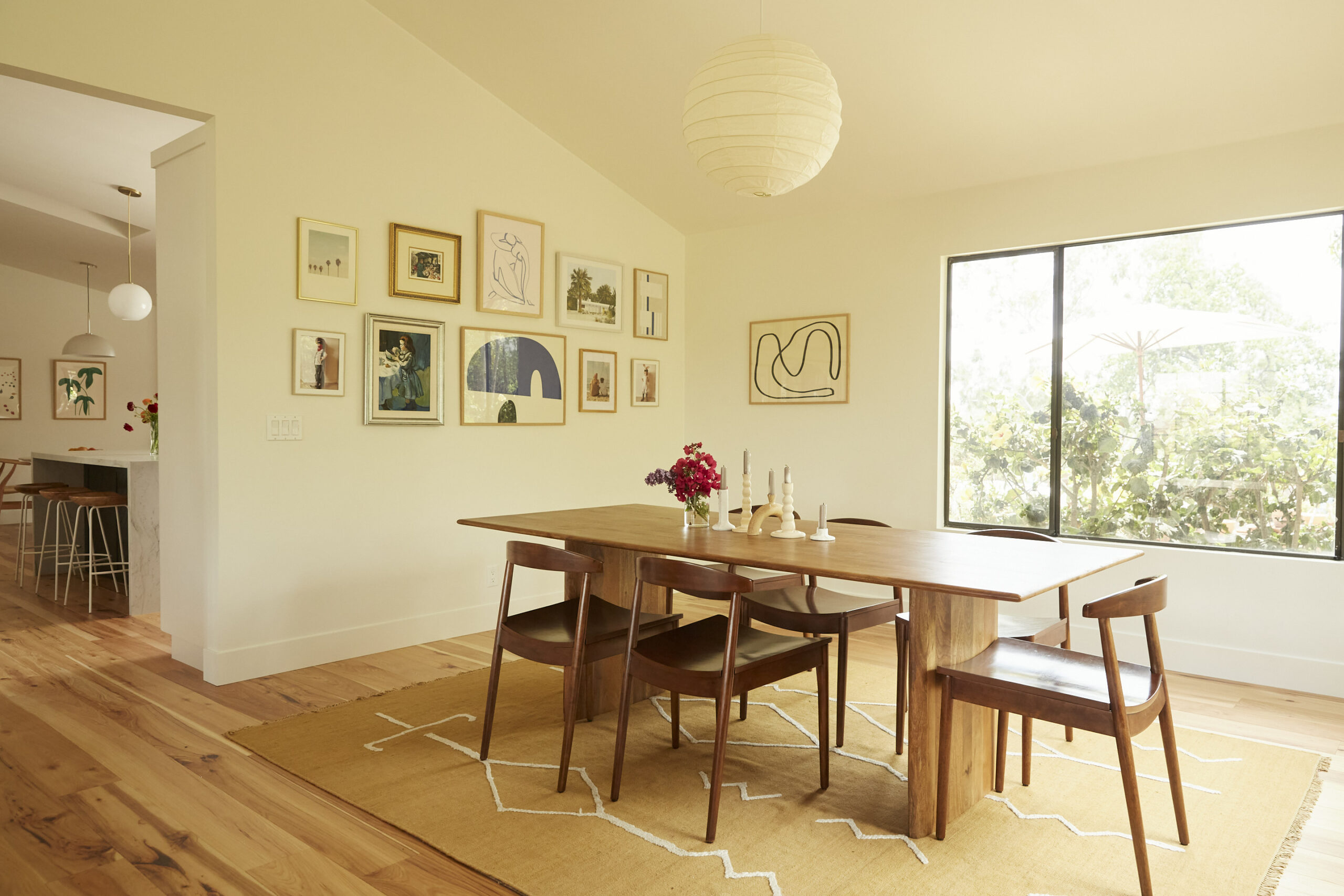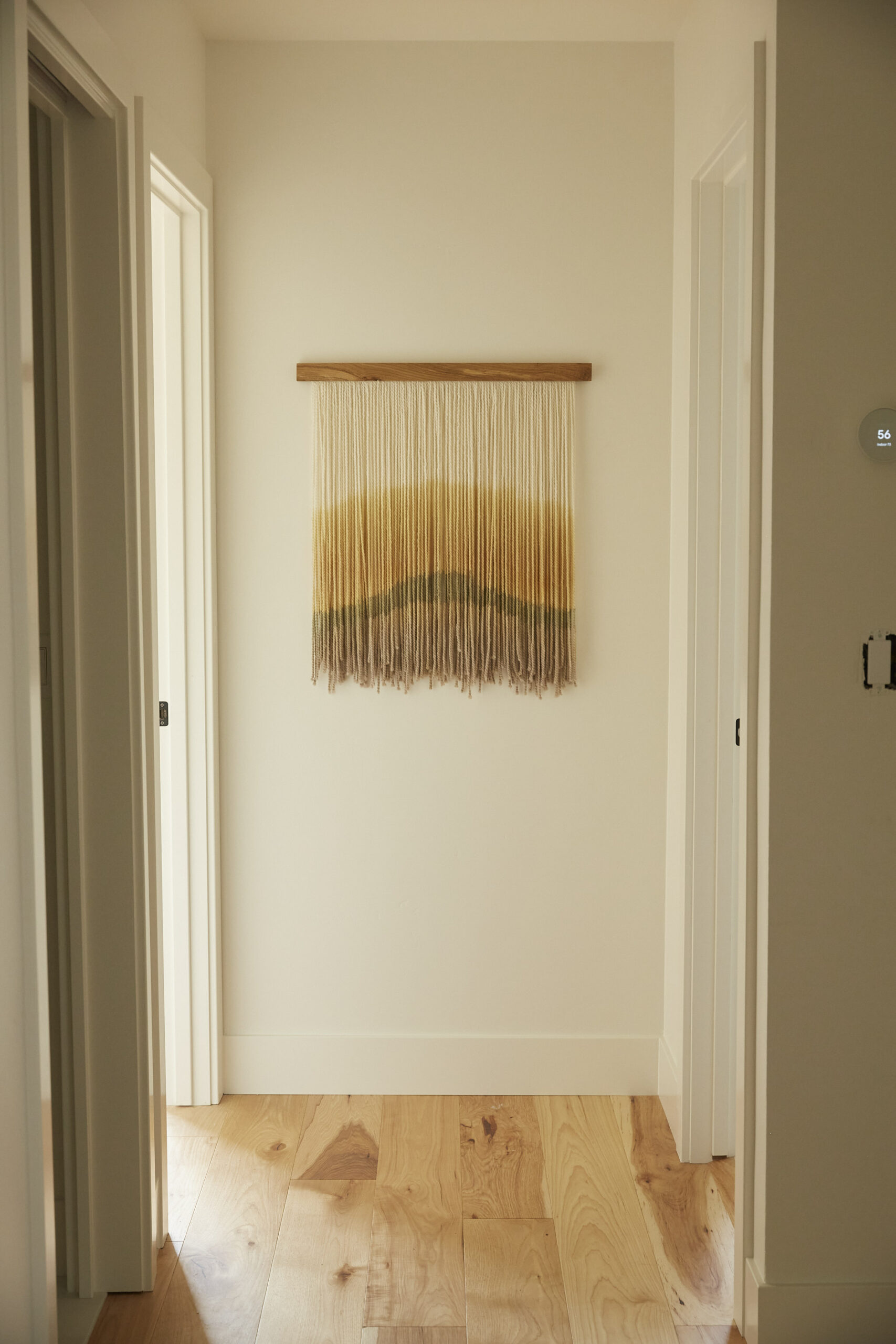 do you have advice for living through reno?
We were lucky to be able to stay here during the reno which was a huge cost savings. We lived in what is now the in-law area and our contractor was able to wall it off so it felt like a seperate space. Our "kitchen" and "living room" was in the garage which consisted of a hot plate, microwave, fridge, utility sink and a fold-up table.
Schools were closed so we also had both kids zoom schooling in the garage. It was definitely a wild time around here. To maintain some of our sanity we tried to keep dinners super simple. Two nights out of the week we would just grab something easy and take it to the beach and have a little picnic.
did you put those windows in or were they there?!
they are dreeeeamy.
Ahhh thank you……these are the original windows and part of what we fell in love with when we first saw the house. All the beautiful natural light was a huge selling point. The only windows we replaced were in the kitchen and the master bath.
what would you call your style?
Oh gosh, um…..I love that laid back California meets minimal scandinavian aesthetic. I think there's a name for that? I want it to feel light and airy but also lived in and not at all fussy.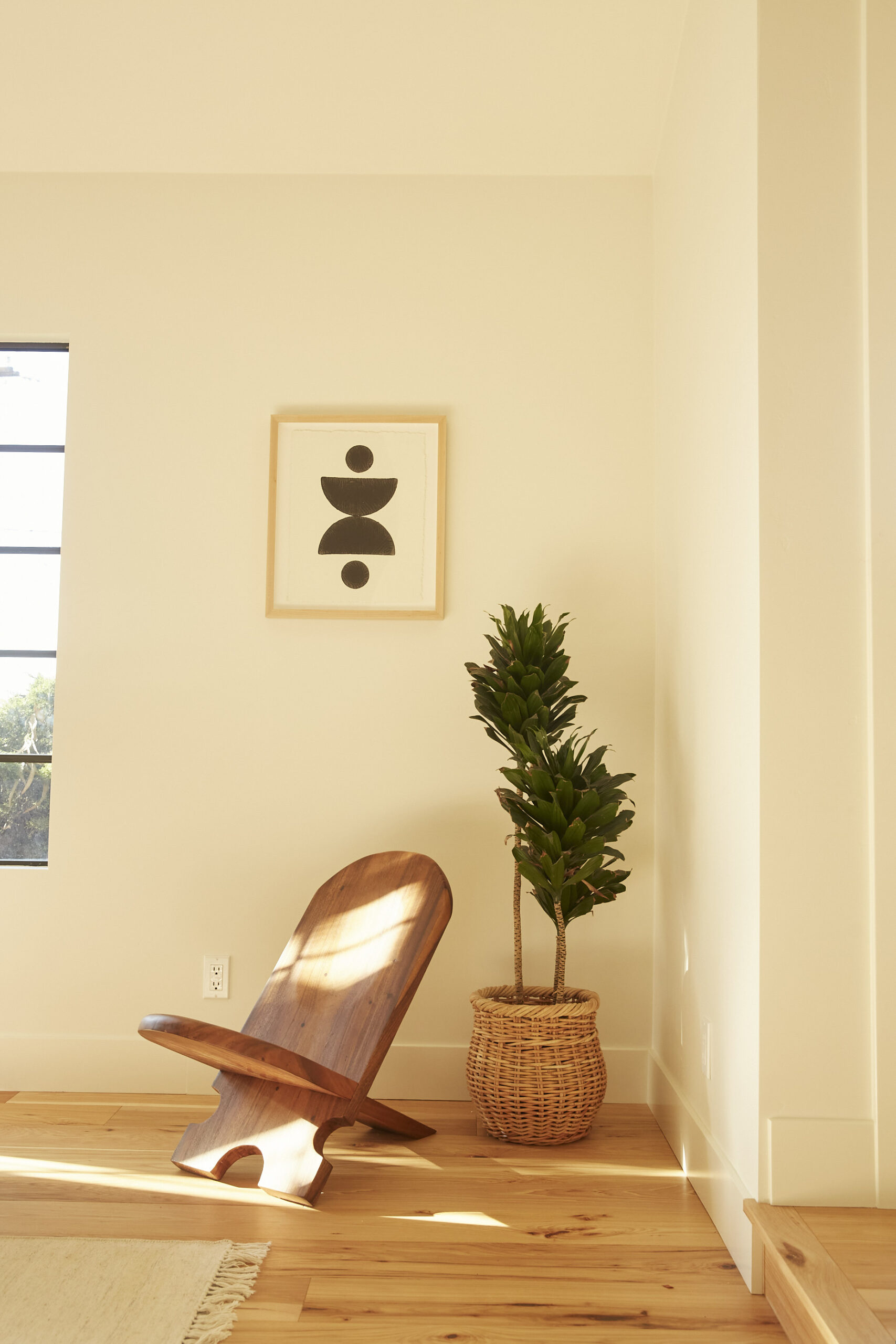 what's your favorite spot in the house?
That's a tough one but I think I have to say the kitchen. It's where everybody just naturally gathers and also I LOVE to cook and was able to build this from the ground up exactly how I wanted it. We replaced the kitchen window with a LaCantina window that opens up entirely to the outside and overlooks the pool.
what was the biggest splurge?
It all feels like a splurge when you are renovating! I would say the hickory flooring was a high ticket item. Also, the kitchen window was a splurge for us, it is a LaCantina and opens up fully to the backyard – zero regrets since we use this almost everyday. Lastly, the front door was a custom from this bespoke company in Utah.
what's something you want to change but haven't gotten to?
Now that our interior is done we are turning our attention to the yard which was one of the selling points of the house but needs some major TLC. There is a lot of property both in the front and the back of the house which is rare to find in our area but so nice to have.
what's your best design advice?
Make a mood board for each room. Because we did this in the middle of a pandemic we weren't really able to shop around in-store so I really depended on mood boards to help bring the rooms together. Mine are not fancy, I would just cut and paste pictures and plop them into a google doc but it would help create a general vibe and keep everything cohesive. I would also order a lot of samples for fixtures, tiles, materials and see how they played together.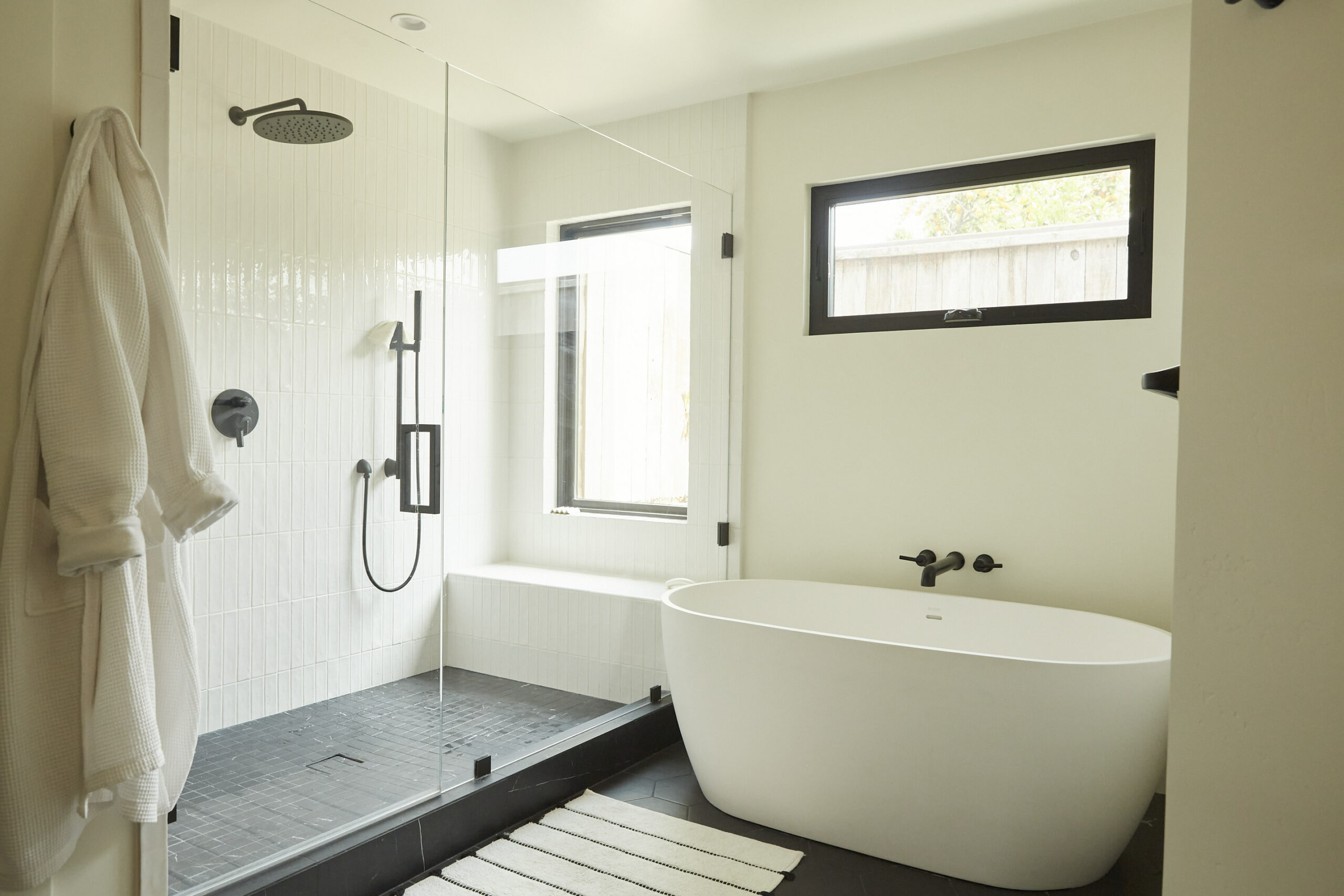 what inspired you to start roen?
I have a background in product development and it was always a dream of mine to create my own product. I've always LOVED candles and scent in general and just started playing around at home. I would mix scents and was always burn testing. When I would get something that I personally loved I would make samples for all of my friends and have them be my beta testers.

what's your favorite thing about your home?
I absolutely love all of the big windows. Natural light is the first thing I gravitate towards and this house is just filled with it.
what are you watching/reading/eating?
I love to curl up on the couch after the kids are in bed and watch something. Currently into the new season of Handmaids Tale, Call my Agent and Made for Love. I just finished reading Maybe You Should Talk to Someone by Lori Gottlieb, which I loved. I do a lot of podcasts too, always listen to The Daily and big fan of Armchair Expert. Eating… I love Pressed Juice in the morning and for dinners I'm either improvising something or cooking from Alison Roman, Eden Grinshpan, Hetty McKinnon. I've probably made the Alison Roman frizzled chickpeas 100 times during this pandemic!
who are your favorite follows on IG?
@sophiecarpenter I have always loved her eye for interiors. We actually used to be neighbors and I loved her style so much she even let us do a photoshoot at her house (thank you Sophie!). My brother built us the triangle shelf in our house because he knew how much I love hers.
@nicolechavezstyle has such a cool, effortless style – I am always inspired by her.
I met @jennysung a couple years ago at a market for our kids' school. She has the most beautiful jewelry and I also love the way she supports other women entrepreneurs.
what are 3 things helping you get through this time the most?
Having a routine, podding with close friends and daily walks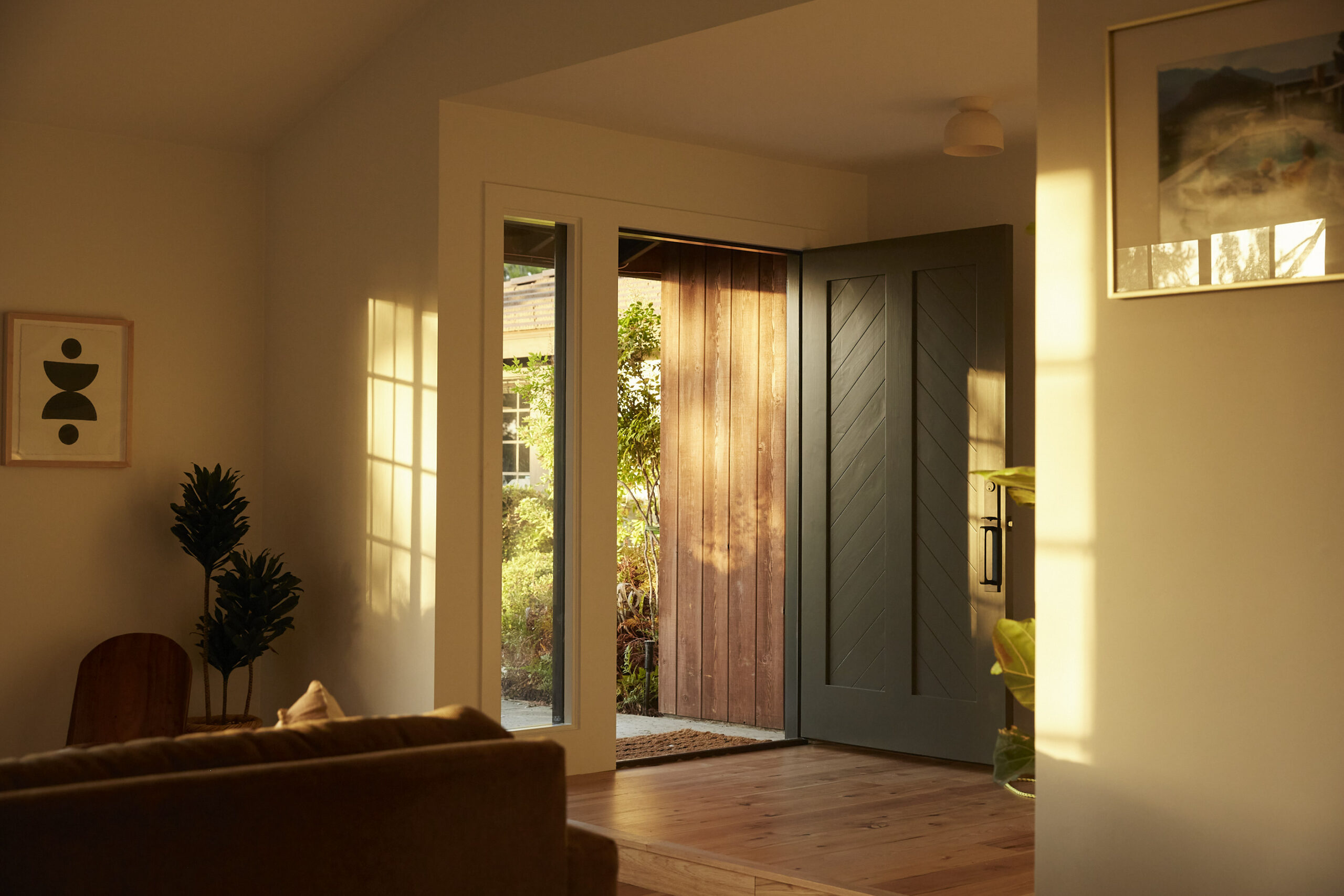 sources
paint color: swiss coffee by benjamin moore
front door is Jet by Dunn Edwards
hardwood floor: hickory hardwood floors
doors
front door
living room—
furniture is vintage
rug
family room—
sectional
coffee table
side chairs
fireplace screen
rug
wall tapestry
dining room—
triangle shelf: custom by my brother, @chris.r.manchester
table
chairs
pendant
rug
kitchen—
table (similar)
chairs
pendant light
tiles—
arch
backsplash
bedroom—
ceiling fan
bed
rug
dresser
chair
nightstand