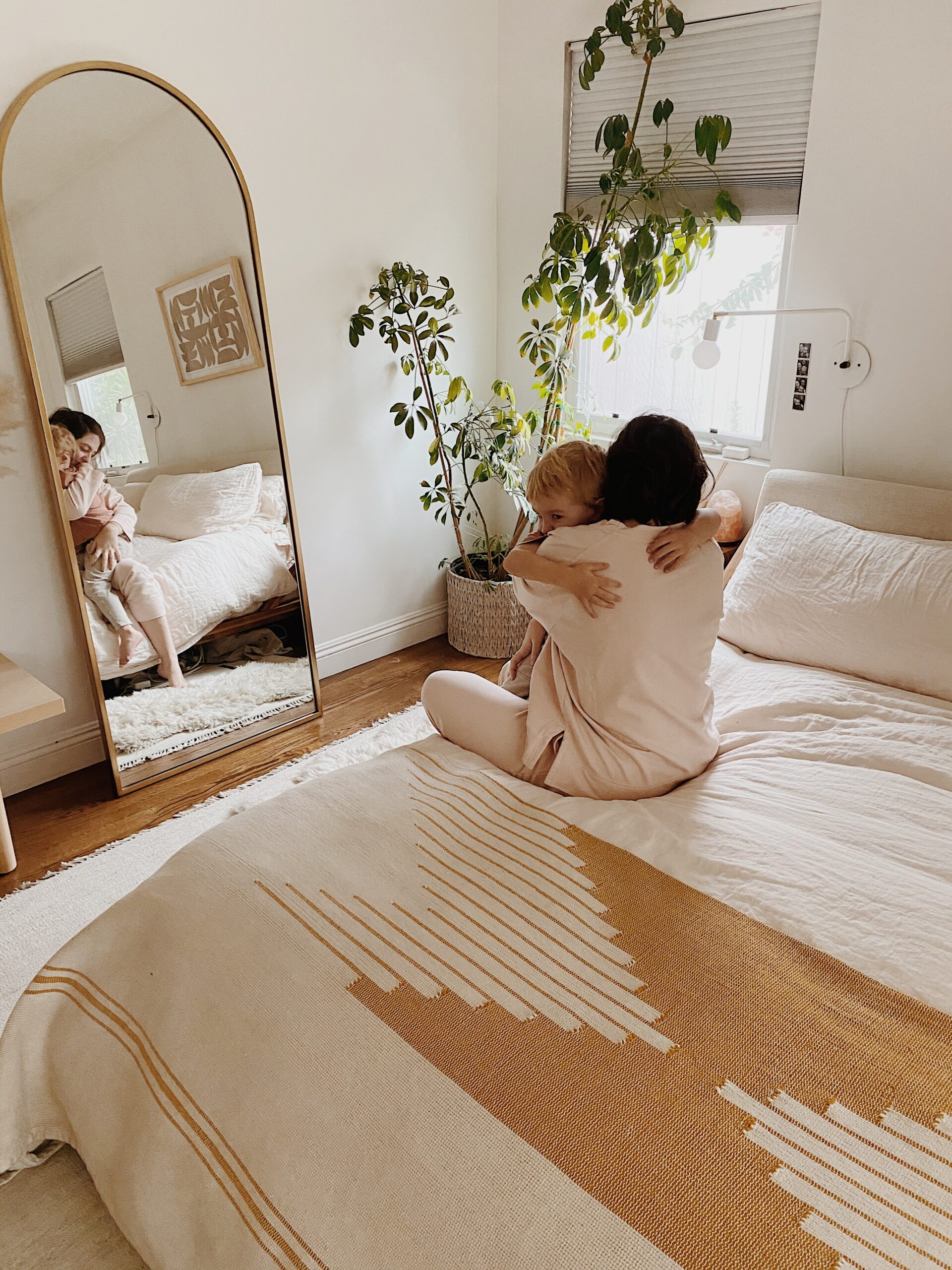 i thought writing a blog post about this would be cathartic for me right now, so here we are. after my ectopic a few years ago i decided never to suffer alone like that again. i didn't want my mom to know that we were trying at that point, i wanted to just surprise her when we had good news so instead i dealt with a month of sadness and pain without her and it was so so stupid. so never again, anytime i go through this i'm going to talk about it because not only do i need the love and support from people, but we all need to talk about these experiences to serve as constant reminders we're not alone.
it's so easy to convince yourself there's something wrong with your body. like oh my friend had one healthy pregnancy after another and never experienced any loss, why is she so lucky? what's wrong with me? i even called my mom and was like MOM WHY DIDN'T YOU HAVE ANY MISCARRIAGES?! and she was like i did! and i was like oh ok phew. see why didn't i already know that?!
i guess i'll just tell the whole story since i'm here. at the beginning of the year, i decided it was now or never for us to try for another, arlo just keeps aging so quickly and i was begging gid who was really unsure given the whole pandemic situation. he was very hesitant about bringing a baby into a world we had no idea about (this was the early days of lockdown) and i understood but months kept going by and i turned 35 and arlo turned 3 and gid turned 40. so finally he agreed and we started trying for months, but we had issues. gid was on anti depressants that made the process really hard and frustrating for both of us and i cried every single month that i got my period.
until he decided to go off of them while we tried and it worked. i got pregnant. i was OVER THE MOON. i didn't wait to share with my loved ones, i told everyone right away. also because my dad was like living with us so it would be hard to conceal but i just decided to share the good news with everyone close to me. we were all so excited. trying not to get ahead of ourselves, but i had narrowed down baby names, maybe i casually worked on a pinterest board for a nursery, i even read the book that says its ok for pregnant women to eat sushi because duh you know i wanna eat sushi.
i was also so anxious though, that first month or two feels like eternity when you haven't actually got a clue if there's a real thing happening in there or not. when i went for my first ultrasound i told her before that i was so nervous. maybe i had a feeling.
but i was feeling a bunch of symptoms and arlo randomly started to seem to like babies a little of out of nowhere too. he was asking to watch the margaret episodes of daniel tiger even though he always hated margaret haha. it felt like a sign.
this happening during covid is not ideal, being alone for the ultrasound was a moment that i hopefully will forget someday, but it feels like i won't. i had my phone ready to facetime gid who was down in the car, but they were quiet. and quiet. and quiet. and then they told me they could see the sack but not the embryo. they said maybe it's just too early and you're measuring earlier than you are, so we'll try again in a week. i texted gid that i wasn't calling him and i would be down soon.
that was the longest hardest week ever, not knowing. trying so hard to be optimistic, in a way though i think it prepared me mentally for the next ultrasound. i went in mentally prepared for the worst and same thing. they were quiet. i said "nothing?" and they said "the embryo is there now. but there's no heartbeat." again, i texted gid down in the car. "no baby." it was definitely hard enough to experience on its own but without gid there to hold my hand fucking sucked.
because of covid, i didn't want to deal with a d&c, so i just decided to have the miscarriage at home. and it's super pathetic that i was slightly into the idea of doing it at home where i could actually be in bed and have to suffer yeah totally, but get to watch movies alone?? i'm intrigued.
i thought once i took the pills i'd have another day but my body responded within an hour and i was having the worst cramps of my life. like screaming/crying ones for about 4-5 hours and i didn't want to scare arlo so i was trying to stay chill. i ended up taking some pain killers and an anti anxiety pill from my sister in law thank god, i felt better almost instantly. that night i bled through my period proof underwear, a pad, my sweatpants, a towel, my sheet onto the mattress protector. TMI but wow it was so gnarly.
the next day i literally just slept all day. i spoke to my dr who said he thinks my body just responded really quickly and that i was probably through the worst of it. it isn't over now but i am barely cramping and bleeding so i feel like i'm almost past it and so glad to be done with this part. we women sure have to deal with a lot of bullshit right? OH YOU WANTED TO HAVE A BABY? WELL NO BABY FOR YOU AND HOW ABOUT YOU FUCKING SUFFER TOOOOOO MUAHAHA!!!
arlo has been an absolute angel this week. he's been constantly checking on me, asking me when i'm going to feel better and keeps coming in to give me kisses and tell me he misses me. also gid showed him the daniel tiger episode when mommy is sick so he comes in to sing "when you're sick, rest is best rest is best".
took this picture before i threw out the positive pregnancy tests. when you don't have an ultrasound photo yet, they're all you have as your happy pregnancy souvenirs. so now looking at them hurts. but i know it could have been so much worse. i could have been further along, i could not have arlo. trying to remember all of that, and hoping that when my body is able, i'll feel emotionally ready to try again.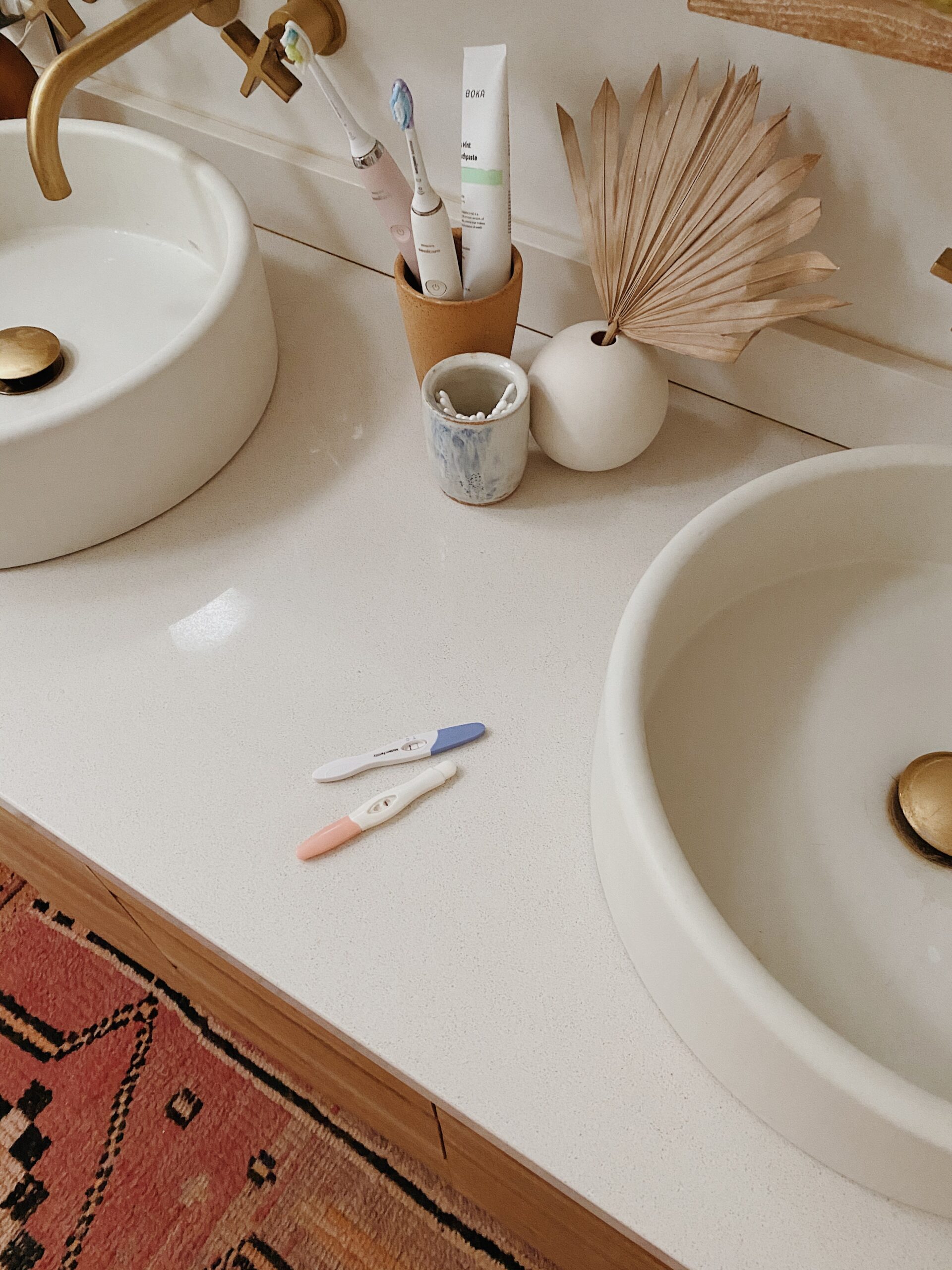 sending love to all of you going through anything similar. i hope you talk about it too, it really does help.