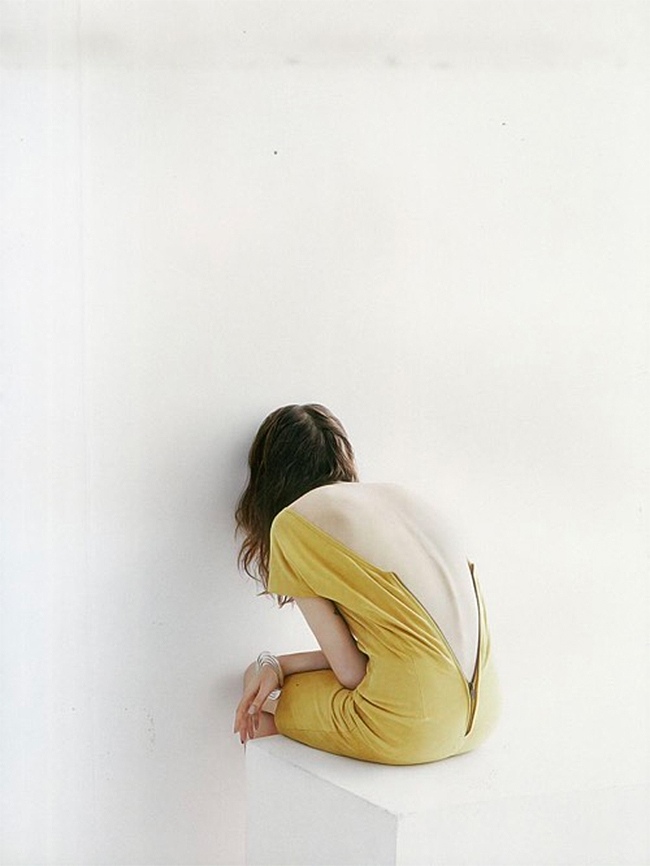 so this is not the easiest post to write, because i wasn't telling anyone about this – let alone telling … anyone who'd want to read. but after going through the experience, i felt so incredibly compelled to talk about it openly, because i think i would have felt a lot better during it had i been talking about it, or having had known more about miscarriages prior.
i'm going to tell you the whole detailed story of my experience, but you can totally skip it. i just thought i'd include it all. 
about 6 months after we got married, i got off the pill — not to start trying but just to kinda feel used to being off of it after 15 years, and then to eventually start trying. gideon has been wanting a baby, basically since we got married – and one day in november, we had some married people sex.
in early december, i was spotting about two weeks after my period. i wasn't sure why so we googled it and it said spotting can mean pregnancy. the next day while gid was at work i took a pregnancy test — and it said positive. i've never taken a pregnancy test and have never known that feeling and when i saw that double line i instantly starting screaming FUUUCK and crying. i took another test and it said pregnant again and i started coming to peace with it… a little.
when gid got home, i put the tests in a box and said i had a present for him. he opened it and cried and we started getting so stoked together, fantasizing about being cool parents and how we were gonna reveal it to my mom for christmas. we went to a fancy sushi dinner to celebrate and to eat sushi one last time. we were so proud of ourselves for making a baby from just one sesh. we knew we weren't supposed to get excited yet but we totally did.
the next day when i called my doctor, they said they were concerned with the timeline, that i had just had my period and the spotting, and to go do a blood test. in the span of 12 hours, i went from freaking out to being so excited to suddenly scared and worried.
this happened on a friday, and i spent that whole day in bed crying. and i had to go to three holiday parties that weekend without knowing what was going on with my body— i was trying desperately to put on a happy face but i was going fucking nuts inside. i was also drinking a little. just a complete rollercoaster of emotions. my mom kept asking me what was wrong and i kept telling her i was feeling sick, but not talking to her about this was heartbreaking. i was keeping it from her because i felt like i should save any sort of pregnancy news for when we were announcing a real baby – but it was so painful to keep this to myself.
after blood tests every other day (which are especially shitty because i hate needles) and an ultra sound, the results were that i was in fact still pregnant – and not quite miscarrying, but instead having an ectopic pregnancy. i was about 5 weeks along and the hormone levels in my blood were going up daily, but at a glacial pace.
it had been one week dealing with it at this point, and while i was on the phone with my mom — she straight up asked me "did you miscarry?" i started crying and asked her how she knew and she just said she had a feeling. it was such a relief to finally talk to her about it, and hear about her experiences having her own miscarriage and i felt like i could finally take a breath.
i decided not to google it, so i really knew nothing besides what the doctor told me. he sent me to the emergency room to have medication injected, methotrexate — a cancer and alzheimers medication that kills the cells. we spent 7 hours sitting in the ER, which was probably my least favorite day ever. i was crying almost the whole time, and they kept having me draw blood until they finally gave me two shots in each butt cheek. but i had the good sense to have gid take a photo of me suffering, because the last time i was in the hospital for a moped accident, i was so mad i didn't have a photo of my face looking like i had just fought mike tyson.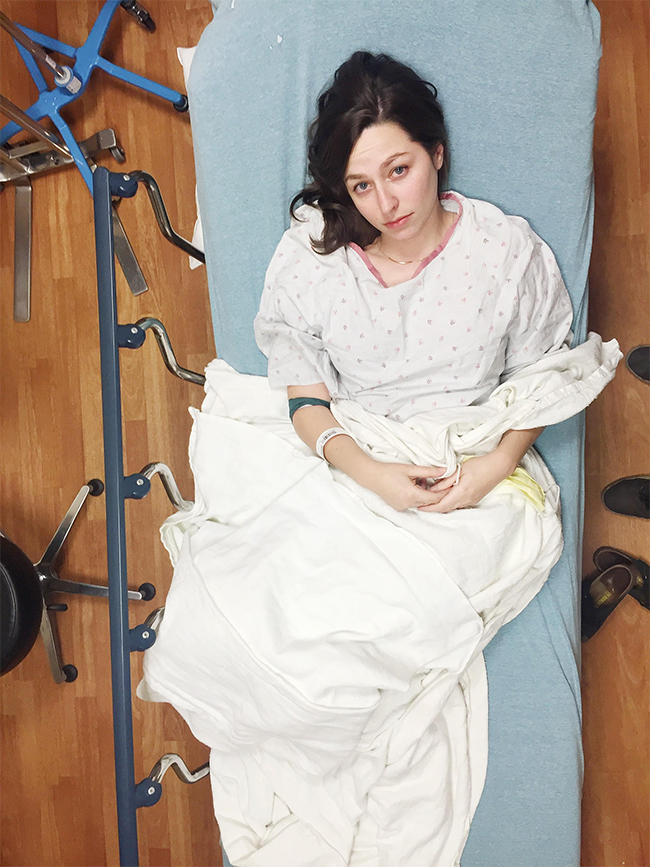 i went home and felt so hopeful and spent the weekend basically just tired and ready to be done with this. on sunday we saw star wars and all of a sudden i started feeling some serious pain. they had warned me id probably have cramps and could have bleeding from the medication, but i actually felt the most pain in my … butt. like the center part of my butt. really embarrassing to say, but i'm trying to be as transparent as i can. the next morning the pain was excruciating, so i went back to the doctor again. i turned down having yet another ultra sound because at this point i just didn't want anything else touching me. he gave me a painkiller that basically knocked me out for the next 2 days. 
the pain subsided and i started feeling so relieved, but i hadn't bled yet and the blood tests weren't at zero yet by the time christmas was here. he wanted me to do blood tests every other day until they went to zero, but we were leaving for mexico — so i'd have to wait until i got home to do another test.
i was so stoked to go on vacation and stop thinking about this for a minute, but that didn't happen. not only did i feel emotionally wrecked, i felt like i was showing and having stomach pains, and just holding my breath to get my period. 6 days into the trip and i hadn't gotten it yet, so i started freaking out that id have to get surgery when we got home and that i wouldn't be able to have babies ever.
but finally, i got my period. happiest period ever! it changed everything, like this huge huge weight had been lifted. when i got home i took another blood test and i'm happy to report my hormone levels dropped to below 100, so i've just got one more test to take because the dr wants me to reach zero, but we're feeling good that it's over.
throughout this experience, i went from keeping it a secret from everyone i knew to wanting to tell everyone close to me. once i had let it out to my mom, i just kept thinking that people should talk about this more. i know miscarriages are common, we all hear that, but i didn't know anything beyond that. i didn't know what an ectopic pregnancy was, i didn't know anything. its so easy to feel shame, like you were unsuccessful at carrying a baby – but i think a big part of that is because we don't talk about it. and we don't want to tell people until we're having a baby and its all good news and celebrating. i told gideon i was gonna just start telling everyone, because not only did i feel better when i got it out, but people talking about it and hearing other peoples experiences could only create more comfort in these horrible situations.
and i know i have a very minor situation, it could have been so much worse. we felt horrible sadness after just one short night of celebrating and i can't even imagine the devastation from this happening with a longer pregnancy. but i feel strongly that gid and i are stronger than ever from dealing with this together, and we'll be that much more grateful to be successful, hopefully the next time. we've decided we're going to wait a couple of months and maybe redo our kitchen, and then we'll try again.
and sorry for the longwinded buzzkill of a post, i wanted to leave nothing out in case anyone is going through this and feels or felt the same type of pain and isolation. and if you made it through, thanks for listening.