mother's day is this sunday — and in case you forgot to get her a little something something, here are some easy ideas [mostly all] under $100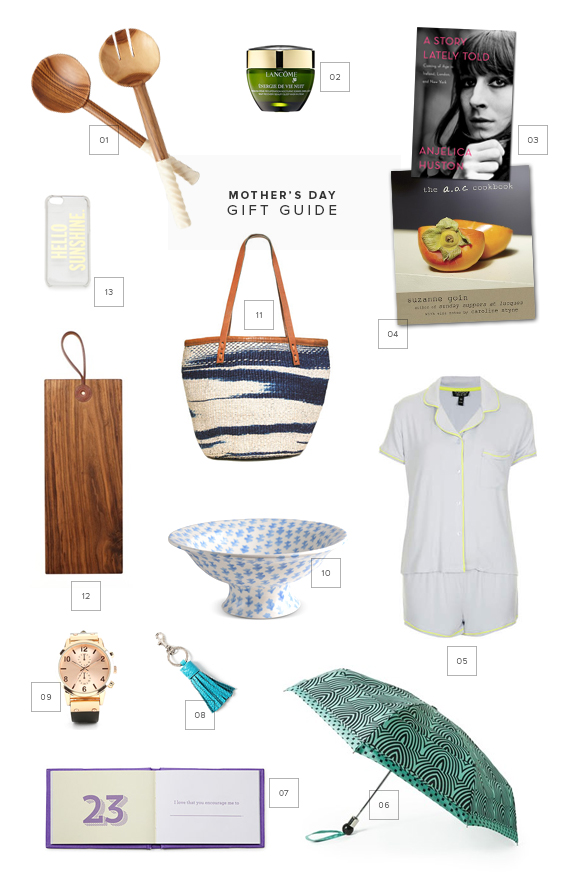 01. you can never have too many pretty serving spoons, which is why i put them on every mom gift guide!
02. a fancy overnight face mask is something my mom would never buy for herself.
03. my mom is obsessed with celebrity biographies & memoirs, i"m going to assume all moms are the same way.
04. a fantastic cookbook always goes over well, my mom and i both love the AOC one.
05. a comfy set of pjs is always a go-to. this set is perfect for warm summer nights. i also want it for myself.
06. what woman wouldn't want a gorgeous umbrella?
07. fill out this "what i love about mom" book and she'll be thrilled to get a custom gift that's all about her.
08. a little leather tassel keychain in her favorite color
09. a pretty rose gold watch for the mom who needs a little help keeping time
10. a little more expensive, but i had to include this footed bowl because my mom would looove it. go halfsies with your sibling.
11. the perfect summer bag for errands and farmers markets and general mom tasks.
12. a beautiful wood cutting board to spruce up her kitchen countertop.
13. a cute iphone case is always my go-to.