holiday movie night (with the best living room update ever)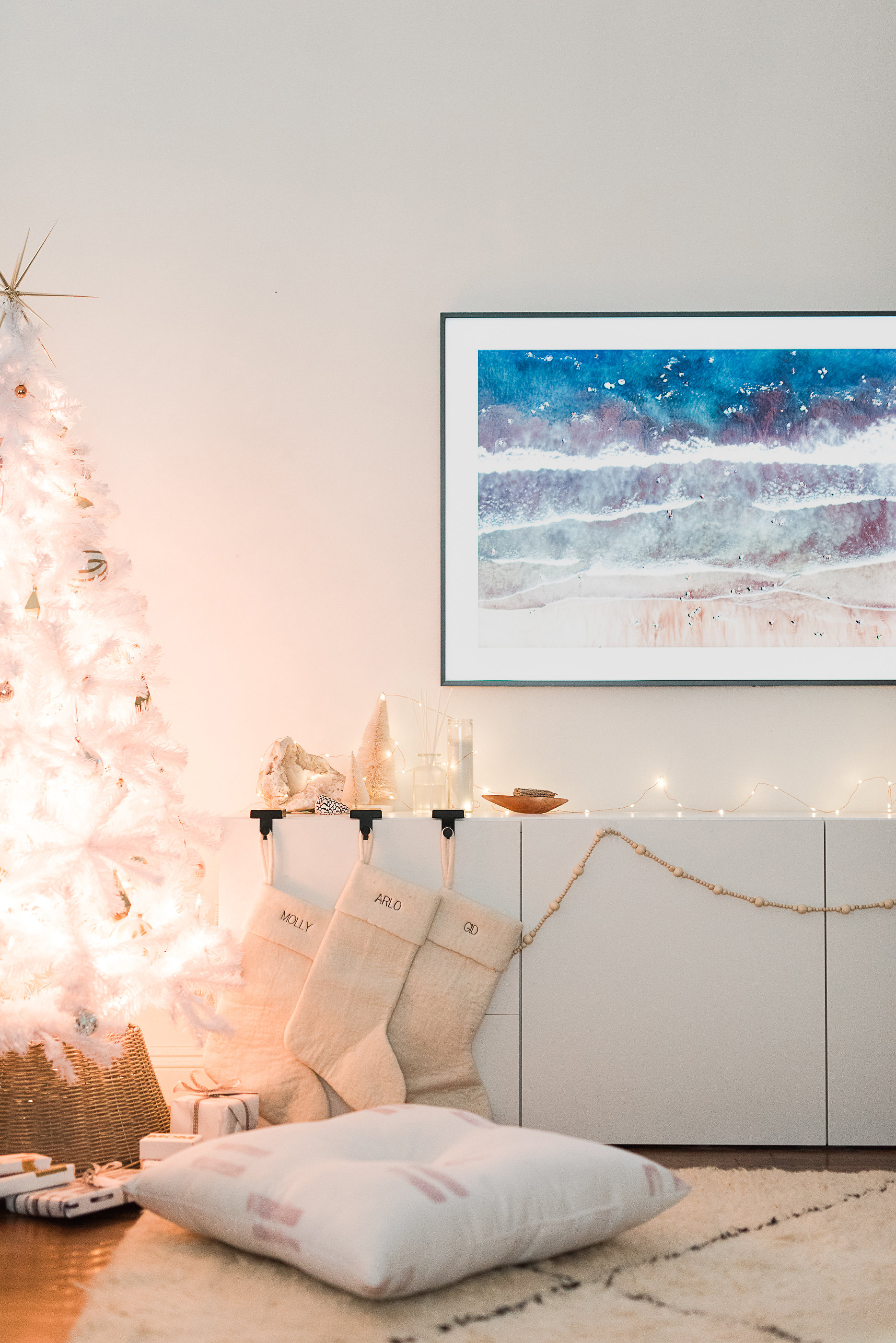 we are big, big TV watchers in this house. we were a little more intense about it before arlo, but we've always made a big deal about having a dope viewing situation and i've always preferred watching movies at home to the theatre because i never have my seat kicked the entire time at home. so, we do not own small TVs, which is nice when you're watching big blockbusters… but it's always been a huge aesthetic problem. until now! not too long ago, samsung released the frame, the TV for every design obsessed person in the universe. have you heard of it?! (it's one of oprah's favorite things this year so you know its good) it's designed to look like a framed piece of art on your wall, replacing that big black rectangle that we're all sadly used to. when i saw this TV i literally dreamt about it. i know that sounds so shallow and materialistic but i can't help what i dream about OK!? i am so excited to be partnering with samsung, because they did that thing where you dream something and they made it real (there should be a saying for that!)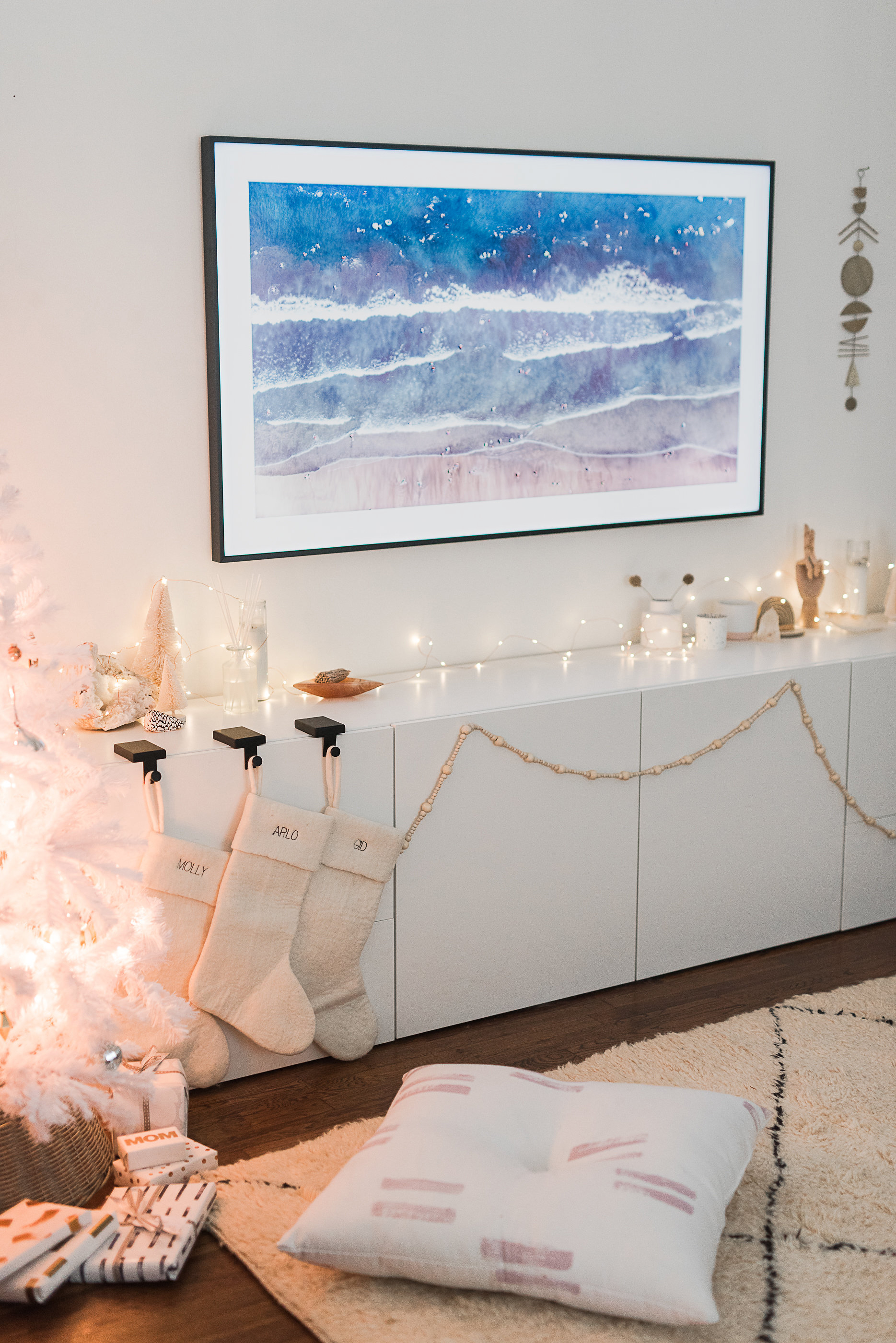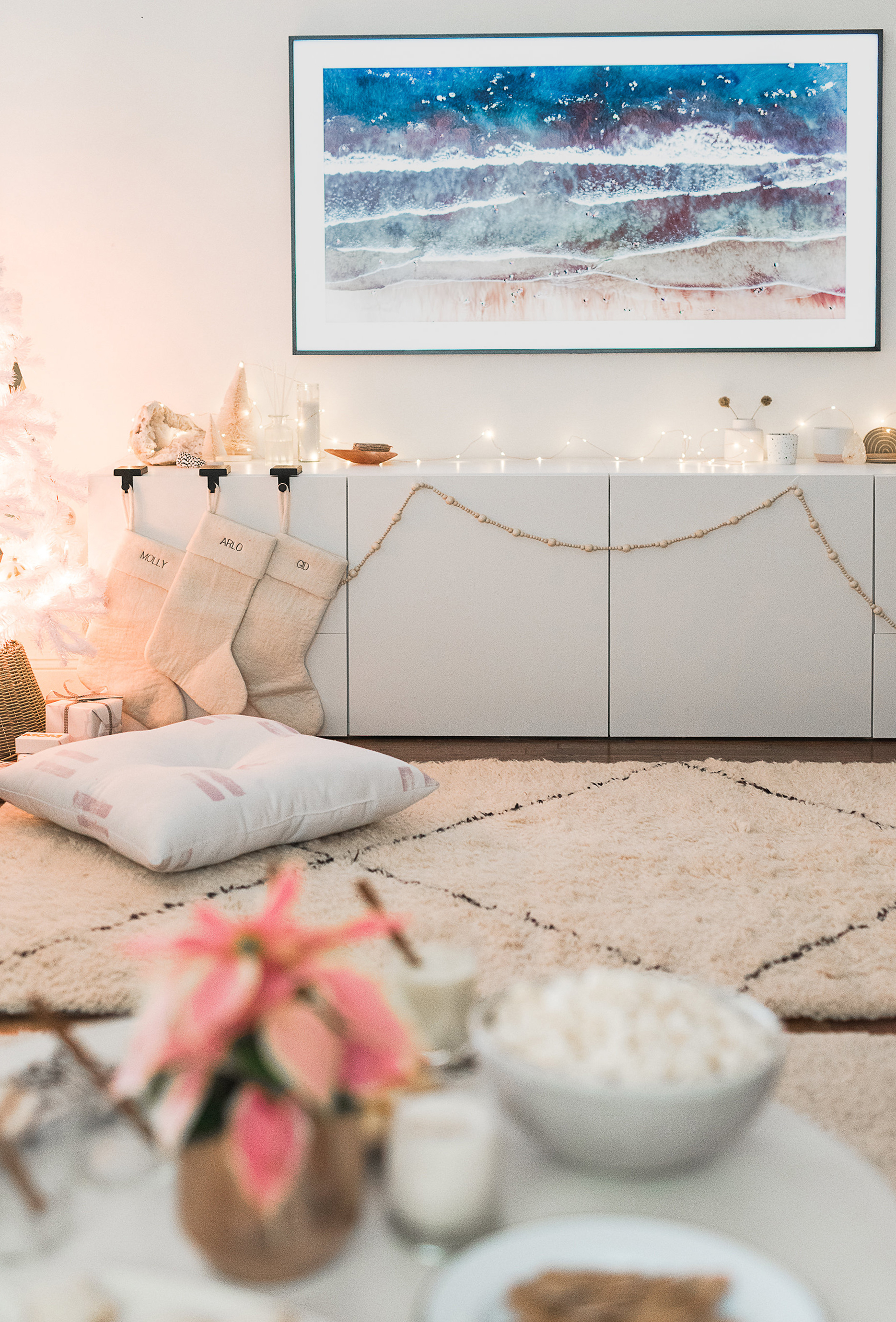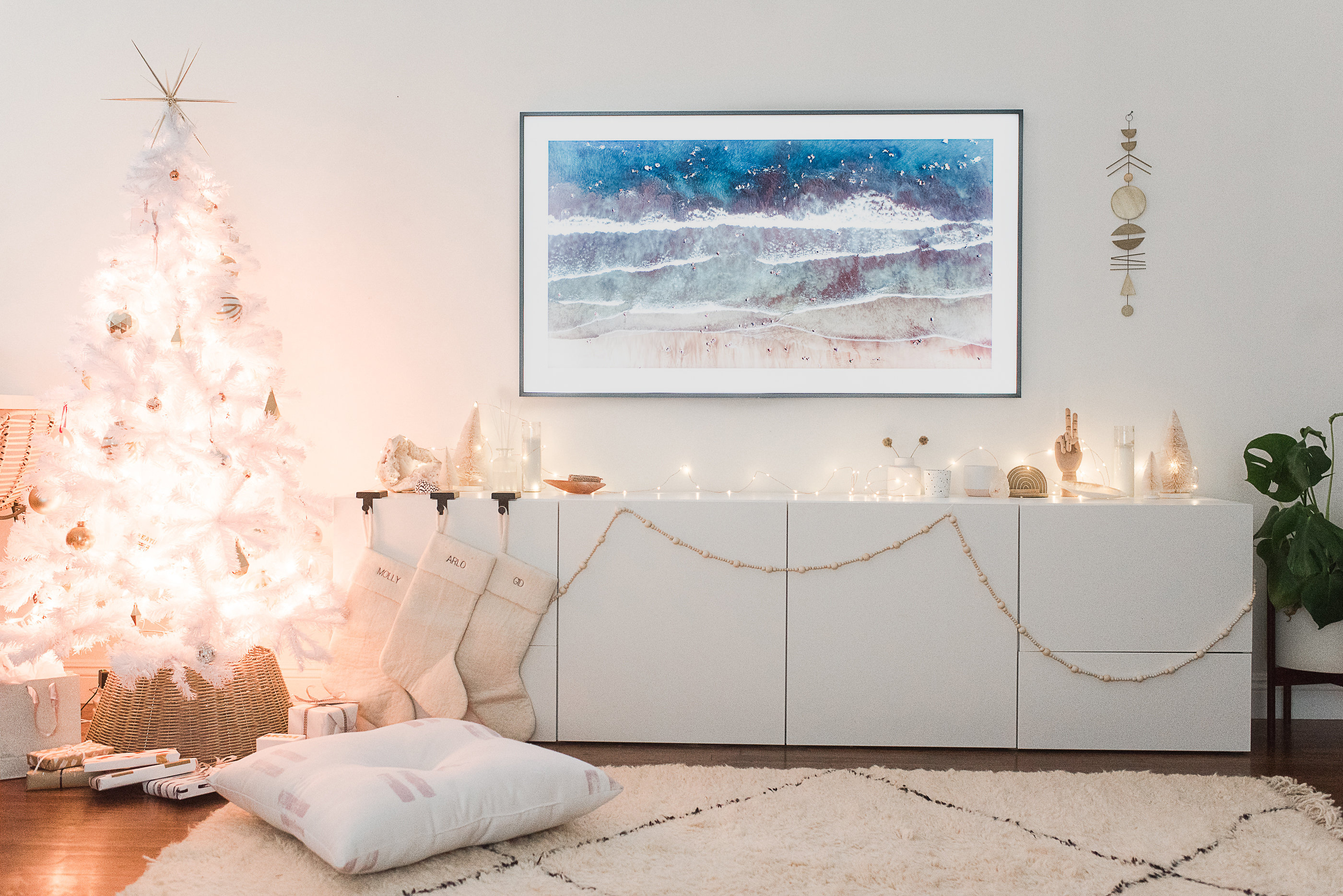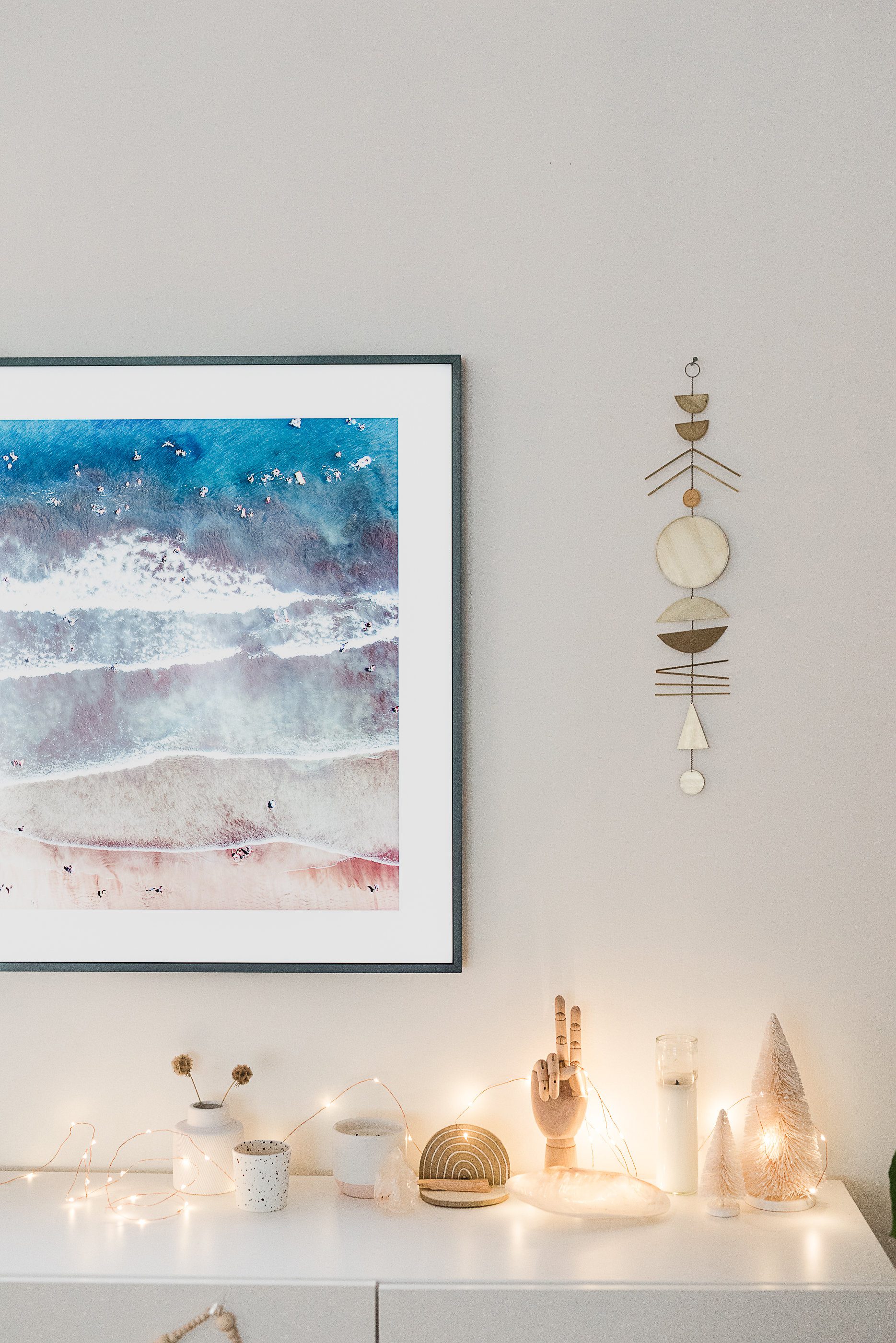 our house doesn't have an entryway, and it's open concept — so when you walk in you just see the living room wall with the TV right there. and it was the biggest eye sore ever, you may even have noticed you've never seen the opposite side of my living room? that's why. so when i saw the frame, i knew it was the answer to this massive problem.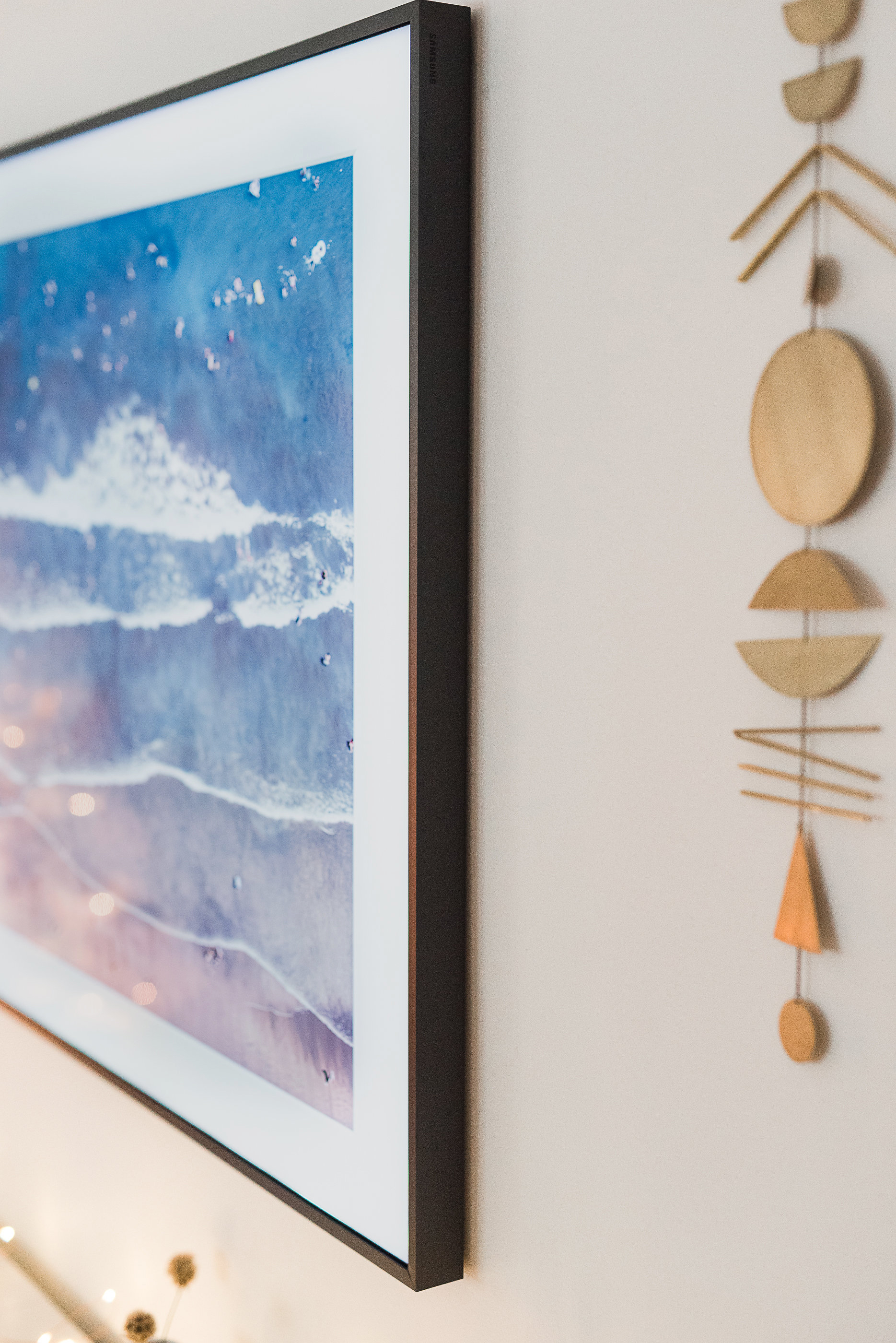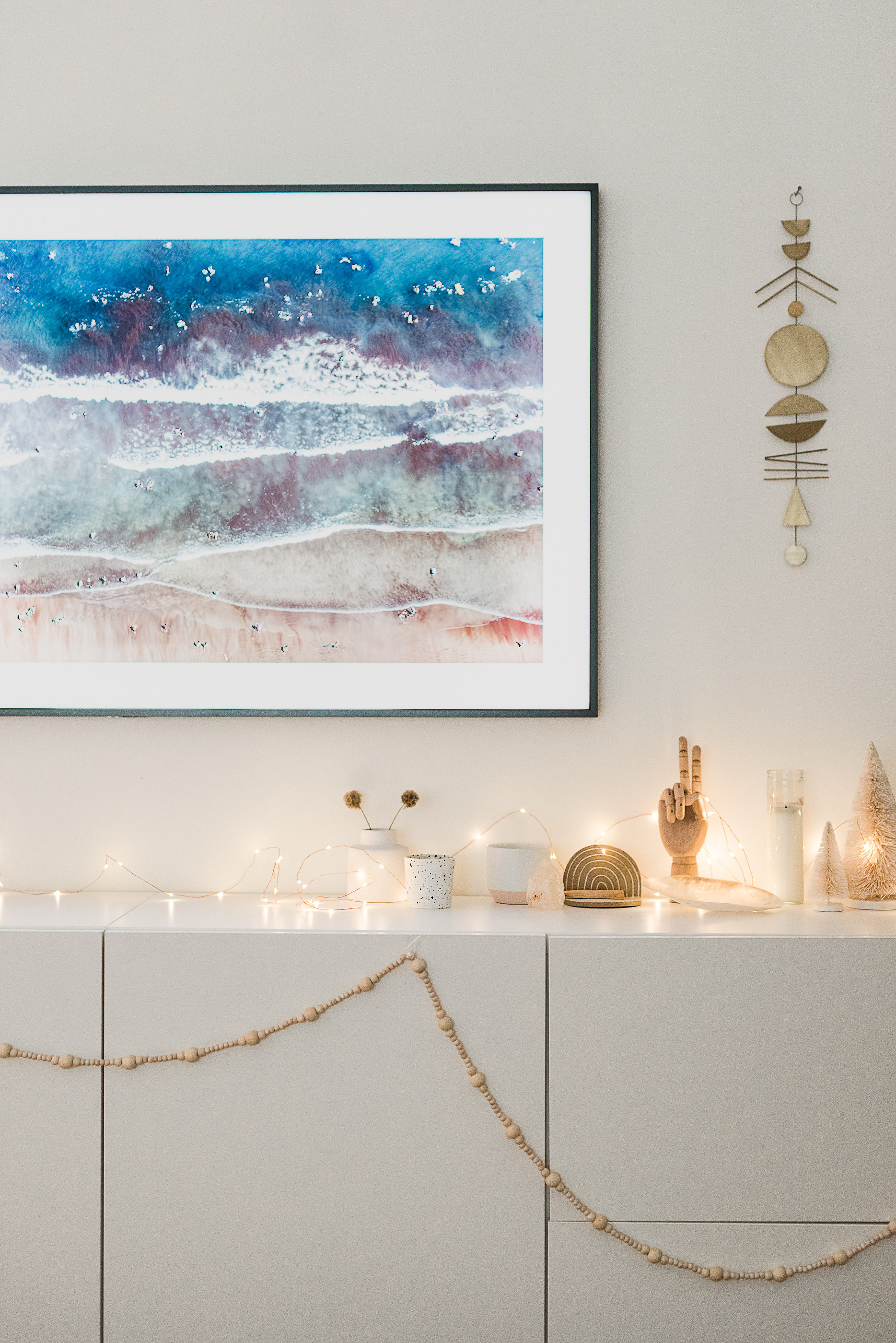 and gid has totally geeked out on the TV for his own reasons, his boy reasons. it's 4K HDR Pro, which makes for a super rich color and contrast. it comes with it's no gap wall-mount, so it hangs flush to the wall like a real picture. i just kept walking by to see it from the side the day it was installed and could not believe it. AND the invisible connection connects to the one connect box, which eliminates all of the cables and clutter, and now our cabinet is FINALLY just cluttered with my own pretty objects. you can also customize it with different bezel frames in wood, white or metal –- they just easily snap on to the existing frame. we decided to get an oak wood bezel to match even better, and i can't wait. can you tell i could not be more excited about it?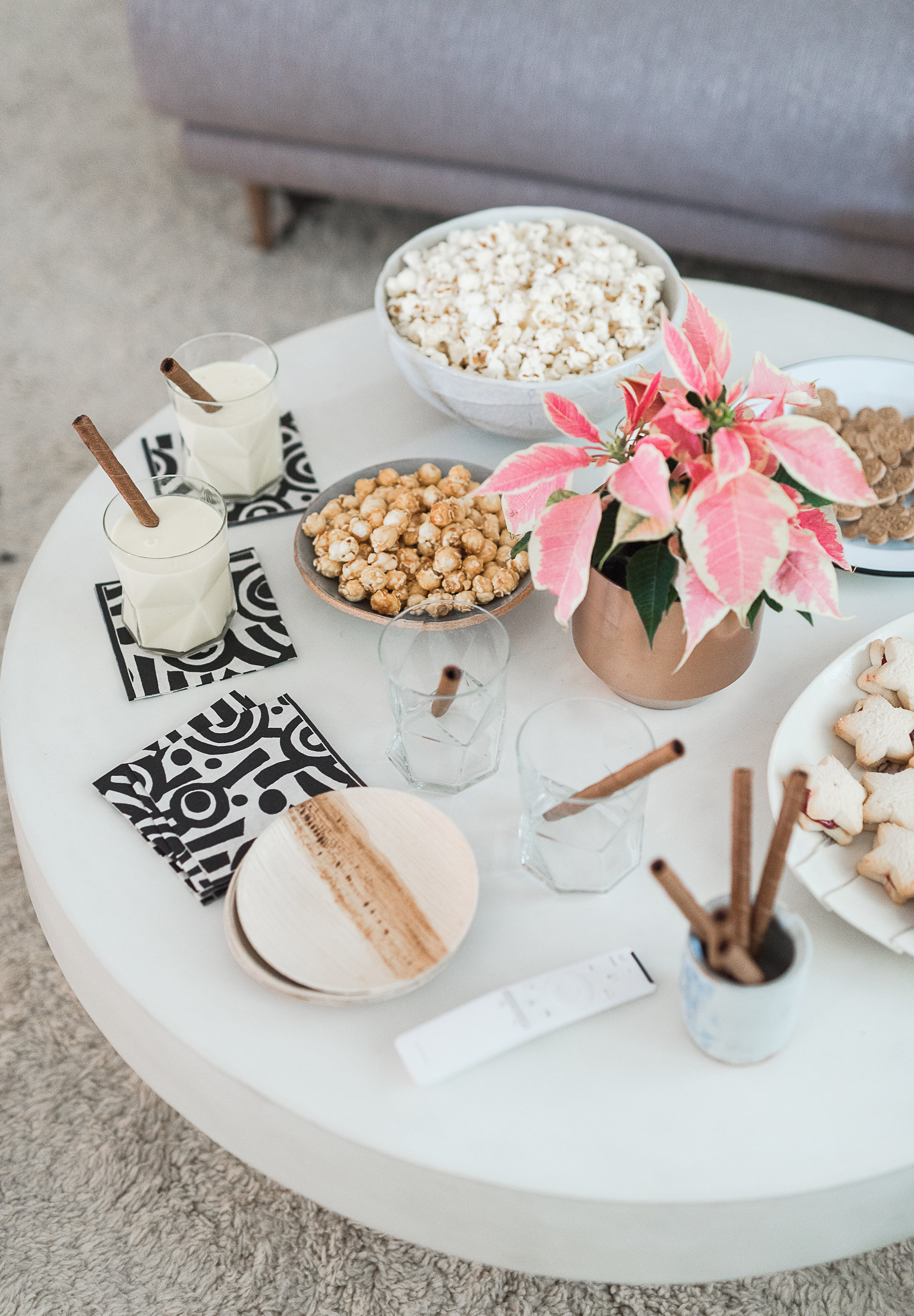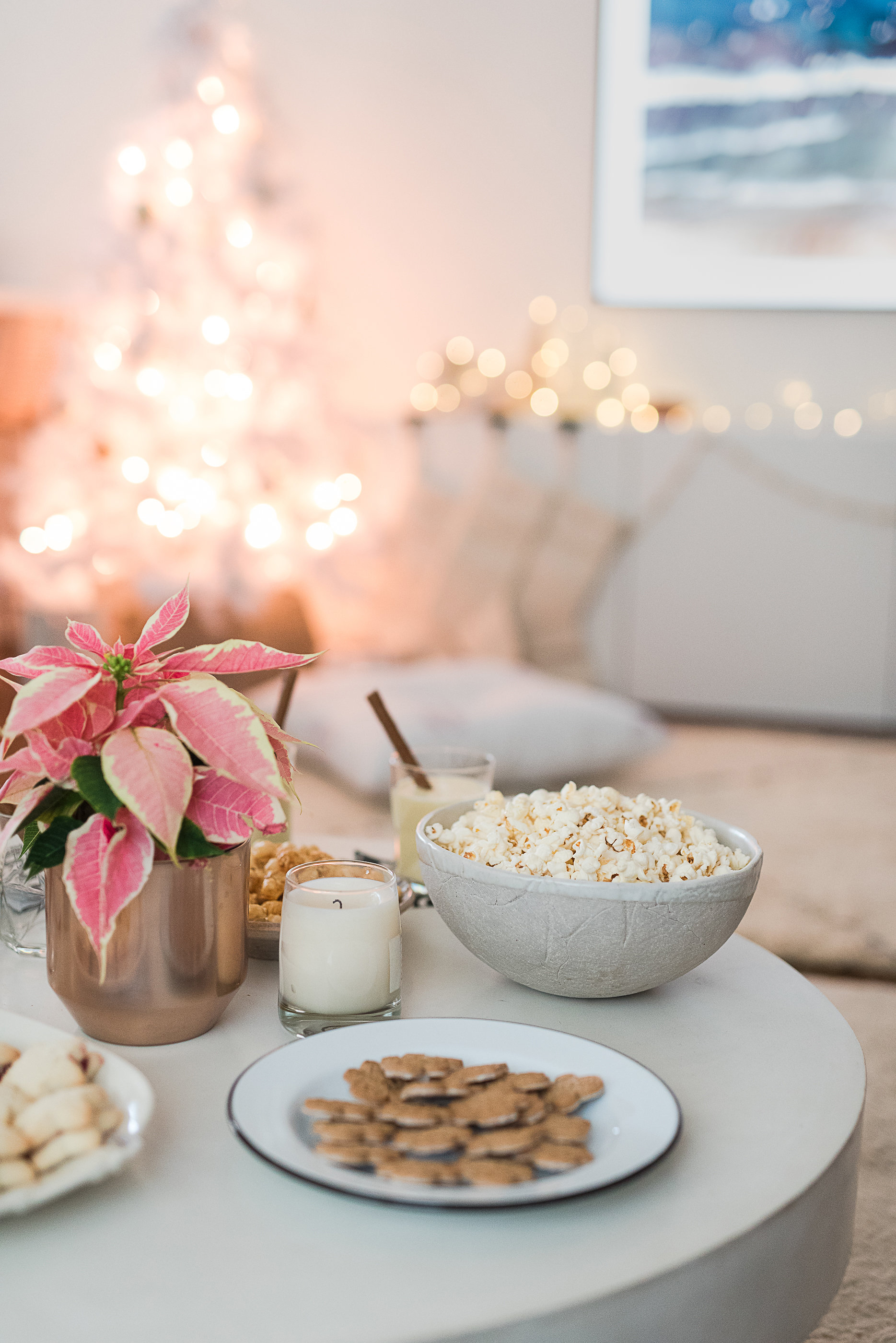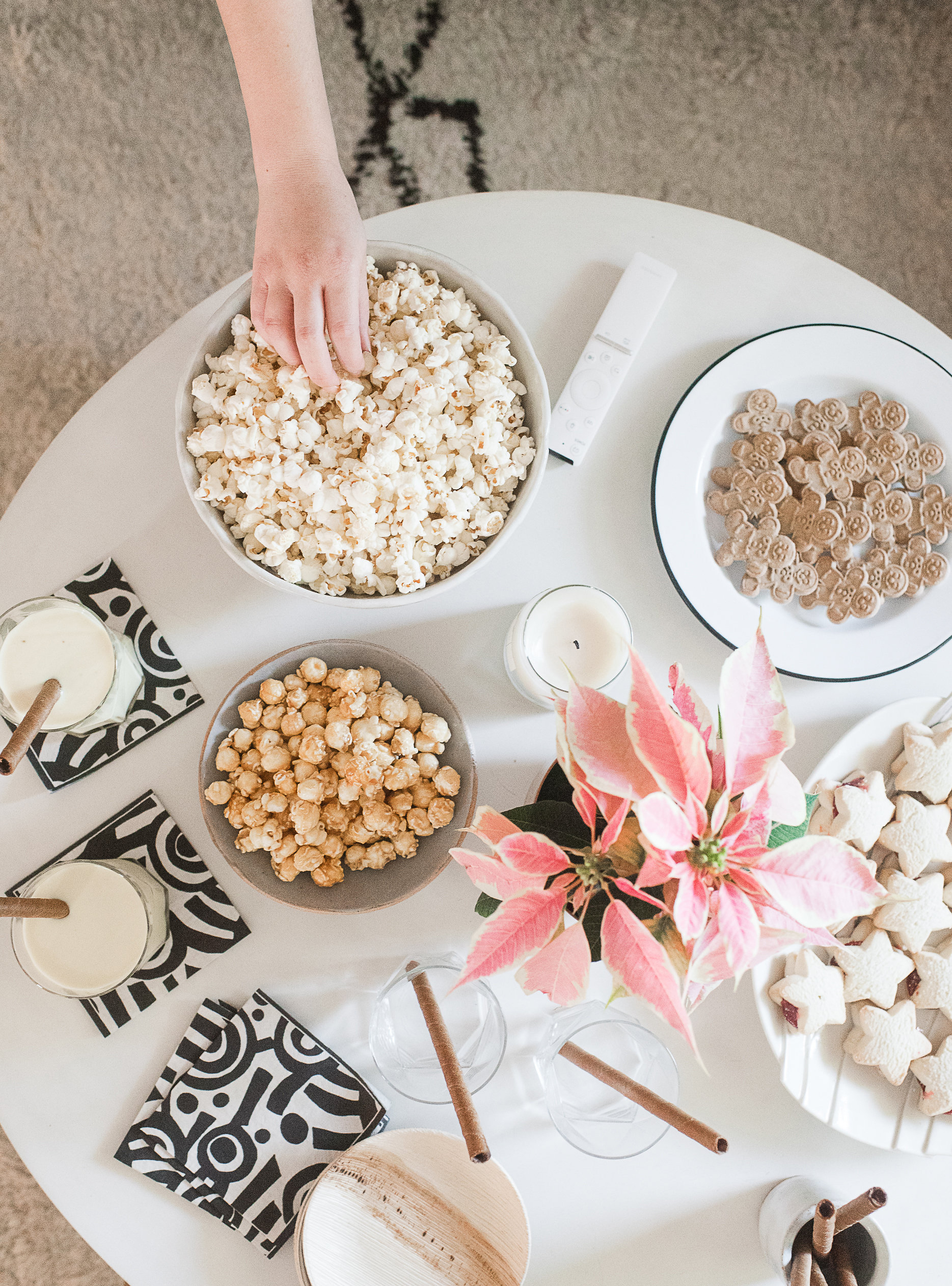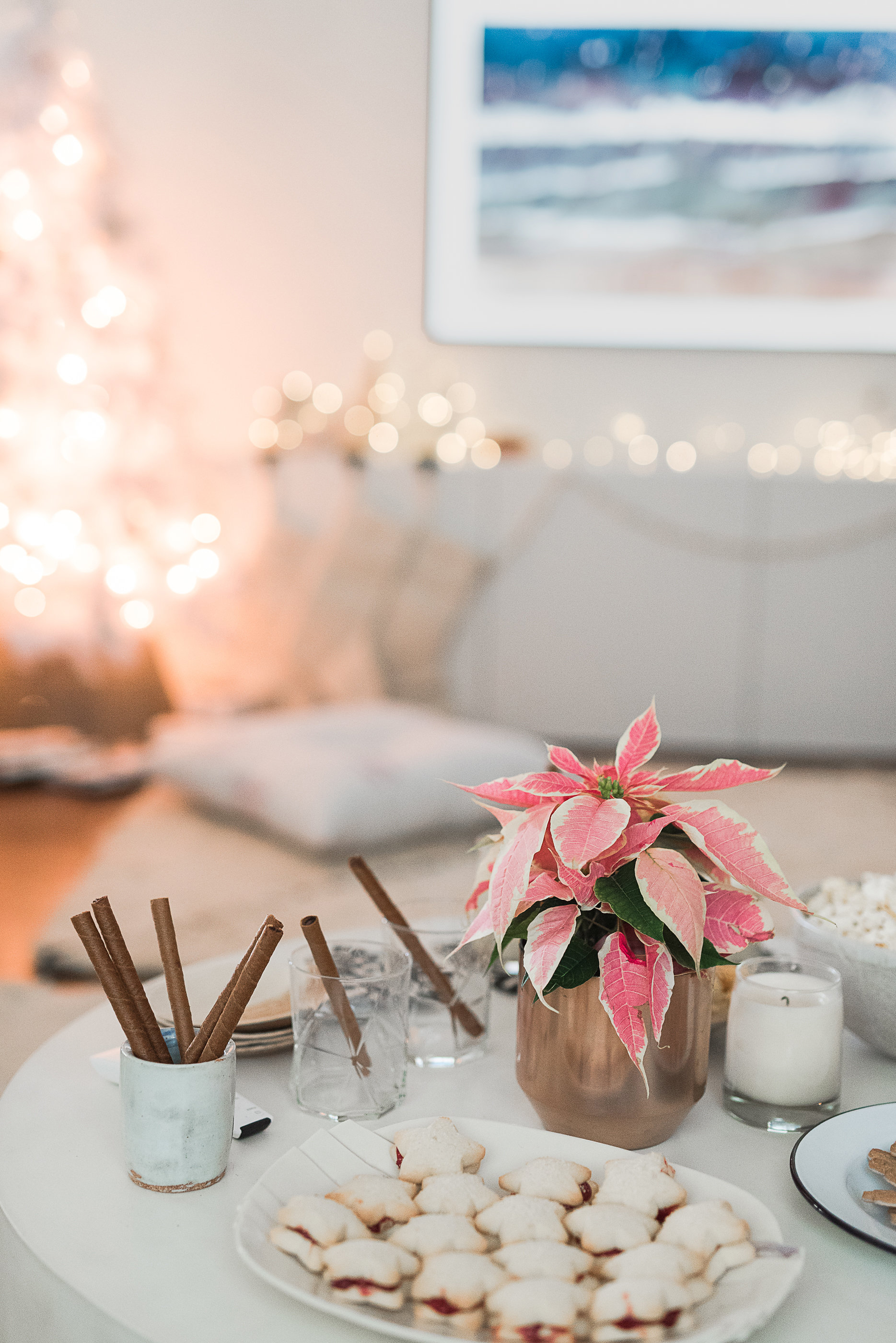 i think it's been v well established by now that i do not shy away from going all out on the holidays, so i was inspired to do a holiday movie night. i made it super chill, i stocked up on a bunch of pre-made holiday cookies, movie theatre popcorn, caramel corn and eggnog. you know i'm all about shortcuts, don't worry about buying all your snacks, as long as you put them in on pretty platters — no one will care!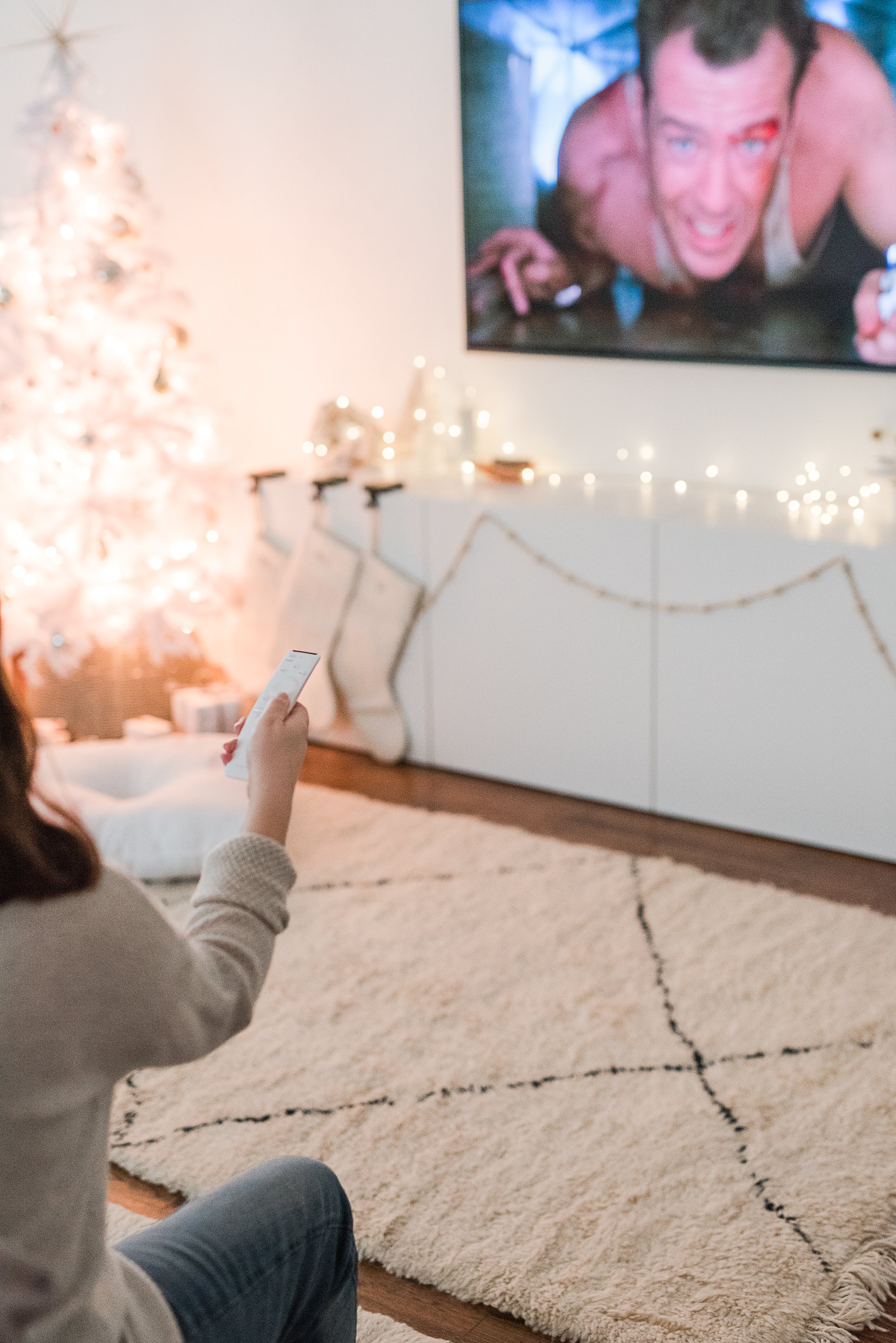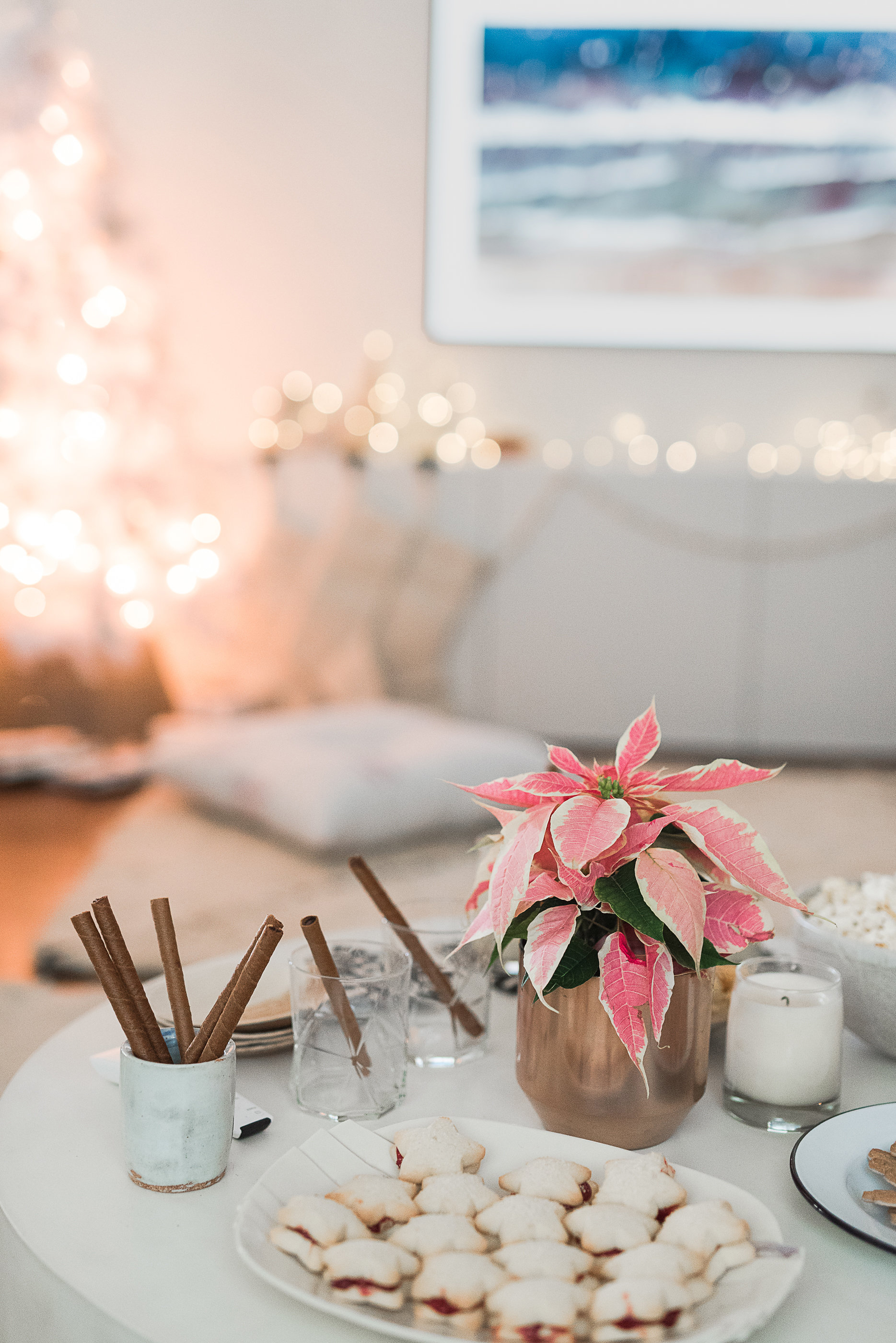 if you're not set on what movie to watch, a fun idea is to have everyone vote when they get there. my favorites are die hard, scrooged, love actually and home alone.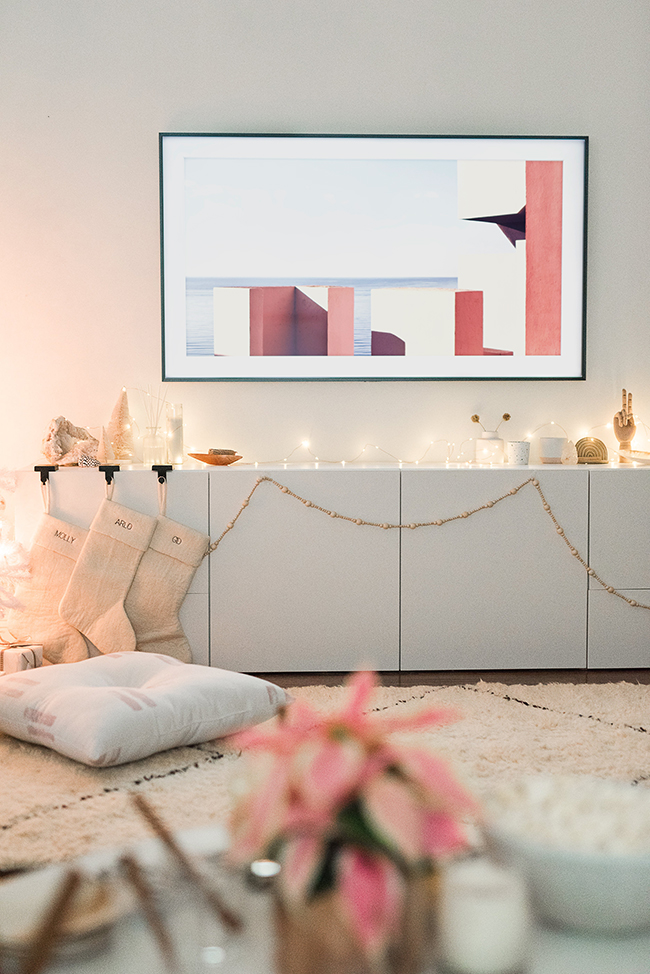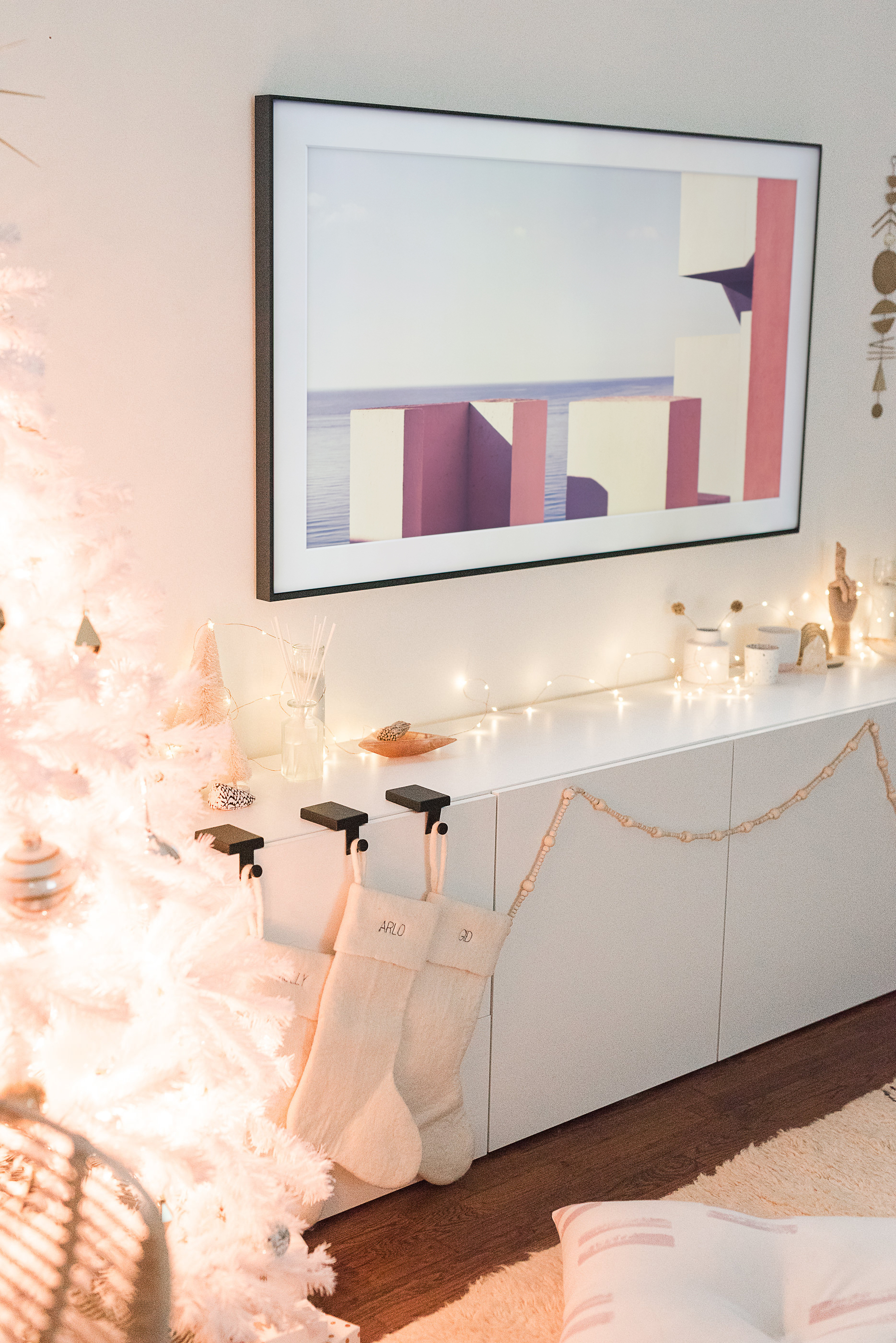 you may have noticed this is different art than before! there's a gallery of 100 pieces, and an art store you can purchase additional art from, or you can also upload your own photographs (shrine to arlo?). and you can do all of the art control from the app on your phone as well, which i love. the other amazing thing the frame does is allows you to view the art in any lighting, it has a brightness sensor which automatically adjusts the color and brightness to the ambient light in the room. so rad.
i really truly love this TV so much i am already wanting to switch out our bedroom TV for one too. if you are also so sick of looking at a big black rectangle on your wall that you may or may not be going crazy — check out the frame for sure. and ps, it's $200 off the 55" and 65" sizes, in-store and online 12/10 through 12/30 and if you purchase by 12/9, you can also get 50% a bezel with the purchase of the frame.
THIS POST IS IN PARTNERSHIP WITH SAMSUNG
ALL OPINIONS ARE 100% MY OWN