holiday gift guide : for the homebody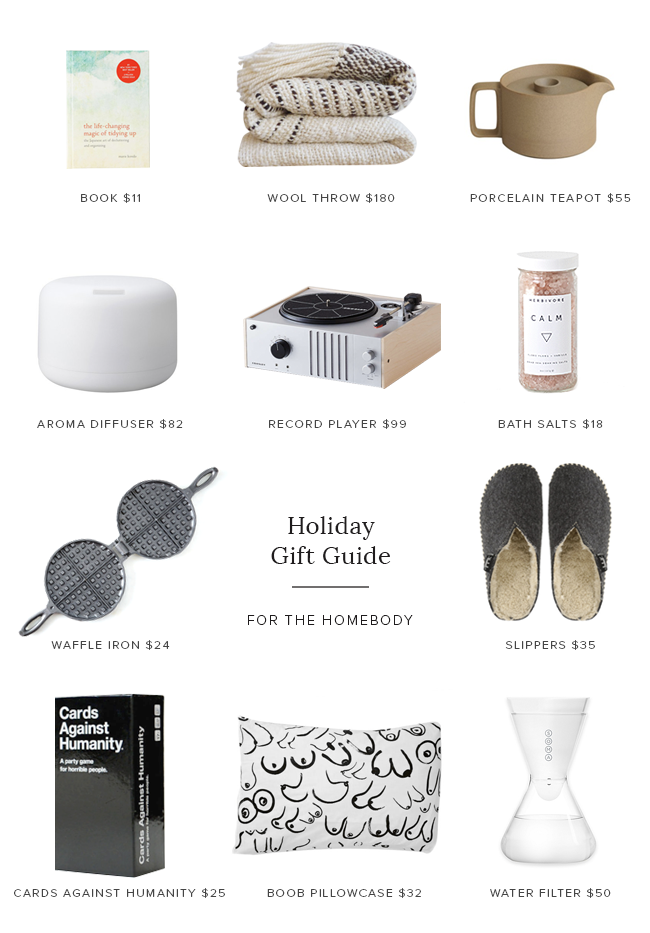 i think we all have someone special in our life that's a total homebody, i like to think of myself as wearing many hats — and g and i most definitely wear homebodies hats. so i wanted to round up some cozy and practical gifts for staying in.
01. most homebodies also want to keep their home tidy, so this book is the perfect inspiration to do so. and if that's not their thing, heres another good book to gift for the TV binge watcher.
02. a chunky beautiful throw blanket is something i definitely want for christmas.
03. a beautiful porcelain teapot paired with some teas is the perfect gift for the tea drinker.
04. the most gorgeous aroma diffuser ever. a gift they may have not even known they wanted.
05. for the music lover, a very cool + affordable record player, paired with vinyl they'll love.
06. homebodies take baths, that's just a fact, probably.
07. gift them a cast iron waffle iron along with waffle mix + syrups – here's my favorite syrup ever.
08. we all want a pair of cozy slippers for the winter, and don't you dare deny that.
09. in case they don't already own cards against humanity…
10. a quirky pillowcase or two for their bed or sofa. i want these for our guest room.
11. the most beautiful water filter of all time makes the perfect gift because we all drink water.