holiday gift guide : for the homebody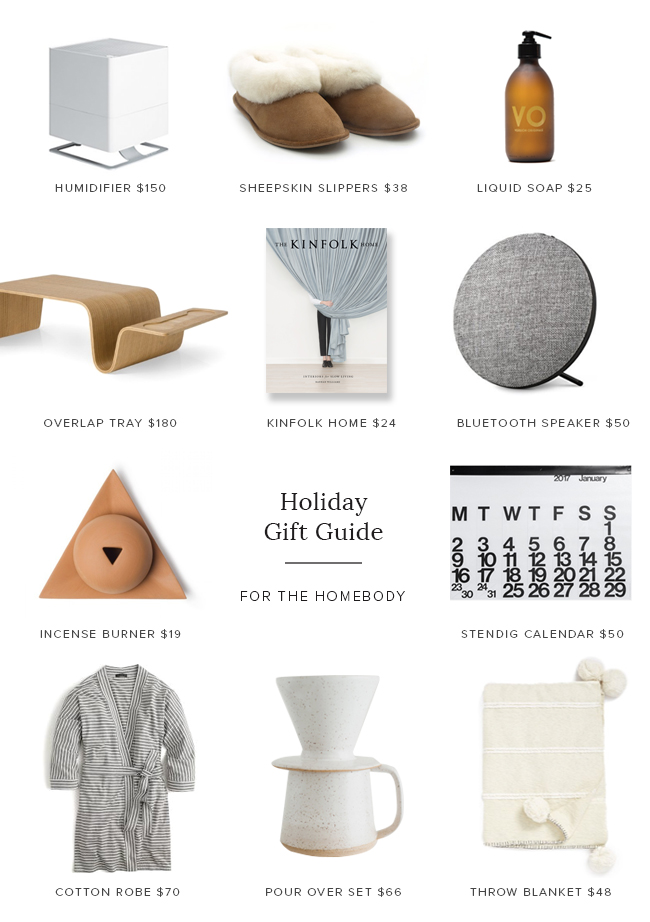 it's one of my favorite times of year! you guys know i love holiday shopping, so time to start rolling out the gift guides. up first is the gift guide tailor made for me and a lot of my relatives, the homebodies. here are some cozy, comforting, pretty things i love. 
01. it turns out you can totally avoid owning an ugly humidifier, there are a bunch of handsome options including this minimal beauty.
02. fact : everyone loves cozy slippers. even the people who don't think they do.
03. pretty hand soap is the gift that keeps on giving (because you can reuse the pretty fancy bottle with the cheapo stuff)
04. i am always saying i need a lap desk and i am never getting said lap desk. but i would totally use the shit out of one.
05. if you're gonna be a homebody, you should make your house pretty right?
06. i love this gorgeous portable bluetooth speaker. would look good on a shelf, a counter, a mantle, anywhere.
07. a safe gift for anyone who likes incense, and pretty things for their coffee table.
08. a stendig calendar before they're all gone (also this price is higher than other sites, but evens out with shipping, i've checked)
09. i love this cute cotton striped robe. i bet other people would too.
10. for the coffee drinker and ceramic lover, a cute pour over set makes a perfect gift.
11. you can never have too many pretty throw blankets, but i love this one and it's on sale.