holiday gift guide : for the cook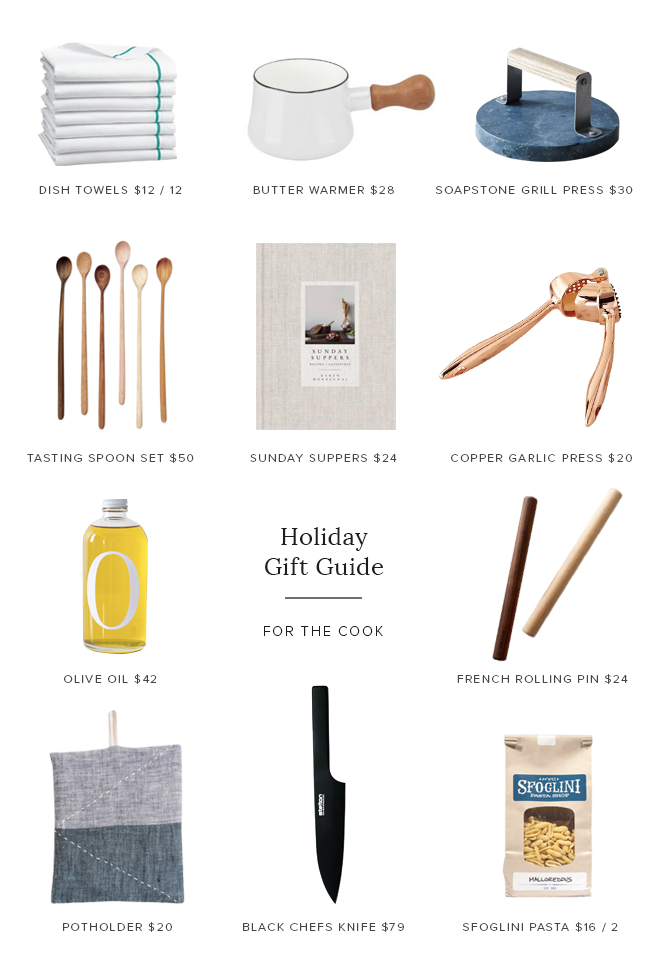 i have many cooking enthusiasts and foodies in my life, so i'm always buying cooking tools and gadgets for holiday gifts. here are some pretty reasonably priced gift ideas that they probably don't have!
01. a 12 pack of dish towels that can double up as stylish napkins or kitchen rags.
02. a cute little dansk butter warmer that they'll want to keep displayed on their stove.
03. for the griller, a beautiful soapstone grill press for burgers.
04. i'm swooning over this gorgeous set of six spoons for tasting.
05. my go-to is always an inspiring cookbook like sunday suppers.
06. who wouldn't want to press garlic with a copper press? i want to.
07. you don't have to worry about them not using fancy olive oil.
08. a straight maple or walnut rolling pin for the baker.
09. a stylish potholder, because again — they'll use it.
10. i really want this sleek black chefs knife for myself, so they might too.
11. as a sucker for pretty packaging, these pastas make the perfect pantry addition.