holiday gift guide / for the boyfriends, husbands & brothers
i actually have the best time buying for my boyfriend and brother, because i get to buy stuff i'd want if i were to have a penis.
here are some fun and affordable gift ideas for the guys in your life!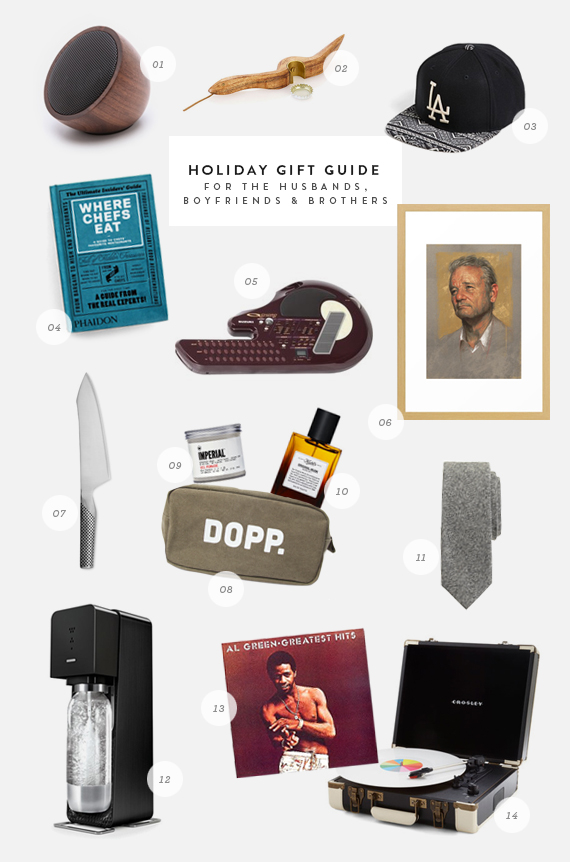 01. a handsome walnut portable speaker that they take camping, to the beach, to the shower? i mean. no brainer
02. a fun & unique accessory for their bar, this snake bottle opener can make you both happy
03. for the hip sports fan, american needle makes all sorts of these rad patterned baseball caps
04. a perfect book for the foodie who loves trying new restaurants. (i have this and love it)
05. a q chord is a digital instrument that he can play like a guitar, keyboard, piano, etc. i got one for my boyfriend a few years ago and he still loves playing with it. highly recommend for the musician or music lover
06. a framed art print of his favorite movie or comic or band always goes well
07. any boy that cooks wants a new fancy chef knife. give him one with a cookbook and you're getting a dinner cooked for you
08. a cute dopp kit is something no guy i know would buy for himself. fill it with goodies and he'll be too happy
09. perfect to fill the dopp kit, some imperial gel pomade may also improve his hair for your benefit
10. my bf never wore cologne prior to me gifting him some. and happy to say he doesn't leave the house without it.
11. what guy wouldn't want a new fancy tie that you picked out so he knows it's good
12. hands down – best gift for ANYONE that doesn't own one and likes sparkling water. our sodastream is a part of the family now
13. get him a few fun records if he has a record player…
14. and if he doesn't, get him a record player to go along with them!