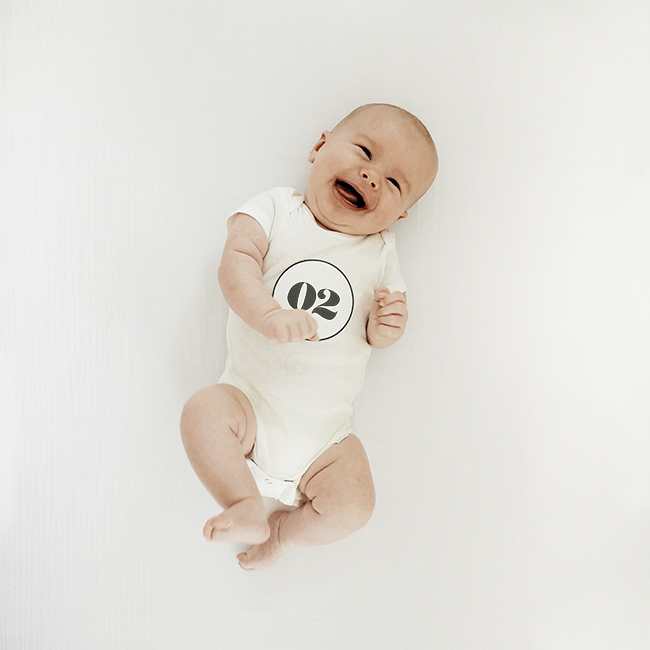 arlo is 2 months old! i have been a mom for 2 months whoaaaa. it's unbelievable how much he's changed in one month! i don't even think of him as a newborn so much anymore because he's so large and sturdy. my little butterball.
he is such a happy baby, laughing and smiling so much — he has so much personality and joy and his huge gummy smile and squeal is so infectious! this photo sums it up pretty well. (this was one of 10 photos i couldn't decide between because he's becoming such a good little model) i have the best time just watching him find so much entertainment in a window shade or an outlet in the wall, and i'm obsessed already with the way he smiles at me.
he's now fitting in all of the 3-6 month clothes we have for him, which is very fun because i'm really obsessed with playing dress up. he's almost 14 pounds and is the size of babies many months older than him. my shoulders are killing me.
he also eats so much (and lately way too often). and you can tell, he's developed the squishiest rolls everywhere. and missing a neck because his double chin so big. but yeah, some days i have to feed him ALL day, so i'm looking forward to that slowing down. when's that happen anyway?
he is really good and cute at bath time, and we also took him into the pool for the first time a couple of weeks ago — he wasn't so into the being cold after part but the water part he seemed to like. although the second i got in the pool with him and held him, he started licking the outside of my bathing suit and i had to feed him on the spot (so gid says now he'll always love the water).
he just started being able to hold onto his rattle and he can already roll himself over a little. he's starting to enjoy toys and i'm hoping that means i don't have to entertain him myself so much. he's slightly more into tummy time now, and even though it would appear he does not actually have a neck, it seems like it's getting stronger.
we've had some rough days and when he gets overtired i'd like for him to move out and get his own apartment, but luckily we have way more of the good days than the hard ones. so he can continue to live here with us. i'm still not really able to wear him, i have all of the different kinds of carriers and i must have a very low IQ but so far we're not there yet. maybe he's just too big or most likely we just need to actually practice and we'll get the hang of it. but i'm sure when i figure that out, the fussy days will go a little better (although then i will ruin my back with his huge body on me all day).  nights have been really good though, he's slept up to 7.5 hours so far!
and maybe the most important thing of all — we've now gone a whole month without him peeing on his mama. so proud. oh and the other night he farted so loudly in his sleep it woke me up.