disneyland with a toddler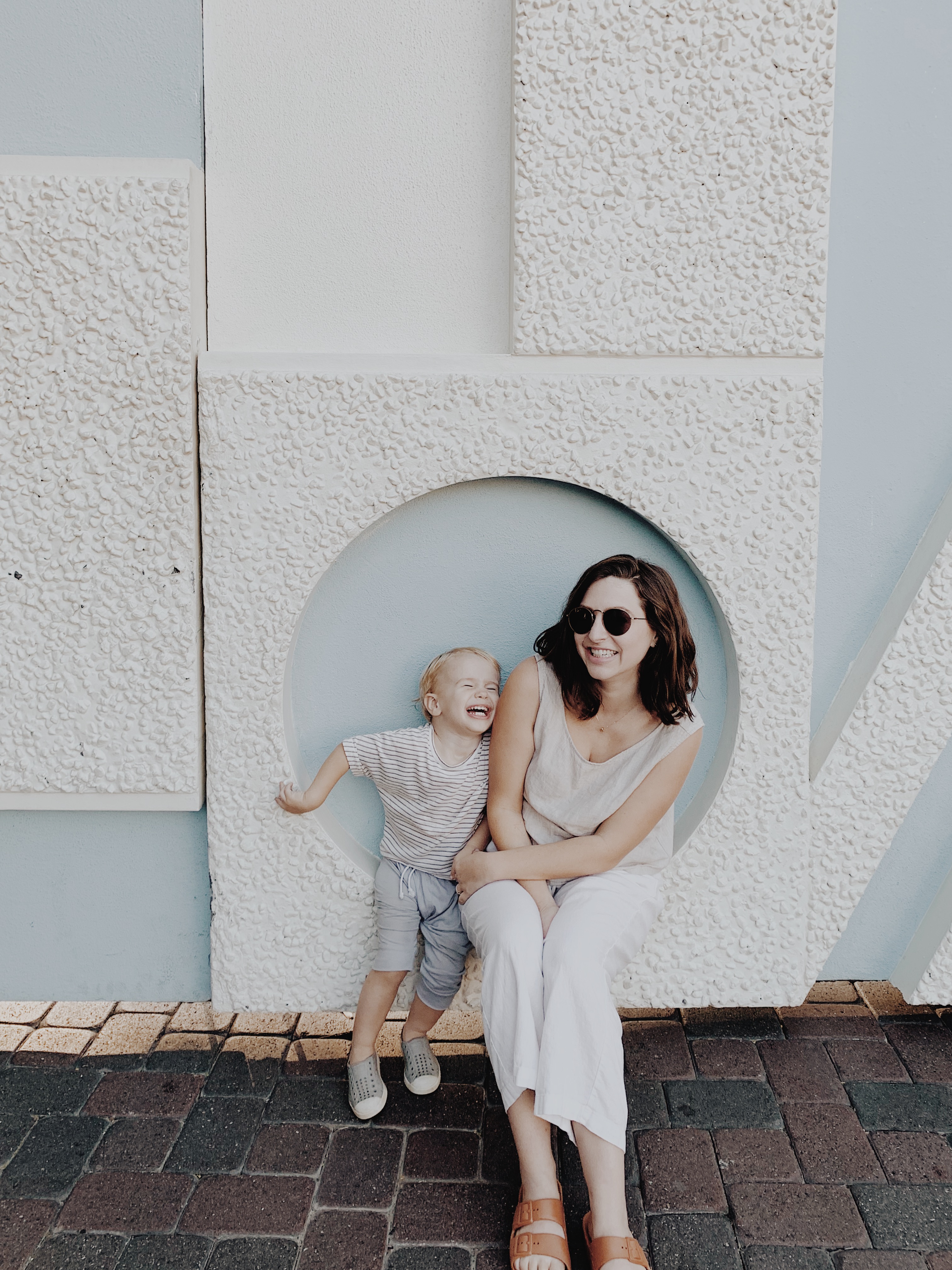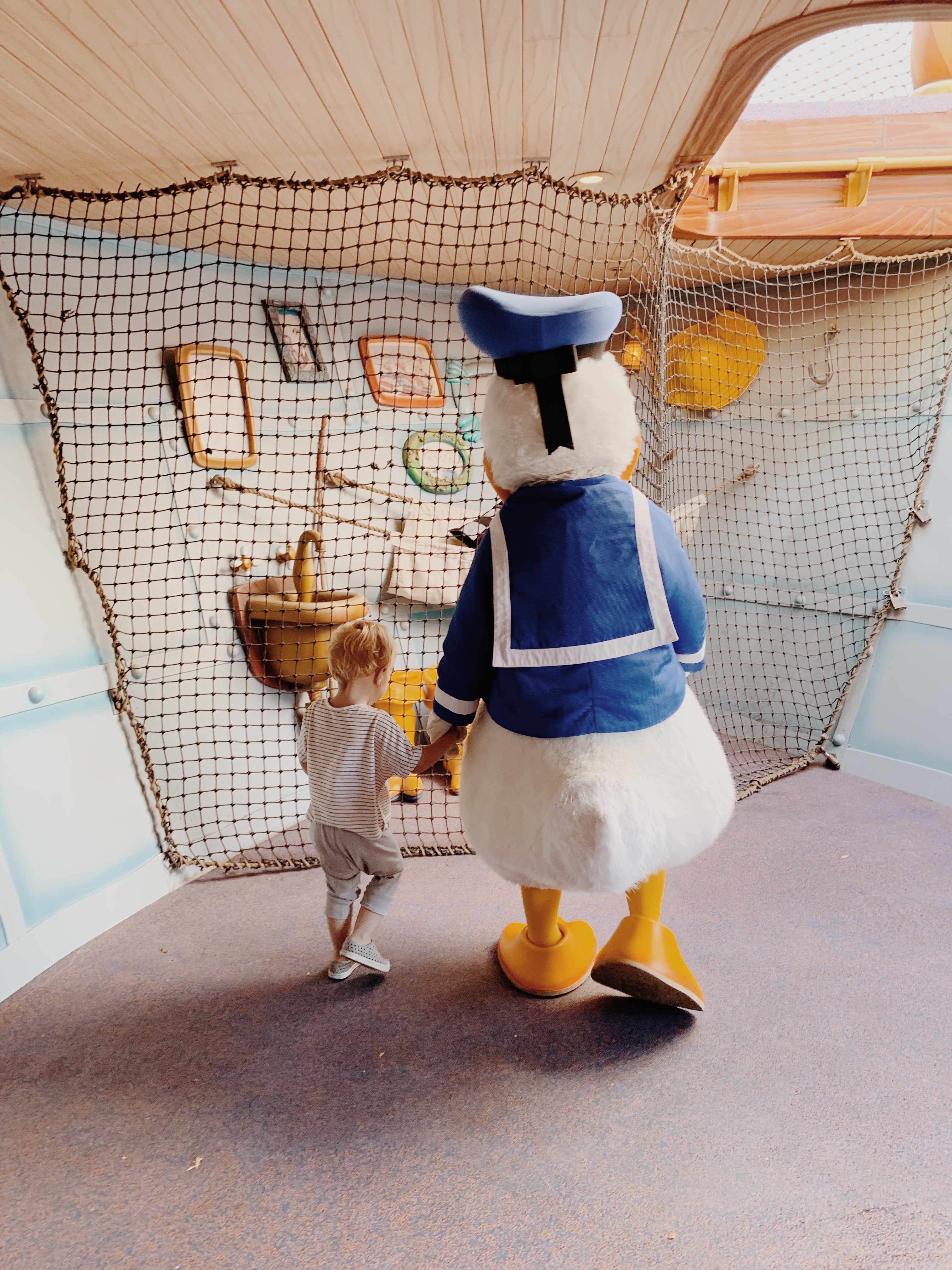 i've seen a lot of people write posts about tips for what to pack etc but i thought i'd share my own tips, because why not!? when i was asking about disneyland with arlo on IG stories, i got a lot of super helpful tips which i'm including on here!
we debated if arlo was too young to go to disneyland yet or not, but in the end we are so glad we brought him. watching him meet mickey was worth the price of admission alone. ok well the price of admission is BAT SH*T crazy but it was close to worth it. we know he loved it because at least once a week he'll wake up and ask if we can go to "DIDNYLAN?????" (when i say no, he says "CVS???" his disneyland alternative hahaha)
in another year (when he's closer to 3.5), we think it'll probably be more fun, but he was pretty into it all day! the rides were just a little overstimulating and scary and he is in a very "my way or the highway" phase (as if that would ever end lol). 
parking
someone recommended we park at the anaheim hotel (it costs $25 just like it does at the disney lot), but you avoid the giant headache of navigating the lot, the escalators and the tram! i am soo glad we listened because i'm never going back. the lot was super easy, you just go to the front desk and pay for your parking and the walk is about 10 minutes to the park. VERY CHILL.
disneyland app
if you don't already have the disneyland app, definitely download it on your way. you can buy your tickets to skip yet another line, you can see wait times on rides and order food in advance (which is so crucial when your toddler is going INSANE already)
and you can spend an extra $20 on a max pass within the app– it allows you to access fast pass to your tickets (i've done this in the past, but we skipped it while with arlo because there were less rides he'd be up for going on). also if you buy it, you can get your ride photos in the app, high res for free!! space mountain pictures are always my favorite lol.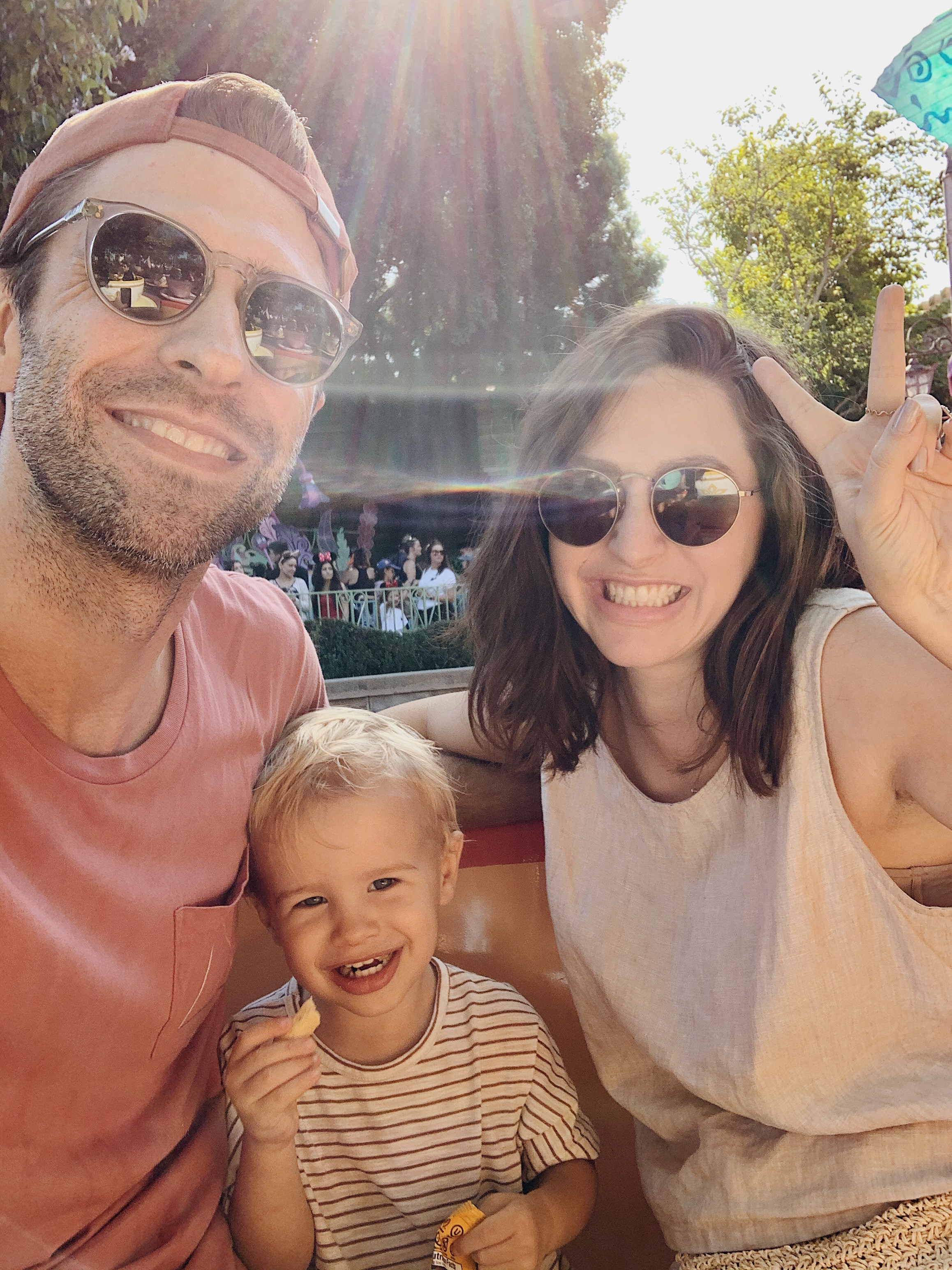 disneyland vs california adventure
we aren't annual pass holders so paying for two parks versus one was not an option (not to mention the exhaustion from just one park, not sure how i thought we could even handle going to two! i mean unless it was free lol)
although my gut said disneyland over california adventure, the first time we went (last year), he really liked monsters inc and he loves cars (not really cars the movies, but cars in general especially if they have "google eyes" hahah) — so i thought CA adventure might be the way to go, but ultimately disneyland is much more of a magical experience and seemed like the right move.
if you do want to go on rides that your kid is too young for, they have a switch pass at most rides so each parent can go while the other waits with the child. i was fine skipping rides because we've gone to disneyland a lot without arlo.
baby centers
each park has a baby center that is air conditioned, clean changing tables, child size potties, and filtered water to refill your water bottles. it's like the only calm place to change diapers in the park, or feed/nurse your babies.
disneylands is just off main street next to the the corn dog cart, and california's is next to the ghiradelli ice cream shop, in-between cars land and the monterey pier.
what we packed
we brought two bags with us. one was a backpack we carried, and the second was a tote bag i kept in the carriage of our stroller. this way we didn't have to lug around everything.
in the backpack we brought SO MANY SNACKS! i literally filled the backpack with snacks and arlo ate everything i brought. (we brought multiple pouches, energy bars, 3 different kinds of dried fruit, bambas, pb crackers, and more i'm forgetting) we stocked up at whole foods days before (i cannot resist their kids snack selection) and i can't even imagine how we would have packed enough for two kids haha.
the backpack also housed the essentials, and then the second bag had extra diapers, a spare outfit for arlo, and our sweatshirts. you could also keep the second bag full of snacks and keep distributing out to your backpack as they demolish them lol.
here are the essentials:
– all the snacks
– sunscreen
– refillable water bottle
– hand sanitizer
– change of clothes
– warm layer for everyone
– a new toy or two (for keeping him entertained while waiting in line, when i say new i also mean it could be something he's forgotten about for a month lol)
souvenirs
no matter what time it is, i always get a corn dog on my way in, they are the best corn dogs ever! you might be wondering why i'd be talking about corn dogs as souvenirs but they're just so good ok?
on your way through main street you can stop in at any store and get a "first time" button for free. we also got arlo mickey ears and spent an extra $5 to embroider his name on them. seriously the cutest souvenir ever, and he has been putting them on all the time since.
arlo also was screaming for a mickey balloon, and i scoffed when i found out they cost $10. but we bought it and he seemed to enjoy the balloon more than any ride lol– and it's now been about three weeks and i'm happy and confused to report that the balloon is still in pristine condition, floating away. obviously it's some sort of magic balloon, but totally worth the $10 price tag if you take life span into account.
since i'm adding food to the souvenir section and not changing it to souvenirs + treats, i will also say arlo was INTO that dole whip. i was sad to not to get to eat more of it.
what arlo liked + didn't like
every kid is different, so i'm not sure this section will be beneficial to anyone, but here goes.
we weren't really sure how arlo would feel about rides in general. like i said, i brought him once last year and he was sort of traumatized by everything, well it wasn't that different this time haha– we started with small world, he hated it. then we did the submarine voyage because arlo loves nemo and dory, well he mostly hated this (and we did too. it was terrible!!)
next we went to autopia, which we thought would be a shoo-in for favorite attraction– he is obsessed with cars! well we waited in line and then got into a car and by then he was way past his nap time and thought the cars were way too loud so after buckling in and getting ready to go, we had to bail.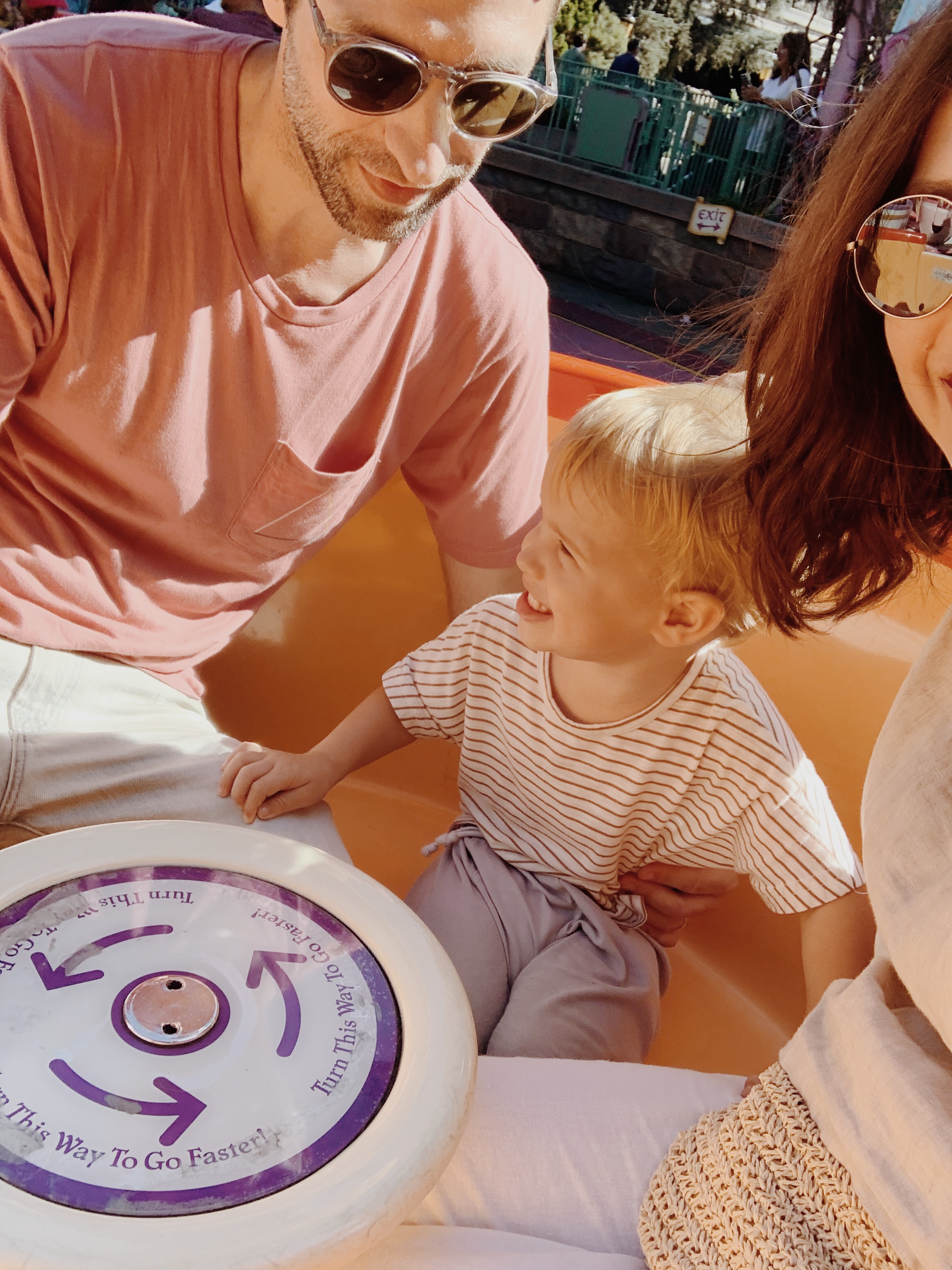 so we went simple and did the teapots– HUGE HIT! he loved them so much we got back in line and did them again.
next we went to toon town, mickeys house didn't have a long line and it was by far his favorite thing of the day. he loved meeting mickey and did NOT want to leave — next we took him to meet donald which he was fine with lol.
he enjoyed running around toon town, sitting in the cars pretending to drive. next we walked around star wars land just to see it, he liked it because everything was a robot haha. it started getting darker so we went on one last ride– winnie the pooh, slightly traumatizing but he did a little better. we asked him if he wanted to go on anymore rides and he said no (until it was too late of course). i would have liked to try a couple more rides like peter pan, etc, but lines were pretty long.
i would say he definitely preferred characters versus rides, but some kids are terrified of the characters so everyone is different! we didn't get a chance to see a parade or a show, but next time i would for sure try those too.
i think it's a matter of keeping expectations low, like all of parenting, you won't get to do a lot in a day and time will go by so fast and naps will probably be missed, but overall if you can look back on the day fondly it was a success no matter what.
staying the night
next time, we'd love to spend the night at a hotel and be able to stay for the fireworks. or at least stay for the fireworks and just brave the late drive home– but arlo didn't nap and was passing out around 7 so we headed back. one amazing tip a mom gave me that i will use forever is to pack his pajamas in the trunk, so when we got back to the car and changed his diaper before heading home, we changed him into his PJs so he was ready to be dropped into bed when we got home.
if you are able to stay at a hotel, splitting it into two days would be so much better! that way you could go back and actually do a proper nap and make it back for dinner/fireworks, etc– but we'll do that someday!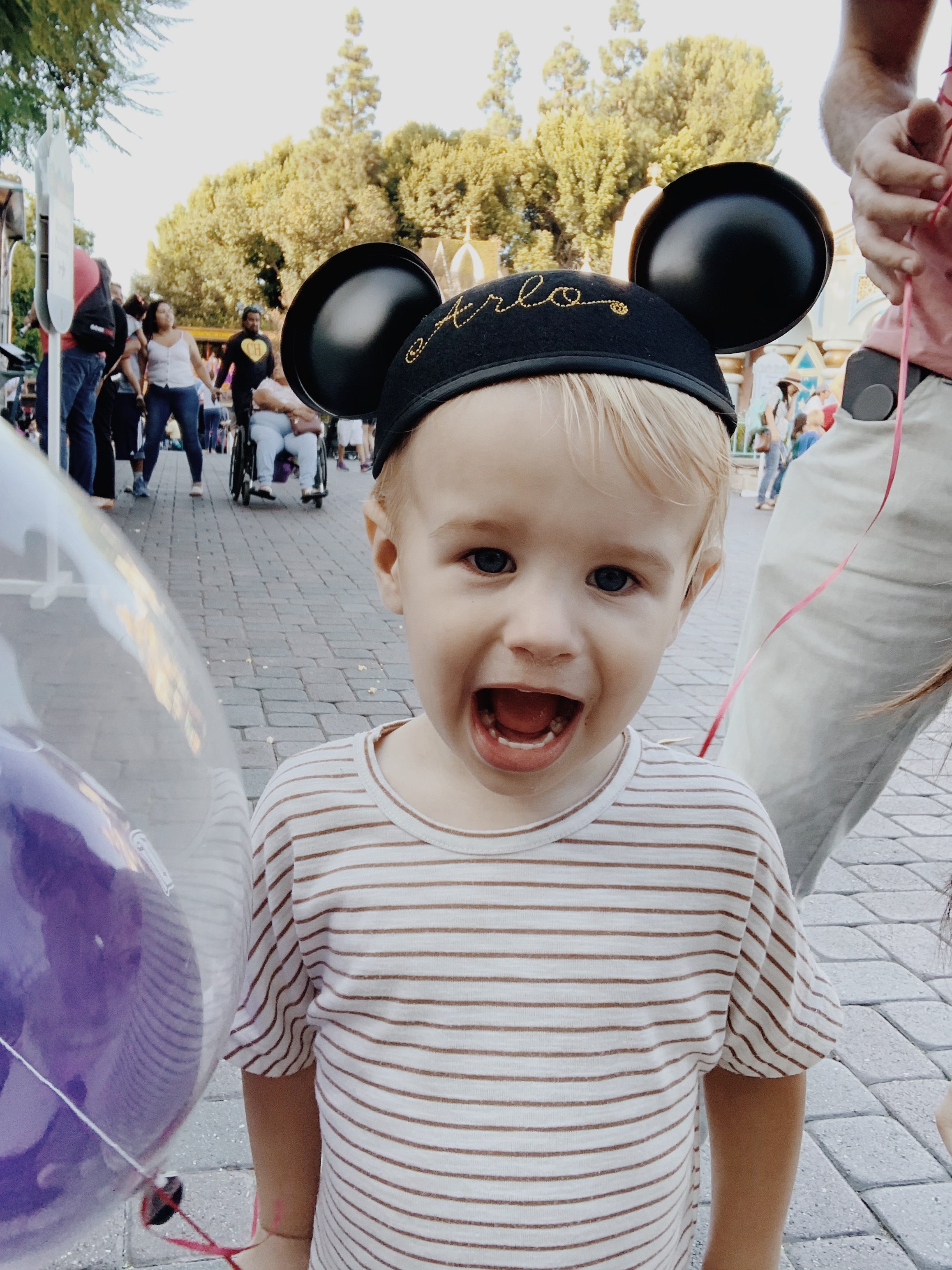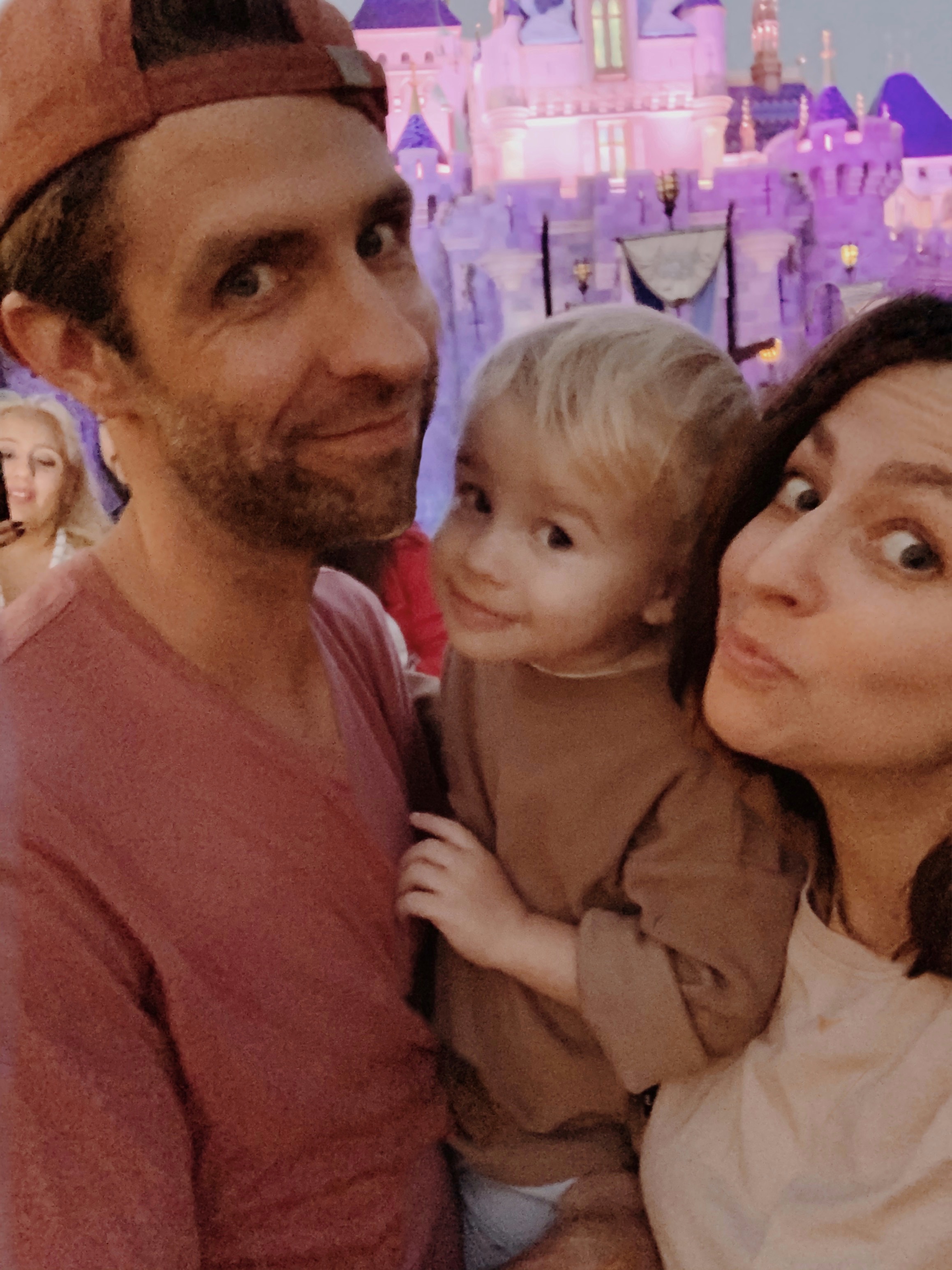 i hope these tips can help you if you're planning to bring your kids!!